Remembering . . .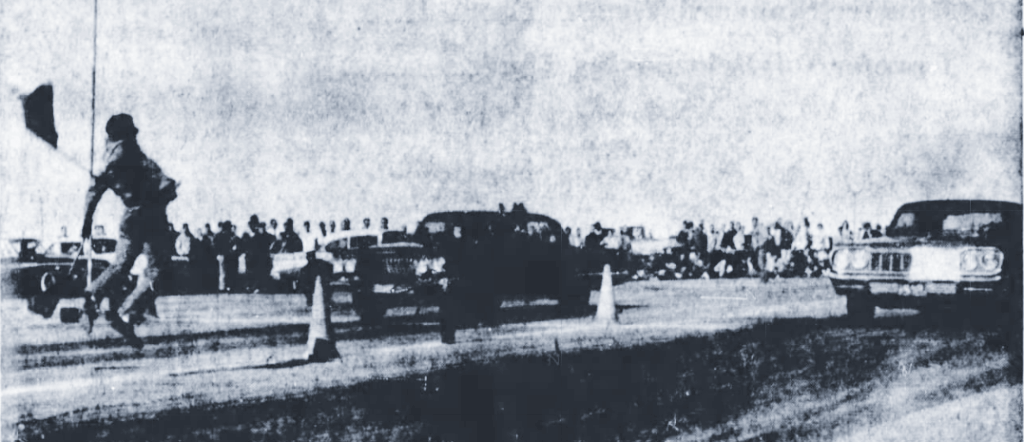 Bar Nunn Dragaway, 1964. Photographer unknown, published in ​Casper Star-Tribune, Mar. 30, 1964
Cheyenne
Cheyenne Dragway, 1967-69
During the spring and summers of 1967, 1968 and 1969, I raced at the Cheyenne drag strip and in Scottsbluff, Nebraska. I first raced D/G '57 Pontiac and then in 1968-69, I ran in O/SA with a '60 Oldsmobile. With the Olds I won class many times. I wish I had those trophies now. Unfortunately because of many moves over the years, they have all disappeared. I would love to just have one or two of them back.

Keith Blow
Douglas
Douglas International Raceway
I raced in Dougles a few times in Division 5 with my Top Alki Dragster. I remember on one run almost hitting an antelope in the top end of the track. There was a lot of nowadays big-gun racers: Cruz Pedregon, Tommy Johnson, Jr., to name a few. Where the strip was located in town, the motels across the street had people watching the race from there. The people that ran the race was great to work with and good fans also. The track had great traction. I just had to put a lot of overdrive in the blower.

Glenn Pearmain
Greybull
Big Horn Dragway, 1963-68
I entered my '54 Chevy DelRay coupe in M/Stock and was beat by a '64 Dodge slant-6. Roland Leong raced here in May '68. In 1963, when I became interested in hot rodding and drag racing, my neighbor was campaigning a '63 1/2 Ford Galaxy 500 with a 427 cu. in. engine, 4-speed. Big Horn Dragway was managed by Allen Collingwood, who owned Collingwood Motors in Greybull, a Pontiac dealership.  Allen became owner of a '63 Pontiac Catalina SD called "Tonto VI."  I attended many of the events scheduled there up until May of '68 when I was home on leave before going to Vietnam my first time.  This was when Roland Leong competed there. I believe the aviation business at the airfield where the races were held was called Avery Aviation and there was a boneyard of many WWII aircraft.  Avery Aviation sold to Hawkins and
Powers Air Service somewhere near this time and ended drag racing after the purchase.

Warren Armstrong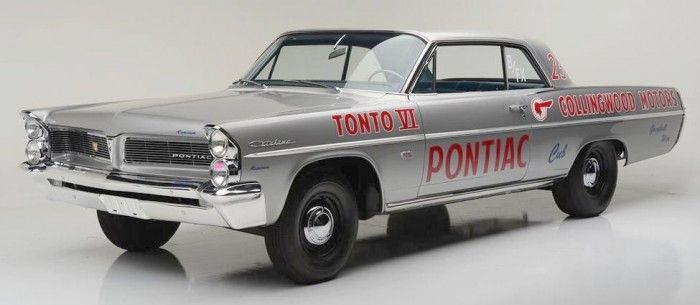 Allen Collingwood's '63 Pontiac Catalina "Tonto VI." Courtesy of Warren Armstrong