WISCONSIN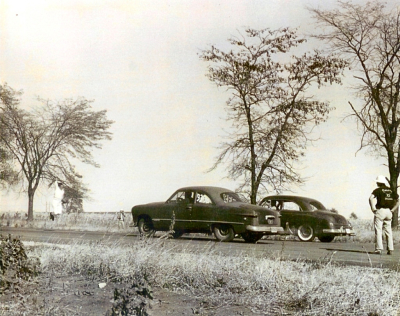 Waukesha "Drag Strip" (1952)
Fond Du Lac Speedway (1953)
Wilmot Hills Road Race Course (1954)
Great Lakes Dragway

 (Union Grove) (1956)
Westgate Outdoor Theater (Racine) (1959)

Lake Geneva Speed Center (1963)
K-K Sports Arena/Wisconsin International Raceway

(Kaukauna) (1965)
Tenora Dragway (Comstock) (1967)
Amber Green Dragways/Rock Falls Raceway 

(Eau Claire) (1969)
Great Lakes Dragaway, circa 1956. Photographer unknown
Amber Green Dragways/Rock Falls Raceway ​​(Eau Claire)
Years of Operation: 1969-present

Dr. Ralph C. Frank filed incorporation papers for Amber Green Dragways, Inc. on May 8, 1969. The track was located eight miles southwest of Eau Claire on ninety acres. Bill Frank, Ralph's son, was the strip manager from its opening through 1972. The track was sanctioned by National Association Automobile Racing. The first race was held on June 16, 1969. When it first opened, the strip was only thirty feet wide. They doubled the width of the track for the 1970 season. They also increased the length of the shutdown areal by 1,000 feet, making it a total of 3,900 feet long. The track record was set by Canadian Darrell in his AA/FD with a speed of 230 MPH in 7.42 seconds. In 1972, they averaged 125 entries each Sunday. In 1973, Richard "Whitie" Knutson took over as manager. In 1974, Bill Frank resumed the role of manager, assisted by his brother, Peter.  At the end of the 1978 season, the track was advertised for sale at a price of $105,000. The name was changed to Rock Falls Raceway in 1979, with a change of ownership. On July 4, 1979, Phil Weissenberger from La Crosse  won the bracket 1 race in his '69 Dodge Super Bee with a 12.67 ET. He was a frequent winner that year. Greg Weaver was manager of the track that year. In addition to the usual categories, they had others like High Noon, Last Chance Eliminator, and King of the Hill. Al Corda was the track owner in the early 1990s.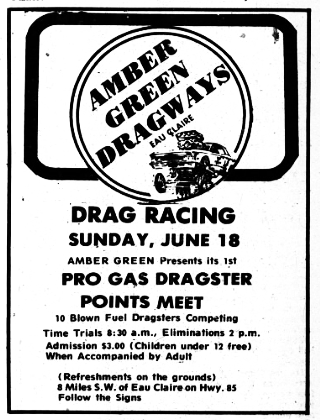 Did you race here? Tell us about it.
CLICK HERE to see location on a map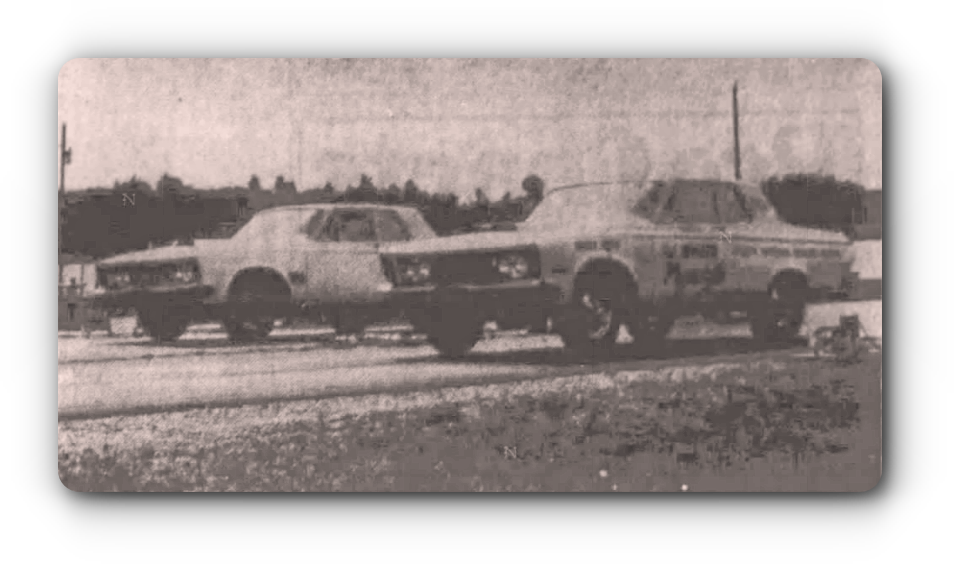 The Stock Eliminator finals on August 10, 1969, paired the '63 Plymouts of Gruber-Nelson (left) and Mike Polk (right) at Amber Green Dragways. Gruber-Nelson of Minneapolis took the win. Photo published in ​​Eau Claire Leader-Telegram, Aug. 13, 1969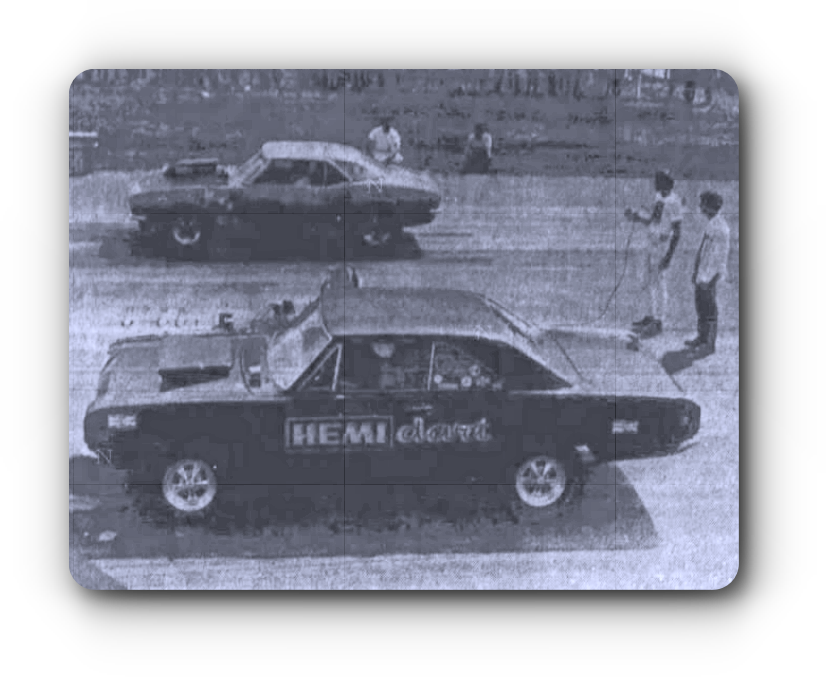 Terry Anderson in the Marcotte-Anderson A/SS Camaro (top) took three straight wins in a match race against Johnny Rivers' Hemi-Dart at Amber Green Dragways on May 24, 1970. Anderson's quickest run was 11.10 at 129 mph. Photo published in ​​Eau Claire Leader-Telegram, May 26, 1970
CLICK HERE to see video footage of Rock Falls Raceway, 2008, 9:54 minutes
CLICK HERE to see Super 8mm video footage of Amber Green Dragways, late 1970s, 20 minutes, music only/no sound
Years of Operation: 1953
Status:  4

Drag races were advertised as one of the feature attractions at several races in 1953 at the Fond Du Lac Speedway half-mile oval track located at Fairgrounds Park.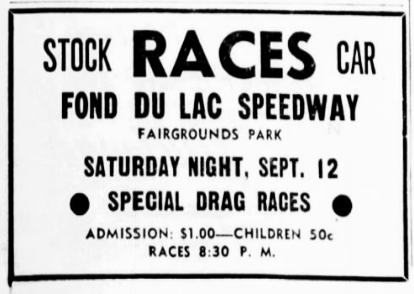 Did you race here? Tell us about it.
CLICK HERE to see location on a map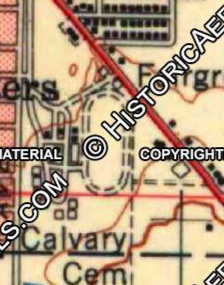 Great Lakes Dragway ​​​(Union Grove)
Years of Operation: 1956-present

Some sources claim that this venerated old drag strip is the oldest still-continuing operating drag strip in the country. It may be the oldest drag strip still conducting a regular weekly drag racing program, but Pomona and Bakersfield are two drag strips that began before Great Lakes Dragaway. Drag races are still being held at those two old drag strips. The 1/8th-mile Thornhill strip in Kentucky also predates Great Lakes Dragaway and still runs a regular drag racing program (2015). Great Lakes Dragaway's official website also claims that racing began in 1955. However research in old newspapers has not uncovered anything to support that claim. The race track was the brainchild of Bob Metzler and Lynn Bennett. After getting out of the service, they, with two others, pooled their money and raised about $50,000. They found 102 acres of land in Union Grove. On October 7, 1956, two thousand spectators watched 121 racers on this first big day of drag racing. Al Pfeiffer posted top speed of 97.82 MPH in his Cad-engined 1950 Merc. Located in the town of Paris, near Union Grove, newspapers gave its directions as being on the Racine-Kanosha county line road about five miles west of Highway 41. It was 3,000 feet long and 50 feet wide. The Great Lakes Timing Association conducted weekly races through November 11 in 1956. For 1957, the track was repaved and entrances and parking area were graveled to eliminate the objectionable dusty conditions. Two thousand bleacher seats were also installed and a new electronic timer and public address system purchased. The track opened on June 30, 1957, for weekly Sunday racing. Jim Russell of Hammond, Indiana, was awarded a $50 savings bond for being the first racer to top 130 MPH on September 29, 1957. He set the track record with a run of 134.50 MPH in 10.91 seconds in his Packard-powered dragster. On July 11, 1959, Chris Karamesines set a new Wisconsin state speed mark with a 165.137 MPH run. On August 14, 1960, Karamesines faced Don Garlits in a match race. Both garnered a win, but the deciding third race didn't happen as Lyle Fisher blew a transmission and sprayed oil all over the track. Karamesines had the faster speed of the two with a 180.19 MPH clocking. In what was billed as the 1960 National Championship Drag Races, a 3-day event held on July 8-10, Union Grove witnessed some good racing. On Sunday, 8,000 spectators saw Art Malone and Chris Karamesines post identical top speeds of 187.50 MPH. In fact seven entries broke Karamesines's old strip record during the meet. Art Arfons "Green Monster" Allison-engine dragster ran a best of 166.33 MPH in 9.59 seconds. Pete Farnsworth of Milwaukee set a new track record on May 7, 1961, of  8.45 seconds and 171.42 MPH, beating Garlits's old track mark of 8.63 set during the Nationals in July 1960. At the 5th Annual National Championship Drag Races held on July 7-9, 1961, more than 300 entries competed for more than $10,000 in prize money. Eliminations were held at night, the first time for this event. Chris Karamesines had the fastest speed with a 183.83 MPH run and won top eliminator. On October 20, 1963, two people escaped serious injury in a freak accident. Bob Smith, driving the "Untouchable II" jet dragster in a match race against Chris Karamesines made a run in 6.30 seconds, thought to be a world's record. He was unable to stop the car before speeding off the end of the track and into a car carring four people on the county road outside the drag strip. Smith only had a broken nose and facial cuts and a passenger in the car received a broken collar bone and cuts. The jet car sustained the most damage, being demolished after plowing through a steel fence and clipping a telephone pole. Smith had been distracted by his face mask being blown over his eyes. The windshield of his car had been cracked on his first run at 245 MPH, so the windshield was removed for the second run. The lack of a windshield caused his problems with his mask. Over 20,000 people attended the four-day Labor Day National Open of Drag Racing race in 1968. Fred Goeske set a track record for funny cars with a 192.7 MPH run. Joe Krupinski won top fuel with a 211.26 MPH run. Over time, Robert "Broadway Bob" Metzler bought out all the other partners until he was the sole owner at least by the 1970s. Three spectators were killed and eight others injured when a clutch on a dragster exploded at the Olympics of Drag Racing event on May 27, 1979. In a freak accident in the pit area on May 23, 1981, ten bystanders were injured when struck by an out-of-control car. In 1994, Metzler sold the track to Mofoco Enterprises, a Milwaukee company.
Did you race here? Tell us about it.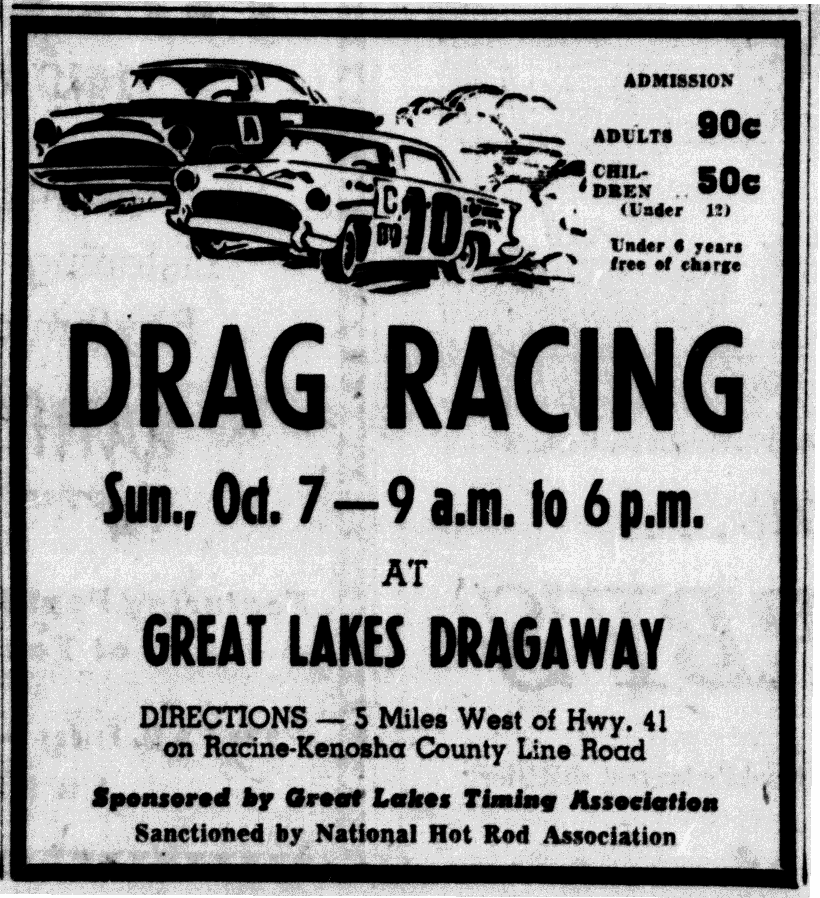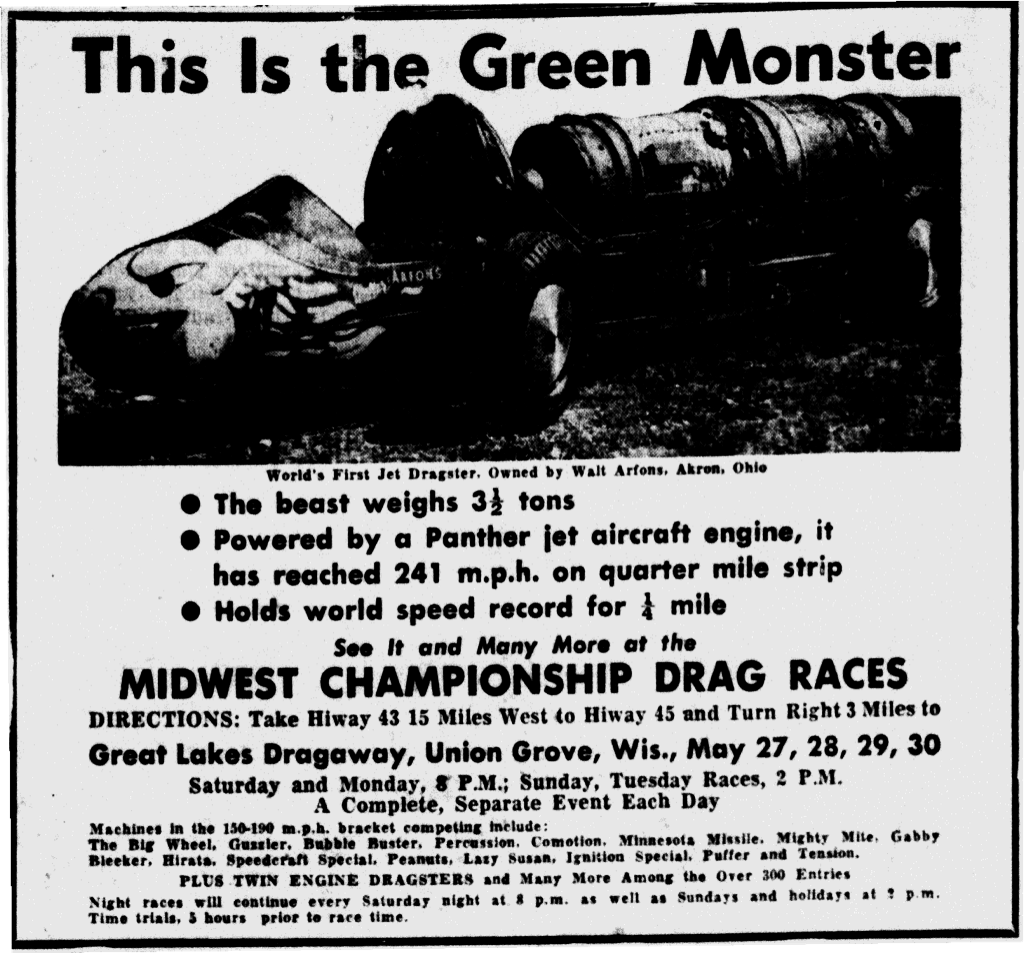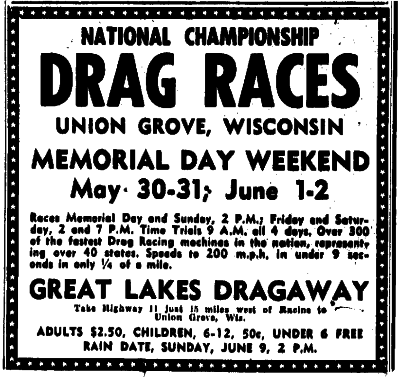 CLICK HERE to see location on a map
CLICK HERE to see 8mm video footage of Great Lakes Dragaway in 1962, 10 minutes, music only/no sound
CLICK HERE to listen to old commercial radio spot for Great Lakes Dragway, 1 minute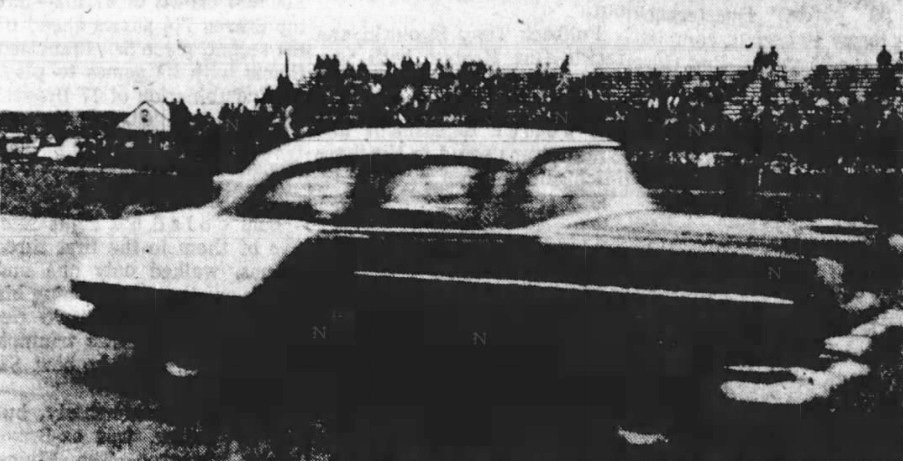 Spectators in bleachers watch the racing action on August 31, 1958. Photo published in ​​Racine Journal Times, Sep. 2, 1958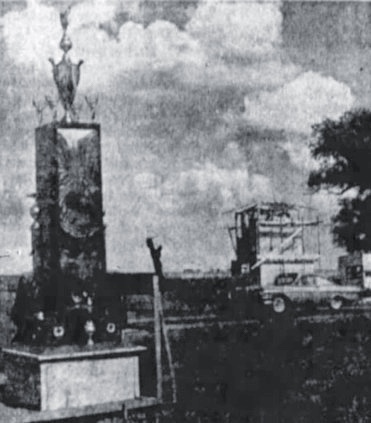 A 7 1/2 foot tall trophy was awarded to Chris Karamesines, the top eliminator of the race held on July 12, 1959. Scaffolding surrounds the timing tower in the background.  Photo published in ​​Racine Journal Times, July 13, 1959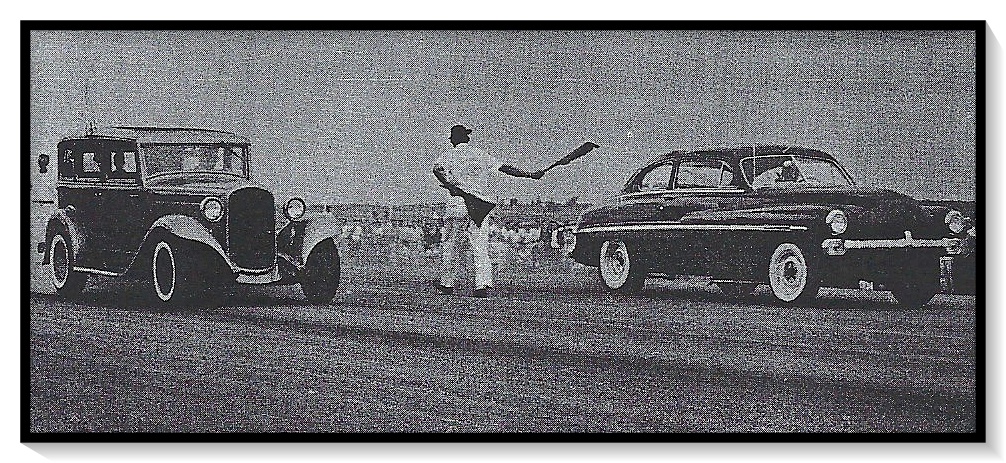 Al Pfiefer took the B/Gas Coupe & Sedan class win with his Cad-engined '50 Merc (left) at Great Lakes Dragaway on June 29, 1958. His winning time was 13.84 at 103.44 mph. Photo published in ​Drag Times, vol. 1, no. 6 (July 4, 1958), courtesy of Don Morin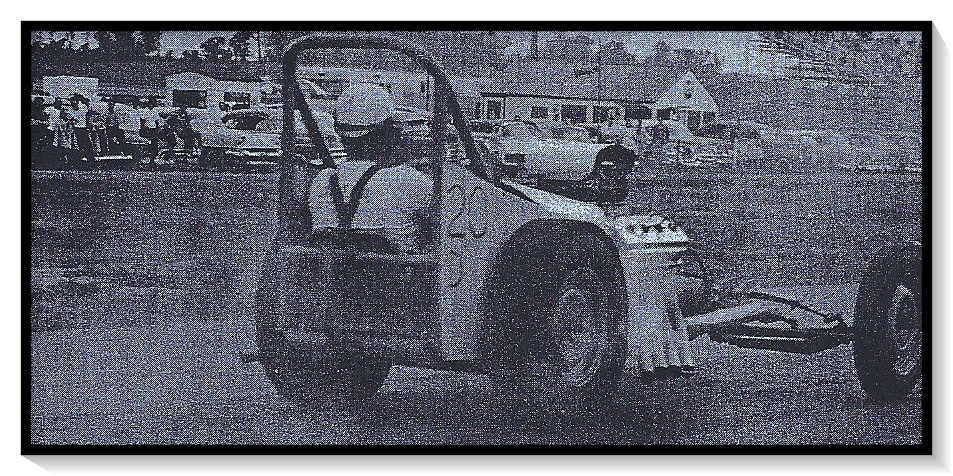 Jack Tanka drove the fuel-burning Tanka-Butze dragster to a Great Lakes track speed record of 145.16 mph on June 29, 1958. He took top eliminator in the A/D with an 11.51 clocking. Photo published in ​Drag Times, vol. 1, no. 6 (July 4, 1958), courtesy of Don Morin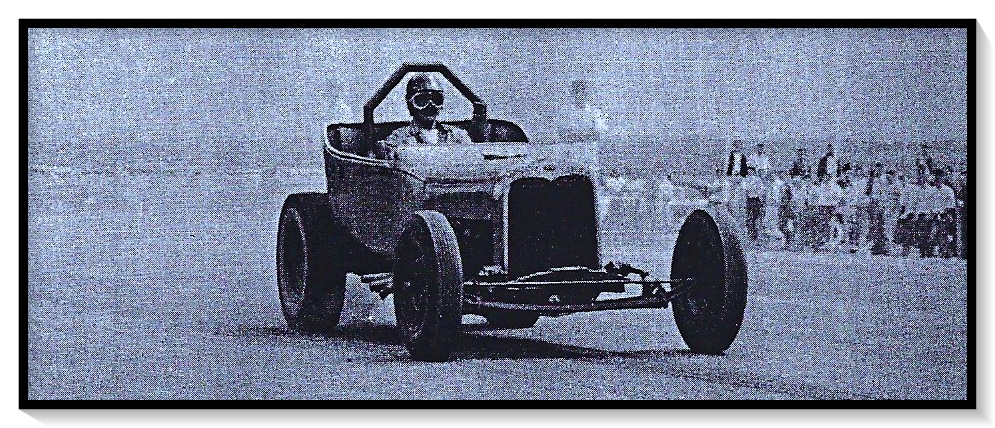 Jack Price took top gas eliminator honors in his Olds-powered A Roadster at Great Lakes Dragaway on June 29, 1958. He clocked 12.25 at 111.11 mph in the win. Photo published in ​​​Drag Times, vol. 1, no. 6 (July 4, 1958), courtesy of Don Morin
K-K Sports Arena/Wisconsin International Raceway ​(Kaukauna)
Years of Operation: 1965-present

Located three miles south of Kaukauna in the town of Buchanan, the quarter-mile paved oval and half-mile dirt oval tracks were built in 1964. Situated on 200 acres, construction was begun that same year on a quarter-mile drag strip. The three principal men in building it were Joe Van Daalwyk, Connie De Leeuw, and Clyde Schumacher. Completion of the drag strip was scheduled for late July 1965. Research was unable to find when the first race was held, but it is assumed that it was in late July or August 1965. The first race in the 1966 season was in early June. Racing was timed for 1,000-foot distance, with speeds projected for a quarter-mile using a calibration table accurate to within two percent. At a race on Sunday, August 7, 1966, Thomas Broas was killed in a fatal racing accident. He lost control of his car at a high rate of speed at the finish of his run during time trials.  In 1967, Ron Leek came to KK. He had lots of experience in drag racing, having been a traveling announcer for the United Drag Racers Association. He became general manager and publicity director of KK. In September 1967, KK hosted a national championship race for UDRA. It appears that by this time, the track was timing races at a quarter-mile distance. On May 5, 1968, Al Fontannini of Highland, Illinois, won the funny car title in his '68 Hemi Dodge Charger, beating Don Miller of Manchester, Missouri. Del Fisher of Milwaukee won top fuel with a run of 7.72 seconds at 197.10 MPH. The track went bankrupt in 1970 and was forced to sell all its assets at the end of the season. But the track was back in business in 1971, albeit with a change in name to Wisconsin International Raceway and new sanctioning under AHRA. That summer they also changed from racing on Sunday to Saturday nights. The track's association with the UDRA lasted through 1976. The track continues to operate under IHRA sanction with its very popular Real Street Drags program and regular featured racing. In 2015, Scott Holdridge set a new jet dragster track record with a 304.28 MPH clocking.
CLICK HERE to see location on a map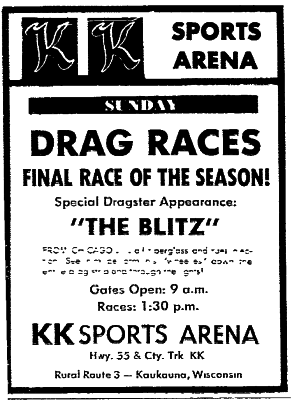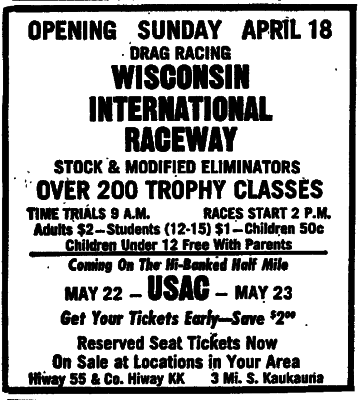 Did you race here? Tell us about it.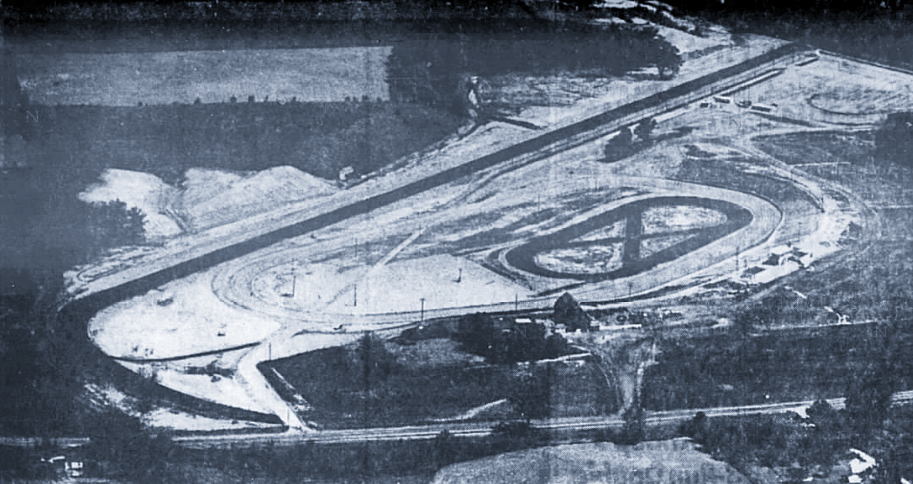 CLICK HERE to see video footage of WIR, 2009, 6:43 minutes
The new KK Sports Arena Drag Strip is seen in this aerial view in the background. Photo published in the Appleton Post-Crescent, June 19, 1966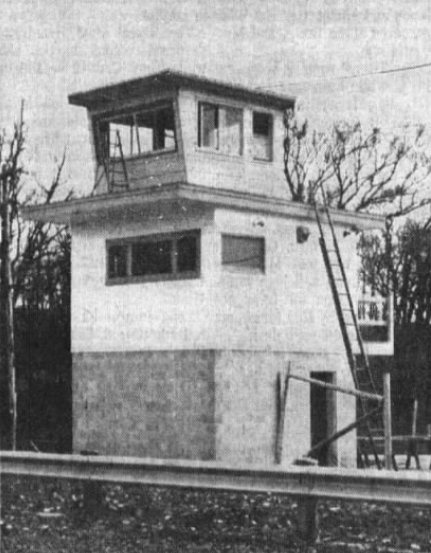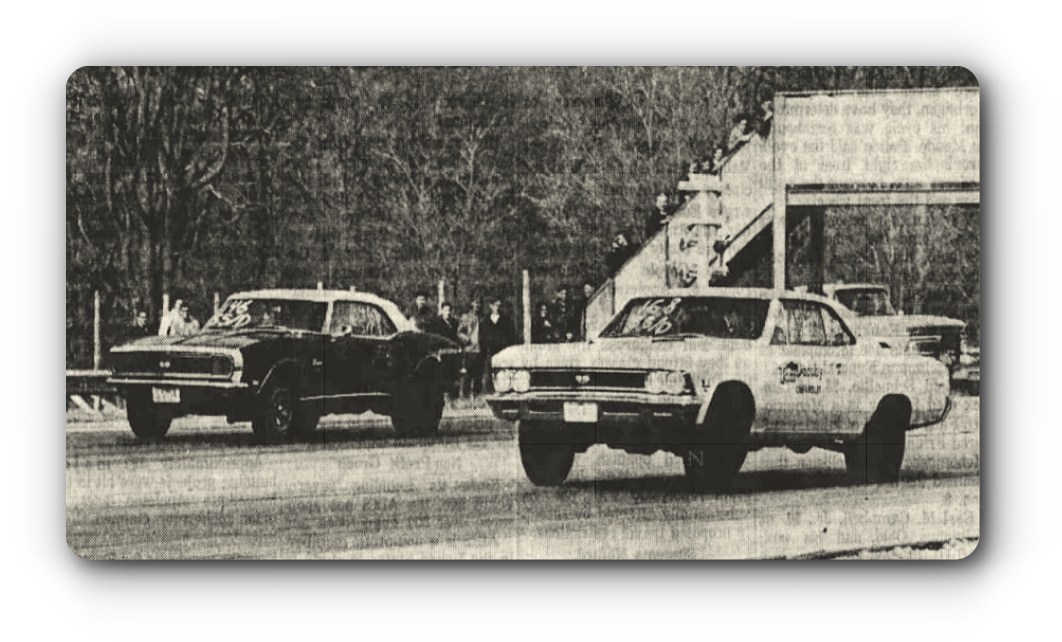 Two cars bolt from the starting line during time trials at KK Sports Arena. Photo published in Appleton Post-Crsscent, Apr. 8, 1968
This photo shows construction work almost completed on the third floor of the timing tower. Photo published in ​Appleton Post-Crsscent, May 14, 1967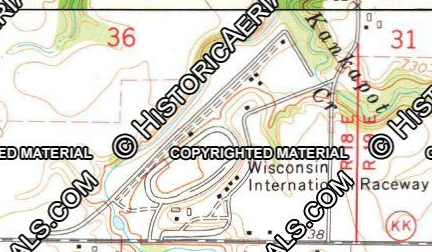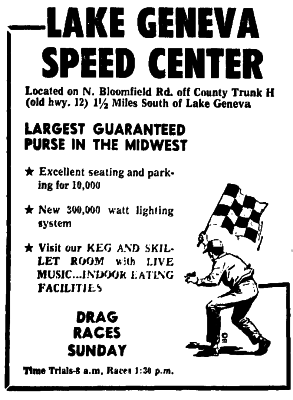 2000 aerial view of Lake Geneva Speed Center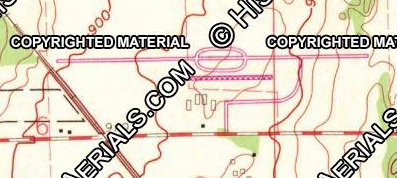 Tenora Dragway ​(Comstock)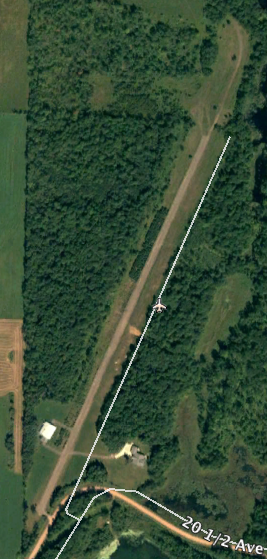 Did you race here? Tell us about it.
CLICK HERE to see location on a map
2004 aerial view of Tenora Dragway
Years of Operation: 1952
Status:  Exact location unknown

The Milwaukee Motoring Association held drag races in Waukesha sanctioned by the Milwaukee County Sheriff's Department in 1952. Exact location of the racing is not known, although there is a good possibility that it took place at the airfield north of town. Further research is needed.
Did you race here? Tell us about it.
CLICK HERE to see location on a map
Westgate Outdoor Theater ​(Racine)

On June 23, 1959, the Racine Pacers car club conducted a demonstration drag race at the outdoor drive-in theater before the movie. Trophies were awarded. Gordy Cape, a DJ from WRJN radio station, was the announcer for the races.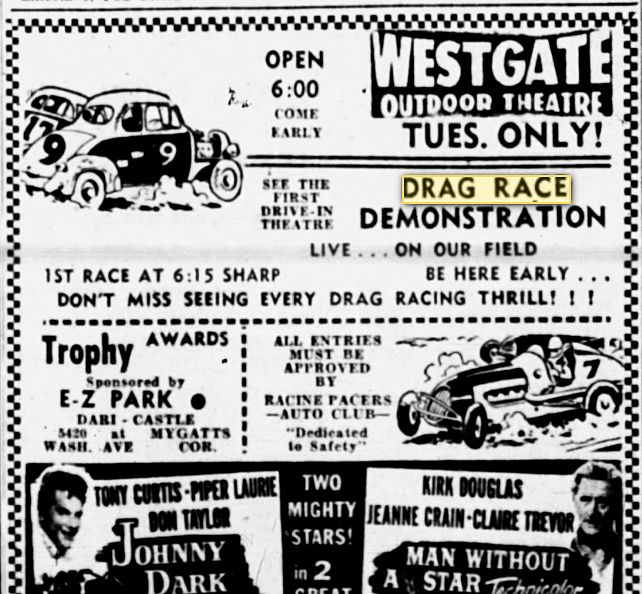 Did you race here? Tell us about it.
CLICK HERE to see location on a map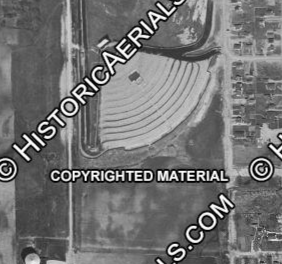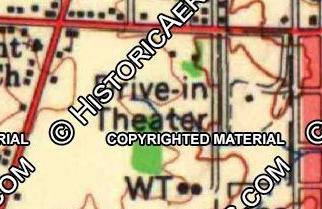 Westgate Outdoor Theatre, ​​
1955 aerial view
Westgate Outdoor Theatre, ​​
1960 USGS topo map

Did you race here? Tell us about it.
CLICK HERE to see location on a map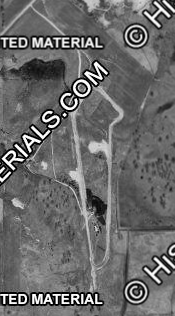 CLICK HERE to see 8mm video footage of a sports car race starting on the straight-away of Wilmot Hills in 1963, 2 minutes, music only/no sound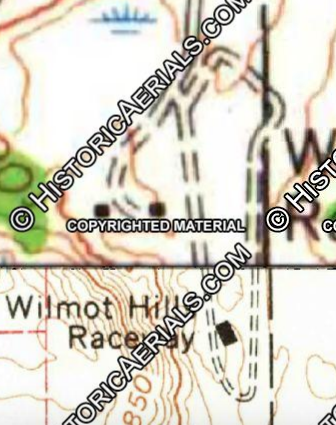 Wilmot Hills Road Race Course, ​​
1955 aerial view
Wilmot Hills Raceway, ​
1962 USGS topo map