Remembering . . .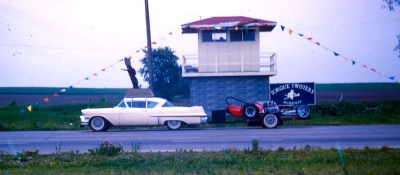 Tommy Ivo parked in front of the Great Lakes Dragaway timing tower.. Photographer unknown
Comstock
Back in the day, Tenora Drag Strip in Comstock, Wisconsin, was a nice place to go. Our car club, the Twin Ports Drag Racing Association from Duluth would come every Sunday. I have some trophies and a lot of good memories. We just lost member and founder Denis Van Alstine, AKA "Dennis The Menace." All of us drag racers thank you very much!!!!!!!!!!!!!! Do you know that one of the racers was Greg Anderson, the Pro Stock Champ's dad, Rod Anderson, was one of us.

Ronald McDonald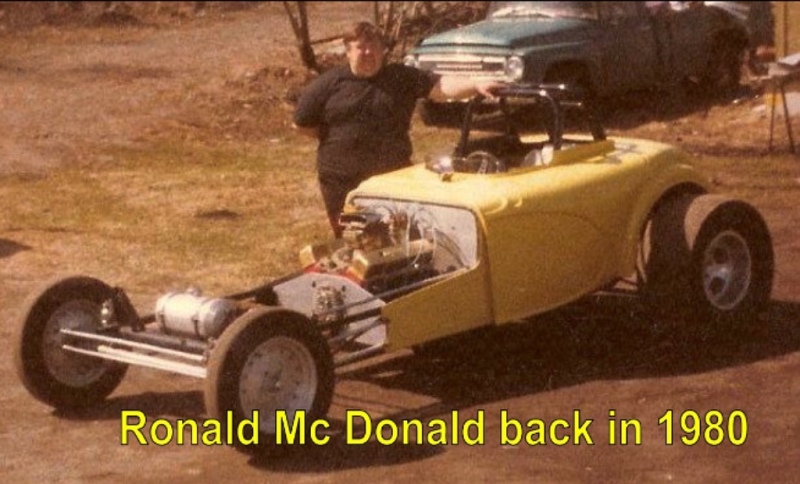 Courtesy of Ronald McDonald

In 1970 I ran a stock '69 Z28. My brother ran a stock '69 GTO. We only ran in the mid 14.s, but we enjoyed. It. There wasn't many cars there so we could make many runs.

Dale Johnson
I ran a '68 GTO in 1970 at the Tenora strip in E Pure Stock. It had a 350 motor. I broke both the E and D record one Sunday. Fun place with great people.

Brad Blihovde
Eau Claire
Amber Green Dragways/Rock Falls Raceway, 1977, 1979
My sister just mailed me some copies of ET slips I got racing at Amber Green in 1977 and 1979. I was awarded a nice trophy in 1979 for the most wins that year. I'm going back racing next spring. I haven't drag raced for 25 years.

Frank Mommsen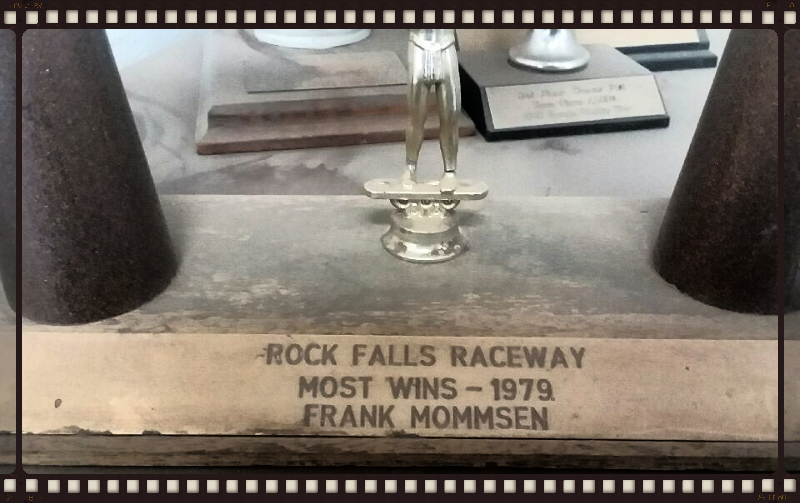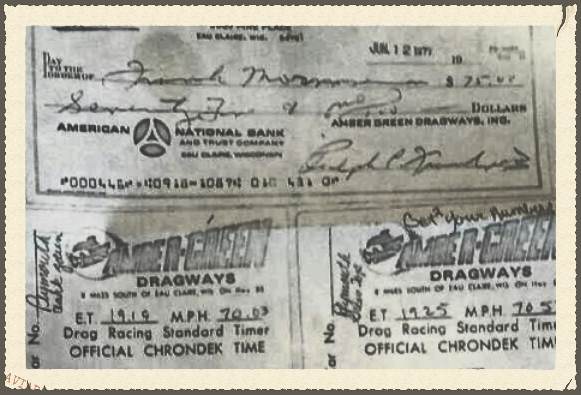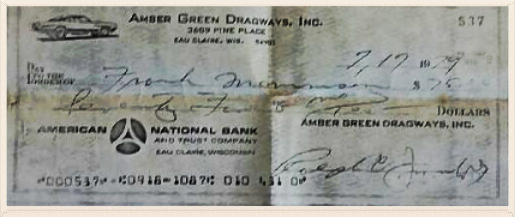 Trophy awarded to Frank Mommsen for getting the most wins at Rock Falls Raceway in 1979. Courtesy of Frank Mommsen

First (top) and last (bottom) checks for Mommsen's wins at Amber Green Dragways. . Courtesy of Frank Mommsen

Kaukauna
In the late 1960's I raced my modified BSA Goldstar at both the Great Lakes Dragaway and KK Sports Arena drag strips. There wasn't much competition in the modified 500xcc class, so the only time I lost was against Christiansen (from Kenosha, I believe) who ran an unbelievable twin Norton. I was given about a half strip head start and he smoked past me well before the finish. At the time, I don't think anyone could touch him and his machine. I ran once for money instead of a trophy, thereby giving me bragging rights that I was once a professional motorcycle racer.

Dave Crane
Wisconsin International Raceway
Great local place for racing and entertainment. I still race there today. I saw the one and only Evel Knievel there in 1973!

Tim Golden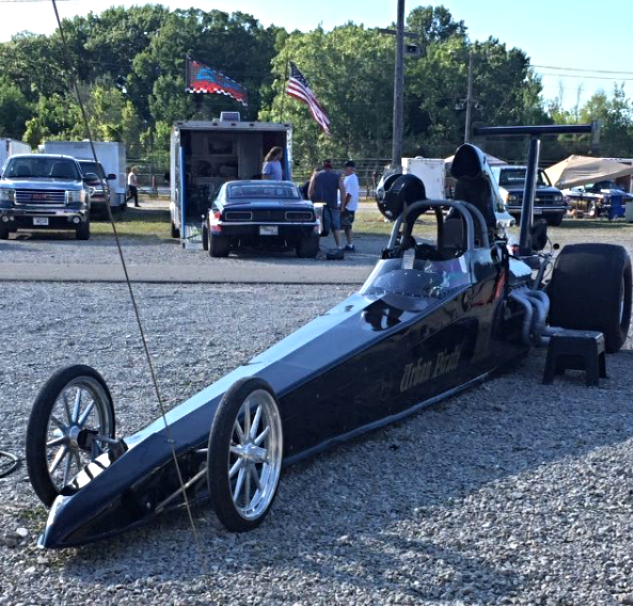 Tim Golden's dragster at WIR. Courtesy of Tim Golden

K-K Sports Arena/Wisconsin International Raceway, 1973-2006
I won Top Eliminator and Hot Rod with my '31 Ford coupe and '77 Monza Mirage.

Daniel Lee Maas
Lake Geneva
Lake Geneva Speed Center, 1964
I raced at Lake Geneva Drag Strip in 1964. The gold '55 belonged to my best friend, Ray Modert, at the time, He owned it once and I owned it twice. Twice we had, shall we say, "difficulties" with the tech officials and had to switch everything to my '57. It had my 2-barrel motor in it. The girl in the picture is Ray's wife, Jean, and her son.  I have different memories of Lake Geneva. I ran there probably 6 to 12 times and remember it being an airstrip. Several times I could see a plane very close in my rear view mirror as I approached the lights. They would take sky divers in the planes and they would bail out nearby. I don't remember any parachuting onto the actual strip though. I remember the manager or head guy had a new 1964 maroon Cobra and he asked if we would run him even up in a match race.  Our '55 had such cold plugs, sometimes i'd have to switch out a couple to a hotter range just to get it started. Then we would put the cold plugs back in for the time trials and eliminations.
Jerry Richards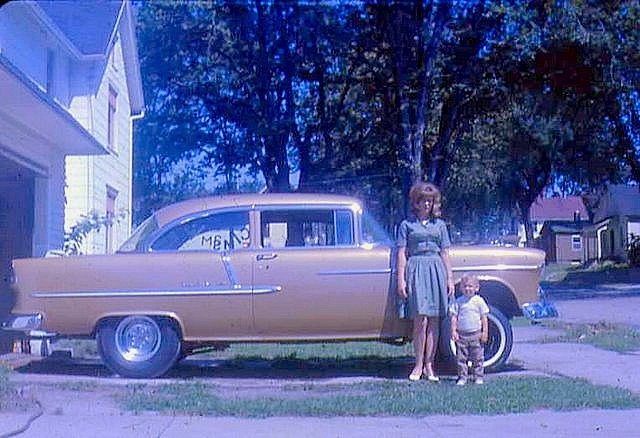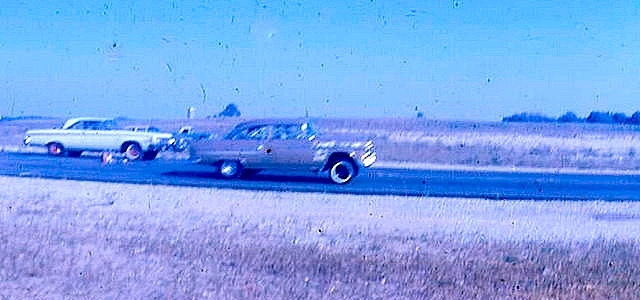 Courtesy of Jerry Richards

Lake Geneva Speed Center, 1965
I raced at Lake Geneva Drag Strip in 1965. I drove a 1965 Dodge Coronet 440 sponsored by Dan Miller Dodge in Zion, Illinois.
Vince Seliga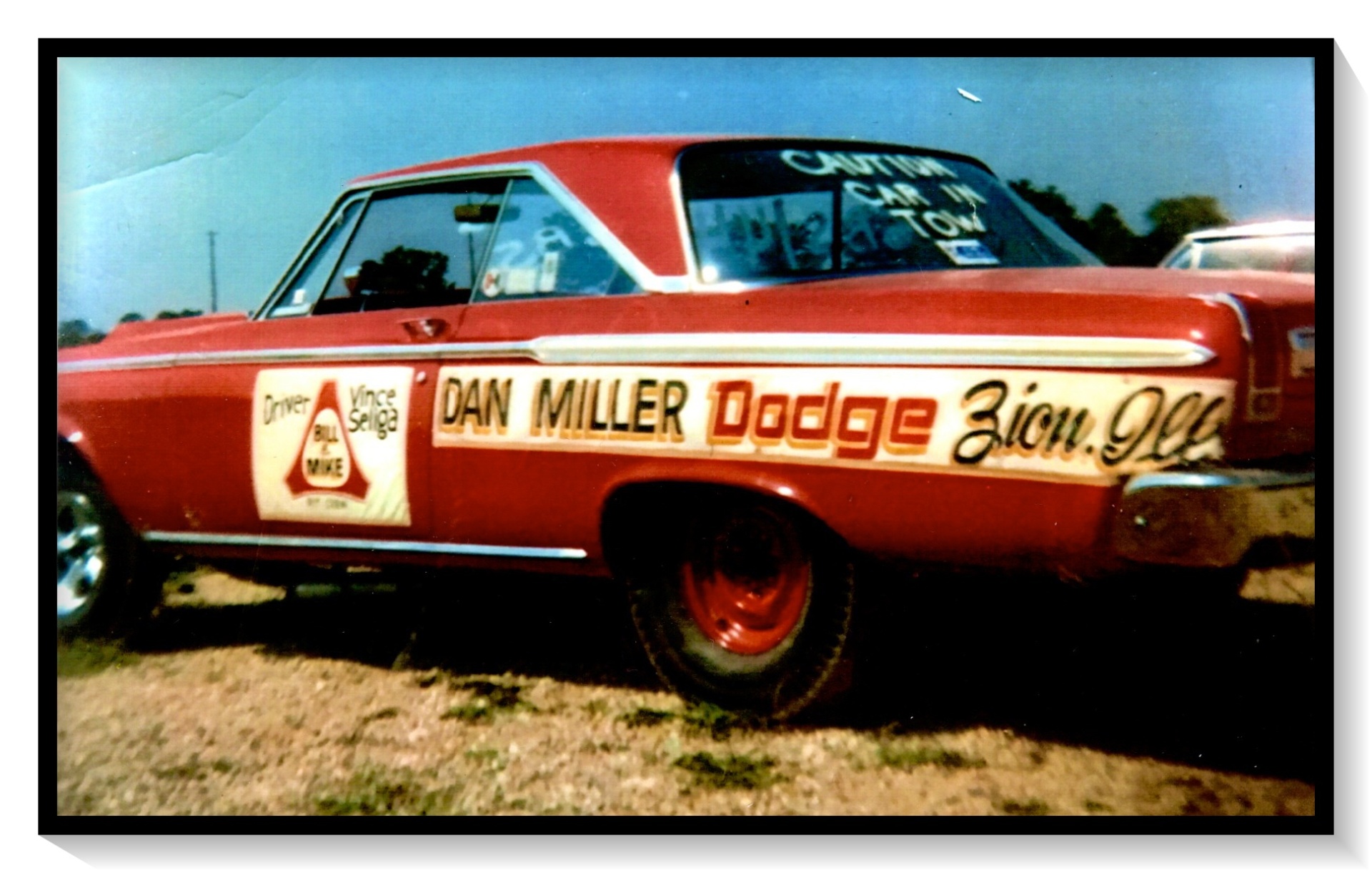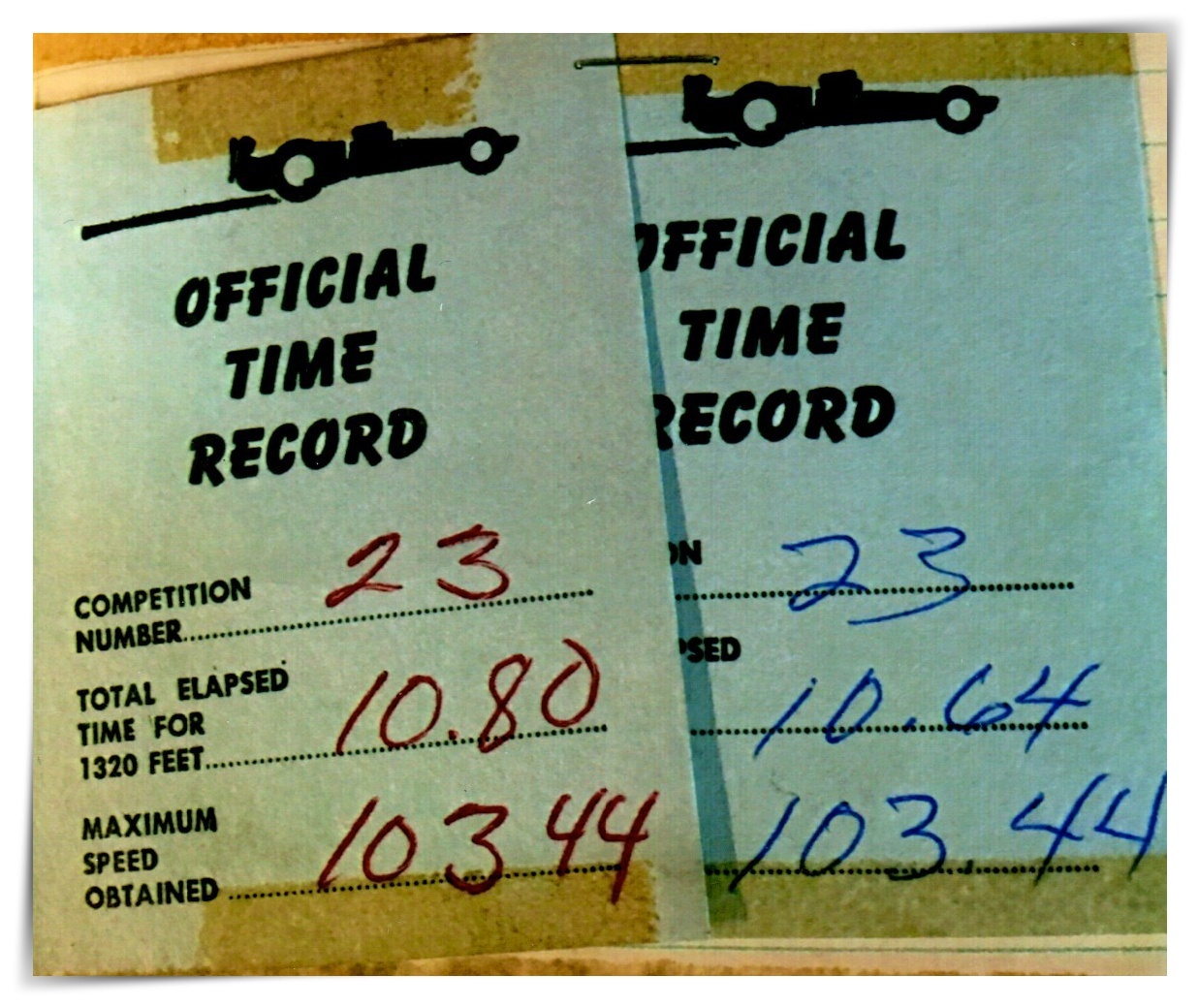 Vince Seliga's '65 Dodge Coronet in pit area at Lake Geneva. Time slips are also from Lake Geneva race on July 25, 1965. Courtesy of Vince Seliga

Union Grove
Great Lakes Dragway, 1977
I attended the 1977 IHRA Summer Nationals at Great Lakes Dragway. I went on the Saturday qualifying day on July 2. During qualifying, there was a funny car in the right lane. During the run, he lost control and crossed the centerline into the left lane and behind the funny car in that lane. He went across the grass and hit a chain link fence. The motor separated from the car and the driver's area of the funny car rolled up in the chain link. There was a moment of silence. Maybe 60 seconds of silence was to pray for his survival. But I am pretty sure they announced he had passed away. Does anyone know anything about this accident?

Scott Grant
Great Lakes Dragway, 1960s
Back in the day I was sponsored by Dan Miller Dodge of Zion, Illinois. I drove a 1965 Dodge Coronet 440. We had to hit as many drag strips as possible to keep our sponsor happy. We raced at Lake Geneva, Union Grove, Cordova, U.S. 30, and Rockford/Byron. Rockford was four-wide. That was crazy!
Vince Seliga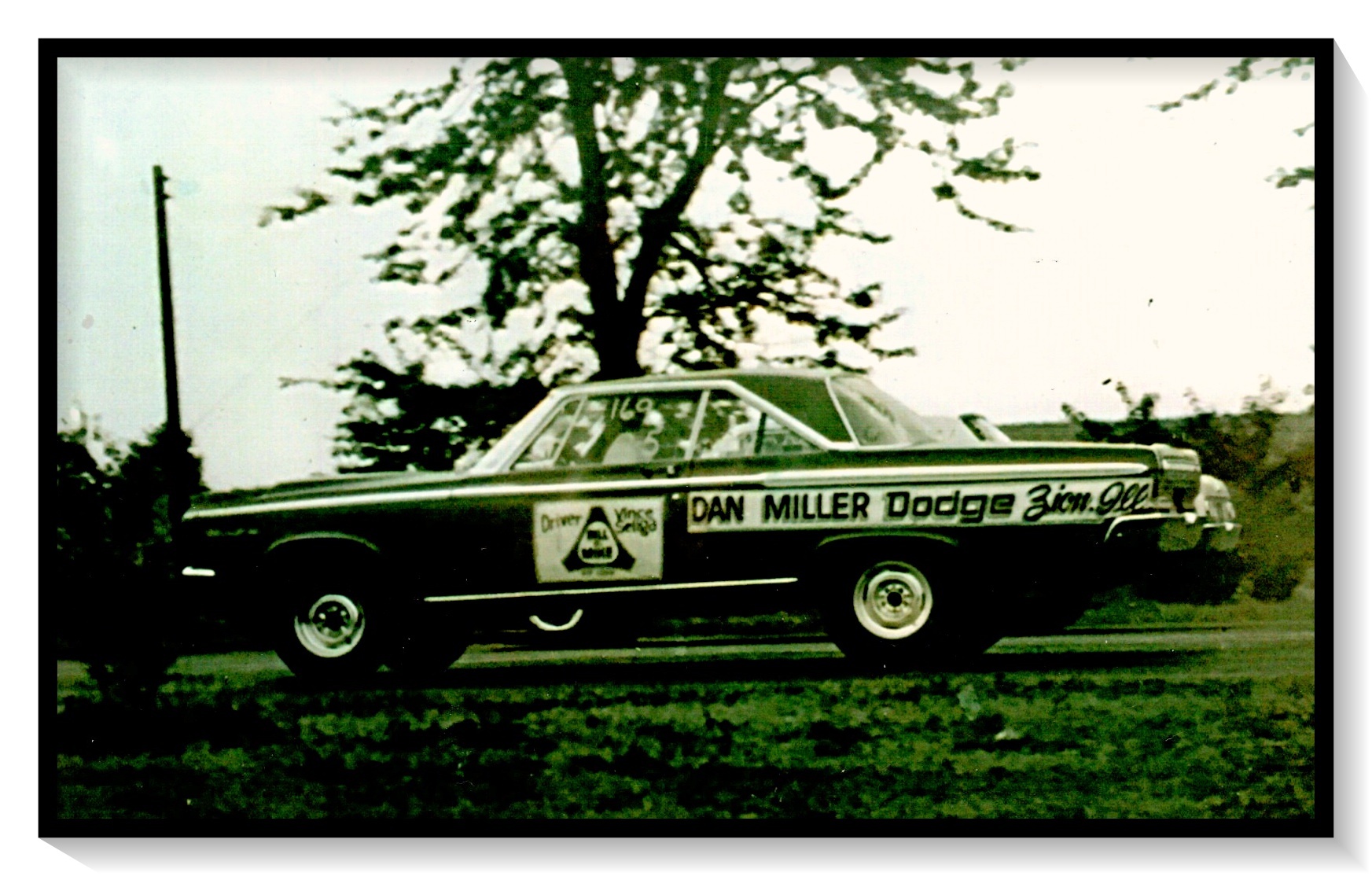 Vince Seliga's '65 Dodge Coronet racing at Union Grove. Courtesy of Vince Seliga

Great Lakes Dragway, 1962
I've been a drag racing spectator since 1962. In that year I saw a match race at Union Grove between Bob Smith's Untouchable vs. Chris Karamesines' Chizler. I've been a Greek fan ever since!
Mark Johnson