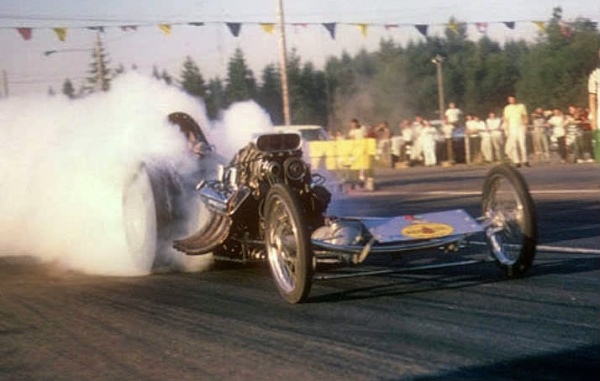 Puyallup Raceway, 1964.. Photographer unknown
Arlington
Arlington Drag Strip, early 1960s
My dad, Del Hines, won three trophies at Arlington. I have them. He raced a 1952 Studebaker in C Stock, I think.
Jeff Hines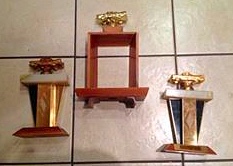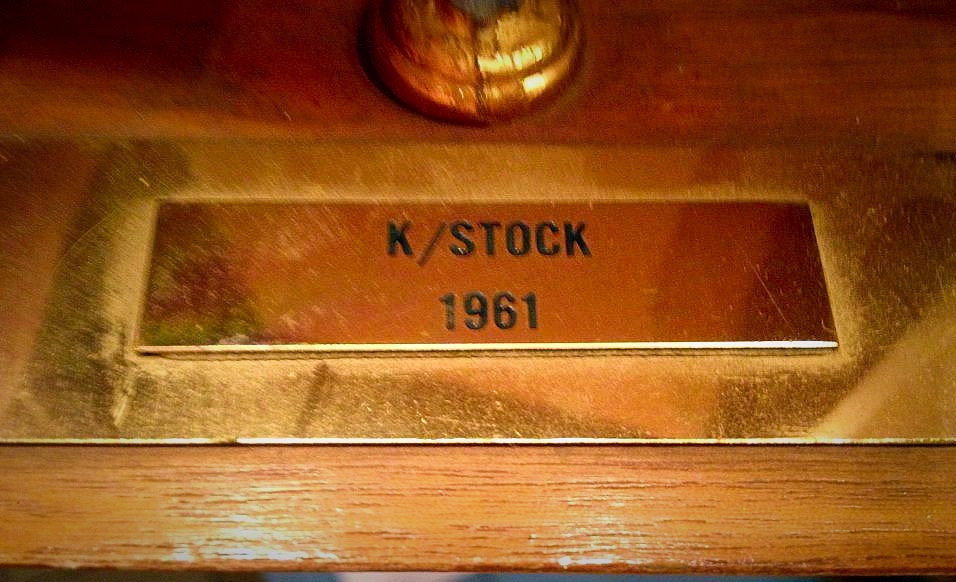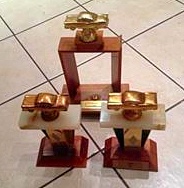 Trophies won by Del Hines at Arlington Drag Strip. Courtesy of Jeff Hines

Arlington Drag Strip, 1960s
In the '60s, my dad, Chet Mcfallo, was drag racing a Shelby Cobra. He won the Governor's Cup in Arlington, Washington. Do you know if there are any pictures of the trophy being presented to him?  [Note: If anyone can help on this request, please contact  DSL.]
Nick Mcfallo
Bayview
Skagit County Airport, 1958-60
Our car club, the BC Custom Car Association, was formed in Vancouver, B.C. in January, 1952. Some of us raced at Arlington in the same year. We also raced at Bayview, Washington, in 1958, '59, and '60. I personally still have class trophies for wins in both 1958 &'59 in my 1956 Chev BelAir. There seems to be little info about Bayview? At the moment I have no photos. Cheers.
Larry Braine
Deer Park
Deer Park Drag Strip, 1959
I had a '51 Chevy Fleetwood 2-door fastback that I raced at Deer Park Dragstrip in July and August in 1959. I don't remember the exact dates, but the first time I set a class record for the stock '51 Chevy class. I don't remember the class, but I think it was E or F stock. I only raced there 2 or 3 times before I totaled the car in Spokane. The car was registered to me in Moscow, Idaho.  [Note: Ron is trying to find information on his class record that he set in 1959. If anyone can help, please contact DSL]
Ron Mickels
Deer Park Drag Strip, 1960s
I raced my '56 Olds in Spokane, Washington, at the DeerPark strip. That was in the early '60's. My car was not that fast, but took Junior Stock eliminator once. My friend Dave Wren raced in those days. I never forget the Stone-Woods-Cook gasser--blown Olds engine.
Roger Parlett
Kent
Seattle International Raceway, 1970-71
I ran my funny car at Seattle International Raceway in 1970 and again in '71. Against Mickey Thompson in a match race . Bill Doner set it up.
Mike Miller
Puyallup
I live just a few miles from Putyallup track! I raced SS at the time. One of my last passes down it, I crossed the line at 120 mph on the front wheels! I had gotten into a bad habit of shifting it into neutral and blipping the throttle before reverse lock outs were mandatory. Wemt into reverse! What a ride! That broke that habit! Also raced at SIR!
Steve Stahlschmidt
Puyallup Raceway, 1963-76
I grew up at Puyallup Raceway in Washington. 69-76ish when it closed. It's still there. My dad has probably 20 trophies from the mid-70's from there. There and Pacific Raceways and Bremerton. I still race, but I sure do miss heading out Meridian way to that track with my dad. I'd give all I have now to return to that time. I've got LOTS of memories from there. Anyone wants any info, I probably have it. My first memory of the track wasn't inside, but in back of it. There was a little narrow dirt road back there and people would steal cars and strip them back there. My dad's first '55 wound up back there. That was the mid-60's. And people used to park back there and sneak into the drags. There was a gate back there, but they never used it.  Memories. Wow. Lots. They used to have Fox Hunts all the time. Ladies in free. Bands. They had a permanent bandstand. Wet T-shirt contests, and the powder puff where my mom raced. She drove another guy's Camaro one night and took out the lights. Spun it around.  I remember going to the snack bar when eliminations were almost over and fighting racers for the free cheeseburgers they had to get rid of.  Saturday nights were for he and Mom, but Friday it was he and I.  He used to jack up the '57 with an old bumper jack and while he was opening the headers, I was swapping the old M&H Racemasters on white rims. I remember when they first put blacktop on part of the pits. Wow. Bumper jack gripped better then.  I remember riding with him and his friends, and learned how to "power shift" by watching them. They would rev those little 283's/327's about 7000 rpms, and dump the clutch. Then they would shift so fast you could hardly see it. That's what made me want to race. Then that little shutdown area where people would park and drink. Coming back up the return road we would roll the windows down and you could hear Gary Johnson (still around) announcing over the PA. I can still hear him there when the wind is just right . . . .  Then we would cruise around 6th Ave in Tacoma with the numbers on the car, me holding the night's trophy, and pick street races with Hemi Cudas, and big block Chevelles. My dad hardly ever lost. Yeah, I grew up at that track. We went to SIR for big sanctioned events, but Puyallup was where it was at.  In the early '80's, my dad and I went out there. A kid had died racing on the track, a couple years after it closed. So they put boulders in spots. But you could still launch, and taught me how to launch my Camaro there. I still drive out there once in a while, sometimes it brings a tear to my eye, remembering all the good times we had. It isn't quite the same these days. 

Chuck Tamburello
Puyallup Raceway, 1963-76
Puyallup Raceway Park was notorious as an outlaw track. It had no national sanction. It was always a substandard facility that, without major improvements and investment, would never have satisfied the minimum requirements for sanction. Its inherent danger aside, Puyallup attracted a steady stream of race cars and spectators who ignored the obvious danger and were eager to flirt with disaster. The shutoff area was short, requiring good brakes and an early parachute release. I started going out there in 1963 as a spectator. In 1968 I acquired the 1957 Chev seen in these pictures. I built it up gradually over the years and by 1970, it had a 350 HP 327 Corvette engine and a Muncie 4-speed with a 4:56 positraction rear end. I originally built the car for street racing, but after getting caught and ticketed, I decided to race at the track and run in the ET brackets. The car ran mid-13s at 102 MPH on 7-inch M&H cheater slicks. I did very well with the car, winning a lot of money and trophies from 1970-74. The track closed down in 1977, but I raced for many years after that with different cars at other tracks, but I will always have fond memories of Puyallup where I got started. I remember going to a race there in 1965 where I saw racers like Sox & Martin, Dick Landy, and Hayden Proffitt. They were racing those factory altered wheelbase cars that were running 9 second ETs, banging those 4-speeds so fast it sounded like they were running automatics.

Chuck Tamburello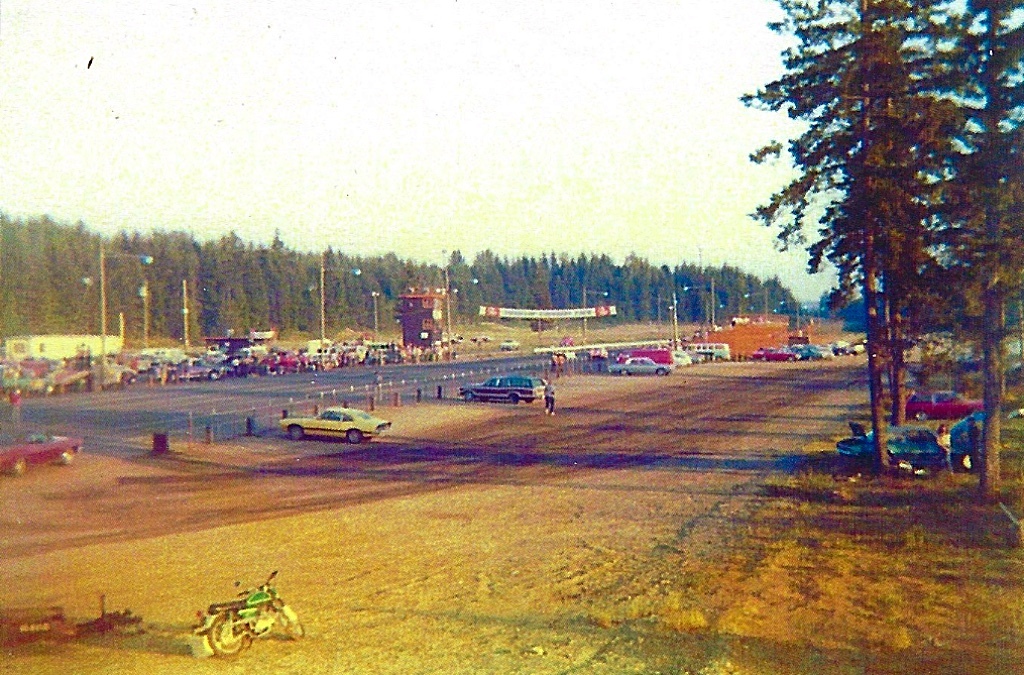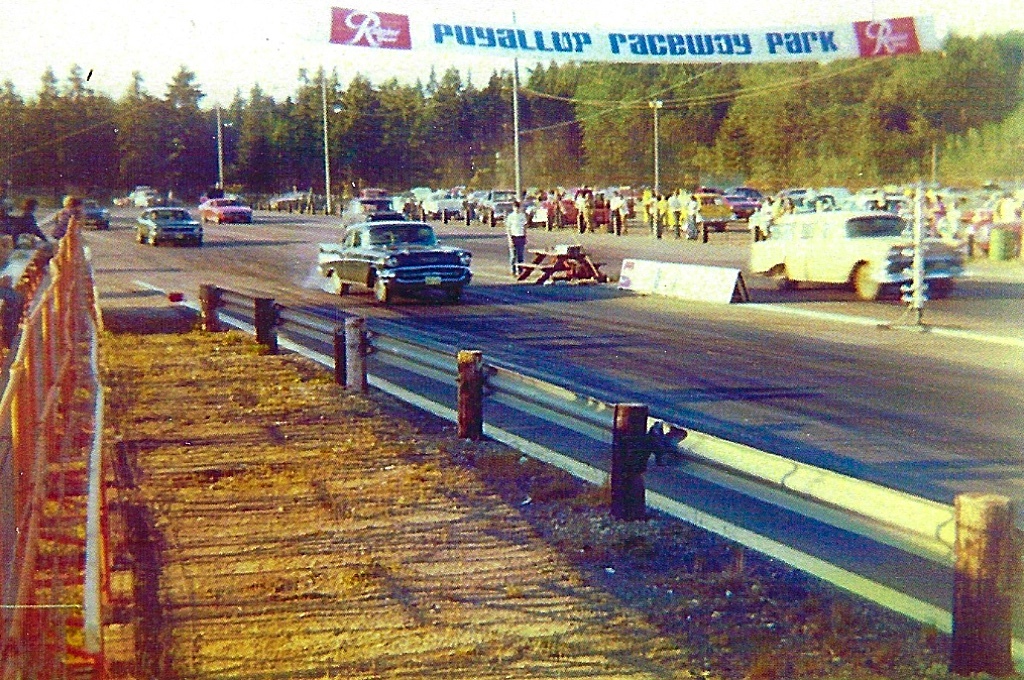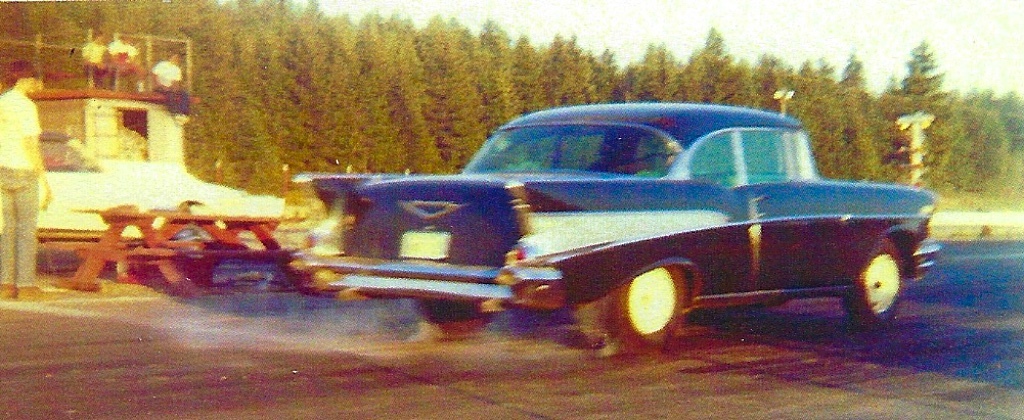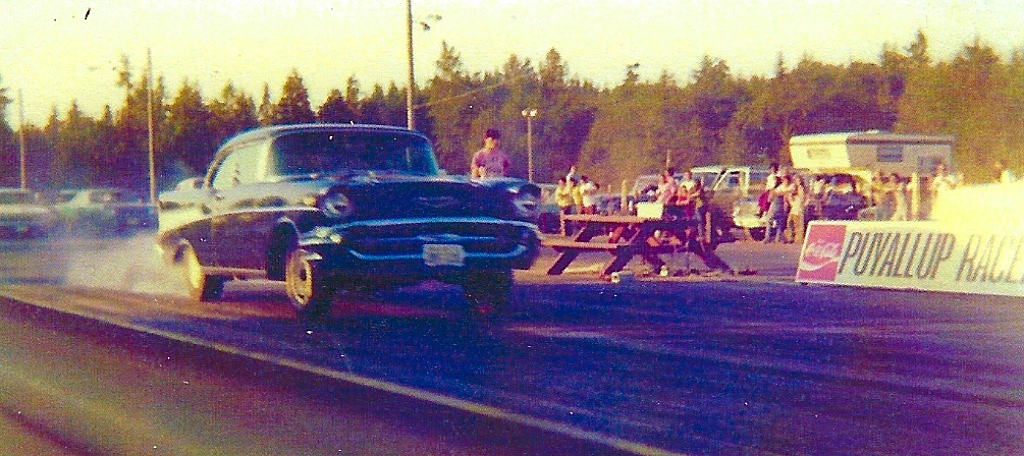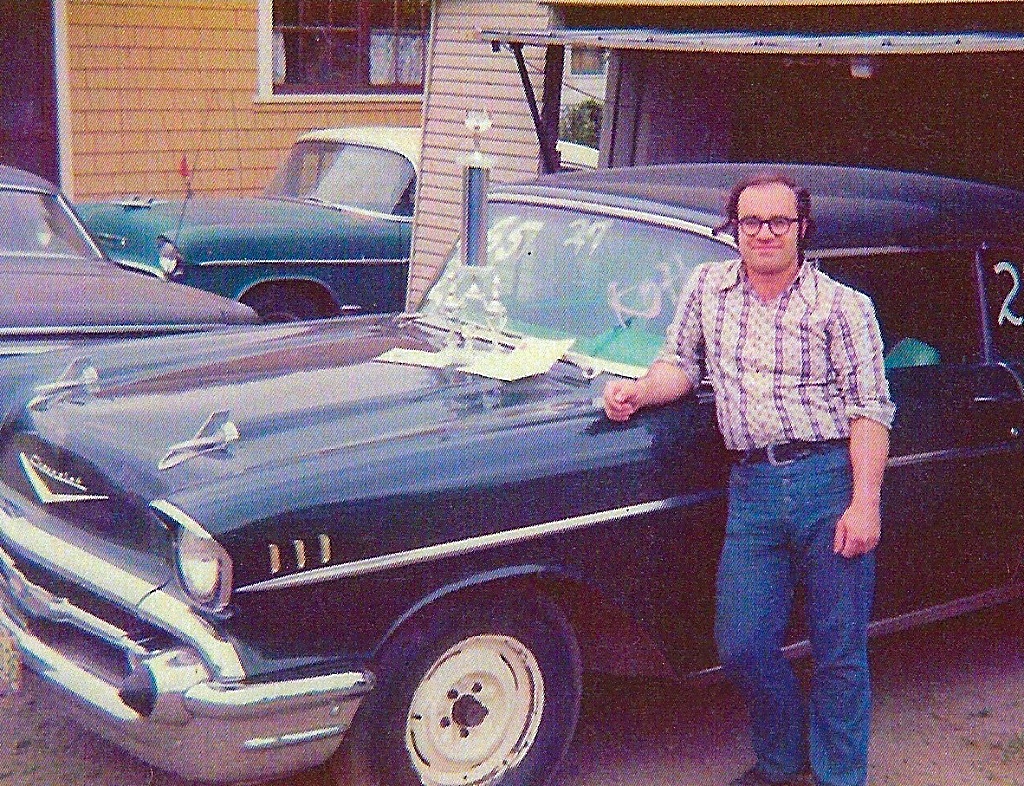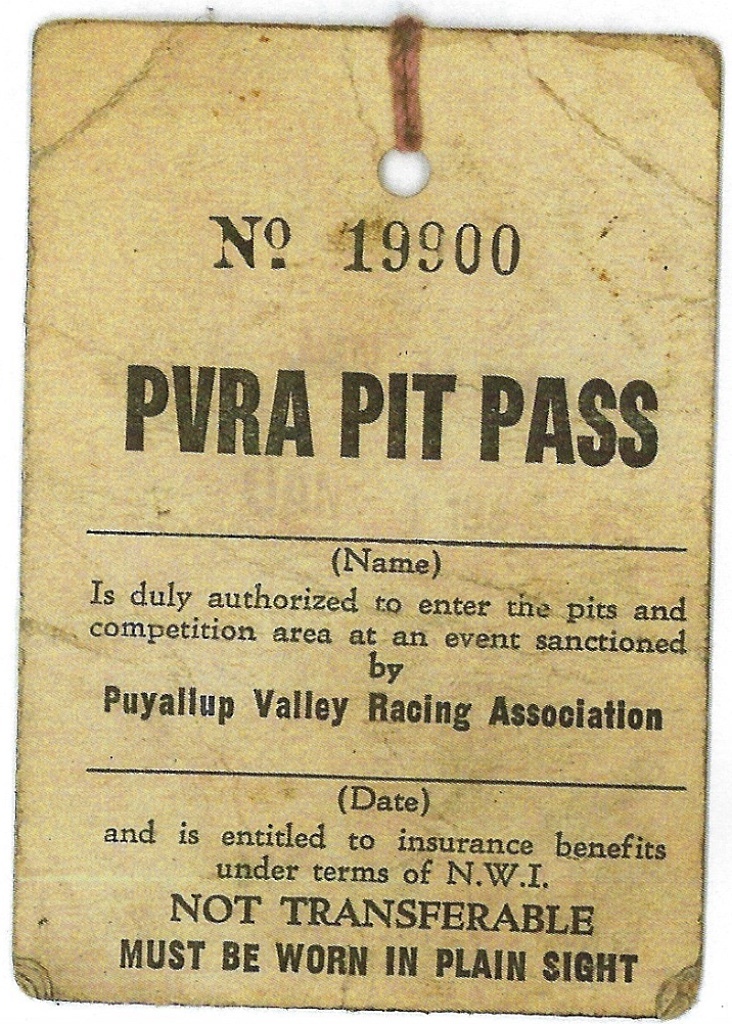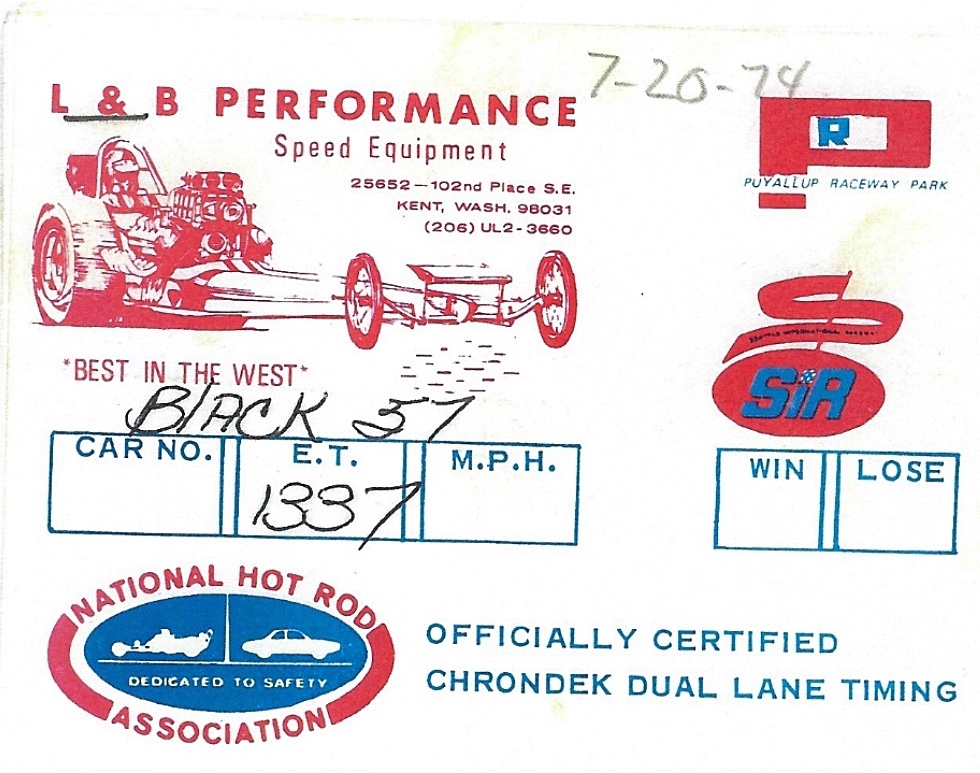 Chuck Tamburello's 1957 Chevy racing at Puyallup, a trophy he won on hood of his car in 1974, pit pass and time slip. Courtesy of Chuck Tamburello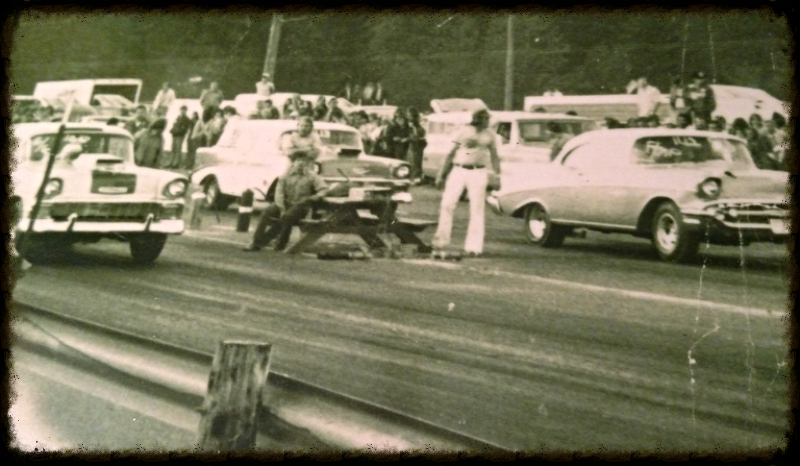 Three of the most popular racers at Puyallup are seen in this old photo of the starting line. Courtesy of Chuck Tamburello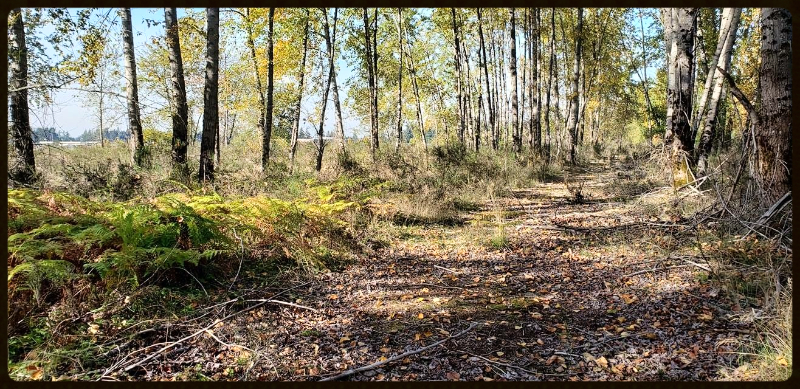 Nature has sadly reclaimed the old Puyallup drag strip. Courtesy of Chuck Tamburello

Raced there, won there, lost there, crashed there. Lots of memories there.
Mike Miller
Spokane
Spokane Raceway Park, 1990-91
I was up at Spokane a few times. The first time I was running a Top Alki Dragster. There was a big field and I did not make the show. So in 1991 I put a nitrous set-up on my Alki car to run Top Fuel. On the way up we crashed our truck and got to the race very late with only time for one pass to make the show. We made it. I had put the best parts that I had on my car. I made the show in seventh place. In the first round I drew Gene Snow, the Snow Man. The car left so hard, it pulled my hands off the wheel and I lit the tires at about 1000 feet out, but it ran the quickest run I have ever ran. Over 1 1/2 seconds quicker than the year before on just alki in the tank. I lost, but it was a blast and I only ran one more race in Salt Lake City and I quit racing after that. It was time.
Glenn Pearmain