Remembering . . .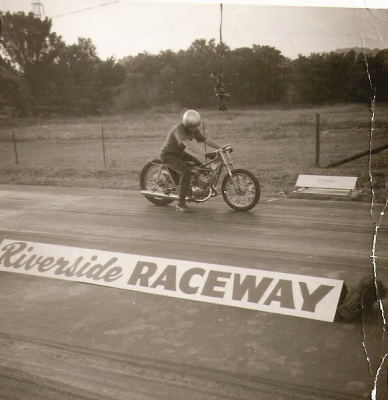 Riverside Raceway, west of Nashville, mid-1960s. Photographer unknown.
Dickson
Pine Knob Drag Strip, 1963-64
My brother, Doris Carl Barnhill, raced and won a lot of trophies at Pine Knob. Doris won most of his trophies with a stock 1959 Corvette, 283 FI, 4-speed trans and posi-traction rear. In late 1964 he purchased a '63 Vette, 327 FI, and 4-speed, but never dominated his B/SPS class as he did with the '59 Vette. Doris married and gave up drag racing in 1965.
Bob Barnhill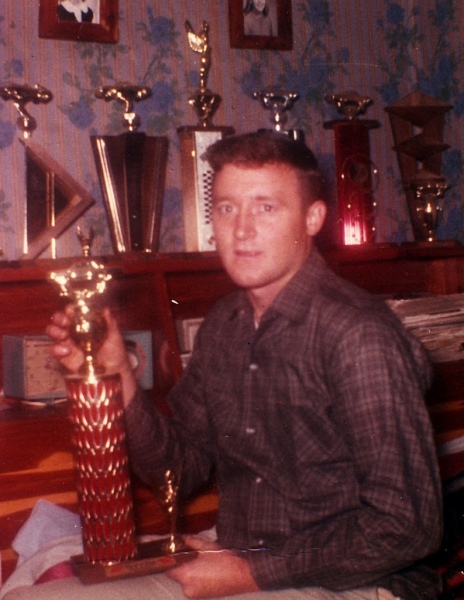 Doris Carl Barnhill (1941-2002) with some of his drag racing trophies won at Pine Knob, Union Hill (Goodlettsville), and Rutherford Drag Strip (Smyrna). Photo taken in 1964. Courtesy of Bob Barnhill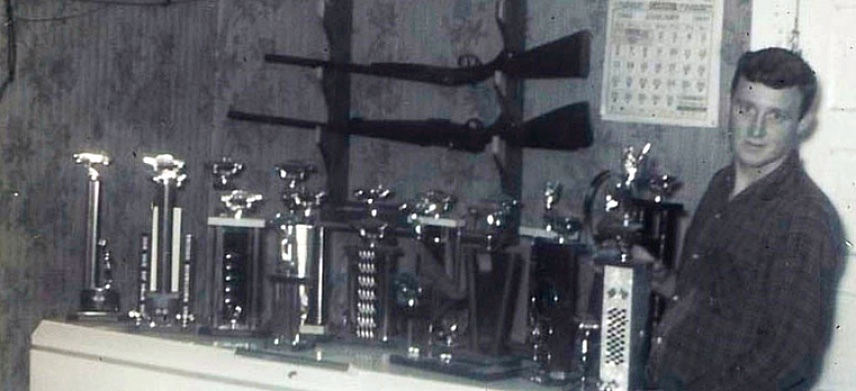 In this 1964 photo, Doris stands with some of the trophies that he won drag racing at Pine Knob, Union Hill (Goodlettsville), and Rutherford Drag Strip (Smyrna). He also raced at Riverside (Nashville), Super Dragway (Fairview), and Hyde Park in Ohio. Courtesy of Bob Barnhill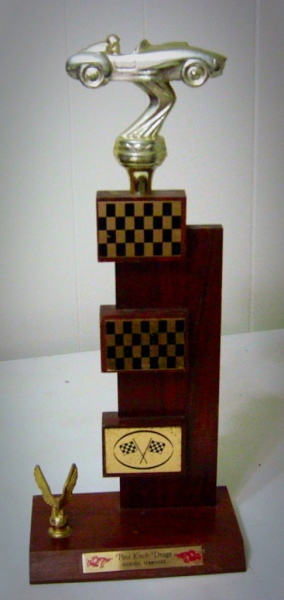 Top Sports trophy won by Doris Barnhill at Pine Knob in July 1963. Courtesy of Bob Barnhill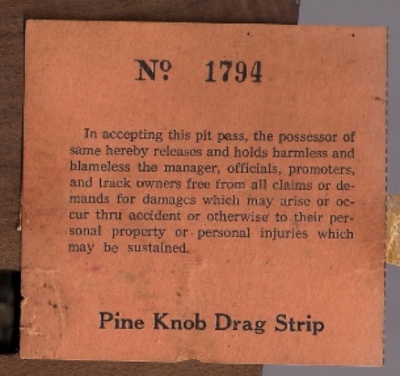 Pine Knob pit pass taped to bottom of Doris Barnhill's July 1963 trophy. Courtesy of Bob Barnhill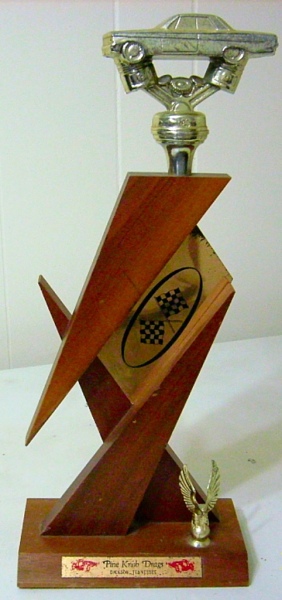 Doris won this top eliminator trophy at Pine Knob in June 1963 by beating all the sports, stock, and gas class cars. Courtesy of Bob Barnhill
Fairview
The name of the track was Super Drag. Some also referred to it as the Dust Bowl National Drapstrip. Yes, Dudley Oakley was the owner/operator. I remember a lot about this old track. Kenneth Buttrey had a '65 Falcon named the "Tennessee Soldier." Pappy Greenfield ran his old B Street Roadster there. Sam Hannah had an old original Ford Thunderbolt. I remember when there was not a tree and they used a flagger. They also had people stand at the finish line and use a flashlight to show who the winner was. I guess the worst wreck there was, and I am sorry for forgetting the name, but there was an Anglia that went airborne and clipped a pole. The driver made it and only then by the luck of a nurse attending the track. She kept him from choking to death on his own blood until an ambulance was able to get there. We used to take our cars there when no one was around to check them out before we went to other tracks. At that time, I owned a 1932 Bantam altered that we tested there. We only ever raced it there one time. Gene Turnage built the old Tunnel Port motor that was in the car.
Don Sullivan
My cousin, Tony Collins, and I went there every Sunday and raced a 1949 Ford. He still has some old trophies. The car that was there every race was a truck, with a 6 cylinder engine and had a bushel of carburetors on it. The owner was a man named Fowler. He was from Paris, Tennessee.  The driver of the Anglia who was badly injured there was Johnny Anderson and he almost died. He and Tim Hobbs were partners in the car.
Mike  Dorton
Goodlettsville
Union Hill Dragway, ca. 1963
My brother, Doris Barnhill, raced his '59 Corvette at Union Hill and won this trophy.
Bob Barnhill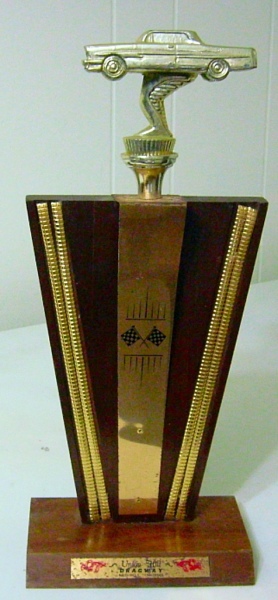 Halls
From the time I got my driver's license in 1964, I've attended drag races in the Mid-South area, including the Halls, Tennesse site. My first car was a 1961 Plymouth Belvedere 2-door post with a 361/305hp, fitted with a dual quad intake from a '58 Fury. It had a 3-speed manual and 3.55 rear. I ran several times at Halls, running high 14's/low 15's. I remember the shutdown area had dips and was a waaahooo! trying to stop after a run! No photos, but I did manage to save a flyer from 1966.
Glenn Bell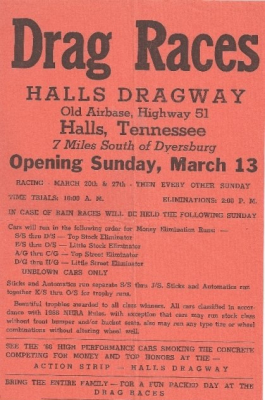 Halls Dragway flyer, 1966. Courtesy of Glenn Bell
Knoxville
McGhee Tyson Air National Guard Base, 1963
It rained on this race. I remember because there was an incident involving the wet track. Drinking in competition areas was not uncommon at this time, at least not in my part of the world. During a rain delay, a super stock racer was walking around the pits with a baby blanket wrapped bundle cradled in his arms, asking his friends: "Wanna hold the baby?" The "baby" was a large fruit juice can, obviously spiked. He paid for his fun later when he took his '63 Chev for a solo run on the damp track. No, he didn't crash. Just spun the tires, over-rev'd and damaged the engine to the point he couldn't continue. Also here, as a teenager I heard an old joke for the first time. There was a large crowd around Don Garlits' car as he apparently was changing the clutch. As he got the clutch cover bolts fully loosened, he was flicking them from the wrench socket onto the ground. One bounced to the feet of a spectator who promptly picked it up and just as quickly dropped it. "Hot?" asked Garlits. "Naw, just don't take me all day to look at a bolt" came the reply. Got a big laugh from the crowd.
Henry Doriot
Loudon
The drag strip was located at the end of Davis Ferry Road, what is now called Tellico Village.  The dam created a backwater that put Loudon Dragway 40 feet under water.  Two silos from the Davis Farm, adjacent to the track, are the only visible remains as about 10 feet are above water. This was our "family business" throughout the sixties.  Dad was promoter. Mom ran the concession stand with my aunt and my uncle and I tech-inspected the competition classes.  Yes, at 15 years old, I was the only one who could set up the Chrondek Christmas Tree and Timing System.  This was an honest "Happy Days Hot Rods" life experience for me growing up.
Tom Cathey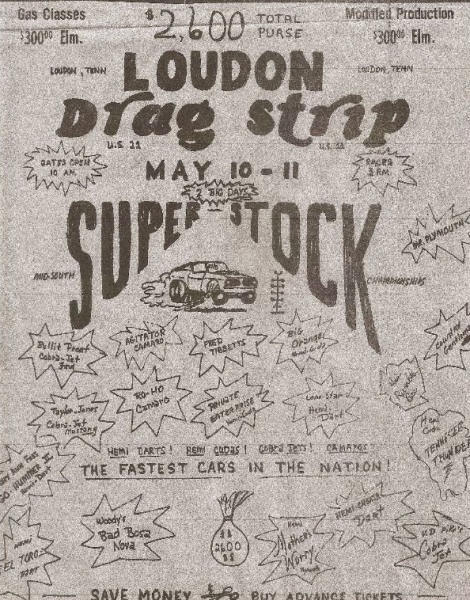 Loudon Drag Strip flyer for Super Stock Shootout, May 10-11, 1969. Courtesy of Tom Cathey
Maryville
Maryville is now a landing strip for small planes. Maryville dragstrip operated from the late '50s to about 1969. Other than street racing, this was first the first legal strip I ran on. I was 16 years old and had a 1953 Chevy 6 cylinder, straight shift on the tree. I thought I was big time. That was good times. No tree, but it had a flagman that stood between the two cars and flagged them off.
Richard Carroll
Memphis
Lakeland International Raceway, 1968
I grew up in West Tennessee, and attended drags at Memphis, Halls, Nashville, and not a few "unofficial" runs near my hometown of Milan. I think of Lakeland Dragway as my "home" track, and have fond memories of my trips there. In April 1968 a friend and I went to Memphis for the weekend, spent Saturday cruising in his almost-new '68 GTX. We met a couple of girls, at the Memphis Zoo, of all places (no, they weren't in the cages!). We did some serious partying, then went to Lakeland the next day. Super Cuda was there, one of my favorites, along with the original Kingfish Barracuda before it. There were several floppers there that cold Sunday, Christman is the only other one I can remember. All in all, a great weekend (except for the hangover!).
Glenn Bell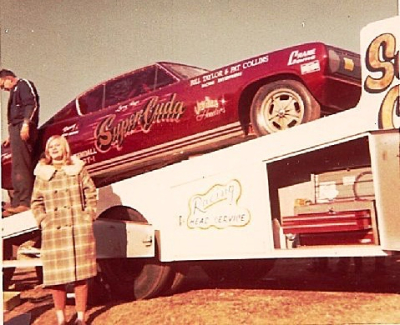 Super Cuda funny car, April 1968. Courtesy of Glenn Bell
Nashville
Riverside Raceway, 1971-72
I raced at Riverside in 1971 and 1972 in what was called a pure stock class. I had a 1971 Plymouth 'Cuda. I bought it new in late 1970.  It was a 340 with Shaker hood and slap stick auto with black billboards and Tor red in color. I raced every Saturday night. After racing it for two years,  I had the car built for serious racing. Unfortunately I wasn't used to that kind of power and blew the engine up the second time down the track. After that, I sold the car. I was 24 years old when I sold it. If I still had that car today in original condition, it would be worth a good 100,000 dollars. I also raced at Union Hill Raceway in Joelton, Tennessee.
Philip Felts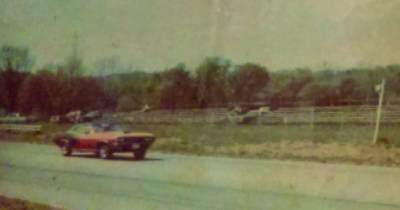 Philip Felts' 1971 Plymouth 'Cuda, on Riverside Drag Strip. Courtesy of Philip Felts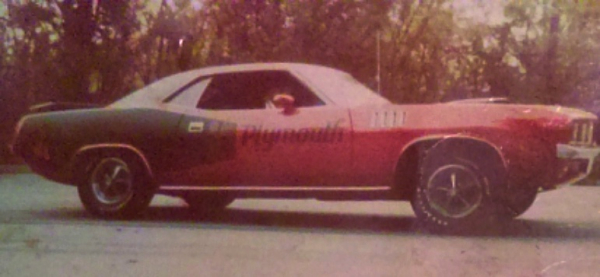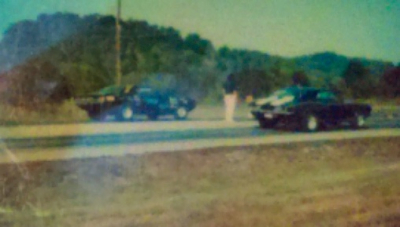 Philip Felts' 1971 Plymouth 'Cuda, after it was built for "serious racing," on Riverside Drag Strip, 1972. Courtesy of Philip Felts
Philip Felts' 1971 Plymouth 'Cuda. Courtesy of Philip Felts
Riverside Drag Strip, 1970s-80s
I used to enjoy racing at the old Riverside track. I ran there in the late '70's into the early '80's. Curtis Goodwin was running the track during that time. We started out with a 10.90 heads-up class which later dropped to a 9.90 class. I was at the race the day Chuck Turner was killed. He was making a run against Spivey Williams when the car made a violent left turn close to the 1300 foot area. When the car hit the embankment, it broke in two and the cage area of the car went airborne, tumbling many times. His car was an older '60's front-engine car that was, I suspect, built with very light-weight tubing. The engine in the car, if I am correct, was a loaner engine borrowed from Bob Amos which owned Music Rod Shop. I used to know whose old chassis it was, but I have forgotten over the years. It was a sad day. The only other crash I witnessed is when Jerry Webster lost his Pinto super gasser in the same general area. Luckily he walked away. One of my fondest memories from the track was a race where I was running against Ronnie Babtist. My frame rails on my old front engine were so tight I had to drive with my right shoe off. Ronnie lost his brakes and almost ended in the Harpeth River at the end of the track. He was okay, but I have laughed many times about running around at the end of the track in the bushes, one shoe on and one shoe off,  hunting for Ronnie. We had a lot of fun in those days. Many great memories.  I wish I had photos and things left of those days. Most of my memorabilia was lost in a tornado a few years back. I've made calls to several of the old racers from the day and a lot are passed on and others don't have any pics left that they could put their hands on.  Those were great days. I forgot about us getting our A/EA license at Riverside. I remember Roger Lindamood and Frank Manzo signed the license. All the memories that come flooding back. They brought in some jet dragsters once at Riverside and the plywood signs at the back of the burnout area caught on fire and were destroyed. Those were the days.
Don Sullivan
Riverside Raceway was next to the old Newsom Mill on the Harpeth River. It was a NHRA track. It had lots of funny cars and dragsters and a jet car that blew a big sign down at the big end. It was 1/4 mile track, but not much stopping distance. They had the big Coca Cola Cavalcade programs, funny cars and dragsters of the '60s and '70s. It closed in the early '80s.
Mark o
New Providence
Buena Vista Speedway, 1958
I've been a collector of drag race memorabilia, trophies, pamphlets, rule books, etc., mostly from closed and abandoned tracks. I started seriously searching for items maybe in the 90's. We have lost so many great drag strips and I always enjoyed doing research on these tracks, just for fun. Anyway, I do remember where I got this trophy. About 10 years ago I responded to an ad on our local Craig's List. I talked to the guy and he said he had a few old trophies he may sell. Well, I went over to his house and he was a super nice guy, maybe in his 80's. Well, we started talking and turns out he had quit a few trophies and was a collector himself. He was downsizing and moving south. Well, I left there with about 40 trophies, this being one of them.
Todd Francisco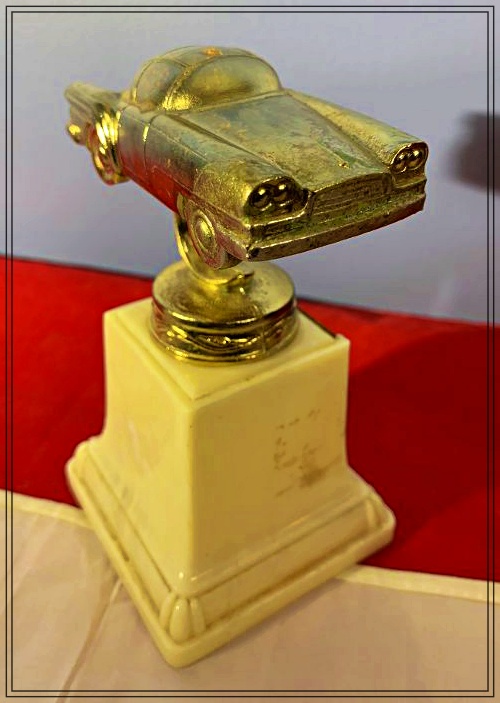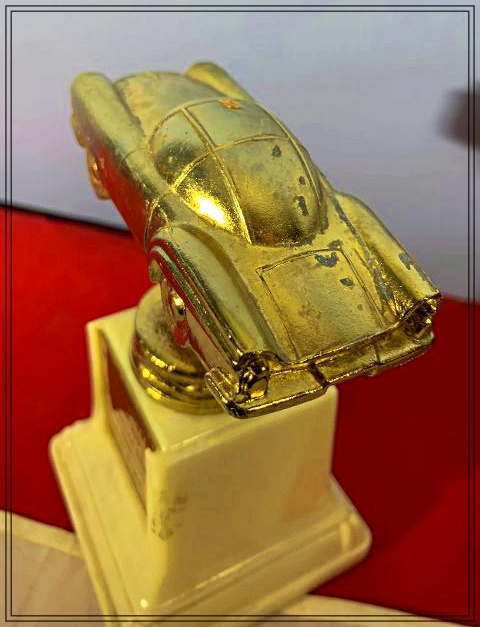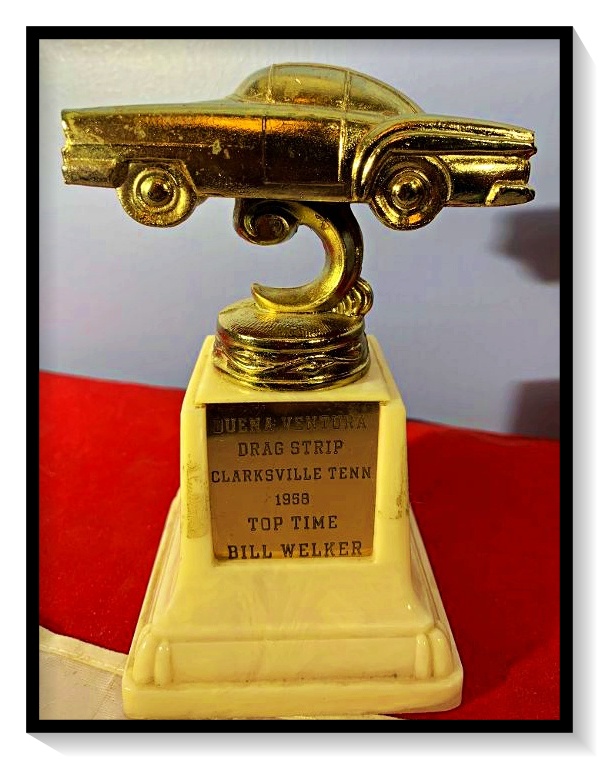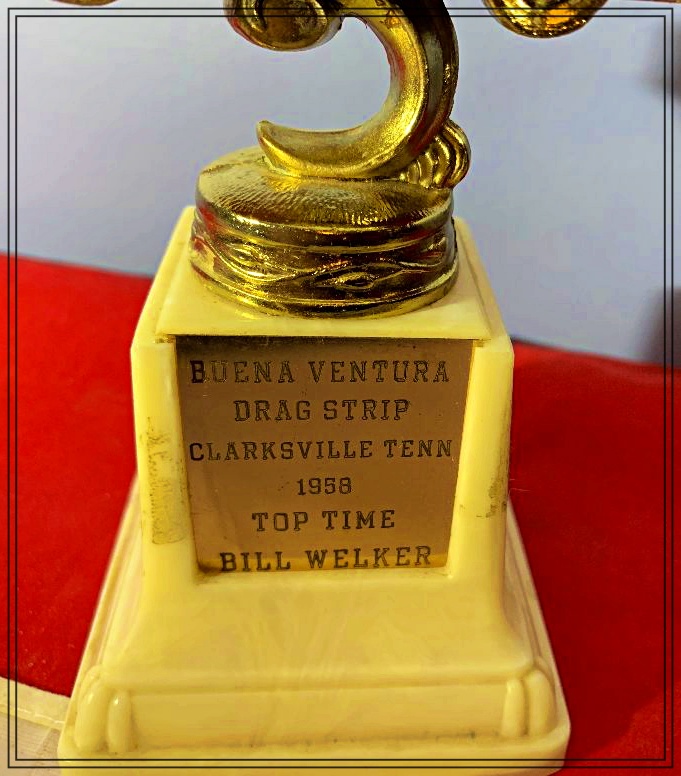 Research in old newspapers shows that Bill Welker, of Clarksville, Tennessee, may have won this trophy on June 1, 1958. On that date, Welker won Class SA and recorded the meet's top time with a run of 10.25 seconds. Welker probably had the plaque engraved after the race. Courtesy of Todd Francisco
Newport
English Mountain Dragway, 1970s
I worked and raced at English Mountain Dragway in the early 70's. I had a '69 Road Runner 440, 6 bbl.
Junior Bryant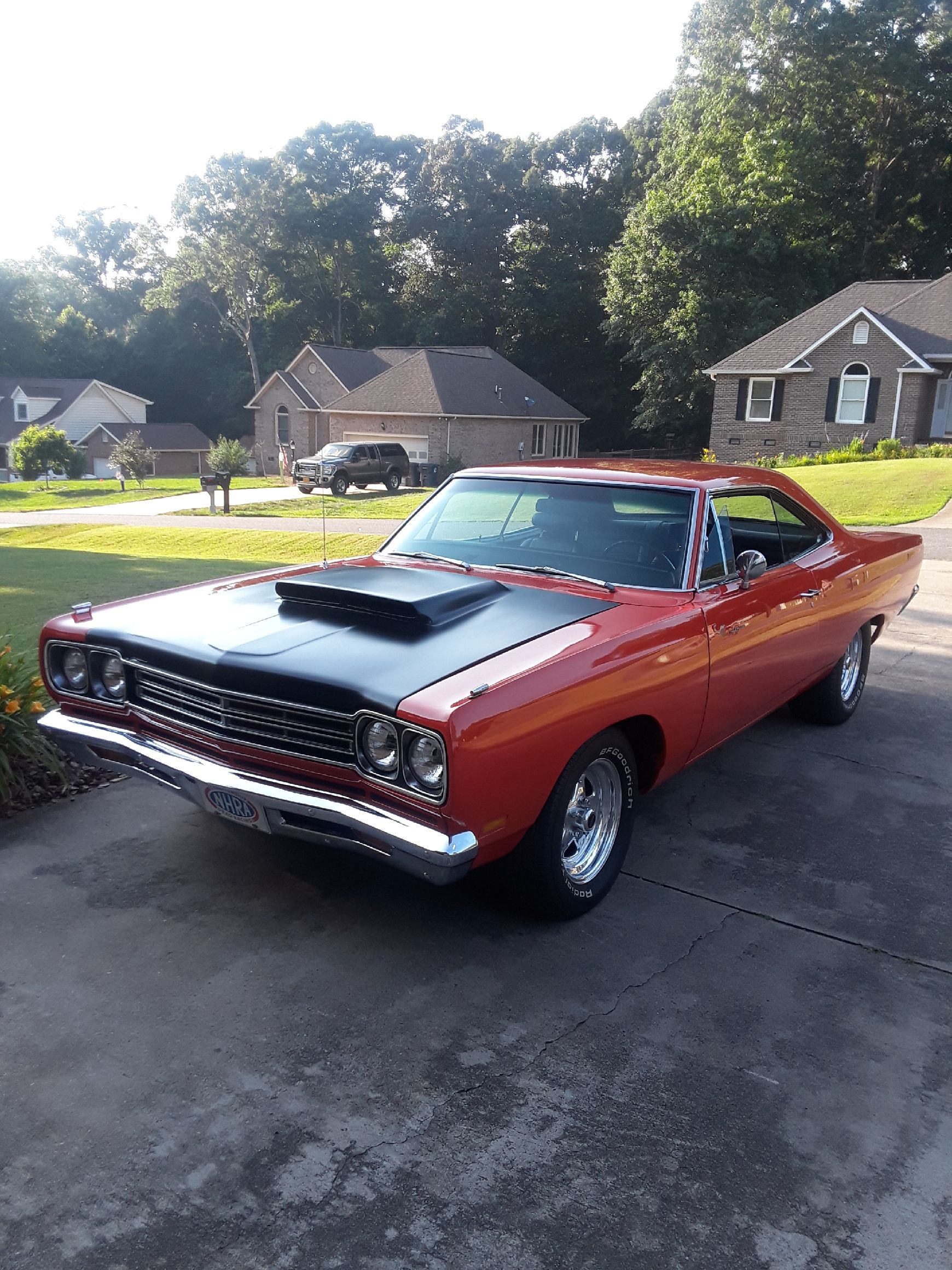 Courtesy of Junior Bryant
Seymour
411 International Dragway, 1977
These photos were taken at 411 Dragway, Seymour, Tennessee, in the summer of 1977. I attended 411 fairly regularly during the mid-70's to mid-80's. I even raced my '69 Chevy van there a few times. I was doing custom paint at the time, and the white '67 Camaro is my handiwork that I did for a friend and co-worker, Jim Spradlin. Good Times!
Glenn Bell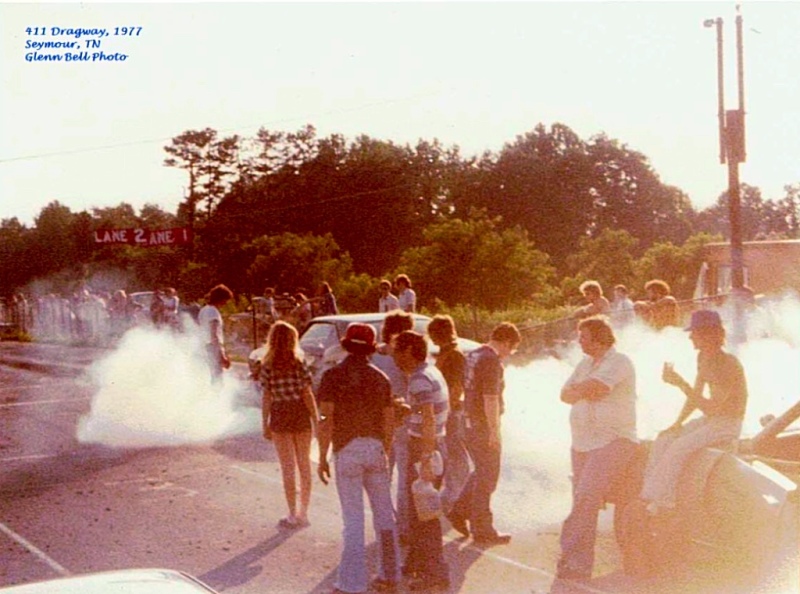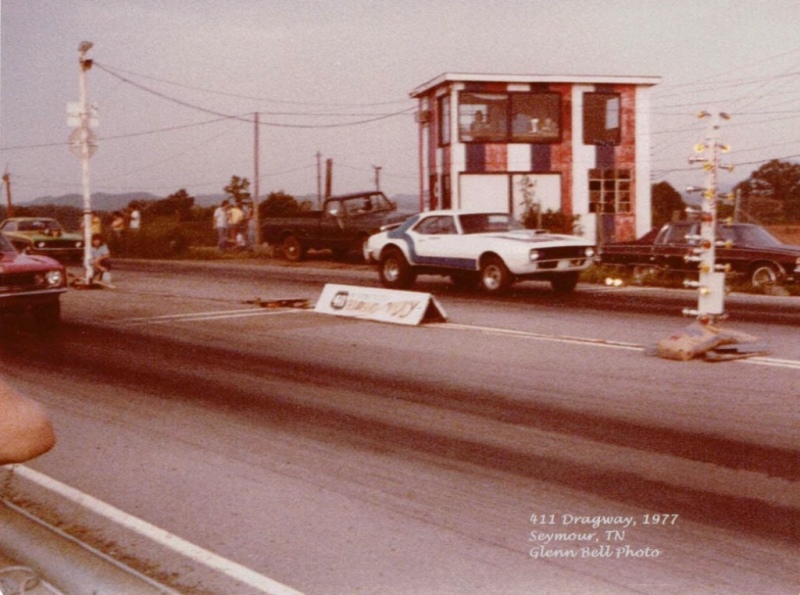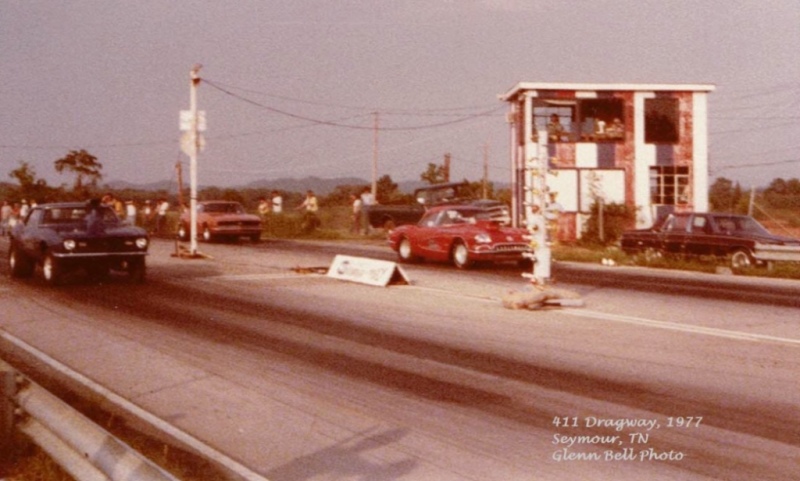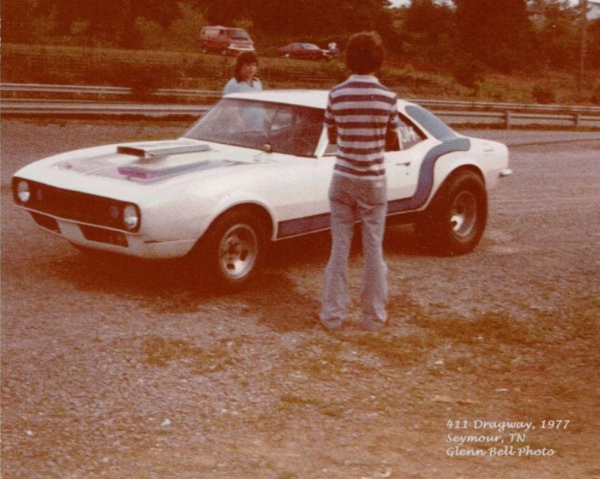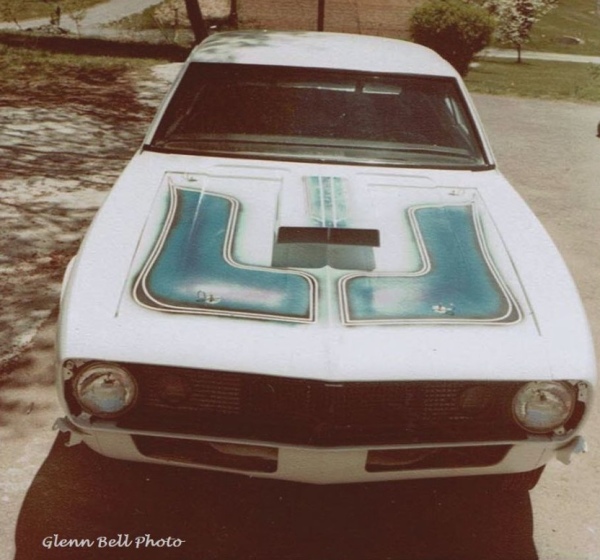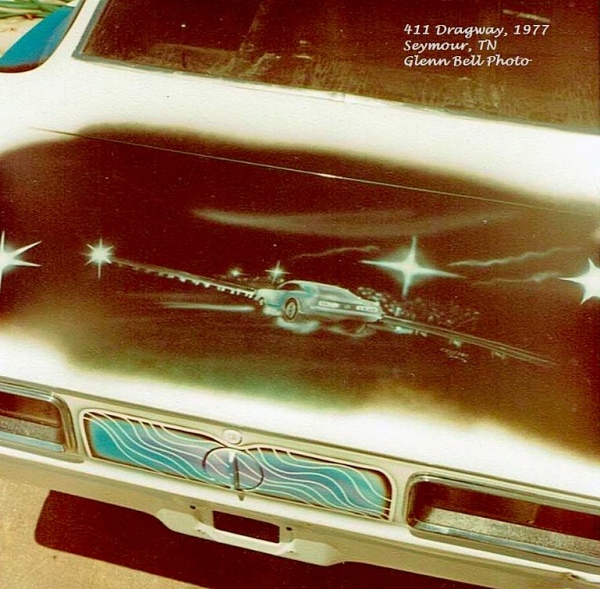 Photos courtesy of Glenn Bell
Smyrna
Rutherford Dragstrip, 1963
My brother, Doris Carl Barnhill, won a trophy in his stock 1959 Corvette at Rutherford Dragstrip in 1963. Among his trophies that I have in my garage is this plaque from that trophy. It had fell off the trophy. That's all I have. I don't know where the trophy is.
Bob Barnhill