SOUTH DAKOTA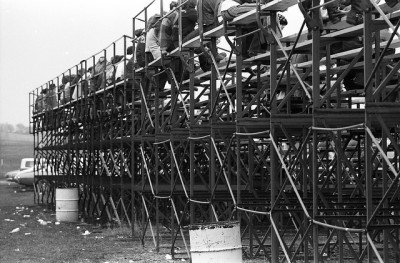 Ellsworth Air Force Base (1953)
Rapid City "Drag Strip" (1954)
Joe Foss Field (Sioux Falls) (1955)​

Mitchell Municipal Airport (1960)
Central U.S. Dragway (Pierre) (1962)

Thunder Valley Dragways

(Marion) (1967)
Black Hills Dragway/Dakota Intermountain Dragway (Belle Fourche) (1972)

Empire Raceway (Sioux Falls) (1972)
Graham Field (North Sioux City) (1976)

Oahe Speedway

(Pierre) (2005)
Bleachers a Thunder Valley Dragway. Photographer unknown
Black Hills Dragway/Dakota Intermountain Dragway ​​(Belle Fourche)
Years of Operation:  1972-91

Incorporation papers were filed for the quarter-mile Dakota Intermountain Dragway by F. J. Voyles on March 13, 1972. Somewhat confusing is the record of incorporation papers being filed only a month or so later for Black Hills Dragway. They had capital stock of $100,000. The directors listed included Alex and Vesta Walk, and Sam and Pearlette Drole, all of Belle Fourche. The Center of the Nation Car Club helped build the strip and helped conduct the races. The total paved distance of the strip was 3,200 feet. In the beginning, it had bleacher seating for 500 people and five staging lanes. The strip was scheduled to open with a trial run on August 20, 1972, sanctioned by NHRA. The strip opened for the 1973 season on April 30, 1973. Bill Schneider owned the strip from 1976 through spring 1978.  On Sunday, June 12, 1977, Larry Kisha, driving his "Odyssey 5" jet dragster, broke the previous South Dakota speed mark with a run of 237 MPH. In June 1978, Kevin Voyles bought the strip from Schneider. Clay Voyles was the track manager.  In 1986, the Voyles changed the name of the strip to Dakota Intermountain Dragway. The strip and an oval track are still easily seen in aerial photos, located about four miles northwest of Belle Fourche on the north side of Highway 212, adjacent to and parallel to the highway.

Listing in ​​​​National Dragster, Dec. 23, 1977. Courtesy of Mel Bashore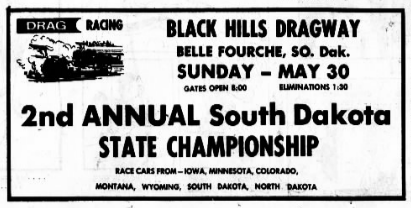 Did you race here? Tell us about it.
CLICK HERE to see location on a map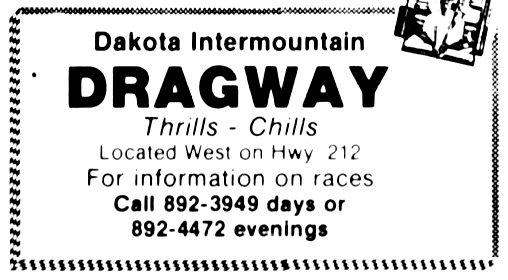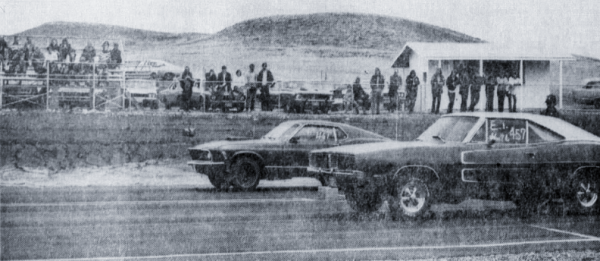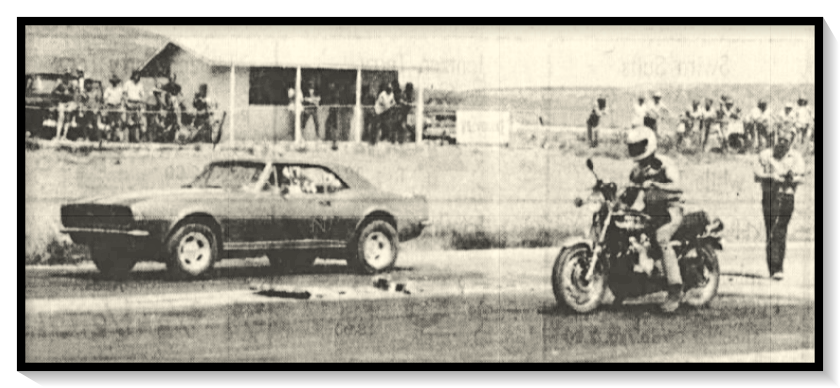 Monty Frerichs (left) nosed out a win against Richard Moross (right) at Black Hills Dragway, 1973. Photo taken by Paul Cody, published in ​​​Rapid City Journal, May 1, 1973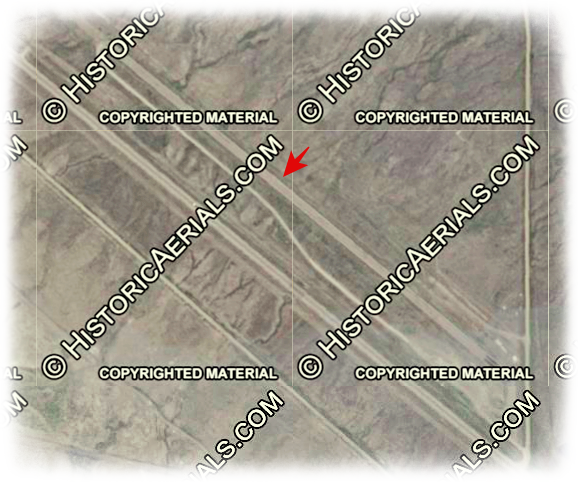 Photo taken by Paul Cody, published in ​​​​​Rapid City Journal, July 19, 1976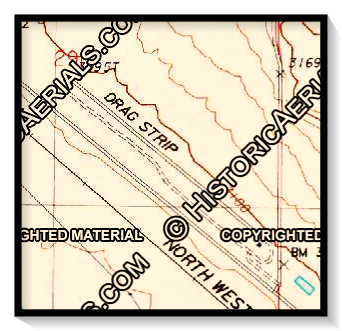 Black Hills Dragway, ​​​​
1984 USGS topo map
Central U. S. Dragway ​(Pierre)
Years of Operation:  1962-65

In June 1962, the Pierre city council approved an application for using a runway at the airport for a drag strip. They stipulated that they must get FAA approval, insurance, release of city liability, agreement to have no refreshment concessions, and to agree to clean and police events. In July, the city gave final approval for the airport drag strip. They were going to charge $100 rent for the remainder of the year. They would charge $200 rent for 1963, with an option to re-lease on an anuual basis. The first race was held on September 2, 1962. The listing of NHRA-sanctioned tracks in Hot Rod  (August 1963) stated that races were scheduled July 21, August 11, August 25, September 8, September 22, October 6, and October 20. Racer Tom Cain recalled, "The strip was at the airport and it was an adventure getting there because you had to go through a farmer's yard." In 1969 the Mid-Continent Raceway Association unsuccessfully sought permission to lease the abandoned ruway at the airport. They wanted to make improvements and call it Dakota Great Lakes Dragway, but nothing came to pass.
Did you race here? Tell us about it.
CLICK HERE to see location on a map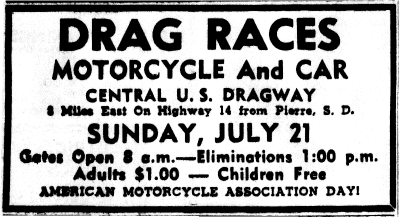 Years of Operation: 1953-54

The air force base's 28th Wheel Club sponsored drag races on a 600-foot wide, 8,000-foot long runway. They were first scheduled for July 26, 1953, but the base's operational commitments caused their postponement until September. The cars made solo timed runs, with winners judged by the fastest recorded speeds. The race distances were quarter, half-mile, and mile. Calvin Olsen placed first in all three distances in his 1952 Olds. Over 500 people attended the race. See article in Hot Rod Magazine, (May 1954): 38. At a race held on September 11, 1954, Bob White set a new track record in the stock class for the quarter-mile with a 16.7 second run. 600 people watched that race.
Did you race here? Tell us about it.
CLICK HERE to see location on a map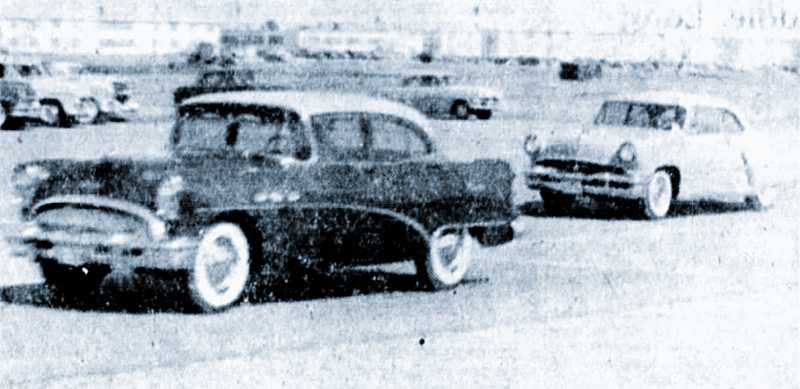 This photo shows racing action at Ellsworth Air Force Base on April 17, 1954. Bob Pattalochi (left) won the event in his 1954 Buick. He is shown here outpacing Bob Cammeron's '53 Lincoln. Photo published in Rapid City Journal, Apr. 24, 1954.
Empire Raceway/Thunder Dome Dragway ​​​​(Sioux Falls)
Years of Operation:   1972-74, 1986-88

Construction started on the Empire Raceway drag strip at the Sioux Empire Fairgrounds in 1970. A joint venture of the Fair Association and the Sioux Falls Stock Car Association, it was to be finished in June 1970, but that was delayed. Fred Buckmiller supervised its construction. It was equipped to handle night-time racing. Ads touted it as the "upper midwest's only lighted drag strip." It was finished sufficiently for officials to schedule a test session of the strip in mid-November 1970, but bad weather caused its postponement. The strip was 3,870 feet long, running from south to north, with the control tower directly behind the starting line. Steel bleachers to seat 4,500 people were built on both sides of the starting line. They didn't want to open the strip until it was completely finished, so it didn't open in 1971. The grand opening of the strip was held on July 15, 1972. After just two races in 1972, the strip closed to repair the surface in the staging area. The strip, sanctioned by NHRA, opened its 1973 season on April 28. On July 19, 1986, the track reopened for 1/8th-mile racing as Thunder Dome Dragway. It was sanctioned by NHRA. It was managed by Tom Cain.
Did you race here? Tell us about it.
CLICK HERE to see location on a map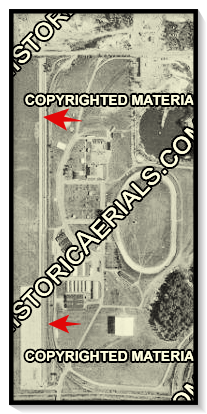 Empire Raceway, ​​​​
1971 aerial view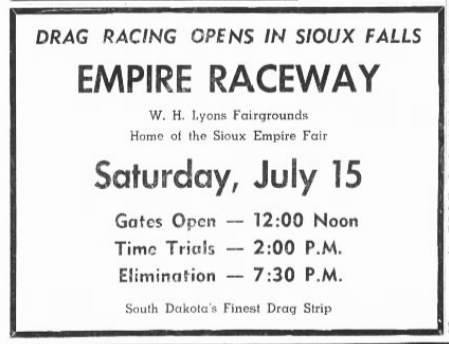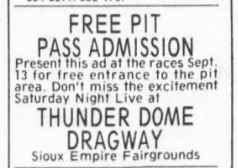 Graham Field ​(North Sioux City)
Years of Operation:   1976

The Siouxland Corvette Association and the Classic Chevy Club sponsored drag races at Graham Field on June 20, 1976.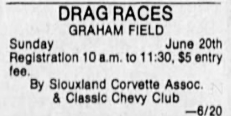 Did you race here? Tell us about it.
CLICK HERE to see location on a map
Joe Foss Field ​​(Sioux Falls)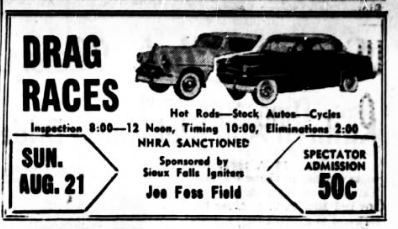 Years of Operation:   1955-57

The Sioux Falls Igniters car club conducted a drag race at the city's airport, now called Sioux Falls Regional Airport, on August 21, 1955. They had separate categories for hot rods, stock cars, and motorcycles, divided into 27 total classes. Trophies were awarded to class winners. The race was sanctioned by NHRA. The Lions Club helped with such matters as parking, patrolling, etc. The event drew 69 cars and 9 motorcycles from South Dakota, Iowa, and Nebraska. A second race was held on August 26, 1956. Six thousand people watched a third race held on August 25, 1957. Bob Schriever, president of the Igniters, took top eliminator honors.
Did you race here? Tell us about it.
CLICK HERE to see location on a map
Mitchell Municipal Airport
Marvin Thome secured permission from North Central Airlines to use one of two taxi strips at the Mitchell Airport on which to stage a drag race on September 4, 1960. Mitchell appeared on behalf of the Palace City Cyclers Club. The city council also passed a motion to allow Thome to hold the races at their airport on that date, provided he obtain insurance. This motorcycle drag race was the final race of the season. The East Deuce Cycle Club put on the race, which attracted a good crowd despite the heat.
Did you race here? Tell us about it.
CLICK HERE to see location on a map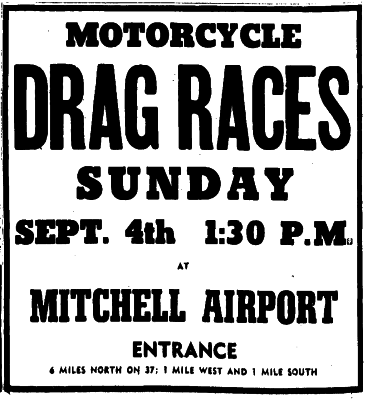 Years of Operation: 1954-57
Status:  Exact location unknown
State championship motorcycle drag race championships were held at a location two miles east of Rapid City. Jay Masten of Rapid City set the state record for a quarter mile with a 13.45 ET on a Triumph T-110 in 1955. He was in the 650cc class. Byron Wheeler had the fastest time at the state meet on September 30, 1956, with a 13.79 second clocking. At the race held on April 28, 1957, Jay Masten bested his old record with a run of 13.11 seconds. The races were sponsored by the Black Hills Cycle Club. Drag races were also held in June 1954.
Did you race here? Tell us about it.
Thunder Valley Dragways ​(Marion)
Years of Operation: 1967-present
Al and Glen Rapp started building the drag strip in spring 1966. It was located 2.5 miles east of Marion. The track was 60 feet wide and 3,600 feet long, sanctioned by NHRA. During its first year of operation, a drag race driver was killed when his dragster skidded off the strip and overturned. Jim Studley, of Sioux City, Iowa, was going about 150 MPH when the accident occurred in June 1967. Jim Christensen was the track manager in 1968. On Sunday, April 28, 1968, Don Brescia broke the track record in the Brescia-Crowe-Freeman-Gibson AA/FD from Council Bluffs, Iowa. He turned 185.18 MPH in 8.14 seconds. The track generally hosted NHRA divisional points races each year in the 1970s. In 1975, Thunder Valley was awarded the NHRA Drag Strip of the Year award for the sixth consecutive year in its division.  On April 24, 1977, Rick Johnson drove Bill Schifsky's "Bear Town Shaker" funny car to a track ET record with a 6/47 second run at 214.28 MPH. Jim Christensen was the track manager in the late 1970s. It operated under IHRA sanction in 2003-6. Today it is still owned by Glen Rapp, the original owner, and is an IHRA-sanctioned track.
Did you race here? Tell us about it.
CLICK HERE to see location on a map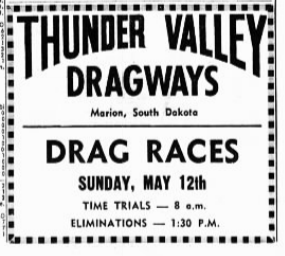 CLICK HERE to see 8mm video footage of Thunder Valley Dragway, late 1960s, first 3:15 minutes of video, no sound/music only