Remembering . . .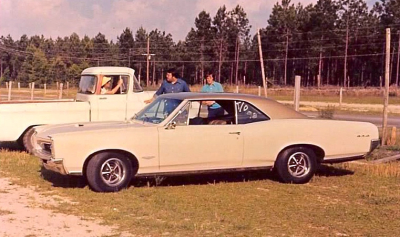 GTO and Chevy Cameo pickup, Orangeburg Drag Strip, 1975. Photographer unknown
Bennettsville
Bennettsville Drag Strip, 1957
The drag strip was owned by Senator Paul Wallace. My father, Allen Edwards, worked for Senator Wallace and sold tickets to spectators at the drag strip. I was 12 years old and loved being there among the '57 Chevy's and Fords which battled each other. The drag strip was on the site where the Evans Correctional Institute (state prison) is now. Before the drag strip, there was a drive-in theater on the site. My family went there for movies in the early 50's. It was a short-lived venture.  I only remember working there with Dad in 1957.  I remember some conversation that it wasn't long enough for some of the more powerful dragsters to stop.  I don't know if it was called the Bennettsville Drag Strip or Wallace Drag Strip (after Sen. Wallace).  I do remember how exciting it was for a 12 year old boy to see all of these wonderful cars.
Allen Edwards
Blaney/Elgin
Blaney Drag Strip, 1961-82
I ran here many times. First in 1961 with a '60 Tempest. Then the track moved up the hill because of noise to Blaney. It was originally down the hill and perpendicular to the later track that came in through another road off US 1, but was on the same property owned by Ed Smith. I'm pretty sure it started before 1960. Ed is still living in Columbia ,South Carolina. The town's name was changed from Blaney to Elgin when the watch company moved there.  I raced there with a '64 Galaxie, '67 fairlane 427, '70 Mustang, and last with an '82 Mustang pro stock. This track brings back lots of fond memories.
Tom Sutton
Darlington
Darlington Quarter Drag Strip, 1960s
I raced a 1962 Tempest here in O Stock and a 1966 Chevelle 396 here. That car ran in C & D Stock.
Bennie Wadford
Darlington Quarter Drag Strip
My dad raced here. His name was Willie A. Lee. I have a trophy with Darlington Quarter on it. Im assuming the trophy is from '64-66. He was sent to Vietnam in '67-68 and I  dont know what he drove then. He has since passed.  He went on after the war to race NHRA Stock/SS until about 1986.  He drove a '69 Chevelle wagon during that time.
Jamie Lee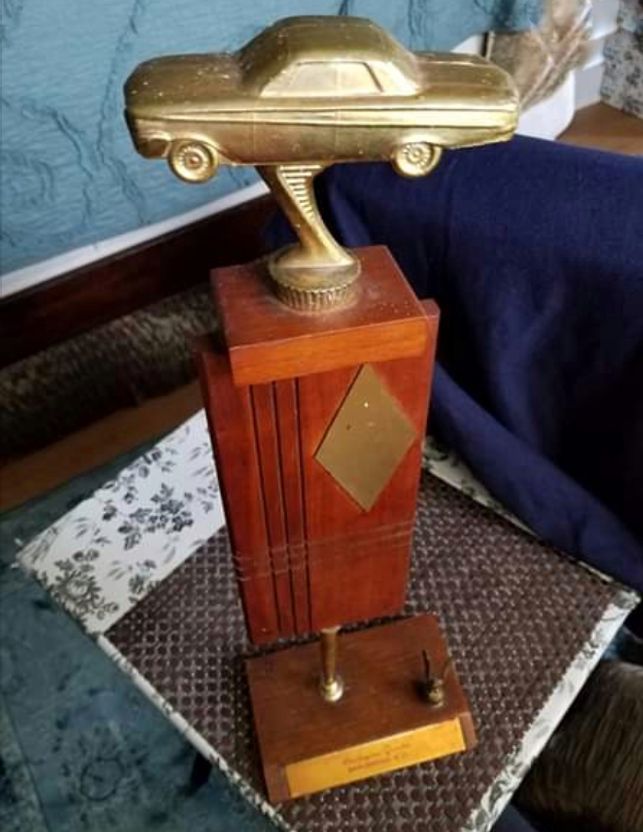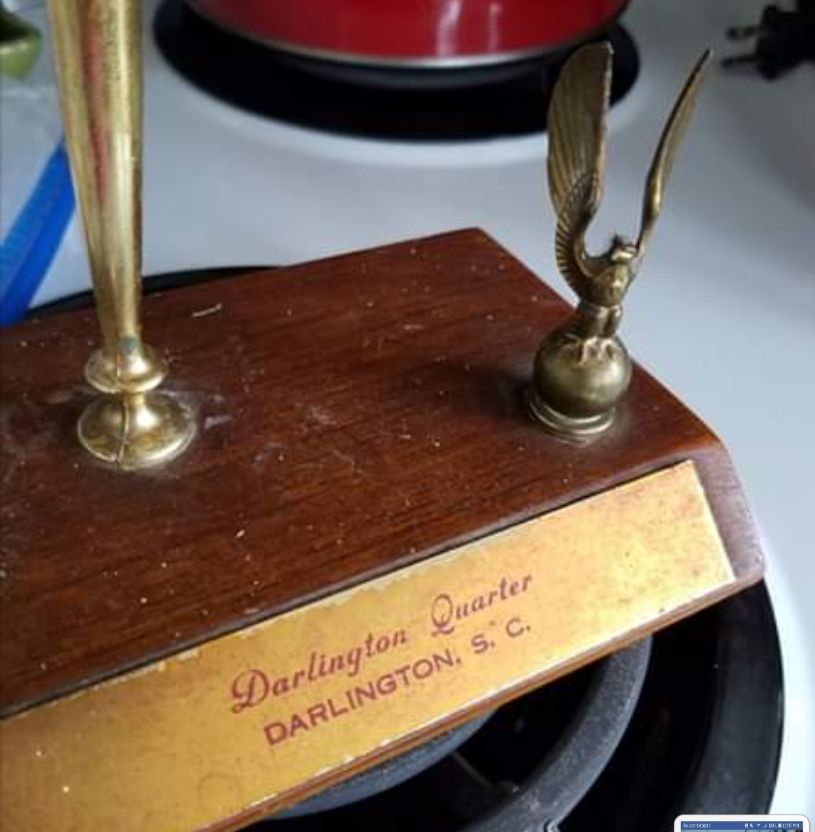 Greenville
Donaldson Air Force Base, 1965
I didn't race at Donaldson AFB dragstrip Greenville, South Carolina. My very good friend, Gene Cromer, won A/G at the only race there. He's almost 85 years old now. I have access to his scrapbook with a picture of his car there plus some other interesting posters and pictures.
Frank Taylor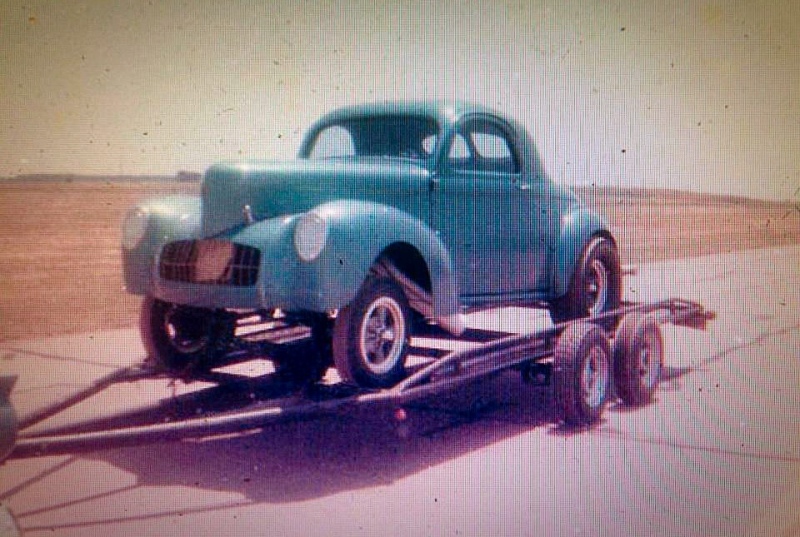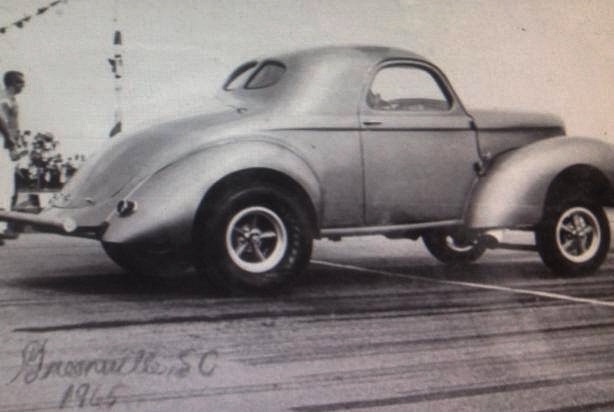 Gene Cromer's first race with his 1940 Willys A Gasser was the race at Donaldson AFB in 1965--and he won! Courtesy of Frank Taylor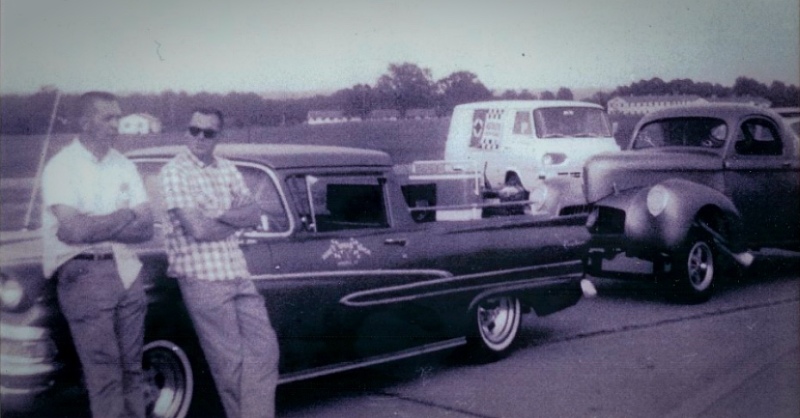 Gene Cromer (wearing white shirt) is leaning against his 1958 Ranchero tow car at Donaldson AFB in 1965. Courtesy of Frank Taylor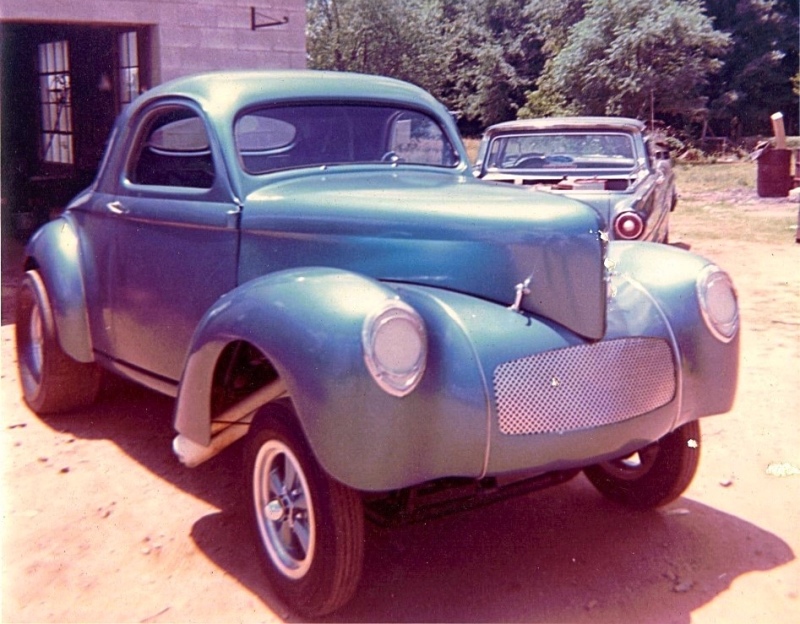 The Willys outside Gene Cromer's shop about the time of the Donaldson AFB race in 1965.  Courtesy of Frank Taylor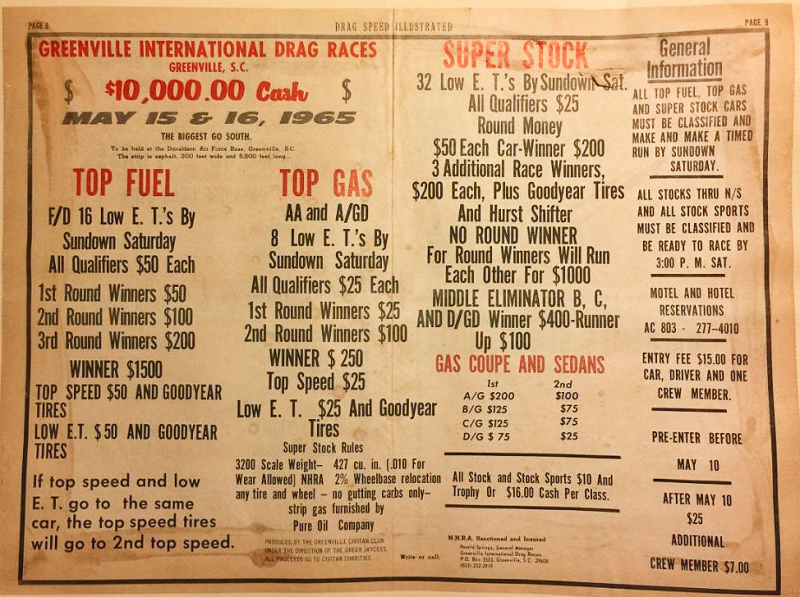 Advertisement for the May 15-16, 1965 drag race at Donaldson Air Force Base, published in an issue of ​Drag Speed Illustrated.  Courtesy of Frank Taylor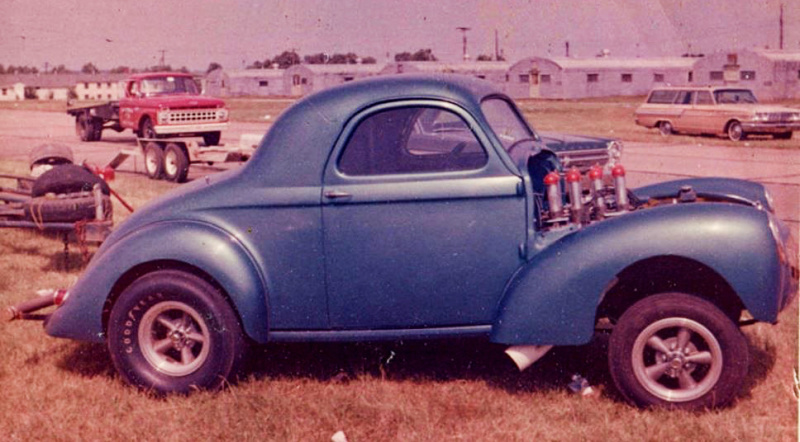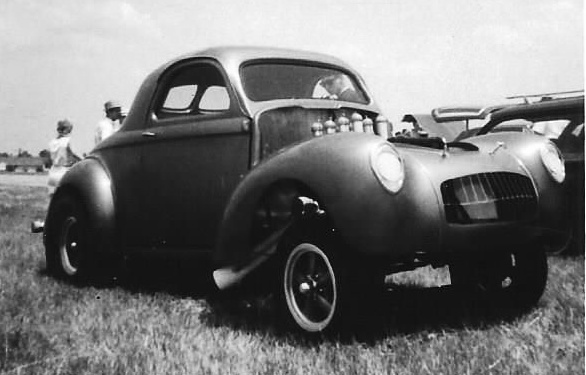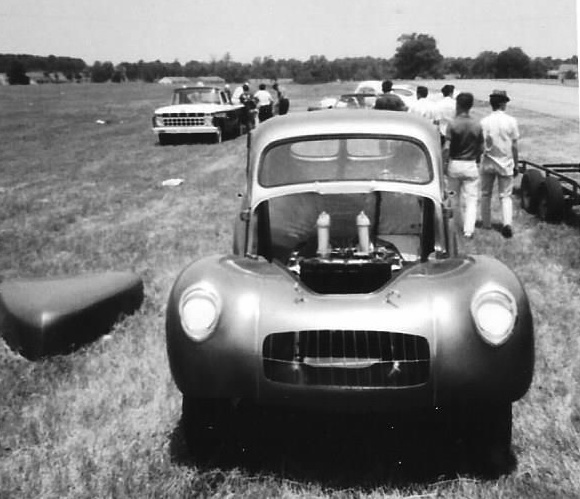 Photos of Gene Cromer's 1940 Willys A Gasser taken at the May 15-16, 1965 drag race at Donaldson Air Force Base.  Courtesy of Frank Taylor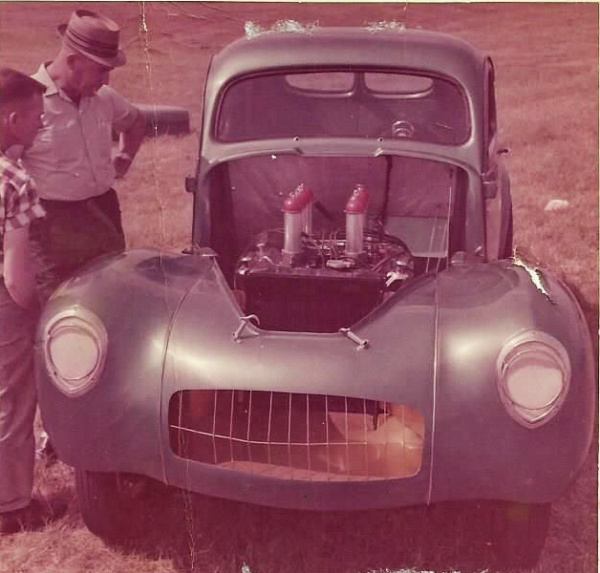 Jackson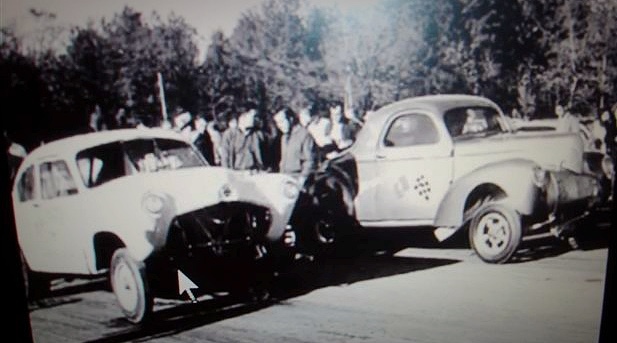 David McDowell's Henry J gasser and Gene Cromer's "Moonlighter" 1940 Willys A Gasser, probably at Jackson. Courtesy of Frank Taylor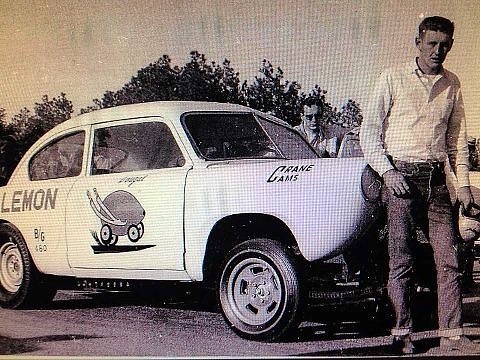 David "Dougal" McDowell's "Little Lemon" Henry J gasser. McDowell was from Belton, South Carolina. Photo from Gene Cromer's scrapbook, courtesy of Frank Taylor
Moncks Corner
Cooper River Dragway, 1978
The first race track of any kind that I went to was Cooper River Raceway. It was just past the Berkley County landfill on Landfill Road. I don't remember who the driver was, but a fella in a funny car tested there during time trials and eliminations one day. The only full 1/8th mile pass that he made was his last one and the car broke. Exciting. first nitro car I ever saw run, as well. That was in '78. Not sure, but I thought that the track was going years before that? i remember the radio ads. announcing "COOP... erriverraceway!"
Tom Bennett
Cooper River Dragway, 1980s
In the late 1980's I was in the Navy stationed at Charleston Naval Station. I had a GS1150 Suzuki and won $500 on a bike night.
Gerald Griffin
Myrtle Beach
Myrtle Beach Dragway, 1966
I attended a two day race at Myrtle Beach Dragway in about 1966. It was a n NHRA regional points race. I don't remember too many details. I do remember numerous funny cars, a big super stock field, and many big names, racers from all over the southeast and east coast.
King Compton
Pageland
I know about Pageland Dragway. I went to a few races there as a kid with my dad. I also spent a lot of my childhood at Shuffle Town Dragway in North Carolina.
Tony Rufo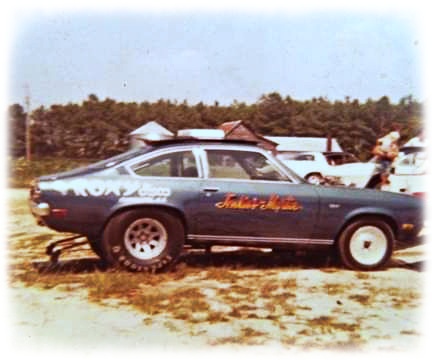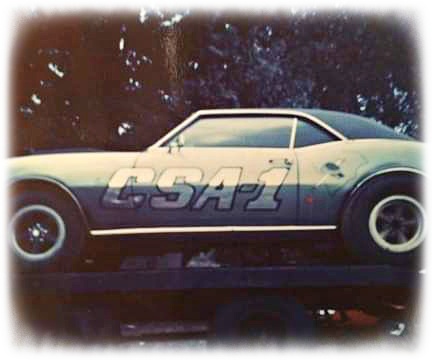 Race cars at Pageland Drag Strip. Courtesy of Tony Rufo

Pelion
Memory of Palmetto Raceway, South Carolina. Traveled there from Tennessee. Went for a big NHRA meet in the early '60s. Good track and some wild times. The P.A. announcer asked  the crowd to stand for the national anthem, then played 'Dixie." Nothing else. Harley Sportster CH motorcycle there running 'Super Stock' times. Rider had 1/2 pint of whiskey in his back jeans pocket and he would stop on the return road in front of his buddies to hoot and holler and take a drink. Whiskey ok for rider, but remember NHRA tech making a red '55 Chev gasser from Atlanta with a magneto and Hilborn injection put his generator back on before he could race.
Henry Doriot
Business card of the Palmetto Raceway track manager. Courtesy of Henry Doriot

Palmetto Drag Strip, ca. 1971
I went to a drag race at Palmetto in Pelion, South Carolina, in 1971 or 1972. Big Daddy Don was there, TV Tommy Ivo, the Blue Max, and I think Sox and Martin was there.
Dewey Brock
Shepard
Camden drag strip was not raced at the airport, but at a track in the Shepard area. .Some of the track still exists . My dad raced there. I still have a '62 Chevy that was raced there. It [the drag strip] was owned by Junior Rodgers.
Robert Anderson
Walterboro
Walterboro Drag Strip, 1968
We were getting married. We'd been in California, but the company sent me to Beaufort, South Carolina. I was a tech rep for a company that made flight simulators. We had a contract at Beaufort. It was at a Marine Corps air station. We were rather newly married. We had a '67 Barracuda with a 383 in it, which was a relatively nasty creature. We went up there because we didn't have anything to do on the weekend. We were looking for a drag strip and we found it. It was Walterboro. We went up there. It was getting close to evening. My Barracuda didn't do too well in pure stock. I had a '66 Barracuda that I got tons of trophies with, but the '67 fell in a bad category. Anyhow, we were just sitting there. A young couple talking with other young couples. They kept asking for girls to do a powder puff. They managed to get three, but they wanted four so they could have two winners and they could have a runoff. I remember what she ran against. It was a '67 Plymouth GTX. That was a nasty creature. It had a 440 in it. I can't remember if that had the single-four or three-twos. It might have been one with a six pack on it. But anyhow, we kind of got to talking with the guy and his girl. Donna, my ex-wife, didn't want to run. She was scared. She was just a farm girl from Indiana. We had an automatic, because she couldn't drive a stick. The first two ran off. I believe it was an Olds 442 and this GTX. Then Donna drew a gal with a Buick. It had a stick shift and she couldn't drive a stick. Her boyfriend rode with her. He did the shifting while she did the clutching. You can imagine that that didn't do well. So Donna won that race. Then she got to go up against this GTX. This was straight-up racing. This wasn't handicapped. I said, "You're outclassed. The only way you can get this gal is if you really jump the starter pretty good."  We're talking 1968. They actually had a flagman. He would put his flag on a switch, the stick of the flag. The minute that it came off that switch, the light turned green. I thought there is no way in the world that she'll ever beat that GTX. That thing was fast. We were running 14s. He was running high 12s. I figured, big deal. She was game to run anyhow. And it was a gal that she'd gotten to know and she thought, this could be fun. So I told her, when that flagman even looks like he's going to raise his flag, Go!  I said, "You may red light, but in any case, that's the only chance you have." When she took off, we all, and even the mike man, looked up at the tower, did she red light? Nope. She didn't. She cut it so close. She actually beat that GTX. She said she could actually hear that thing coming. That thing was coming on strong, but she won the thing. I found that trophy just the other day in my attic. It stayed up there for fifty years. I thought that was really strange. I got skunked and she won a trophy. And I was used to winning. That was the other funny part of it. I saved that trophy all these years even after we got divorced.
Jack Hutchens,
telephone interview with
Mel Bashore, 10/13/18
Ware Shoals
Starlite 25 Drag Strip, 1960s
When it first opened in the 50's, it was dirt. When I went there as a teenager in the mid 60's, it was a paved 1/4 mile. Although it was called Starlite 25 Dragstrip then, everyone in the area always called it Ware Shoals. It has changed names to Ware Shoals Dragway and is still in operation and runs 1/8 mile now. I have some old pictures of my friend Gene Cromer, Ed Skelton, and others racing there .
Frank Taylor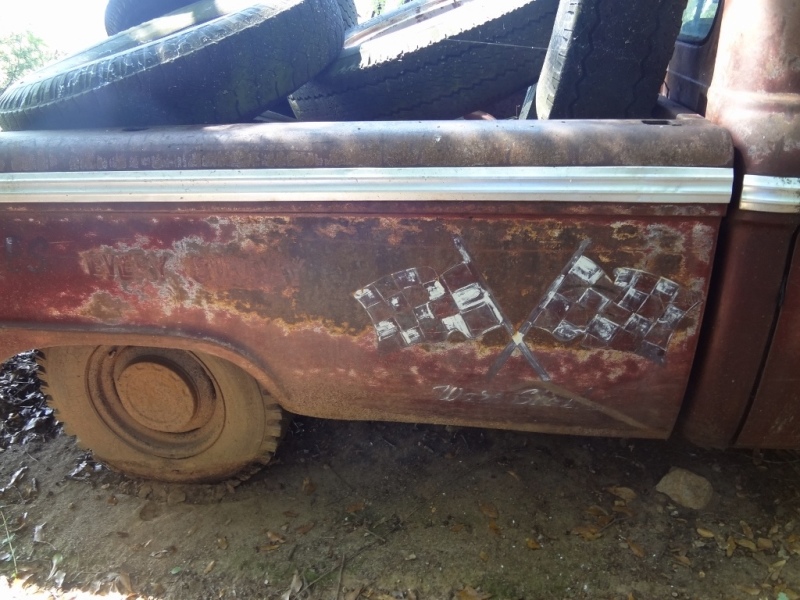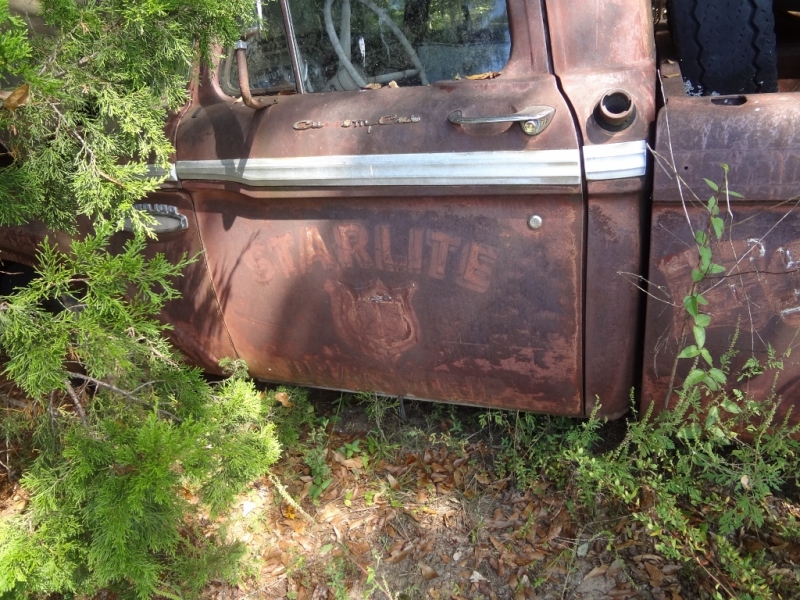 An old Starlite 25 Dragstrip truck found in the woods at the end of the drag strip by Frank Taylor in 2013. Courtesy of Frank Taylor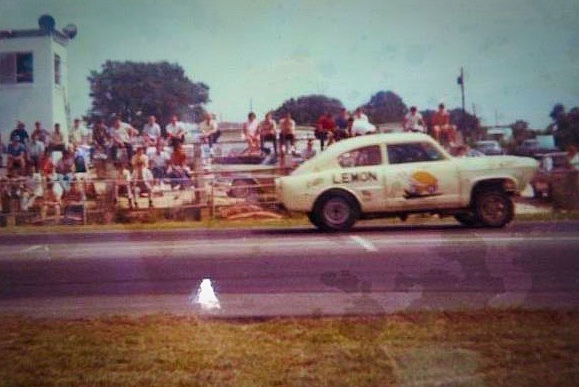 David "Dougal" McDowell's "Little Lemon" Henry J gasser at Starlite 25 Drag Strip in 1967. Courtesy of Frank Taylor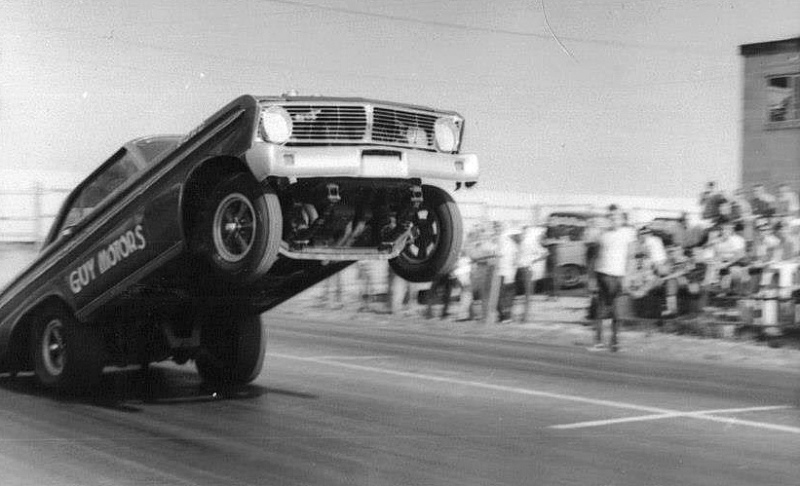 Ed Skelton, from Anderson, South Carolina, at Starlite 25 Drag Strip in 1965. Courtesy of Frank Taylor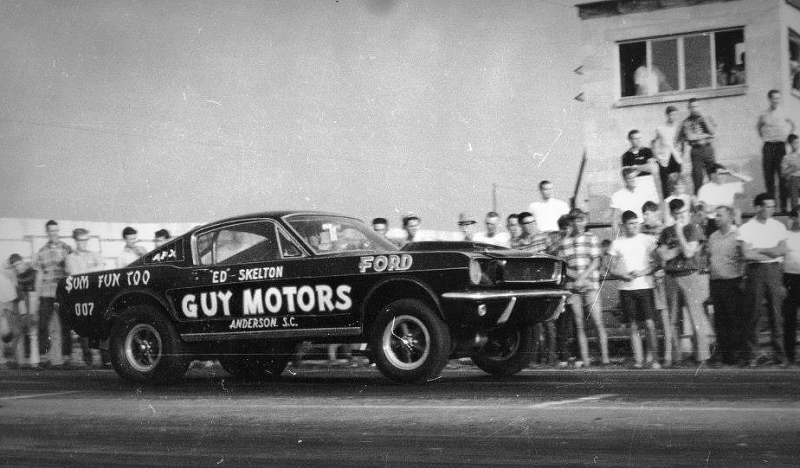 Ed Skelton on the starting line in his Mustang at Starlite 25 Drag Strip. Courtesy of Frank Taylor

Starlite 25 Drag Strip, 1960s
My dad ran at Starlite a few times in the early to mid '60s. It was a dirt drag track before that, so it goes way back. Dad didn't like running there because the shutdown was downhill! Gene Cromer ran there a LOT. He ran a A/GS Willys called "The Moonlighter" out of Anderson, South Carolina.
Tommy Hill
Ware Shoals Dragway, 1990s
 I raced at Ware Shoals back in the 90's. At that time they had a class called "powder puff." It was for the ladies only. There was about two or three of us every week. I drove a "69 Ford Ranchero. My husband and son raced, but I was the pit crew for both. This was my introduction to racing. When the class was dissolved, I raced in the footbrake class in a '89 Ford Fairmont. I would drive the car down there and change my tires to my slicks. Finally one night my husband asked me if I wanted to try out our 23T altered. One trip down the track at a 5.75 I was hooked. I raced it for a couple of years and finally drove a dragster. I loved the family atmosphere. We racers were like family, always ready to help each other. Due to health problems that my husband had, we finally gave it up. We still have the dragster that we raced. We also still have the '64 Falcon sedan delivery that my husband raced in the 80's. This was a great place to race and I miss the people. Thank you for this site. I love it.
Renee Whysong
Williamston
I don't have a lot of specifics about the track, but I do know the son of the track operator. My friend's name is Johnny Ellison.  I have a couple of pics I took a couple of years ago of what is left of the track.
Frank Taylor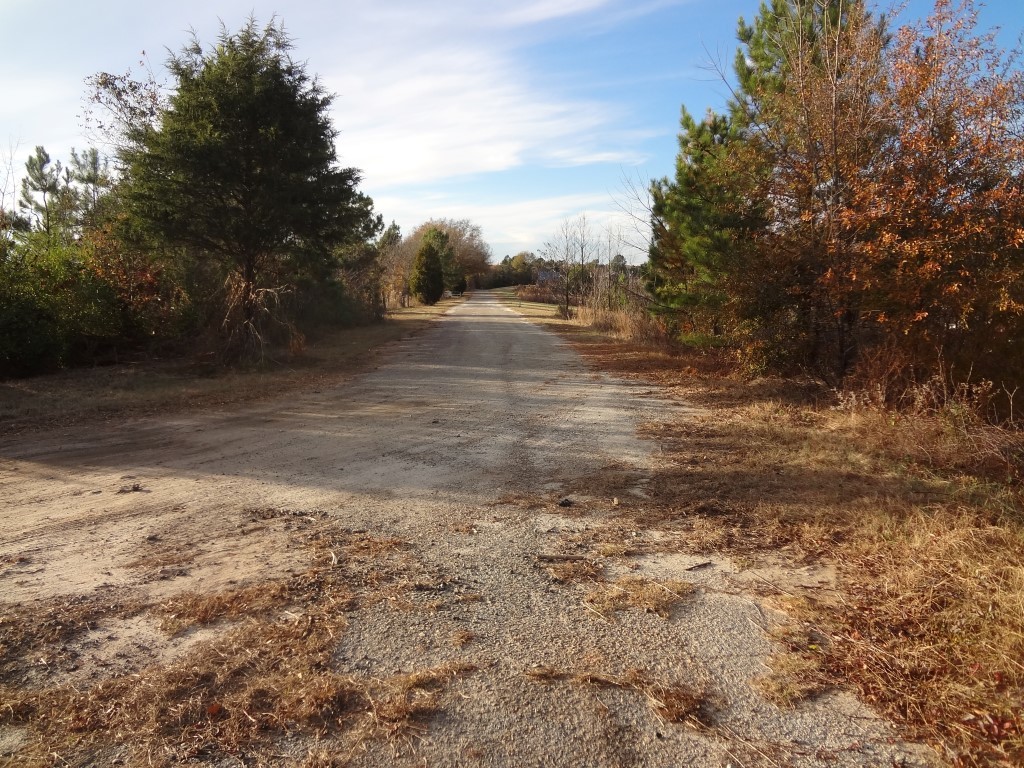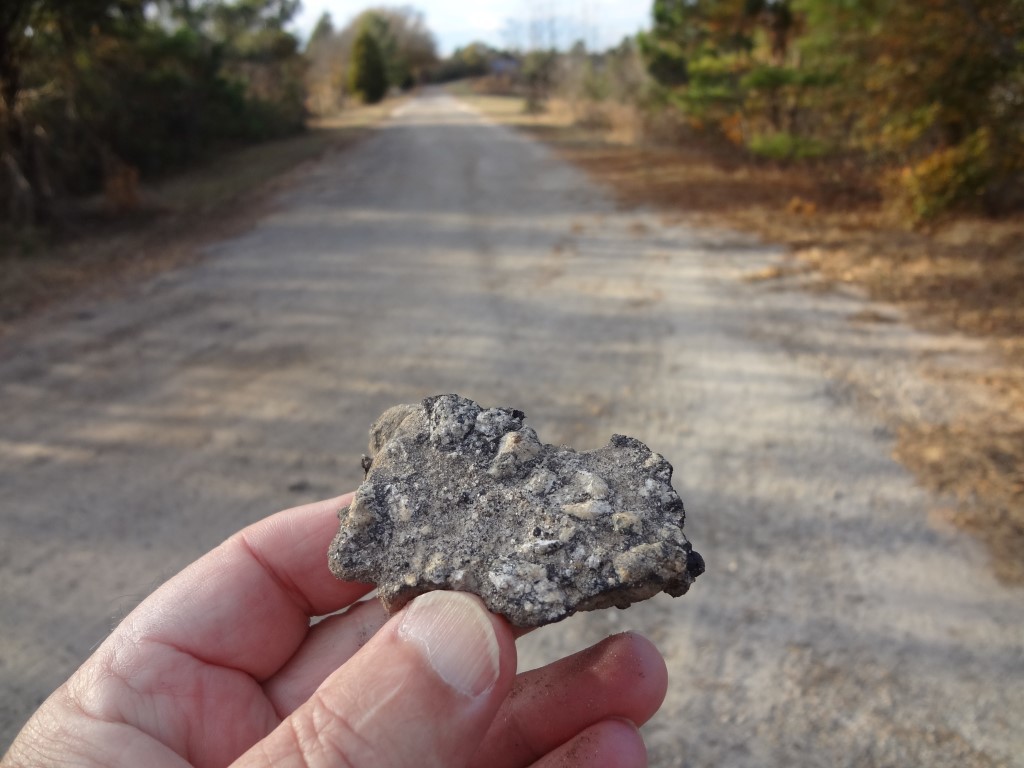 Photographs of what is left of the old Riverside Drag Strip, which is called Skyland Drive today. Frank Taylor holds a piece of asphalt from the old strip that he took as a souvenir.. Courtesy of Frank Taylor