Remembering . . .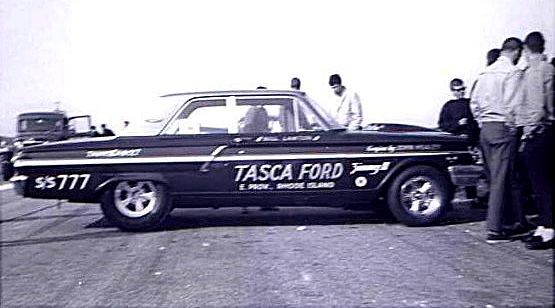 Bill Lawton driving a Tasca Ford Super Stocker at Charlestown NAS Drag Strip. Photographer unknown
Charlestown
Charlestown Drag Strip, 1963-64
My Soap Box Derby car was sponsored by SNETA, which operated the drag strip at the old Naval Air Station in Charlestown, R.I.I don't remember a track name, just a hand-written sign said "Drags," with an arrow to point which direction. I think I was thirteen (1963). I got to the strip with my neighbor's boyfriend before that. I remember Tasca's '63 Galaxy racing Norwood Motors 409 Bel Air and a whole lot more. When I was 14 I would hitchhike there from the North Prov. line on Smith Street (Rt. 44) and back. The late Joe Vanni (Bailey Motors B/S Plymouth ) was my first contact. Later I found out a distant cousin ran the PA system. I would sit on the ground and lean against any available first row spectator car bumper when I was not cruising the pits. Once a 348 Chevy blew it's clutch and I remember like slow motion pieces bouncing toward me across the strip. A pressure plate spring went into the front tire of the car I was leaning on. Later I discovered my ankle bleeding. One of those pieces found me. At least not in the crotch! Jimmy King's blown small block A/D, called El Diablo I think. Al Oats' Hilborn injected, B& M Hydro equipped, B/G Anglia. called "The Growler."

Brian O'Reilly
Charlestown Drag Strip, 1964
I remember hitchhiking at 14 years old to Charlestown Dragway. There were probably 3 or 4 of us sneaking in through the weeds to watch Tasca Ford Thunderbolt, driven by Bill Lawton, race Yankee Peddler, driven by Bill Flynn in 1964. Also there was a lot of local guys racing GTOs. They were the rage of the track for street stock. It closed before I got my driver's license BUT the stretch of Route 1 just outside of the track had the best straight-away around. From 1966 thru 1970, on Sunday nights, sometimes there would be 12 or so cars matching up for about an hour. There was only one cop in that town then and he would be sleeping.

John Conroy
Charlestown Drag Strip, 1958-60
I ran a burgandy '55 Olds Super 88 named "Tuff Enuf" in H Stock in '58, '59, '60 at Charlestown having the time of my life. Didn't win many, but it's great to remember when. Those that come to mind are Tasca with Lawton and Healey and Harris Auto with Smokey. I am friends with his son, Phil. The Dodge "Red Ram Special "dragster. Great memories.

Jack Carlos
Charlestown Drag Strip, 1950s-1962
I raced only once at Charlestown in 1962. My 1932 B Street Roadster "Black Beauty" WON a trophy that Sunday. A very proud moment! During the late '50's I worked the gate collecting admission fees. I got to see all the cars up close!!! Great memories.

Jack Bennett
Charlestown Drag Strip, 1950s
i was co-founder of the Downshifters Hot Rod Club in Westport, Connecticut, circa '57. I did not race at Charlestown, but went there. I took some pics (negs burned up in '60 when my '40 Ford was rear ended on Highway 101 in California. Some pics were in Drag News and also did some photos in Rodding and Restyling. I remember seeing Art Arfons and the Green Monster at Charelestown.

Michael James
Charlestown Drag Strip, 1964
I did compete at Charlestown R.I., especially at the last event in the summer of 1964. I had a 1939 Chevy Business Coupe that I ran in H/Gas. It was a 6 cylinder with 3 x 1 barrel carbs.  It ran 13.9 at the time. I was 15 when I ran the last event at Charlestown.  Then I went to compete at Frank Marata's Connecticut Dragway. They were great years. I have many great memories and I am lucky to have passed on that to my son as we both race today in NHRA Stock Eliminator after campaigning a 1927 Ford Roadster for quite a few years and am lucky to have won an NHRA Wally.

Bob Albert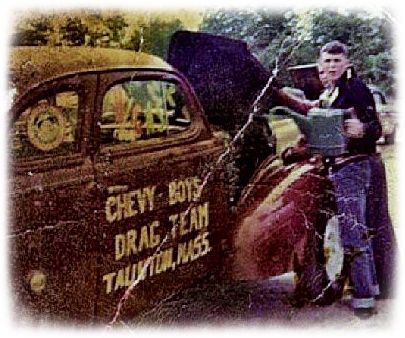 Bob Albert adds some water in the radiator of his '39 Chevy while competing at Charlestown Drag Strip in 1964. Courtesy of Bob Albert

Charlestown Drag Strip, 1960s
The "Growler" and the "Iron Fireman" (Chevy coupe) were owned and raced by Al Oakes. The coupe was the tow car and raced on more than one occasion when the Growler broke. They were both raced in the 60's at Charlestown and Connecticut Dragway.

Bob Albert