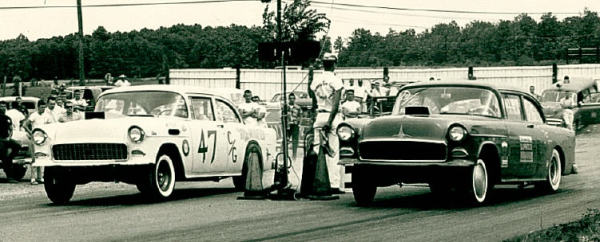 75-80 Dragway, 1962. Photographer unknown
Allentown
Allentown Fairgrounds Speedway, 1961-62
​I started racing my 1961 Corvette at Allentown in 1961. I won my class, B/SP several times and still have the trophies to prove it. Two from 1961 two from 1962 and two or three year unmarked. I bought a old pair of Mickey Thompson slicks and used a tread cutting iron to cut grooves for better traction on the dirt surface.

Neal W. Hinkle
​In the early 1960's drag racing was a fun and loose time. Neal Hinkle ran his 1961 "Red Baron" Corvette at the Allentown Fairgrounds in 1961 and 1962. Cars ran on the front straight of the ½ mile dirt oval. The 1/8th mile set up many interesting moments. Like todays fuel cars you would run as fast as you could and jump on the brakes before you would reach the first turn. Allentown ran the cars from west to east in front of the grandstand. Neal described it as hair-raising. There was no "tech inspection" and helmets and seatbelts were not required. Neal stopped racing at Allentown after 1962.

Don Hinkle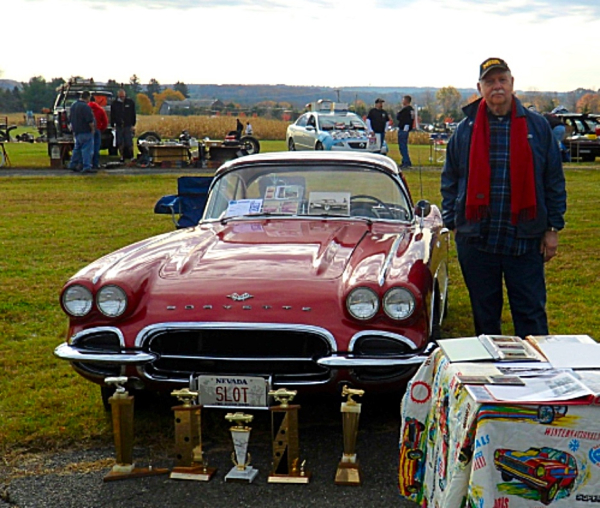 Neal Hinkle with his 1961 Corvette at Vargo Reunion, 2013. Trophies #2, 4, and 5, from left to right, are trophies he won at Allentown. Courtesy of Don Hinkle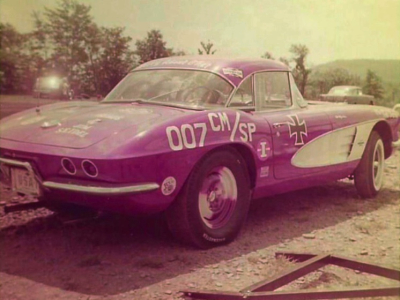 1961 Corvette. Courtesy of Don Hinkle

Bear Creek
Pocono Drag Lodge, 1968-72
Pocono Drag Lodge was another track Neal raced at from 1968 to 1972 with his 1958 Corvette. This track hosted many racing stars of the day. Jungle Jim, Joe Amato, Wally Bell and Clare Sanders were just a few who raced there. The track did not have a guardrail, just a chain link fence at the starting line area. The shutdown area was bumpy and went uphill the last hundred feet. At the top of the hill the track ended into an open field. The return road was next to the strip and on the other side of the road was a steep drop off into a small valley. The pit area was mainly dirt and very rocky.  Neal remembers that there was a small junkyard-like area at Pocono Drag Lodge. The cars there were for racers to pick parts off of to replace broken pieces. Neal thinks he retrieved a Dana 40 that was installed in the '58 Vette. The Dana made the "Red Baron" a stronger and more dependable race car.    

Don Hinkle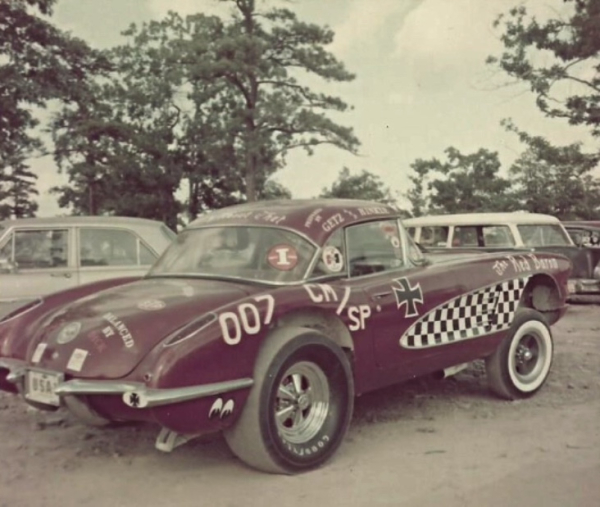 Neal Hinkle's 1958 Corvette, in the pits at Pocono Drag Lodge, 1968. Photograph by Hinkle family, courtesy of Don Hinkle
I only ran one time at Pocono Drag Lodge. Bob Bernardon and I ran each other a lot at many different places. He was a very hard man to beat!
Dave Hales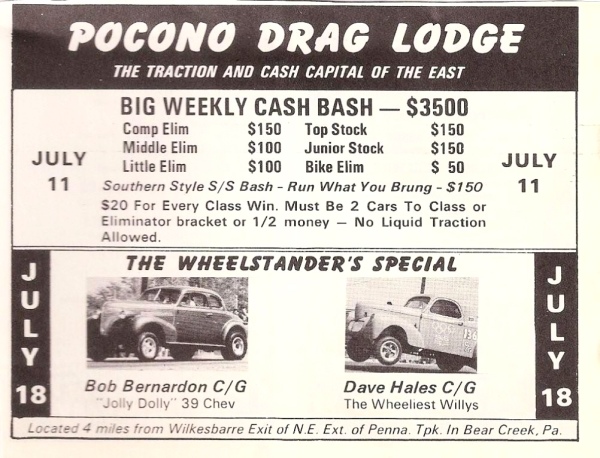 A match race ad from Pocono Drag Lodge in Bear Creek, Pennsylvania, in 1965.Courtesy of Dave Hales
Catawissa
Numidia Dragway, aka Dragways Inc., was another track that my father, Neal Hinkle, raced at with his 1958 Corvette and the 1969 Nova. He ran there on Sundays's when Maple Grove started running on Saturday nights during the summer. The track was promoted by Bob Eveland who also was the track promoter of Maple Grove at the same time. Neal won at Numidia several times and was runner-up in the King of the Hill races two times in August of 1972. At the end of the 1971 season, Neal exploded the small block engine real good. The crankshaft broke and you could look straight through the block from one side to the other. That is when he switched to the 427 big block and had his best season with the '58 Vette in 1972. The track was nice and well-maintained. Due to the track being located at a higher elevation, tuning your car was a challenge. Neal's race cars seemed to run a tenth or two slower because of the thin air of higher elevation. Neal said, "I remember one time we raced at Maple Grove on a Saturday night and the Corvette broke a clutch. The next day, Numidia was having a big meet that I did not want to miss. So we left the Grove and headed home." Neal and a couple of guys from the drag team pulled the transmission and replaced the clutch right on the trailer. They finished up the repair around 2 AM. "So we went to bed and slept fast because we needed to leave for Numidia at 7 AM," said Neal.
Don Hinkle
Charleston
Alex Theofilos was quite a guy, a real showman in a hillbilly setting. He and his brother, George, started the place in '59.  Those guys also started Meander Dragway which became Youngstown Dragway. Some strange things went on at that little old strip. While I was not there to see it, I understand that someone with a jet/rocket car, maybe Arfons, was there for a 'show run.'  The launch area was very close to the road that went past the strip. The rear ends of the cars were facing the road with nothing but a wire fence there separating the staging area from the highway. I guess that, when the rocket or jet car launched, he set the cornfield, located on the other side of the road from the strip, on fire.  Alex pushed a 'family' agenda at Sunset. A hot rod club I can't recall the name of, had yearly picnics there as did 'The Quarter 8's' drag racing club. The little track had a dirt return road, very short shutdown area, 'genuine' outhouses that were pretty nasty, and people passed tractors and other farm equipment to get there from Charleston, a village just south of the strip. It was unlike anywhere else I ever was per any type of racing facility. And while I am not saying such a thing never happened, I never saw any violence at Sunset. Alex and his brother, George, fell out for some reason, and Alex passed away a few years ago, ending Sunset's long tenure. George passed long before Alex. George's daughter inherited the place when Alex died. A friend of mine who spent a lot more time there than I did, and yours truly, went to the track two years ago to make a video of what is still there, as it is fading away rapidly. We had limited success as George's daughter, who lives nearby, is, to be kind, unfriendly per anyone being around the facility. She apparently always hated the place. When she spotted us pulling off the road, she jumped in her new Escalade and headed our way very quickly. She buzzed the place in her new Caddy as soon as she saw my friend and I trying to video the place.  We were careful not to trespass, but by doing so, could not make much of a video. Rumors abounded for a while about possible lease deals and reopening of Sunset, but anyone buying it from her would likely be forced to sign something banning  running a race track so why bother. I guess she hated everything about the place from childhood--noise, smoke, race track people, etc. She did sell the timber off and the log trucks didn't do the already rough track pavement any good.
I recall a couple of family-related issues connected to Sunset.  My brother, Steve, who was four years younger than I, took Dad's almost-new 1969 Chevy Brookwood station wagon to Sunset. It was equipped with the rare 396/265 horse engine and Turbo 400. It was a very good car for what Dad bought it for, that being a tow vehicle for their travel trailer. Anyway, Steve took the air cleaner off the engine to race it and simply spun the wingnut back on the stud. I'm not sure how long he lasted in the brackets, but the wingnut came loose and went through the engine. I'm also not sure if he made it home or not. Amazingly the 5/50,000 GM warranty repaired the thing. There was under 100 miles left on the warranty when it happened. Dad was less than pleased, to say the very, very least. 
Later on, I was driving a car I wish I had today--a '58 Impala with the 280 hp 348 Tri-power engine. I bought it for a winter car for $75.00 or so, in order to keep my brand new Chevelle convertible out of the salt.  I still have the '70 Chevelle. The body got so bad it could not pass inspection so I junked it after pulling the engine and Turboglide transmission. In high school I had worked at an auto service center where we had an old guy who had attended GM's performance/multi carb training school in the '50's. I stopped in after picking the '58 up and showed him the engine. The choke did not work right, the kickdown was off, vacuum hoses leaked, etc. His eyes lit up and said, "Bring it in. I ain't busy."  Old Blake messed with the carbs and linkage, timing, put points in it, cleaned filters, etc. He even found a new Fram air filter for it!! And until the day I pulled the motor, it ran perfectly.  My brother had a '62 Impala with a tired 283 and 3-speed stick on the column. He badgered me until, on credit, I sold him the 348, which he and some other kid cobbled into the '62. I told him it ran well, but was down on oil pressure, likely via bottom end wear. Blake had said that the main bearings had been a '348 problem'and to not hammer the thing too hard. Anyway, off to Sunset they went. And with a missed low to second shift, the 348 blew all over the track, causing a long oil cleanup period and a costly tow to Knox. End of drag racing for Steve for a long time. He never paid me for the short-lived engine, but many years later I sold the Tri-power setup with the rare factory air cleaner for a very good price.
Dave Thompson
Cuddy
Pittsburgh International Dragway
I loved racing at Pittsburgh International Dragway. I raced there just about every weekend. I had a 1968 Chevelle 396 cu. 350 hp. The class record at the time was 12.70 and I was running 12.80. I was in D Stock. It was called "The Headhunter." It was a beast. I just wanted to tell you about my car and all the fun and memories I had there. I will never ever forget those days.
 Jack Cionni,

"The Headhunter"
Hallam
Hallam Drag Strip was originally a small, short-runway airport on the outskirts of Hallam. Bill Holtz, who operated York U.S. 30 in Thomasville, opened Hallam to provide a venue for racers who wanted to race their "stock" vehicles. I was a friend of Bill's and was involved in the opening of the small strip, along with Chuck Lore, Bill's assistant manager for York. The strip did not have sufficient length to accommodate the likes of a AA/FD, AA/D, SuperStocks, Altereds, etc. To my recolection, Hallam was not a successful venture and closed after a year or two. If I remember correctly (and I'm pretty sure) it was on the York side, west of Hallam; which, by the way, was spelled Hellem, back when I was a youngster. I certainly thought it was a small airport runway. There couldn't be any other explanation for a somewhat wider than a two-lane highway stretching out between an 8th to 1/4 mile. It was on an elevated plateau and laid parallel to old route 30. As I said, I was only at the location a few times, at the beginning, helping set up and getting it laid out, as most of my time was taken up working with Custom Auto Parts on the A/C record holder, the Fiat Bug. A few years ago I visited the area and noticed there were buildings (businesses/warehouses/factory) built where the strip had been, so I'm sure it's been torn up. Like I said, it didn't operate very long. [Editor's note:  The old airport/drag strip is probably today's Runway Drive.]
 Wayne Seaman
Knox
Truittsburg Cycle Club "Drag Strip," 1970s
The Truittsburg MC club grounds are approximately 1.5 miles from my home. I belonged to the club briefly in the early 1970's as did many guys around here. The drag strip was a narrow dirt strip, somewhat downhill. The entire facility was built on an abandoned strip job. I had a chain break on the strip on my 1968 Triumph 650 that came up through and broke the case.
I was a member of the club for a couple of years. President in the late '60's to early 1970's was a guy named Ed Shaffer. Later presidents were John Hartzell and Curly Mathews. John and Curly are deceased. I left the club because they swung towards a racing agenda rather than the day rides. The club had a few yearly trips that were really great, like the ride to the Shaeffer 200 at Pocono, with Ed's wife driving their 3/4-ton van with food, camping stuff, beer, even gasoline, to the big campground we used near the track, and maybe 25-30 bikes following along. Ed rode a BSA Thunderbolt then. The club got a deal on real good seats at the speedway, everything, camping, gas, admission to the track, food, was covered for maybe $20.00-$25.00 each.
    The guy I 'think' I was racing when my chain broke is a good friend to this day and is wintering in Florida. He and his wife live in nearby Punxatawney. I did not know him personally in 1970. He is not sure about the event we are discussing, he does remember racing various Brits, but at the time of 'our' alleged race he said that he was riding a 1968 Norton Commando Fastback then, not the P-11 I am fairly sure I was running against. 
The club had four race tracks at the peak of their racing activities. They are all visible today. Their club headquarters/meeting place might still be there. The concession stands may be there too. They had a short flat track located inside a bigger, banked track, both dirt of course. They had an excellent motocross course that snowmobile and ATV guys utilize to this day. And of course the drag strip. 
The club advertised 'racing under the lights' as perhaps your site states. The track was 'not real safe' after a few runs. I can't remember what they used to smooth it out, but if forced to guess, I would say it was probably a piece of lehr mat procured from one of the several area glass plants where most everyone, including yours truly, worked. They are all gone now. The mat was heavy steel wire mesh and would have been dragged behind a small tractor or maybe a Jeep. Just speculation. The club went into limbo a long time ago when Curly was in charge. Typically, there was infighting and squabbling over who did what and, of course, three guys doing the work while everyone showed for the beer and hot dogs after the meeting. I do not know the status of the club now. It may still legally exist as I believe it was incorporated. The facility is located on a strip mine area that was mined during WW2. A part of the motocross course runs over an area designated as the 'highest point in Clarion County' via an Army Corps of Engineers plaque, that may or may not still be there. According to Joe Kenny, who 'was there' at the formation of the club, the Truittsburg Motorcycle Club was formed in the late 1960's by Norton dealer Tom Vosburg, BSA rider/Suzuki racer Ed Shaffer, former Triumph flat track racer and Harley dealer service manager Paul Shick, and a few others in Clarion County. Originally, the club grounds were going to be in Truittsburg, Pennsylvania, off route 66 in southern Clarion County, but for several reasons, likely including the possibility of eventually building racing facilities, the location was changed to where the remains of it are now, near Knox, Pennsylvania. According to Joe, it was too expensive to change the name of the club to the Knox MC. Truittsburg had a banked dirt oval, it might be 1/4th mile, and a smaller flat track located in the middle of the bigger track, I think it was pretty much circular, with no real straightaway..Also, it had slipped my mind, as much does these days,  but the club had a unique storage building that was actually a 1950's era fallout shelter, I guess they were manufactured somewhere locally, but I don't know where. This one is/was a fairly large one. I guess the idea was to dig a huge hole in the yard, bury the thing, and when the sirens went off, access it via removal and replacement of a manhole cover, get down the ladder, hunker down for whatever timeframe and hope for the best. After nuclear weapons advanced, I guess such things became obsolete. The club likely got it for about nothing. It may still be there. 
Dave Thompson
Long Pond
Pocono International Raceway, 1969
​My father, Neal Hinkle, raced his 1958 Corvette at the two NHRA-sanctioned races held in 1969 at Pocono. Neal remembers that after finishing the race in the shutdown area, the banked turn one forced him hard left. The return road was not totally complete and a little rough. Timing cards show that he was runner-up in competition eliminator on May 11, 1969.
Don Hinkle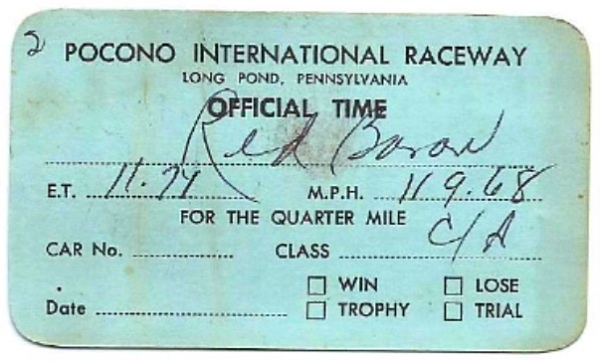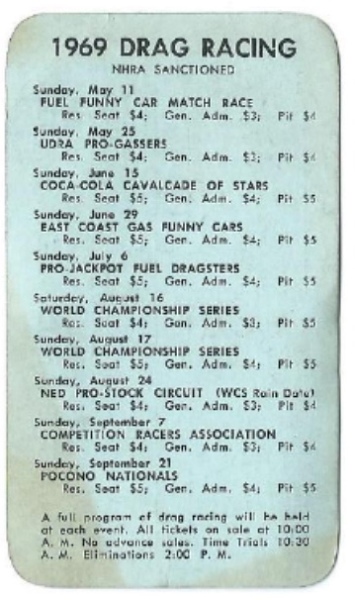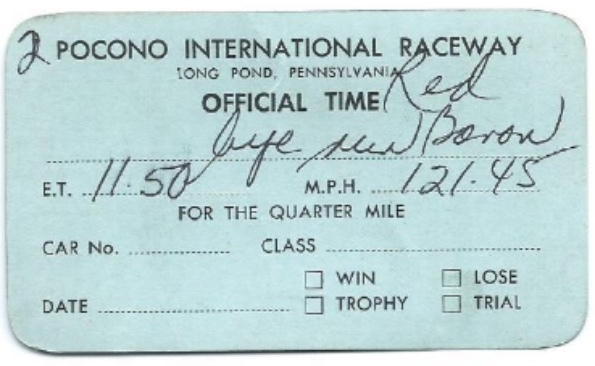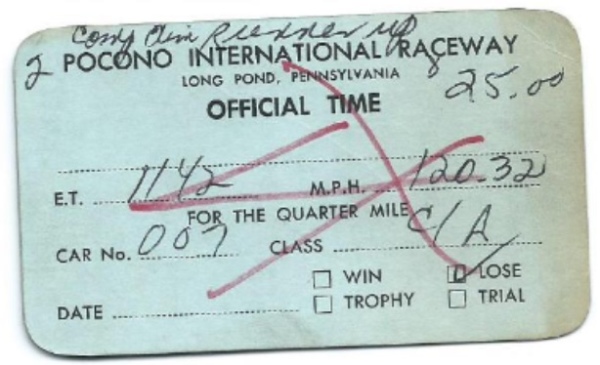 Time slips of Neal Hinkle's 1958 Crovette C/A at Pocono International Raceway, 1969. Courtesy of Don Hinkle
Mohnton
Maple Grove Drag-A-Way, 1968-80
In 1968, my father, Neal Hinkle, wanted to go faster but did not want to chop up the '61 Vette. He purchased a 1958 Corvette that also ran at Vargo under the name of "Lil Caesar." He built the car to run in the modified sportsman class. Unfortunately, the NHRA changed the rules and eliminated the class. So the easiest thing to do was to strip down the car and run it as a C/ Altered in competition eliminator. Neal joined the NHRA and 
began racing at Maple Grove Raceway at that time. The Red Baron 007 C/A ran in the mid 9.90 second range at 138 mph and was a weekly contender at the Grove. He led the Money Trail points and won many races against many local favorites. The other tracks that he ran at with the '58 Vette were Numidia Dragway, Pocono Drag Lodge, Kel Reca Drag Strip, Island Dragway, and the front straight of the newly built Pocono International Raceway.
Throughout the years, Neal made changes to the car, starting with a 327ci small block Chevy with Hilborn fuel injection to a 427ci big block Chevy with Hilborn fuel injection and a 4-speed rock crusher transmission to a B&M clutch turbo 400. The rear gear ratio was 4.88 Dana. The front straight axle was replaced with a dropped tube axle with coil over Koni shocks to lower the front end of the car. M&H drag slicks were used to connect the car to the ground.  A strong crosswind on April 29, 1973 at Maple Grove ended the racing life of the '58 Vette when at the finish line the car crossed over the center line. Neal was right behind a dragster as the dragster's parachute was released. He tried to go between the guardrail and the dragster but he went into the guardrail.
Neal purchased a former "Jungle Jim " 1969 Chevy II Nova funny car in mid-1973. He used the drivetrain from his crashed Corvette and "The Red Baron" was flying high again as a B/Altered. The Nova ran 8.70's at 151mph, won regularly and also led the Money Trail points race at Maple Grove Raceway. The Nova went through drive train changes also, from Hilborn to Kinsler fuel injection. The clutch turbo 400 was changed out with a Lenco transmission. The Oldsmobile rear gear was a 4.88 ratio. Goodyear racing slicks mounted on Centerline wheels were used to grip the racing surface. Neal also ran his Nova at Numidia Dragway, Island Dragway, and traveled to National Trail Raceway near Columbus, Ohio for a shot at a national NHRA race, The Spring Nationals in 1975. The Sports Nationals at Beech Bend Raceway in Bowling Green, Kentucky. in 1976 was the next try at a national meet. The 1977 & '78 Summer Nationals at Raceway Park in Englishtown, New Jersey, and a Division 1 points meet at York US 30 Raceway in Pennsylvania in 1977 were the next tracks the Baron raced.  Neal started his own automotive repair shop in 1975, Neal's Performance Center in Allentown, Pennsylvania. Neal ended his racing career in 1980 when the tracks went to a bracket racing format. He felt that his auto repair shop needed his full attention. Neal sold the Nova to a local racer.
Neal considered Maple Grove Raceway his home track. The staff was nice and he always ran well at the Grove. The special shows like match racing, funny cars, jet cars and wheel standers were great. The track always drew many famous names.  We camped out at the park on a couple two-day shows. The pit area and staging lanes were very nice. The track point's award banquets at the end of the year were also great and very entertaining. At one race, Neal installed a new set of M&H Racemaster drag slicks on the '58 Vette. The traction on the track was very good that night. Rosin was being used by the Pro Stock cars. Neal lined up after they ran and popped off a four-wheel wheelie. He saw only dark skies above. Riding on the rear bumper, he left off the gas and down came the "Baron" hard. The straight front axle bent and the car went left and scraped the left rear side. The guardrail and the bumper lined up just right and only scuffed the Hinkle name painted on the side. After that wild ride, a pair of wheelie bars were installed. The bent front axle ws replaced with a chrome drop axle. The "Red Baron" soon became the car to watch when it lined up. Wheels-up drag racing was very exciting for the crowd.
Don Hinkle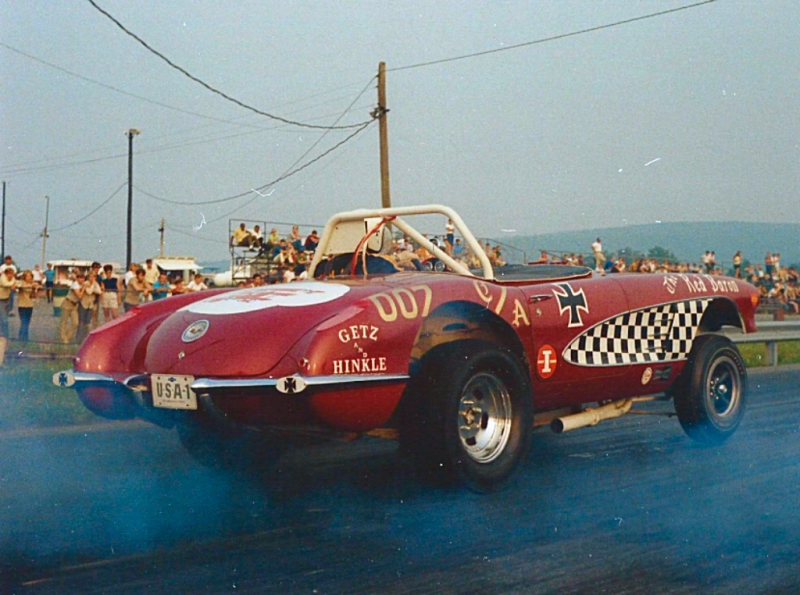 Neal Hinkle with his 1958 Corvette C/A at Maple Grove, 1970. Photograph by Carl Rubrecht, courtesy of Don Hinkle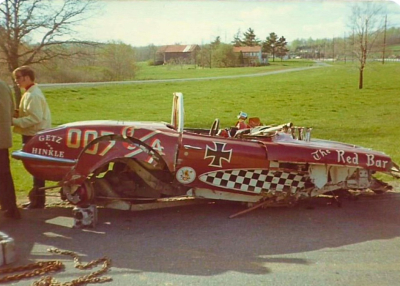 Neal Hinkle's 1958 Corvette, after the crash at Maple Grove, April 29, 1973. Photograph by Hinkle family, courtesy of Don Hinkle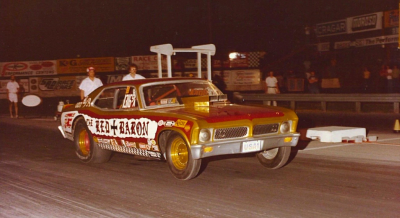 Neal Hinkle's 1969 Nova, 1978. Photograph by James H. Evans, courtesy of Don Hinkle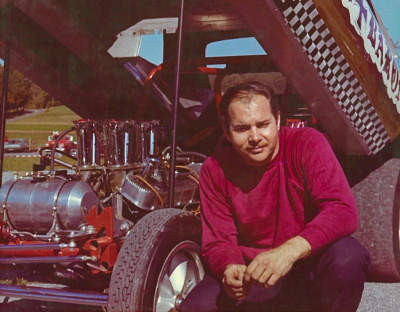 Neal Hinkle, kneeling in front of his 1969 Nova "Red Baron," 1974. Photograph by Don Hinkle

New Bethlehem
​
Nu-Be Drag Strip is located west of New Bethlehem, Pennsylvania, just off a rural highway between New Bethlehem and Rimersburg, both over-the-hill coal mining towns. The facility was started by one of the McCauley boys from New-Bee, and a couple of other guys in early 1969. I understand that it ran til maybe 1982. I was unaware of that long of tenure. The McCauley's are a prominent family in the area down there. They have  salvage yards, a body shop. I think there is, or was, McCauley Trucking in the area. Not sure if it still is in operation. They hauled freight, maybe coal. One of them had a very fast '68 or '69 GTO that won often at the strip they owned and operated. A lot of guys in Clarion County put together drag cars and ran at Nu-Be.  I worked with a guy who inherited a pretty nice sum [for the time] in '68, I believe, and bought, new, the only L-88 Corvette I ever saw in action--a '68 or '69 model--and drag raced it a lot.  It was something to see. The track itself (blacktop) was actually quite good. Viewing it today is tough to do. Parking along the road there is difficult and like most closed-up race tracks, there is a 'Keep Out!!' sign posted anywhere one can be posted in the area.  A quick glance at the track surface is possible. There is possibly logging going on in the area and a haul road has been opened up that adjoins the old track surface. The last time I was by there--last June on a bike--I could not see any surviving buildings, or the sad excuses for guard rails that were there. But despite everything, the track surface still looks fairly good.  I don't recall if the launch area was cement or blacktop. I suspect the latter. I do recall however that, running the McCreary Prowlers that sorta worked then on my '66 SS 396, I got a much better bite at Nu-Be than anywhere else I dabbled in drag racing. I broke a U-joint there once. I only ran there a couple of times, but was a spectator fairly often. I simply can't recall, but I think it was awhile until they got a Christmas tree. New Bee was the classic outlaw track. They never had any problem per pairing up for heads-up racing in the '60's. There were/are rumors that 'something happened' there involving a serious accident and the insurance went crazy, causing the eventual shutdown of the place, but I never heard about whatever it allegedly was.
Dave Thompson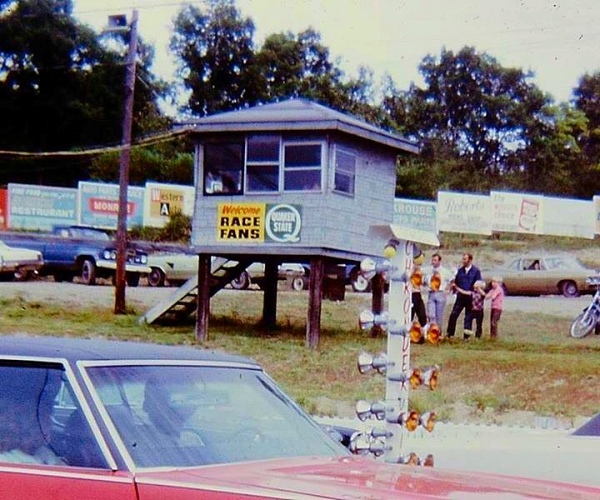 Starting line "tower," Nu-Be Drag Strip, after 1973. Photograph from collection of Mark Black, courtesy of Dave Thompson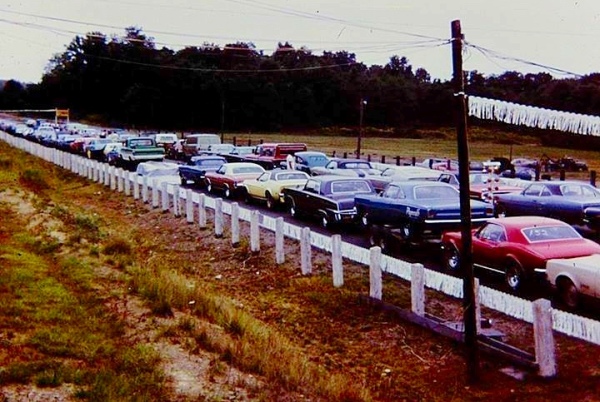 Cars would park bumper to bumper on the strip during a passing rain shower at Nu-Be Drag Strip to try to keep the track surface dry. Photograph from collection of Mark Black, courtesy of Dave Thompson

 This is likely Bruce Wilson, a Mopar guy who had some very fast cars at Nu-Be Drag Strip. Photograph from collection of Mark Black, courtesy of Dave Thompson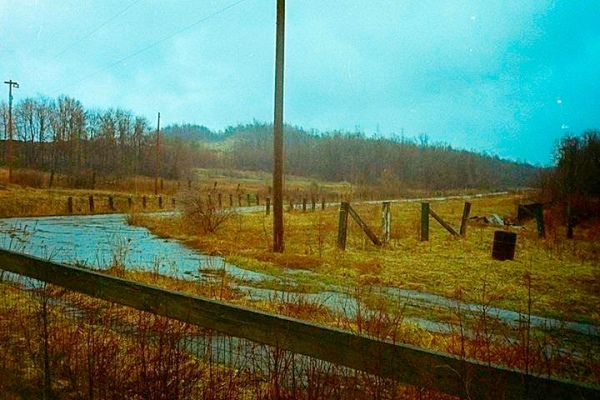 This photo was taken by Mark Black in about 2014, This view of the now-closed strip mirrors the view of the above photo, taken forty years before from almost the same angle. Courtesy of Dave Thompson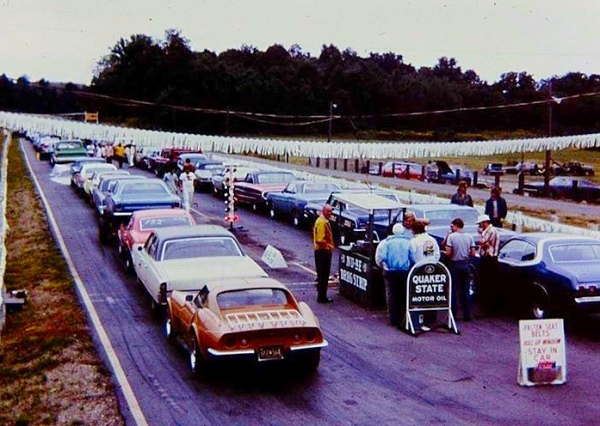 The end car in the right lane during one of those rain showers is the 1973 Dodge Dart of Rod Traister. Dave Thompson said, "Rod's car was bought by him new in 1973. Obviously he had not yet received the stern warning about racing the under-warranty car from the Mopar dealer in Fryburg, PA. It was a pretty quick car for what it was, i.e., a smogger 340 V-8 with automatic and 3:55 ratio rear. Rod, unlike most of us, was smart enough from day one to run an auto versus the constantly-broken 4-speeds of the era. Photograph from collection of Mark Black, courtesy of Dave Thompson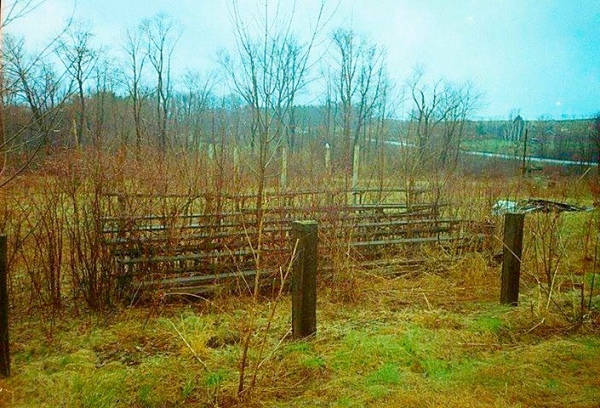 This photo of the bleachers, taken over today by trees and bushes, was taken by Mark Black in about 2014.  Dave Thompson wrote, "The strip was built in the middle of a heavily surface-mined area. Very hilly. It's amazing how the McCauley boys found a level enough area to build the track." Courtesy of Dave Thompson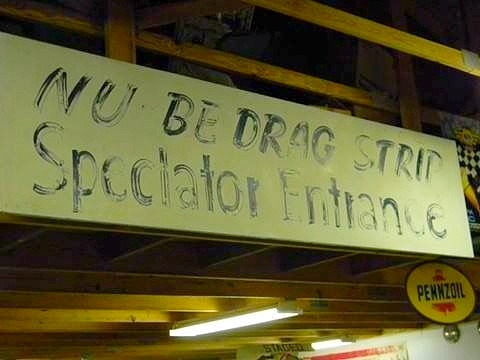 This old sign used to point to the entrance for spectators at Nu-Be Drag Strip. Photograph from collection of Mark Black, courtesy of Dave Thompson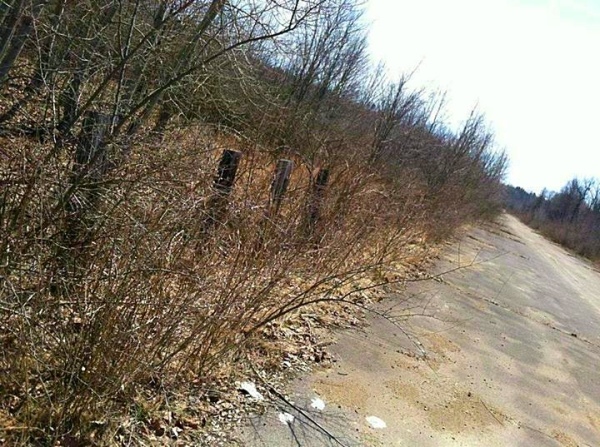 This photo, dating from possibly the 1990s, shows the track surface at Nu-Be Drag Strip still in fairly good condition. Photograph from collection of Mark Black, courtesy of Dave Thompson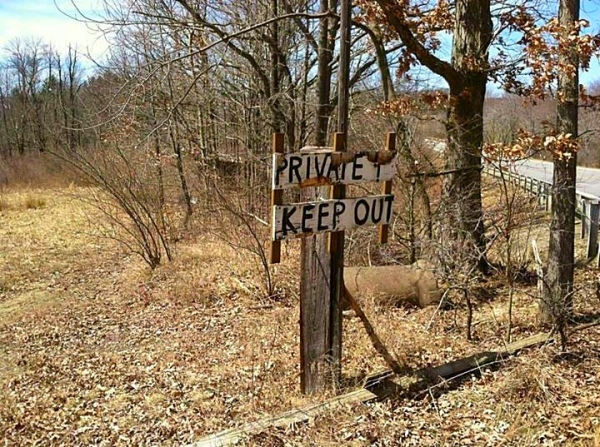 This is one of the many posted "Keep Out" signs dotting the perimeter of the old strip property. Dave Thompson said, "The McCauley's got hostile about midnight nostalgic and beer-induced runs on the track and took action [to keep people out]." Photograph, taken in the 1990s, from collection of Mark Black, courtesy of Dave Thompson

​
I used to race at the NU-BE drag strip in the 1970's in New Bethlehem, Pennsylvania.  I have the original NU-BE Drag Strip pit entrance sign plus other advertising signs. I saw many cars destroyed at that drag strip, but it sure was fun.
James Miller
New Castle
Skyline Drag Strip, 1965-69
​
I worked at Skyline Drag Strip from 1965 to 1969 for Pat Logan, who operated the track at the time. I was the little kid who gave out time slips at the end of the track, which started my drag racing career at the age of 12. I am now 65 years old and still continue to race. Pat is still alive and resides in New Castle, Pennsylvania.
Kevin Dilullo
Perkasie
My father, Neal Hinkle, began his racing career in 1961 with his newly purchased 1961 Chevy  Corvette. Neal was employed as an automotive repair mechanic at a local repair garage in Allentown. He started drag racing at Vargo Dragway when a couple of his friends got together and talked about racing their cars at the track. The Corvette ran in the B/ Sportsman class. The basic stock 283ci V-8 power plant with factory fuel injection, 4-speed transmission and 4.11 rear gear ratio ran in the low 13 second range with a best ET of 12.80 at 109 mph. A pair of Mickey Thompson slicks transferred the power to the track. The red with white insert Corvette was dubbed "The Red Baron" after his favorite WW1 German flying ace. The car number he picked was 007 after James Bond. The number proved to be a good pick because he was lethal and won his class and street eliminator many times.  Neal mainly raced at Vargo Dragway from 1961 to 1965. The first race held at Vargo was on April 24th, 1960. The track ran as a 1/8th mile at first because it was not completed. Vargo was a very nice track and they did have basic safety tech inspection for tires, seatbelts, under hood items and helmets for faster drag car drivers. Vargo began using a starting light tree in June 1964. It was a double post light stand that dialed in starting handicaps to slower cars. The trees had a staging light, three double yellow lights, one double green light and one double red light facing the starting line and down track. Some of the first "Christmas Trees" as they were dubbed were made by Chrondek Timers.     

Don Hinkle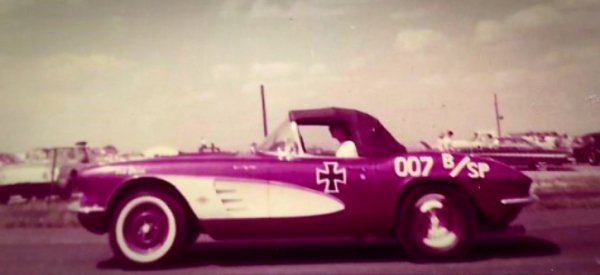 Neal Hinkle with his 1961 Corvette at Vargo Dragway, 1964. Photograph by Hinkle family, courtesy of Don Hinkle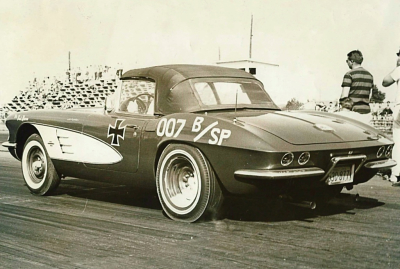 Neal Hinkle's 1961 Corvette, leaving starting line at Vargo Dragway, 1965. Photographer unknown, courtesy of Don Hinkle

Scott Township
Heidelberg Speedway, 1960s
My brother, Jack, and I worked with Walt Mentzer at Heidleberg "drag strip" in the early sixties. I remember the night Art Arfons toasted the starting line trip light and the chain link fence when he fired the engine. That was also the night Porky Chedwick emceed.  I was the time trials flagman, but Walt took over the duty for the main races. Some memories include Pappy Tacket and his 409 Chevy ('61 think) that was a consistent winner. There was a '55 Chevy with a Continental kit on the back of it powered by a 265 ci small block belonging to Lincoln Kress. If I remember correctly. the '55 originally belonged to Pappy Tacket, ran E/G and also was a consistent winner. Pappy had a brother Henry, who ran an H/G Chevy (I think late '30s or early 40"s). Many years later I worked with Frank Progar who ran a '59 Chevy with a 409. "Old Evil" was its name. Progar ran at Skyline and other strips.​ Good times.
Larry Moore
Still Creek
Kel-Reca Dragstrip, 1966-68
​​

Neal started racing at Kel Reca Dragstrip in 1966 to 1968. This track was a 1/8th mile built on a sloping field. The starting line to halftrack was slightly uphill and then sloped downhill to the finish line. The shutdown area was downhill and turned to the right and at that point it was a dirt road. The first time Neal raced there he hit the brakes hard and spun the car around on the dirt shutdown area. The pit area was all dirt and very rocky. The weight scale was small so they weighted the front of the car then moved the car to weigh the rear and added them together for the total weight. Money was paid out and trophies were given for top time, top speed and top eliminator. Neal used the money to help pay bills and improve his 1961 Corvette.  Neal did race his 1958 Corvette at Kel Reca two times but he found the car was a little too fast for the track.
Kel Reca was located in Still Creek near Hometown, Pennsylvania, in Schuykill County. The track was owned in part by Raymond J. Poreca and the grand opening was on May 10th, 1964 according to newspaper articles. Ray Poreca was killed in a car accident on October 31, 2014 on Route 309 in Rush Township in Schuykill County.    
Don Hinkle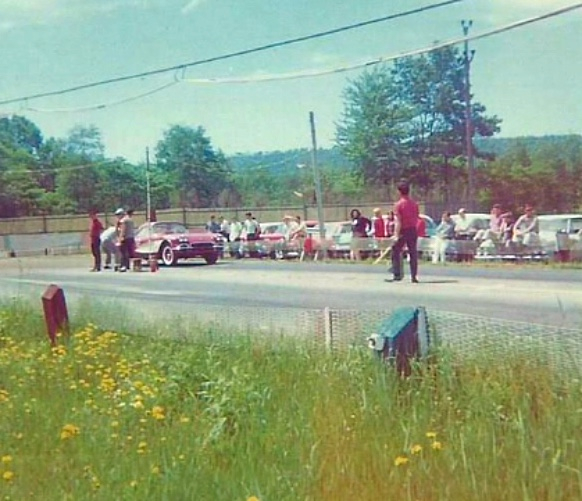 Neal Hinkle in his 1961 Corvette on starting line, Kel-Reca Dragstrip, 1966. Photograph by Hinkle family, courtesy of Don Hinkle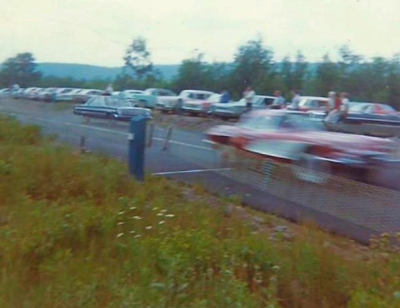 Neal Hinkle's 1961 Corvette, a blur at the finish line at Kel-Reca Dragstrip, 1966. Photograph by Hinkle family, courtesy of Don Hinkle

​This a great web-site. Thanks for compiling it. My first introduction to drag racing other than on TV was at Kel-Reca Dragstrip. When I was a teenager, my dad used to drop me off on Sundays after church and I would spend the day there. The track was about 10 miles from my hometown of Mcadoo, Pennsylvania. Two cars were most memorable for me: an injected Anglia sponsored by Koerner Ford from Scranton and a Willys coupe called the Hemi Mouse. The latter was driven by a guy from Freeland, Pennsylvania, with the last name of Kaschak. The starter at that time was called Blackey as he had long black hair and dressed in black. Once the cars cleared the track, the announcer would say, "Send them down Blackey." At the end of the pits, there were ramps built on a hill so the drivers can work underneath the cars. Lots of memories but no photos to share. A cousin of mine raced there in a Mustang called, I think, "Pegasus." Thanks for rekindling the memories.
Mark Giner
Thomasville
​My friend, Gene Cromer, went to  York, Pennsylvania once. They said he would have to put a top on his Mustang before he could run.
Frank Taylor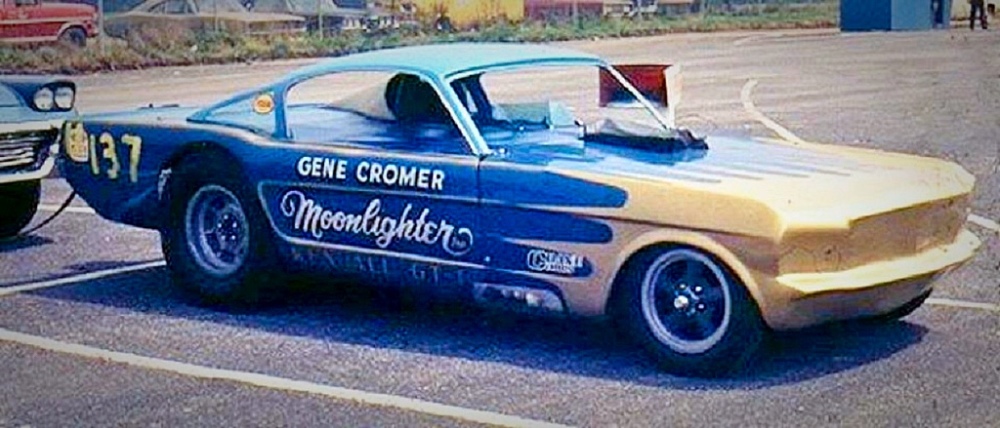 Gene Cromer's injected 1966 Mustang funny car at York--with a top on the car. Courtesy of Frank Taylor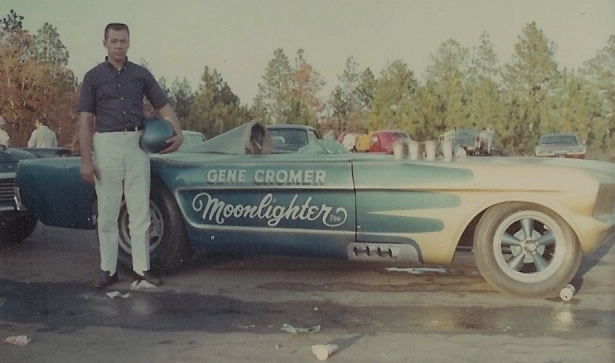 This is how Gene Cromer's "Moonlighter Too" funny car usually ran--with no top. Courtesy of Frank Taylor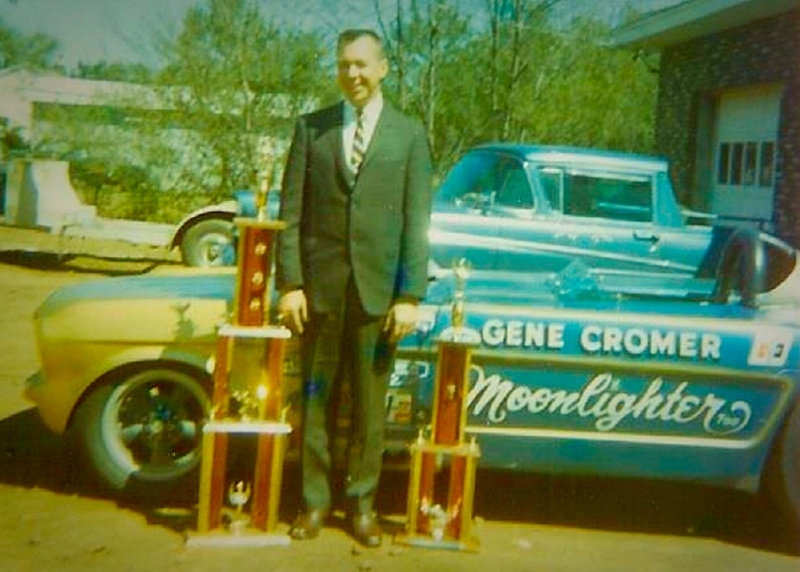 Gene Cromer, flanked by a couple of race trophies in front of his  "Moonlighter Too" injected funny car in 1970. Courtesy of Frank Taylor

​I've had this beautiful trophy for years. Unfortunately I don't know anything more than what is marked on the trophy. [Editor's note: It is possible that this is a trophy awarded at York Dragway. Yingling's Tune-up Service was located in York. They may have sponsored the race or the trophy. Research could not uncover anything about Don Hess. Reader input about this is appreciated.]
Todd Francisco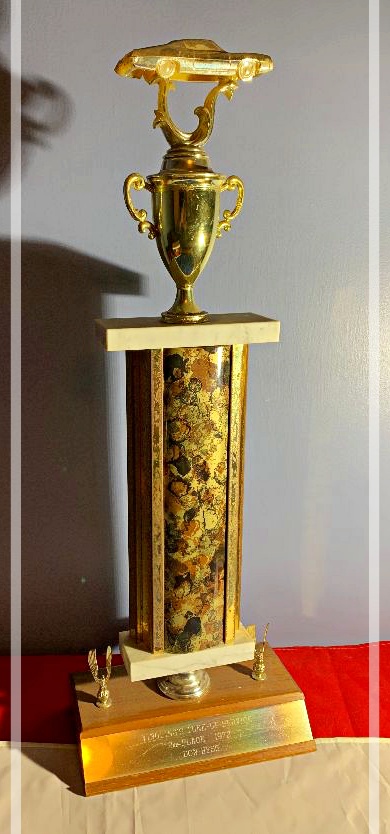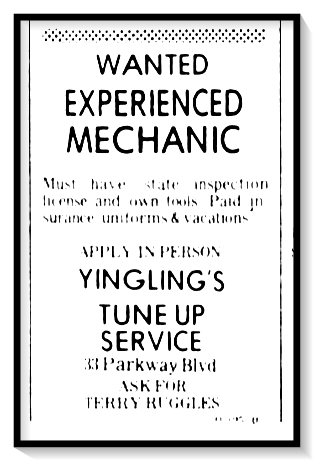 Newspaper advertisement, 1979 ​​York Daily Record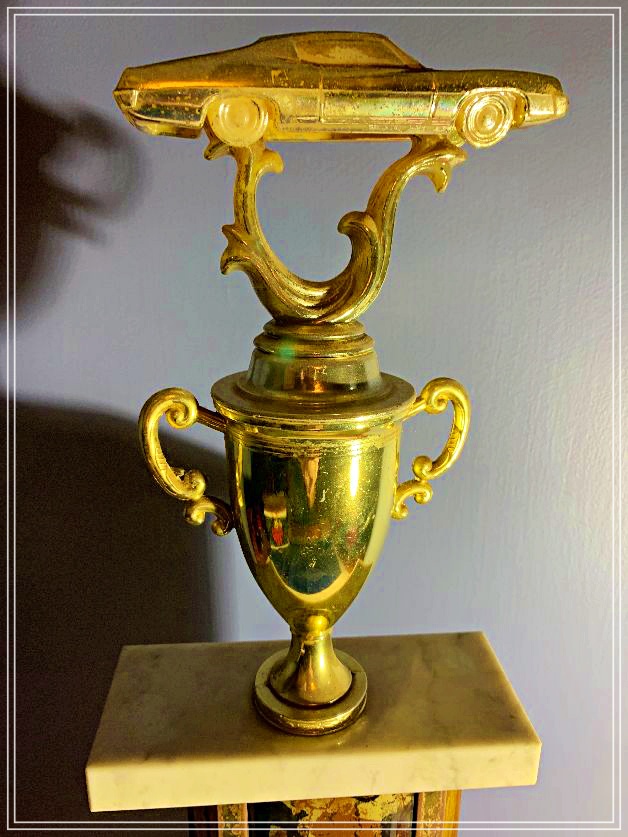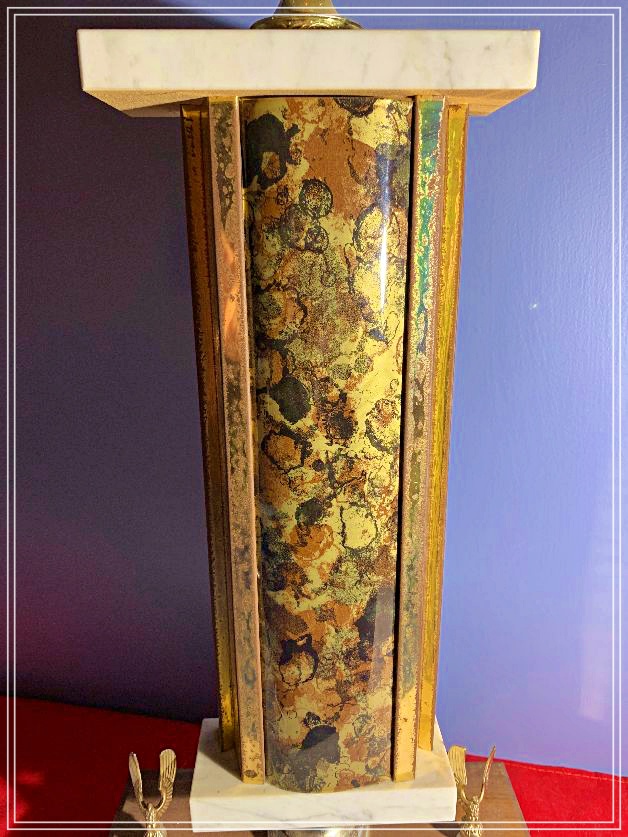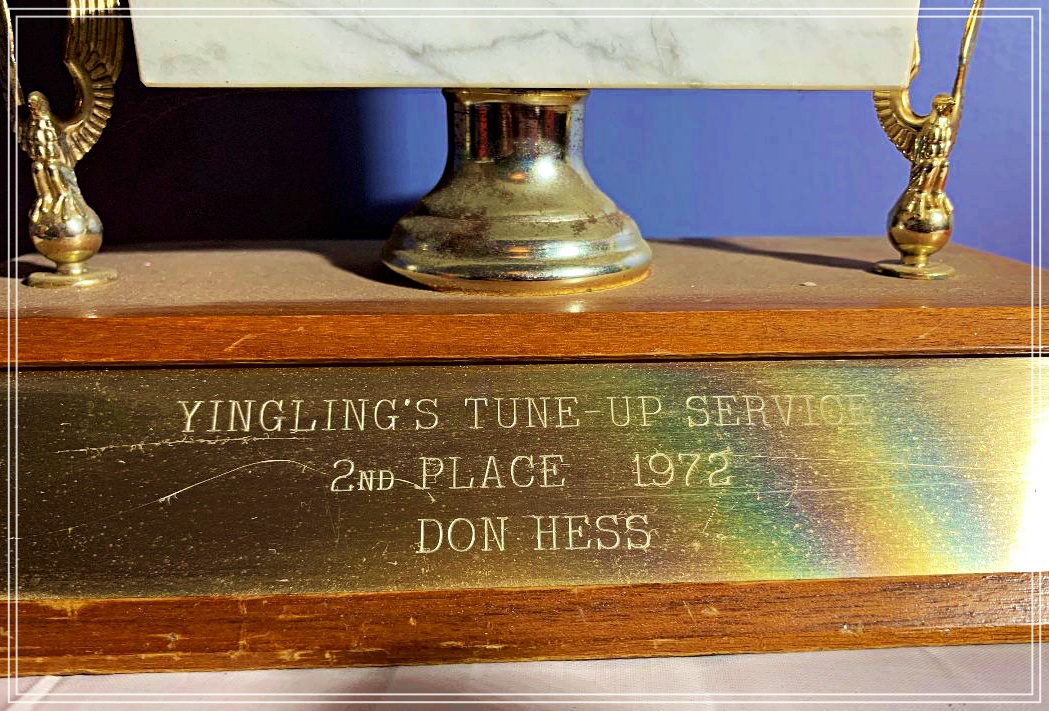 Courtesy of Todd Francisco

Tipton
Peterson Memorial Dragway/Tipton Dragway, 1966
​Tipton Dragway was located off Route 220, north of Altoona, Pennsylvania. We only ran there a few times. It had just opened in 1966. Ran FF/S and won one trophy at Tipton. I don't remember the technical reason for the double F class, as I remember my '65 Mustang fastback wit 289 cu. in. 225 horsepower and convertibles with the same engine were FF/S. A coupe with the same power plant was F/S. Some of the others that fell into FF/S were a '65 Dart 273 V8, '57 Chevy stationwagon 283 FI,  Galaxie convertible 390, and a Sunbeam Tiger 289. I know it was something in the power-to-weight  ratio that gave these cars an advange over the other cars in the original F/S. If you could research old Hot Rod magazines, I believe there was an explanation when they split the class in 1966.
Dave Gregory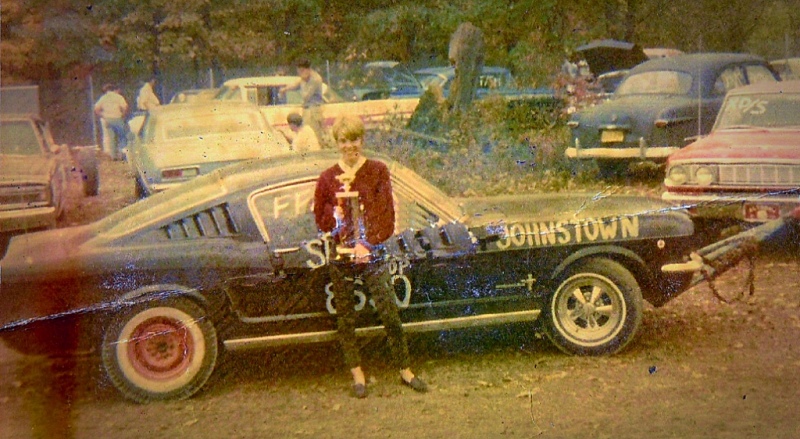 Judy Nischalke holding a class winner's trophy won by Dave Gregory in his FF/S 1965 Mustang. The photo, taken in the pit area at Tipton, shows the effects of water damage, but was saved from a 1989 house fire.  Courtesy of Dave Gregory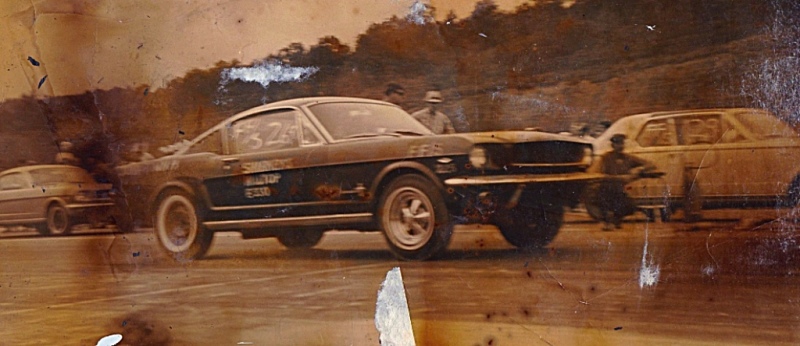 Dave Gregory making a run at Tipton to win a trophy in FF/S class in his 1965 Mustang. Courtesy of Dave Gregory

Warminster
Johnsville Naval Air Station, 1954
​As I remember this race, the major attraction was only one race and it was a 1/2-mile in 1954 and was mostly a grudge match between Ferraris and modified Oldsmobiles which were led by Jack Kulp of Pendel, Pennsylvania. The Oldsmobiles prevailed. I lived close by and don't recall any races after the one in 1954.
The dragstrip was a concrete Naval Station airport runway 8000 feet in length. 
The Navy moved out in 1995.
Ray Frattone
Wattsburg
P.I.T.A. Drag Strip, 1957-65
​I was at PITA ( Presque Isle Timing Association) from 1957 till about 1965. I wrote an article for Drag News for a few years. I have hundreds of pictures I took there. Looking through my records of our club, the Gearers Inc., I found that our club worked at the regional championships at the track, and other meets. Buck Ackerman paid us $50.00 for the weekend. My neighbor was Jerry Maycock, who raced a '58 Pontiac in S/S for a few years. I have very fond memories of all the great cars that raced there. It was the best time to be a kid, complete new cars every year. All the Ohio gasser gang ran there: Ohio George, Fred Hurst, Joe and Tom Hrudka, Gene Schwartz, Dave Koffel, Eddie Schartman, plus Jim Oddy and Jim Zakia from the Buffalo area. Lots of fun, for little money. I have an ad from the 1957 regional meet--race your car for two days for $5.00, admission $1.00, pit pass $1.00. But at that time, gas was four gallons for $1.00 and new cars were $1500.00. Fun times.

Jack Bleil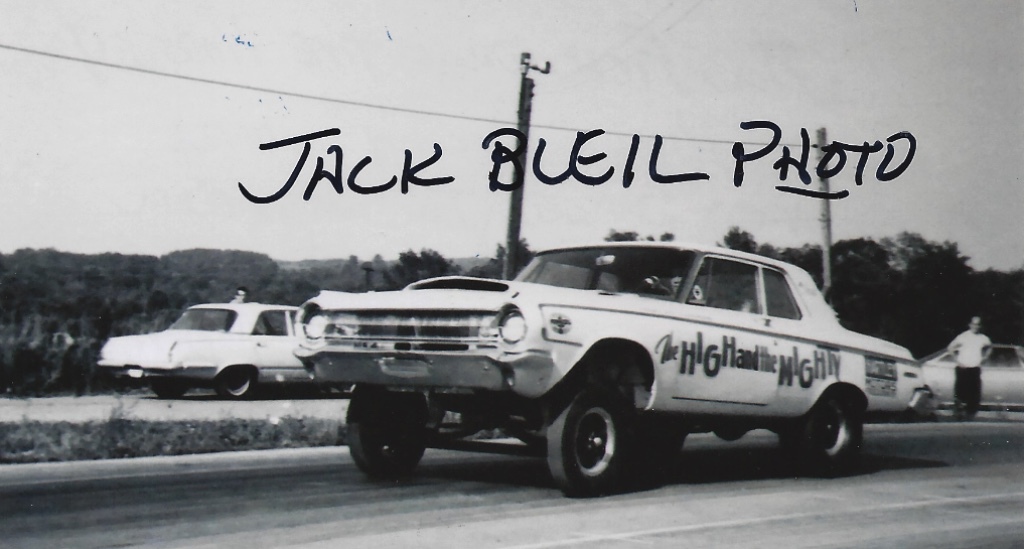 Jim Fisk drove the Hartley Motors "High & Mighty" Hemi-powered Dodge at P.I.T.A. Drag Strip. Jim was from Erie, Pennsylvania, while Hartley Motors was located in Fredonia, New York. Courtesy of Jack Bleil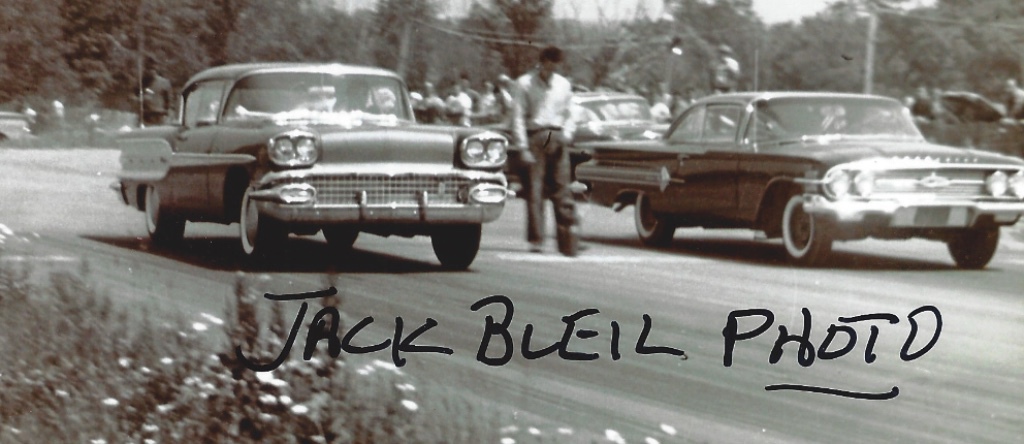 Jerry Maycock's 1958 Poontiac SS racing against a '60 Chevy at P.I.T.A. Drag Strip. Jerry's family were neighbors to the Bleils. Jack said, "I drove the car a couple of times." Courtesy of Jack Bleil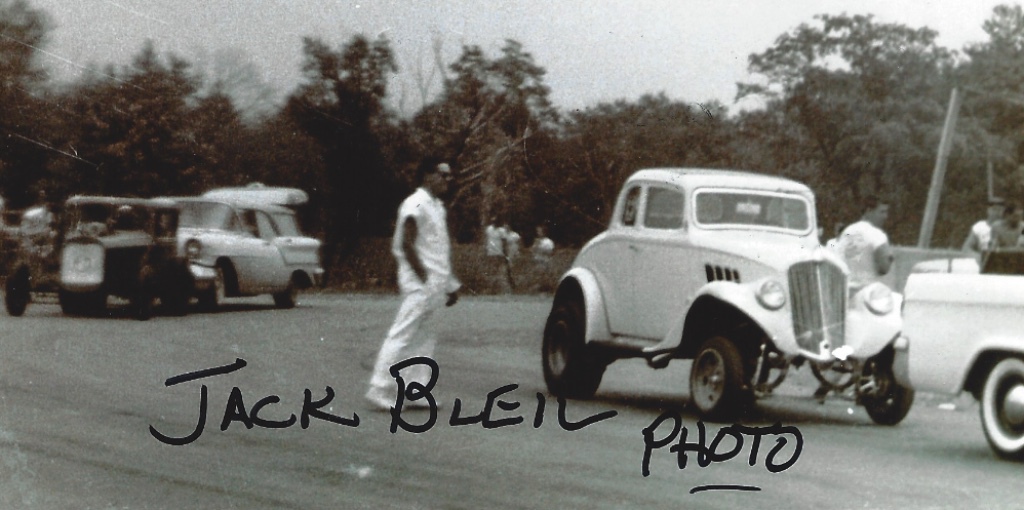 "Ohio" George Montgomery, under Cadillac power, gets ready to run against Gabby Blearers's blown Chrysler coupe at P.I.T.A. Drag Strip.  Courtesy of Jack Bleil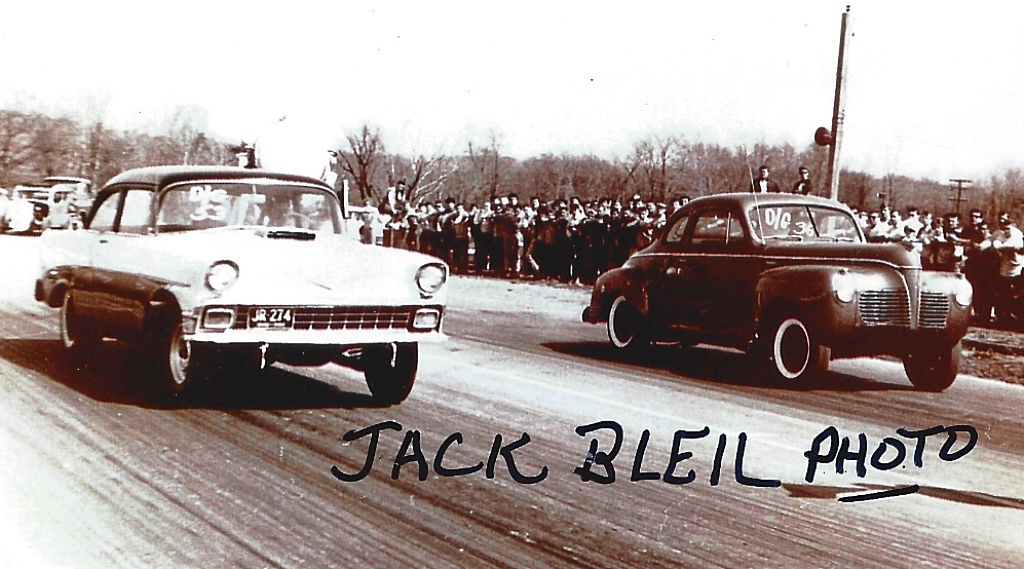 A Plymouth coupe racing a 1956, later to bcome the Rodregus Brothers' car from the Cleveland area, at P.I.T.A. Drag Strip.  Courtesy of Jack Bleil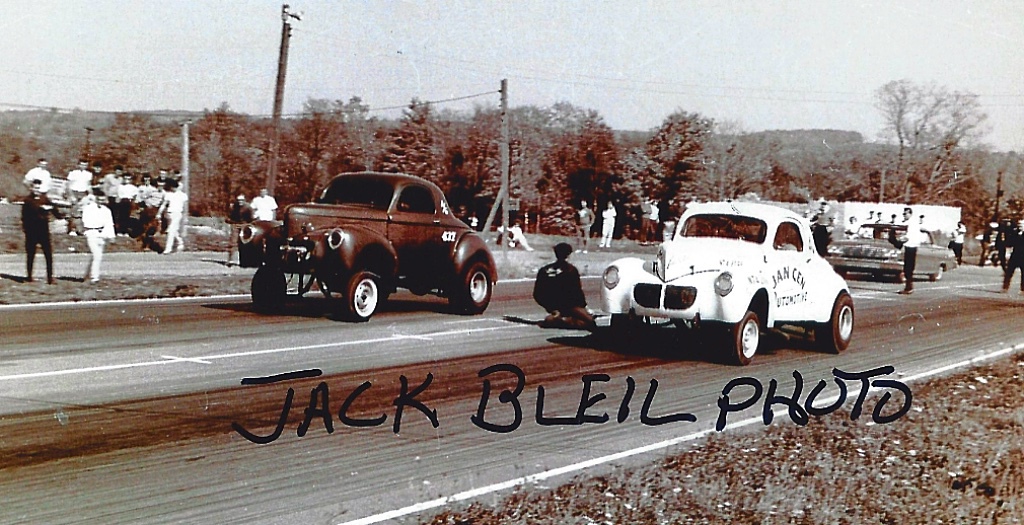 Bill Shorts, from Erie, Pennsylvania, driving his 1941 Willys against the 1940 Willys of Jansen Automotive from Buffalo, New York, at P.I.T.A. Drag Strip.  Courtesy of Jack Bleil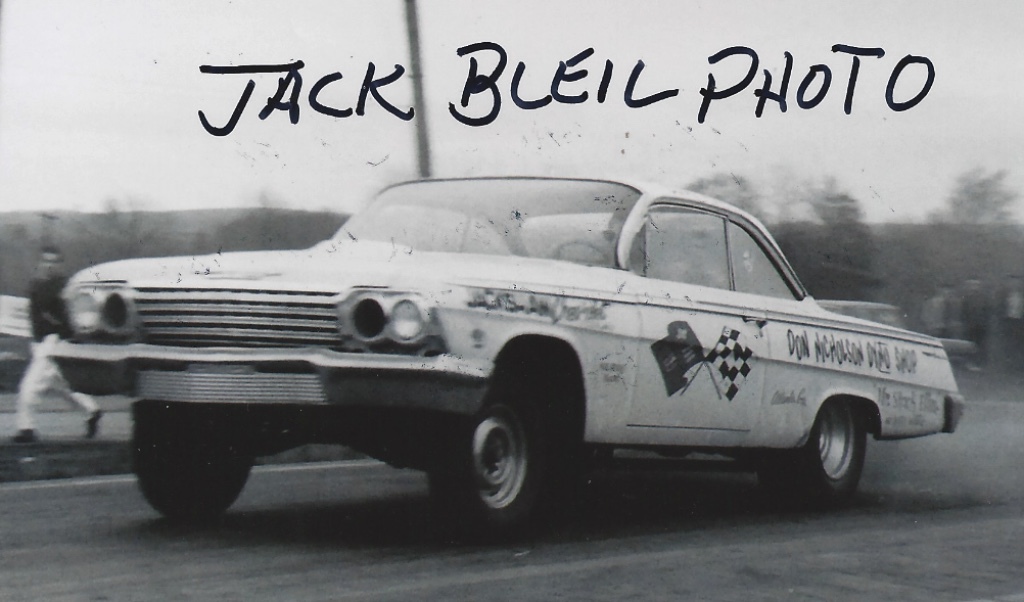 Eddie Schartman is at the wheel of Don Nicholson's '62 Chevy after Nicholson was done with it, at P.I.T.A. Drag Strip. Notice Jackshaw Chevrolet on the front fender. Eddie and Jackshaw were from Cleveland, Ohio. Eddie got Don's '61, '62, and '63 cars before Don switched to Mercury's. Courtesy of Jack Bleil

In my youth, like many of us '50's-'60's motorheads, of course I could not wait to, in the words of my fiscally conservative late father, "destroy a perfectly good automobile trying to win a T shirt" at the local drag strips with my financed-factory muscle car, a '66 SS 396. I was often broke, as was the car. I had to borrow my late mother's Biscayne many times to get to work while the Chevelle was down, etc.  But it sure was fun, and I didn't care about much then. Uncle Sam was knocking on the door, and I was determined to live life to the max and do what I wanted to do, 'sort of' within my limited financial ability. Lucky's Drag City (Lowville Raceway]--this  old strip, located about 70-80 miles from Knox, still runs somehow.  Old Lucky Foley was offered a lot of money for it not long ago, but did not sell. Like most old drag strip guys, he loves the business, though he probably isn't making any money. But Lucky fixed up the concession stand a bit a short while back. I think he did something with the bleachers and restrooms since I have been up there, and he recently repaved the cement launch area. I am not sure what the venue is up there these days. Some say he is running 1/8th mile only though it is, or was, a 1/4th mile track. I think Lucky Foley acquired it in the mid '70's. I met Lucky only once, very briefly during a Saturday test and tune session. I simply popped in en route home from Erie on my bike, perhaps two years ago. He must be in his very late 70's and is a long-time drag racer.  I guess he may still make a pass with a Camaro there once in a while.  Lucky's Drag City, at least during my tenure in the '60's, was referred to simply as 'Wattsburg' by everyone I ever knew. Near Miola, Pennsylvania, in Clarion County, a long stretch of rural highway we used for midnight street racing was referred to as 'Little Wattsburg.' At the time I was, in my very minor league/low dollar way, messing around up there it was probably 'Lowville Drag Way.'  Wattsburg and Lowville, both small towns, are within a mile or so of each other on old Route 8 in Erie County with nothing but a fairground  separating them. The place was operated by the Presque Isle Timing Association in the '50's and maybe into the '60's as those guys up in Erie put it together I guess. Again, I'm not sure how long their tenure lasted. I never did too well at Wattsburg. Everybody and their brother had a 'G Stock' or whatever my '66 was classed at. Most all the Erie 'city guys', running 4;10 or lower gears, were faster and quicker than me with my wide-ratio transmission and tall rear end gears. One happening there, in 1969, will be in my memory forever.  I 'heads up' ran maybe three races. I was running about 15.5 to 15.8 times (pre-track treatment days, no traction) with the totally-stock 325 horse car before I was eliminated by a new GTO. My girlfriend at the time and I hung out in the pits, sitting in lawn chairs and discreetly drinking New York State-procured beer. The drinking age in New York, a couple of miles away, was 18, unlike Pennsylvania, where it was/is 21. We were waiting for the upcoming powderpuff racing. Vickie was a country girl. She grew up around pickup trucks and tractors. She was 17 at the time, a great girl, tall, good-looking. She shot a deer every year with her 30-30, could kickstart my Triumph easily, and was more than capable of running the 4-speed SS 396 down the strip as fast as it would go. The powderpuff racers were paired up by drawing straws or some other method and it was a bracket affair. Vickie was gonna run some scared-to-death little girl in an altered coupe, maybe a gasser, not sure now. This was half a century ago. I told her, " You have a huge spot, almost the whole tree. Don't red light. She's terrified. You will win this race. Just be cool." Vickie, who had the option of having me with her in the passenger seat, but wanted to 'do this myself,' came out of the water cleaning the tires (3;31 ratio posi) and looking like a pro, but, she continued thru the staging area, right on up the track in low gear to the end, then down the return road to our spot in the pits and turned the key off, jerking the car to a stop, while the girl in the gasser and everyone else looked on. What  the hell?  What happened was, according to guys in the pits who knew something and was later confirmed via teardown--when she dumped the clutch, she knocked some springs out of the clutch disc, which jammed the pressure plate. The clutch would not disengage. We got the car backed around and got moving out of the pits with help and I drove home, through several small towns and two cities, with a non disengaging clutch. I remember it like it was yesterday. We got home all right despite everything. Dad, as usual, shook his head, but backed his car out of the garage so we could get the Chevelle in, adding, "I suppose you can go charge some parts on my Knox Auto Supply account tomorrow after you figure out what's wrong with the goddamn thing this time." A partially- disabled WW2 veteran (machine gun wounds in North Africa) who, despite it all, never missed a day's work. He often grumbled about things I did, but he and mother really liked Vic. I still recall how they both got a charge out of her telling the story that evening. Vickie went on to college and medical school. I understand she is a semi-retired doctor in Denver, Colorado. I guess she was married for a very short time (God help the guy who maybe tried to tell her what to do) and had a couple of kids. I have not seen her since 1973. The 1966 SS 396 was traded in by me in 1970 on a new Chevelle convertible that I still have. The '66 passed through a couple of locals and was eventually totaled. I 'visited' it long ago when it was residing in a field with several other junk cars. I removed the '396 Turbojet' fender emblems and the grill-mounted 'SS 396' emblem. They are on the wall in my garage.
Dave Thompson
Wind Gap
Mountain View Drag Strip, early 1960s
​My father, Neal, also raced at Wind Gap aka "The Sticks" a few times. Wind Gap was another 1/8th-mile dragstrip with a short shutdown area. The drag race at the track was started by a flagman with car lengths given to slower cars. The mile per hour was timed at the finish line. The track timer would then use the mph and a chart to get the ET or estimated time from start to finish.        

Don Hinkle
​I ran almost every Sunday at the Windgap Dragstrip. I had a 1967 Charger with a 426 Hemi and two fours. I won a trophy almost every week. It was a great time in my life.      

Michael Kutz
Mountain View Drag Strip, 1960s
I raced my 1960 Ford Falcon there, at The Sticks, in the late 60's.    

John Amore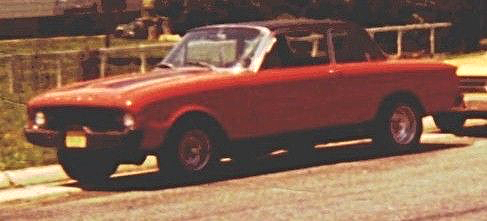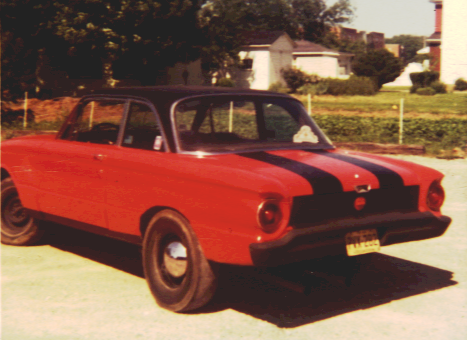 John Amore's 1960 Ford Falcon. Courtesy of John Amore