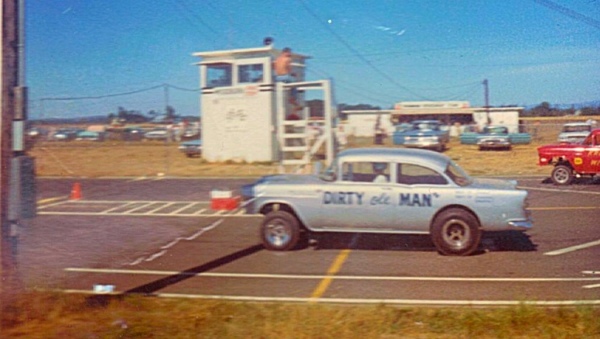 Woodburn Drag Strip, 1966.. Photographed by Marty Strode
Aurora
Aurora Drag Strip, 1957-59
I ran a B/A '33 three-window coupe in the late 50's. The drag strip that was closest to us was in Aurora, just out of Portland. I was racing up there in the mid-50s. Pete Sukalac] was one of the photographers for Hot Rod Magazine. He came u;p to the drag strip  They featured my car in a 2-page article in Hot Rod . They didn't have any ET clocks. All they had was time clocks. There was a flag starter. They gave out trophies. Actually my class was B Altered. That car was never beaten in its class. It went a whole ;year and there was no car in its class that could beat it. I was running A Altered and all different classes just for competition.  All the car clubs from Eugene up to Portland raced up there at Aurora. All the car clubs from Salem, Eugene, all the way up to Aurora all ran up there together. It was put on by the Columbia Timing Association which was out of Portland. 

Jim Beardslee,
telephone interview  with 
Mel Bashore, September 27, 2017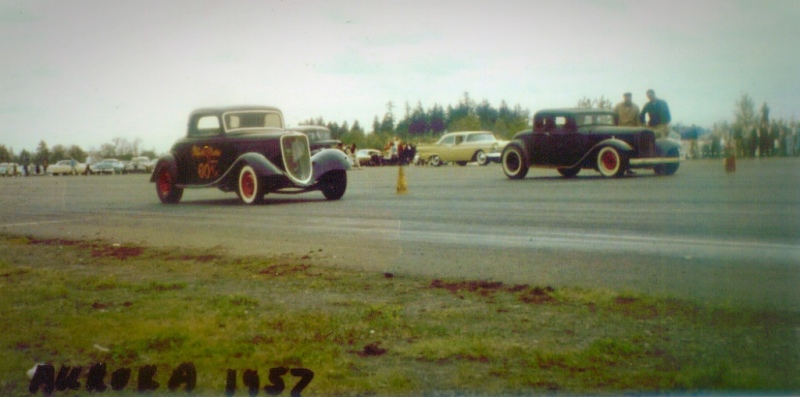 Jim Beardslee's 1933 B/A coupe at Aurora Drag Strip in 1957.  Courtesy of Jim Beardslee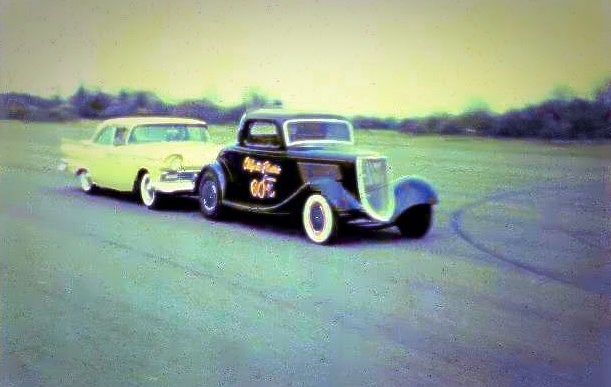 Jim Beardslee's 1933 B/A coupe, pushed by his brand new 1957 Ford at Aurora Drag Strip in 1957.  Courtesy of Jim Beardslee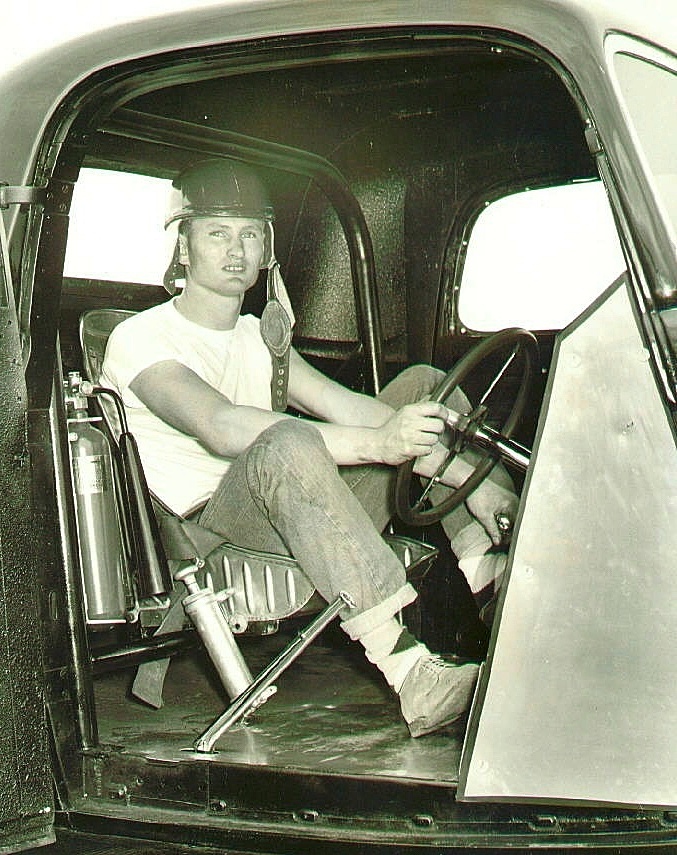 Jim Beardslee seated inside his 1933 B/A coupe, at Aurora Drag Strip in 1957.  Courtesy of Jim Beardslee

Eugene
Balboa Park Raceway Drag Strip, 1960s
My Uncle, Steve Stevens, flagged at two tracks in Eugene, Oregon: Danibo Drag Strip and Eugene Speedway, on West 11th. He was hit when flagging at Eugene Speedway in the '60s. He worked mostly at Eugene Speedway. It was figure 8 and oval for the sprint cars. He used to take us there when he was working in the '60s. He got clipped in one of the races and got only a leg injury. He did not flag much after that. But he did own a gas station not far from the track on West 11th. My aunt still lives in the home two blocks from the gas station. We could hear the race from their house.

Loretta (Streeter) Aggen
Balboa Park Raceway Drag Strip, 1970s
I raced at this track in the '70s. It was originally called Balboa Drag Strip and later Norpack, which was probably short for North Pacific Raceway. Crowds were amazing. The last year of operation was 1976. The track lease was not renewed. I knew the owner.  He was disappointed. I purchashed the car that I still have today and I looked forward to racing it there.

Don Washington
Balboa Park Raceway Drag Strip, 1960s
I raced at Balboa Park in Eugene for quite a few years. I started my drag racing there when I was in high school. I was doing a lot of street racing and they had a Wednesday night grudge match night that got me there. I started in 1967 and was a regular every week on Wednesday and every weekend I wasn't working. The first time I'd ever been around a funny car, they rolled Ed McCulloch along side me in the staging lane. Then at the head of the lane, they sent him ahead of me. They fired him off. Flames went through under my car and I was deaf and at times I couldn't see or hardly breath. Absolutely loved it. I watched his pass from right behind him. Balboa was crowded and you parked against the fence past the bleachers if you were a spectator and sat on the hood with your girlfriend.

Richard Gray
Balboa Park Raceway Drag Strip, 1972
I raced a 1957 Chevy in 1972 at Balboa Park. Had a blast! I went there all the time. My Ex, Donna Seamen, handed out trophies in the '60's.

Jim Tenold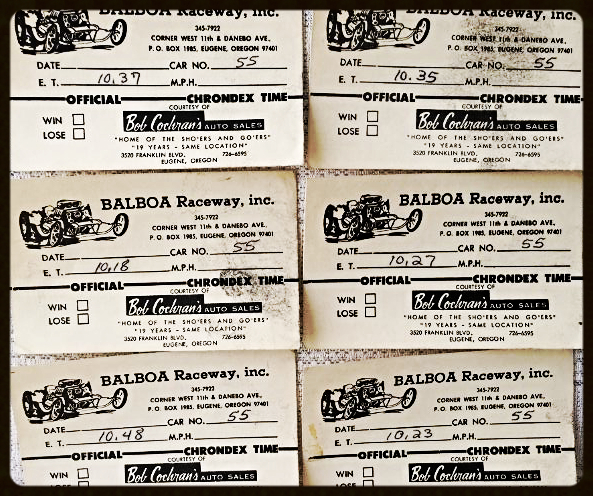 This is a page of old time slips Jim Tenold kept from his racing days at Balboa Raceway in 1972. Courtesy of Jim Tenold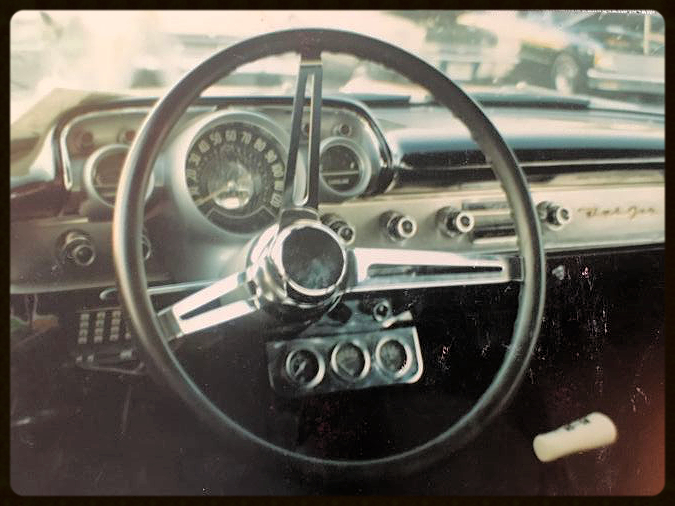 Jim Tenold took this photo of the steering wheel and dash of his '57 Chevy when at a race at Balboa Raceway in 1972. Courtesy of Jim Tenold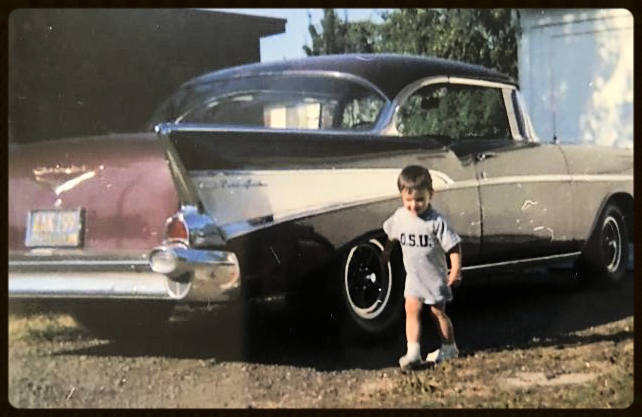 Jim Tenold's '57 Chevy . Courtesy of Jim Tenold

McMinnville
McMinnville Airport, 1965, 1967
We raced a '40 Chev Coupe E/G with the name Rogers, Bryson and Bryson at the McMinville, Oregon Dragstrip many times in 1965 and 1967​.
Mel Bryson
McMinnville Airport, 1950s
As a very young boy, born in 1951, we used to watch my Uncle Gordon "Gordy" Sully race in his "Tidy Tee" in the late 1950s at McMinnville Airport. He was local, having been born less then two miles from the airport on the Old Sully farm. His car was built by Ken Austin of Newberg. Ken also built a clone of it which he has in his private collection now in Newberg, Oregon. My uncle raced and showed his car all over the Pacific Northwest in car shows, as well as racing it in Washington and Oregon. He had a very nice write-up in
Hot Rod Magazine  
in '57, a 3-4 page spread. Sadly we lost Uncle Gordon four years ago.
Robert Sully
McMinnville Airport, 1960s
I raced at four of Oregon's drag strips from the 60's through 1990, they included McMinnville, Madras, Woodburn and PIR. Starting with a Honda 50 to a Nostalgia Top Fuel car. McMinnville (Mac) was my favorite place, as I lived there from '61 to '67.  The track ran from '59 through '66.
Marty Strode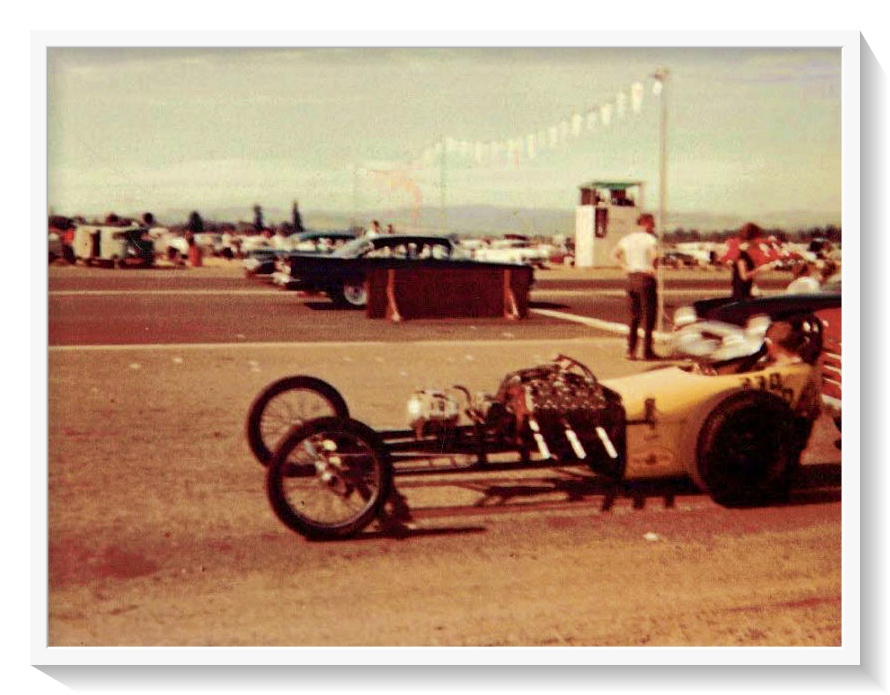 The D/D in the foreground belonged to Johnnie Hart, who set the NHRA national record for D/D in 1962 at McMinnville. In the background are seen the starting line and timing tower. Courtesy of Marty Strode

Madras
Madras Airport Drag Strip, 1955
The Columbia Timing Association was out of Portland. They put on a race once a year over in Madras, over in eastern Oregon. I had a '50 Ford with a '55 Cad in it that turned 125 miles an hour over there.  I got a plaque for it that I was supposed to put on my dash. That was one of my fun cars. It was really a beautiful car. Absolutely stock looking.  I took that same car down to Southern California. While I was down there, I raced it at Santa Ana and took first place.
 [Note: Read his recollections and see the photos that he took at that race.]
Jim Beardslee,
telephone interview  with 
Mel Bashore, September 27, 2017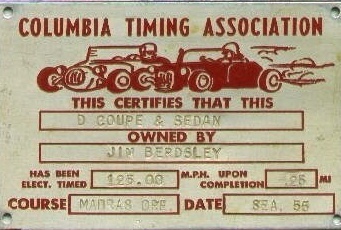 Dash plaque presented to Jim Beardslee by the Columbia Timing Association for turning 125 MPH in his '50 Ford in the D Coupe & Sedan class at Madras in 1955.  Courtesy of Jim Beardslee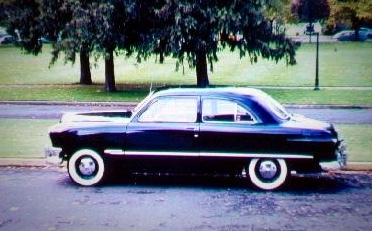 Jim Beardslee's'1950 Ford, powered by a 1955 Cad engine, that he raced at Madras and Southern California in 1955.  Courtesy of Jim Beardslee

Madras Airport Drag Strip, 1965-66, 1969
I raced at the Madras Dragstrip, Oregon, in both 1965 and 1966 driving the Rogers, Bryson and Bryson '40 Chev E/G car and again in 1969, driving my '33 Willys A/GS car built by Bob Gibson and powered by a blown 426 Hemi. The 1969 runs were to finalize my NHRA drivers license requirements and were signed both by Jim Livingston (Madras Dragstrip owner/manager) and funny car driver Kenny Goodell. It was over 100 degrees with so much sweat/condensation inside my goggles that I had only the vaguest idea where the center of the lane was. I also raced many times for Jim Livingston at Woodburn Dragstrip, Oregon, over the span of the next 50 years.
Mel Bryson
Port Orford
Western Oregon Dragway, 1956, circa 1965-66
Leon Warmuth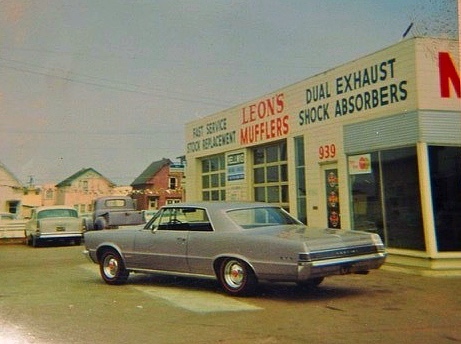 Leon Warmuth's 1965 GT), circa 1965-66. om front of Leon's business in Eureka, California.  Courtesy of Leon Warmuth

Scappoose
I ran a '55 Chev Del Ray twice in strictly stock class. I was never beat. Another one who ran at Scappoose was Dick Maris. He was a paraplegic who ran a '54 Cadillac, with hand controls. He got crippled in Alaska years before by the territorial cops.  He hit a dip up there and rolled his car. The cops thought he was drunk and they forced him to walk back to his car and his back was broken. He was crippled in his lower legs and his back from then on. The government paid for most of his upkeeping. He chose to drag a Cadillac. The power to weight ratio . . . such a terrible class. He made it go. He also did head work. He had a setup that he could sit in his wheelchair and port and polish heads. He raced his Cadillac at Scappoose and at Shelton, also.   I also ran later on at Shelton, Washington. My biggest challenger when I raced at Scappoose was a used car dealer from Portland. He had a '54 or '55 Packard. I beat him. I only came home from Scappoose with one little itty-bitty trophy. It was just a little cup-thing. I don't even think there was a car on it. It was just just a little stand with a cup. They weren't that organized out there. That was in '55.  My car was a brand new Chevy Del Ray, not a Bel Ray. It was a hardtop. It had a post there in the middle. It had a column shift. It was the only V8 they were making at the time that had mechanical lifters. All the rest of them were hydraulic lifters. It was quite tunable. The class I ran in, I don't know what they called it, but it was strictly stock. The only thing you could do was put dual pipes on it. Everything else had to be stock. Just shortly after I raced, the city closed the Scappoose Airport  down to drag racing. They had a bunch of problems with a bunch of kids drinking out there. So the city closed it. All the guys that I knew that raced back then, I think, most of them have passed away. Pierre Phillips may still be alive. I'm almost ninety. I was 24 or 25 when I raced at Scappoose. 

Larry Stopper, 
telephone interview with

Mel Bashore, September 10, 2017 
My dad (Don Ellis) and I raced at Scappoose airport, Aurora, and Woodburn. We were members of the Ramblers along with Bill Bonebrake, Danny Killcup, Bob Eayers, John and Ferdi Wardin. At age 80, I still have an '88 LX blueprint Mustang and an '89 Hatchback. I still love movers and shakers. I have club pictures of all members and their machines. I still like to get on it with all the rice burners in Portland.