Remembering . . .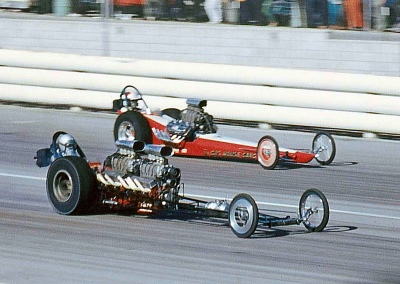 Freight Train vs. Gas House Gang, Stardust International Raceway, 1968. Rick Finch, photographer
Henderson
Thunderbird Raceway, circa 1958-59
I'd go to St. George. They had that airport up on the bluff where the airport was. Then I'd go to Henderson, Nevada, sometimes. I'd put 3:39 gears and drive down there, put 4:56 in to race, then drive back home. That was racing in those days. At Henderson, it wasn't class racing. It was just run what you brung. There was different time factors. At the time, a 10-second run was fast. That old Chevy that I had probably run about 15 seconds.


Rex Pearmain, telephone interview
with Mel Bashore, August 14, 2017

Las Vegas
Stardust International Raceway, ca. 1965
I raced there once just after they opened. The thing I liked was they gave you free rooms at the hotel.

Ron Lorenz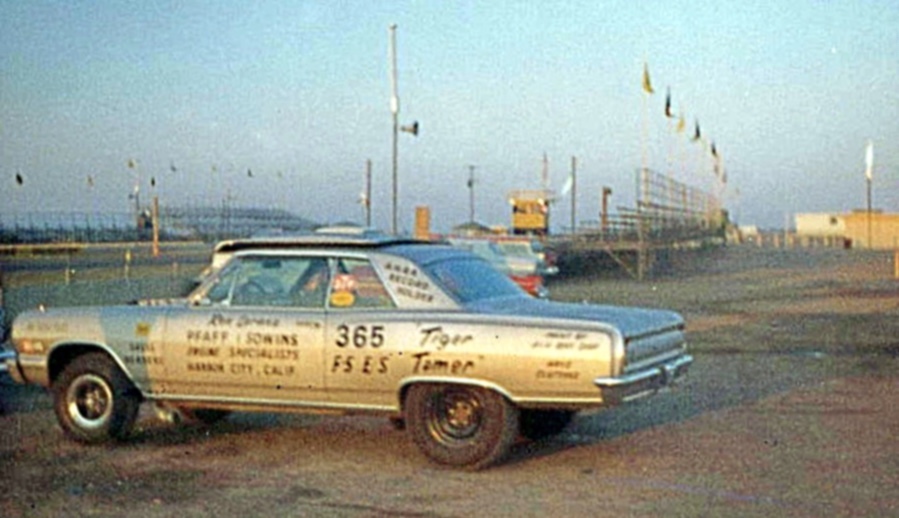 Ron Lorenz's race car at Stardust Raceway. Courtesy of Ron Lorenz

Minden
Douglas-Tahoe Airport, 1957-59
I was a "member" of the Silver State Timing Association. I set up the clocks, walked the track, assigned classes and set up the lanes. I have some photographs. Warren Welch was the driver of a rear engine vehicle built, I believe by Merle Brennan. Brennan, I believe, had built this rear engined vehicle as as "special" to race sports car tracks. Originally powered by a flathead through a transaxle, it was reported to have been out of a Cord. It quickly acquired a blown Chrysler. This was a very short wheel-based car, something in the order of 85-90 inches. It was quick, looked great, but from my view of the track, a bit dodgy in the traps.

George W. Williams