Remembering . . .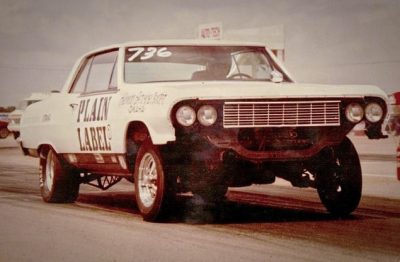 Scribner Raceways, 1980s. Attributed to Rocky Finlayson, photographer
Grand Island
Grand Island Airport, late 1950s
I raced my 1929 Ford roadster at Grand Island in the late 1950s. In those days, they awarded trophies without winner's names engraved on them and sometimes lacked even the name of the track. I had an engraving tool and did most of my trophies by engraving my name and other information about the event and results like my speed. I did that until I got to about my 200th trophy. Then they started giving out $25.00 savings bonds at many tracks. I used those for gas money to get from track to track. In those early days, most tracks only reported the MPH. Back then traps were used to measure speed. They were placed 66 feet before and 66 feet after the finish line. In those days, the 1320 feet were not wired for ET.
Gene Kidder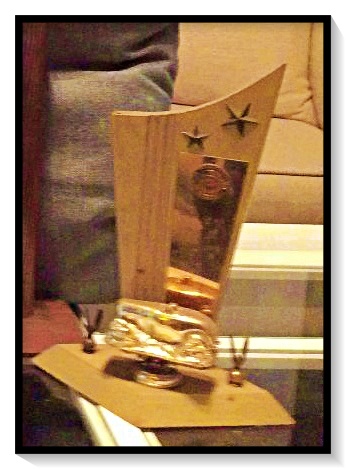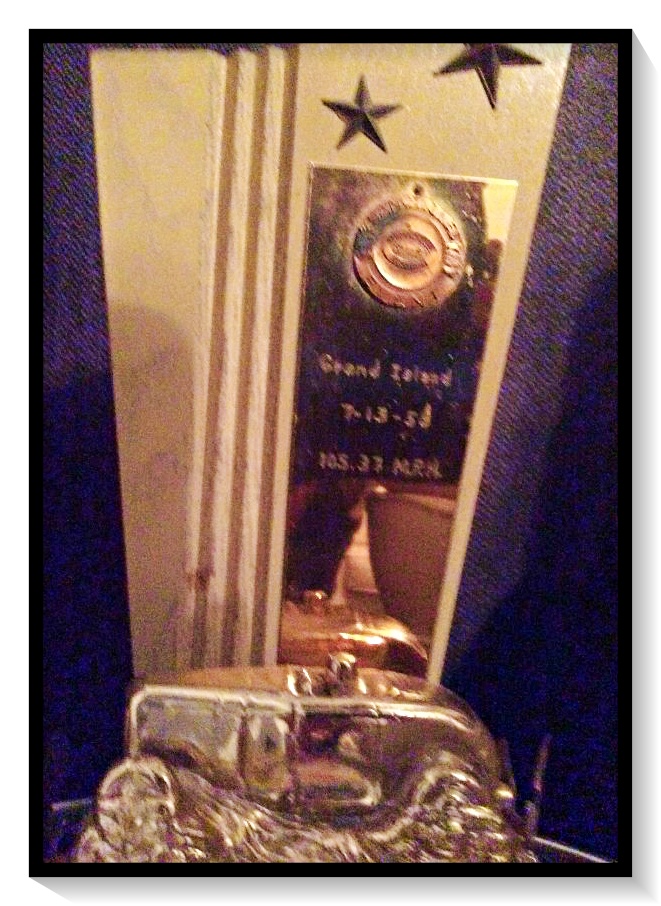 Gene Kidder won this trophy at Grand Island with his '29 Ford roadster on July 13, 1959. His speed was 105.37 mph. Courtesy of Gene Kidder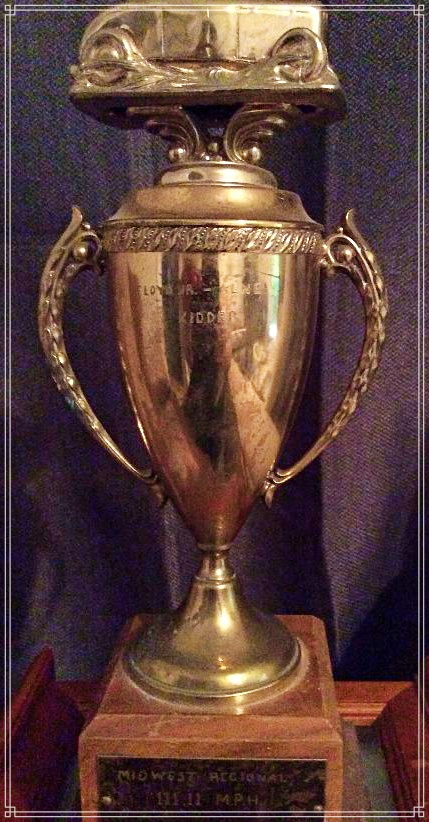 This trophy was awarded to Gene Kidder for winning the A Roadster class at the  NHRA Midwest Regionals held at Grand Island on June 23, 1957. Both Gene and his brother, Floyd Jr., have their names inscribed on the trophy. His speed was 111.11 mph in his '29 Ford roadster. Five thousand spectators watched the racing event Courtesy of Gene Kidder

Irvington
I got hooked on drag racing at the Flightland Airport strip just southwest of Blair, Nebraska, in the 1962-66 time period. I followed Missouri Valley, Iowa, racer Dick Reeh who ran a '39 Ford coupe with a '48 Mercury flathead with aluminum Canadian heads and 3 -2's. It had a home-made aluminum interior. Cadillac LaSalle 3-speed on the floor. It ran in G/G at 14.2 et and around 95 mph. Beautiful car. I watched John Weibe's Kansas dragster, Kenz and Leslie's Ford-powered dragster from Colorado. I even saw TV Tommy Ivo's 4-wheel drive, 4 Buick-engined dragster do exhibitions. Chris Karamesimes ran there as did Judy Lilly in an A/MS Corvette. She had to be told every time on the line to put her brain bucket on. She didn't want to squash her beehive hairdo! I saw wonderful super stock races between 409 Chevys, 421 Ponchos, and Ed Joakim's white lightweight factory '63 1/2 Galaxie with the dual quad 427. Perhaps the most memorable car, though, was a white '57 Chevy post sedan named "Tension." I don't remember if it was a dual quad car or a fuelie. [The paint job on it was] white with black lettering that was done in such a creative way that looking at the lettering too long, you could get a headache from looking at it.  Cool, huh?  Some wonderful memories there as a kid.

Ron Krull
I lived in Omaha from 1958 to 1963, moved and returned for summer of 1965. I was in junior high and my friend and I used to beg rides from his mom to take us out to the Dragway. I have some Omaha Herald articles covering the racing. Also some photos. We were stock class fans,Pontiac for me and Ford for my friend. Also fans of the Kidder brothers, Don Stephenson in his' 57 Chevy too. I rode my bicycle out 72nd street to the track one Sunday. One of the best races was a NHRA regional in '65. Les Ritchie driving the overhead camper Mustang. Other local favorites Brescia Brothers B/Gas supercharged Austin, Dean's roadster, Muller and Scheef '55 Chevy. Howdy Williams' dragsters were great. I was a really big fan in those days and had some great times there.
Bruce Rainey
I raced there in 1966 and 1967 with a white '56 Chevy 2-door Jr. stocker. I ran in I/S and J/S. I won quite a few times. Great fun!  I first went there in 1961 as a spectator. I ran several cars there for fun in '63, '64, and '65.  I still have some 1961 pictures, I think. It was at the Flightland Airport, but was called Omaha Dragway when there was racing there on Sundays. It was located about half-way between Omaha and Blair, Nebraska, on Highway 33.
Shain Humphrey
I went to races there a lot to watch Tommy Ivo run that 4-engine dragster there, but it was at the Blair, Nebraska, strip. It had a cornfield at the end of the strip.
Robert Shiffer
I went there one time. There were three cars in the class. I won. The other guy I beat was making hand signals that he won. I signaled that I won. He pulled up to get his trophy and the guy handing them out waved him on and I was awarded the trophy. It still stands on my office desk. My boys ran go-karts, hobby stocks, Pro-Ams, and Modifieds. They won many trophies and season championships.
Jerry Burklund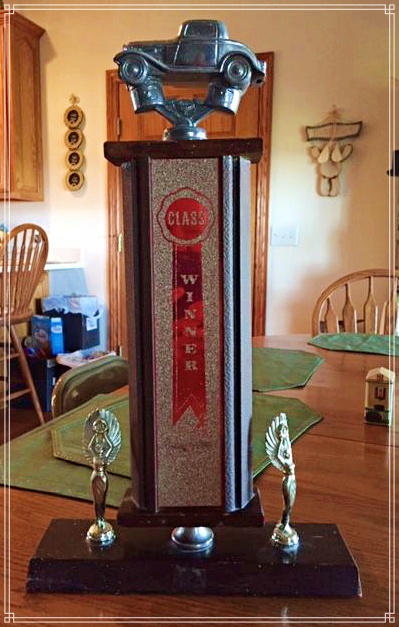 Courtesy of Jerry Burklund

Flightland Airfield, 1950s
The Flightland airstrip was grass. The asphalt was laid in 1960 by Don Kroeger. He agreed to hold off building his hangars to finance the asphalt paving.  He paved the strip with money from racing revenue. Racing revenue also helped build the hangars. Later Don moved the race track to what is known as Cornhusker at Lincoln I-80.
Gene Gabriel Kidder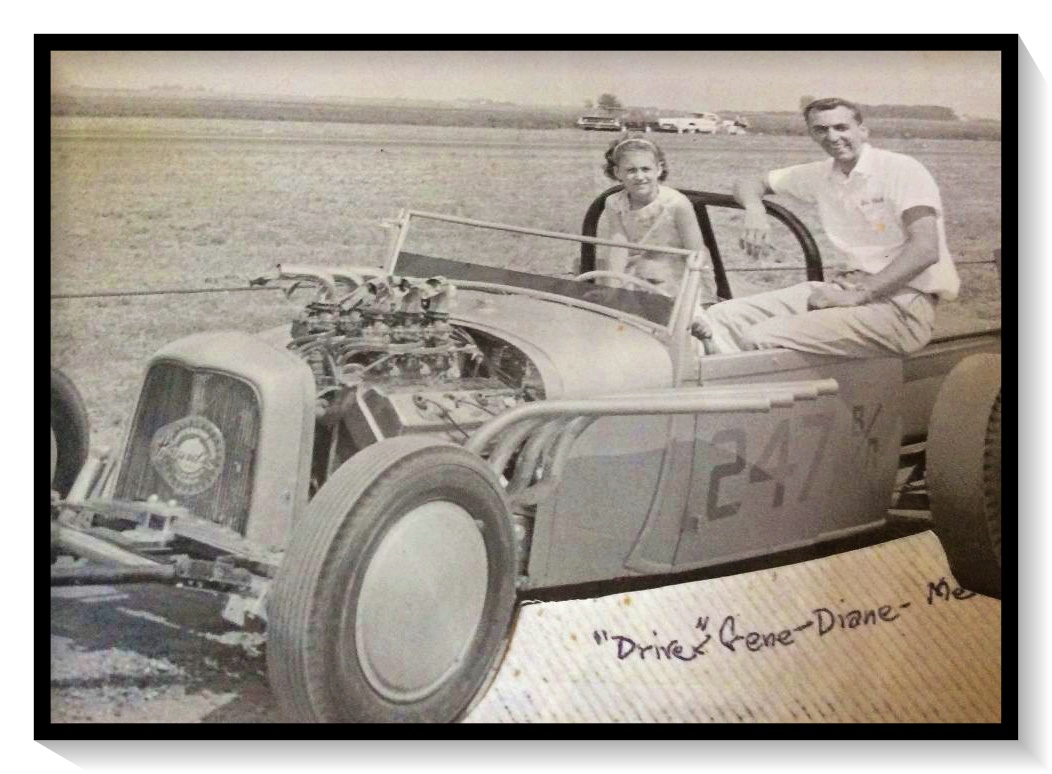 Gene's daughter, Diane, sits with Gene in his '29 Ford roadster. Courtesy of Gene Kidder

Kearney
I didn't race at Kearney, but my dad, Terry Rech, did. He raced back in 1965-66 with a bunch of high school buddies out of David City. I even have some trophies and slips from there and Lincoln. He ran an all white 1966 Impala 283 with a red interior.
Chad Rech
I am Carroll Sheldon's niece, Lita. Just a few fun facts for you -- Uncle Carroll built the race tower out at our home, which was the old family homestead. My brother, two sisters, and my dad helped build the tower in our huge backyard. From the first day the drag strip opened, my dad, Sid Sheldon, was the ticket taker at the pit gate. He remained in that position, until Uncle Carroll sold the drag strip. Aunt Helen, Carroll's wife, ran the concession stand, from the first day the drag strip opened up. She offered hot dogs, yum-yum burgers, chips, beverages and candy. The trophy room was added on to the concession stand, sometime later. All of us kids worked out at the drag strip. My brother, Scott, helped out in the pits, up in the tower, and wherever else he was needed. My sisters and I helped Aunt Helen with the concession stand, arriving at 7:00 a.m. I enjoyed all of the time I spent with Aunt Helen and Uncle Carrol at the drag strip. And yes, I did get the opportunity to "race" my uncle's Corvette down the drag strip. That's the kind of guy he was, always willing to let us kids share in the fun.
Lita Madison
Kearney Dragway, late 1960s
I had done too much street drag racing so me and a couple of friends went to Kearney to race. I broke a gear set, so I had to get a ride back to Ceresco, Nebraska, to borrow my uncle's pick-up to tow it home. I asked for a little extra gas and he said, "How far down the road is it?" We had about a 10-foot chain and we pulled it the whole 140 miles back to Ceresco. Funny today, but . . . .
Jerry Burklund
Lincoln
Lincoln Air Force Base, late 1950s-1960s
Lincoln had two runways. I raced on both runways with my B 1929 model roadster with an early Chrysler Hemi engine in the first events. By 1963, I ran my '63 wedge Plymouth in Super Stock. I got to know Sam Coniglio at this track.
Gene Kidder,
age 86 in 2019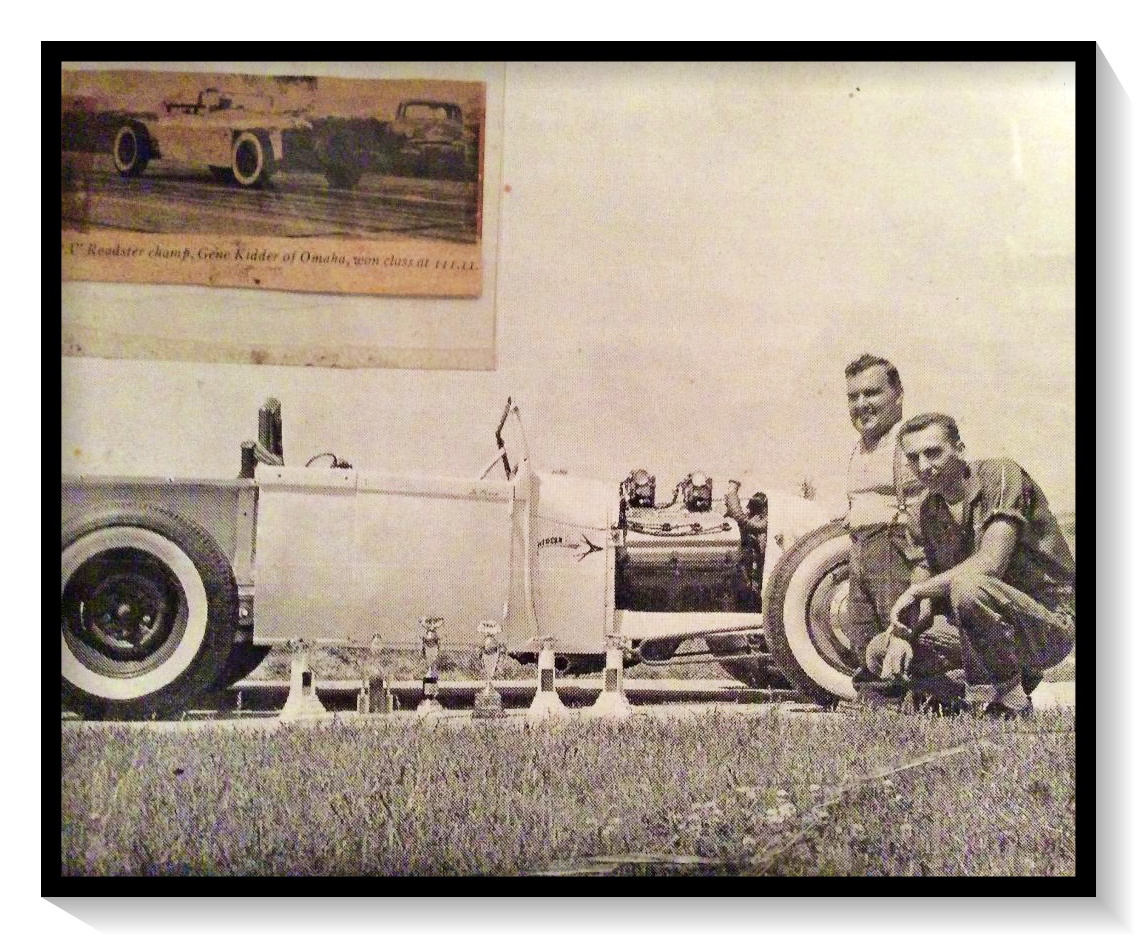 At the time this photo was taken, Gene Kidder had won half a dozen trophies with his '29 Ford roadster. Floyd Kidder, Jr. (Gene's brother) stands at the front of the car and Gene kneels next to him (far right). Floyd did all the towing of Gene's race cars in the early years. As Gene said, it was "a family collaboration." Courtesy of Gene Kidder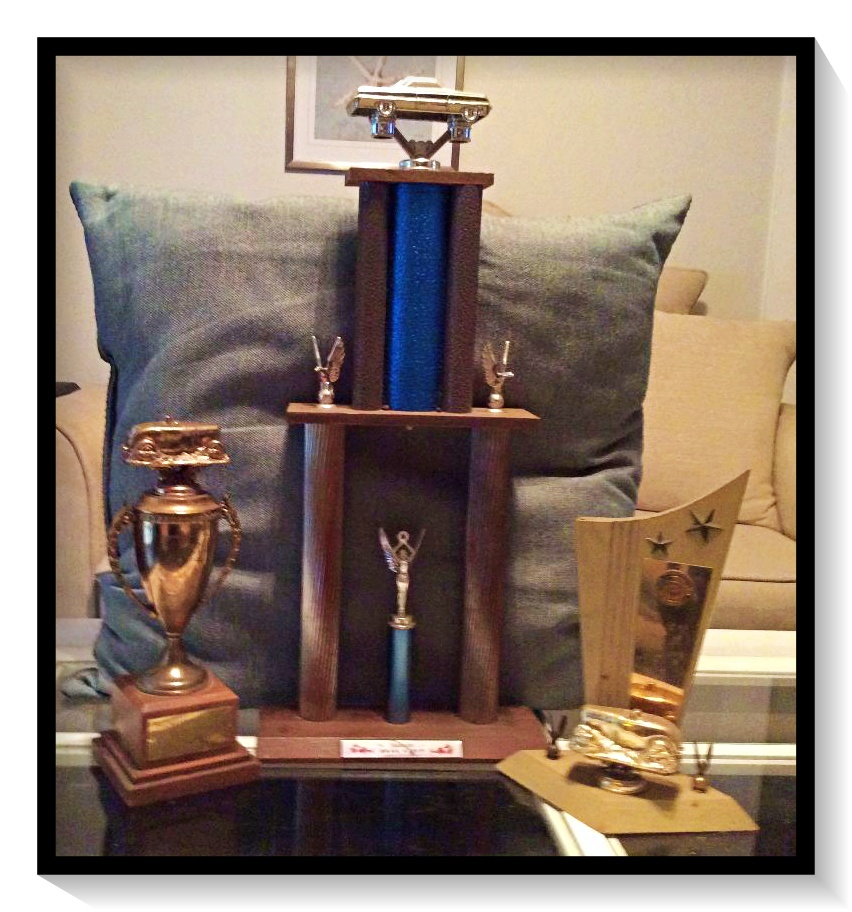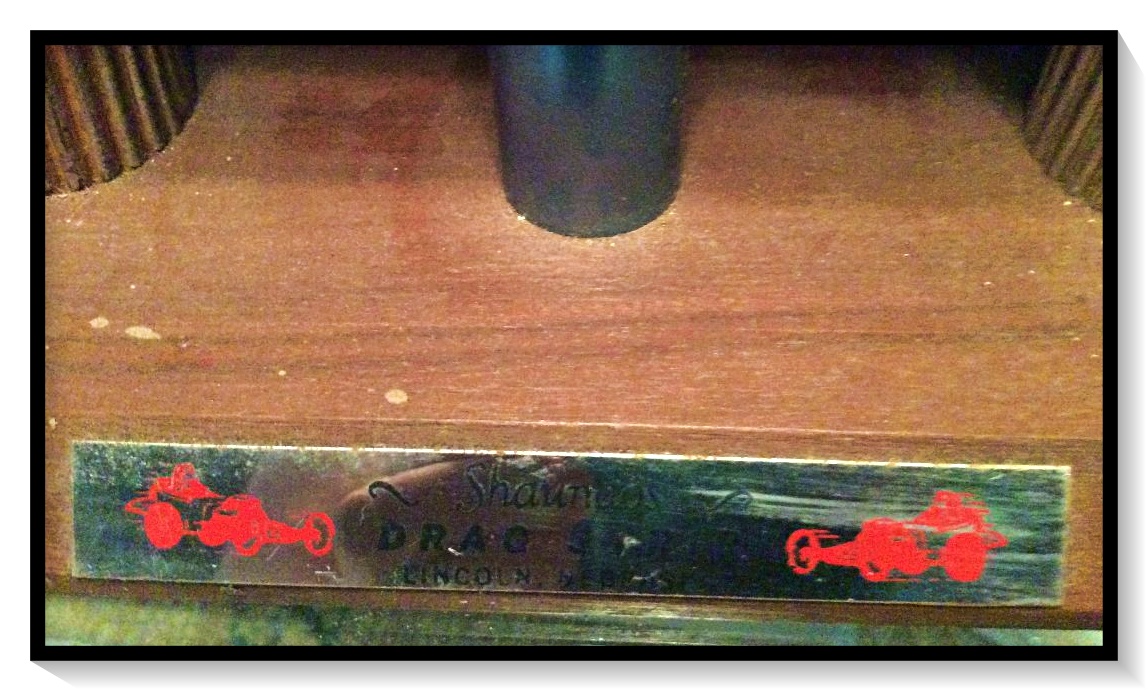 Gene Kidder was awarded the tall trophy (center).at Shaundos Drag Strip. The Shaundos car club, operating at Lincoln Air Force Base, conducted the drag races on runways at the base. Shaundo is a Turkish word for "custom." The wording on the plaque reads "Shaundos Drag Strip, Lincoln, Nebraska." Courtesy of Gene Kidder

Omaha
I raced my 1949 Anglia gasser at Cornhusker Raceway.
Carroll Schmidt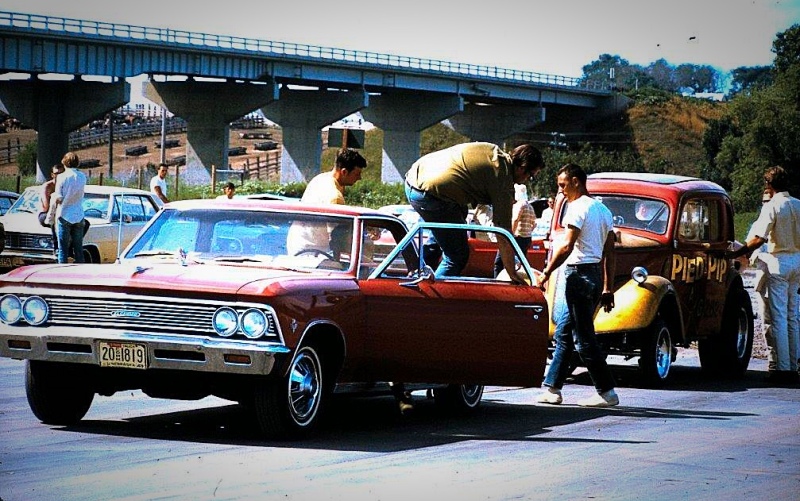 Carroll Schmidt's A/G Anglia in staqging lanes at Cornhusker. Note the feed lots in the background.. Courtesy of Carroll Schmidt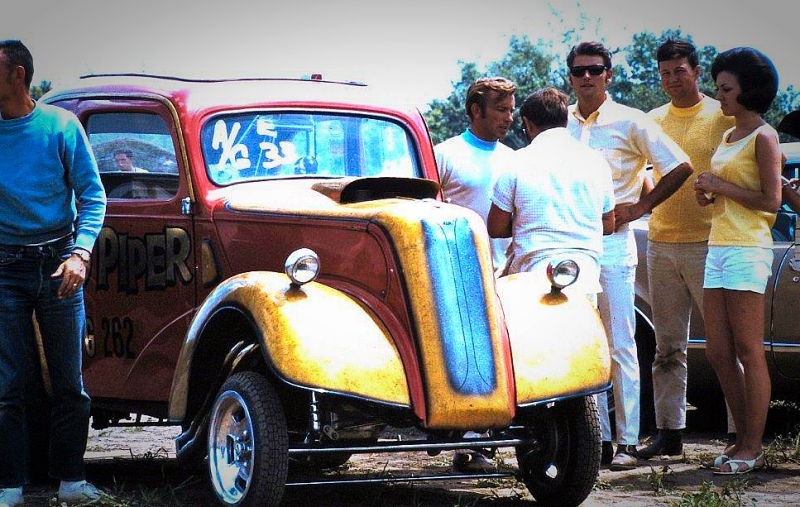 Carroll Schmidt's "Pied Piper" A/G Anglia. Courtesy of Carroll Schmidt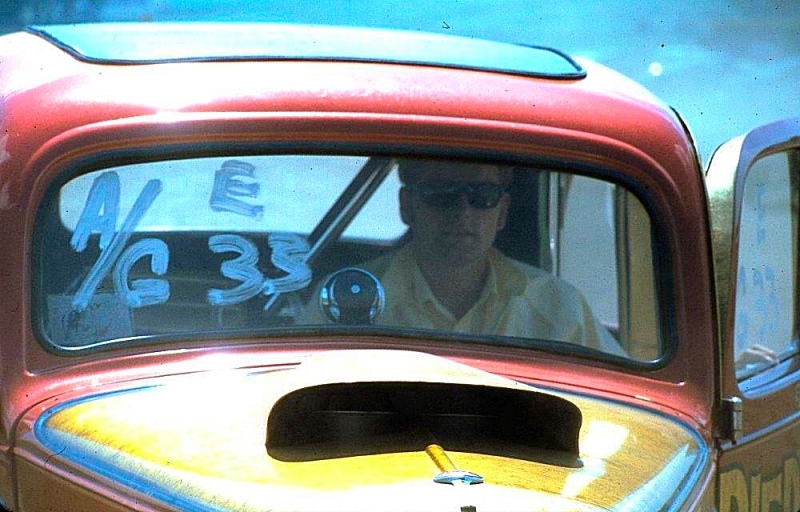 Carroll Schmidt behind the wheel of his Anglia gasser. Courtesy of Carroll Schmidt

I acquired this Cornhusker Raceway trophy many years ago. I don't know what year it was awarded or who won it.
Todd Francisco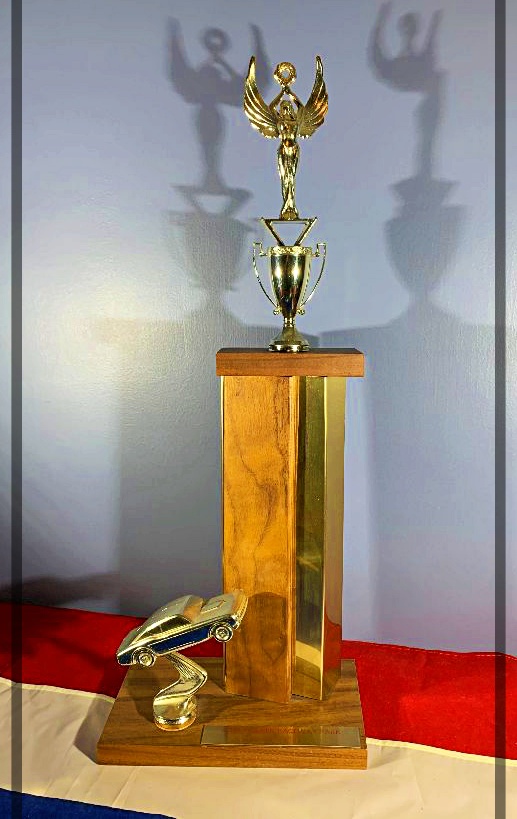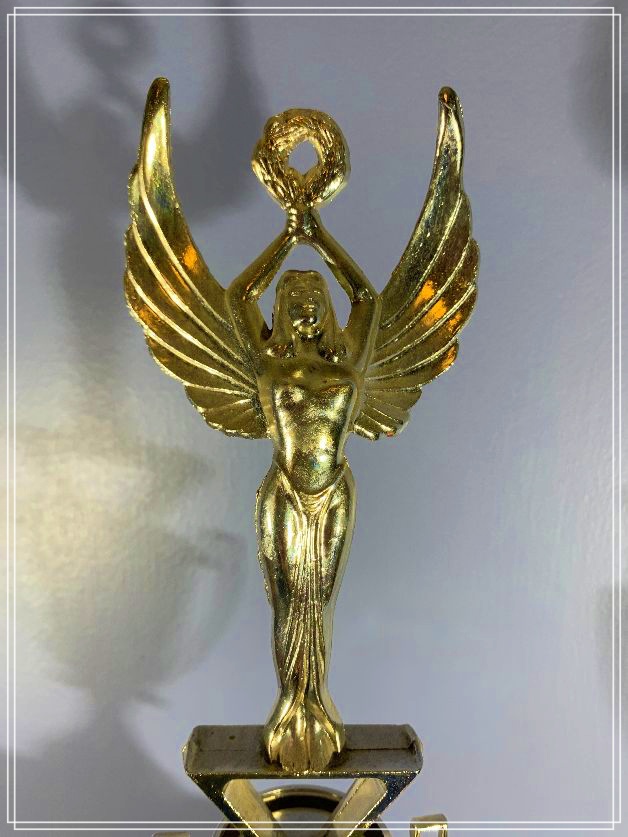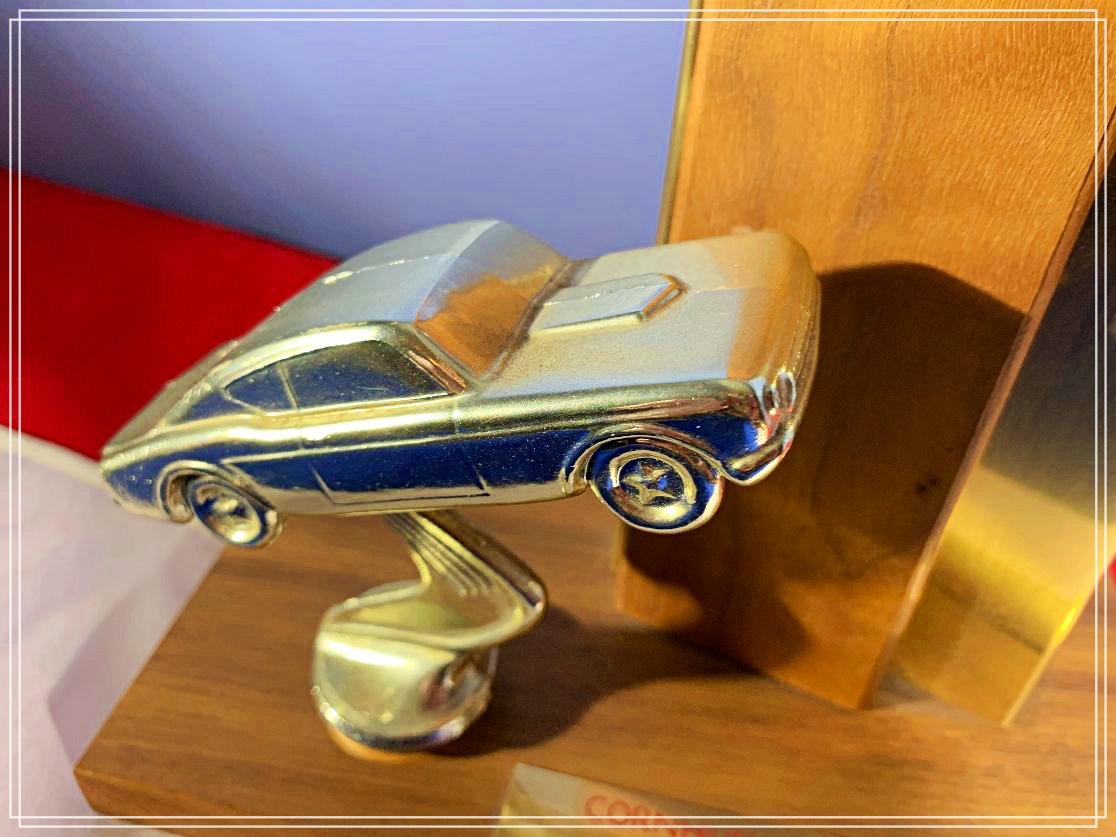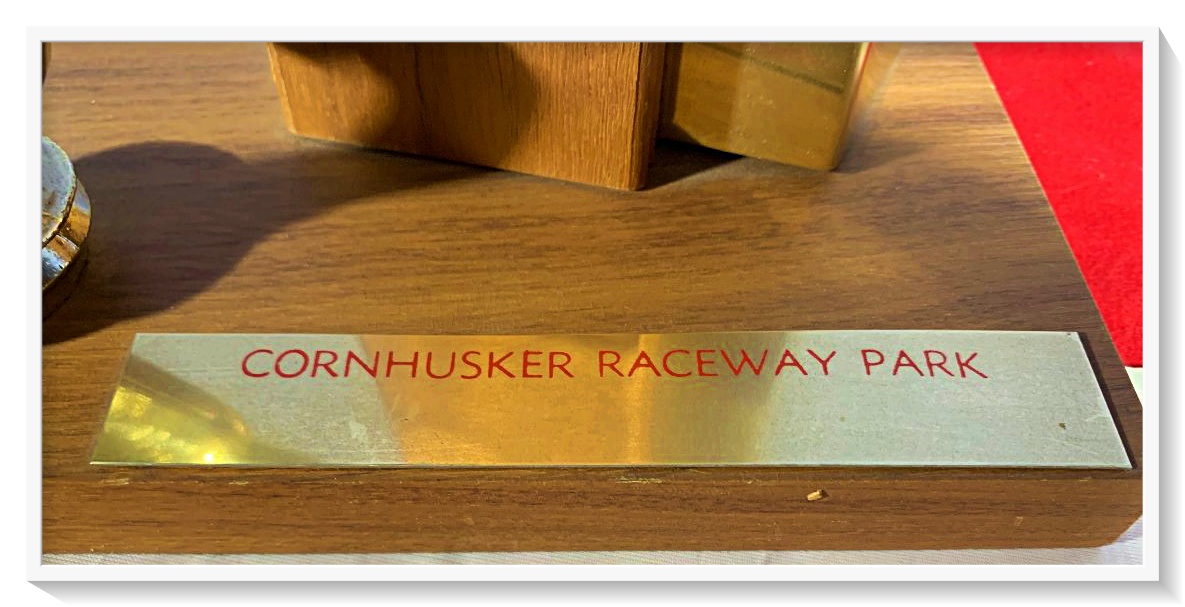 Courtesy of Todd Francisco

Scribner
I  raced my 1964 Harley XLCH at Scribner, Nebraska dragstrip in, I think, 1989. It was an AMRA race on Labor Day weekend. The track was so long you could have coasted to a stop. You could see where cars had gone off the track into the cornfield beside the track during the year. There were what looked to be hog pens on the old runway farther down for where you turned off to return.
Geoffrey Schrab
Nebraska Motorplex, late 1990s
I used to race at Nebraska Moterplex in the late 90's til it closed. It was last owned by Greg Sanford of Lincoln, Nebraska. When he closed the track he was trying to move it closer to Lincoln.  He fought for a couple of years with the City of Lincoln, and Lancaster County to let him build one on land he already owned just north of Lincoln. We even tried getting as many signatures as we could to show that it would be in high demand. Police officers were in agreement to help slow or stop all the street racing that ensued the closing. City departments argued how it would be great for the revenue as well. The city just didn't want it and gave every excuse it could. We turned in thousands and thousands of signatures and they ranged from all ages, races, etc. Didn't matter. He then tried Seward County, Greenwood interchange, and even Beatrice. Some said yes to it, then backed out. I feel Lincoln did not want it because it could cut into the University of Nebraska football profits towards football season. Everything in Nebraska is about Nebraska football.  I
 mainly raced on the Friday night street races. But I miss it along with many others. I used to go watch all the points meets, jet cars, and top alcohol cars with my family. We even went to an NMCA Street Car Shootout event. My son has an old blower belt off one of the top alcohol funny cars that was there during a huge Regional 5 points meet, along with a broken spark plug off another car and a valve spring off yet another car. Now we are lucky to go racing once in a while due to location and cost to get there. It was so awesome to spectate along with racing my cars and seeing the guys I grew up street racing against with their cars there, too.
​    
Mark Francis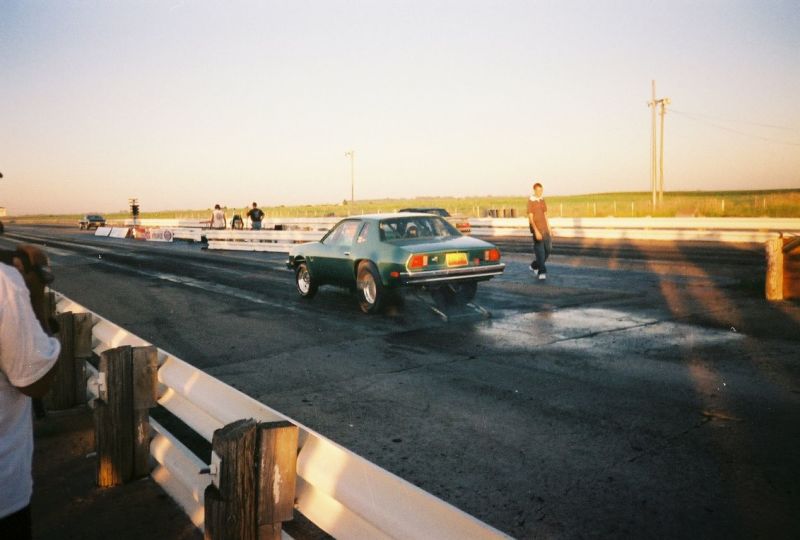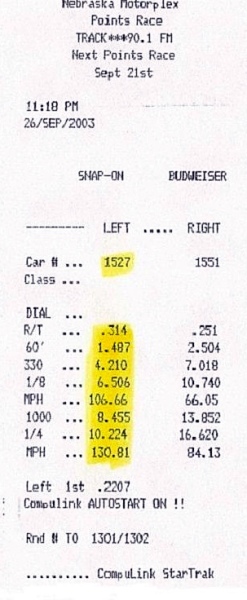 Mark Francis launches off the starting line in his 1975 Chevy Monza coupe at Nebraska Motorplex. At a race on September 26, 2003, Mark was trying out a new combination on his Monza. The time slip registers his best ET for that combination that day. The drag strip closed two years later. Courtesy of Mark Francis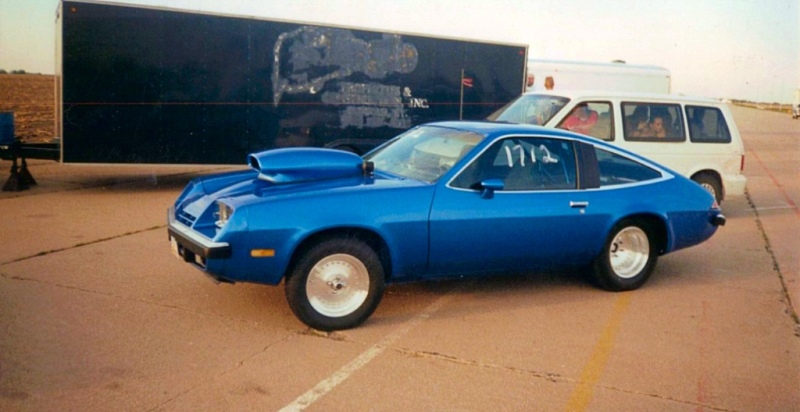 One night, Mark raced this blue Monza hatchback for a guy at Nebraska Motorplex. After the Monza-owner's driver almost totaled the car, the owner of the car begged Greg Sanford, the owner of the track, to put somebody else in it.  Greg Sanford said that Mark could drive it for the rest of the night. Courtesy of Mark Francis