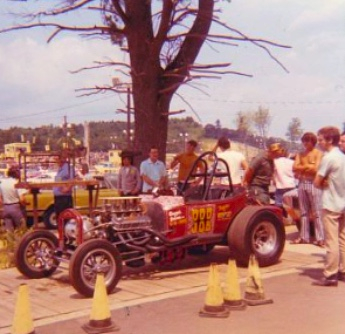 MASSACHUSETTS
Beverly Municipal Airport (1954)
Orange Airport (1954)

New Bedford Municipal Airport (1957)
Pittsfield Municipal Airport (1957)

New England Dragway South at Norwood Arena (1966)
A/A at New England Dragway. Photographer unknown
Beverly Municipal Airport

Drag races were conducted at the Beverly Airport at least as early as 1954 (and possibly before).   One newspaper article claimed that drag races were first conducted at Beverly Airport in 1947, but this is unsubstantiated. (Lowell Sun, Sep. 15, 1958) More research is needed.
Did you race here? Tell us about it.
CLICK HERE to see location on a map
New Bedford Municipal Airport

In July 1957, the City Car Club of New Bedford staged a drag race at the city's municipal airport. Over three thousand people watched the race. Trophies were awarded to class winners.
Did you race here? Tell us about it.
CLICK HERE to see location on a map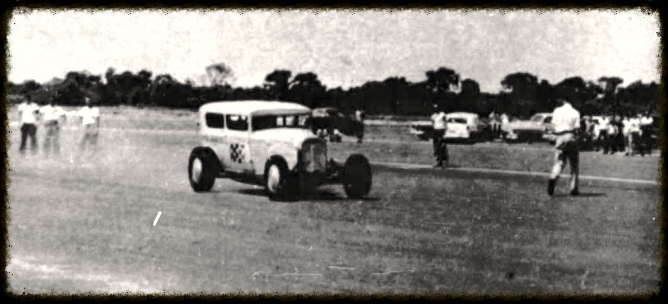 Dave Fierce of Worcester reached a speed of 90 MPH in his 1931 Ford Model A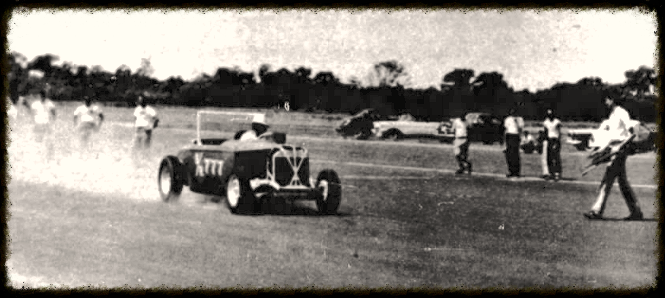 Leo Tatro, representing the Rod and Custom Club of Attleboro, won a trophy with his roadster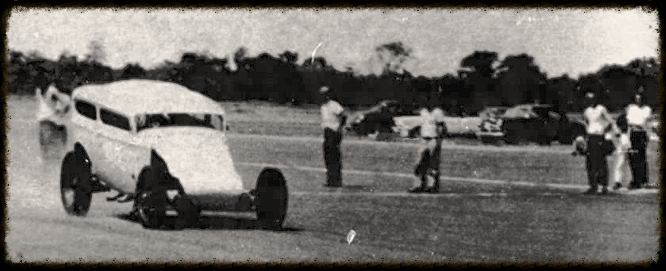 Leo Errara of Shrewsbury had a fast car--his 1934 Ford sedan powered by a '56 Chevy full race engine


Leo Errara garnered the top speed of the meet with a 94 MPH clocking in his 1934 Ford sedan. Photos published in the Boston Globe, Oct. 13, 1957

New England Dragway South at Norwood Arena
Years of Operation: 1966-69

A 1/10th-mile drag strip was built at a cost of $35,000 in the parking lot of the Norwood Arena, an historic 1/4-mile stock car racing oval in the south part of Norwood on Route 1. The opening race was held on Friday night, August 12, 1966. Carl Merrill was the racing director. Races were held each Friday night. The strip was only open initially for strictly street machines to compete. In October 1966, the strip began running motorcycle drag races on Wednesday nights. After the first season, the track decided to improve and enlarge the drag strip to 1/8th-mile racing. They spent $200,000 and opened the revamped strip to racing on Friday, July 21, 1967. From experience, that is, when two racers overran the strip and over the embankment, they learned that they needed more shutdown area. Before the 1968 season, they lengthened the shutoff area from something less than 900 feet to 1500 feet.  They had to take a part of the staging area, moving it back 300 feet and remodeling it. They also had to buy some property on the far end. On May 24, 1968, the track hosted an AHRA Grand American divisional points race. Noise problems doomed the track, helped along, no doubt by the track featuring a few jet dragster exhibition shows which brought complaints from the citizenry.
Did you race here? Tell us about it.
CLICK HERE to see location on a map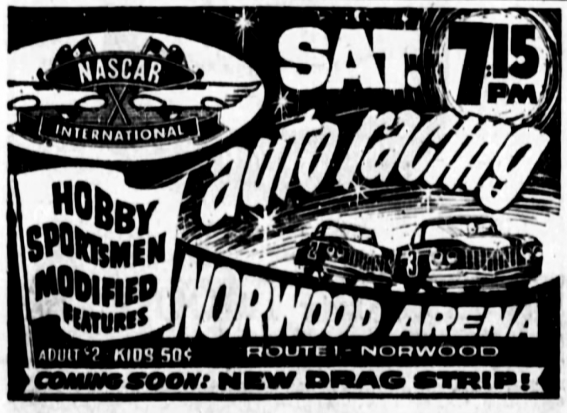 This ad appeared about one month before the July 21, 1967, re-opening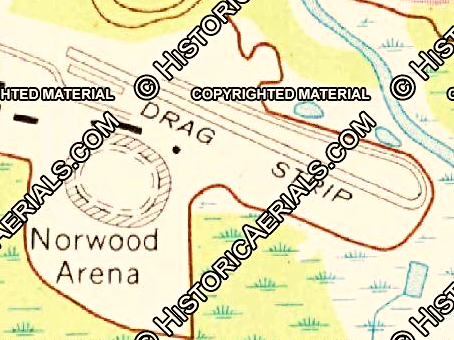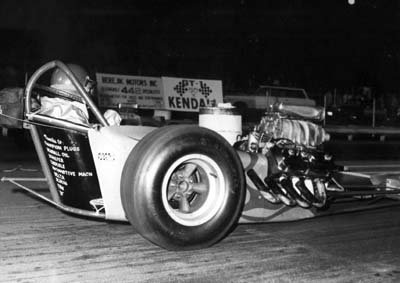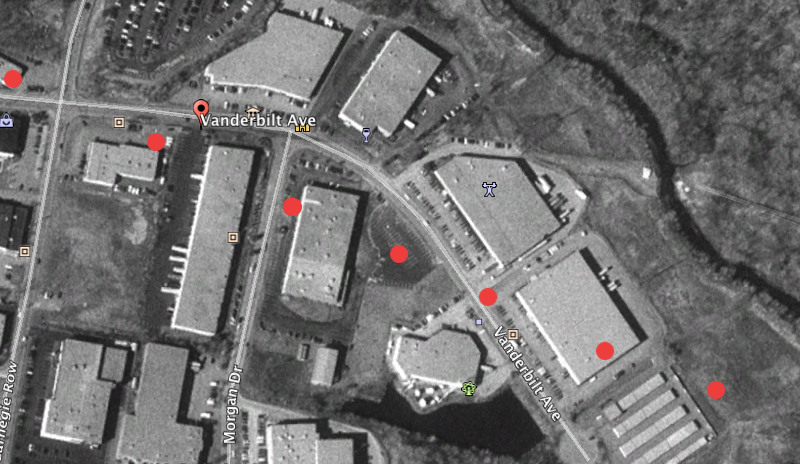 The red dots overlayed on this 1995 aerial photo trace the path of the old drag strip at Norwood Arena

Years of Operation: 1954-61, 1963-65

Sunday drag races were held at Orange Airport for eight years sponsored by the Orange Kiwanis Club. It is known that one race was held on May 23, 1954, but whether that was the first in 1954 isn't known.  John Marron was the track manager between 1957 and 1961. Circa 1959-61, this NHRA sanctioned track raced on the third Sunday, May through October. The Sunday races couldn't be held in 1962 because of a ruling about Blue Laws by Fank Giles, Commissioner of Public Safety. In 1963, they held six drag racing events on the third Saturdays. During nine years of racing, the Kiwanis Club had netted a total of $30,400. After expenses, they had distributed thousands of dollars to buy food and clothing for the needy, dental work, eyeglasses, medical assistance, and scholarships. They still had hopes of convincing the legislature to permit Sunday drag racing. Constructed in 1929, it was officially activated in 1940.  More research is needed.
CLICK HERE to see video footage of 2011 Reunion, 1 minute


Did you race here? Tell us about it.
CLICK HERE to see location on a map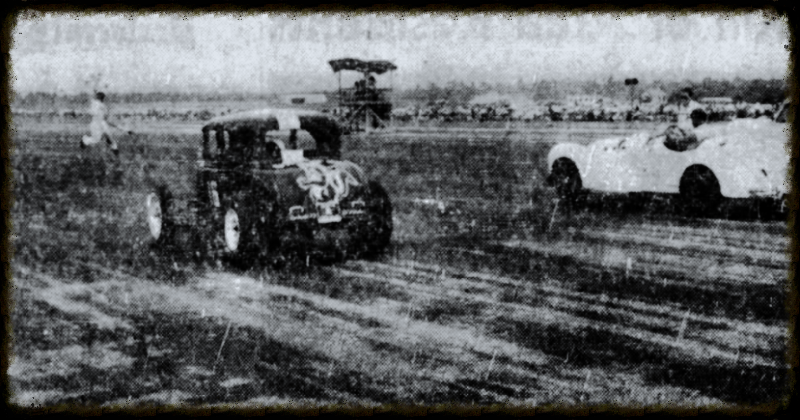 Bruce Fleishman (left), driving the Gent's car club entry, took top eliminator at a regional championship at Orange Airport in 1955. Photo published in Rochester Democrat and Chronicle, Dec. 9, 1955

Pittsfield Municipal Airport 

The Pittsfield Kiwanis Club sponsored a drag race at the airport on June 9, 1957. Over 5,000 people paid 50 cents admission to see the races and a car show. They reaped over $2,000 for Kiwanis projects including support of the Girls' Club camp Witawentin on Onota Lake and for nursing program scholarships. The Piston Poppers car club helped conduct the races. A second race was held on October 13, 1957. 4,500 spectators watched 190 cars at that race. Over $800 was taken after expenses. In 1958, a race was planned for June 1, but had to be cancelled because a new CAA regulation wouldn't permit airports with only one landing strip to close down for racing.

Did you race here? Tell us about it.
CLICK HERE to see location on a map