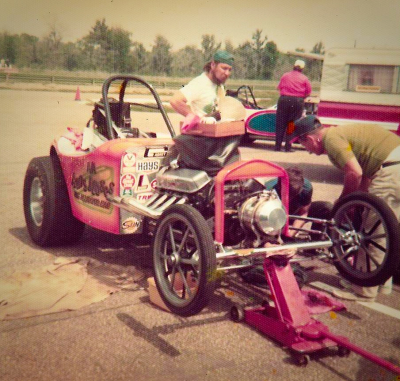 Remembering . . .
Amos Moses's A/A, Southland Dragway, Houma, early 1970s. Photographer unknown
Eunice
Louisiana International Raceway Park, 1982-88
Louisiana International Raceway was in Eunice from about 1982-88.  Louis Doucette was the owner. The facility ended in a fiscal nightmare. money disappeared, etc. The track was owned by the bank for a long time. Arthur Durel picked it up a few years ago.  The track was built from the old horse track in Eunice. It was on Highway 190 on the west side of town.  I was a photographer there for a while. The track hosted an AHRA major event and the IHRA events.
David Miller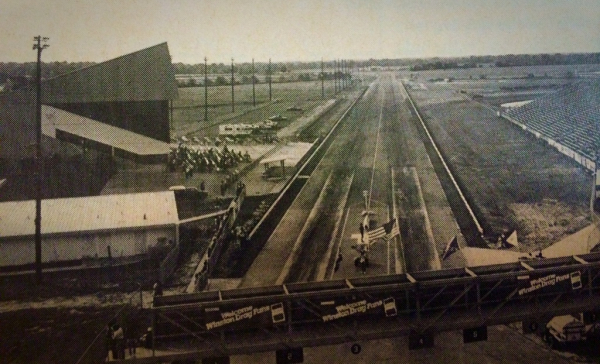 Louisiana International Raceway Park, in ​Super Stock and Drag Illustrated Magazine, December 1985, photographed and authored by David Miller. Courtesy of David Miller

Forest Hill
Forest Hill "Drag Strip," 1975
We can't remember that the track at Forest Hill had a name. I think it was just an old airstrip. We just called it Forest Hill. The year we raced there was 1975. My wife (then girlfriend) TJ, won the first 2 races of the year at Forest Hill. The car was a '68 Firebird with a 330hp 400 engine, which ran E/SA. We only have one picture of the car, at Forest Hill. It was very early in the season. The car was still in red primer.
Don Hurst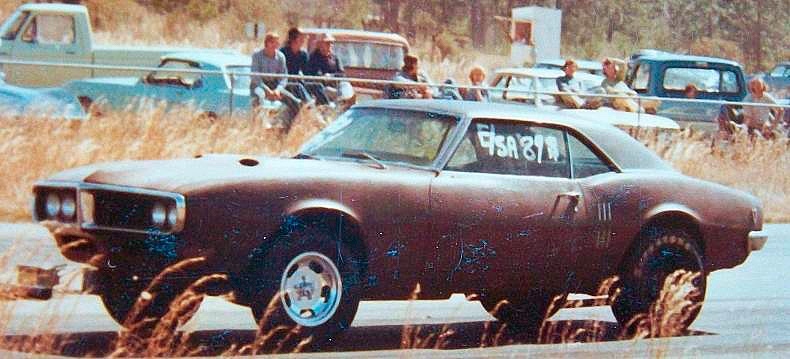 TJ at the wheel of the 1968 Firebird at Forest Hill in 1975. Courtesy of Don Hurst

Hammond
I beat "Power Glide Pete" for the trophy in August 1957 in my '57 Chevy on my way back to LSU at the Hammond, Louisiana, airport. I don't remember what the ET was.
Leonard G. Sitzman
Haynesville
Haynesville Dragway, 1974, 1978-79
We raced at Haynesville airport in '74, when they still used a flag start. Later raced at Haynesville in '78-'79, when Jerry Longoria was holding the races.
Don Hurst

Don Hurst in his GTO "Gung Ho" at Haynesville Airport, 1973. Courtesy of Don Hurst

Houma
The original Houma drag strip was a product of Gordon Novel and Randy Ehlinger. It was located next to the Houma National Guard Armory on the outskirts of Houma itself. It was an abandoned runway left over from World War II and in not so great shape. The first race was held on Sunday, May 30, 1960, on that track. I went with Gene Zeller and Marino Monjure. Gene had a Chassis Research K88 with a Chrysler engine. Marino had a TE440 Chassis Research with a Chevy. I had Q Ball Wales' old belly tanker with a Chevy and 6 carburetors.  It was the first time in a dragster for me and on the first run I drove it off in the dirt. That was something Paul Candies never let me forget. I made several runs that day. I ran 10.38 ET and 123 miles per hour. I got $23 for running that speed as the operators paid anyone who ran over 100 mph a dollar for each mph. Gene ran 152 and Marino ran 149 so we all went home with more than we arrived with. It turned out later that Gordon worked for the CIA and they had arranged for him and Randy to lease the strip, which was a cover for the opportunity to steal guns out of the Armory to be used in the Bay of  Pigs invasion in Cuba. That is the same Gordon Novel that was pursued by Jim Garrison in the attempt to solve the Kennedy assassination. Gordon moved to Columbus, Ohio, shortly after the investigation and never returned to New Orleans except under heavy disguise, mostly as a priest and became an expert on Electronic Surveillance.  The race track only lasted that summer and became famous among the racers as the track that gave out Blue Ribbons instead of trophies.
It was a wild time in those early days of drag racing.

Don Prieto
At Southland Dragway the scoreboards were behind the starting line. It was an A.S.& I. brand, identical to Orange County Raceway in Irvine, California, which was the template for Southland's design. We even had chair back reserved seatsin the first section of grandstands.
Glenn Menard
Jonesboro
Jonesboro Municipal Airport, 1966
I raced here at Joneboro in 1966. A 1955 Chevy F Gas and 1963 state champion Corvette in C Sport.
David Lambdin
Keithville
Old Gator Drag Strip, late 1960s
I can tell you a lot about O Gator Drag Strip in Shreveport, Louisiana. My father was a drag racer the whole time I was growing up. Then I raced up until 5 years ago when I retired. I won division races and the 2005 Fall Nationals in Super Gas. A lot of people don't remember the first drag strip was what your picture map shows as Stage Coach Road. Then they built the new strip that crosses Stage Coach. The strip actually ran from southwest to northeast. If you look south of the two buildings that form a L-shape, you will see the entrance to the old race track. As you come through that fence roll, look to your left and you are looking at the starting line. Later on after the track went to a sheriff's sale for false advertizing, Jere Longureo and Bob Futrell opened a 1000-foot strip in the old shut down area of the original strip, just north of Stage Coach Road. You are real close on the strip operating in the early '60's, then the track closed until it reopened in '67 or '68 with the 1000-foot track. I know because I raced there and I was 15 years old and had just got my driver license and my first race car. Time line: 1st raced at Mansfield Airport, 2nd what's now called Stage Coach Road, 3rd O Gator Drag strip, 4th shut down area of O Gator, 5th front straight away at Shreveport Fair Grounds ( oval track), 6th Haynesville Airport and finally Thunder Road. Raceway in Gilliam, Lousiana. Now you have the history of drag racing and tracks in and around Shreveport, Louisiana.
Carl S. Cochran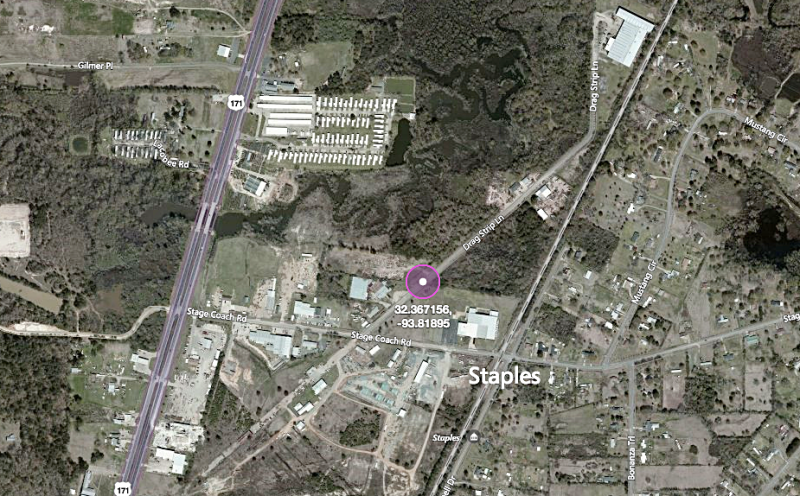 Lake Charles
Lake Charles Dragway, old Chennault Air Force Base, early to mid-1980s
We raced on the main runway in "The Great Pumpkin," our small-block powered '72 Vega sedan. They claim the starting line was 10+ feet of concrete. It made for a very good track. You had several miles of shut down. We ran Super Street in NHRA Division 4 and Super Pro ET in bracket racing. My wife and I traveled the Division 4 circuit with Carl and Angie Cart of Eunice. We raced at State Capitol, Lake Charles (old air base), Eunice, and tracks in Mississippi, Texas (like Hallsville, Fort Worth, and Dallas), and Oklahoma.  We had some great times back in those days.
Jerry Lee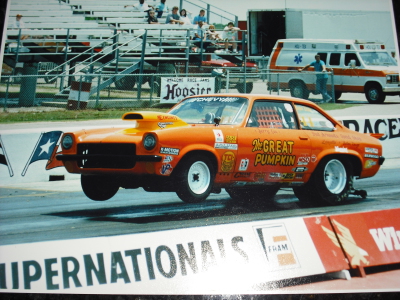 "The Great Pumpkin," 1972 Vega, at Houston Raceway Park, Baytown, Texas, 1991. Courtesy of Jerry Lee
Lake Charles Dragway, old Chennault Air Force Base
There were some drag races at Chennault before it closed. When General Curtis Lemay was Commander of SAC, he let some bases use taxiways as drag strips. We would always have to drive by the B-52s which were heavily guarded by armed airmen.
Max Williamson
Lake Charles Dragway, 1980s
Lake Charles Dragway was run by Boyd Miles. He was the owner/operator of B&M Speed Shop. There was also portable concessions at Lake Charles Dragway. Lake Charles Hi Noon Lions Club operated it and my dad was a member. I was at every race and did all I could to spend as much time in the pit area as possible. I was kind of adopted as "pit crew," whatever a kid could do, by Dee Hood (RIP way to early). He owned a Pearl White '57 Chevy named "Hot 'n Heavy" in big prism letters on the doors. I found your page in looking to see if I could possibly find any vintage images of his car. I took my pictures to school and my teacher took them from me while i was looking at them. I WANT MY PICTURES BACK. Circa 1980.
Kip Bonin
Monroe
Twin City Dragway, 1975-78
My wife, TJ, and I raced at Twin City Dragway, south of Monroe.
Don Hurst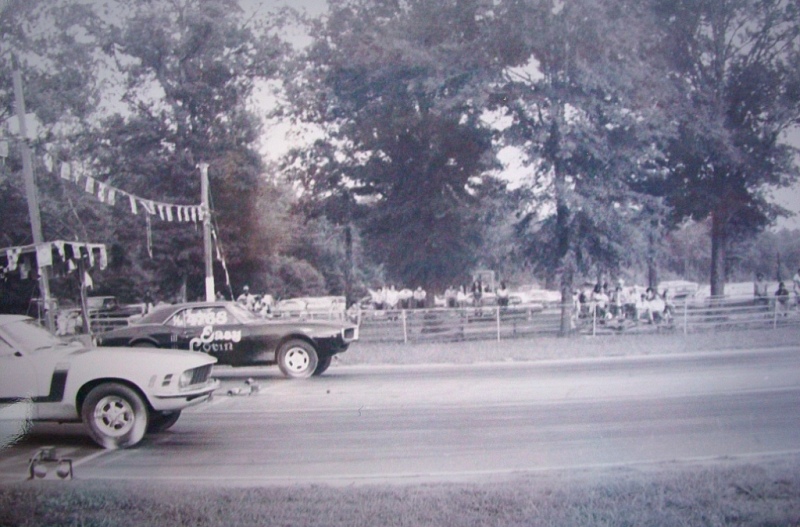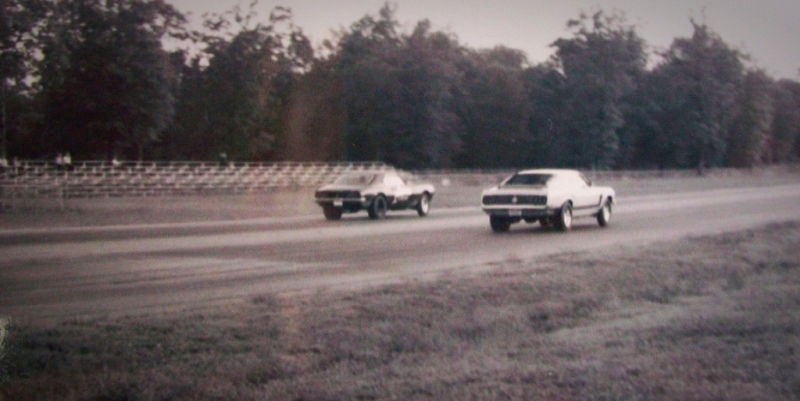 Twin City Dragway, 1975. Courtesy of Don Hurst

Return road at Twin City Dragway, 1977. Courtesy of Don Hurst
Opelousas
Pel State Dragway, 1950s-1960s
I raced many Sundays at the Pel State track. Many times running for Top Eliminator in my C/A '32 Ford 3-window. For your information, almost every track in Louisiana at the time had to set up before and tear down after the race because every track in that era was run on runways, most of which which were active to some degree. I recently ran across a July 1959 Pel State "Tire Marks" which was published after each race. I have others stored away in my magazine collection.
Max Williamson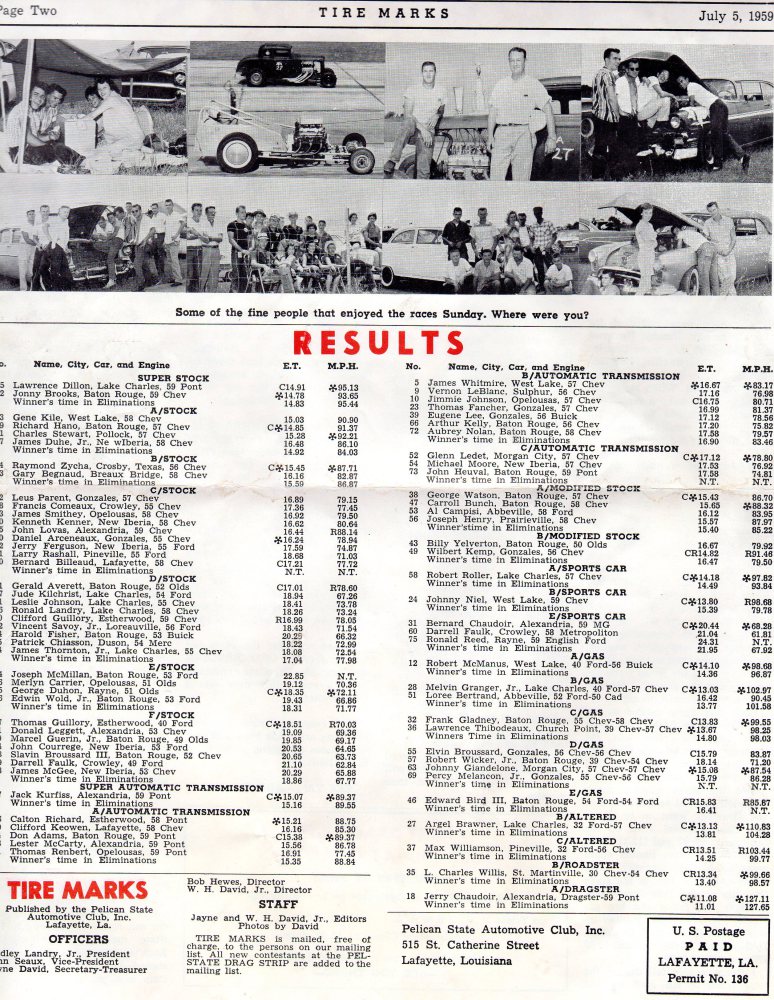 Pel State ​Tire Marks news sheet, July 5, 1959, back page. Courtesy of Max Williamson
Pel State Dragway, 1966-67
I raced here at Pel State Louisiana Dragway many times in 1966-67. I was a constant winner with my 1963 Corvette convertible in C Sport. Owners of this event created and patented the Christmas Tree starting light system in use today.
David Lambdin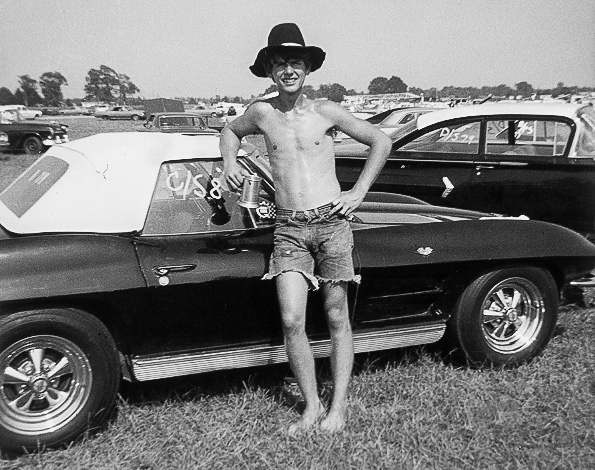 David Lambdin holding a class winner's trophy at Pel State Dragway in 1966, standing by his 1963 Corvette. Courtesy of David Lambdin

Pineville
I drag raced at Esler Field outside Pineville, Louisiana, in 1964-65. I had a 1953 Olds 88 Rocket hot rod and a 1963 Corvette. My 1963 Corvette convertible became Louisiana state champion in C sports class in 1966-67.
David Lambdin
Pollock
Pollock Municipal Airport, 1950s
In the period '55 thru '62, I was very active in Louisiana drag racing.  In that era I raced at Pel State, Hammond, Houma, Lake Charles Alexandria, and Mansfield.  I was a member of the Cenla Gents Car Club of Alexandria who had several members who raced often.  The Cenla Gents even held drag races in the Alexandria area at the old Pollock Airport and Esler Field in Pineville.  I don't recall how many we put on but there were several. 
Max Williamson
Shreveport

I raced here at Shreveport Dragway in 1967. I won whenever I raced in my 1963 Corvette C Sports. The track was 1/8 mile with little room for shutdown. I believe it ran parallel with the highway and railroad tracks.
David Lambdin
Louisiana State Fairgrounds, 1978
We raced at a track in Forest Hills, Louisiana, in 1975. Also, we raced at the Shreveport fairgrounds track, on the front straight, in '78. Carl Cochran did also.  Jerry Longoria put on the races at the Shreve fairgrounds track in '78. TJ won the Super Pro bracket on opening night and also won "Top Dog," which combined all the class winners. I won my bracket at the last race. Races were only held there for about a month. Not enough cars. A drunk guy I was running, didn't slow down for the turn and flipped his car! He wasn't hurt.
Don Hurst