Remembering . . .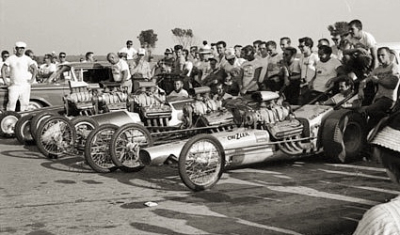 1960 AHRA Nationals in Kansas City.From left to right, Art Malone & Al Williams, Bobby Langley, Bob Sullivan, Don Garlits and Chris Karamesines. Photographer unknown
Arkansas City
Cowley County Drag Strip/Mid-America Dragway, 1970s-1980s
I grew up at the strip at Strother Field west of Arkansas City, Kansas. My dad and some friends started running it in 1973.  I was only 3 at the time. The Mid-America name did not come around until sometime in the 80's I believe it was.
Gary Samms
Strother Field/Ark Valley Dragway/Cherokee Strip Dragway, 1950s-1960s
I attended the July 4th drag races in 1956 and 1957. I was there both years. Those early sanctioned races were NOT held at the auxiliary field 6 miles west of Arkansas City. They were held at the Strother Field main facility, approximately 6 miles north of Arkansas City. Also, they were not held in 1958. That year, the 4th of July drag races were replaced by a western horse show! Also, there were no sanctioned drag races held at either facility in 1961. Your attached video of drag racing at the auxiliary field, taken at about that time, depicts "outlaw" drag races that were held regularly during the late 50's and early 60's, usually on Wednesday nights, then in later years on Sunday afternoons. Many of these outlaw "meets" were broken up by raids involving local sheriff's officers and/or Arkansas City police. Incidentally, I lived about 1.5 miles from the Strother auxiliary field and regularly spectated at the outlaw drags, participating on occasion. I also ran a few times at the sanctioned events there in the late 1960's. One of my older brothers and his family actually lived on Strother Field at that time, in one of several old US Army Air Corps barracks buildings that had been converted to apartments. So while I would agree that technically there were organized drags held at the auxiliary field in 1956, but they were outlaw nonetheless, in that they didn't have permission to be there.  I could be wrong, but I would be of the opinion that the only legal drag races that actually materialized in the Ark City area in the 50's would be the two 4th of July events held at the main Strother facility in '56 & '57.

Gary E. Learned
Canton
Axle Twisters Drag Strip, 1958
Don Waltner from Moundridge was the person that told me about the old Axle Twisters Drag Strip. He has since passed away, but he had quite the store. He ran Waltner Electric. He had a speed shop in the basement. I was just in there lately [2019] with a guy that had purchased the building. It's like a time capsule. I could have spent days in there. They had sold most of the appliances and stuff from the main floor, but have not touched the basement. The new owner said he is going to sell the stuff as one--no parting out. As for Donny, he had ran a 1950 Mercury. I was told that it was a record holder. It is still in hibernation. Also I had read an old article that he was a dealer for Chassis Research and that he also ran one of their frames--serial number 1, one of the first rear engine dragsters. It is resting beside the Merc. He was an interesting guy. I'm glad I got to know him, even if it was later in life.
Brad Nightingale
Edna
Edna Municipal Airport, 1957-58
My dad, who is 90 and is still involved in cars raced a '34 Ford with a Lincoln flathead in about '57-58. Him and his brother pulled it to Edna from Springfield, Missouri, with a '57 Chevy. I think the Edna track was a WWII emergency air field.  After he stopped building cars for drag racing he built "stock cars," then late models for asphalt and dirt.  We raced in and around Springfield, Missouri, and traveled some to tracks in Odessa and Rolla, Missouri.  After he quit building race cars, he started building street rods.  The last one he built is a '47 Mercury coupe which he still has.
Terry Davis
Edna Municipal Airport, 1950s
I used to live in Wichita and belonged to the Smokers hot rod club and we raced at Edna in the early-to-mid-1950s. I ran a 1949 Ford with a full-race engine. Then later I ran a 1952 Pontiac with a 1951 Olds V-8. Memories.
John Shade
Garden City
Garden City Dragway, 1965
I remember somewhat of the drag strip at Garden City back in 1965. I had a new '65 Buick Skylark with a 300 cubic inch engine, 250 horse, and a 4-speed that run there a couple of times. It was a pretty neat place. I also run several times at the Great Bend drag strip during that time.
Daryl Downing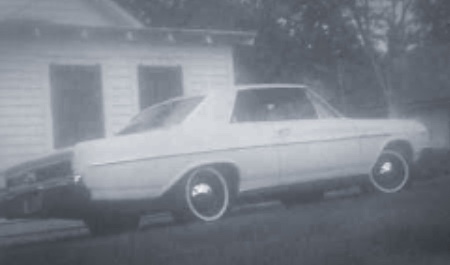 Daryl Downing's 1965 Buick Skylark. He later totaled the car out in Carey Park, located in Hutchinson, Kansas. Courtesy of Daryl Downing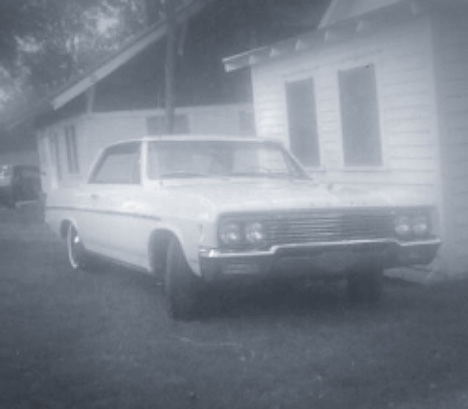 Garden City Dragway, 1960s
 I was a member of the Gallahad's and raced at the track in the sixty's. I am 71 years old and still drag race and own and operate Greenie's Speed Shop here in Garden City and have since the sixty's. 


Dennis Green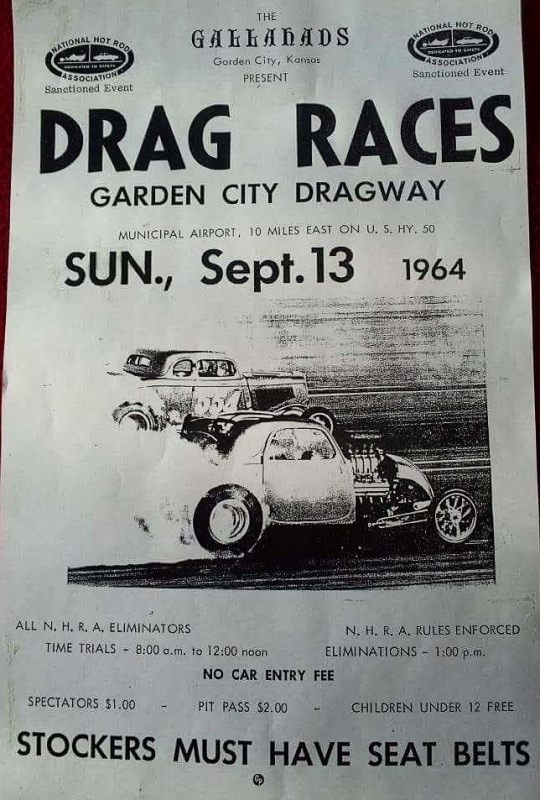 Flier for 1964 race at Garden City Dragway. Courtesy of Dennis Green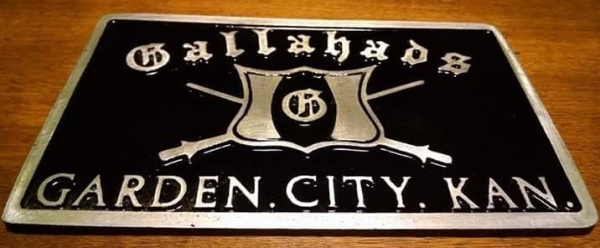 Gallahads car club plaque. Courtesy of Dennis Green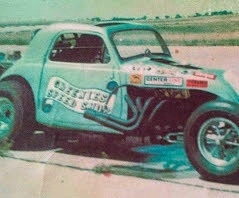 Great Bend

I went to the first NHRA championship in Great Bend, Kansas, in 1955. Almost half of the racers were from California. They took most of the trophies! The top time was made by the "Bustle Bomb" at 150mph. I had  the best time of all the street coupes at 99mph. On Monday, heavy rains flooded the strip so there was no Top Eliminator run off.

Don Jensen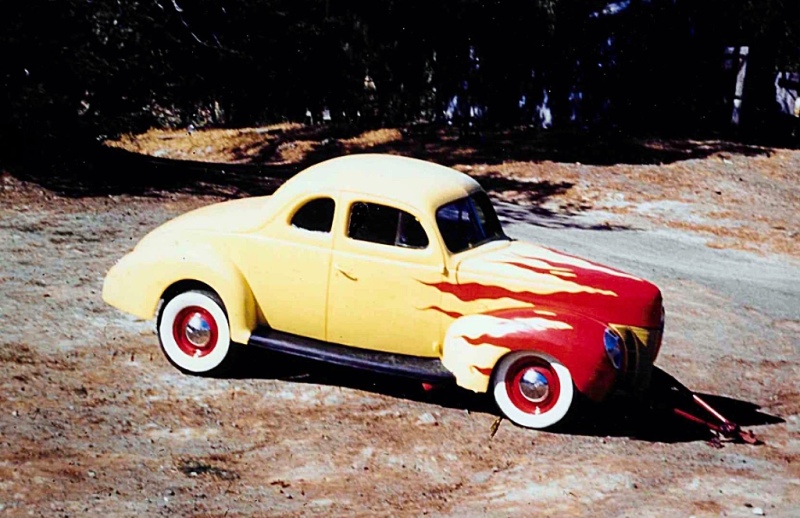 Don Jensen's 1940 Ford, all painted and ready to go to Great Bend for the NHRA national chapionships in 1955. Courtesy of Don Jensen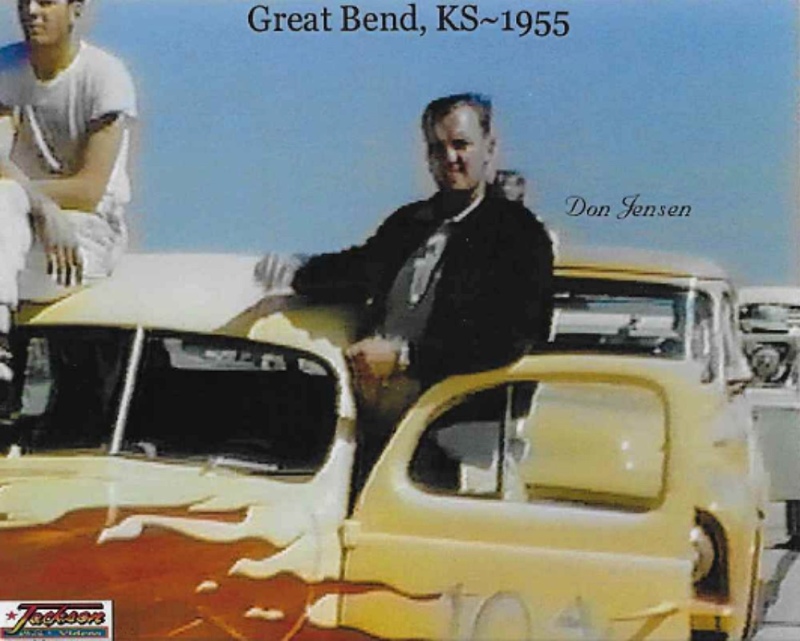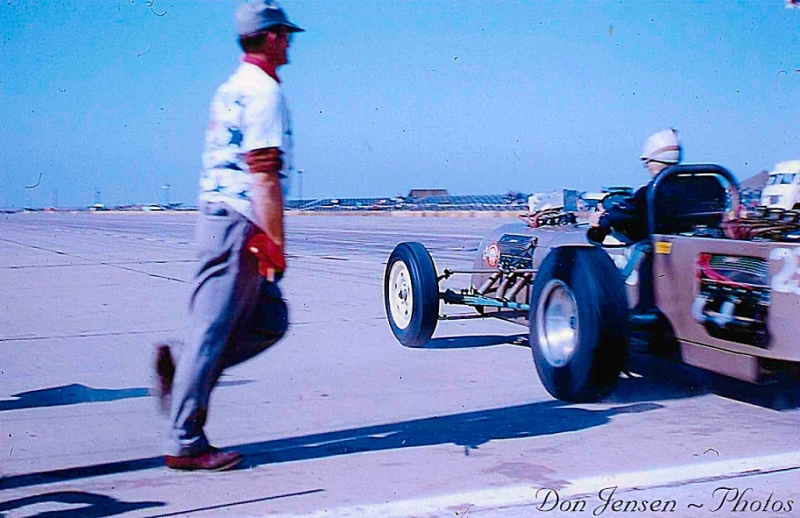 Lloyd Scott set a new American top speed drag racing record of 151 MPH in his two-engined "Bustle Bomb" dragster at the NHRA National Championships at Great Bend in 1955.   Courtesy of Don Jensen

Lawrence
Lawrence Drag Strip, 1967
I was at the Lawrence, Kansas, strip when the jet melted the corrugated steel backer behind the start line and then blew it across the road.
Steve Schultz
Lawrence Drag Strip, 1960s
I believe my dad, Rodger Mills, drag raced at this track in the early '60s. If this is the same Bill Prince, my dad worked with him at McDowel Tire in Kansas City, Kansas, in the mid- to late '60s. Bill had a Triumph car he had shoehorned a 289 Ford into at that time, I think. Also a fellow by the name of Eddie Tancrary raced a '63 split-window Corvette. Dad drove a '62 black Biscayne 409, 4-speed. I was 4 to 6 years old then and am going by memory of what dad had told me!
Rod Mills
Liberal
Sundown Dragway, circa 1984-85
Sundown Dragway was located at the former site of Liberal Army Air Field, which was a WWII Heavy Bomber training facility.  It was a triangular configuration.  It worked great for a drag strip.  One leg was for staging and strip.  The second leg was the return road and the third were the pits. I don't know when it opened or closed as I only ran there a few times in '84 or '85.  Great track, lots of fun, good folks.  It couldn't keep up financially with the NHRA safety mandates I am told. The car pictured is my 1970 El Camino.  540 ci Rodeck on Alky with a Turbo 400. Wheelie bars?  What wheelie bars?  Wheelies are fun!
"Texa$ Don" Zielinski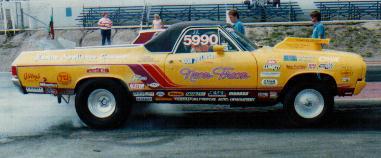 Maize
Wichita International Raceway, mid-1970s-1982
I used to race at Wichita International Raceway back in the mid-to-late '70's and up to 1982. Every Saturday night under the lights and then tow Sunday up to Great Bend. It was a great time and made lots of friends. Every year the Coca-Cola Cavalcade of Stars (traveling funny car group) would show up and put on a show.  Pro Stocks would show up every summer.  I met and talked with Jack Roush when he and Wayne Gapp would show up with their Maverick. I met Bill "Grumpy" Jenkins.  I remember once when Grumpy went off the end of the track, up and over the river dike, came back over the dike and drove back down the track to the starting line . . .  at night!  And even the top fuel cars would show up from time to time.  We'd be racing till three in the morning.  Top fuel racer John Wiebe was from a small town north of Wichita and for one year, owned a part interest in the track!  He'd be there helping get cars lined up in the staging area.  Great fun.
Mike Loganbill
Olathe
Olathe Naval Air Station, mid-1970s-1982
In the late '60s and early '70s I was a part-time pit crew member of Kimball Brothers Racing Team. They raced mostly AHRA, and won several championships. They raced at all AHRA tracks and races,  They also raced at St.Louis, Bristol, Scottsdale, Springfield, MO, Oltathe Air Base, west coast, and east coast. They usually ran GT1 and GT2 and hot rod.   Won several championships, and LOTS of money.
Mark Magel
Topeka
I was watching NHRA Pomona qualifying last night and remembered this story as John Force came up to run.  I think we were at Topeka, Kansas. I do remember it was the year that Cruz  Pedregon won the NHRA Funny Car Championship.  John Force made a great run, but the engine blew up and caught on fire in the lights. The car went burning into the sand trap. His crew towed the car to the scales to weigh it for the run to count.  It was dripping oil and other fluids on the scale. While they were weighing the car, John got out of the tow vehicle. His fire suit dirty, burned, sandy, and oily. A bunch of young spectators ran over and wanted autographs. John started signing autographs. When they were through weighing, Austin Coil hollered, "John, let's go." John continued to sign. Coil hollered again, "John, come on." John continued to sign for the kids. Austin Coil hollered, "John, we have a lot of work to do on the car,. Let's go."  John signed one more and as John Force walked to the tow truck, he told Austin Coil, "You never know. One of them might be a sponsor someday."   This was the real John Force.   
Dale Schafer,
NHRA fuel check official
Kaw Valley Dragway, 1960s
This was my father's drag strip. He owned Kaw Valley Drag Strip in Topeka, Kansas. His name is William Ash. It was probably 1969 when he sold it. I know it was before 1970 because we moved to Kansas City that year. I was born in 1967. My dad had several cars, but his '62 Plymouth with a 413 Stage II Max Wedge was his favorite. The original engine is in California in his shop on a stand. The light tree was a stoplight from the corner of 10th and Kansas Avenue in Topeka that they cut the pole on to make it short enough. That original light tree is in my garage.  Dad raced pro stock, but helped with many other racers as well. I spent most of my youth working on cars of every style with my dad. His trophy collection is huge, all Mopar or Chevy cars. The original light tree is in my garage. The timing lights are in my dad's shop in California along with tons of 8 mm films with sound from the strip. I still have some old fliers advertising races and some signage. Most of the older drivers I grew up seeing with my dad are gone now. Only a few are still with us, but they have fond memories of family weekends at the strip.

Doug Ash
Kaw Valley Dragway, 1962-66
In late summer, 1962, my father let me take his beautiful 1960 Chevy Bel Air Sport Coupe, 283/230 hp PG to the big AHRA 1/8 mile drag meet in Topeka, Kansas. Of course, he admonished I wasn't to race it. I vaguely said it wasn't a race car, etc. Of course I entered it in whatever class it fit. And of course I lost the first round. The December, 1962 Popular Hot Rodding magazine featured a lengthy article on the popularity of 1/8 mile drag racing and the late summer Topeka drag meet was a key part of the article. The "centerfold" of that issue had a full page shot of my dad's 1960 Chevy in the staging lane with a couple of my buddies standing around the car. I sweated bullets my dad would read PHR, see his car, and I would be in deep trouble. SInce he had little interest in fast cars or racing, the odds were very slim of my being discovered. In 1995, I ran across the "revealing" 12/62 PHR issue and sent it to my Dad with a full confession of my 33 year-old sin. Fortunately he didn't put me on restriction. I remember at another race at Kaw Valley, a go-kart racing a C/FD outran him. The karter merely blipped his throttle five or six times and he was at the end of the strip.

Steve Schultz
Troy
Pony Express Dragway, 1970s

My father raced the family's 1971 Vega hatchback at Pony Express Dragway with physical head starts for class handicaps. Vega vs. big Mopar had dad so far down track, he fully reclined the seat to see the bulb on the guardrail, used to start the down track car.

Wayne Darlington
Victoria
Walker Army Airfield, 1960s

I was at the Walker Timing Association races in Kansas in the early 60"s. I lived about sixty miles away.

Russ Herrick