Remembering . . .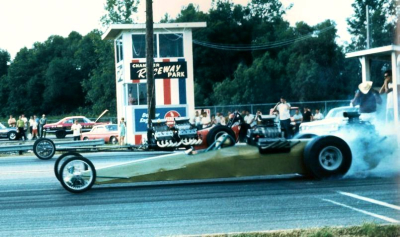 Frakes & Funk's twin-engined dragster (far lane) at Chandler Raceway Park, circa late 1960s. Photographer unknown
Avilla

When my grandfather came back from Vietnam, he bought a 1967 RS SS Camaro. It was red with a black vinyl top. My dad, Todd Davis, got it from him after my grandpa realized he was too big to fit in a Camaro comfortably. When my dad got ahold of it, he started racing it at Avilla. It had a 327 sbc.  He raced on the very last day Avilla was open, September 23, 1995. He raced in the finals in the street class. He is from Columbia City, one of the Davis boys. If anyone has any info or photos, please contact this website, and they will get in touch with me. My dad has given me the car and I am restoring it.

Aliace Davis

Bunker Hill

Bunker Hill Drag Strip, 1965

Dewayne Beady was killed at Bunker Hill In. in 1965 when the rod to the master cylinder fell out and he went off the end of the track. Back in those days, railroad tracks actually went across the strip at an angle. I think he hit the tracks and flipped. He was a good friend of mine. I used to race my 1957 Corvette at Bunker. My old Vette was C/ M Sports. It had a tired motor and no posi-trac. Just haven fun when I was 20 years old.  
John Schell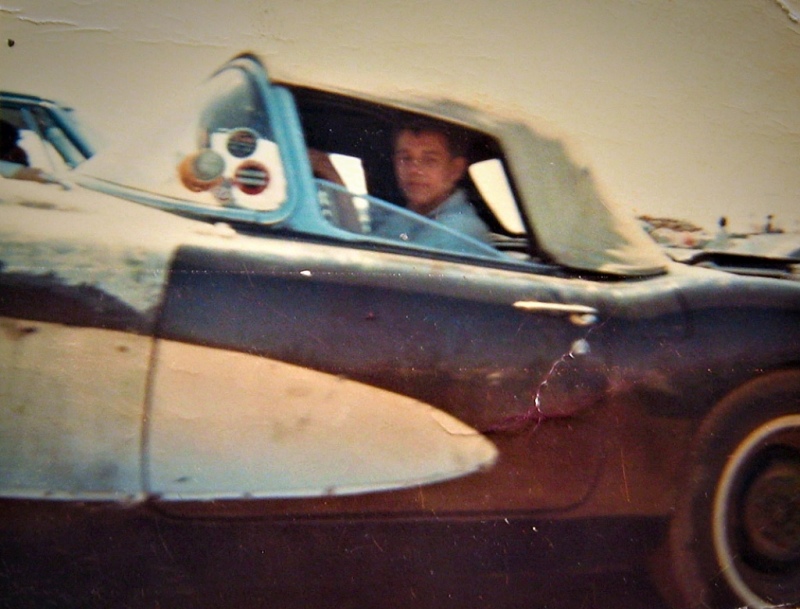 John Schell in his 1957 Corvette at Bunker Hill, on May 9, 1966. Courtesy of John Schell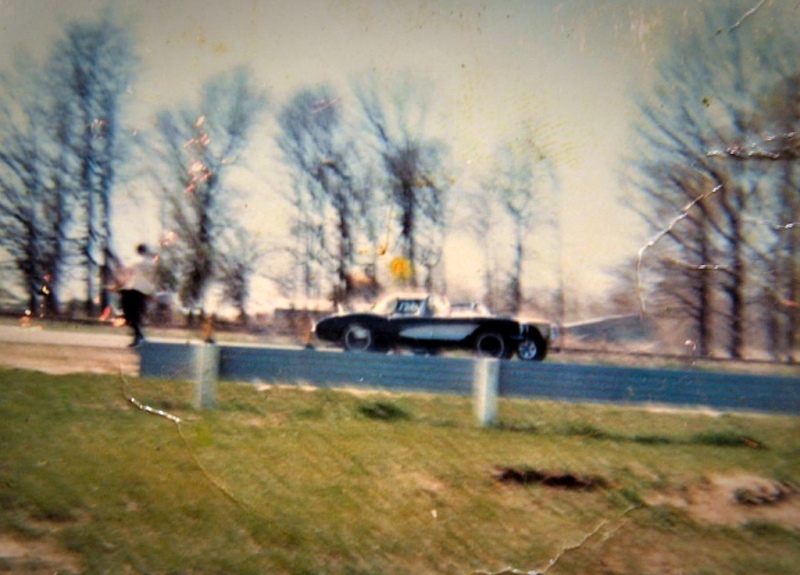 John Schell racing his 1957 Corvette at Bunker Hill. Courtesy of John Schell

Chandler
Greater Evansville Raceway, 1966
I raced here in 1966 and won the Spring Nationals in the 1/8 mile. I sure would love to see some photos and anything else! Our car raced under the name G & H Automotive, in D Hot Rod class.  We went unbeaten that year at Chandler and won Hot Rod Eliminator every week-end we raced.  We also broke the National Record for class three times, but undocumented.  The car would pull both front wheels and packed the left front wheel all of the way .  This engine turned an amazing 8,500 rpm and was blueprinted by me. All this was done with Cheater slicks. We were not allowed slicks.  The best time was 98.6 mph and 8.21 seconds. It was with 5.38 gears. Shortly thereafter we changed to 5.57 gears which added 2+ mph and cut .27 seconds off the time.
Ken Harp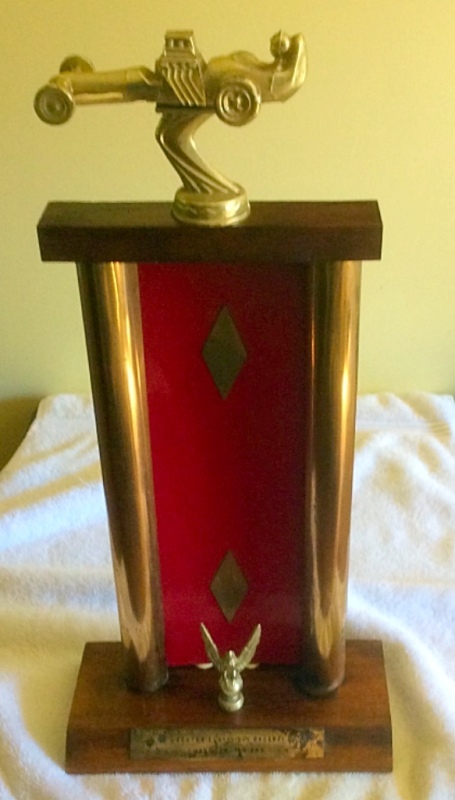 D/HR class trophy won on July 10, 1966, by Ken Harp at the AHRA 1/8th-Mile World Championship at Greater Evansville Raceway. Courtesy of Ken Harp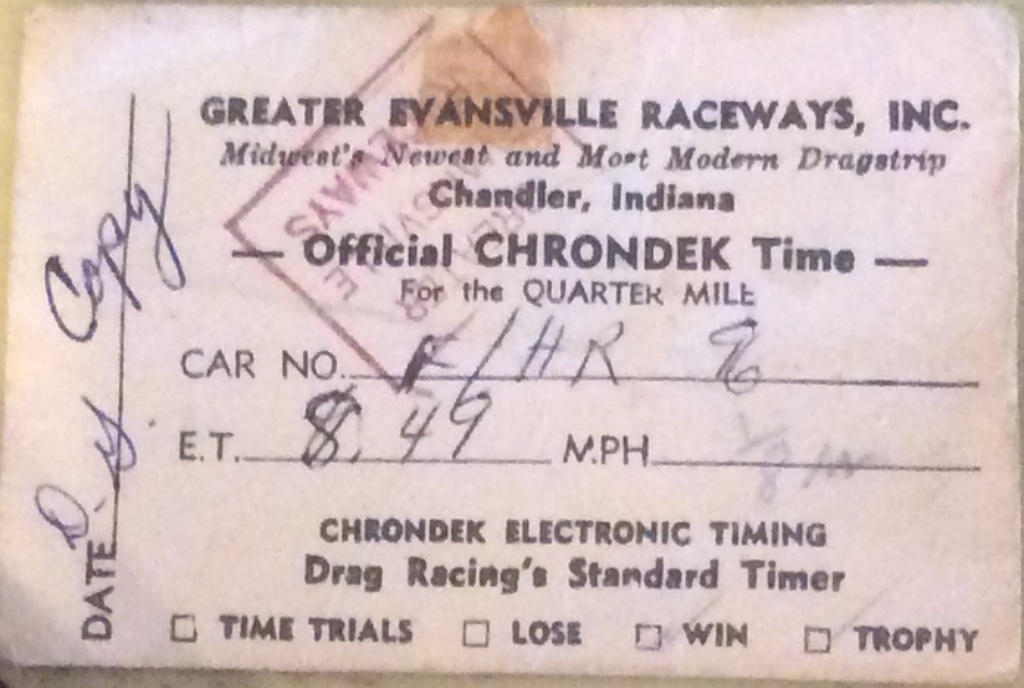 Time slip from Greater Evansville Raceway, 1966. Courtesy of Ken Harp

Greater Evansville Raceway, 1965-66
I set two AHRA world records at Greater Evansville Raceway in 1965-66 in a 1957 Chev at the World Record meet. The class was ASF3.  
Are you familiar with Moody and Jones out of Washington?  He won the NHRA Nationals up at Indianapolis three or four times. He run a '37 Chevy C Gasser, supercharged car. He helped me build that motor. Sam Jones is his name.  He's built a lot of engines for . . . . and Jeff Gordon.  A whole lot of name-brand guys. He's very good at building engines. He helped me fix that engine. We were running down at Evansville Raceway. The announcers on the loud speaker said, "Folks, you won't believe this, but this race has come down to where there ain't a big-block car left."  He said, "There ain't a 427 Chevy or a 396 Chevy or a 427 Ford or a 426 Hemi. This has come down to two small-block cars." Sam was running that time down there with a '66 Nova and I was running my '57. I was sitting over there waiting to run and eating a couple of hot dogs and drinking a Pepsi. He come over to me and said, "How come you ain't working on it?" I said, "Well, Sam," I said, "it's running good. I don't know what else to do to it." He said, "Let me tell you something." I said, "What's that?" He said, "If you don't go faster every time you go down that strip, you're standing still." I said, "You tell me what to do and I'll do it, but I don't know what else I can do to it."  But anyway, I beat Sam for the championship there that night. That was back when they had what they called Junior Stockers. That was the backbone of the NHRA and they didn't have sense enough.  
One reason I got rear-ended was because of NHRA. The '55, '56, and '57 Chevies was winning everything in the stock classes—B Stock down to N Stock, or 
Q Stock even. And they said that they couldn't sell new cars if all these old cars were beating all the new cars. So they took the 4-speed away from the '57 and that killed me on mine.  He was building them Powerglides with an Opel converter in them. They were making them really run with that. He wanted $900 for that transmission.  And I thought, well I ain't going to do it. So I just quit. I bought another car later on. I bought a Camaro. I raced it a couple times. I sold it. It was a '67 Camaro. It ran really good. It ran 9.40s in the quarter. A 143 MPH I think it ran. I sold it. I figured I was way too old to be driving that car. I better sell it before I kill myself and a bunch of other people besides me. I'll be 77 in October. 
Bob Lane
recorded telelphone interview
with Mel Bashore, April 22, 2018
Clermont
Indianapolis Raceway Park, 1961, 1964
As I recall, 1961 was the first National Championship for the new Raceway Park at Indy. I hitch-hiked and walked there from Richmond and slept inside the screen storage area of the drive-in theater across from the entrance. I also helped at the ticket booth. Those were great times.
Bill Gregg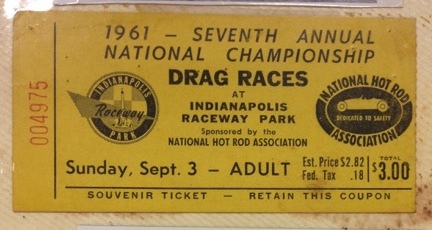 Ticket stub for first NHRA National Championship race at Indianapolis Raceway Park on September 3, 1961. Courtesy of Bill Gregg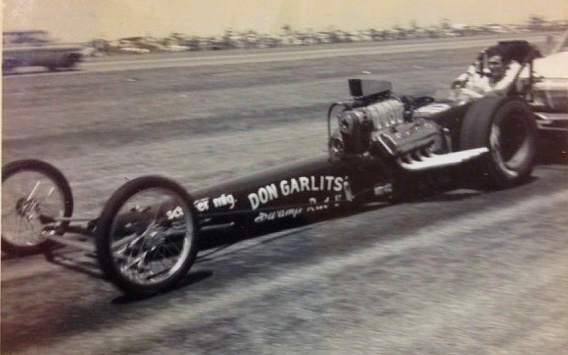 Don Garlits, winner of top eliminator at 10th annual NHRA National Championships at Indianapolis Raceway Park in 1964. He defeated Jack Williams for the title with a time of 7.67 at 198.22 mph. Courtesy of Bill Gregg

Indianapolis Raceway Park
Last Sunday while driving through Amarillo, Texas,  I saw the barbeque restaurant that I used to take Dale and Glenanna Ham to for lunch, when I was driving through. I will never forget Glenanna's story about the "Pizza Dog."  She was laughing so hard, tears were running down her face and I could not finish my lunch, I was laughing so hard. We were still laughing in the parking lot.  It seems that the Kissengers, Ed and Helen, brought their Chihuahua dog to Indy with them. Ed and Helen handed out time slips out of the old DA tower that was a little past the finish line. The little dog got out of the tower and was run over by the back slick of a dragster. The Safety Safari took a coal shovel and scooped up the dog and put it in a pizza box. They buried it in the grass by the tower. The Kissengers were so mad, they dug it up and put the boxed dog in the trunk of their car. The story of the "Pizza Dog" went around the pits.  Everyone wanted to order a "Chihuahua Pizza."  I am sure the Kissengers did not think it was funny, but everyone else did.     
Dale Schafer,
NHRA fuel check official
Indianapolis Raceway Park, 1961
I have several pictures that I took with my camera at Raceway Park in Indianapolis at the 1961 National Drags that three friends and I attended. We were all living in Minnesota at that time and were talking about the races in Indianapolis. So that evening we all jumped in my '60 Ford Starliner and drove 10 1/2 hours to Indy, arriving for the races the next day!   
Dean Lind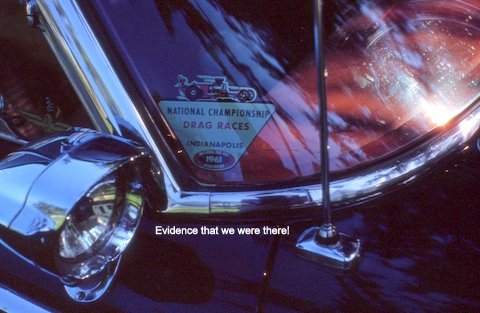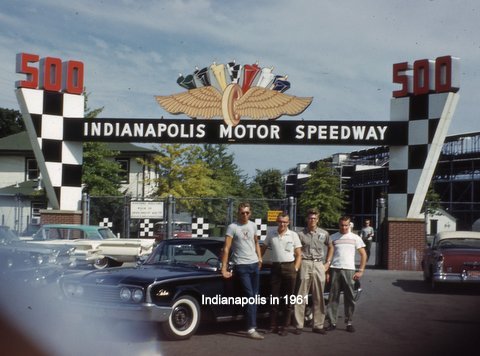 Dean Lind (second from left) and his three friends in front of his '60 Ford Starliner. Photo taken at the Indy 500 track on their trip to attendt the first NHRA National Championship drag race at Indianapolis Raceway Park in, 1961. Courtesy of Dean Lind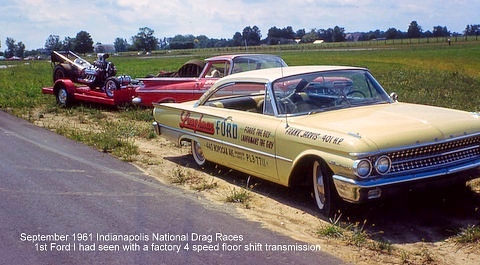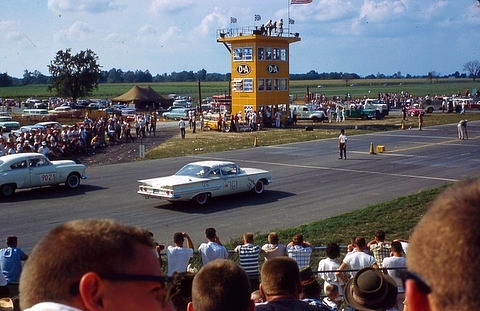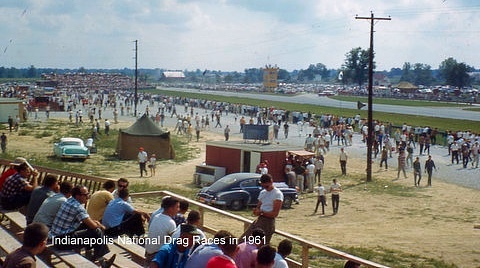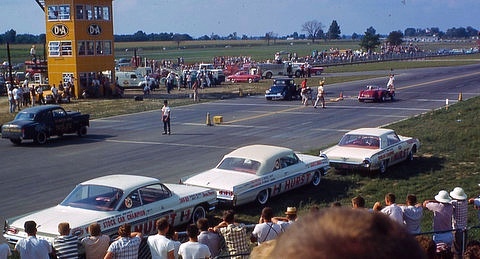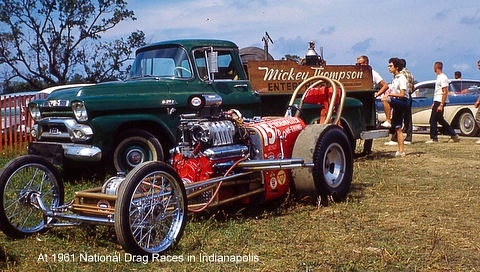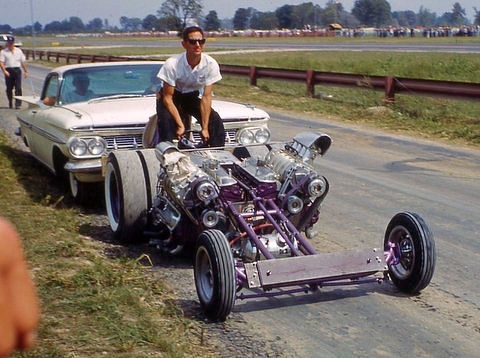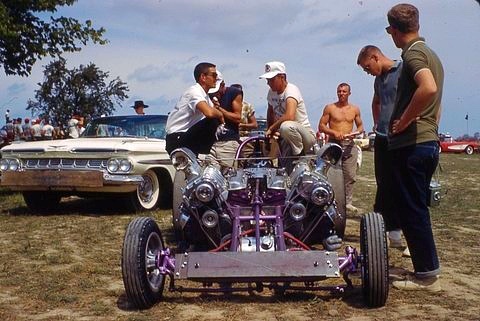 Dean Lind took these great photos of Eddie Hill's "Double Dragon," with side-by-side blown Pontiac gas-burning engines and dual slicks at the first NHRA National Championship race at Indianapolis Raceway Park in, 1961. Hill's tires reportedly literally dug holes on the starting line at this historic Indy race. All photos taken by and courtesy of Dean Lind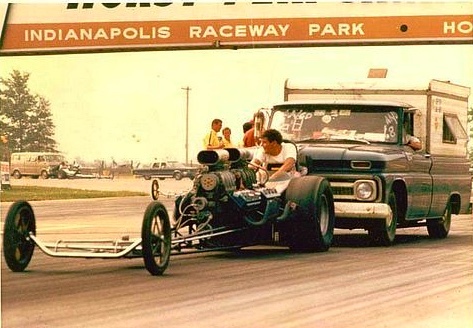 Frakes & Funk twin-engined AA/GD from Radcliff, Kentucky. Courtesy of Joe "Muggs" Tichenor

Indianapolis Raceway Park, 1971
I saw Big Daddy at the U. S. Nationals on September 7, 1971. That day was the day AFTER Labor Day due to a rain out on Labor Day   That is how we got to go to the event for FREE!!   Two boys,  one nearly six and one on my back in a carrier, aged nine months. One of my dearest friend's grandmother used to own the land where Raceway Park is located just outside of Clermont, Indiana.  Her family used to take turns parking the cars on the land they still owned.  If you parked the cars, you got to keep the revenue for the days that you worked.  It was a family affair.  Across the street from Raceway Park there was the Clermont Deluxe drive-in theater.   I spent many an evening there watching the movies.  Of course the area has all changed so much, but it was great to have those experiences.   Raceway Park is about 6-8 miles from the Indy 500.

Pauline Davidson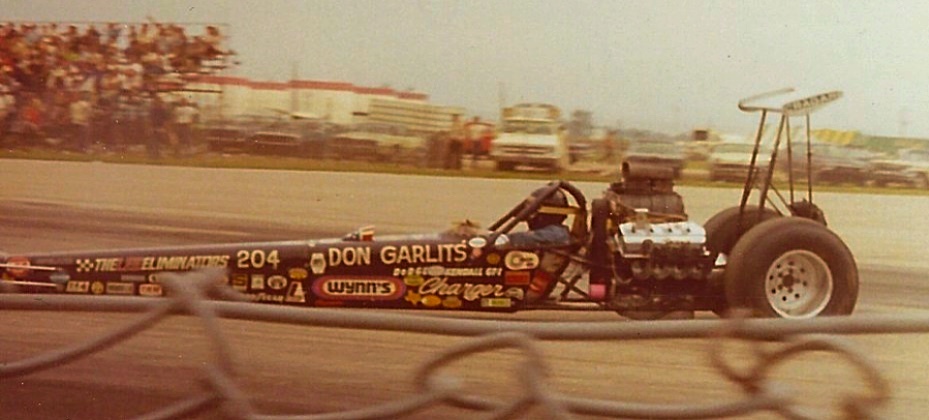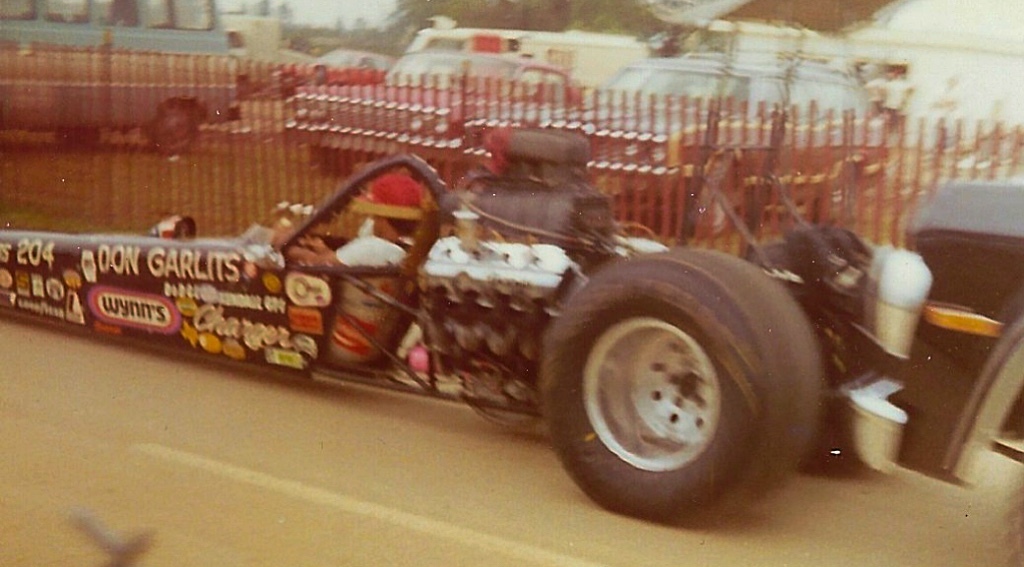 Don Garlits, runner-up to Steve Carbone at the 1971 U.S. Nationals. Courtesy of Pauline Davidson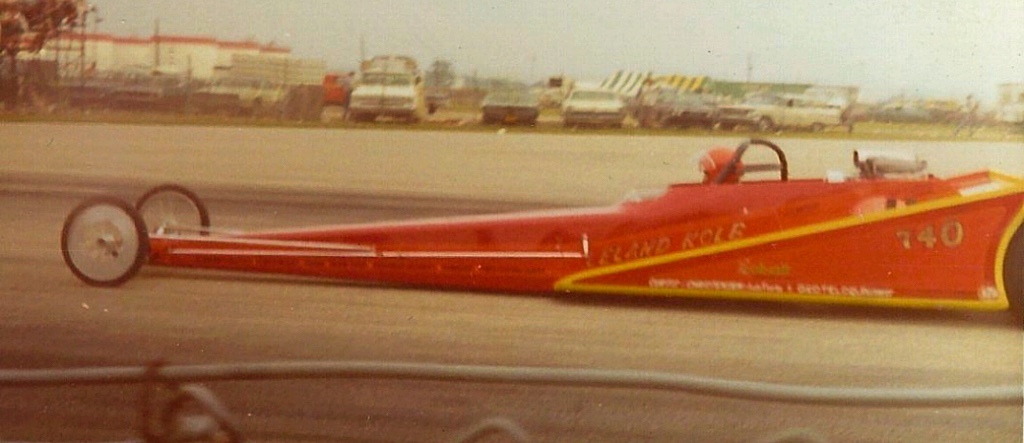 Leland Kolb's "Polish Lotus" Wedge top fueler, reaching the quarter-finals at the 1971 U.S. Nationals. Courtesy of Pauline Davidson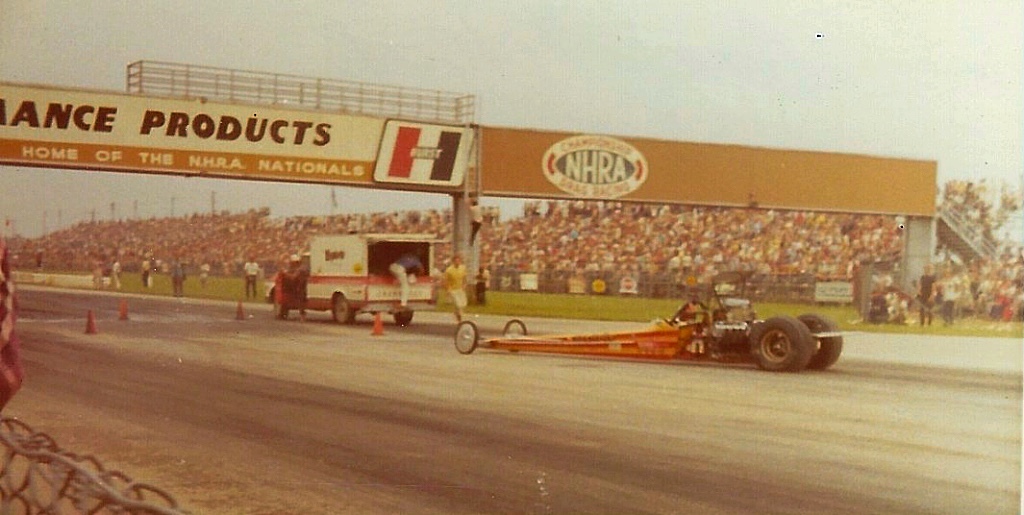 Garlits wasn't the only one with a rear-engined dragster at the 1971 U.S. Nationals. John T. Hoffman identified this as Arnie Behling at the wheel of Bruce Dodd's "Spirit" dragster.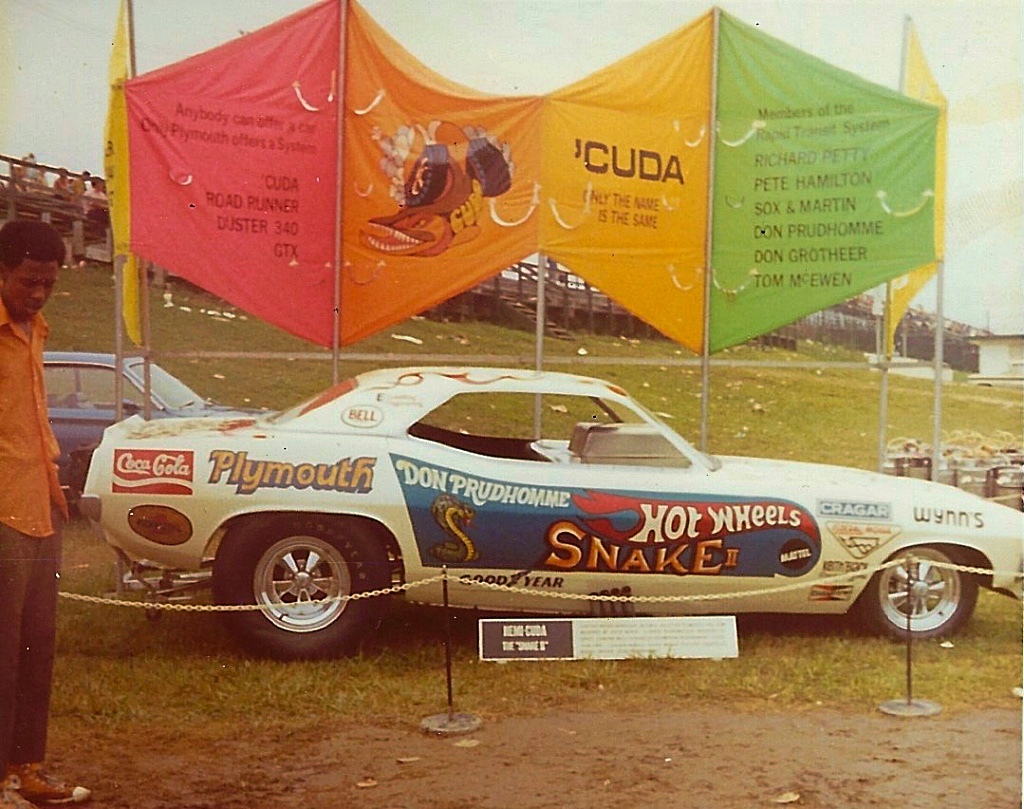 Don Prudhomme's 1972 Plymouth Cuda funny car on display at 1971 Indy Nationals.  Courtesy of Pauline Davidson

Indianapolis Raceway Park, 1967
My friend, Gene Cromer, raced his 1940 Willys "Moonlighter" A Gasser at Indy in 1967. He has a page of time slips, pit pass, and photos of his car at that race in his scrapbook.

Frank Taylor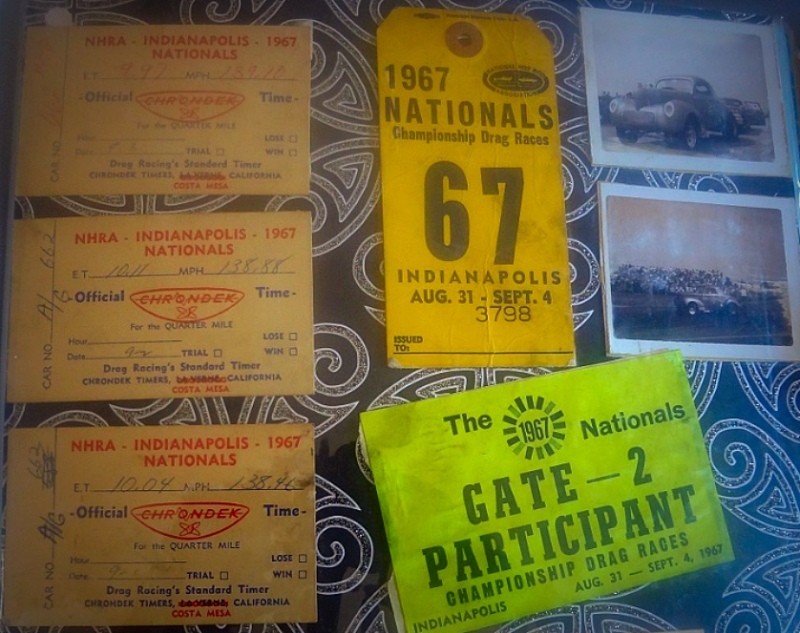 Page of racing memorabilia from the 1967 Indy Nationals in Gene Cromer's scrapbook.  Courtesy of Frank Taylor

Indianapolis Raceway Park, 1968
I raced my gasser at the Nationals in 1968.

Carroll Schmidt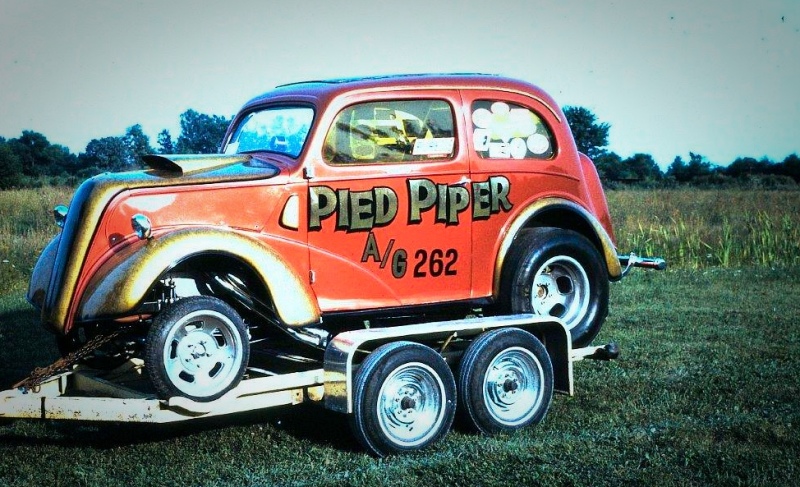 Carrroll Schmidt's 1949 Anglia A/G.  Courtesy of Carroll Schmidt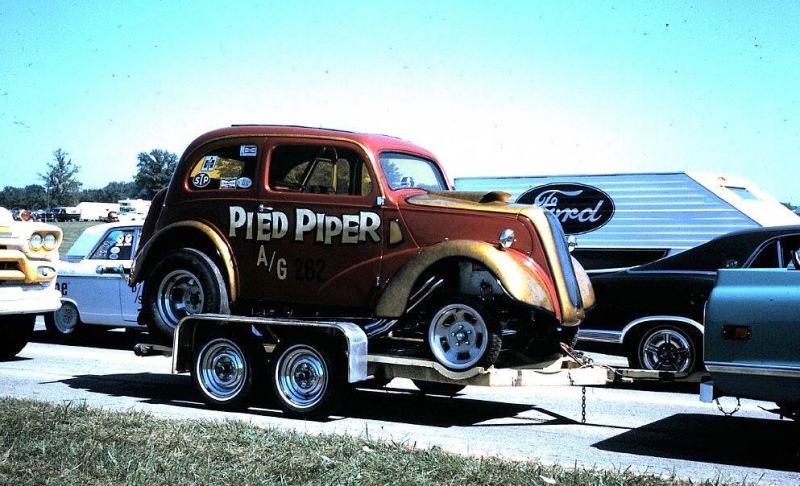 Schmidt's A/G Anglia in lanes at 1968 Indy Nationals.  Courtesy of Carroll Schmidt

Indianapolis Raceway Park, 1966
I ran a lot of different tracks. I ran at Sturgis, Kentucky. I ran at Lawrenceville, Illinois. I don't know what year it was, but it's been awhile ago. They haven't run there for a long time. 
They were there almost every weekend. This was somewhere around 1960, I'm thinking. It was an airport. So was Sturgis, Kentucky. 
I didn't run that car then at that time. I ran another '57 Chevy that I had. It was a dual-four car. I ran it there. It was a white 2-door hardtop car. It ran pretty good. I even ran it in Modified Production a couple of times. In B Modified.  I ran at Louisville, in Louisville, Kentucky. I just ran at several of them. Harrison County was another one I used to run at a lot. I was pretty busy there for about three years.  I built this car, another '57 Chevy, for NHRA, is what I built it for. I ran it up at Raceway Park in Indianapolis in 1966 at the Nationals. Up there at the 12th Annual Nationals. I got beat by a car out of California, but they tore him down and he was illegal. That kind of screwed them out. I kind of got a bad taste in my mouth after that one. I would have never thought anybody would have come all the way from California to race at a national meet and not be right.  NHRA B Stock was what I built that car for. It was a 283, 283 horse, fuel injected, Rochester injection. I ran a Borg Warner 1957 transmission 4-speed. Of course, you had to do that in NHRA because everything had to be from that year. You couldn't run a '58 or '59 transmission.  It had to be a '57. I had trouble finding that transmission. I finally found one. I ran a 5:38 gear in the rear end on it.  Actually I started racing at Owensboro, Kentucky, first. I raced down there in '61 or '62, somewhere along in there. And then they switched it to Windy Hollow, I think. Then I ran at Beech Bend. I ran there in Bowling Green. I'll tell you, the one that I was shocked at was up at Clermont, at Raceway Park at Indianapolis. When I pulled up on that track, it looked like I was in a damn parking lot. That's how big that track was. I was used to two-lane blacktop, more or less. But boy, that was one big area. That was a lot of fun.
Bob Lane,

recorded telephne interview 
with Mel Bashore, April 22, 2018
Indianapolis Raceway Park, 1969
My father, Roger Davenport, won B Gas in his 1957 Corvette at the 1969 Indy Nationals. Their time was 9.94 at 135.74 mph. He and his racing partner, George Foltz,  won Valvoline's Best Appearing Car and Crew that year.
Pat Olson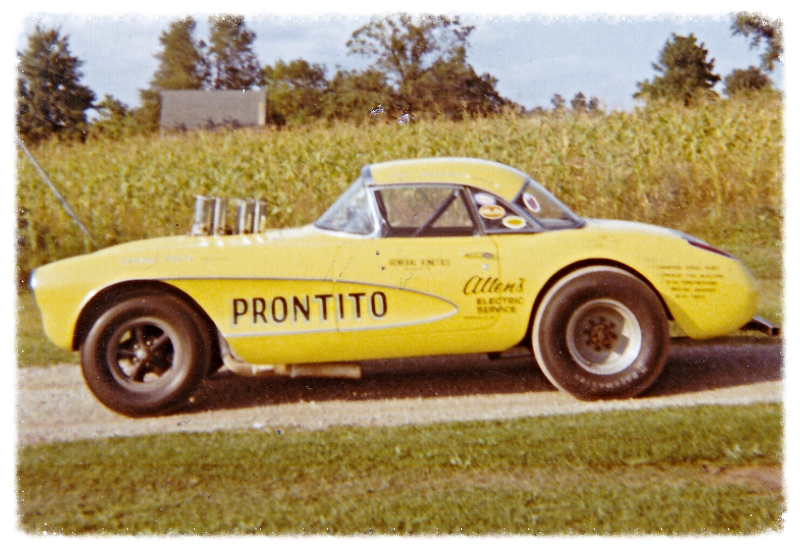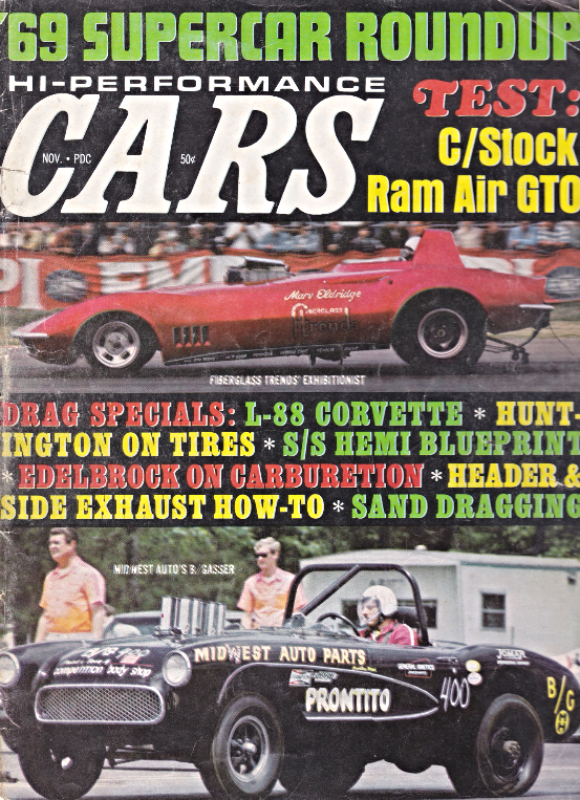 Roger Davenport's '57 Corvette B Gasser graced the cover of Hi-Performance Cars in the November 1969 issue.  Courtesy of Pat Olson

Indianapolis Raceway Park, 1962
We were a competitor at the Indy Nationals in 1962 with our AA/A. Setto Postoian, a touring pro from Michigan, came in late with a blown Chrysler dragster.  This was during the NHRA fuel ban.  When he fired it on the push road, everybody knew that Blacky Carbon was not in his tank.  Despite frantic arm-waving by the starting line crew, he lined up and made a beautiful, full-length smoky run.  The fans—and announcer Bernie Partridge—went NUTS!  We were in the turnoff in the shutdown area. Surrounded by Jack Hart and his merry band of NHRA officials, Postoian's  calm explanation was delivered with a straight face:  "Had a match race last night in Illinois and I guess some nitro was still clinging to the sides of the tank."  He was back in Michigan that night.
Same race, second story:  Pete Robinson was back with his spindly Tinker Toy Too blown Chevrolet in a Dragmaster chassis.  He shocked everyone by winning the whole deal the year before, defeating legendary Tom McEwen's mighty blown Chrysler dragster.  On his first pass in '62, he pushed down, fired normally and idled up to the starting line.  (This, incidentally, was the first time NHRA tried using starting lights instead of a flagman.  It was a regular three-bulb traffic light with two yellows and a green strung sideways on a cable over each lane.  It was only an experiment that they tried for qualifications only and was not used for the actual race.)  On came the first yellow and the back of Pete's car jumped up about four inches.  On the second yellow,  the engine went to eight grand and the slicks started spinning so fast that they grew in diameter, touching the asphalt and smoking copiously.   Partridge was screaming, "The wheels is turning!  The wheels is turning."  At the flick of green, Pete dropped the car off the jacks and cut an ET so good that Partridge wouldn't announce it.  Once again, Jack Hart and minions ganged up on Pete in the shutdown area.  They let him stay but that was the end of air jacks at Indy.  It was a sad day when Pete went to "the great drag strip in the sky" while trying to qualify for the 1971 Winternationals at Pomona.  Another of his innovations, a system that "sucked" the car down to the strip, caused the front end to break up, putting him into the guard rail.  RIP Pete.
Paul Brower
Elizabeth
Harrison County Dragway, 1960s
I remember going to watch my dad race at Harrison County Dragway in Elizabeth, Indiana, very well. I still dream about it all the time. It also was a ET dragstrip. My daddy's name was Eddie Yopp, same as mine. He raced, it seemed like, against a guy and good friend, Tinny Nobel. His name was David Nobel. He was from Illinois.  He went on to race oval tracks in his home state and here in Indiana, also. The last time I seen him, he was at Salem Speedway in Salem, Indiana, My mom has pics of my dad's car. He ran a 1963 Panlera with a 383 with 440 heads on it. It was awesome!  I cried the day Mom had to sell the car, just like I did the day he passed. I've been to one race since.  I love drag racing to my soul. My dad's pit crew was my Uncle Homer Harkness, David Bennett, and Woody Jones. All have passed, but my Uncle Homer Harkness. He raced his Cougar one time.
Eddie Yopp
Harrison County Dragway, early 1970s
I never raced at Harrison County Dragway but went there as a spectator several times. The track hosted an IHRA regional event in either 1972 or 1973, with several hundred cars present. Harrison County's operating procedures were unusual --sportsman cars did their burnouts going north on the 'head end' of the return road, then turned around onto the track, and staged going south. Hot cars did do burnouts on-track. The other 'interesting' bit - Harrison County Dragway was only about 10-12 miles, "as the crow flies," from Ohio Valley Raceway just outside Louisville. The two tracks were careful not to race on the same day - although the drive from one to the other was a good hour, due to the location of the bridges. Great memories!
Mark Johnson
Harrison County Dragway, 1973-74
I raced at Harrison County dragstrip in 1973 and 1974. I recall it being a very good track and shade trees in the pit area. I raced my 1970 Yenko Deuce Nova SS/E. I'm building a small-tire Gen 4 Firebird now and was hoping Harrison County dragstrip was still active.
William Bledsoe
Harrison County Dragway, 1966-67
Fred Tindel and myself raced my 1964 Ford Falcon in 1966 and my 1965 Chevy II in 1967. We won a trophy for O class in 1966 or 1967. I did attend several races in the summer of 1967.
Halleck Mathews
Harrison County Dragway, mid-1970s
I didn't race there, but was a spectator several times. I attended one of the IHRA divisional events in the mid-1970s. I remember that the stock & super stock cars actually did their burnouts on the staging road by the tower, while facing in the opposite direction from racing. Then they did a U-turn and staged. Hot cars (Altereds and gassers) were allowed to burn across the start line. A friend recalled that a local AA/FD used to test there from time to time. There is one more bit of priceless irony about Harrison County Dragway. If you look at Google Maps, it is just over 7 1/2 miles, as the crow flies, from Ohio Valley Raceway in West Point, Kentucky! Of course, the way the Ohio River bridges are situated, it's a good 30-40 miles by road! Back in the day, Ohio Valley raced mostly on Saturday nights, while Harrison County ran either Friday nights or Sunday.

Mark S. Johnson
Indianapolis
Stout Army Airfield, 1959
I and a few friends raced at Stout Field in Indianapolis the summer of 1959. We never won any of our classes, but we still had a blast. I, with my 1957 Ford Interceptor, raced in B Stock. My best time was 15.65, well short of a class-winning performance. Each night, following the afternoon races, we would cruise the drive-in restaurants in Indianapolis showing off the white-wash numbers and class designations on our side windows. Those were the days!

Tim Bishop
Muncie
As a kid, my dad mainly took me to circle tracks in the Muncie area: Muncie Speedway, Anderson Speedway, Winchester, Eldora, New Breaman. The drag races we sometime saw while at Muncie Speedway as you could see them from the bleachers at the Speedway. Sometimes when there were cool races booked at the dragway (Sox & Martin, Art Arfons), we would go to the frontage road and watch. Great memories. The very first time we ever paid to get into the drags, I remember was when Big Daddy Don Garlits had a match race with "The Hawaiian" funny car. This was in 1967. It is referred to in Garlits book as the "72 Hour Special" car. That is the car that he later won the Indy Nationals with as an underdog. I will never forget the first time I ever heard a nitro car fire up. Holy crap! I was totally hooked from that point on. I was 9 years old. The following years my folks allowed me to be dropped off (then picked up at midnight) at the strip on a Saturday night, with friends to enjoy the races. We only lived 5 miles or so from the track. Some of the best memories of my life were from that era and at that race track. There were countless match races I attended, mainly funny cars, wheelstanders and jets. In 1973, Garlits had a match race with Tommy Ivo. I was standing around the car while he and TC were doing maintenance on the car. Then TC approached me and someone I do not know and asked, "Hey, you guys wanna give Big Daddy a hand?" YES! we do. So, our gig was to push the car back after he did his burnouts. I cannot believe this. Don Garlits, my personal hero. And I get to help him do what he does! To this day, I still cannot believe I got to do this. So, we got in the push truck, back up inside a sleeper shell, and proceeded to do the tasks each time. I will never forget running down the strip, and seeing Garlits look up at me while I grabbed the rollbar and pushed his car back to the line. Three times I got to do this. I was forever a fan of this man, to this day still.  I went to many races after, the IHRA Northern Nationals two years in a row. Great cars and racing. I won the model car contest in '73. Had my photo taken with Linda Vaughn. Ya, she hugged me. I wish I still had those photos. I'd take the hug again, too.  As I aged, I went less and less, then moved far away. I have included all the photos I still have. There were many, many more, but they are lost. The one where Garlits is posing by his car was the night I got to help him. So many of the best memories of my life were all about being at Muncie Mid-America Dragway.
Jack Franklin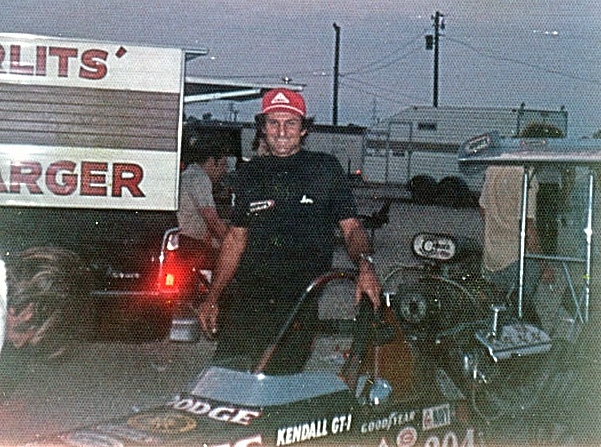 Don Garlits at Muncie Dragway, 1973. Jack Franklin got to help Garlits on the starting line on the night this photo was taken. Courtesy of Jack Franklin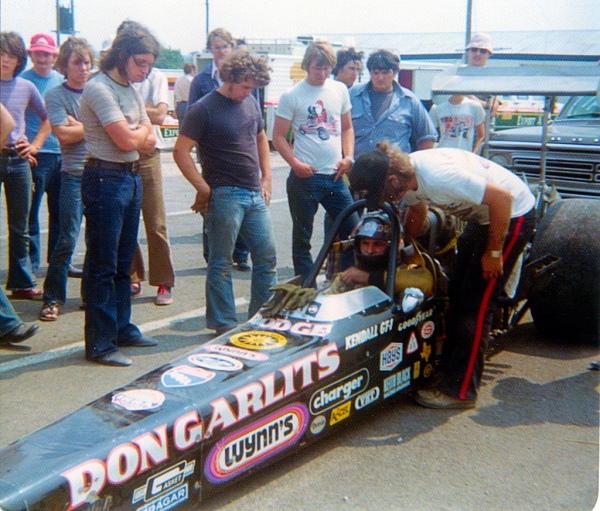 Don Garlits at Muncie Dragway, 1974. Courtesy of Jack Franklin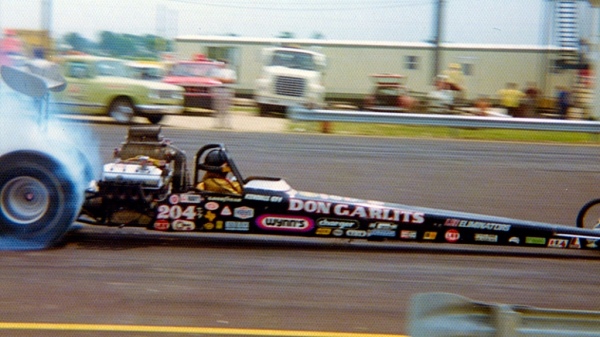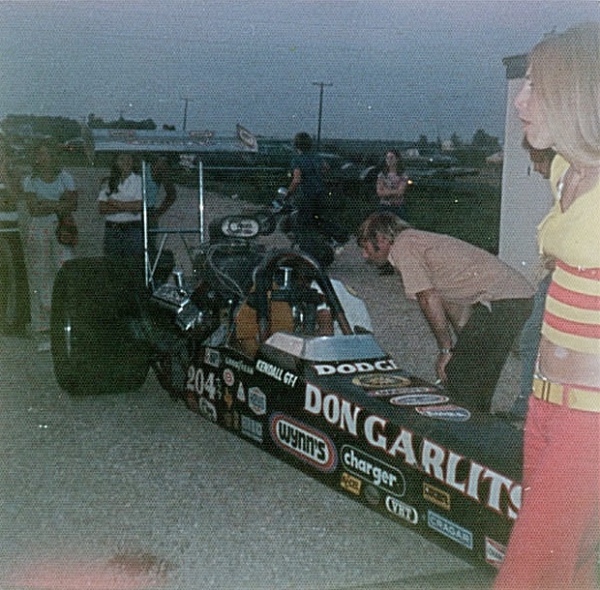 Don Garlits at Muncie Dragway, 1973. Courtesy of Jack Franklin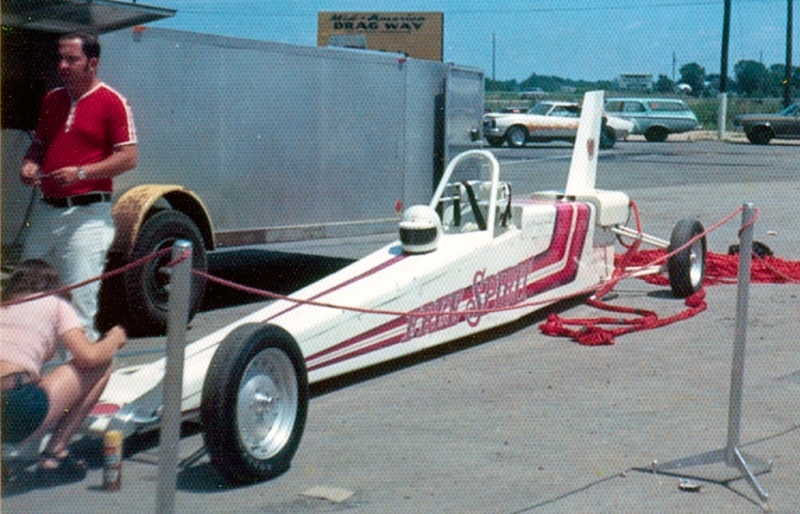 "Free Spirit" rocket dragster at Muncie Dragway in 1974. This car was owned and driven by Russell Mendez, who sadly was killed while driving it in 1975.  Courtesy of Jack Franklin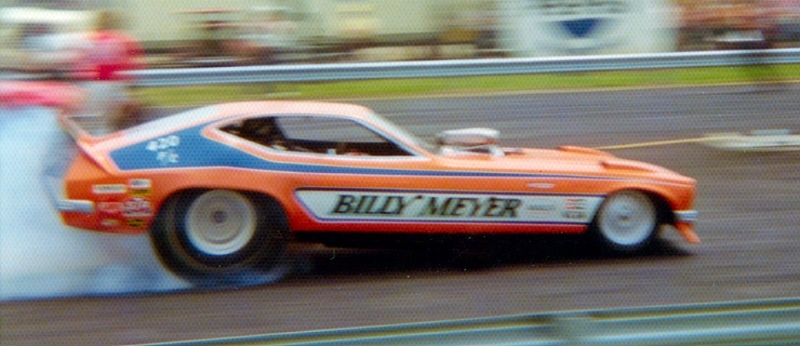 Billy Meyer at Muncie Dragway, 1974. Courtesy of Jack Franklin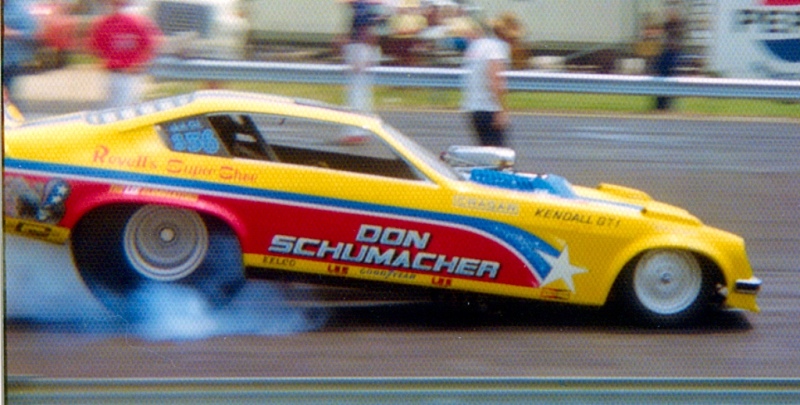 Don Schumacher at Muncie Dragway, 1974. Courtesy of Jack Franklin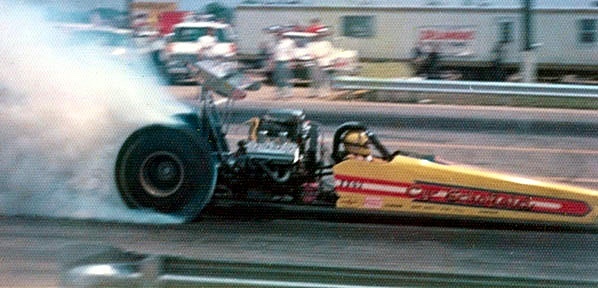 Cyr & SchofeldT/F dragster at Muncie Dragway, 1973. Courtesy of Jack Franklin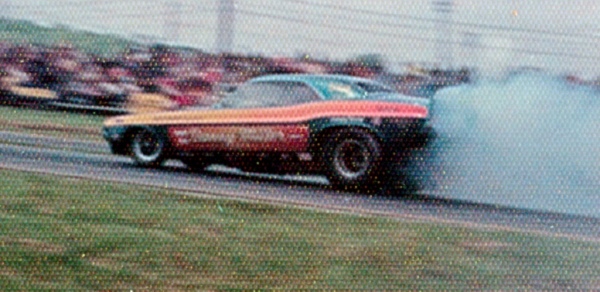 Alcohol funny carss at Muncie Dragway, 1974. Courtesy of Jack Franklin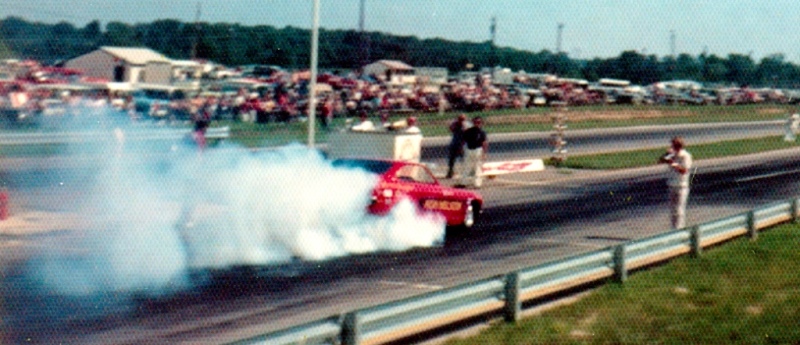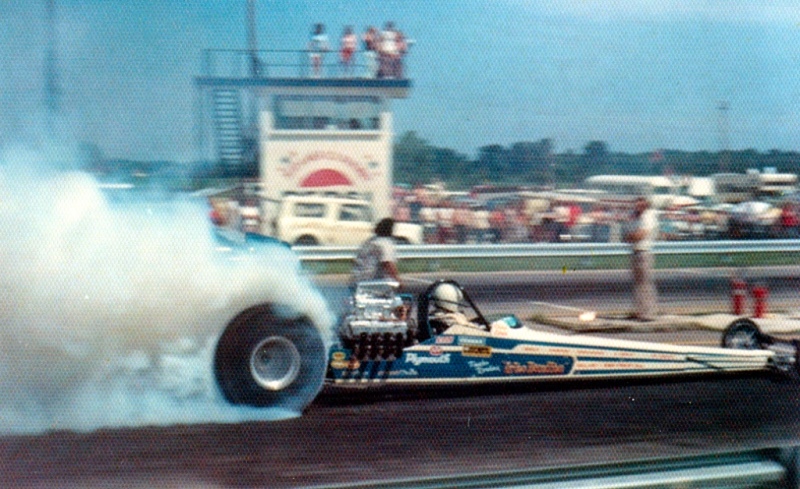 Shirley Muldowney at Muncie Dragway, 1973. Courtesy of Jack Franklin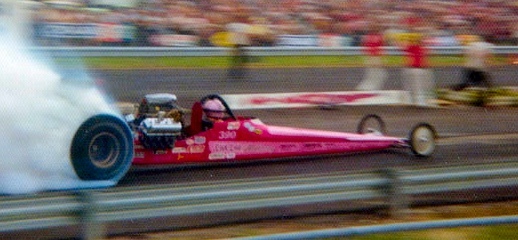 Shirley Muldowney at Muncie Dragway, 1974. Courtesy of Jack Franklin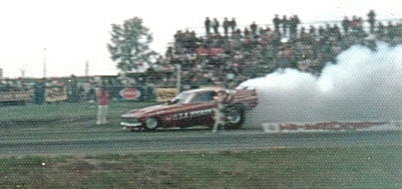 The Condit Brothers and Gene Beaver's "L.A. Hooker" funny car at Muncie Dragway, 1974. Courtesy of Jack Franklin

Larry Arnold's "King Fish" Barracuda funny car at Muncie Dragway, 1974. Courtesy of Jack Franklin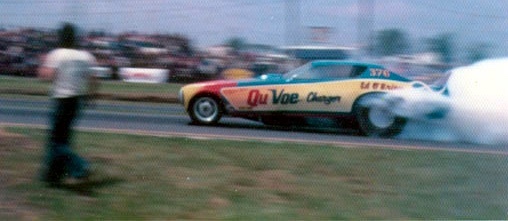 Ed O'Brien's "Qu Voe Charger" at Muncie Dragway, 1974. Courtesy of Jack Franklin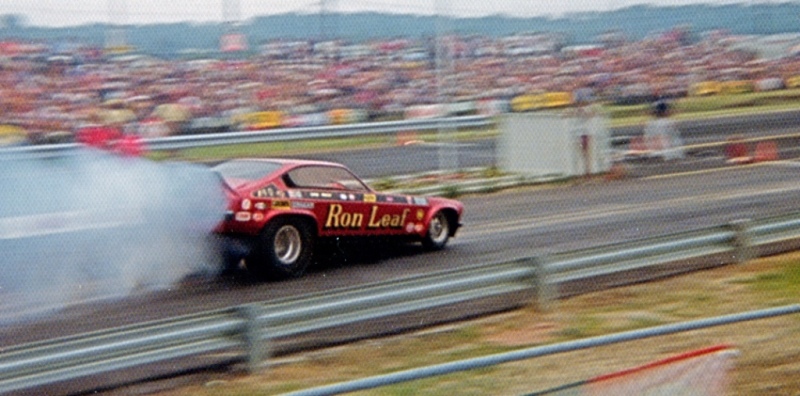 Ron Leaf's Vega funny car at Muncie Dragway, 1974. Courtesy of Jack Franklin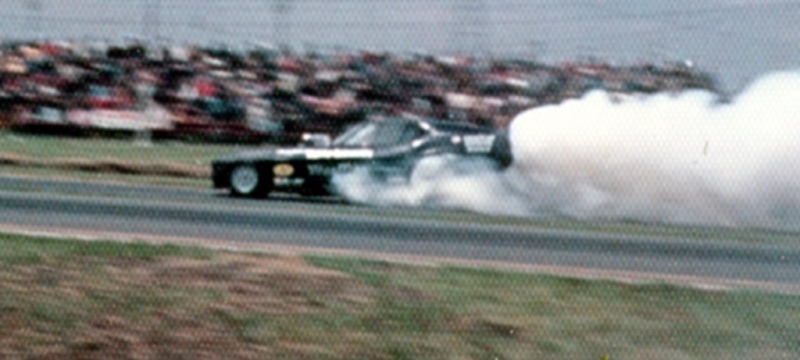 Raymond Beadle's "Blue Max" funny car at Muncie Dragway, 1974. Courtesy of Jack Franklin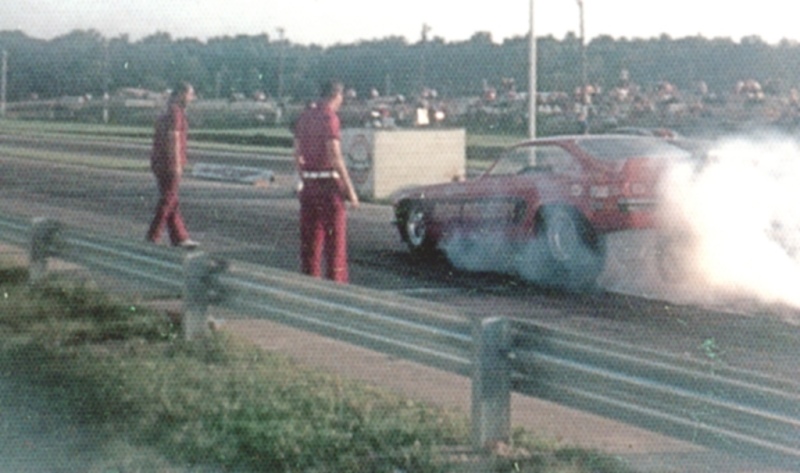 Unidentified funny car at Muncie Dragway, 1974. Courtesy of Jack Franklin
I was the flagman from 1960 thru 1963 at Muncie Dragway and flagman at the 1961 & 1962 NHRA Nationals at Indianapolis Raceway Park.
Bob Geimer
My brothers, Tom and John and I, brought our '51 Henry J 'B' Gasser to Muncie around 1963. My buddy from Selma (just outside of Muncie) sold us a Ford 4-speed box. His dad worked at the Borg Warner plant that made these boxes. That was just once that we ran there. We also ran at the Nationals in Indy around the same time. Records will show that Tom or John Wandel ran there, but the exact year I am unsure of. We ran at Sturgis, Kentucky, with a '57 Ford Fairlane. Later we put the engine in a '56 Fairlane. We first ran A/S then 'C' Gas. Later came the Henry J running in 'B' Gas and finally the '48 Thames Panel truck in 'B' Gas. We were very competitive running against mostly Chevy powered cars. We won our share of races. After Sturgis was Owensboro, then Beech Bend in Bowling Green, and Chandler, Indiana, outside Evansville.
Dave Wandel
New Hope
Speed's New Hope Drag Strip, 1989
Speed's New Hope, a good ways to the north near Spencer, ran on Friday nights. I went there a time or two in 1989 while working as a military contractor at NWSC Crane. At that time, the New Hope strip was strictly outlaw. The two lanes were divided beyond the tree. Sometime in the 1990s, they paved between the lane centerlines out to about 300 feet. The guardrails were between sketchy and nonexistent. No bleachers. You parked on the north side of the strip and sat on the hood of your car, if you didn't bring a chair!
Mark Johnson
Osceola
I did a radio commercial for Osceola Dragstrip in 1963 with my '63 409 Chevy. I'm looking for a copy of that commercial.
Red Williams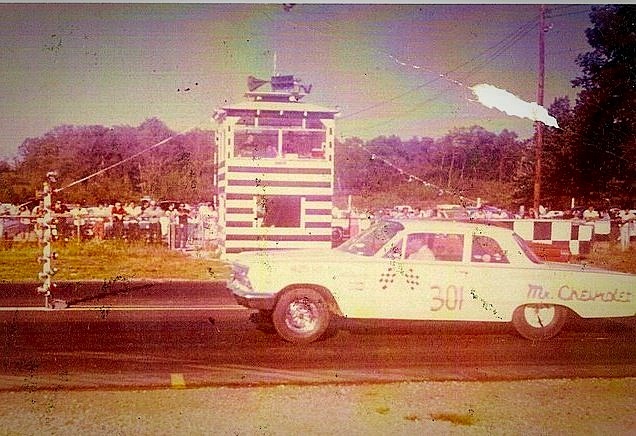 Red Williams's 1963 Chevy at U.S. 131 Dragway in Martin, Michigan. Courtesy of Red Williams

Terre Haute
I was 12 years old when I saw my first drag race at the Action Dragway in Terre Haute, Indiana. I think it was their opening race in 1972. I remember a massive grandstand on the south side of the track (long gone), lots of front engine dragsters, and two very tall poles behind the starting line with four very bright lights on each that lit up the whole dragstrip. They had a very long shutdown area, part of which was turned into a street while the track was closed for a few years. That was where I caught the drag racing bug.
Kirk Beel
Terre Haute Drag Strip, ca. 1964
i used to run my cycle at Shaw's drag strip. I. got quite a few trophies. I was probably 17 or so. I am now 72. Time flies.
Tom Church
Action Dragway, early 1970s
I drag raced at Terre Haute with a C rail dragster during the early 70's against the likes of Don Dean and the Flagel Bros. I sure would like to buy a few photos. My rail was blue with yellow stripes with a chrome roll cage.
Sam Spalding