Stan Lomelino's dual flathead Ford-powered dragster, Cordova Dragway, circa 1957. Photographer unknown
Alton
Alton Raceway Park, May 24, 1969, Coca Cola Funny Car Cavalcade of Stars
My wife (Karen) and I were expecting our first child in May 1969. We were living in St. Louis at the time. With the hot, humidity of a fast-approaching summer, she was very uncomfortable. She wanted to have the baby sooner than later. I told her about a drag race across the river in Alton. She thought that maybe the baby might be helped to make an appearance were she to go to the race. Maybe the rumble of the funny cars  might help shake it out, she said. I knew that Alton had the reputation of purportedly being the first drag strip to record a 200 MPH run. Whether true or not, it had that distinction. I was anxious to see it for that reason. The event also looked attractive, with such funny cars as Gary Dyer driving Mr. Norm's Dodge, Bourgeois & Wade's Javelin, Kelly Chadwick's Camaro, Fred Goeske, Jess Tyree, Jack Chrisman's Mustang Mach 1, Marv Eldridges's Fiberglass Trends Corvette, and the Stone-Woods-Cook Mustang. When we got there, I was surprised to see that the strip had dual lanes. I had never seen a strip like that. We climbed up to the top row of the bleachers on the south side. The stands slowly started to fill and the racing began. It was hard for Karen to sit there on those hard bleacher seats. I think we may have only stayed for a single round before leaving. Our baby arrived two weeks after going to this race. On the day our daughter was born, Karen was a trooper, but I was a basket case.
Mel Bashore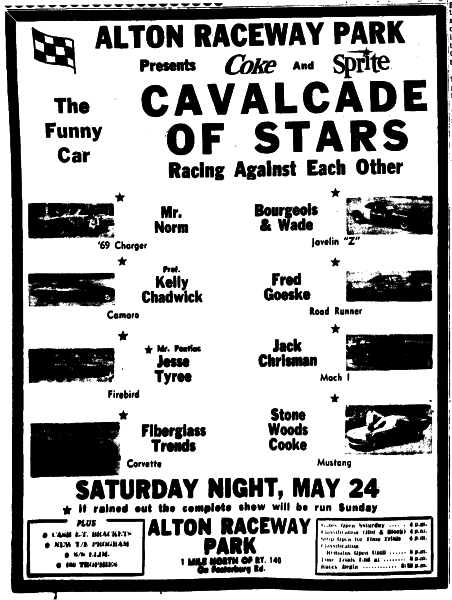 Advertisement for the May 24, 1969 race, ​​​Alton Evening Telegraph
I raced at Alton and announced. I was the first to see clocks on Chris K 204 MPH. That was a big day in my life. I have many stories about Alton Drags.
Bob "ThunderBob" Fink
I did not race at the Zell race track, but I bought a 1936 Chevy coupe in 1971, that did. I bought the car from a man from Perryville, Missouri. He told me he raced it in Saint Gen. 1/8 mile drag strip.  I still have that old car after these 47 years. In 1972, I raced that car in Alton Drag Strip in Illinois.
Gary Frost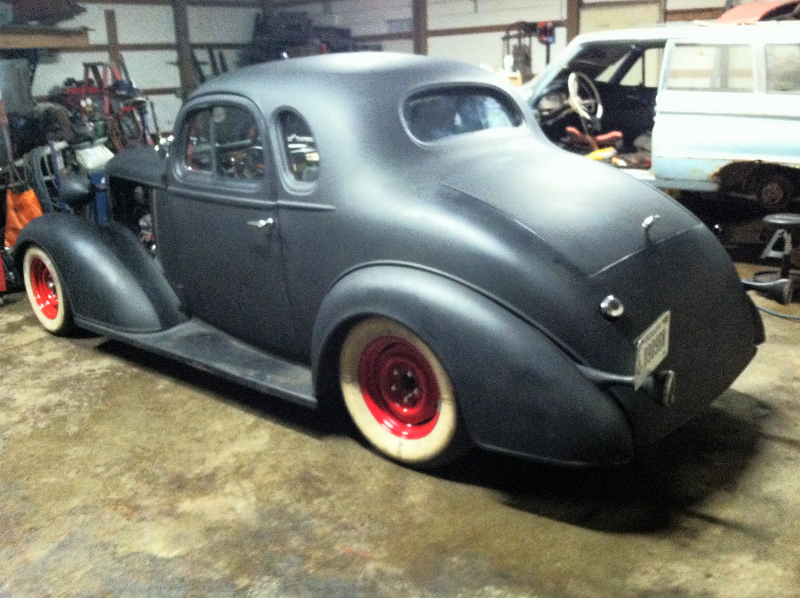 Assumption
I raced at Motion when I first got stationed at Chanute A.F.B. I met Crazy Charlie, Chuck Beard, and many, many old racers from the area.
Russ Allen
I visited the Assumption track a few times back in '82 and '83. It was the first track I ever went to. I had just bought my '68 Charger back around that time and a high school buddy convinced me to go watch some runs in Assumption. I was hooked from then on. I finished high school in '80 and didn't have spare funds to visit the track often enough. Spare money went into the car.
Mike J.
Beardstown
Beardstown Drag Strip, 1978-79
Beardstown Dragstrip stayed open until the late '70s or very early '80s. My race records show that I raced there in '78 and '79. I pitted next to Tommy Johnson Sr. several times and talked with him.
Dale HIlgenbrinck
Beardstown Drag Strip, 1970-73
In '70 to '73 a bunch of us kids from Macomb would be allowed to race our street cars there after the main races to get a time or if we had a grudge match against a buddy on occasion.  Two of my friends right out of high school in '71 built cars to race there on the main events. I do remember that on one occasion, Don Garlits was there doing an exhibition with other drivers. That's the reason I went that day, to see him. There was also a jet car there for an exhibition. He just fired it and shut it down and away it went. 
 I do remember the jet car because it was an added bonus to me that day. I just don't remember who was driving. It was, ON, OFF, Gone.  I know it was a big name, I just don't remember who it was.
There was some big names that raced there at times, but I just don't remember who any more.  I do have one story for you that I remember very well. A classmate of mine right out of high school (1971) built a SS 396. He had a guy who would drive it for him. Jim decided that he wanted to drive it one day and invited his parents to watch. I was sitting behind them in the bleachers. So Jim takes off and up comes the front end. As Jim shifts, he turns the wheel so the car is up and down going left then right all the way down the track. Before Jim got to the end of the track, his dad was up and heading that way. I believe the car was sold shortly after that.
Mike Hollenback
Beardstown Drag Strip, 1967
I raced twice at Beardstown in 1967. I beat a 360 horse, 4-speed El Camino with my '67 Ranchero for the Pure Stock win.
Charles Begolka
Benton
I-57 Drag Strip, ca. 1972-73
I raced at I-57 in Benton, Illinois, a couple of times in '72 or '73. The things I remember are (1) guys changing classes so they wouldn't have to face my Mustang, and (2) they didn't have a Christmas tree. They had 2 large clock-like things on the outside of the lanes where the hand started at 12, and moved clockwise very fast when triggered. You left at 7, or 8, or wherever you thought you could get away with. Once you were moving and broke the beam, the hand stopped, so you could instantly see your reaction time; the further past 12, the slower your RT. It took me one or two runs to figure it out, then I was deadly on it. After that first time out, I couldn't BUY a street race in Benton! I believe it was in operation in 2001-2004. We would see the cars lined up to get in as we drove by on our way to race at Nashville Fairgrounds.


Mark Workman
I-57 Drag Strip, 1977-present
I first raced at Il-57 Raceway in 1977 while in high school and spectated and raced every year since. They did not hold races for part of 1996 due to the owner going through a divorce, but opened again in the summer of '97. In September 2001, Roice passed away and a new owner stepped in. In 2015 the track and whole park was redone, new tower, concrete guardrails, paved pits . . . . really top notch.


Daniel Marlow
Carpentersville
Meadowdale International Raceway, 1968
Meadowdale Raceway really was a gorgeous road course, with large elevation changes, sweeping and tight turns, all in a tree-lined setting. Located close to Chicago, the facility lacked the kind of promotions that might have made it something more than it was. It just never made it big, as it might have with better management. [I was] in charge of the Midwest UDRA A/Gas Supercharged Circuit, which competed there along with all of the other UDRA Circuits for our biggest-ever event. What I remember was that the track went steeply downhill right past the lights, then into an uphill, then a right turn. I seem to remember every car screaming over the top of the hill and out of sight. There must have been someone down that hill with a radio to call the starting line about sending the next pair. Otherwise they might have been stacking up at the bottom of that hill! I don't remember whether or not Midwest UDRA made money on the event, but I do remember that there were a lot of cars racing and quite a few people there to witness it. But I also recall that spectator amenities were all but non-existent, and because the track ran so infrequently there seemed to be a great deal of confusion about just about everything. [Editor's note: Jon's recollection of the layout of the track for the UDRA drag racing event differs from reports that drag races were run on a 3/4 mile straightaway, but documentation on drag racing at Meadowdale is very sparse. At this late date, the memories of those who were in attendance at those races, however faint, have merit.]


Jon Asher
Senior Editor CompetitionPlus.com
Senior Editor Drag Racing Edge Magazine

Charleston
Coles County Dragway, 1987-1990s
I raced at Coles, my home track, from 1987 to the 90's. I won many races with my '66 Fairlane.
Russ Allen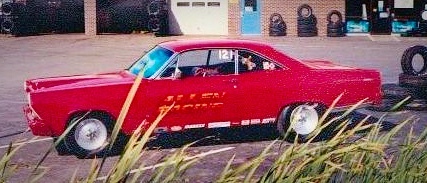 Russ Allen's 1966 Ford Fairlane. Courtesy of Russ Allen
Coles County Dragway, 1968-69
I raced there in Charleston, Illinois, at Coles County Dragway in 1968-69 with a 1962 Chevrolet Impala. I had a 283, bored to a 301, 375 heads, and 375 cam, 456 gears. It was actually a fast street machine. We drove from Fowler, Indiana, to race. I also raced at US 30 Dragstrip, southeast of Gary, Indiana. It makes me feel old to remember all that now,  50+ years ago. OH, THE FUN OF BEING YOUNG AND SINGLE.
Steve Windler
Chicago
International Amphitheatre, 1964
I raced my '63 409 Chevy indoors on January 5, 1964, at the Chicago Amphitheater. 536 drag cars in the building at one time.  Back in the day we won over 1100 rounds in 4 years with the 409.
Red Williams
Cordova
In 1957 Arnie Beswick gave three of us a ride down the strip in his '56 Dodge with a Chrysler 300 engine. At that time his main competitor was a gal driving a fuel injection '57 Chevy. The races were sometimes too close to call as the timing lights were out that day.
Larry Schadle
Let's start with Cordova. It was the mid-'60s, 1966 to be exact and it was the World Series of Drag Racing. Back then ALL class winners had to pull a head at the World Series unless the other contestants in your class would sign off on it. No such thing with me. They had this huge tent where you took your car immediately after the final run and you had to remove a head to show them the lifters, intake, heads, and other upper end parts. They also reweighed the car. So I'm in the tent tearing down along with one of my better friends (I didn't have many ha ha). His name was Ray Statz from Waunakee, Wisconsin. I remember I had played a couple of pranks on him at various strips. He had a 4 cylinderPontiac compact. I can't remember what they were called. Anyway this Pontiac had half a high performance Pontiac V8 and ran quite well. 10 or 15 people were keeping a wary eye on me and Ray Statz comes over just as i'm emerging from under the hood of my '57 Chevy with a quite warm intake manifold and carb and shouts:  "What's those funny looking little rollers on the lifters?" Remember this was stock class. Of course you couldn't see the bottom of the lifters when the intake was removed, but that didn't make any difference. How many heads do you think can fit under the hood of a' 57 Chevy? There musta been 50 guys in there at once.  Of course I was certified stock without any problem.
Jerry Richards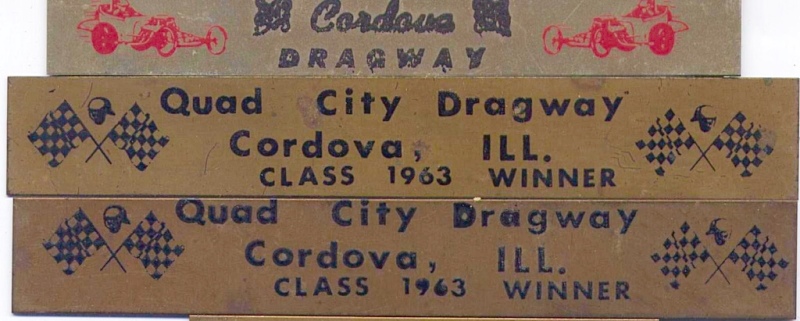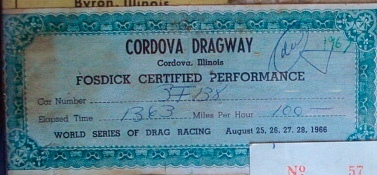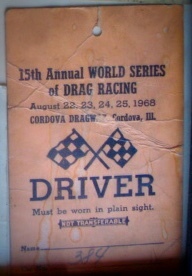 Winner plaques, time slip, tech inspection certificate, and pit pass from Cordova Dragway, 1960s. Courtesy of Jerry Richards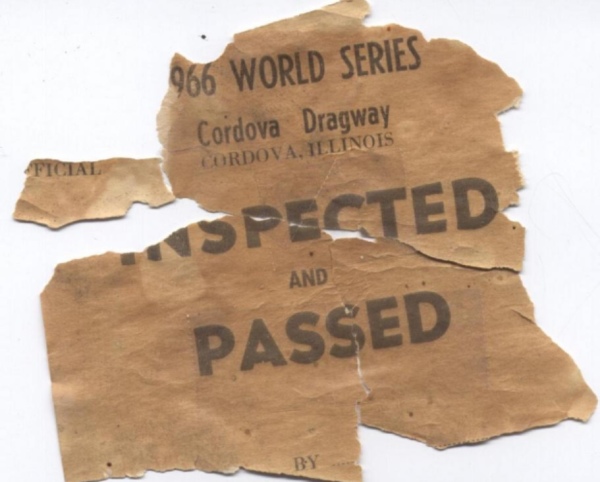 I ran at Cordova many times in the '60s starting in 1963. It was always the best-run strip. The owner, Bob Bartel, had a great crew. Bob Devore, Dave Jameson and several others. I can't remember their names. I would be there with my best friend, Ray Modert. Many locals from the Dixon-Sterling-Rock Falls area would be in attendance. Herman Chapman, Carl Geil, Randy Ohda, Dick Harms, Bill Freeman, Ross Miller, the Ege brothers, Bob Whisniant, Joe and Sparky Campbell, and many others. I can't recall their names right now.
Jerry Richards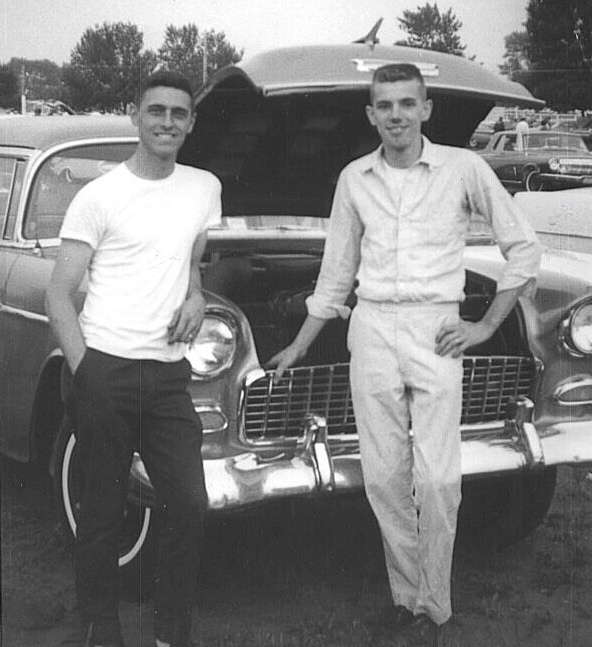 Ray Modert (left) and Jerry Richards (right) at Cordova Dragway, 1964. Courtesy of Jerry Richards
The Lynch Mob --  the beginning.  As I remember, it started at Cordova in 1964. Visualize a scene from a western movie where the angry folk storm the jail to lynch someone. Or better yet, remember the scene in the Frankenstein movie where the villagers went after the monster? Trust me, I know exactly how those two felt. Ray Modert had built a very concealed driveshaft loop for our '55 Chevy and at first glance it was almost unnoticeable. We're in the pits waiting for eliminations to start and here comes this group of guys lead by the head tech official. The guys say your car doesn't have a driveshaft loop he states. Well, only one way to clear this up, crawl under there and look, I say. And that was the end of that episode. Others were constantly trying to find something on the car that would keep us from running eliminations that day.
Jerry Richards
Quad City Drag Strip, 1958
I took top eliminator with my  A/Modified Sports 1950 MG with a Chevy engine at the Quad City Drag Strip in Cordova at its first race of the 1958 season.
Don Morin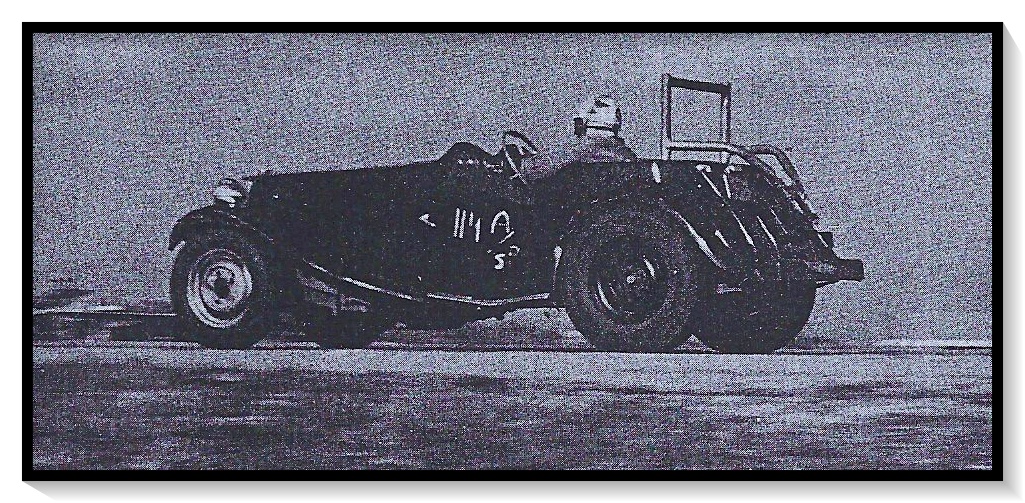 Don Morin took top eliminator honors at the season-opening race at Quad City Drag Strip on March 30, 1958. Over 2,300 spectators were on hand to watch over 280 competitors. Morin posted an ET of 13.57 at 104 mph. Photo published in ​​​Drag Times, Apr. 25, 1958, courtesy of Don Morin
Quad City Drag Strip, 1956
My dad is rumored to have raced at the Cordova drag strip in Illinois in the 1956 season. His name was James A. Froumis. He raced a 50's era Chrysler with a tank engine (flathead Cadillac, 343 c.i.). He's long since passed, but if anyone has any info or record of it, I'd really be appreciative to know. I only know he won his class. Are there any records dating back to that time?  [Editor's note: Research in newspapers did not yield any information about Jim Froumis. If any DSL readers can help, please contact DSL and we'll relay the information to Jim Froumis's son.]
George Froumis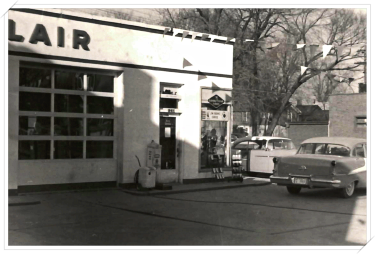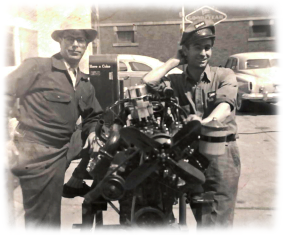 George Froumis wrote, "We had a Sinclair gas station on 1230 Harrison Street in Davenport, which he opened in 1953 and closed in 1993. I remember my Dad telling me that the vocational teacher at the high school across the street (Davenport High School which is now Central High school) asked him if wanted an engine and trans that the students had torn apart. At that time the Rock Island Arsenal was promoting vocational skills for the schools and had donated engines to the regional schools. My Dad ended up trading him a couple of jack stands for 12 boxes of parts, an engine block and trans. It took him about 6 months to piece the engine and trans." Courtesy of George Froumis
Jim Froumis (right) stands beside the Cadillac tank engine that he put into the Chrysler that he raced at Cordova. George Froumis wrote, "I believe it was somewhere around 373 ci and was made in 1939. The M5 tanks would run two of these engines. One on each side." Courtesy of George Froumis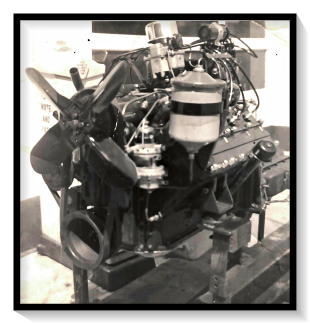 George Froumis wrote, "After he assembled the engine and trans, he put it in an old Chrysler he had in the back of the station. He found out the hard way that the car would go in reverse just as fast as forward. Since it was a tank engine with a tank trans, it had that capability. This was the engine he had ran at Cordova. My oldest brother, who was born in 1951, remembered when he first started it on the stand. It was so loud it shook the windows of the station." Courtesy of George Froumis
Half Day
Half Day Drag Strip, 1952-53
In '52 I pulled the 373 cu/in flathead and fitted in an old 93" wheelbase track roadster. I ran at Half Day, Illinois, and set the season record (125 mph) with a chain-driven 671 GMC blower. I ran there all of '52 and '53. No strip in '54. I lengthened the frame rails 24" (117" wheelbase) and ran an Olds Rocket engine with the blower up front at the AATA World Series in Lawrenceville, Illinois, in1955. After seeing the "Bustle Bomb" show up, and my failed title attempt with a blown engine (5 rods & pistons], I decided to give up my low-budget drag racing days. We didn't have sponsors back then. I ran a great Hilborn injected Chevy-powered sprint car until the end of 1958. I gave up all racing at that time and never looked back. I put together quite an impressive scrapbook of photos from 1946 to 1959, some of which is now in Don Garlits's museum in Ocala, Florida. I have plenty of stories and information on "the good old days" if any of you guys are interested in bench racing. I was invited to attend Speed Week at Bonneyville last year for the first time, and am planning on going again this year, weather permitting. I'm a spry 87 youngster in good health and available if anyone wishes to talk. [Contact website administrator to get in touch with Jim Verden]
Jim Verden
We got back from California and Andy Granatelli put out some stuff that he was opening a drag strip there. He had leased that property from the government out there. It was Andy's brainchild. I think it opened in April, if I remember correctly. Andy was a promoter, a shrewd promoter. That was his baby. He had a speed shop. He started the first one down at Broadway. I was down there one time in 1950. I remember he had the old front-wheel drive Miller race car from the '20s with a flathead Ford in it that he ran at Indianapolis. He and his two brothers: Vince, who was the youngest and Joe was the oldest. They were four years apart actually. Andy was the middle one. He was strictly the promoter. Joe was really the mechanic of the crew. He taught Andy what he knew and Andy passed it on to Vince. Vince became more the mechanic later on. He's the only one still alive. He's retired and living out there in California. That was Andy's brainchild.  I guess he did business with Arnold Maremount. He was quite the promoter. Maremount might have put up money for trophies or something. At that time, if you won your class, you got a $25 savings bond, which was $18.75, that's what they cost, or a trophy. You had your choice, whichever you wanted. In '52, I had so many trophies. I was accumulating those darn things. I said, oh, I'll start taking some of the savings bonds. That's what we ran for. We were junk yard dogs back then, putting stuff together. They opened the strip and I think that some guy from Indianapolis, Bob Hampke or somebody, held the record out there. I located an old track roadster that a couple of school teachers had built to run with Andy at Soldier Field. It was sitting around. I think I paid $250 for it. It had an engine that had never even been run. It was a prime Model A, full pressure with a Raymar head. I got it fired up. The guys that had it couldn't get it started. The timing on the magneto was wrong on it. I straightened that out. But I had no use for the engine so I pulled it out, set it aside, and I threw my engine out of my '41 Caddy in there and took it out to the drag strip in June [1952]. The first time out there and on the first run through, I broke the existing record. Flex pipe hanging down for the exhaust because on the Caddy, they came off the top. It was fun back then. I didn't have a trailer or anything. They used to haul me out there on a manila tow rope with two rear wheel hand brakes. A hand brake on the left. It might have been fifteen or twenty miles each way. You think about it today, you wouldn't get two blocks, a cop would pull you over. You can't tow something on a rope like that. We did it back then. It was fun. The times we kept pushing up. I think the record that I broke was 107 miles an hour. The first time, I was right up to 115. The guys that were breathing down my neck were motorcycles, especially this fellow from Chalmers, Indiana, Schmitty. He was running a Harley with two knucklehead engines in it. He had to lay down on the thing. It was half a block long. He was pushing up. I said, it won't be long and I'll lose my top speed to a motorcycle. When one of my buddies, who was heavy into Caddy stuff, got out of the Navy, he brought back with him in his dufflebag a 671 GMC Jimmy blower. It came off a Navy landing craft, the LCMs that had the twin-engine diesels. Back then we used to horse trade. I think I traded that engine that came out of that track roadster for that blower. Back then, you had to make everything. Those blowers that were on the landing craft had six bolts on each side. There was no way you could mount it on any kind of a manifold because you had the bolts on the bottom. So we had to take a stock manifold and cut it open and make it into a box with angle iron out so that you could run the bolts up from the bottom. Of course, the Glimer belt hadn't been invented. All we had were V-belts back then. I said, that thing can't run on V-belts. So I found one of the greatest machinists that ever walked this earth to make up the drive for me, a fellow by the name of Leo Krasick who lived in one of the suburbs close to me there. Bensenville. Leo was a race car builder from the year one. He made his living building and running sprint cars in the twenties, the thirties, and into the forties. He's in the Sprint Car Hall of Fame. Leo not only built, if not one of the first, the first double overhead cam engines ever built in the United States. He made everything himself. Every piece in the engine other than having the block cast. He made the crankshaft, the rods, the pistons. Everything. He made a chain drive for me using half-inch pitch double row chain. He actually had two sets of chain because the length of the crankcase up to the blower would have been a super long chain. It had a relay in between. This way we had no horsepower-robbing V-belts because it would have taken three or four V-belts to do what I wanted to do with that thing. The direct drive there would punch out like twenty pounds boost right off the line with that thing. So much horsepower there with that. Of course back then, we had no idea what horsepower we were running in the engine or anything. It was a pretty fair-size engine for the time. At that time, everybody was still running the Ford flatheads and stuff. I've got a lot of stories about Leo. I was a pallbearer for him forty-six years ago. We became the best of friends for nineteen years. He came out the first time I ran at Half Day. When he came out there, when Andy Granatelli saw him, his jaw dropped. He could not believe that Leo Krasick had come out to a drag strip because hot rods were beneath Leo. He didn't really work on hot rods or any of that stuff. Indy cars--that was different. I've got a lot of stories about the Granatellis. They were punk kids. They lived on the same block with Leo on Webster Avenue in Chicago. This was an ethnic neighborhood. Leo was from Czechoslovakia. If you look up him on the Internet, you'll find that they say he was from Austria. And that he was born in 1893. He was born in 1892 and he was from Czechoslovakia and his wife was from Czechoslovakia. Back then, I guess reporters couldn't spell Czechoslovakia. Europe was like another planet to them. It was so foreign. Back in the twenties and thirties, you didn't have all this news going on. In fact, they used to call him the Crazy Dutchman. He definitely was from Czechoslovakia. I used to have coffee and kuchen with him and his wife, Suzanne, in the house in the mornings all the time. He was a one of a kind machinist. There were a lot of stories that Leo related to me about the Granatelli kids when they were growing up. It was an ethnic neighborhood. It was called Bucktown. It is still called Bucktown. It was the near north side of Chicago. My wife was born and raised there. She was first-generation Polish. It's just coincidence to think that Leo, my wife, and the Granatelli's all lived on the same street there in Chicago. They ran that strip [Half Day] in '52 and '53. When I brought it out the first time, I had a blanket over it because I had the carburetors set off to the side. I'd taken the two Strombergs that I had on my Edmunds manifold, the 4-bolt Strombergs, the Caddy carburetors, and fueled them from methanol. I knew the blower wouldn't run on gasoline with that kind of a boost. I had never run anything on methanol. I didn't know the first thing about it other than what you read. The fuel to air ratio was two-and-a-half times, so I pulled the main metering jets out, looked at the size of them and figured out that two and a half times that, and took my electric hand drill, and just ran it through them, and that was it. I had the blanket on when I pulled up to the line, the guys pulled the blanket off. Andy's older brother, Joe, was the announcer. Because they knew me well, Joe said, "And here's Jim Verden at the line." He said, "I don't know what it is. It looks like an engine on top of an engine." Nobody had seen that monster 671 blower sitting on top of an engine. They'd seen the little McCulloch blowers and stuff that were around. That was in August 1952. I turned 125 through the traps, spinning the wheels. It was only 93-inch wheel base. Actually, I turned that time with the body on. I never realized it at the time that I probably did better with the body on there. It added weight on the back of it. It was only a 93 inch wheel base and we didn't have drag slicks back then. It was a matter of traction, I guess, back then. I ran two classes. M and N. M was the roadster class and N was the rails. It was like a picnic back then. Andy asked me to go on television to promote the strip. It started off with a bang and then it sort of dwindled down a little bit, but they still got good crowds out there. I went on WBKB for him. It was a sports show. It was Bob Elson's show. He did the announcing for the Chicago White Sox, but he was out of town. They had just hired a new fellow. He was brand new at the station and he did the interview. Later on, he became a head anchorman for ABC. A fellow by the name of Frank Reynolds. A short little guy. A nice guy. I knew Andy. I can't say he was one of my friends. They started Grancor, Granatelli Corporation. They made the manifolds, heads, and all that. Back then, I never bought a thing from them because we all considered them rape and pillage because of the prices that they charged for stuff. Andy was a nice guy to talk to, but like we would say, when you shake hands, count your fingers afterwards. He came up to me the first day I came out there and made the run that broke the record. He came over and I could see that he was peeing in his pants wanting to drive it. He said, "What you need for that is a live axle."  I said, "What the hell is a live axle?  I never heard of it." He said, "I've got one left over from Hurricane when they ran the hot rods. I'm trying to get rid of it." He said, "I'll give it to you for my cost. Stop by the shop." He had just bought that building on Western Avenu;e and Foster. I think he probably moved there in 1951 or '52. He lived in the apartment upstairs. He said, "Stop and see Frank, my parts man." I knew who he was. I'd go in there and just browse around to see the stuff they had on display. I never bought anything. I couldn't afford it. I went in there and asked Frank about the axle. He brought it out in a big wooden crate. "Andy said he'd give it to me for cost. He wants to get rid of it." So he went back and looked it up and comes back. He said, "$165." I said, "OK, I'll buy it." It was a Chet Bingham axle. Chet Bingham was an old-time race guy. He got killed at one of the tracks there in a sprint car in California. The guys he hung out with, his partners included A. J. Watson. He built all the Indy roadsters. Twenty-three of them. The winning roadsters. Jim Rathmann, Dick Rathmann, Pat Flaherty. All those guys hung together. A. J. Watson was the guy that actually designed that thing. They were building those in the garage back then. At that time, I think a Halibrand axle, a 2-inch one, was like about $1200. It was ridiculous. Anyway, I bought that. The '37 floor shift transmission was the only one that really was a great one. In '38, Cadillac went to column shift. I used to buy those transmissions  for $10 apiece.  I think one time I paid $15 for one. I overpaid, but usually I'd buy them for $10.  They had this long, cast housing. It was probably 18 inches long. On the back of the basic transmission was just the main shaft in there. It went to the end where there was a grease seal and a bearing that went to the yolk for the drive shaft. That was the rear motor mount for Cadillac. It just had that single mount under that transmission extension. You had the two mounts in front and that one in the rear. So I wanted to get rid of that whole thing. Instead of an open drive shaft, go directly from the transmission into the forward torque tube. So I wound up getting a plate machined up to adapt the back of the transmission to the bolt holes that this extension went to, to go directly to a Ford motor mount, . . . but I needed that main shaft . . . we took the transmission apart and pulled the main shaft out. I needed it cut off and splined and drilled and tapped so you could mount a Ford U-joint to the torque tube. I went all over Chicago. I couldn't find anybody who could do it. I went to the other side of the world. I was up in the northwest suburbs. On the end of Western Avenue, a huge place, about a block and a half long--Foote Bros. Gear and Hobb.  I took it in there with the U-joint and got in the guy's office. I showed it to him. I said, this is what I need. He said, "We can't do this." So somebody told me about Leo Krasick. They forewarned me. They said he doesn't do anything on hot rods. They said, "Don't bring anything dirty or greasy in there. He'll throw you right out of the shop. He won't even touch it" So I cleaned it all up. I brought it in to him. I told him what I wanted. "No problem," he said. "Come back a couple days." So I came back. He had the thing. It was case hardened. It was carburized. He had to anneal it. . . he had to fire it up on white gas. He's got it fired up and he's turning it to take the temper out of it. He cut the thing off. He puts it in his milling machine, takes a couple of measurements, cuts the splines in it, drilled and tapped it, like it was nothing for him. When you walked into his shop, that was an education. He had a nice great big cut-face cement block building behind his house. You walked into his shop and it was a trip back into the twenties. The big lathe, his milling machine, drill press and all that stuff was all driven from a motor bolted to the floor with a flat leather belt going up to all these overhead pulleys. He had one motor that operated all his machinery. That's what they did back in the twenties. But this was his shop. He's the one that got that shaft for me. I put that thing together and cut down the Ford torque tube. Guys had never seen this before. They thought I had a hydramatic in there. They couldn't hear the shifts when I would shift it. It was so smooth. It caught on. Guys on the west coast started using it. All of a sudden those transmissions were $300 instead of $10. When Granatelli was promoting Half Day, the last day of the season in '52, Granatelli had published that for each class, it would be a $100 savings bond instead of the $25 savings bond. Somewhere along the line, Andy did an about-face on that. He said that he wasn't getting enough revenue, that the crowds weren't there--the first one was really huge--but after that they tapered off some. He was crying all the way to the bank. He said that he was no longer going to give that $100 bond. Some of us guys got together and said, this is a bummer. Let's go on strike. I got together with a fellow who, him and his brother owned a letter service down in the Chicago Loop. They had offset printing.  I went down there one evening with him and I composed a letter.  I printed it on a salmon-colored copy so it would stand out about going on strike and not running.  I mentioned this thing with the bond. In the past, Granatelli Corporation has been noted for their unscrupulous business methods. I said, but this last act of theirs takes the cake. I mentioned about going on strike. I signed it Stroker McGurk. We were out there Sunday and the guys all passed the letter out. To this day, I don't know if Andy ever figured out that I was behind it. They passed them out on that one Sunday. Monday morning, I'm at work down in Chicago. I get a phone call from Andy's public relations man. Andy wasn't there that Sunday. But the PR man had gotten ahold of Andy and showed him the letter. He told me that Andy was quite perturbed about it. He must have called my house and gotten my work number from my mother. He said, "Andy wants to have a meeting with no more than three other racers." He wants a meeting in his apartment on Thursday night. I got Kenny Hansen, the guy that built the twin-engine Harley motorcycle,  and Frank Molvahill, that ran a Vincent Black Shadow, and I don't remember who the third one was. We went up to his apartment.  He's wining and dining us. Every time Andy would look down at this pink-colored letter, a blood vessel on his forehead would bulge out. His blood pressure would shoot up.  We walked away with twice what the original offer was. I don't know the exact connection with Maremont, but I do remember that there was some sponsorship, but Half Day was strictly Andy's deal.  Arfons brought the "Green Monster" with the Allison to Half Day in 1953. It never did that much. I think he barely hit 100 miles per hour. In fact he brought the little one, the "Green Monster Jr.," one time. I think he was there twice. That had a Ranger aircraft engine in it.
Jim Verden,
telephone interview with
Mel Bashore, August 11, 2017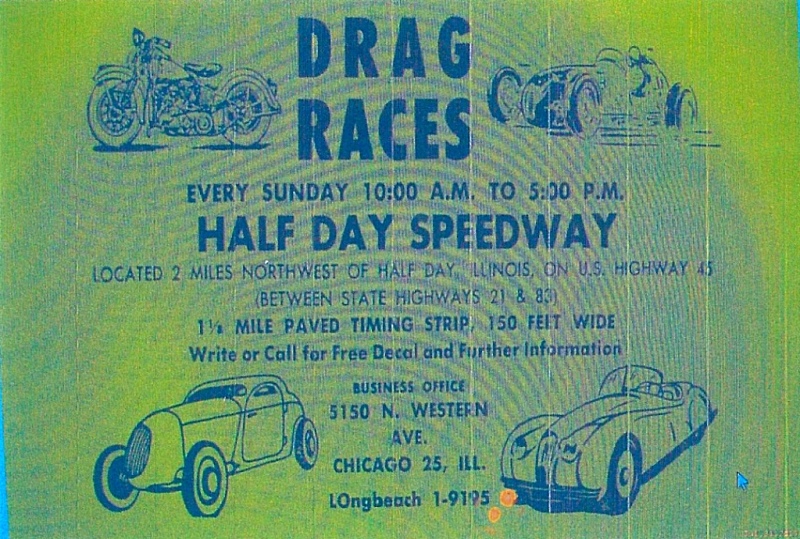 Early poster advertisement for Half Day Speedway. Courtesy of Jim Verden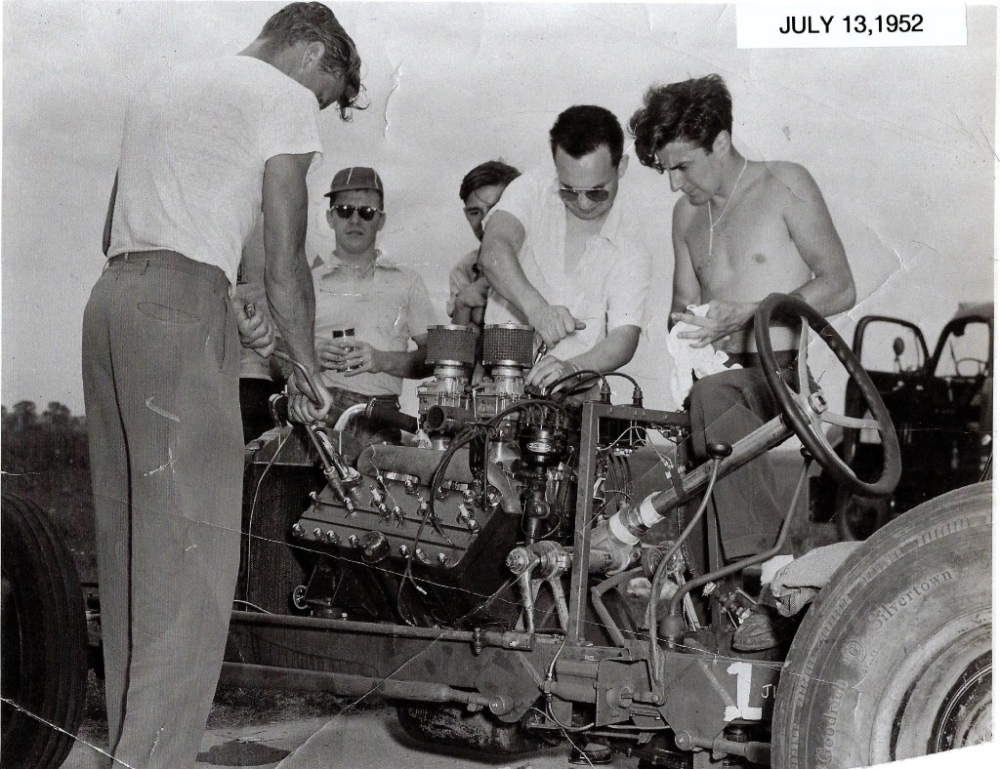 Almost all of the photos of Jim Verden's car at Half Day Speedway were taken by others and later given to Verden. This is the earliest photo of Jim's dragster, prior to Jim mounting the blower on the Caddy flathead. The crew are changing plugs on the engine, sporting dual carbs. That was the engine setup in 1951 when Verden ran at Santa Ana. Note the Delco dual coil distributor and 750/16 street tires.  Courtesy of Jim Verden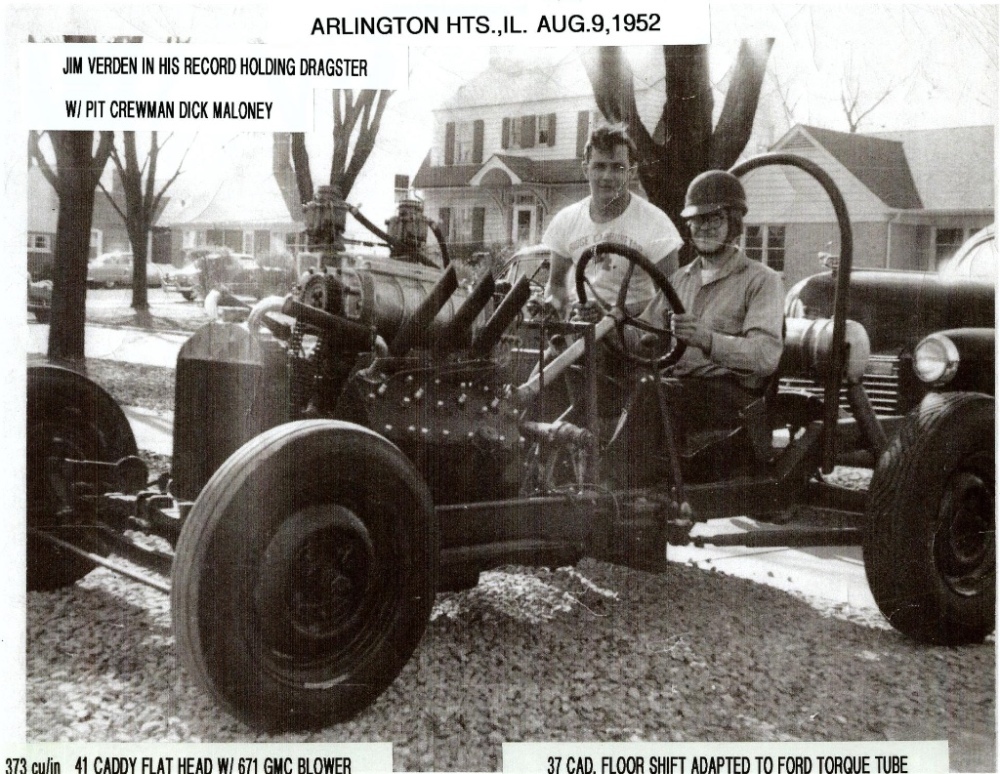 This is the earliest photo showing the surplus Navy blower mounted on the Caddy flathead. in the 93-inch wheelbase track roadster with the body removed  Note the natty English polo helmet that Verden is wearing.  His '41 Caddy is behind the dragster. Courtesy of Jim Verden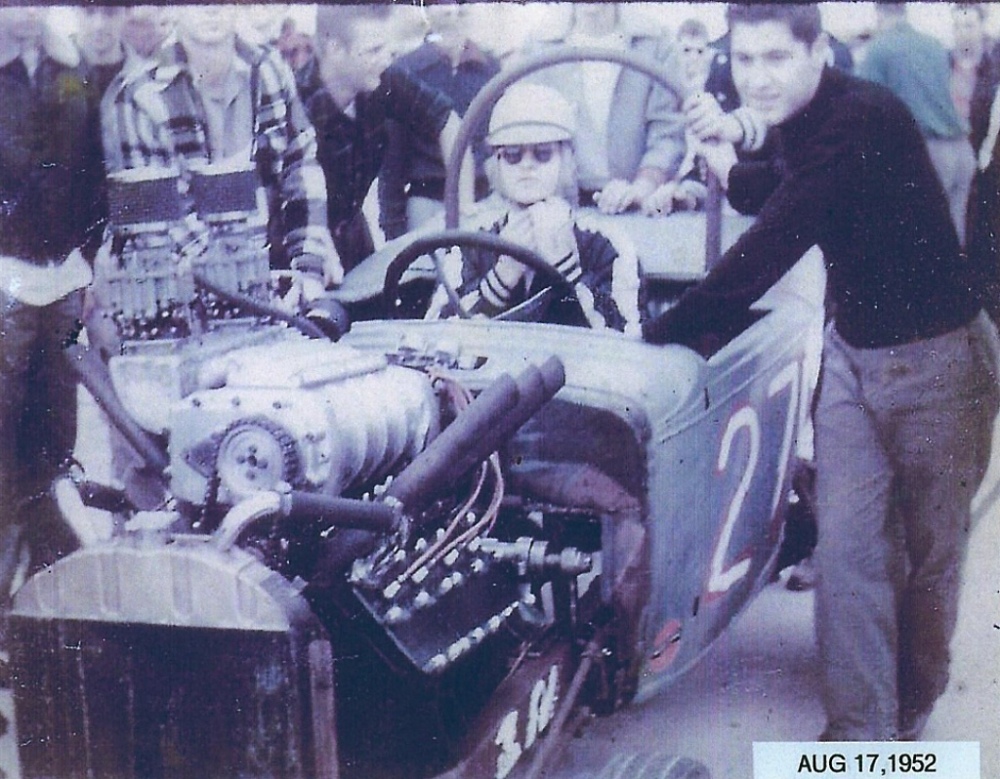 Verden is being wheeled to the line, in preparation for his record-setting run at Half Day on August 17, 1952.  This is the only photo showing the body on the car. Courtesy of Jim Verden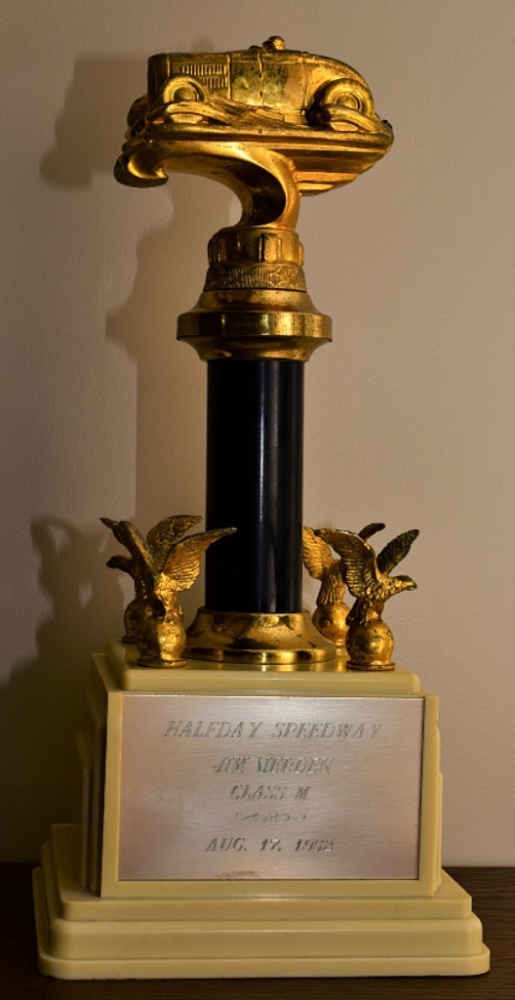 This is the the trophy presented to Verden for winning Class M at Half Day on August 17, 1952, the date he set the strip record  Courtesy of Rob Schaper and Jim Verden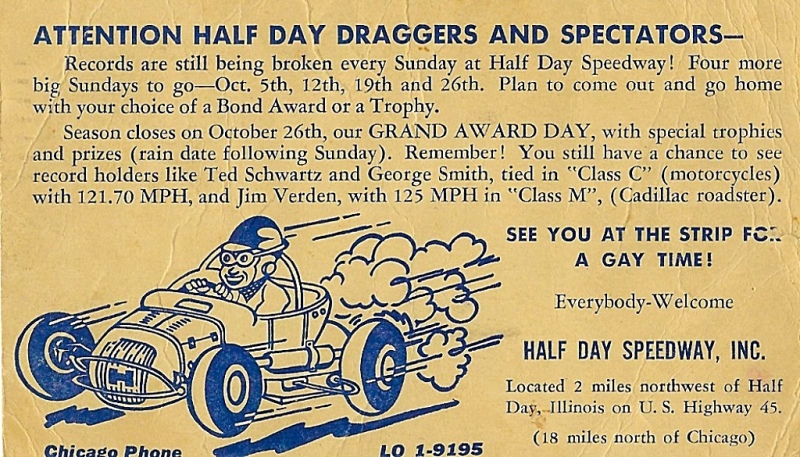 This is a promotional penny postcard sent out by Granatelli advertising upcoming races in October 1952 at Half Day. The postcard was postmarked October 3, 1952.  Courtesy of Jim Verden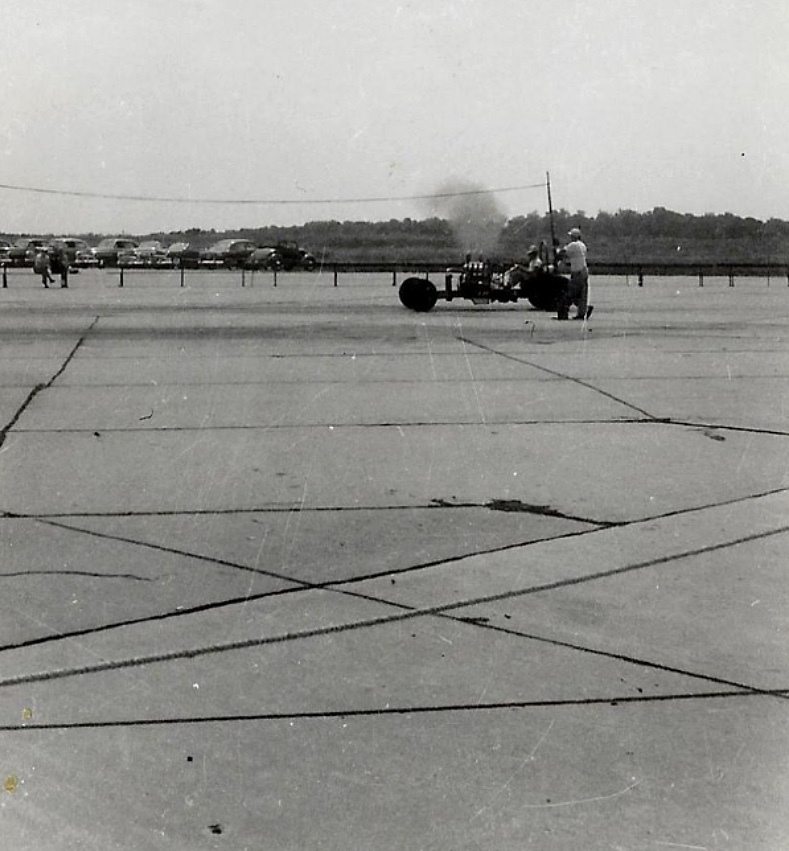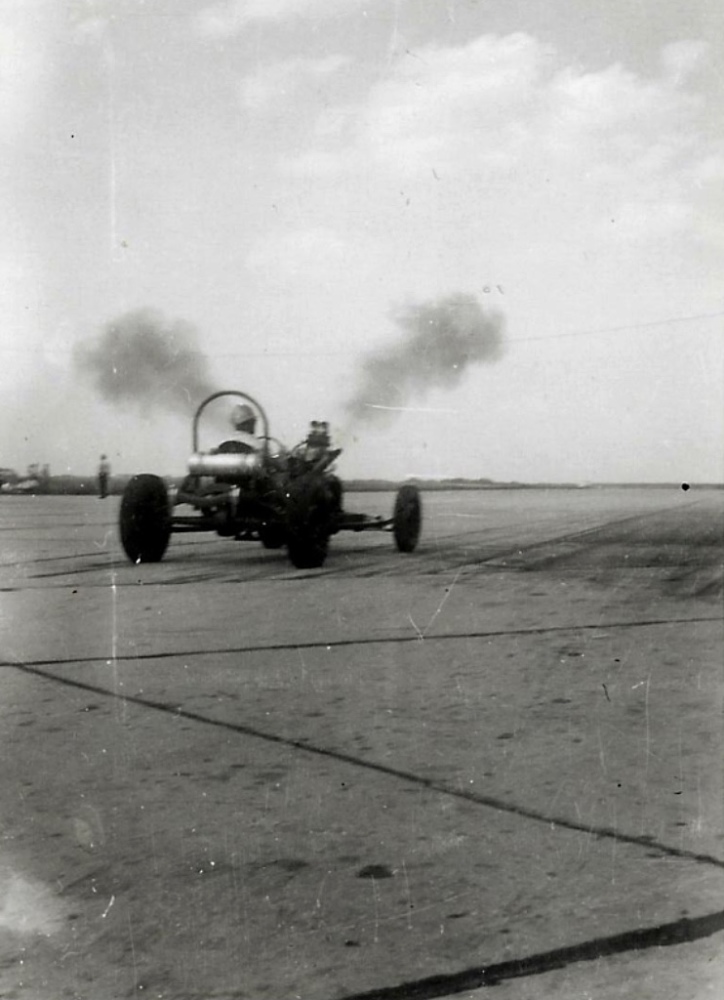 These photos show a side and rear view of Verden racing at Half Day. Note the unburnt rich methanol spitting out of the exhaust pipes.  Courtesy of Jim Verden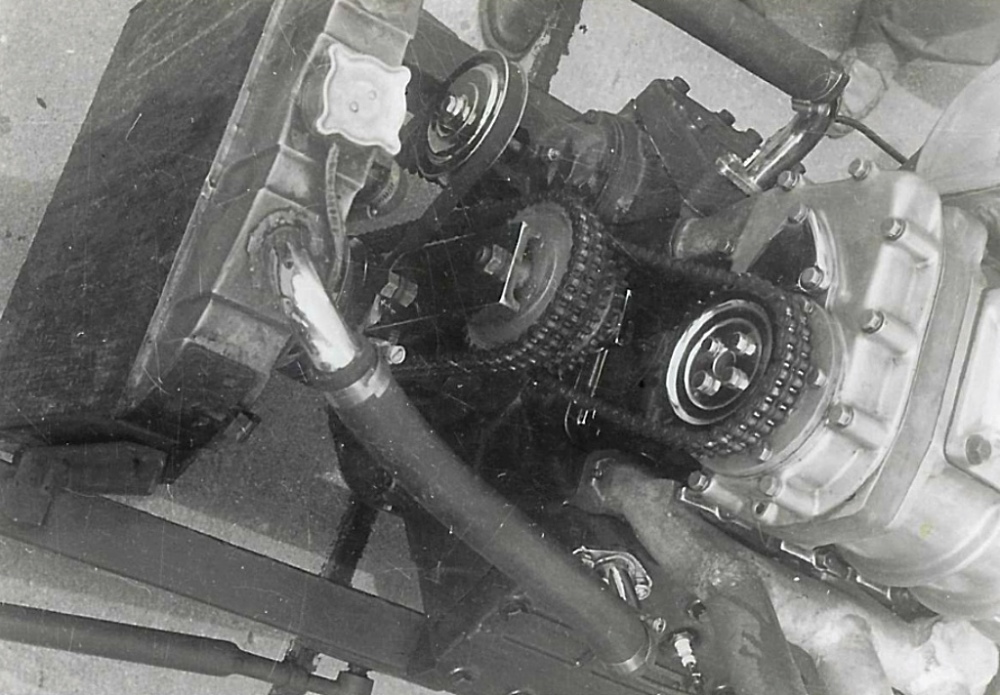 Two sets of chains are seen on Verden's blower drive.  Courtesy of Jim Verden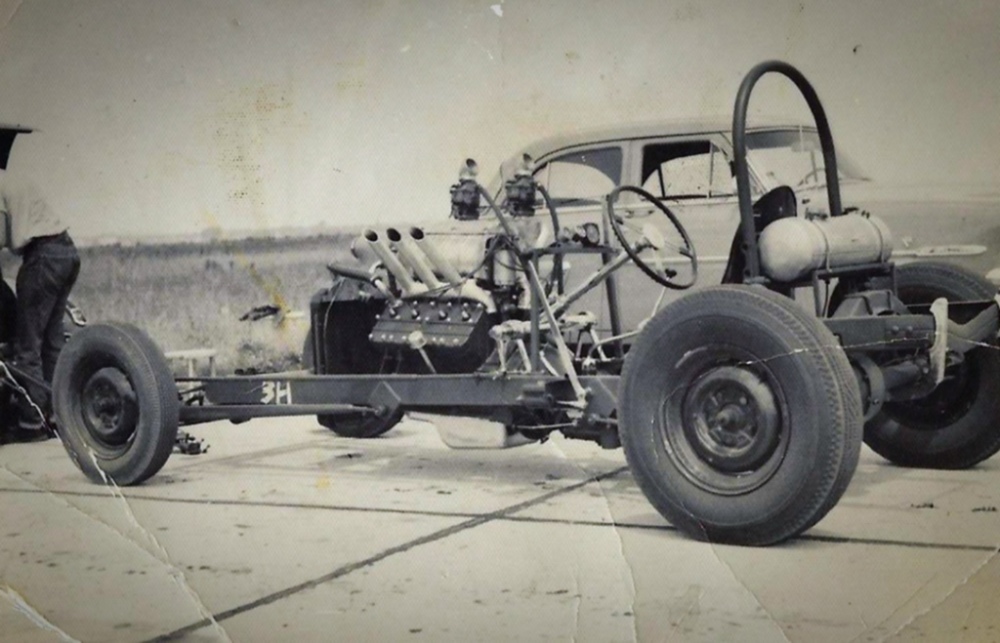 This 1953 photo shows the frame lengthed two feet on the dragster.  Courtesy of Jim Verden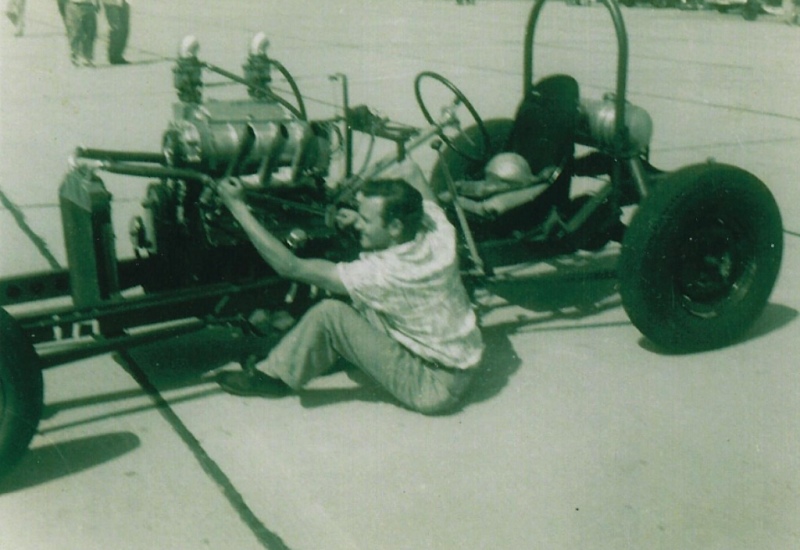 Verden is changing a head gasket, torquing the head down while sitting on the concrete.  Courtesy of Jim Verden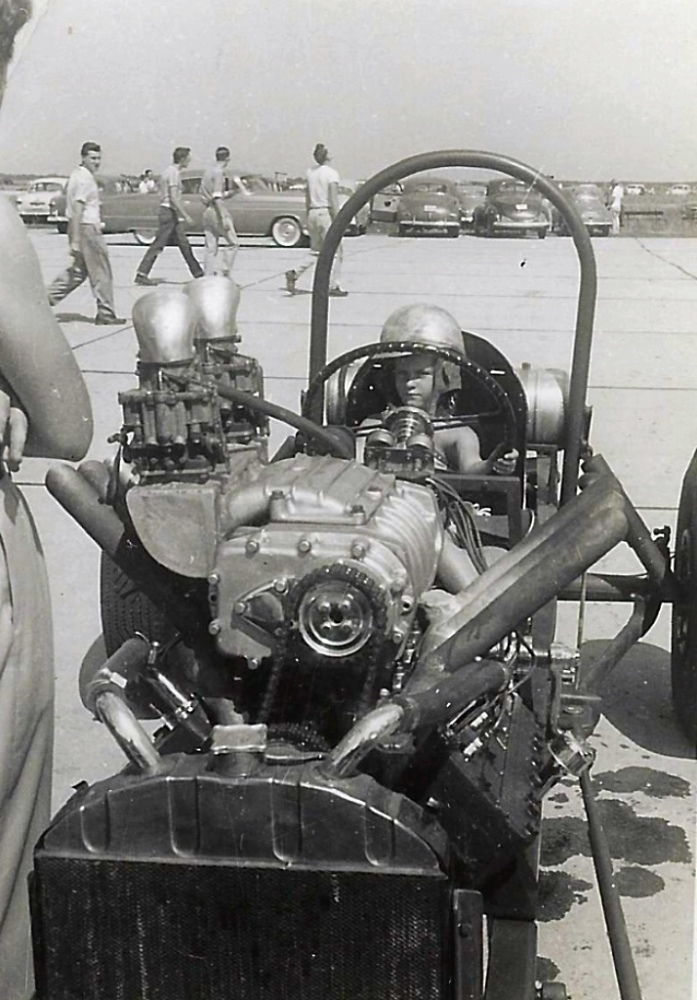 Verden's little 4-year-old sister, Carol, sits behind the wheel of the dragster, wearing the polo helmet.  Courtesy of Jim Verden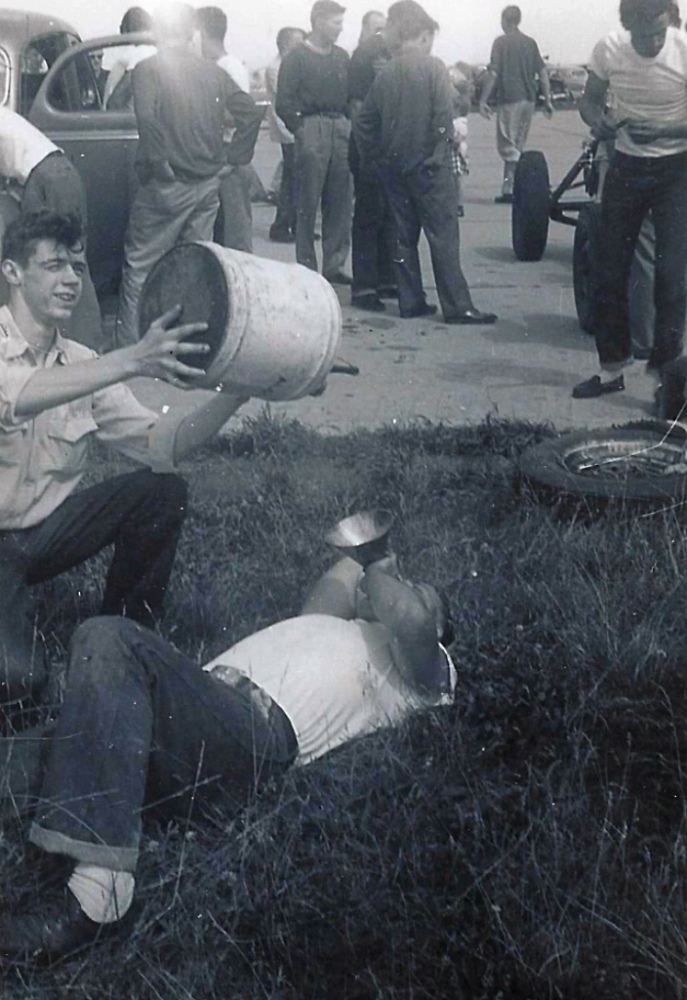 A couple of guys on Verden's pit crew clown around.  The fellow standing up wearing white T-shirt and jeans in the upper right corner is Jack Sullivan. He did all of Verden's welding. Later Sullivan was Freddy Lorenzen's crew chief, worked at Ray Erickson's speed shop, worked with Smoky Yunick for awhile and then with Holman Moody for many years. Courtesy of Jim Verden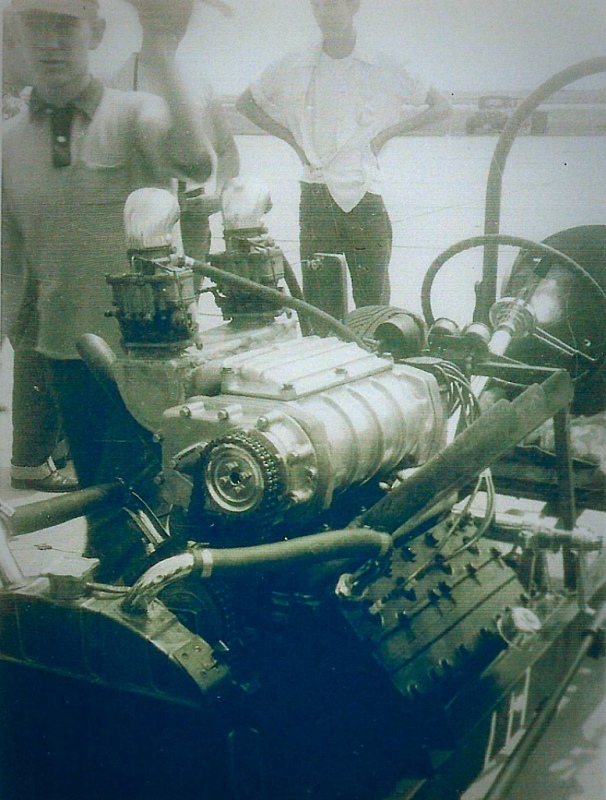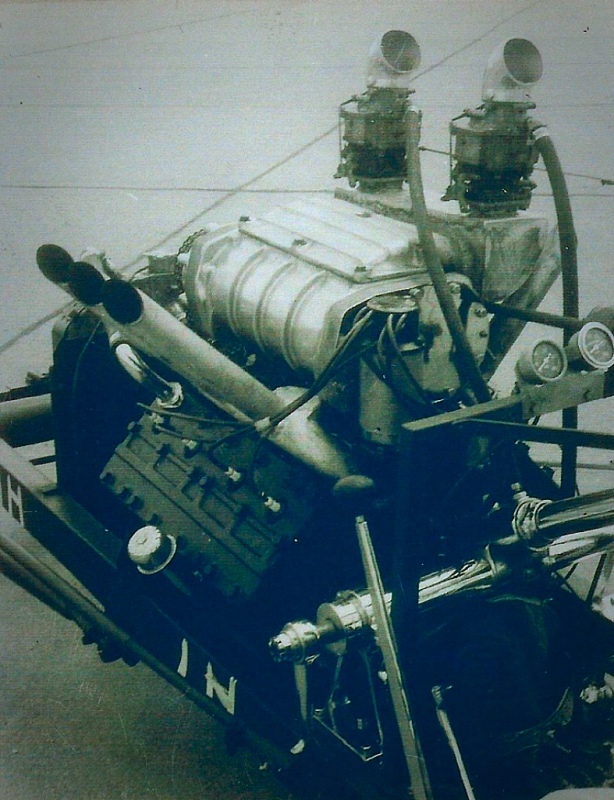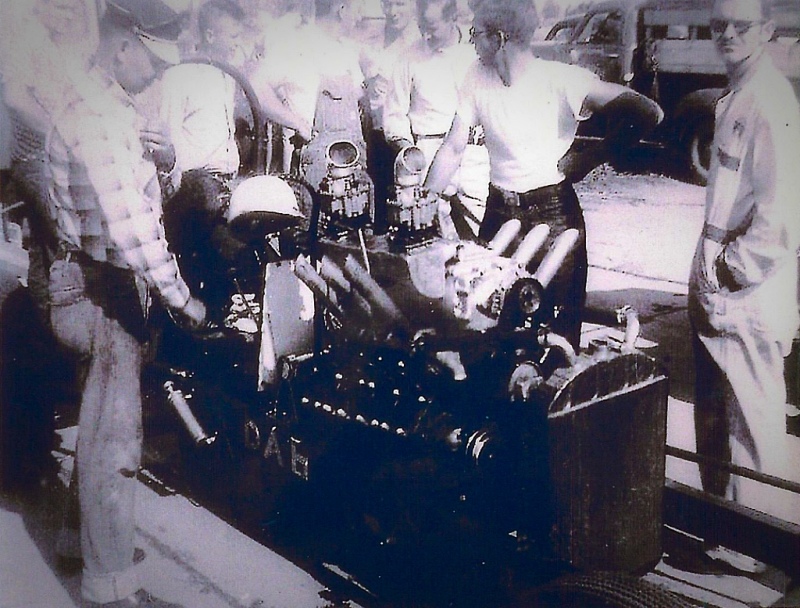 Verden is on right (wearing dark glasses) and standing on left is another crew member, Bob "Smoky" Davis.  Verden has a sour look. The radiator cap removed may be a sign that they had blown a head gasket. Verden was told that the man in the middle behind his dragster (wearing bib coveralls) was Art Arfons. Courtesy of Jim Verden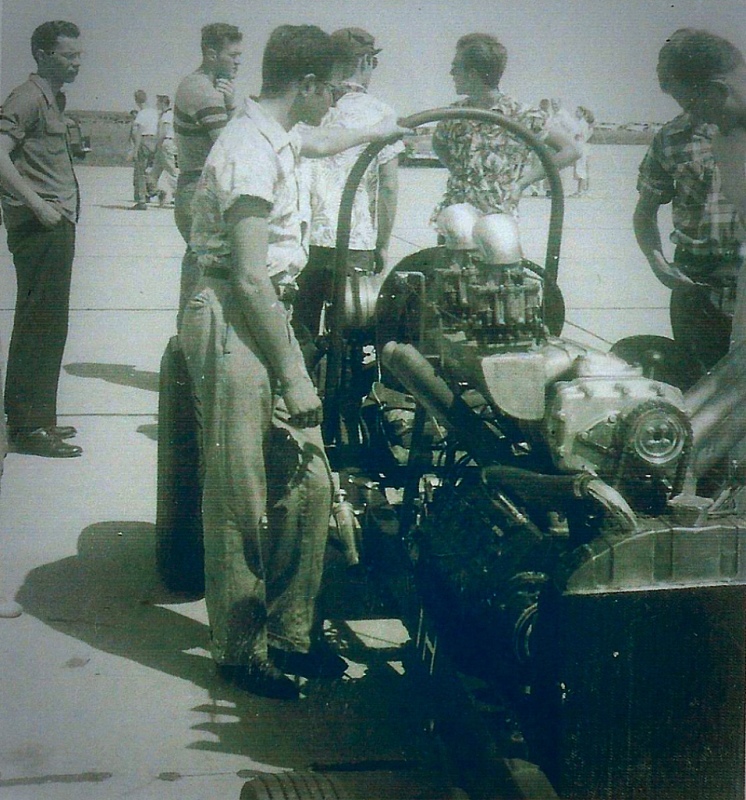 Verden has his hand on the roll bar. Courtesy of Jim Verden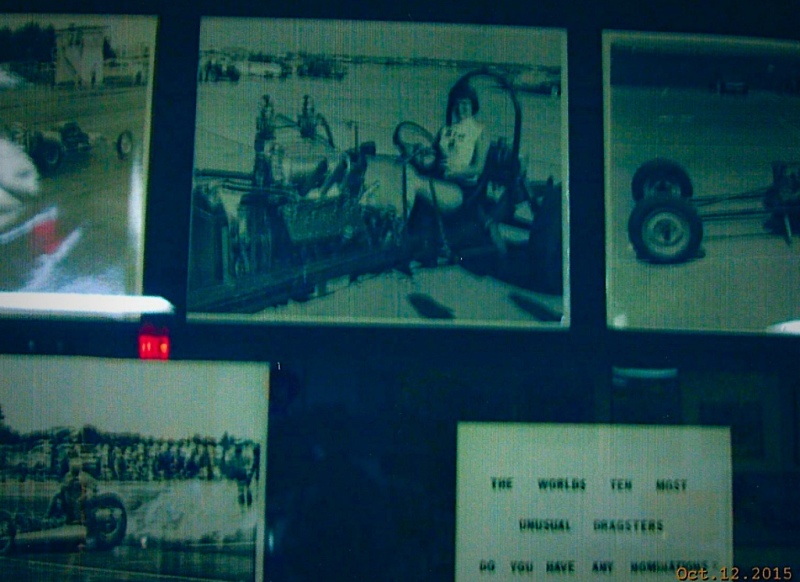 When Verden visited Don Garlits's museum, Don showed him a photo of his car on a bulletin board, selected as one of the world's "ten most unusual dragsters." Courtesy of Jim Verden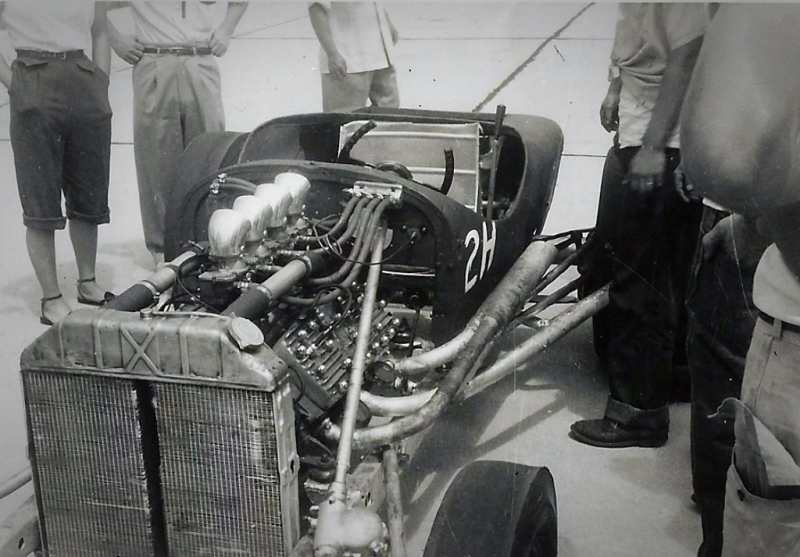 Unidentified track roadster powered by a flathead Ford engine at Half Day in 1953.  Courtesy of Jim Verden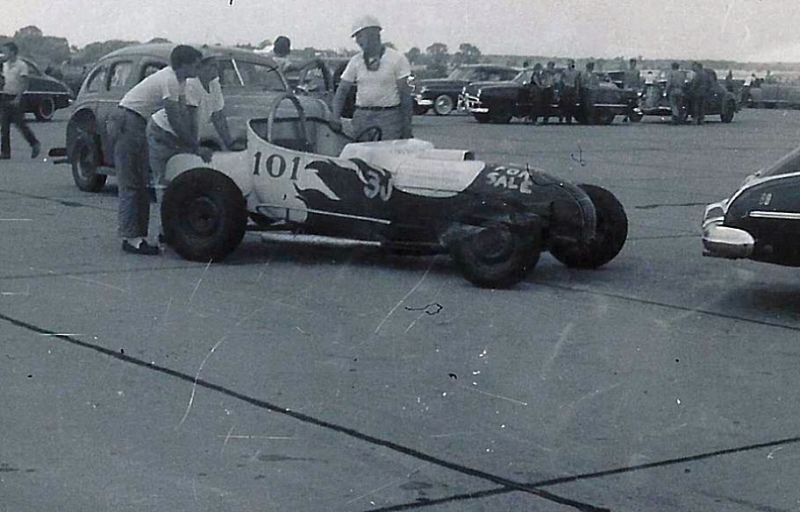 Unidentified track roadster from Indiana at Half Day.  Courtesy of Jim Verden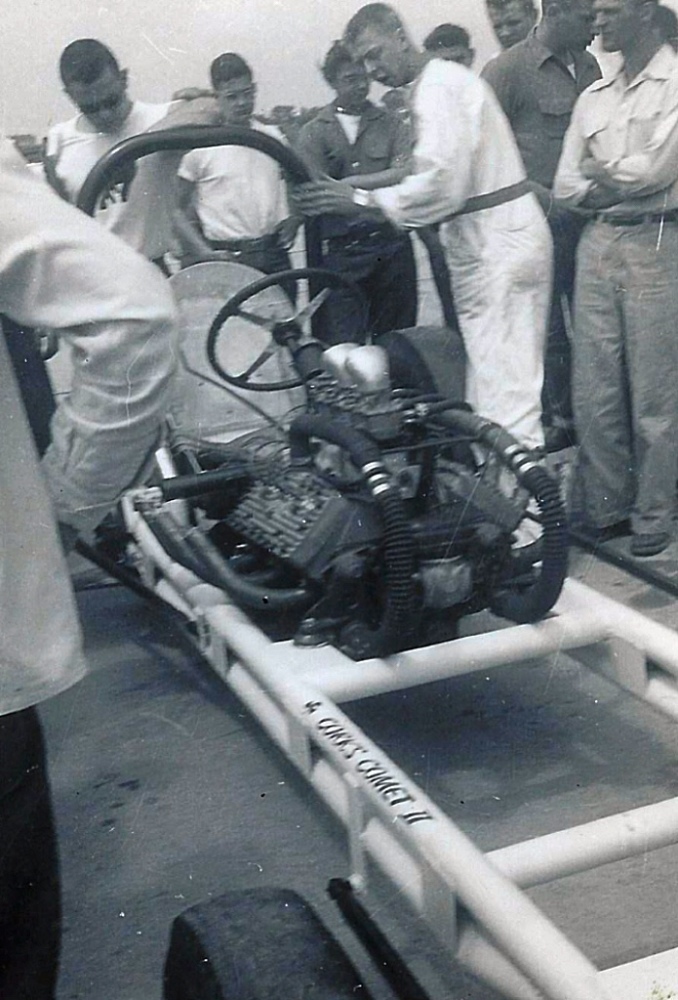 An early custom rail dragster, "Corky's Comet II," with a Ford flathead V8, running without a radiator, just recirculating the water.  Dick Maloney, one of Verden's pit crew, is at the back of the rail, wearing sun glasses. Courtesy of Jim Verden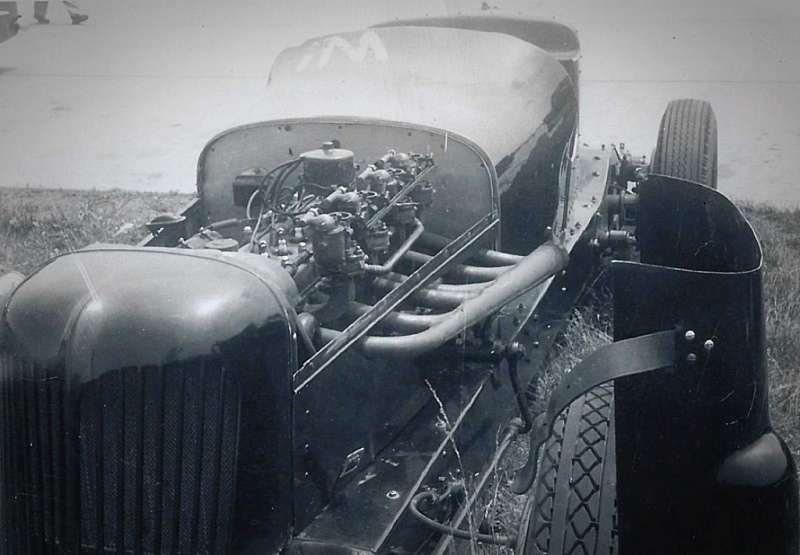 Unidentifie roadster powered by a six-cylinder flathead at Half Day in 1953. Courtesy of Jim Verden

Hardin
Riverview Drag Strip, 1966-67
My father, Walter McGowen, and his brother, Mac McGowen, were the owners/operators of the Riverview dirt dragstrip. It was built in a short hollow 30 yards from the Calhoun County Fairgrounds, running uphill at a slight grade. They ran at least part of a second season in 1967, then closed for good. I was six at the time they built the track. The dragstrip was on the south side of Poor Farm Hollow Road, directly across the road from where Calhoun Middle School now sits. What was a field in 1972 is now Calhoun Middle School which adjoins the fairgrounds on the west. There is a small creek that runs along the south side of the road. The dragstrip was across the creek. The site grew back over pretty quickly, but it was pretty bare-bones of an operation. Uncle Mac passed away in 2009, and Dad passed in 2010. There are no pictures that I'm aware of. There is nothing at the site to indicate it ever existed.
Michael McGowen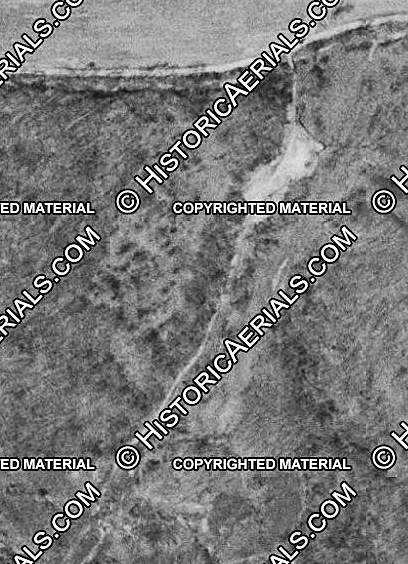 1972 aerial photo
of site of Riverview Drag Strip in the hollow southwest of the Calhoun County Fair, taken five years after the strip closed
Harrisburg
This track held many special memories for me because I started going there with my father in 1963 at the age of ten years.  Dad knew several of the car owners because he was a regional salesman for Goodyear Tires out of Harrisburg, Illinois.  I grew up with the track and wanted to share many stories of my experiences interacting with my local heroes--so I wrote a book about it!  I published the 256-page book in 2019. It is called
Outlaw--The Life and Times of Accelaquarter Raceway, 1963 to Present
. I am a car guy and have been since the age of 5!  I have a collection of 14 Fords, Galaxies, pickups, Mustangs, etc.  My 1963 427 Galaxie, raced in southern Georgia in the 60's, my 1957 Ford F-100, only 54,000 miles.
Mark Brothers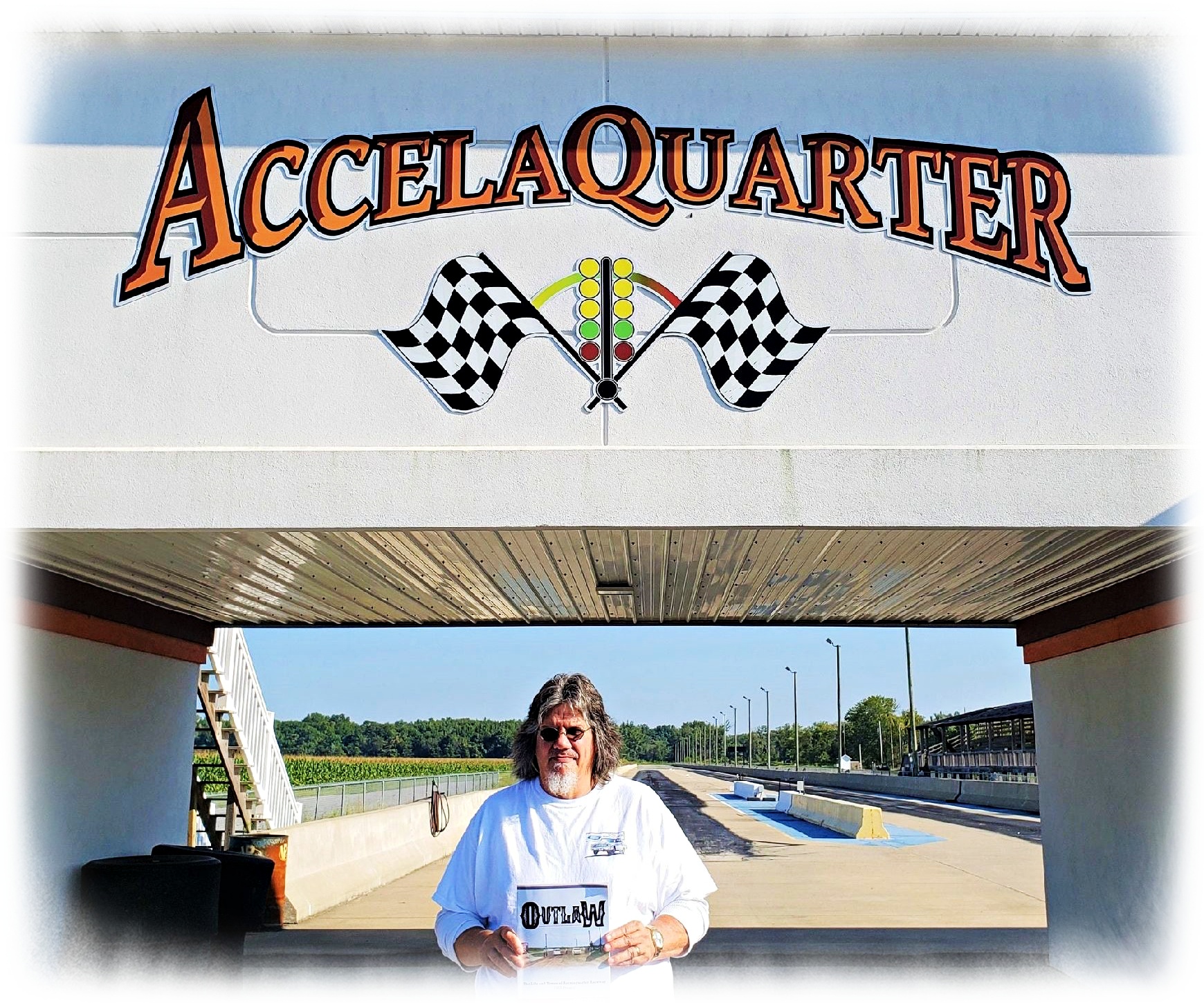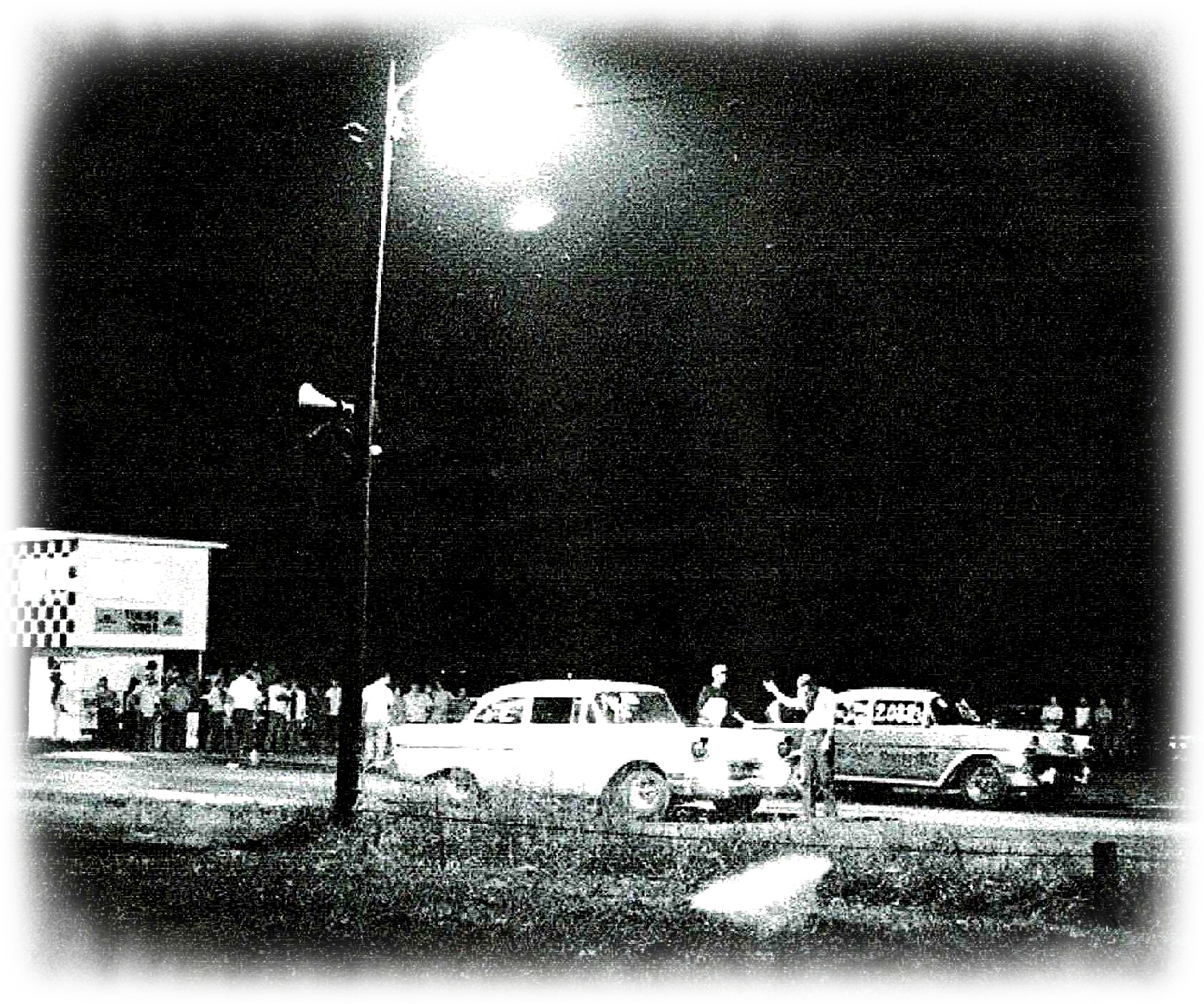 Mark Brothers holds a copy of his new book in 2019 at  Accelaquarter Raceway. Courtesy of Mark Brothers

Night racing in the early 1970s at Accelaquarter. Courtesy of Mark Brothers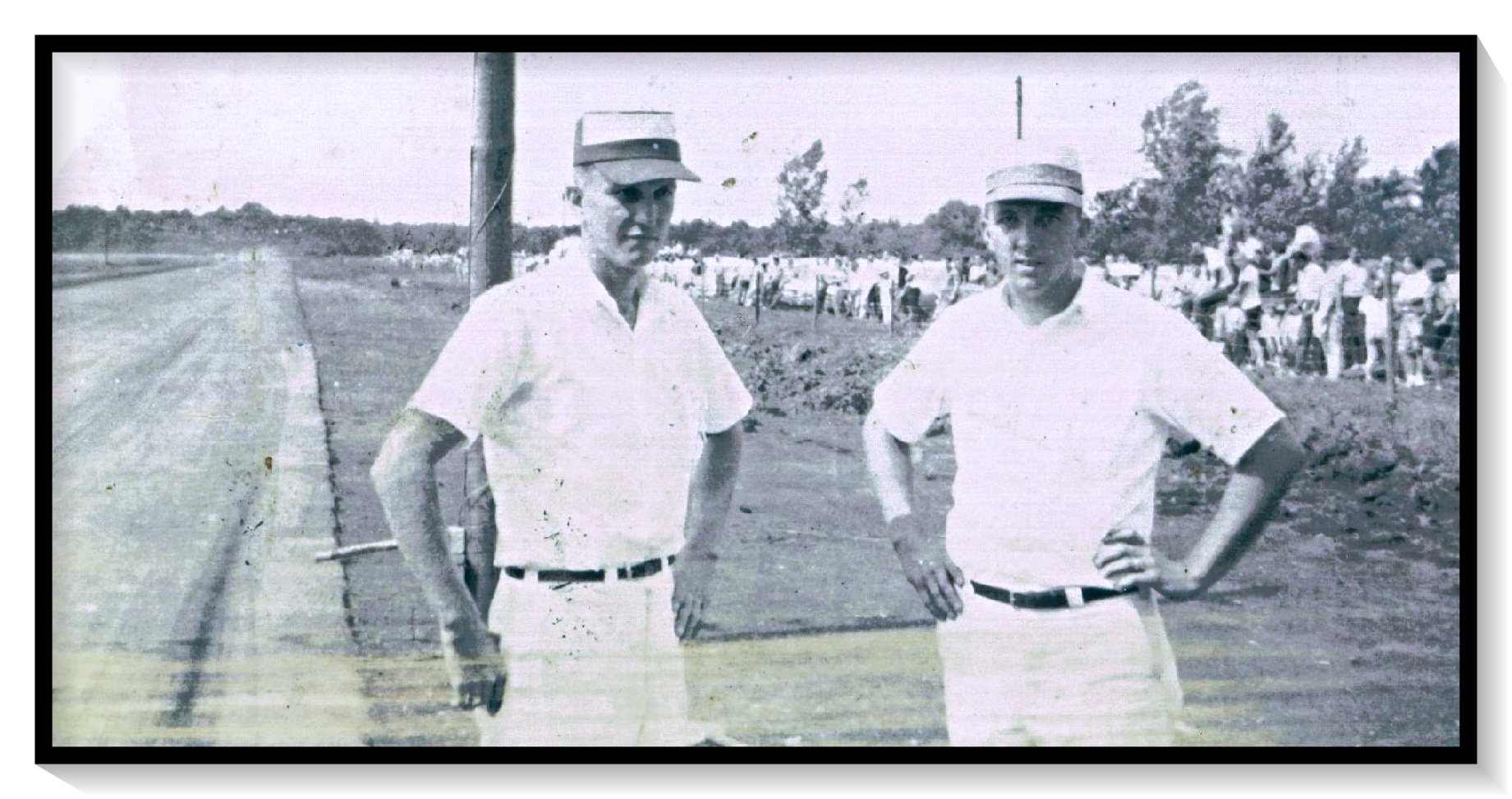 The original owners of Acclaquarter Raceway, Darrell Mattingly and Jerry Ammon. Courtesy of Mark Brothers

Lawrenceville
Lawrenceville Municipal Airport, 1955
I didn't race in '54. What happened in '55, I must have got a postcard or something. They were going to have this World Series down at Lawrenceville, Illinois. It was a three-day meet. I'd never heard of one. It was down at the other end of the state, the southeast end down there.  So I said, well, I got to get something going.  I still had the dragster. I had cut the frame rails off and pushed the front wheels forward two feet. I added 24 inches so I was now out to 117 inch wheelbase on it. I figured the Caddy flathead had seen its day because the overhead valve engines were in vogue, so I had picked up an Oldsmobile Rocket engine, might have been from '52. I think it had about 10,000 miles on it. I figured it's broke in good. I wanted that in because it bolts right up to the transmission. The bell housing for Caddy and Olds were exactly the same bolt pattern. They were interchangeable. I used that and I pulled the mag that I had had for the Caddy engine. I still had the Vertex mag that I had for  the one with the blower.  We put that into the chassis. It was sort of a quickie deal. Instead of mounting the blower on top, I mounted it on the inside of the right frame rail, right snug up against it with a real short chain. It was facing the engine with a real short chain with those sprockets on it. No intermediate or anything. And piped this back into a Crower log manifold. Crower started making these log manifold kits for the different engines. He was making them at that time for the Olds. They were just plain-cut flanges and the little short tubes, the 3-inch tubes, with end caps. Then they would give you carburetor flanges where you could mount two or three of them on each tube, so you could mount four or six 97s. I said, this would be ideal. So I called him  and said, "I want your Olds kit. The only thing is, I don't want any carburetor flanges at all, but I need the main tubes three inches longer than your standard and only one set of end caps." Because I had to hook a 3-inch hose there to couple from the blower. So I got them and mounted this all up, chrome plated them and stuff. But we couldn't find any piping for the bends that we needed. We got a White truck tail pipe. For the bends, we sectioned them up and welded them together to make the two 3-inch tubes going back. They weren't the most beautiful, but they did the job. The exhaust was electrical conduit, thin wall. The two of them were a inch and a half, 90 degree elbows, with the thin-wall pipe welded to them. The center one was a two-inch. It was pretty good. Somewhere I'd picked up an old midget aluminum tail that we put on instead of the old roadster body. We borrowed some old track slicks from Al Swenson who used to run with Andy at the Hurricane. I never had a set of slicks. We loaded it up on a flat-bed trailer and we hauled that down there. That was really interesting. On my first run out there at Lawrence, the blower siezed up. I didn't even get a quarter way down the strip when it went loose. It sheared the bolts out that were holding the sprocket to the hub on the blower.  The chain broke and it went flying. It cleaned the teeth off of the sprocket. This was Friday morning when we ran the first time. I said, "Oh. We're dead in the water."  Vincennes, Indiana, was right across the river from Lawrenceville.  It was a pretty good-sized town. Early in the morning, we went over there.  I found a Boston gear operation that was open, luckily, on a Saturday.  I found a blank sprocket, the cast one with the teeth, the right number of teeth and everything. There was no problem getting the double-row chain. I got that stuff.  I was running around and I couldn't find any machine shops open on Saturday. I finally found a welding shop. The guy said, "I'm not really a machinist, but I've got a lathe here. We do a little bit. What I can do is I can cut the outside off the hub piece. We'll cut the inside out on the new one. We can put the two pieces together."  He welded them. So I had a working sprocket. That killed all day Saturday getting that thing going and getting back to Lawrenceville.  I'm standing there with my pit crew all around and they're hauling in the "Bustle Bomb." That was the most famous car of the era. He had turned 147 at Santa Ana just before that. They hauled this thing in on a trailer.  I stood there with my pit crew and I said, "Holy shit! Those guys got five grand in that car." Back then, five grand was like two or three hundred thousand today. That thing was way out of our reach.  Lloyd Scott broke the 150 mark. That's where he did it--at Lawrenceville.  It was sort of a duel between him and Art Arfons, a little bit, for awhile. I forget what Art turned down there. He had two different Green Monsters there.  He had one with the dualies in the back, they were side by side. He had another one with the tandems.  They both had Allisons in them.  Then he had the small one that had the Ranger aircraft engine in it. The other one had the two wheels with quite a bit of spacing in between them. On Sunday I fired my dragster up. I said, "This thing is raring to go."  It was interesting. The engine had a 700 RPM surge to it.  When you watched the tach, it would drop to a 1000 and go rrrrrrrrnnnnggg, rrrrrrrrnnnnggg, real slow.  It wasn't like a cam, it was like a surge. You could walk away and come back five minutes later, it would still be doing it. The throttle, it was right there, you know. On Sunday, I got in that thing, and it took off and I was really hauling. I thought this thing is twice what the Caddy pulled.  I had all I could do to keep it pointed.  It was really going.  I got about two-thirds of the way down the strip and, for heck sake, all hell broke loose.  The engine exploded.  It happened so fast when you're moving like that. But I was determined to blow off the "Bustle Bomb." It might have done it. I don't know.  I'll never know.  When the engine blew, it had locked the rear wheels dead and it spun. It did two and a half spins on the concrete.  I wound up going backwards.  All I could see was the black strips from the locked wheels. I was just keeping it lined up so I would go through the traps straight without hitting anybody. They electric timed me with the wheels locked going backwards through the traps at 102 MPH.  I had the record for going through the traps backwards.  That was an experience. When we got back to the pits with it and pulled the heads off, there were only three pistons and rods left in the engine. All five of them were gone. It cut the pan in two.  I was sick to my stomach, but I should have known better because stock pistons couldn't take that kind of a boost. In '52, I was running Reo truck pistons. Truck pistons are really heavy duty.  In '53, I wanted to lower the compression when I ran, and I used International truck pistons because they were an eighth inch lower compression. I wanted to try to get more volume in there. It ran good on methanol. I've got pictures of me going down the strip and you can see the stuff pouring out the pipes. I used to feel it hit me in the face.  With methanol, if you're overly rich, it's just added coolant.  It's not like gasoline. You don't lose horsepower. It's just added coolant. To make the run and back to the pits, I'd run through two gallons of methanol. It was rich, but it worked.  Back then, we didn't know any of this stuff. 


Jim Verden,
telephone interview with
Mel Bashore, August 11, 2017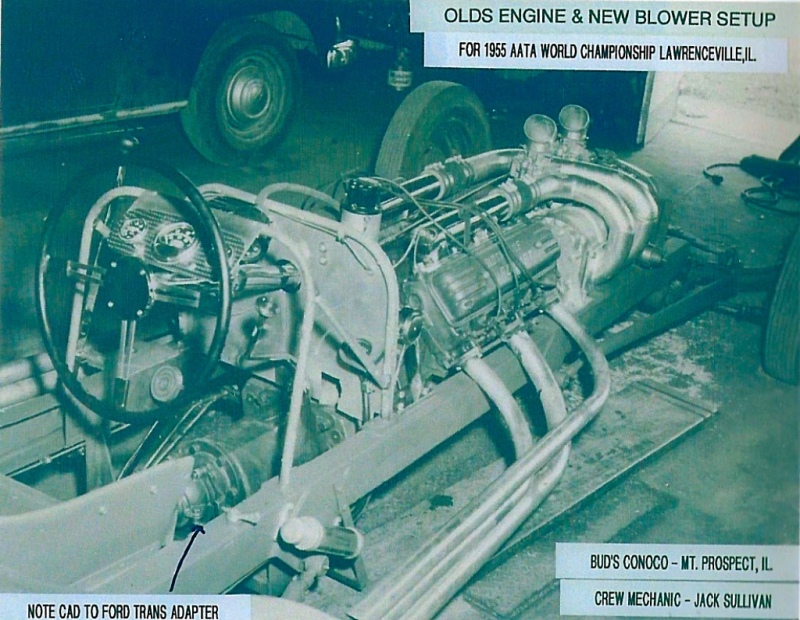 Note the piping from the front-mounted blower made from White truck 3-inch exhaust pipe, sectioned and welded by Jack Sullivan. Courtesy of Jim Verden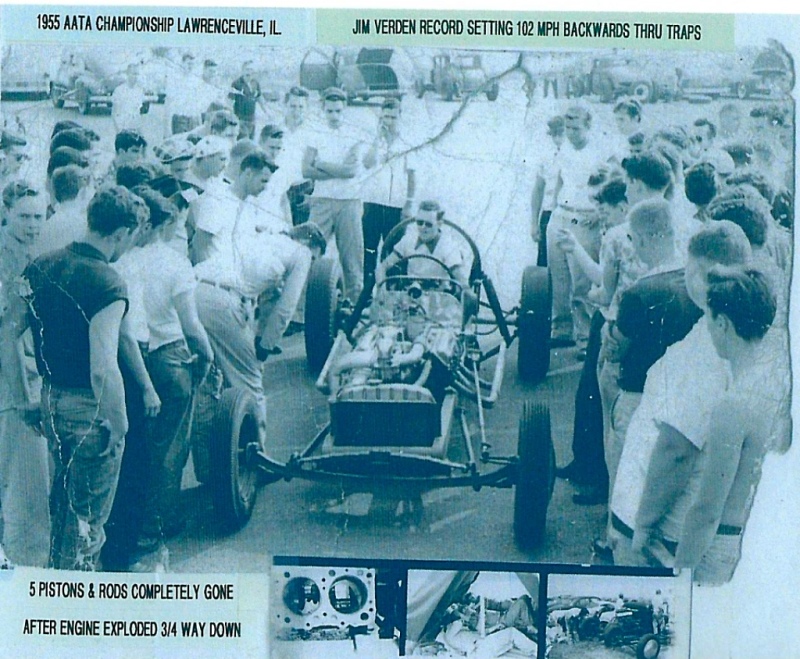 Verden attracts a crowd when he fires up the dragster before making a run at Lawrenceville. Courtesy of Jim Verden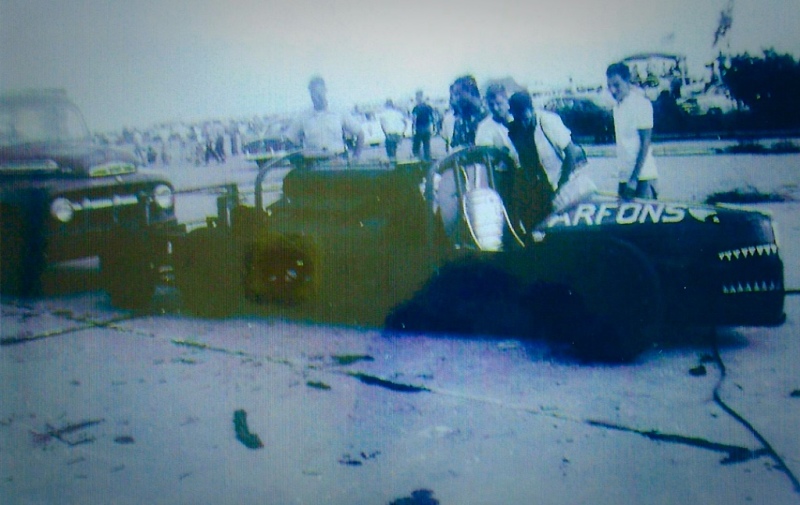 Art Arfons' first Allison-powered "Green Monster 2" at Lawrenceville. Courtesy of Jim Verden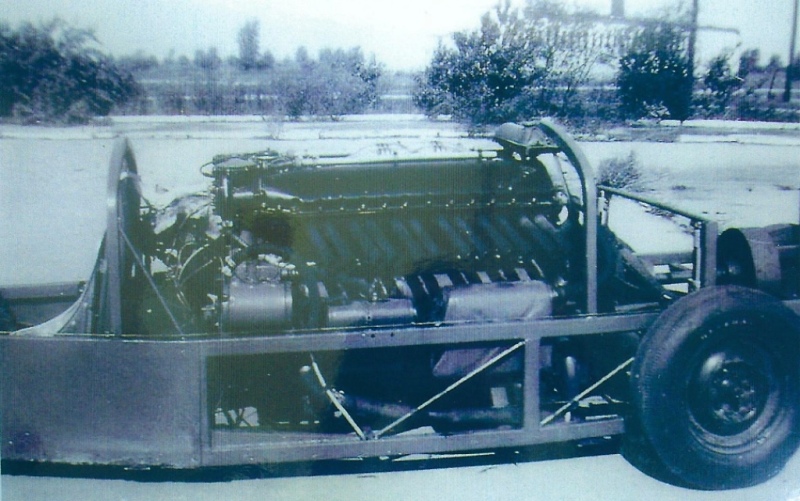 Art Arfons' Allison-powered "Green Monster 2" at Lawrenceville. Courtesy of Jim Verden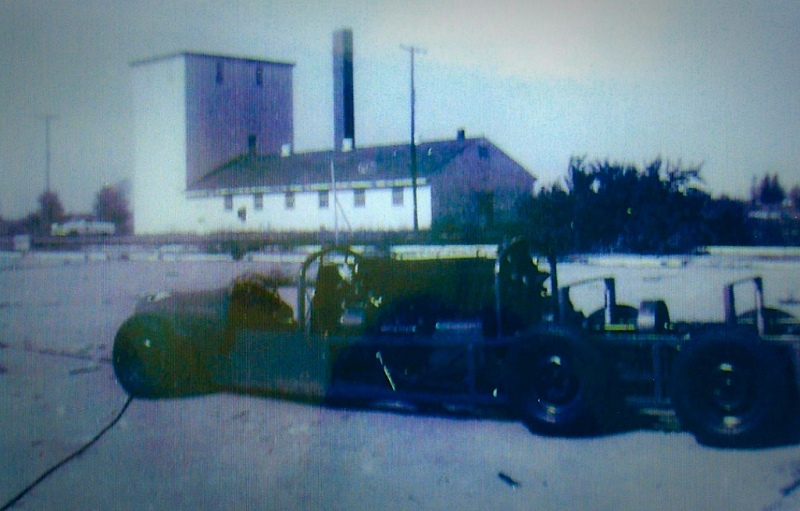 Art Arfons' Allison-powered "Green Monster 2," sporting the tandem wheels, at Lawrenceville. Courtesy of Jim Verden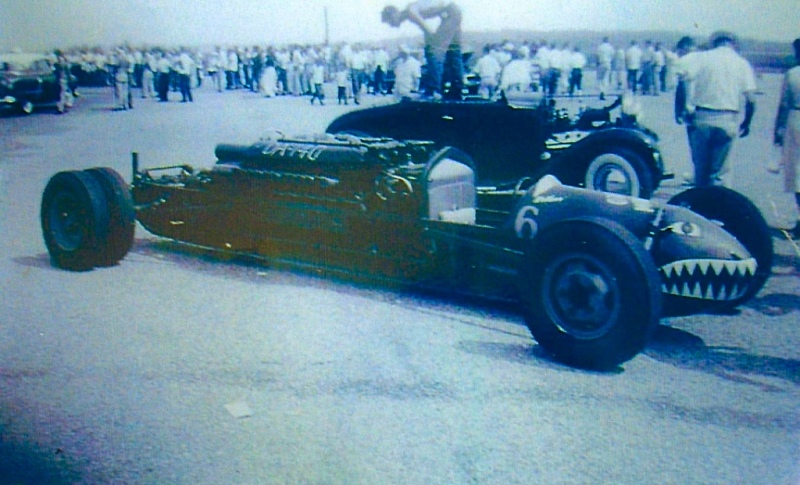 Art Arfons brought three cars to Lawrenceville. This is "Green Monster Number 6." This was a top contender at Lawrenceville, but lost to the "Bustle Bomb." Note the dual wheels on the back and its low-slung character. Courtesy of Jim Verden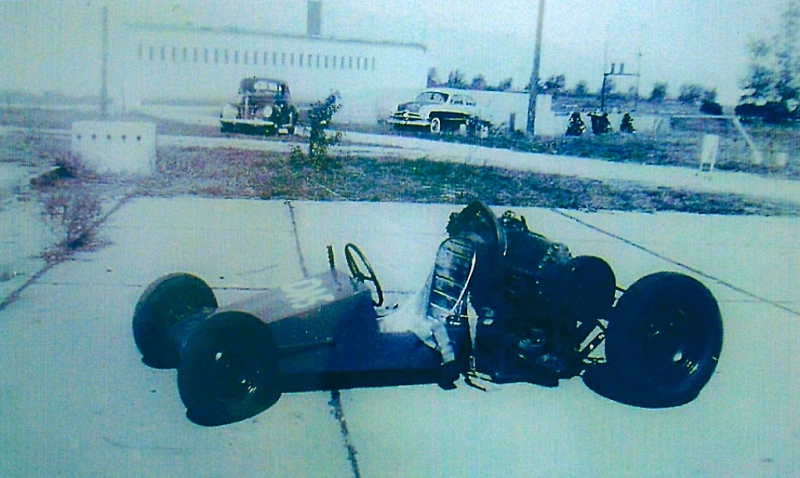 Art Arfons' Ranger aircraft-engined "Green Monster Jr." at Lawrenceville in 1955. The engine sat sideways. Courtesy of Jim Verden

Lawrenceville Municipal Airport, 1954
Our Piston Pushers club went to the very first World Series of Drag Races at Lawrenceville. We slept on the strip with blankets.
Dale Smith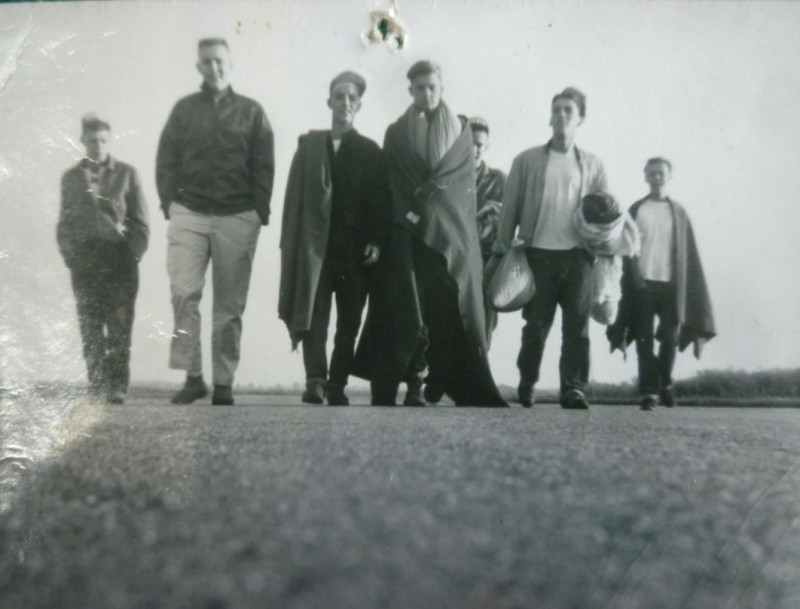 Lawrenceville Municipal Airport, 1957
I found an old drag racing trophy in a thrift store. All it says is "Lawrenceville Drags, Class-1957."  It has a metal hot rod figure on its top, no windshield. The sides of the trophy look like bakelite.
Dave Cook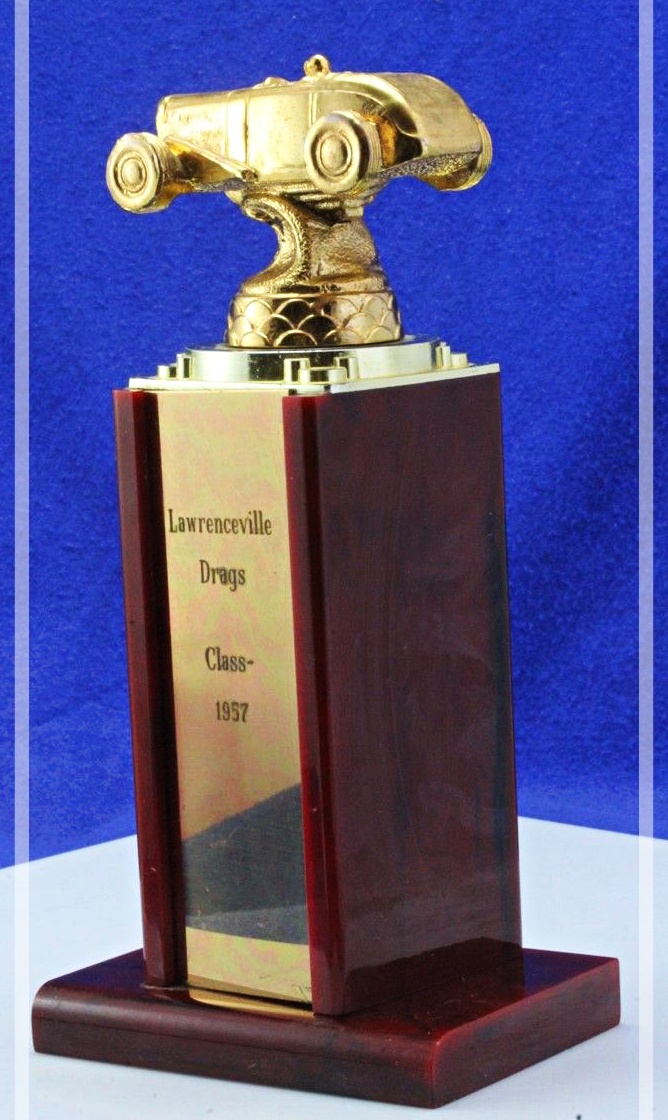 Marion
Southern Illinois Dragway, ca. 1963-64
I raced here while at SIU taking an automotive major. Many memories! I raced a '55 Chev I built while at school running in a "gas class." If I remember correctly, it was fall of 1963 or spring of 1964. I built up a 1955 Chev Bel Air 2-door hardtop that I had painted metallic medium dark blue. I can't remember which gas class it ran in for sure. I believe C or D. I installed Cadillac front coil springs, which gave it the correct rise to match the rear that had been beefed up using an extra main leaf. I made it stiff enough that I never experienced any wheel hop. I obtained a '57 block which I then bored to 301 ci in an automotive class project. Using Jahns 10.5 -1 pistons and the hottest Corvette cam and corresponding valve springs to enhance the job. I used bearing inserts that allowed an extra .001 clearance plus a dab of extra piston-to- wall clearance. That was cause for some real concern for a couple days during break-in. I started with Havoline 30W which was changed to Valvoline at the instructor's advice after telling him that it always rattled upon start up. Ends up the Havoline was too high on detergent and would drain clean after a half day or so of inactivity. Bingo! The Valvoline totally changed that to the good. The differential gearing was 5:56-1 (I know it was 5 something) with welded spider gears. I lived in Carterville at the time and this made for an interesting drive to the strip as the right rear was driven on the loose road edge gravel hopefully preventing damage. Many times the pumpkin was changed in the backyard and a set of 'slick" tires installed before and after a day of racing as the car was by college wheels. Right after the build I ran the car's original 4bbl carburetor but only long enough to find a dual quad set-up that the cam was designed for. It was a real strong runner with that fuel system. A fellow classmate thought I needed to try a Corvette fuel injection system he had. Wow! What a mistake! I could not keep it tuned. Always messing around with it. I tried to use the original 3-speed overdrive trans controlling the "overdrive" shifts with a switch
mounted on the shift lever. It was way too confusing for the strip, but really neat for street use. So a close ratio Saginaw 4-speed was quickly installed. What a super runner it made the car. Real frantic shifting due to the 1/8th mile though. If I remember right, my shift point was 7200 rpm and it did not take long to get
there. I do not remember any times or speeds the car ran. This strip was the only strip it would ever
see in its life. The only thing I regret not doing is not installing a screw in the rocker arm studs. I believe they may have been the reason for extra work and an embarrassing moment at the drag strip, which I mention
later. Due to the Corvette valve springs and the 7200 rpm, the tappet clearance had to be checked after
each run down the strip. Very lucky I did not loose a stud. I fabricated my own thru-the-wheel well and behind-the-tire individual-cylinder exhaust system. Per gas class requirement, they had to terminate into a minimum 6" deep collector box. This box had a removable cap for street-use exhaust which was directed from the box into the street exhaust system. A couple incidents occurred at the strip. The return road was dirt (yuck) and ran along the edge of the east side of the track and separated from spectators by a knee-high wood fence of sorts. While driving past the crowd, you always requested to rev it for them. Not a good request as the predominant wind was westerly and my exhaust collector box located behind the front wheel would give them a good dust bath. I also remember a certain spectator Corvair parked along the fence with its hood up and the "front" trunk filled with ice and beverages. A better incident was self-inflicted. During the heat of battle, I was busy conversing with someone when the PA squawks, "Last call for ? Gas." Oh, my! That was my class and I was late plus the white '63 Chev that was my last opponent for the class win was already approaching the start line. I ran to the car. Fired it up and got to the line just in time. The engine was doing it's normal rough low rpm. Upon getting the flag, first gear went fairly well until the engine unexpectedly died. Panic. Panic. All I could imagine was bad things. Opening the hood, I instantly saw the problem as the wet shop rags that were kept over the carbs had been sucked into the venturi, totally choking the engine. A quick removal and the engine fired up just as my pit crew came runniing up. Very embarrassing as a lot of concerned people came over wanting to know what had happened. This engine was left in the car and used as my daily driver for a short time once I graduated in 1963.
I then went to work for Ford for a short time and had the privilege of having the '55 and a new '64
Galaxie 500 with an "R"code 427 at the same time. That's another story.

Al Koper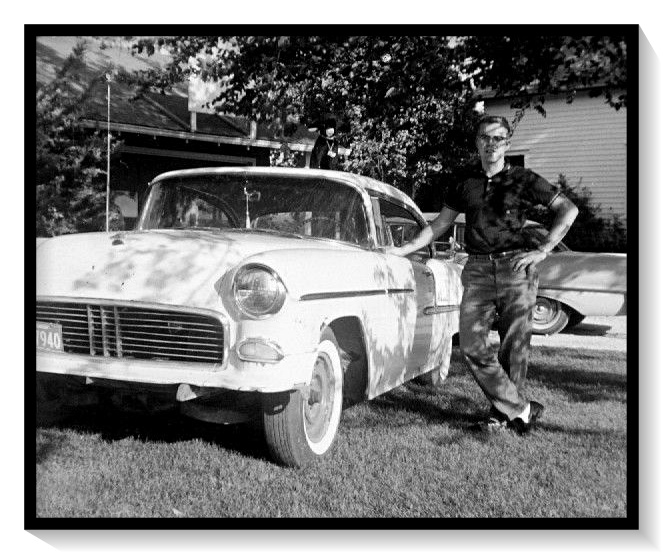 Al Koper stands next to his '55 Chevy. This photo was taken prior to painting it metallic blue. Courtesy of Al Koper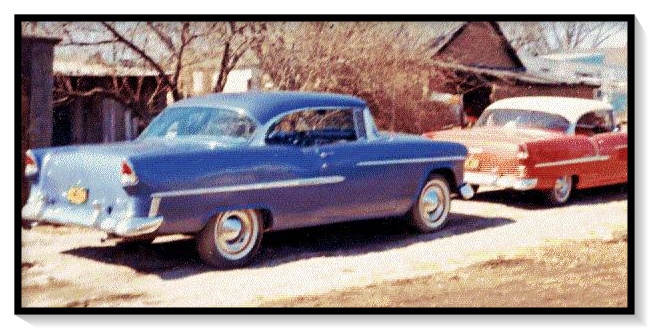 Al Koper's '55 Chevy after it was painted metallic blue. This photo was taken behind the house that he and three SIU classmates rented in Carterville. The white/red '55 was a housemate's plus there was another '55 sedan belonging to another housemate.  Courtesy of Al Koper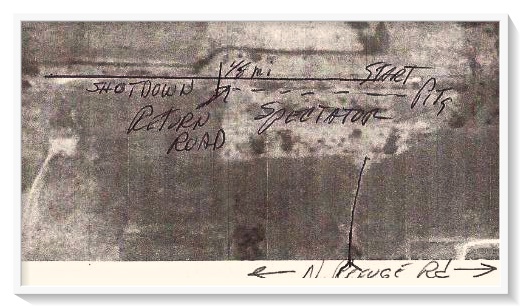 Layout of Southern Illinois Dragway drawn on an aerial view of the site.  Courtesy of Al Koper
Nashville
Nashville Dragway, 1963-64
I raced at the Nashville drag strip in my 1961 Chev. Impala. I raced in D Modified Production. The motor was a 283 c.i. with Duntov cam, Corvette f.i. heads with dual valve springs, Carter AFB carb., Mallory ignition, Headman headers and 4/11 rear gears and cheater slicks. I won 11 trophies (two Street Eliminator trophies and class MPH record holder). This would have been in 1963-64. I saw Don Nicholson race there in a Chevy Nova. I was a member of the New Athens, Illinois, Highwaymen car club.
Dan Nuernberger
Oswego
I raced at Oswego in the 1960s. 
Jerry Richards

Courtesy of Jerry Richards
My father and uncle raced at Oswego and Byron. And of course we have pictures. John and Louis West from Seneca Illinois. I remember driving up on Sunday after school and hearing the advertisement on WLS. Lou West and his Hemi Powered Dodge!!! I would love to get a recording of that! I do have some old cassette tapes of them going down the strip . . . . some swearing is involved. My father also has a special jacket. I'm not sure if it was from Oswego or Bryon. Good times!!!
Dawn West Koetz
Oswego Drag Raceway, 1958
I ran an MG with a Chevy engine in 1958, taking even top eliminator several times. This was before the hot dragsters evolved. My girlfriend, Judy Hageman, drove my 1956 Chevrolet and won several times the D stock class. It was reported many times in the Drag Times. The drag strip that I usually went to was Oswego Dragway in Illinois. The year was 1958. My 1950 MGTD had a 283 cu. in. Chevy block, bored and stroked to 427 cu. in. with a Duntov cam and 4 Stromberg 97 carbs. I don't think they were Strombergs, but I am having a brain cramp and cannot remember but they were 97's hooked up to a Corvette transmission and a 4:89 Hudson Jet rear end. With 9-inch slicks and a total weight without me was 2,110 pounds. My tow car was a 1956 Chevrolet Bel Air convertible. The only thing  added to the engine was a Duntov cam however I put a 5:14 rear end in which I am sure contributed to its success in the D Gas class. As a joke, the first time I entered it in the races just for fun and let my girlfriend drive it. She smoked the competition and was forever a drag racer. She competed in every race I was in because it was my tow car and was always there. My friend's name was Judy Hageman. When I first met her, she lived in Lombard, Illinois, and then she moved to Plano, Illinois.  She loved the racing and traveled all over the country with me consistently winning. I did belong to a hot rod club named the Elgin Torquers which was based in Elgin, Illinois.  They did a fair amount of promotion. Those were the days when hot rod clubs did good deed, like leaving a club card with anyone that needed assistance. I sold both cars and moved to Seattle in 1964, leaving all of my trophies behind, thinking I would be coming back. I loved the Pacific Northwest and never went back, abandoning 100 plus trophies. I only have a few copies of Drag Times showing some pictures and results of a few of the races. The pictures are of poor quality somewhat typical of the press in those days.
Don Morin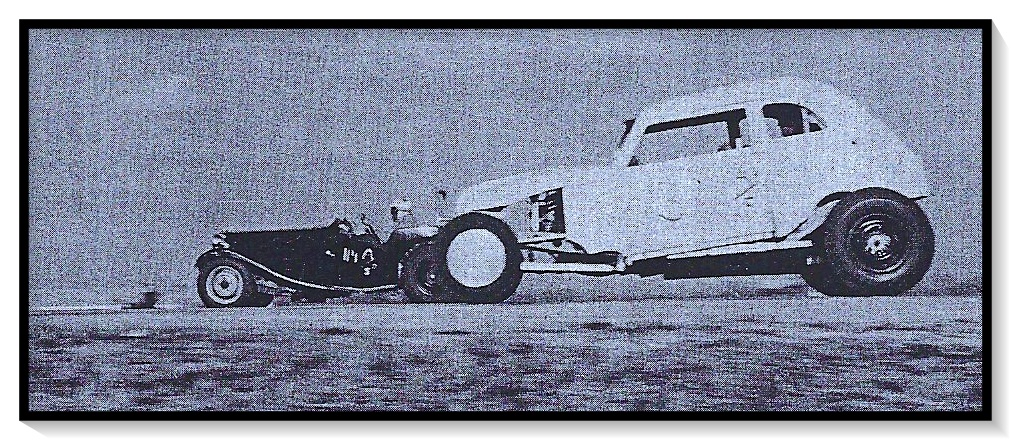 Don Morin came out on top in the top eliminator final match at Oswego on April 13, 1958. His 283 Chevy-powered MG A/MSP car was pitted against Joe Turek's Tornado-Ford-powered Crosley sedan on fuel. Morin won with a time of 13.18 seconds at 102.27 mph. Photo published in ​​​​Drag Times, Apr. 25, 1958, courtesy of Don Morin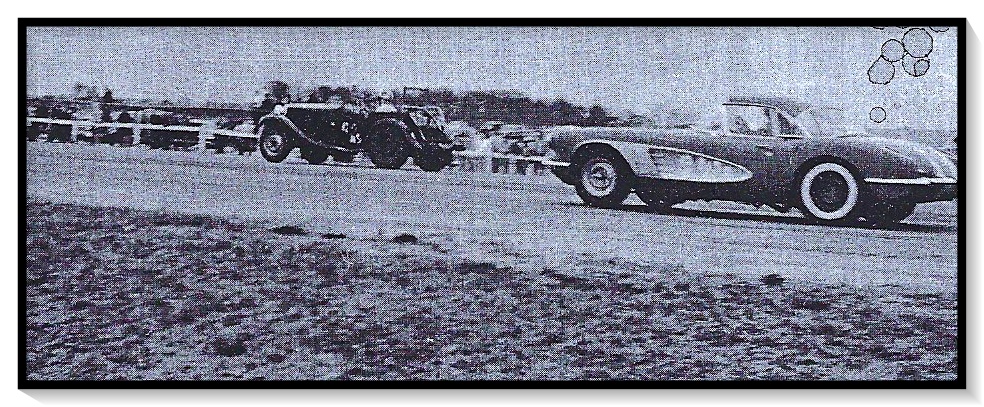 Don Morin took top eliminator at Oswego on April 20, 1958. Driving his 283 Chevy-engined A/MSP 1950 MG, Morin beat Dick Doane's '58 Vette driven by Fred J. Smith in the final round. Photo published in ​​​Drag Times, Apr. 25, 1958, courtesy of Don Morin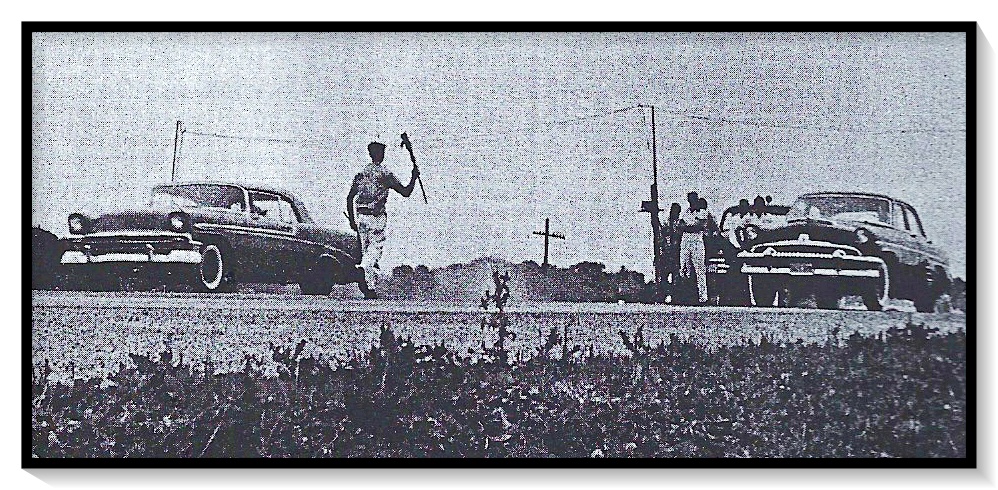 Judy Hageman, Don Morin's girlfriend, drove Don's '56 Chevy to the D Gas Coupe & Sedan class win at Oswego on June 22, 1958. She took the win against this Latham-blown '54 Merc with a time of 14.91 at 94.24 mph. Photo published in ​​​​Drag Times, July 4, 1958, courtesy of Don Morin
Paris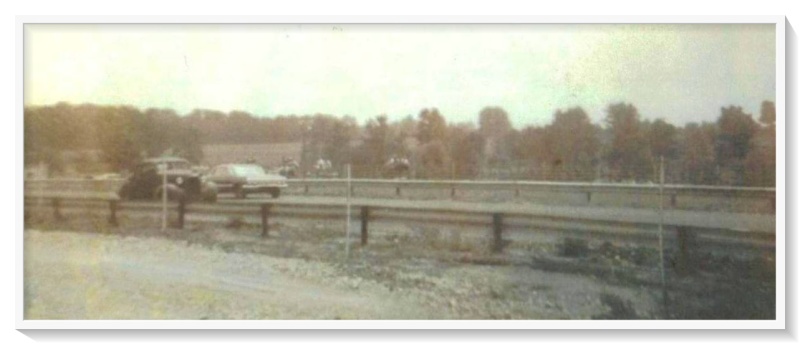 Glenn Hess in his Chevy coupe racing at CMW Dragway. Courtesy of Daniel Briseno

Glenn Hess in his Chevy coupe racing at CMW Dragway. Courtesy of Daniel Briseno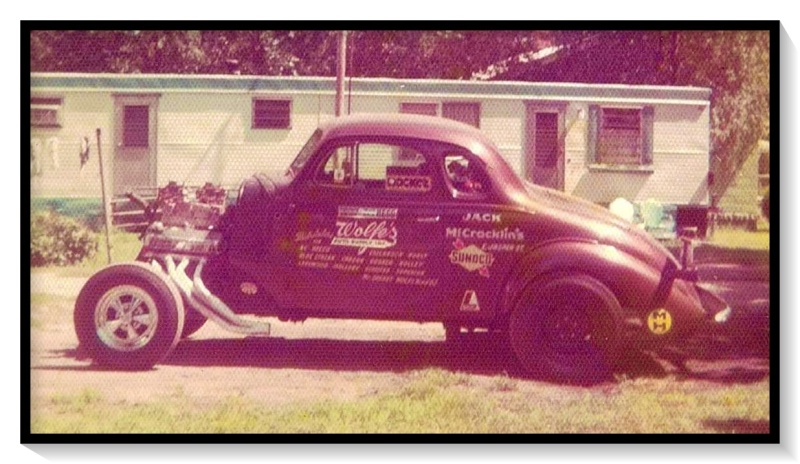 Local racer Glenn Hess's Chevy coupe, as seen in the above two photos racing at CMW Dragway. Courtesy of Daniel Briseno
Peoria
Greater Peoria Drag Strip, 1957
I raced my new '57 Fuelie Vette there several times: 8.24 seconds, 82+ MPH. M
y '57 was a 283 HP Fuelie.  All black, red interior.  $3,290.00 dollars, $500.00 down. It was the only Vette in town. 
It was on the strip the first weekend. I did a lot of top-end racing on Route 66, which came through our town--Bloomington, Illinois.
The East Peoria drag strip was a dusty track with a very short braking area. Fun though. The first 100 feet was concrete, the rest including the shutdown was clay.  That was the summer of 1957 at the East Peoria strip.   I think it was a Sunday, maybe a Saturday and also it was the day my friend Jerry Unser was killed at the Indy speedway.   There was no Christmas tree. A man stood between the cars and dropped the flag. It was part of a farm. Good ole days. I worked the night shift at a Shell gas station on Route 66.  I built my own set of traction bars on the Shell lift, used shock absorber ends welded to water pipe. It worked great.  The Unser family used Bloomington as their summer base, I grew up there and got to know the Unser family very well.  Jerry, killed here in Indy, used to take my Vette to chase down parts for their race cars.  He would remove the dump tube caps and drive with open exhaust.  Police didn't bother him, he was an Unser. 
Dale Smith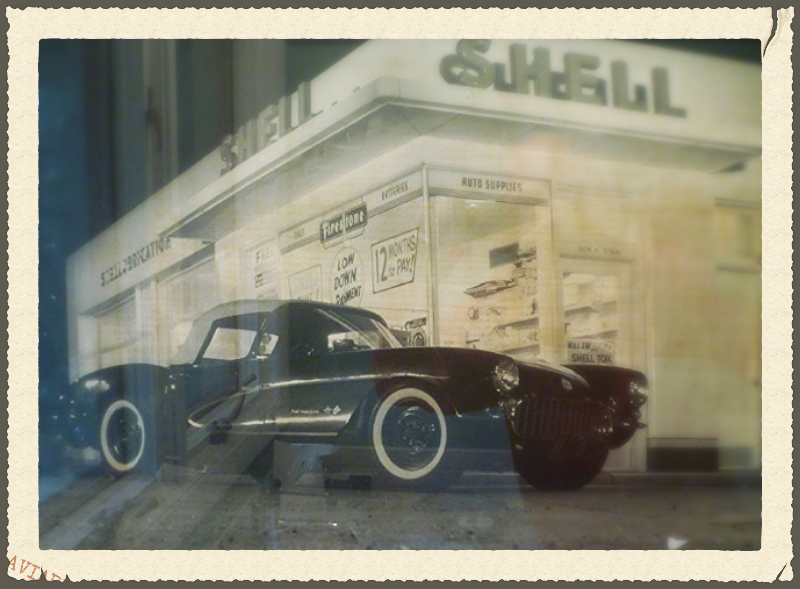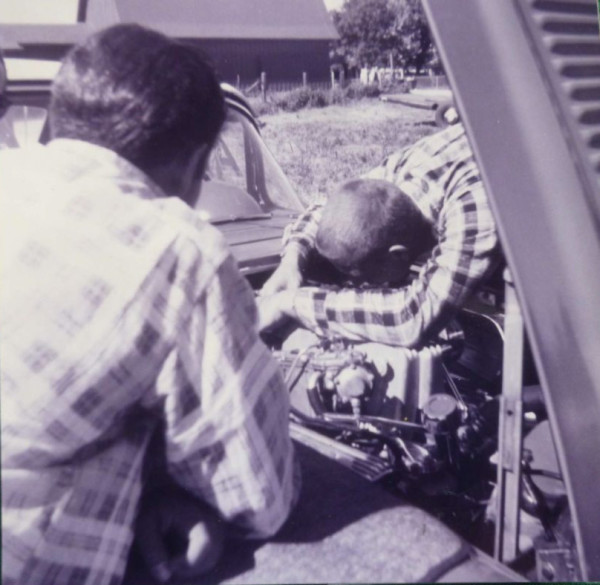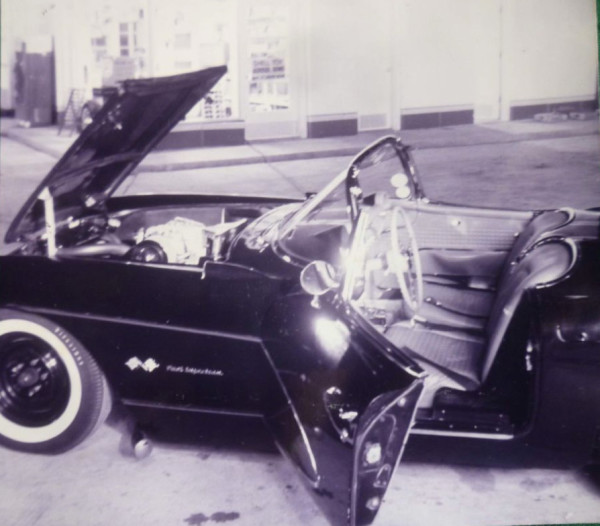 Dale Smith adjusts the distributor on his Vette at the East Peoria strip. Courtesy of Dale Smith
Dale Smith's '57 Corvette at the Shell service station where he used to work. Note the exhaust dump tube behind the front tire. He built them from a gas tank filler pipe obtained at a junk yard and welded to his exhaust system. "I had some exhaust gasket material and made a few gaskets for the gas cap. Worked great," wrote Dale. Courtesy of Dale Smith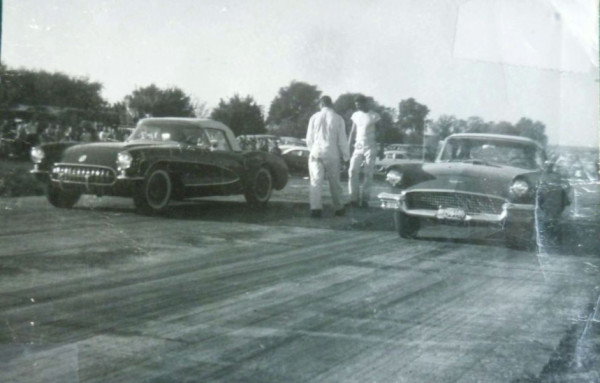 Dale Smith's '57 Vette paired up against a '57 T-Bird at the East Peoria 1/8th-mile strip. "I won," Dale wrote. Courtesy of Dale Smith
Quincy
I won two top eliminator titles at QUADS in Quincy, Illinois,. in 1958 with my Tri-Power Pontiac.  QUADS was a dirt quarter mile which was not even level. It was located on US 24, south of the Spring Hill Country Club. When I was there they had the beginning of a tower and did have a PA system. Clocks? I don't think so.
Ernie Derr, a stock car racer from Keokuk,Iowa, loaned me a pair of his dirt track tires and 200 pounds of sandbags. When I tried the stock Pontiac tires, there was no traction at all. I was in B/Stock. When I put on Ernie's tires, they made me run B/Gas, but the car was a lot quicker. I beat all the door cars there, then they said I had to race the rails for Top Eliminator. Thank heavens Stan Lomelino was not there those two times. The other rails  were jalopies from the Pittsfield, Illinois,1/4-mile circle track. They were quick off the line, but geared wrong and topped out about 600 feet. I won there twice and got two 10-inch tall trophies! No money, no bonds. So after two trips, I did not return.   My trophy collection was burned in a California wildfire in 1984. The mention I found of Stan Lomelino running there [in DSL] is the first time I have found another report on the track.

Jim Baker
Rockford
It was 1964 and Ray Modert and I had destroyed every center section for our 557-ratio rear end in my '57 Chevy that we could get our hands on. Ray said, "Let's just chisel that rib out." We didn't even have a grinder. We had to do it so the posi unit will clear. To house a 5-series gear set, the carrier had to be a 4-series and for positraction, it had to have that big "P" cast into the cast iron. We were at Sterling Speed in Rockford. The owner asked us if we were running the coming weekend. We had to inform him we were "rear end less." He said the owners of the black' 57 Chevy of Rockman and Halgrimson had a spare 557 they had used and they would sell it to us for 50 bucks. The only catch was, it was a locker. That was illegal in stock class. Ray and I conferred since we had been taken out on the starting apron and put thru a series of figure 8's the week before because the competitors couldn't find the big cast iron "P" on the center section of our rear end. They couldn't figure out how it had such even traction. We took the center section home, installed it in the '57, filled it with the special GM posi gear lube (just out of habit) and off we went to Rockford Dragway where we shattered that center section on the first run. I want to tell you right now that I swear, cross my heart and hope to spit in your supercharger that we NEVER had anything illegal except for this one time. We were both so nervous we were actually happy to see the rear end break. How did that hold up for Rockman & Halgrimson's D gas record holder and break on the first run in my little two-barrel stocker?
Jerry Richards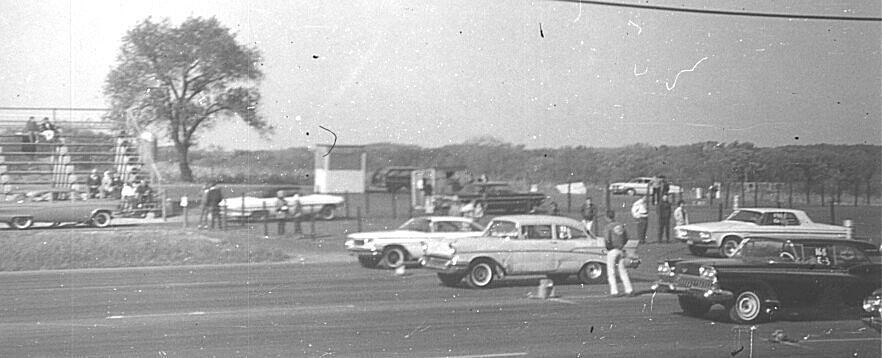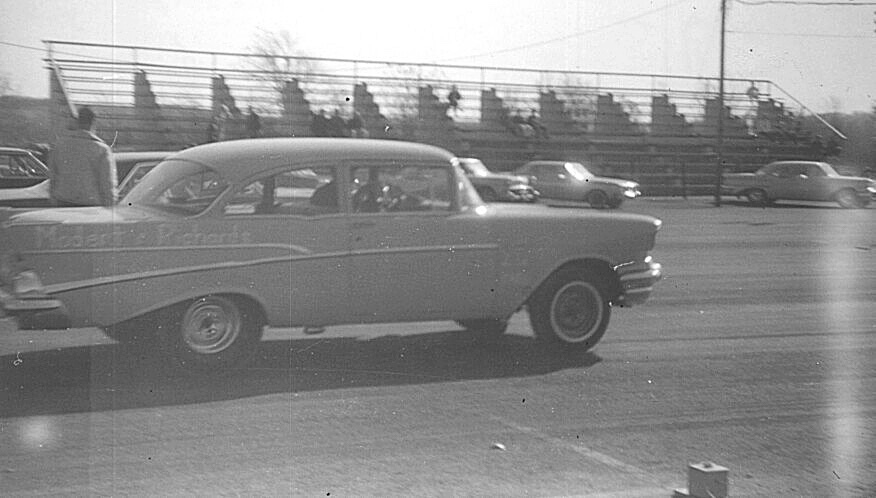 The 1957 Chevy in these photos is the race car of Jerry Richards and Ray Modert. All photos courtesy of Jerry Richards
It was the fall of 1964. I remember it just like it was yesterday even though it was over 50 years ago. I have great memories of towing the '55, and later, '57 Chevy back in the dark after a successful day at the drag strip, especially when we didn't break another rear-end gear set. Every week it was something new and this particular weekend was no different. The tech official came to Ray and me and stated the lynch mob was complaining about the dust the headers stirred up. If you look at the picture of my '57, the headers, which Ray built from discarded tailpipes, discharged straight down. My "stock" reply was, "Well, you passed it thru tech inspection with 50 guys standing around trying to find something illegal, the least you can do is let us run today and I promise next week we will rectify the problem." The officials always went along with us because they knew our word was good and none of the complaints involved real safety factors. So next week we came back with these exhaust deflectors Ray built. Ray could make anything look good, even discarded tailpipes.
Jerry Richards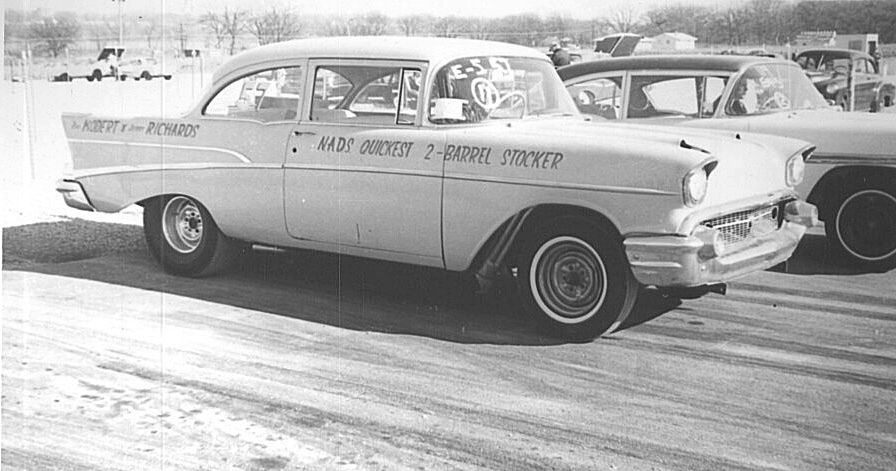 In this picture of Jerry's 1957 Chevy, you can see the headers that Ray Modert had first built for Jerry's 1955 Chevy, now installed on his '57 Chevy, which discharged straight down. Courtesy of Jerry Richards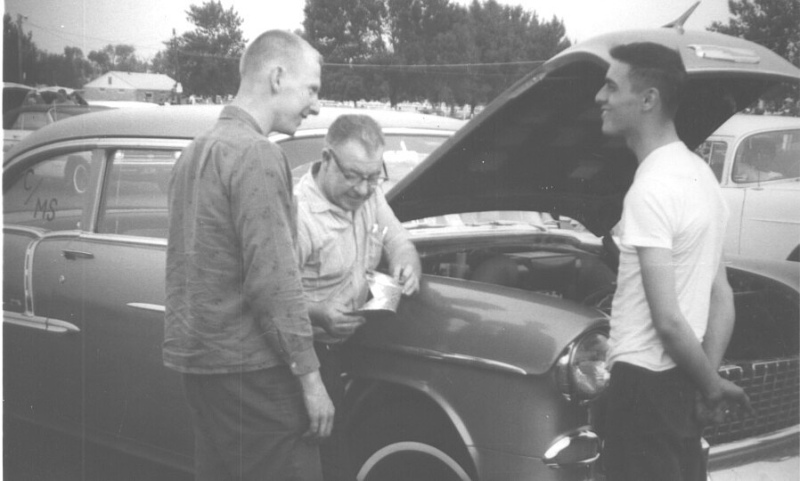 At Rockford Dragway, examining the exhaust deflectors built by Ray Modert (in white T-shirt on right) are left to right: Joe and Sparky Campbell, Studebaker dealers from Dixon, Illinois. Courtesy of Jerry Richards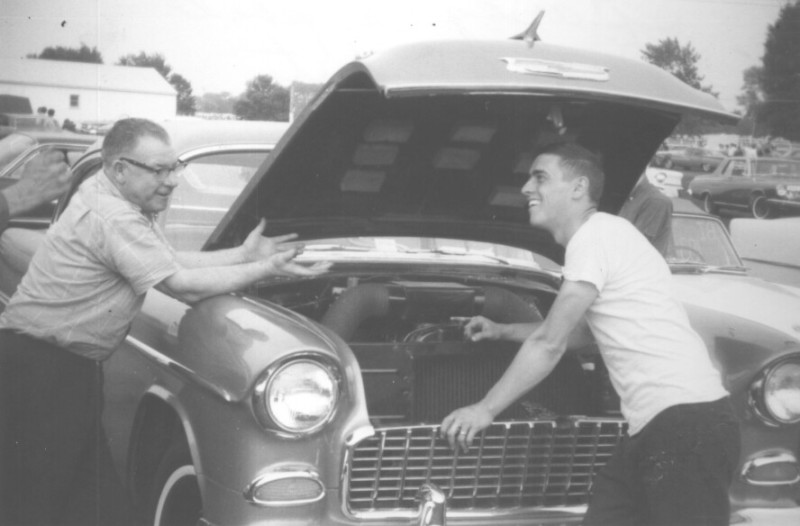 Sparky Campbell (left) talking with Ray Modert (right) at Rockford Dragway. Jerry Richards said, "Notice the air intake. Ray built this from a metal antifreeze can, coffee cans, and heater duct. It was especially effective in hiding the two-barrel carb which we didn't want anyone to scrutinize too closely. It also kept small rocks, nuts, bolts, and anything else that might find it's way into the intake." Courtesy of Jerry Richards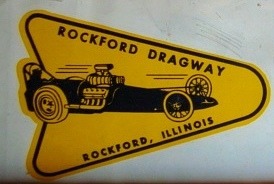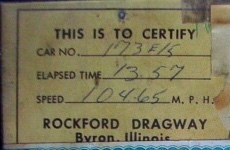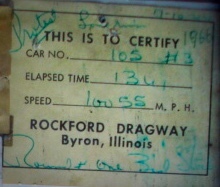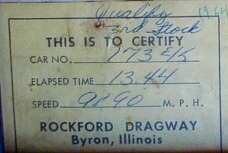 Decal and time slips from Rockford Dragway. Courtesy of Jerry Richards
Rockford Dragway, late 1960s
NHRA makes a big deal about the 4-wide in Charlotte.  I saw 4-wide racing at Rockford back in the late 60s.​


Jon Asher
Senior Editor CompetitionPlus.com
Senior Editor Drag Racing Edge Magazine

I ran a 1964 Ford Galaxie 500 with an "R" code 427. Dual quad with 4-speed. On the first and only run, I hit second gear and heard noises and was no longer able to operate the clutch. I drove it without a clutch to my home in Mt Morris, Illinois, and then to the little Ford dealership (Smith Ford) in Polo, Illinois, where I worked as a mechanic. I found the clutch plate had been destroyed. It was burgundy with black bucket seats and all the trimmings.  One thing I thought was strange.  Only 1-1/2" diameter exhaust and 710 tires.  Way too small on both counts.  I used a 4" well casing to build NASCAR-style exhaust from  those huge cast-iron factory headers angling to come out just in front of the rear tire.  They could be capped and exhaust could use it's normal way.  It had 4:11 gears as standard, but I tried a 3:10 gear, but with no torque on the low end of rpm, it was not fun getting the car in motion.  Once in motion, it was great.  I figured out speed correction using the tachometer and the 3:10 gave me 150 mph before I shut it down.   It did not take but a month from delivery that the engine was no longer as delivered.   Those were the days when service reps actually did know what they were doing and actually would physically help.  The rep at the time helped me order the car, making sure I got what I wanted.  A couple weeks after delivery, he came to the shop and layed a long box and another about the size of two shoe boxes on my work bench.  He said the contents were mine if I wanted them.  Wow!  Included were a camshaft, lifters, valve springs, rocker arms and push rods.  Also different guts for the oil pump.  Different jets and needles for the carburetors.  I was told to run the labeled lifters, etc., as a set with cam lobes they had been run with.  I was told all this had been run on an engine at the Ford performance test shop.  He told me to order gaskets for their install and he would sign a warranty claim saying they replace because of leakage.  Of course, the warranty was a whole 90 days or 4000 miles.  Totally different animal one all that was installed.   No wonder I blew a clutch plate during its first quarter mile attempt.  Ford did also replace the plate with a super duty plate.  The rep apologized as he never thought about the stock plate now being a very weak link.  I never raced it again at a strip.  Lots of very short stoplight bursts from challengers.  NEVER LOST.

Al Koper
Springfield
In 1967, I ran a '67 Ranchero in Pure Stock. "Boss Truck." It had a 2-barrel, 390, 3-speed, 3.00 rear. Best time 9.04. I won my class many times, eliminator twice. Lots of fun!  I was married the next year. Drag racing lost out to other interests.
Charles Begolka
Pleasant Grove Drag Strip, 1960
I reside in Illinois and have a neat old trophy with a plaque marked "Sangamon County Drag's, First -Winner - 1960." There is no name engraved on the bottom plaque. I'm not finding any info on this particular drag strip, or maybe the trophy was for an event of that name held at the Springfield drag strip? It measures 17 1/2" tall, 10 1/2" wide. The $10 bill is for scale. It's solid wood. I got it off of eBay some years ago. [Editor's note: This was undoubtedly the Pleasant Grove Drag Strip that opened for racing in 1960.]
Mike J.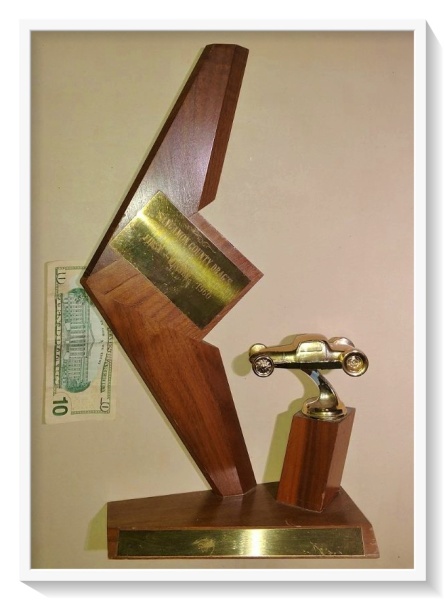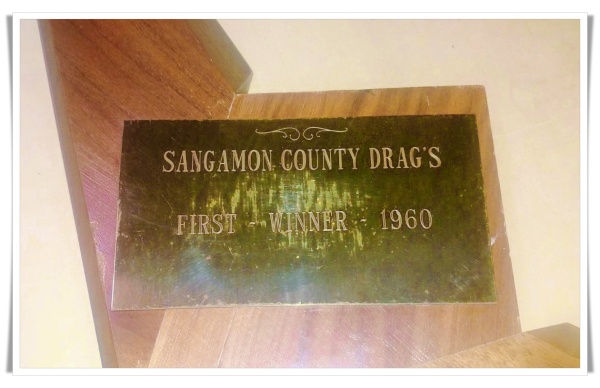 Trophy probably from Pleasant Grove Drag Strip, 1960. Courtesy of Mike J.