Remembering . . .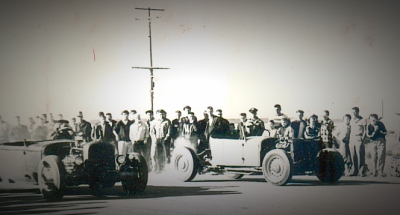 Jim Crump versus Hal Messick at Gowen Field, 1958
Boise
We went up there. Bill New, he liked us. He booked us in there with the old front-engine car.  We run at Pocatello, too.  New really liked us up there.  He'd book us in.  Jerry Ruth and Herm Peterson and all those guys were running up there.  We didn't go up there too often, but one season, I think we were pretty well undefeated up there. New really was a great promoter.  He booked us in once. He was giving us a grand to come.  From Salt Lake up there to Boise was a pretty long haul.  It rained the whole weekend.  He says, "Well, here's $500. Can you come next week? I'll pay you the grand again." So we did and we won that race.  I think we raced Ruth in the final up there and beat him. He didn't think anybody should beat him because he was "The King."  


Rex Pearmain, telephone interview
with Mel Bashore, August 14, 2017

Firebird Raceway, 1980s-1990s
I raced a lot at Firebird Raceway in the '80s and early '90s, running A Alki Dragster and Funny Car. It was a great place to race and great people to work with.


Glenn Pearmain

I saw my first drag race at Gowen Field in the summer of 1957. I had just turned 16. I absolutely loved it. I especially remember Roger Worley's '32 Ford coupe with a Chevy engine that later added a McCulloch blower. Other notables were Harrell Amyx with his 1957 312 c.i. factory supercharged Thunderbird, Larry Cloyd with his beautiful 969 Chrysler powered '40 Ford sedan and Bruce Holland with his fast Triumph motorcycle. That summer at Gowen Field changed my life. I raced my 1949 Ford at Gowen Field in the summer of 1959 when I was 18. I won one round in two races.


Joe Skaug

Firebird Raceway, 1969-80
I raced my GTO Ram Air IV Judge during much of 1969 at Firebird Raceway. I won much of the time including some Stock Eliminator titles. The Idaho Statesman newspaper referred to me as "perennial winner Joe Skaug." A couple of times the car wouldn't run well and we never did figure it out. Magically it started going fast again. I did all of the track reporting and much of the writing and P.R. for Firebird and owner Bill New from 1971-80.


Joe Skaug

Gooding
Gooding County International Raceway
I raced at Gooding, Idaho, three times with my Alki Funny Car, winning two. I raced one time with my Alki dragster and a match race aginst Ron Baker. I lost to Ron in that race, but great people up in Idaho.
Glenn Pearmain
Pocatello
Pocatello Drag Strip, 1962 NHRA regional meet
In 1962, I was sixteen years old. Our family spent that summer living in Pocatello while my father took a summer course in graduate school. Pocatello had a drag strip west of the city at the old airport. I learned that there was going to be an NHRA regional race. With only one car, and that needed by my father, I rode my bike out to see the race. I recall a lot of empty spaces between the city and the strip, as it seemed it was out in the country, with a few industries here and there. There were some small bleachers to sit on. The only memorable racer, as I recall, was a national record holder. I keep thinking it was Jess VanDeventer with his modified roadster, but the memory is faint.
Mel Bashore
Pocatello Drag Strip, 1977
I remember one trip to Pocatello Drag Strip with my brother, Kurt, where they guaranteed him, I want to say, $200 just to show up to fill out their bill for the weekend race. I remember pulling into Pocatello, looking for this drag strip, a lot of locals giving us bad directions. When we finally did find it, in total unbelief at the condition of the actual strip. In all the expansion joints in an old concrete runway, was grass growing up. So it was a patchwork of concrete and grass for the actual drag strip. I think this was in 1977 when he was racing his blue Vega. It wasn't like his later pro stock cars. It was more like a Pro Gasser.
Dave Lindorff
Pocatello Drag Strip, 1967
I ran the very first drag-racing Camaro in 1967 on Idaho tracks. I bought the Camaro after reading an advance article in Motor Trend Magazine in the spring of 1966 and made a special factory order (COPA) for the car to be delivered to Caldwell's Burns Chevrolet. It was a 1967 Grenada gold RS Camaro with Muncie M-22 and a 327, 275 hp engine. It was a very early production car as the 350 cu.in. and 396 were not available at that time. I took delivery of the car six weeks before they appeared in showrooms and the dealer wanted to hold it for several weeks to entice sales, but I refused and started to slightly modify it for C/PS racing class at the drags. Typical times were 14.7 to 15.1 and speeds of 95 to 98 mph in the quarter. I won stock eliminator at Pocatello Dragway in 1967. I have several old photos of racing in those days.
Steve Thomas
Pocatello Drag Strip, 1967-99
I raced at the Pocatello, Idaho, trrack from 1967-1999. I sold my car and became the announcer for Ed Jones until the track closed in 1999. My husband drove as well as my daughter and myself. then my daughter's kids drove their jr. dragsters. During the '70s and '80's, I set 5 national records and my husband set 3.
Kathy Steinmetz
Star
Thunder Ridge Raceway, 1970s
I never drag raced at Thunder Ridge. In the early 70's and maybe as early as the late 60's, the track was used by the Boise Go Kart Club for their weekly races. We used the strip and what was the pit area, using cones to mark the track. I was very young at the time, but have memories of racing at that track with my family and sitting up on the hillside throwing rocks against the hillside. Kids will be kids. Sometime in the mid- to late-70's, the Go Kart Club built their own track next to the drag strip called Glen Morgan Raceway. It's still running today. There was a parachute club that started using the strip shortly after that. I don't know if it's still in operation today. I have one picture of me racing that may have been taken from there or may have been taken from Gowen Field as we held a couple of races there each year.  I can't tell. It's been years since I've been out there, but have fond memories of racing on the drag strip. I never attended a drag race until the late 80's. I have been drag racing for the last 23 years or so at Firebird Raceway with a 1972 Chevelle that is painted up like a Boise City police car that the PAYADA program and now Boise PALS program uses as a drug education program.
Larry Jenkins
Thunder Ridge Raceway, 1969
I raced there a few times in the summer of 1969. It was a fun place to race and I did well, but the track couldn't compete with nearby Firebird.
Joe Skaug