Remembering . . .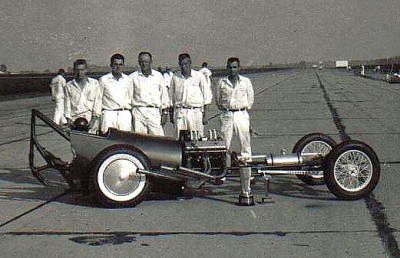 Nobles Car Club, Sioux City Airport Drag Strip, circa mid-to-late 1950s. Terry Krommenhoek, photographer
Ames
Ames Dragway was located between Highway 69 and the Skunk River. It was east of Highway 69 across from where Lowes is now.  I was there. It started on 60 feet of concrete and raced on dirt.  No bleachers, good timing, and good shutdown length. Ran west to east. 

Loren
The first time I saw drag racing as a viewer was in 1957 at Ames.

Phil Wieting
Cedar Falls
My brother, Clinton E. Hagedorn raced at Neita Raceway in the mid 60's. He died on July 4, 1967, at Neita during a time trial.

Des Moines
Des Moines Drag Strip, 1961-65
I raced a lot in the early '60s at the Des Moines Drag Strip. I won trophies in the '57 and '58 Chevy stock class. Then I built up a '55 Chevy 2-door 150 series wagon. It had a 283 cu in truck block bored out to about 301 cu in. It had a 4 speed trans and a 538 geared positraction rear gear. I won quite a few races  against many newer cars with much bigger engines. Lots and lots of fun. My fastest time was 14.91 at 104 mph.  On the street it was a real "sleeper." At Des Moines Drag Strip during time trials, I beat a new '64 Corvette 250 HP stock engine 4-speed. The owner was shocked that this old '55 Chevy wagon had beaten him. The crowd gave me quite a cheering section when we came back down the return strip.

Ron Johnson
Ames, Iowa
I raced my '63 409 on opening day of '63. I won A Stock with 14.23. I ordered the 409 from a Chevy dealer in Humeston, Iowa. It cost $3400, had a 4-11 rear end with posi-traction, 400 hp, 4 on the floor, black with a red interior. I put 9-inch slicks on the rear for the drag race. Great times.

Bill Weaver
Pacific Junction
Mid-America Motorplex, 2007-19
I have been racing at the Mid America Motorplex (now I29 Dragway) across the I-29 from Pacific Junction since 2007. I also race at the new Onawa Dragway.

Jimm Murray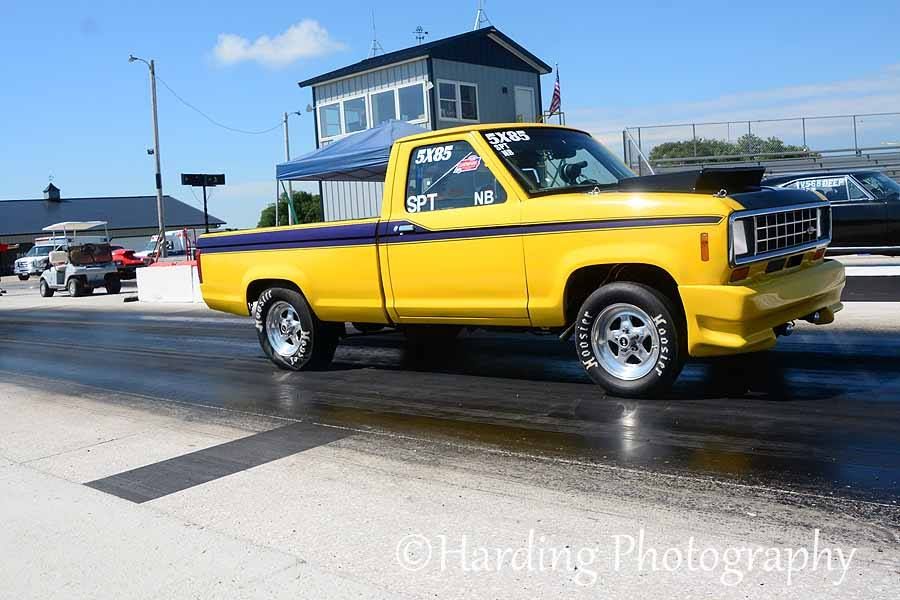 Sioux City
Sioux City Airport Drag Strip, 1960s
I grew up in Sioux City.  I joined  the Strollers car club in 1959 when I was 17 and a senior in high school. I had a  '40 Ford coupe with a 303" Olds in it.  Club members worked at the airport drags with the promoter, Bob Coney.  The Strollers were established in 1954.  Coney ran the strip from 1958 to 1973. I was in the Strollers car club from 1959-60.  I went in the Navy in '61 and went to Arizona State in Tempe. I got out in '65.  I returned to  Sioux City in spring 1966 with an ex-top fuel car that I had bought form Joe Franco in Phoenix as a roller.  A Sioux City buddy, Jerry Bagley, had an injected stroker 389 Chevy he had been running on nitro in an old chassis.  We put his engine in my dragster. We only made it to one race there at Sioux City in June of  1966.  Jerry was drafted the next week. I took the roller back to Arizona and sold it to Glen Brown and Joe McKee. They went top fuel racing with it and were runner-up to Mike Sniveley in "The Hawaiian" at the 1967 Riverside Hot Rod Magazine Championships .

Paul Hutchins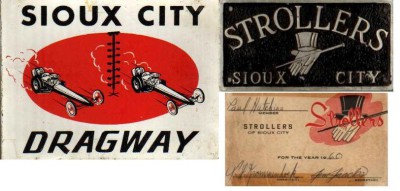 1960 Strollers car club membership card and other memorabilia. Courtesy of Paul Hutchins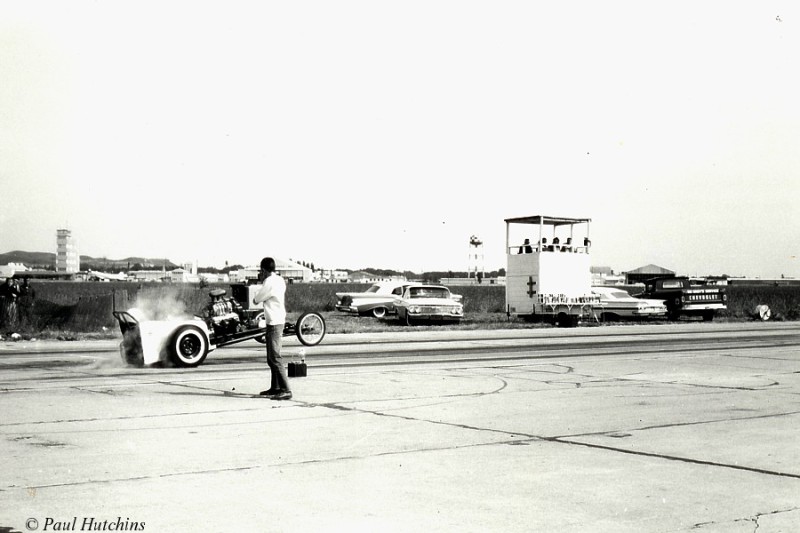 Ray Freeman's dragster from Omaha, Sioux City Airport, September 1961. Courtesy of Paul Hutchins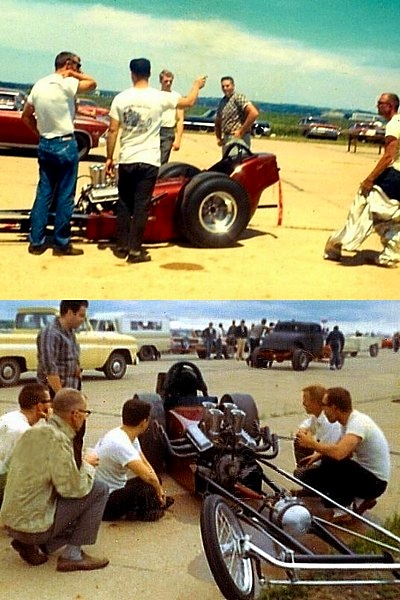 Bagley & Hutchins A/FD, Sioux City Airport Drag Strip, June 1966. Courtesy of Paul Hutchins
Sioux City Dragway, 1960s
Bob Coney is my brother. He enlisted my help setting up all functions at the drag strip early every race day. In 1963 I raced a '63 impala 327 ci, 300 horsepowrer. I won my class every race day.

Don Coney
I raced my gasser at Sioux City Dragway.

Carroll Schmidt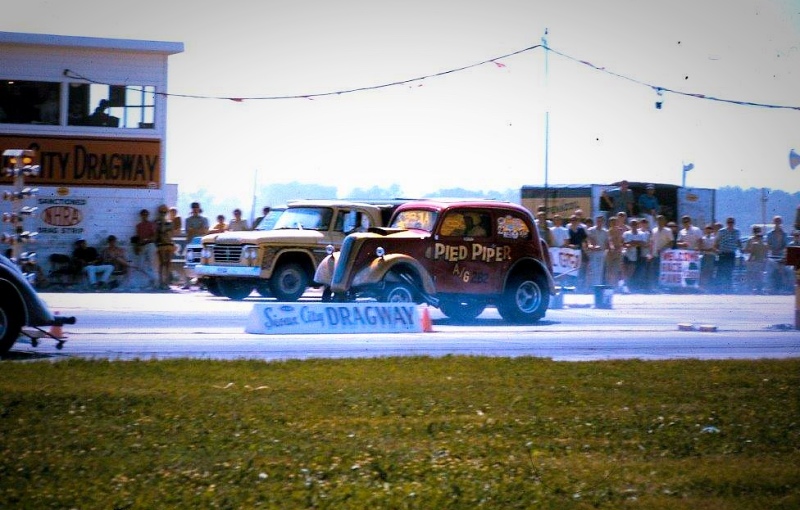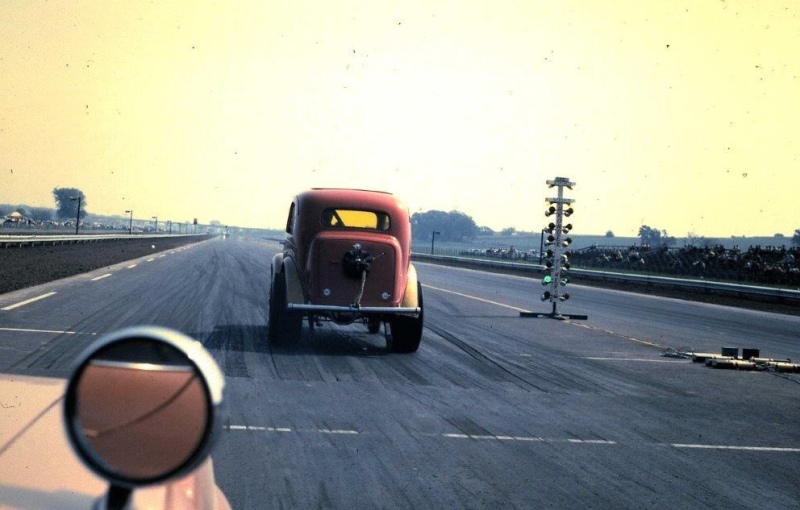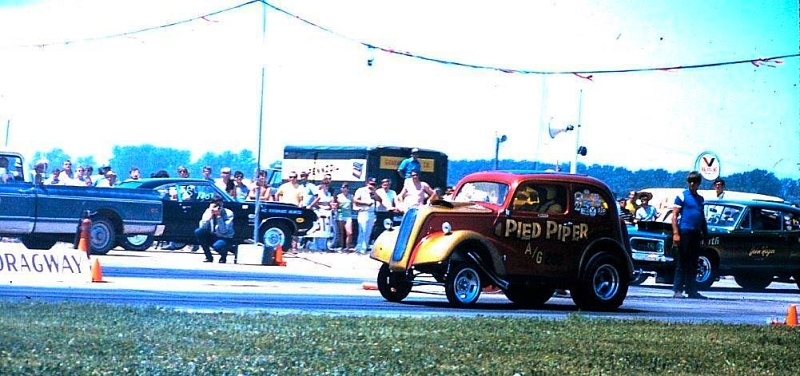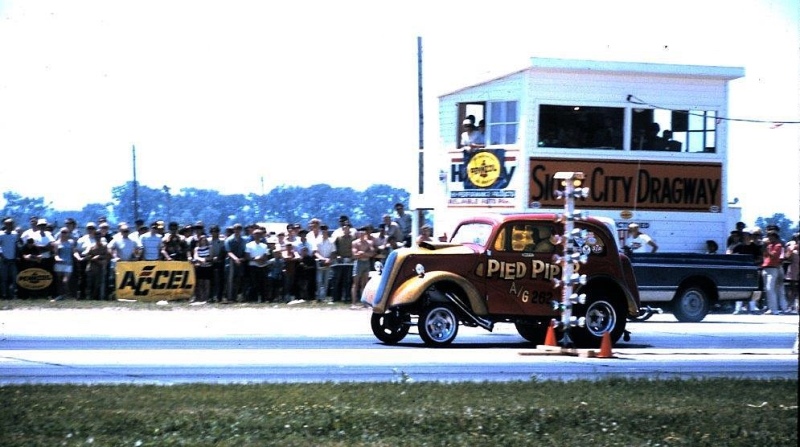 Sioux City Dragway, 1960s
My cousin and I worked for Bob Coney in the tech line with Jerry Liskey. He raced a '60 Bonneville and a '64 GTO, I raced my '55 Chevy and 1960 El Camino from '64-69. The racers from Lincoln and Omaha used to come up to the all-concrete track, "Tension" '57 Chevy, "Quicksand" '56 Chevy and Rapp Chevrolet from South Dakota.
Jerry Maynard