HAWAII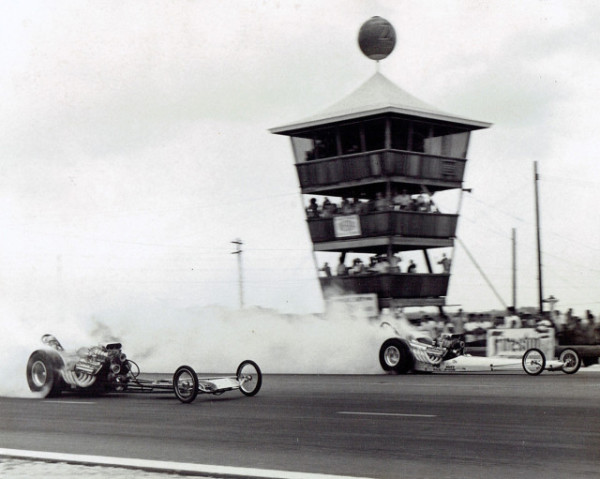 Kahuku Point Airfield ​​​(Oahu) (1954)​

Hawaii Raceway Park (Honolulu) (1964)

​
Mana Raceway/Kauai Drag Strip/Kauai Raceway Park

 (1971)
Top fuel racing at Hawaii Raceway Park, Honolulu. Photograph from Earle "Safari" Char
Hawaii Raceway Park ​(Honolulu)
Years of Operation: 1964-2006
The drag strip was built on what became a racing complex comprising a dirt oval track, road course, and sand drag strip. Racer Jimmy Pflueger, the track owner, was the motivating force behind its construction at the Campbell Industrial Park. $225,000 was spent on its construction. It opened under NHRA sanction on July 4-5, 1964. 8,500 people saw Don Prudhomme turn 184.80 MPH despite bucking stiff headwinds. At a 2-day race on July 30-31, 1966, Stan Shiroma drove the Crivello-Farias & ShiromaIn fuel dragster to a local speed record with a 192.70 MPH clocking. A match race between Kenny Safford and Jeep Hampshire was won be Safford with a best fast speed of 204.08 MPH.  The track featured name-drivers from the mainland with regularity to boost attendance. Between April thru August 1969, the Aloha Timing Association rented and conducted races, but then Pflueger let Clay Miller manage the track. In December 1970, Raceway Enterprises under the management of Jerry Simoes took over management of the track.  In 1973, the track briefly closed when the promoters failed to keep up with their lease rent. This was just the first of an on-again, off-again history of racing at the track. After their lease with the James Campbell Estate ran out, the drag strip had to close.
CLICK HERE to see video slide show of Hawaii Raceway Park in the 1960s, 6:12 minutes, music only/no sound

Did you race here? Tell us about it.
CLICK HERE to see location on a map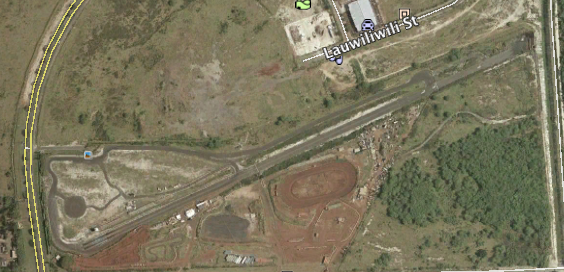 CLICK HERE to see brief 8mm video clip of Hawaii Dragway, produced by James Amos, pan to 6:24 minute mark thru 6:39 minute mark


2004 aerial view of Hawaii Raceway Park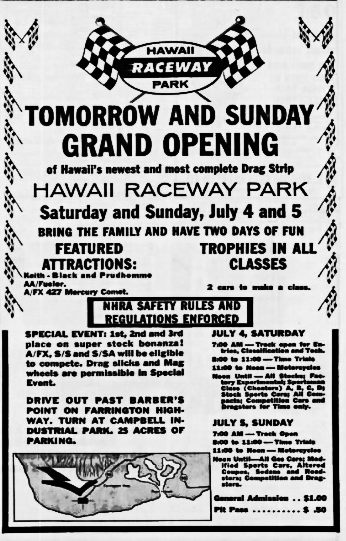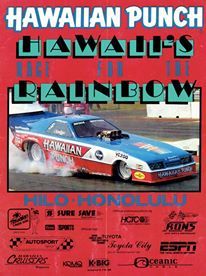 1986. Courtesy of Tracy Arakaki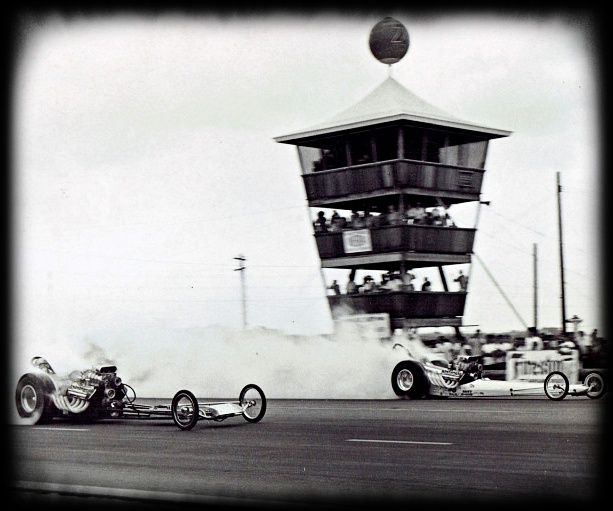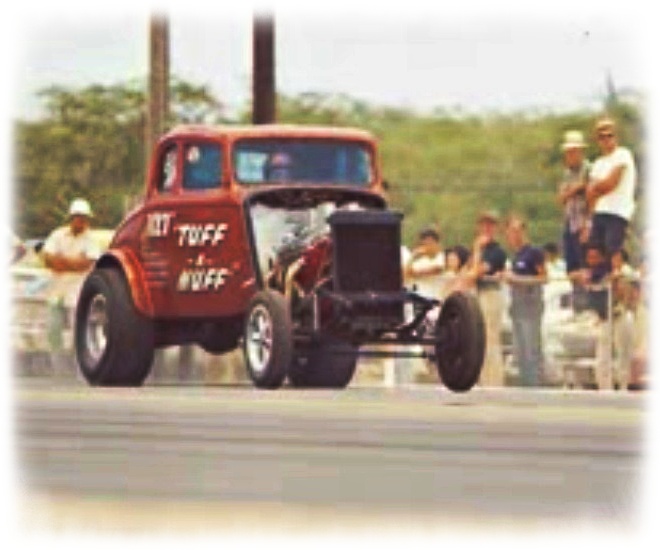 Kahuku Point Airfield ​(Oahu)
Years of Operation:  1954-1964
Drag races took place on a runway of the WWII airfield at the very northern-most tip of Oahu. There were three old WWII airfields in close proximity to each other on the northern part of the island. The Kahuku Point Airfield at the very tip had the most facilities of the three. It had two paved runways and a taxiway paralleling the northern runway.
Walter Dick
recalled, "
I was one of the group that initiated drag racing at the Kahuku strip. 
I was a 'founder' of the local hot rod club (circa 1952). 
We negotiated with the local Philipino farmer leaseholder for access to the site. 
We used the end of the South segment of the strip. We had to chase the cows off before we could race. 
The North segment of the strip had the antenna field for the RCA short-wave transmitting site 
and also served as a National Guard summer campground.
Most of the middle was covered in blowing sand then." It appears from his description that drag races were held on the wide strip that was oriented northwest/southeast. That strip on the eastern side of the point is still visible in aerial photos. The earliest documentation that
DSL
found was a report of a race held on August 1, 1954. The third race was held on August 15. Newspapers reported that a rolling start was employed in timing the racers for a quarter-mile. On December 5, 1954. Jimmy Pflueger had the fastest car, winning two out of three races from David Blight to take top eliminator. On October 9, 1955, Pflueger set a new track record with a run of 110.42 MPH. German Frias set a new track record with 120 MPH in his twin-engined motorcycle on April 22, 1956.  In March 1957, Drag-Racing Limited filed articles of incorporation and leased the airstrip from the Campbell Estate to hold races. Their races were conducted by the Hawaii Motor Timing Association. In April 1957, the HMTA boycotted the strip for two weeks until Drag Racing Limited agreed to obtain adequate insurance coverage. On May 12, 1957, Longie Gandall set a new track record with a run of 134.32 MPH at 10.38 seconds. During a 4-day race from July 4-7, 1957, Emery Cook in the Cook & Bedwell fuel dragster from San Diego, set a new track record with a run of 166.66 MPH and a low ET of 9.19 before thousands of spectators. Another driver from the mainland was Ed Cortopassi, driving the "Glass Slipper," who ran 160.59 MPH. 
We are fortunate to have home movies of the racing in 1957 (see below). On September 4, 1961, Jim Nelson's "Dragmaster Hawaii" set a new gas dragster record with a speed of 163.25 MPH in 8.45 seconds. When the track closed in 1964, the strip record was held by Roland Leong at 180 MPH in 8.58 seconds. Racing at Kahuku effectively ended when Hawaii Raceway Park opened. A hotel, golf course, and wildlife refuge occupy the site of the old arifield today.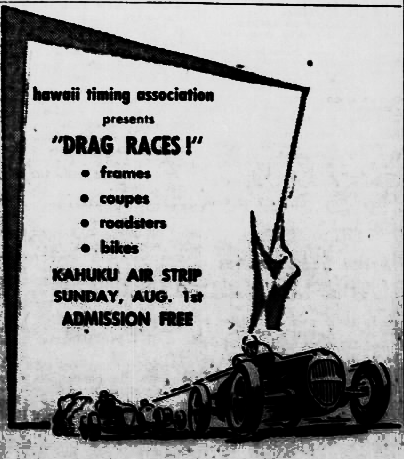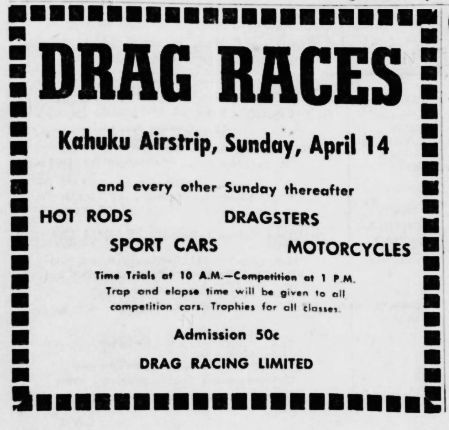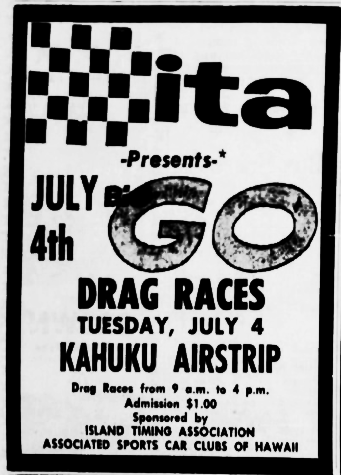 Did you race here? Tell us about it.
CLICK HERE to see location on a map
CLICK HERE to see 8mm video footage of drag racing at Kahuku in 1957,  4:17 minutes, music only/no sound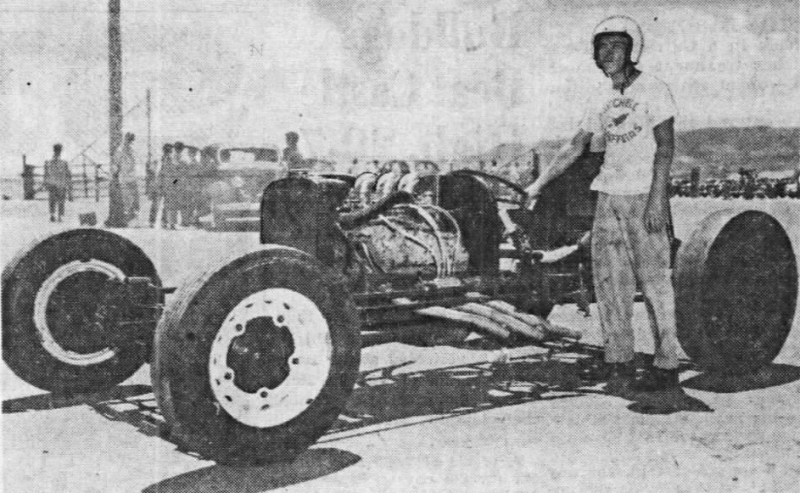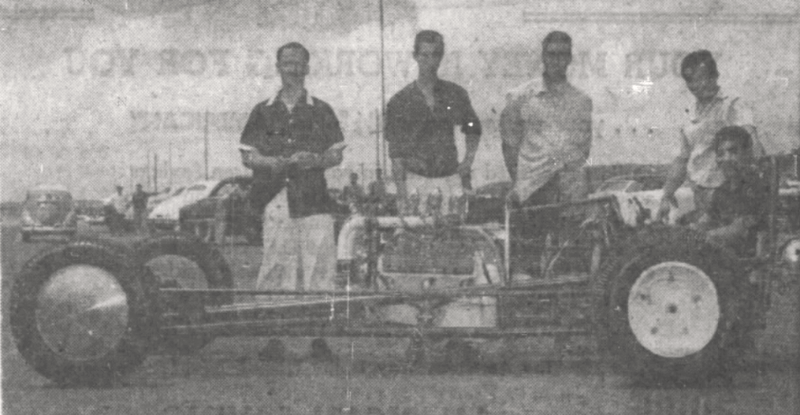 Bobby Lee stands next to his dragster at the Kahuku airstrip. He was regularly timed at 110-112 MPH. Photo published in ​​​​​​​​Honolulu Advertiser, Dec. 4, 1955
Carl Sumida is the driver of this dragster at the Kahuku airstrip. Others left to right are Johnny Kalii, Clifford Chee, Richard Kamakea, and Richard Lee. Photo published in ​​​​​​​Honolulu Advertiser, Apr. 29, 1957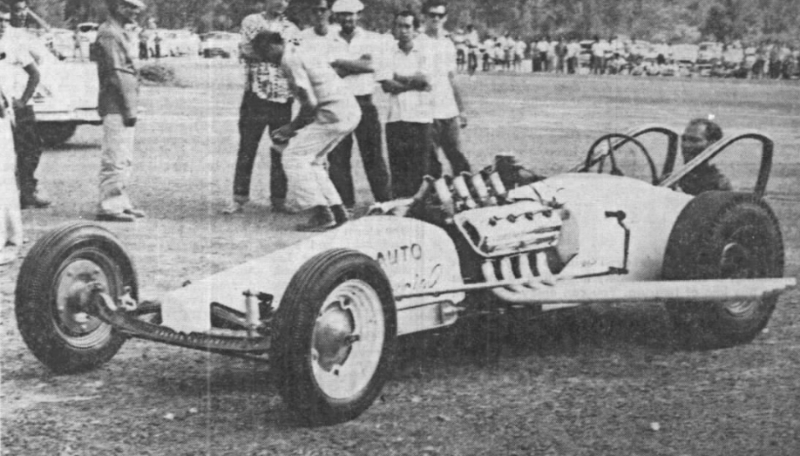 Henry Lee at Kahuku Air Strip, where he died in a fatal accident in 1958 in this 160 MPH dragster. Photo published in ​​​​​​Honolulu Advertiser, Nov. 17, 1958
Years of Operation:  1971-77
Races were held at the Kona airport (called Kailua Airport Park), which had been used as an airport until 1970. State representative Toshio Serizawa introduced a House resolution in February 1970 asking that the State permit drag racing at the airport after it closed. However officials decided in November 1970 to open it as a camping area and park. Those plans fizzled out and drag racing began at the airport by at least January 1971.  It operated for some of the years in the '70s under NHRA sanction. It served as an interim racing venue while the Hilo Drag Strip was being planned and built, but closed when the track surface deteriorated in about 1977. However even after the Hilo strip opened, interest was expressed in trying to reopen the Kona strip. Race car drivers in west Hawaii were reluctant to tow their cars all the way to Hilo with the uncertainty of weather. County officials rejected the proposal in 1978 as being too costly.

Listing in ​​​​​​​​​National Dragster, Dec. 23, 1977. Courtesy of Mel Bashore
Did you race here? Tell us about it.
CLICK HERE to see location on a map
Mana Raceway/Kauai Drag Strip/Kauai Raceway Park
Years of Operation:  1971 - present
Drag races began in 1971 under NHRA sanction. It was first called Mana Raceway. Located just northwest of Kekaha, It still runs quarter-mile races today, called Kauai Raceway Park, under NHRA sanction and operated by the Garden Isle Racing Association. It is also locally called Mana Drag Strip. In 2013, the strip was renovated and resurfaced with $1.3 million from the state legislature. The racing surface had deteriorated greatly, last being resurfaced back in 1972. It reopened in 2014, after 18 months of refurbishing and track improvements.

Listing in ​​​​​​​National Dragster, Dec. 23, 1977. Courtesy of Mel Bashore
Did you race here? Tell us about it.
CLICK HERE to see location on a map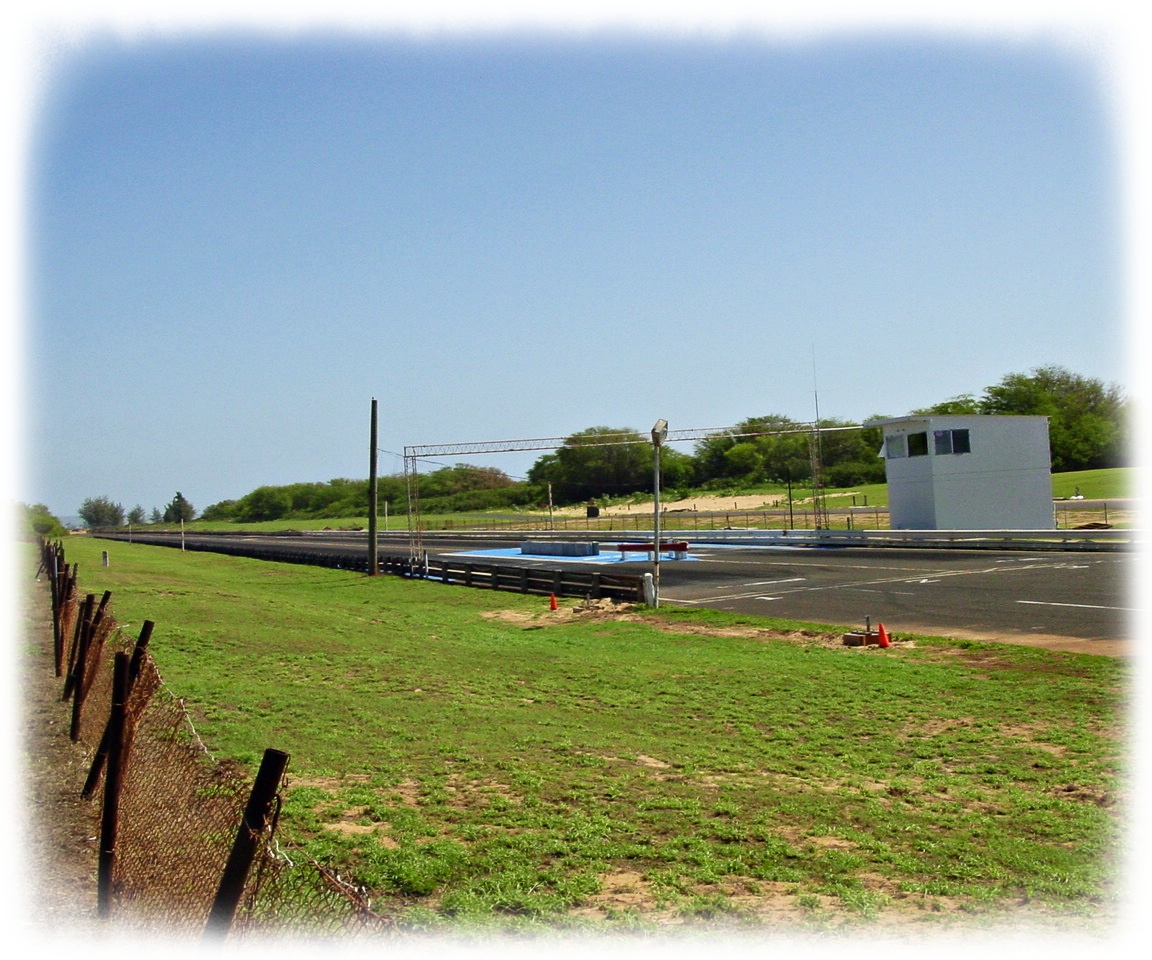 CLICK HERE to see TV news feature on Kauai Raceway in 2010, 1:43 minutes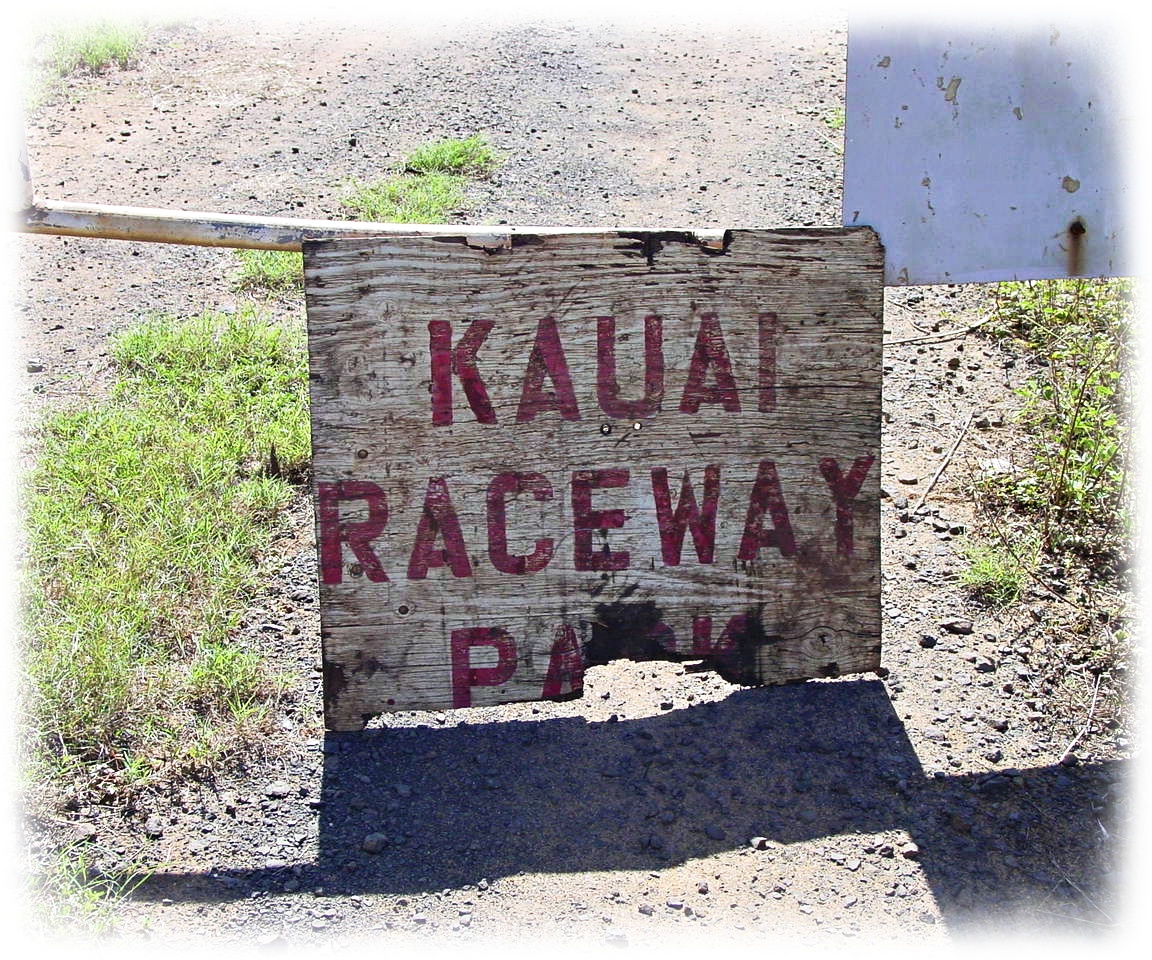 Years of Operation: 1963-present
This quarter-mile NHRA-sanctioned drag strip is located at the old Puunene Army Airfield north of Kihei.  Drag racing on Maui dates back to probably the 1950s when racers used the old airfield for impromptu racing. In 1963, the Valley Isle Timing Association was founded and VITA sponsored racing on the airfield that year. Racer Kenneth Souza was killed on July 27, 1969, when his car overturned while racing at the old Puunene Airport drag strip. Accoriding to
the track's official website,
VITA-sponsored racing at Maui is (in 2016) in its "42nd consecutive race season." This calculates to 1974 for continuous racing operation. Maui Drag Strip first came under NHRA sanction in 1977.

Listing in ​​​​​​​National Dragster, Dec. 23, 1977. Courtesy of Mel Bashore
Did you race here? Tell us about it.
CLICK HERE to see location on a map
CLICK HERE to see video footage of Maui Raceway Park, 2011,  8 minutes