Remembering . . .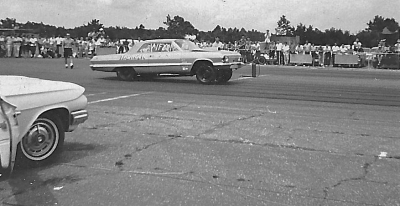 Bob Tucker's A/FX, Osceola Drag Strip, 1960s. Photographer unknown
Baker
Okaloosa Drag Strip, 1969-71
We didn't run at Okaloosa. We started going as soon as Louie and I got our license and that would be the summer of '69. There was hot cars . The "Alabama Jay Hawk" was one of the big ones. Everybody ran four-speeds. Charlie Powell came up with a '40 or '41 Willys that had a straight axle and so much green metal flake in the paint job that the finish was bumpy. He built a bad-ass machine and couldn't drive it to save his butt. That didn't stop him from going to Gainesville where he found a teacher and a pair. When he got back, he would jerk the wheels off the ground at the start and keep them up till fourth gear. Plenty of challengers, but nobody could handle him. He got bored and let some kid named Jay Arseth drive it, but all he could do was miss gears and over-rev the motor.  In 1971, a girl passed us just before a stop sign right at the track and hit a sand  bank that killed her. I think that was the last time we went.
Roger Williams
Okaloosa Drag Strip, 1978-79
I was stationed at Eglin Air Force Base from March '78 to March '80. We raced at Baker the summer of '78 and, I think, '79 also.
Russ Allen
Bradenton
Desoto Memorial Speedway, 1985
I won NHRA Comp. Division II in 1985 at Desoto Memorial Speedway.
Jerry Gentile
Clearwater
Sunshine Drag Strip, late 1960s-early 1970s
​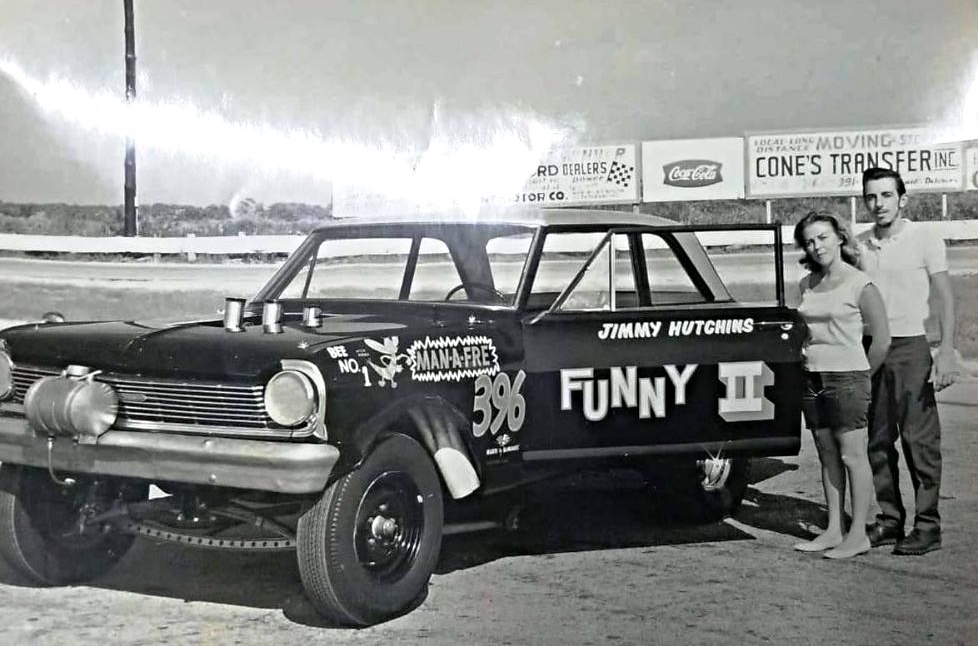 Ginger and Jimmy Hutchins standing by thei B/FX "Funny II" car.. Courtesy of Jim Wyckoff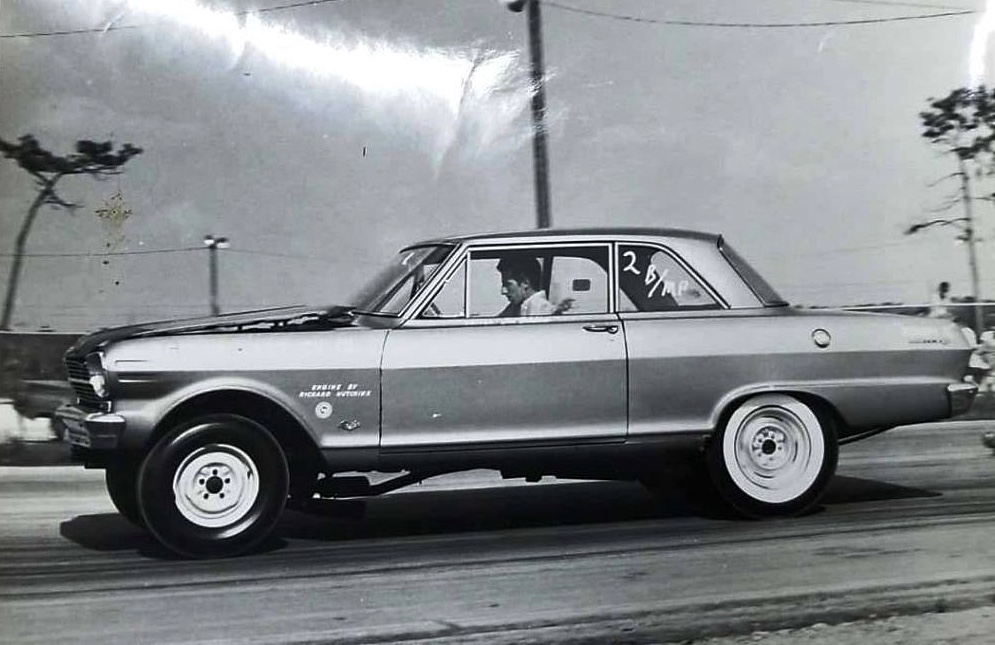 Ginger Hutchins drove this Nova in the Powder Puff category. Courtesy of Jim Wyckoff

Daytona Beach
Daytona International Speedway, Flagler Beach Airport, and Spruce Creek Airport, early 1960s
I attended the baackstretch drags at Daytona. My father raced on the 1/8-mile pit road drags. We used the garage area for pits. One story on the backstretch--Art Arfons' jet or airplane-engined dragster bent the frame when it was slowing down in the third turn. Flagler was where NASCAR and NHRA had a joint race. They gave out marble trophies. Garltis threw his on the ground. "Want money, no damn trophy."  My father raced that night. We still have the marble trophy and the news article. We raced at Spruce Creek all the time. Daytona Beach Custsom and Timing Association ran the weekly drags. NASCAR ran them during Speed Weeks.

Rick Goodsell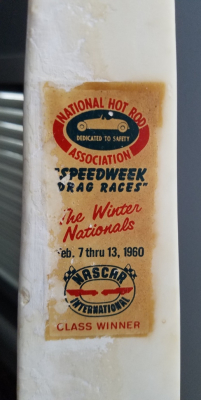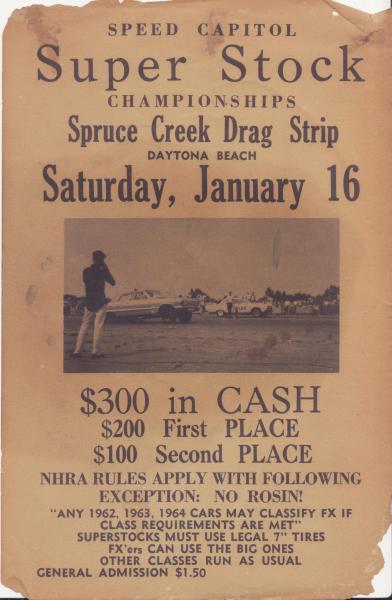 NHRA/NASCAR Winter Nationals trophy, 1960. Courtesy of Rick Goodsell
Spruce Creek flier, 1960. Courtesy of Rick Goodsell
Daytona International Speedway, 1962
I've been to Golden Triangle and the first time I ever drag raced was at Tampa's new strip. At that time, my brother raced his B/G at Daytona Speedway when they had drags there in 1962. He drove it there from Tampa and we raced sixteen 406 Fords at one time on the beach late one night. What a time to live compared to now. I live in the Philippines now so not much racing here.

John Vermillion
Fernandina Beach
Buccaneer Drag Strip,  early 1960s
I remember the Buccaneer drag strip in Fernandina very well. I was in high school and I lived about 60 miles from there. Me and some of my friends would go there quite often just to watch. It was just a long wide asphalt runway back in the woods. There were no buildings or planes there. People would park their cars all along the drag strip and watch. Most of the time there were only local people there racing their street cars, but every now and then something special would happen. I remember seeing Dyno Don Nicholson in his '63 Impala and on another occasion, Phil Bonner in his '63 Ford. We were young and we loved it. Oh, I do have one more story. A friend and I went to the Buccaneer drag strip one Sunday and we had to hitch hike there. The last ride we caught was in Fernandina and it just so happens that the guy who picked us up was going to the drag strip . He told us that a Plymouth was going to be there that day and it had never been cut. Now keep in mind that this was 1962. I had never even seen a really bad Plymouth before.  421 Pontiacs, 409 Chevys and 406 Fords ruled. When that '62 Plymouth--413, 2 fours, automatic--made a pass, I knew then that the Chrysler Corp was taking this performance thing serious. I can assure you that no GM or Ford product that was stock could hang with this Plymouth. It was probably a coincidence, but there was a '62 409 Biscayne there that was towed in by a '62 Impala, the same color. His name was Pat Patterson from Cocoa Beach, Florida. Both cars were running Bucrons as I recall. They ran each other and the Plymouth won a really close race. The next run, Patterson installed some slicks that he borrowed from someone there. When they made the next pass you could feel the excitement in the air. As soon as they left the line, people were running out on the track when they went by to get a better look. This time the 409 won a close one. They were both just turning in the 13s, but that was fast back then. That day will always live in my mind. I was messing around on the computer a while back and I typed in  Pat Patterson, drag racer from Cocoa Beach and I actually found a picture of him and the car. It was called the Dixie Rebel.

Cappy Pegram
Buccaneer Drag Strip,  early 1960s
My dad was Pat Patterson mentioned in your Fernadina track. Dad held the Super Stock title in '60-63 in Florida with his 409 Dixie Rebel. I have some of his photos that you may be interested in posting. I don't know which tracks these pictures were taken at, but my dad raced all over Florida.

Jerry Patterson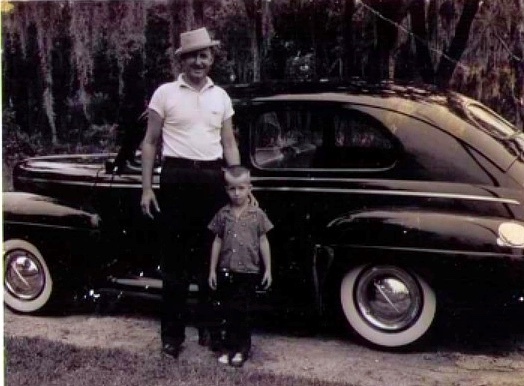 Pat Patterson and his son, Jerry. Courtesy of Jerry Patterson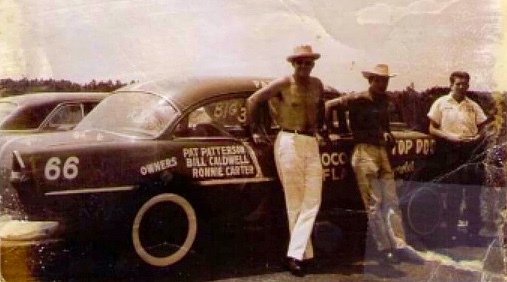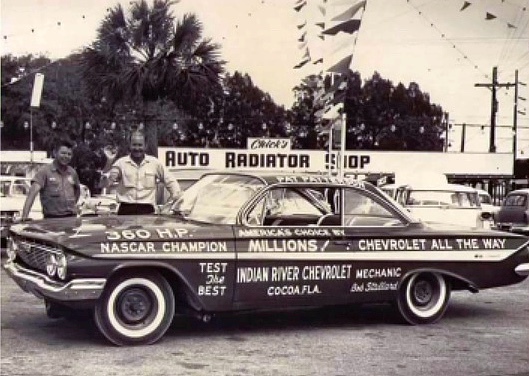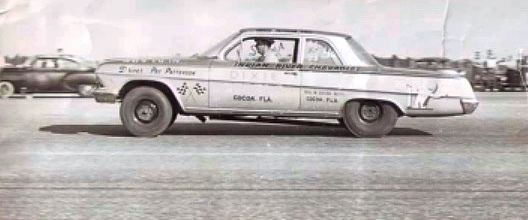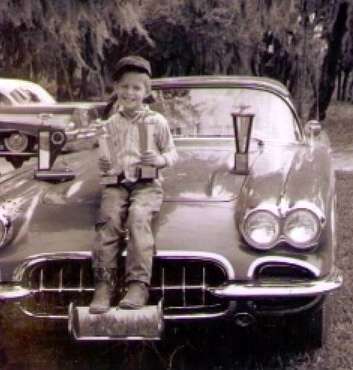 Jerry Patterson sitting on hood of his dad's 1960 Corvette with some of Pat's racing trophies. In the early 1960s, Pat was president of the Brevard Corvette Club. Courtesy of Jerry Patterson
Fort Myers
Buckingham Drag Strip, early 1960s
The Buckingham drag strip in Florida was promoted and ran by the Fort Myers Quarter Mile'rs. I was a member and raced at this strip. I believe the NHRA sanctioned the Florida State championships one year [1961]. We used a flag starter. The club had a used school bus, which we used at the startling line.  I think it had a PA for announcing the race results. I honestly do not remember how we computed the elapsed time and speeds. I remember setting up a telephone at both the bus and the finish line so we could call close finishes. I had a friend, Bill Slevin, who was a member and later in life became assistant postmaster in Fort Myers.  He can tell you a bunch more because he was more active than I. I was not a highly competitive racer.  I only had a '60 Corvair with a super-charger and a Corvette. I remember the Florida state championships being held in Buckingham because we had to have the track elevation surveyed for elevation change. I also remember Don Garlits bringing his new rail and blowing everything away.  Very exciting. I also remember the first 409 and how it blew away the 390 Fords which had ruled the roost. I left Ft Myers in 1962 for the Army and later got word that a crash on the track had killed someone. Back then a 12+ second et was as fast as I remember it getting.   I was lucky to get my cars below 16. I did win D-Modified Sport with the Corvair in the state races.

Harold Abbott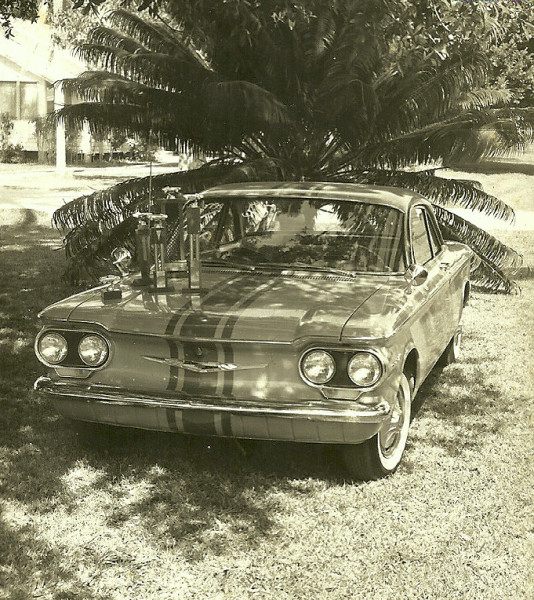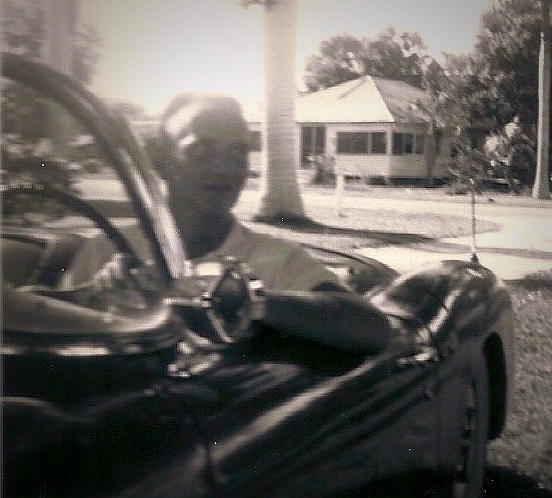 Harold Abbott's 1960 Corvair (above) with drag racing trophies on its hood and his Corvette (left).. Courtesy of Harold Abbott
Buckingham Drag Strip, 1960-64
I raced a Corvette and Willys at the Buckingham Airstrip. It was used in World War II as a training facility. We had all of our time clocks and equipment in an old bus on the starting line. We'd drive that back and forth. Chip Rawlins, Chuck Griswald, Tom Lezay, Denny Gulkin, Ike and Edgar Counts. There was another boy that had a 1960 Ford that he run. I can't remember his name. Kind of a heavy-set boy. Nice kid. It was a quarter of a mile. We had a ET clock. As you went across the line, it would start the timer and when you crossed the end, it would clock in seconds. It had a flag starter. I used to do some flagging. Chip did some flagging. Chuck Griswald did some flagging. At Buckingham, I had a Willys that I put a Mercury engine in, but I blowed it up the first race. Then I had a 1953 red Corvette that had a three-speed transmission with a 327 Chevy engine with tri-power. It was pretty quick back in its day. We had Don Garlits come to Fort Myers. We had Ed Pantley come to Fort Myers. One of our boys had a 1958 Chevy, 348, and he had six two-barrel carburetors on it. A black '58 Chevy. And boy, that thing would run. I flagged Don Garlits off one day and clutch fragments peppered me when he went by me. We had a guy come out of Tampa that had two Chevrolet engines in a dragster. I can't remember his name. We had a person at the end who would signal which lane won, but it was also confirmed by the time clocks. There was two sets of clocks. The Buckingham strip might have got started in '59. I raced a '64 Ford Fairlane 500, so the strip's last year was probably 1964. The Lee County mosquito control took over the strip. They kicked us off because they wanted to use the strip for their airplanes so they could spray for mosquitoes. I seen a boy out there get killed from Miami. He went through the traps at a little over 120 MPH. He was looking down the inside of the strip and he run off the end of the strip into a pile of rocks. The airstrip was in a U-shape. The blower was sitting right on the top of the engine, so we told him he couldn't officially race because it didn't meet standard equipment. He was looking on the inside and he didn't see the strip was ending. He ran into them rocks and it shattered his body. I had an attic full of trophies. I put them in the attic when I quit racing. I got married and had a family, so that ended the drag racing. They all warped up there in the heat of that attic. So I just threw a couple of garbage cans of trophies away that I had won. The Quarter Mile'rs car club just formed to help run the strip. They weren't into anything illegal or immoral. Of course, back in those days, that was unheard of. They were all pretty straight guys. We didn't have any real troublemakers back then.

Bill Sleviin
Fort Walton
Eglin Air Force Base Auxiliary Field No. 4, 1960
My dad raced his 1957 Corvette at Sunset Drag Strip in Panama City on July 4, 1960. He told me he raced the day before at Eglin Air Force Base in Fort Walton, Florida. The race was held on one of the unused aircraft runways. Dad said there were at least four other Corvettes at the event. He beat all the other Corvettes. But, to determine Top Eliminator, he had to run an "Altered Roadster." The roadster was a much faster car, being lighter and had a  stronger engine. I believe the car was like a T-bucket.  Dad said it took ten runs to determine the Top Eliminator of the event. Dad beat the roadster nine times before finally getting beat by the roadster on the tenth run. Dad said he left early each time to try to make up for the difference in power and speed between the cars. Dad said the four other Corvettes at Eglin AFB came to the Sunset Drag Strip event the next day in Panama City and he again beat them. I believe he told me the class was called the "Modified Sports Car" class which was within the "Middle Eliminator" division. Dad had to race the other class cars in middle eliminator to win the brass cup and the $50.00.  Dad said also there was a rail/dragster at the event in the "Top Eliminator" division, but he could remember no information on that race car.

Bill Capps, III
Eglin Air Force Base Auxiliary Field No. 4, 1960
I won this trophy at the races at Fort Walton Beach. It was an NHRA track so we had to build a scatter shield. My two brothers and my sister came to watch me race. When I raced down the track, my sister started crying. They were afraid I was going to get killed, so they went home because they didn't want to see that happen. We did get a time on the car, which was 10.2 in the quarter mile. It was the Northwest Florida Timing Association. Evidently they must have had a way to time it.  We went there more than once. That was actually a pretty nice place to run because you had plenty of room and plenty of drag strip. The only thing was, sitting out in the elements with a dragster, if you was stopping first and the other one had slicks on it, they would blast you pretty good, with rocks and whatever that was on the drag strip. I had to make sure I was stopping last. I got peppered pretty good one time.  They had some Corvettes, but I remember the nicest Corvette that we wound up running was a boy out of New Orleans, Andy Zanca.  He had a pretty nice Corvette. He was outclassed when it come to top eliminator. If you trailered a dragster, they'd give you $25 to bring it. Oh, that was big! It seemed like we ran more than twice, . . . . but we ran there more than once.  Some military officer wanted to come to the races. They wanted to charge him to get in. I don't know if they were aware or not, that you're not supposed to charge on a military base. He said he wasn't going to pay, it was my understanding and no one else would either. I think that was probably the last time anybody ran down there. There was no bleachers. They set around on lawn chairs or the hood of your car. 
Wallace Josey, 
telephone interview with
Mel Bashore, July 21, 2018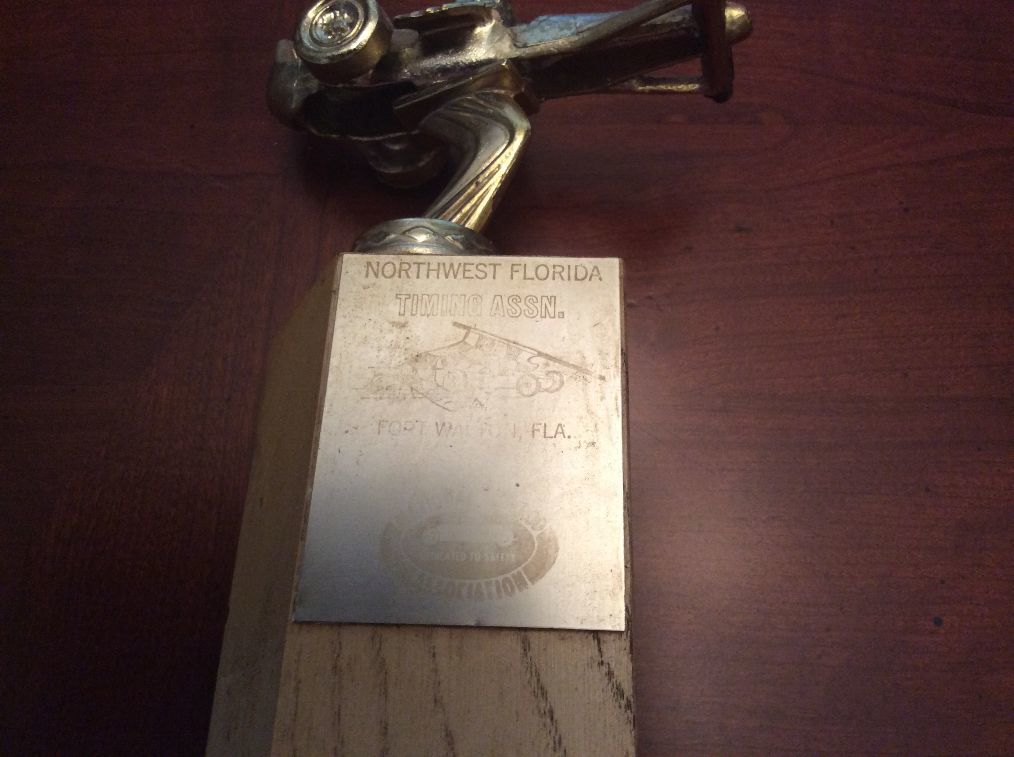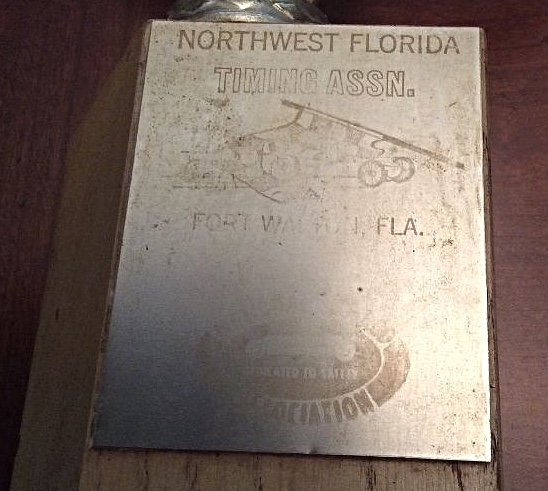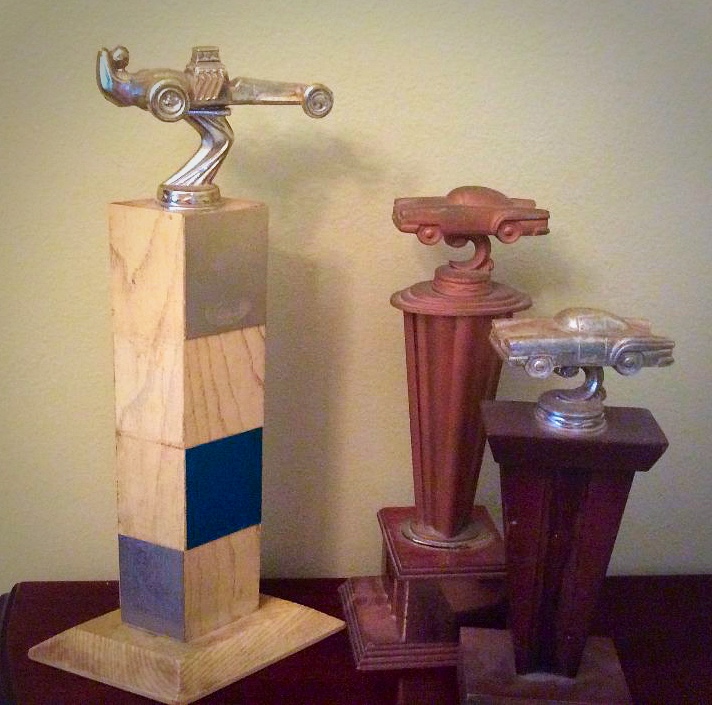 Wallace Josey won this trophy for being the top eliminator at the race at Eglin AFB Field No. 4. The top two photos are a close-up of the plaque, now worn. The bottom photo shows the top eliminator trophy from Eglin on the left. Wallace couldn't recall where he won the other two trophies on the right and the words on the plaques are completely worn. They might have come from his racing at Klondike Drag Strip. Courtesy of Wallace Josey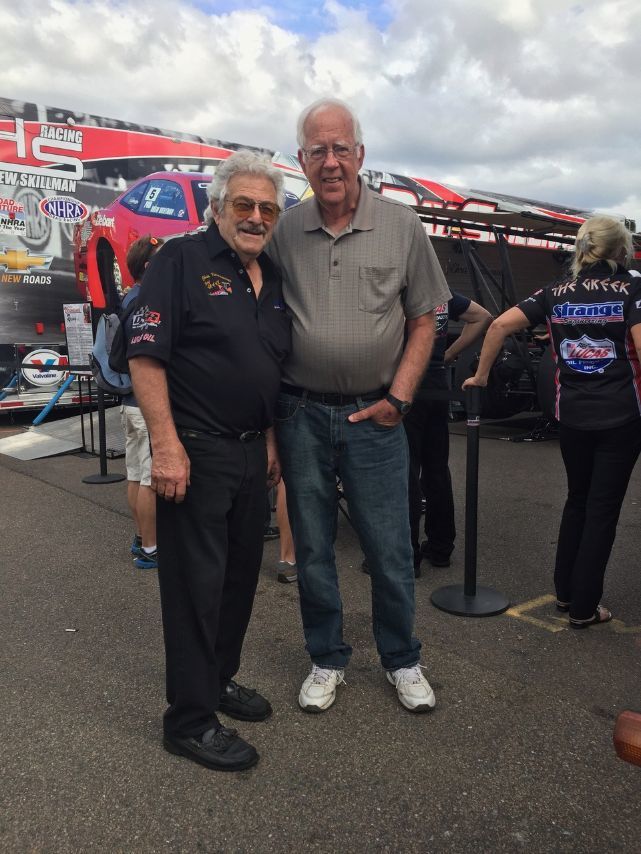 Two old drag racers: Chris Karamesines and Wallace Josey, at the 2016 Gatornationals. Courtesy of Teddy Josey
Gainesville
Gainesville Raceway, Gatornationals
I was at the Gator Nationals in Gainesville, Florida. The girls that worked time slips there brought a big (18 inches long) black plastic rat. It had raised hair molded into the plastic and orange eyes with black pupils. From 3 foot away it looked real. We put it in the Porta-Potty at the back behind the seat. We watched as people opened the door then jumped back and slammed the door for the whole race. We had so much fun that the timing  slip girls, who were driving on to the Atlanta race, took the rat there.  At the race, Bill Engle worked with me.  He slipped the plastic rat in the tech trailer behind Bob Bentley one night and as Bob saw it, he jumped back. This was funny as Bentley never moved so fast. We then put it in the Porta-Potty by fuel check. Late one afternoon, the pumper truck rolled up to the Porta-Potty. The driver got out.  He had yellow boots on, he put his helmet and face mask on, then his yellow gloves. He unrolled his hose off the truck  and  went to the Porta–Potty. He opened the door and put one foot in. He looked up and in the next second yellow boots, gloves, and hose went flying through the air as he rolled across the return road. He packed his equipment and drove to the next Porta-Potty. He peeked in before he put his equipment on. Then he serviced it. We had laughed so hard, we forgot to take the rat out that night. The next morning it was gone. Then there was the story of Bill Engle picking me up at O'Hare airport. He had already gotten the Pontiac we were using for that race. We went back to the motel in Joilet. Our room was on the second floor facing the parking lot. Elroy Adams called and wanted to use our car to pick up Bob Bentley at O'Hare. Bill gave him the keys and he left.  He did not know I had another set of keys and clicker in my pocket. A while later we saw them pull into the parking lot. They got out and Bill said, "Give me the keys to the car." Elroy and Bentley went to the trunk and opened it and took out Bentley's suitcase. When Bentley slammed it and went to walk away, Bill hit the trunk release,  It popped open. He went back and slammed it again harder. Bill popped it again before he could walk away. Then Elroy stepped in and showed him how to properly close it. As they walked away, Bill popped it again. This time when Elroy looked up at the trunk latch, he saw Bill and I in the window laughing like crazy. He shook his finger at us and I told Bill you better not pop it again or we will have to go down and close it. Ahh  races were so much fun.   

Dale Schafer, 
NHRA fuel check official
Gainesville Raceway, 1970-73
Mr. R. J. Free of Tanner-Free Motors, an American Motors dealership in Albany, Georgia, asked me to drive an SC/Rambler Scrambler in 1968. It ran in a stock class. Mr. Free obtained the AMX in 1969 and we advanced to Super Stock. He did not want to invest any more money in racing and offered to sell the car to me. I bought it in 1970 and painted the hood flat black and agreed to keep their name on the car for six months. After two months without a name on the car, Marty Johnson, a photographer with National Dragster, told me to put my name on the car so he could write about it in the National Dragster. In the mid-70's, Mike Moore and I opened M & K Speed Specialist. Mike ran the shop and was in charge of all the work done on the car. After the World Finals in Amarillo, Texas, we had a new paint job on the car to advertise the shop and put Mike's name on the car. We ran all the points meets in 1970, 1971, 1972 and part of 1973 in NHRA Division 2. We ran in all at Gainesville, Florida: points meets, Turkey Trot, and Gatornationals. We ran from Miami, Florida, to Suffolk, Virginia. We ran a Summer Nationals in Columbus, Ohio, in 1972. We were invited to the invitation-only Nationals in California in 1971, but was unable to go because our good friend and restaurant manager was killed in a traffic accident. In 1970 we enjoyed running with the "Dixie Pro Stockers" out of Dothan, Alabama. There were about twelve of us and our car was the only Super Stocker, but we ran pretty good with the "big boys" of Pro Stock. They invited us to join them because we put on a good show with wheelstands off the line. In late 1973, I managed the US 19 Drag Strip for Tommy Malone and after the loss of the restaurant manager, I had to stay close to the business and stopped campaigning the AMX. I  won the SS class in my AMX at the 1971 Gatornationals. I  beat Terry Earwood on the  final run of the day. I raced there several times and other tracks including the World Finals in Amarillo, Texas, and others.

Les Kinney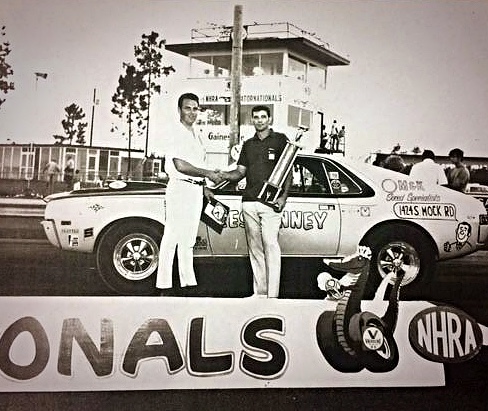 Les Kinney, standing by his 1969 AMX, receives congratulation for winning the Super Stock class at the 1971 Gatornationals. Courtesy of Les Kinney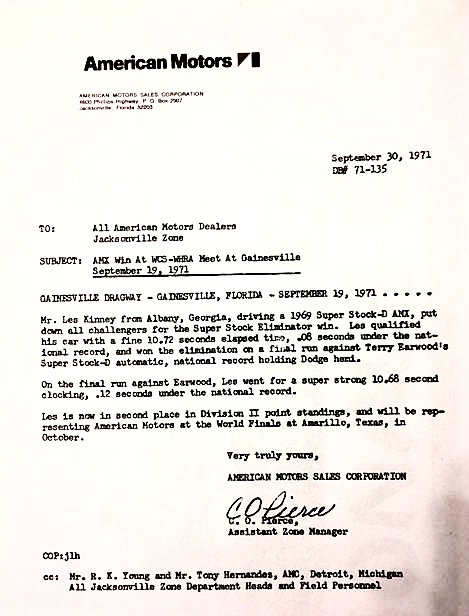 Letter from American Motors Corporation recognizing Les Kinney's accomplishment in winning the Super Stock class at the 1971 Gatornationals. Courtesy of Les Kinney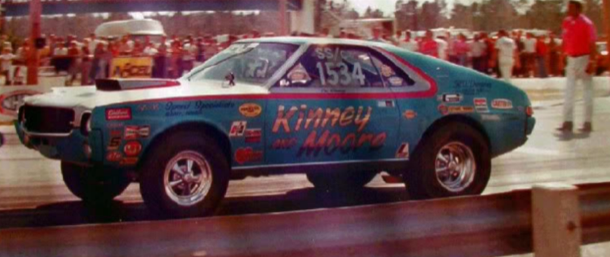 This photo shows the new paint job done on the car in 1972. This photo shows Les Kinney driving at the Gatornationals at Gainesville in 1972. Buster Couch handling the lights on the starting line. On September 16-17, 1972, Gainesville hosted an NHRA Southeast Division WCS meet. Les was too ill to go, so his partner, Mike Moore, went in his stead as driver. On September 16, Mike drove the Kinney & Moore SS/C AMX to a new national record. The old record was 10.79. Moore dropped it to 10.70. Courtesy of Les Kinney
Geneva
Osceola Drag Strip,  early 1960s
Dad [Clifford C. Lord] passed in August 2013, but he had a good bit of his trophies still. He mainly raced a 1958 Chevy 4-door Bel-Air (that he called old Betsey) at Osceola, Florida.  After the drag strip days, Dad said it became a road race course for smaller cars.  We never seen it used that way, because being in the military, Dad received his commission in 1964. Then he hauled us all to to Athens, Georgia, for school. He still raced there while attending school, then went out to San Diego. He only raced once out there, and then back over here to Jacksonville. He raced once at the Thunderbolt. He never really got back into drag racing cause he was just too busy raising all us kids. He loved to sing. So country music took all his spare time.  He moonlighted all over Jacksonville singing.  He received orders to Viet Nam in late 1969-70.  He came back to Jacksonville, and back to singing.  During all these years of not racing, he would buy engine parts for his car; cams, lifters etc. hoping to someday, as he said, make his car fly. I noticed the other day as I visited mom, . . . on her mirror has been an old sticker that says Osceola Drag Strip TA [Timing Association].  Peeling on the ends a little, but still there.  When dad passed in 2013, his brother took most of his trophies.  Mom kept a few. Sure miss the old man. 

John Lord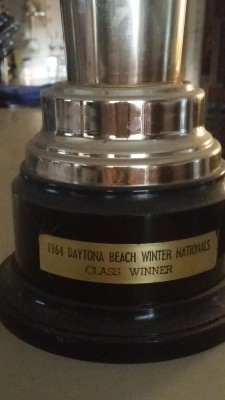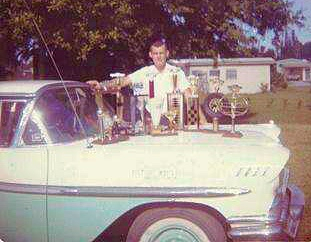 Clifford Lord with drag racing trophies on the hood of his 1958 Chevy Bel-Air, circa 1963-64. Courtesy of John Lord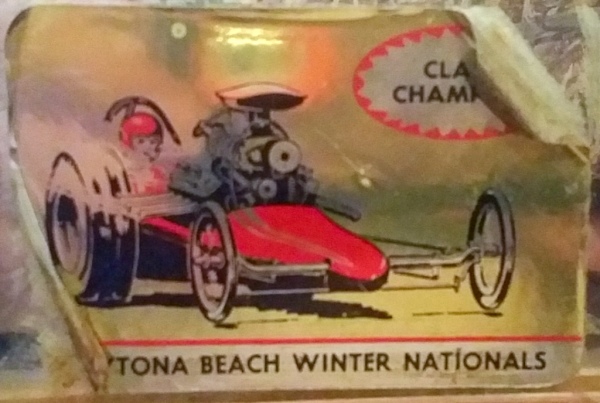 Clifford Lord's class-winning momentos from NASCAR's 1964 Daytona Beach Winter Nationals held at Spruce Creek Dragway.  Courtesy of John Lord
Hialeah
Amelia Earhart Field, 1959-61
I raced at Amelia Earhart Field in 1959 thru 1961. I drove my 1959 Chevrolet Impala convertible ( 335 HP -Tri Power w/4 speed & 4:11 rear).  My best time was : ET: 13.93 at 103.54 mph. Thank you for all your efforts on bringing back the memories of the early years of drag racing!

Bob Plotkin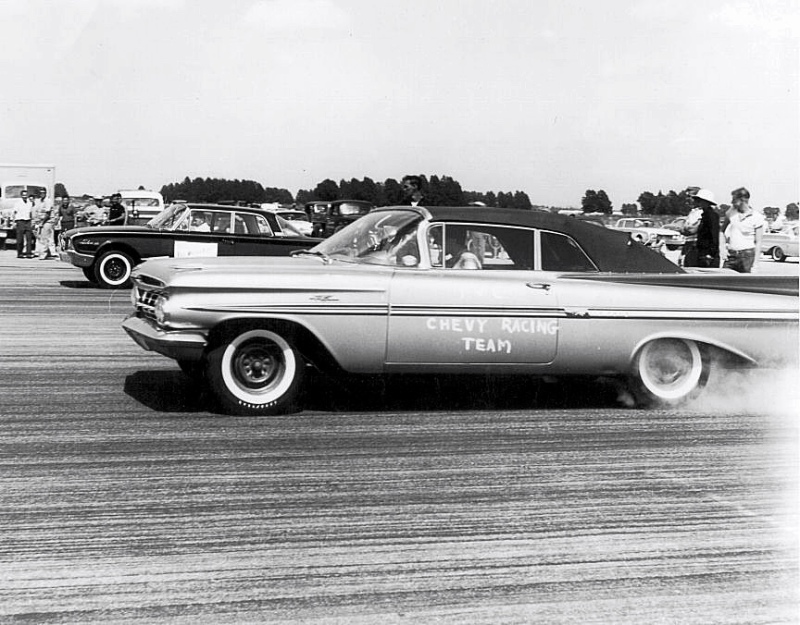 Bob Plotkin racing his 1959 Chevy Impala at Amelia Earhart Field. Courtesy of Bob Plotkin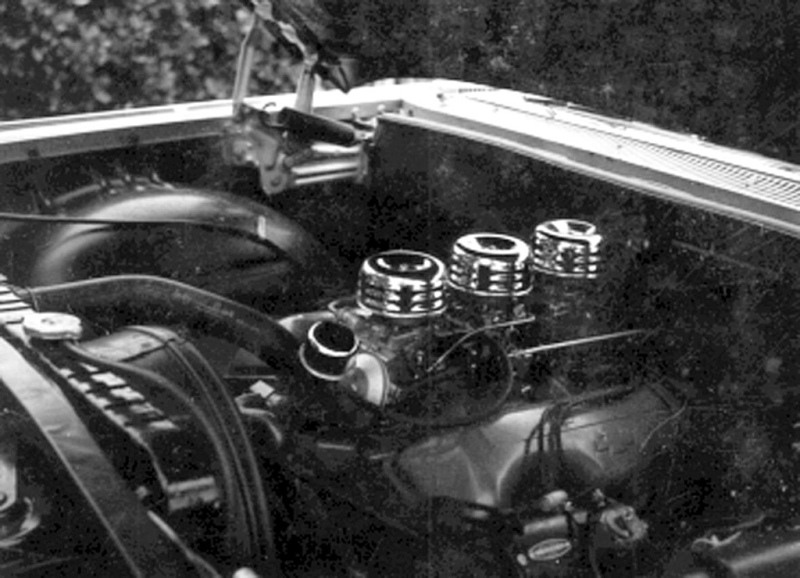 The engine in Bob Plotkins's '59 Chevy Impala. Courtesy of Bob Plotkin
Jacksonville
Jacksonville Dragway, 1970s-1980s
We used to bracket race our street bikes here in the late '70s, early '80s, after it had been converted to 1/8th mile due to the circle track being converted to a 5/8th mile dirt track. Originally it was a 1/4 mile strip with the front straight of the old 1/4 mile asphalt circle track as the slowdown area. I still remember when Raymond Beadle would bring the old "Blue Max" funny car here for match races. They would have to shut Pecan Park Road down when the jet cars ran due to the blast. A lot of good memories at that place and, I actually won a few bucks racing there!  I remember the loose dirt would blow off of the dirt track onto the asphalt slowdown area kinda bad. I got the Honda crossed up down there a few times trying to slow down! A lot of good memories at that old place. 
Paul Courson
Jupiter
Palm Beach International Raceway/Moroso Motorsports Park,   1980s-1990s
i knew the first owners/builder of PBIR, the Bucheck brothers, Joe Bucheck. Later after Dave Rupp, Dick Moroso bought it and I painted all the signs at the facility and was there at track rentals. I saw many celebrities. I painted all the signs until a few years after his death. Lots of good stories over the 20 plus years. Dave Rupp had a rock concert at PBIR. The Rolling Stones, Janis Joplin, etc. A thousand photos from PBIR and Moroso Motorsports Park. I don't go there any more.

Rick  Goodsell
Palm Beach International Raceway
There is a group of us in and from the Pittsburgh area that have been trying to keep the spirit alive for the local tracks and racers in the local Tri-State area. Sadly every year we're losing many of the old racers and it seems the younger generation has no interest in what was our passion when we were younger. I raced for a short while in 1968 and in July I started working a 7-day rotating shift schedule and did that until I retired in 2005. Needless to say, that took care of my racing endeavors. Luckily in 2007 I was able to join up with a T/S car that developed into a 2-car Mountain Motor Pro Stock team. I was with them until 2014 and had to quit because of problems I started having with CO2 poisoning I got in my working days.

Dan Roney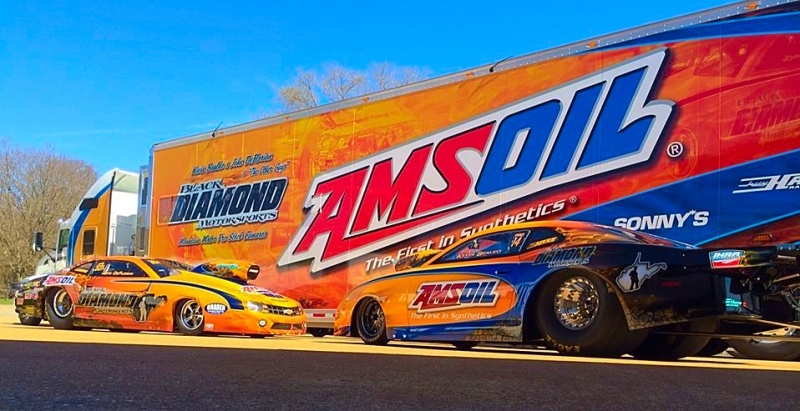 The two pro stock cars and transporter that Dan Roney was associated with from 2007-14. Photo taken at PBIR when they got the Amsoil sponsorship. Courtesy of Dan Roney
Palm Beach International Raceway, 1960-82
I raced at many of the tracks in Florida written about in DSL and was from West Palm Beach. I raced at Davie, Masters Field, Amelia Airheart Field, Valkaria, and Palm Beach International strips from about 1960 till about 1982. All but P.B.I.R. of course closed up much earlier. I ran a Norton motorcycle at "BIG GO SOUTH" in Miami, a '34 Ford coupe, '55 Chevy, '56 Chevy, '62 Nova, '66 GTO, and a '61 Ford pickup. We were just a poor family drag racing and raising a family. I am 73 years old and remember a lot of it, but I'm sure I have already forgot a bunch as well.  The entry in DSL on Palm Beach International Raceway was a little confusing to me though. It said a car club, the Piston Poppers, had helped in getting this strip formed, but I grew up with the building of it and never heard of this club.  I was a member of THE GOLDEN GEARS car club in West Palm Beach as was Jack Crozier who you mentioned in the entry. The VAGABONDS and the DRIFTERS were the only other car clubs in West Palm Beach at the time of the track being built (to my knowledge). I worked with Dave Rupp when he purchased it from Ed and Joe Bucheck and knew them as well. Our carclub sold "house straw sweeping brooms" with a paper wrapper on them that said something to the effect, "LETS HAVE A CLEAN SWEEP OF STREET DRAG RACING" to help promote the building of the strip. The only reason I am writting this is to say I never remember the PISTON POPPERS, or wherethey were from. Thanks again for the great coverage. [DSL Compiler's note: Thanks to this information from Doug Roberts, the compiler deleted the reference to a Piston Popper car club in the Palm Beach International Raceway entry.]

Doug Roberts
Lakeland
Lakeland International Raceway, 1972
I won Modified Eliminator at the 1972 IHRA Winter Nationals. I remember finishing eliminations on Monday night. We finished around 2 am. Tues. morning in about 30 degree weather.
Scotty McLendon
Lakeland Drag Strip, 1990s-2017
I have been attending this track since the late 90's. Six years ago Ozzy Moya took over the lease and made huge improvements to the track. Hurricane Irma came through on 9/11/17 and did some damage to the facility. The land owner has accepted a bid on the property from a developer. The track has been closed since the hurricane and appears to be gone for good very soon.
Scott _______
Lakeland International Raceway, 1971
I set a world record with my '69 AMX for the F1C class at the IHRA World Finals at Lakeland Dragway on October 2, 1971.
Les Kinney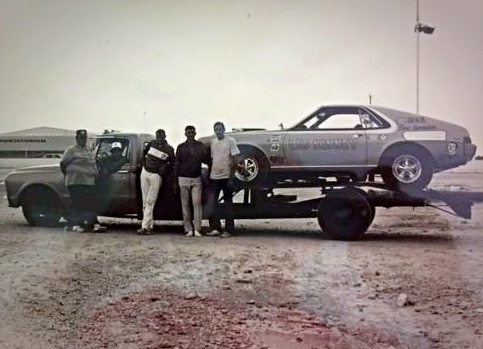 Les Kinney with his 1969 AMX at Lakeland Dragway in 1971. Courtesy of Les Kinney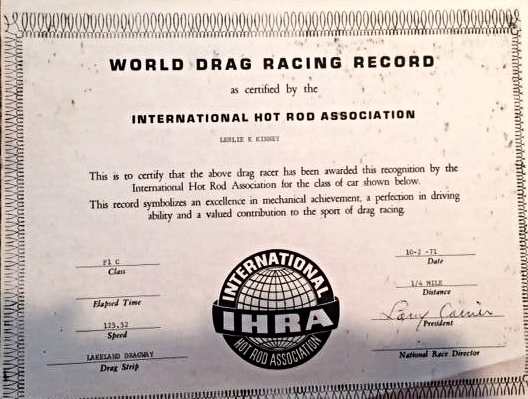 Certificate for setting an IHRA wold record for speed of 125.52 MPH in the F1C class at Lakeland Dragway in 1971.  Courtesy of Les Kinney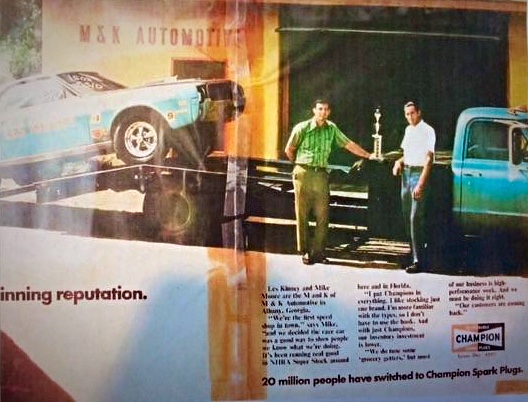 Les Kinney and his 1969 AMX are featured in a Champion Spark Plug advertisement.  Courtesy of Les Kinney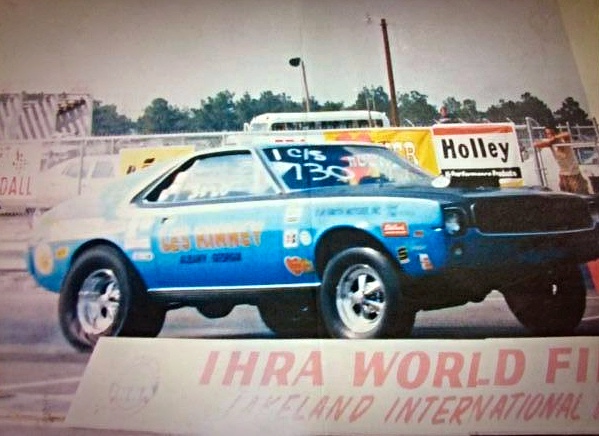 Les Kinney leaves the starting line in his 1969 AMX at the 1971 IHRA World Finals.  Courtesy of Les Kinney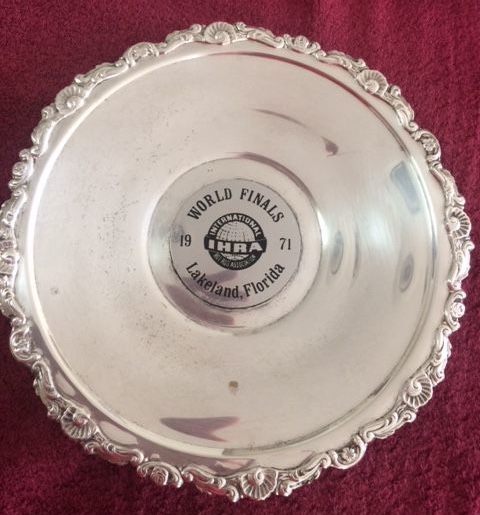 Plaque from Kinney's class win at the 1971 IHRA World Finals. It is silverplate and is about a foot in diameter. Courtesy of Les Kinney
Miami
My father raced at Masters Field when I was a kid. I do have some pictures of the cars. I now work in a Dade County School's building located on the old field.
Edward Bruce
I was in a club called the Road Rebels, part of the South Florida Timing Association. Our club ran the starting line at Masters Field in Opa Locka, Florida. I worked the starting line 3 or 4 hours a day. I was a member of the Road Rebels from 1958 to 1969. We would meet in the Coral Gables police station. At first we held the races at Amelia Earhart Field, then switched to Masters Field. At the State Champion Drags, some of us would have breakfast with Big Daddy Don Gartlits. I once had a '58 Vette,  3 speed and dual quads. I had to run against a '56 T-bird with a factory supercharger. I still have the trophy. The fastest cars I had the privilege  of driving out there was a Ford Thunderbolt and of course the Dodge Ramchargers.
My favorite cars I owned were the '58 Corvette and two Studebaker Golden Hawks, a '56 with the Packard engine, and a '57 with a supercharger and overdrive. Great Memories.
Rocky _______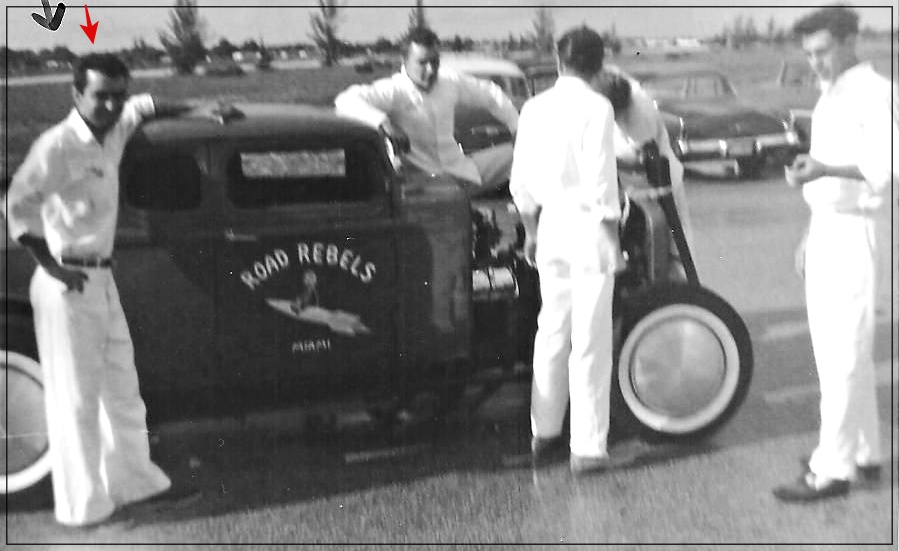 Rocky (red arrow) stands in front of the rear tire of the Road Rebels' coupe in 1963. Courtesy of Rocky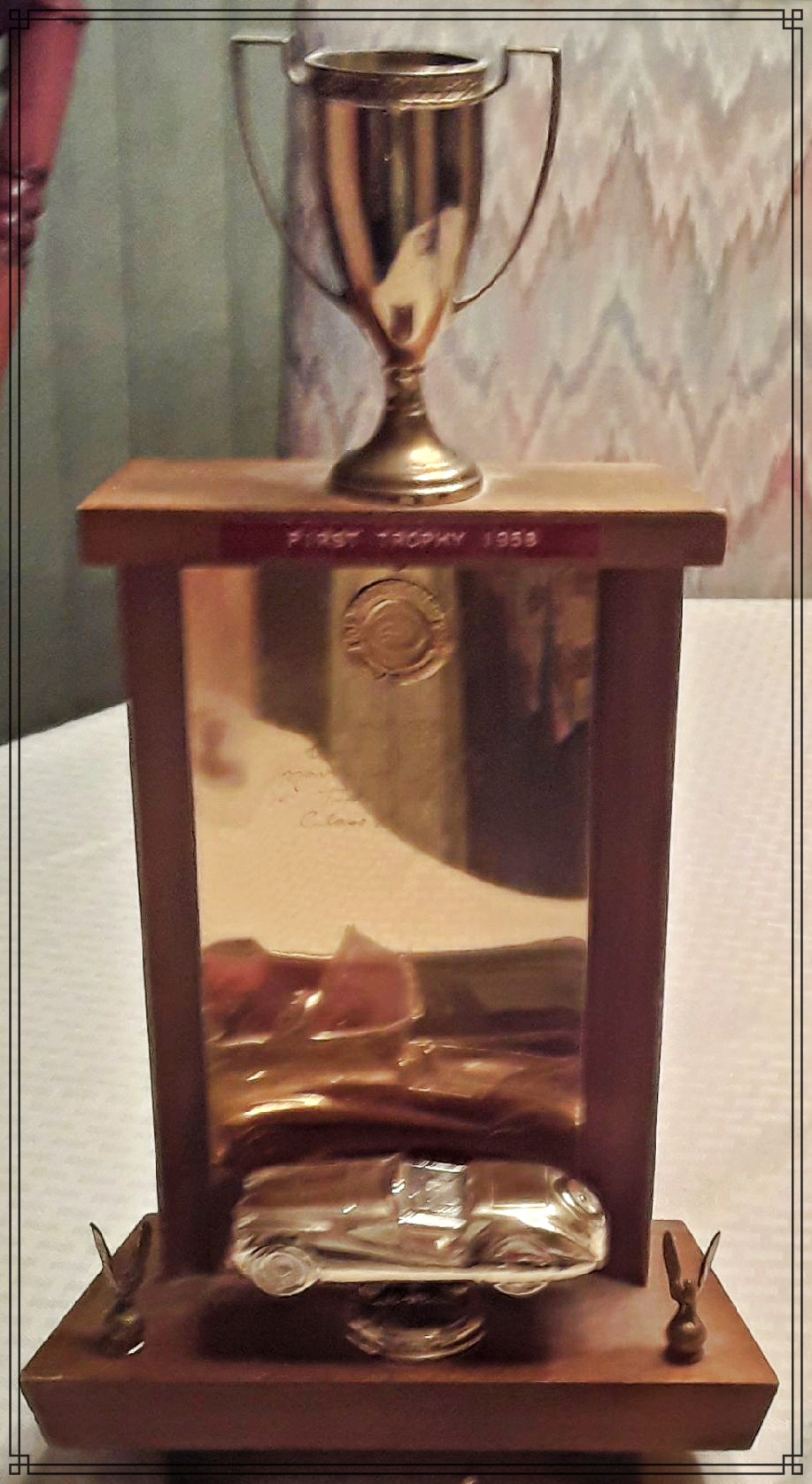 Rocky won this trophy at Master Field in 1958 with his '58 Vette. Courtesy of Rocky
Oldsmar
Twin City Dragway, 1971-74
I raced at Twin City Dragway on Mobley Road off Racetrack Road near Oldsmar, Florida, from 1971 to 1974, winning the Modified class of the then-Florida State Motorcycle Drag Championships in November 1974. I won overall Modified Eliminator with my home-built 1966 Honda CB450 (500 cc, 12.5:1 pistons, MegaCycle drag grind cams, total loss ignition, 4" Avon slick, ported and polished myself, running 36mm Mikuni carbs and K&N filters (return road there was dirt), Tomaselli clip-ons, CB175 front forks to reduce weight. It weighed in at 305 lbs, turned 10,500 rpm through the traps.  Best time was 12.43 at 104.77 mph but very consistent, so I was able to win a lot of weekly bracket money and the points series championship in 1974 as well, running all year there every Friday and Saturday night.  I made hundreds (if not a thousand) runs there in close to four years.   Bob Scadron, the principal owner, was an awesome guy and kept the knuckleheads and riff-raff out of the place.  It was a great place to run and I still miss it. Noise issues in the growing area caused it to close, the Sheriff's Office locked the owner out of the property in the '74 to '75 offseason. The land is now a multi-sport park for baseball, soccer, etc.

Tom Hernden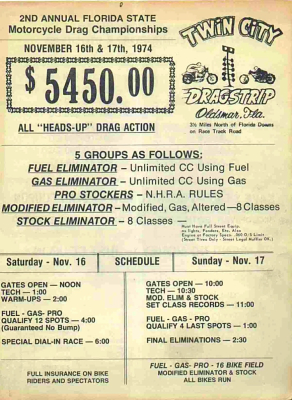 Race program of 2nd Annual Florida State Motorcycle Drag Championships, Twin City Dragstrip, November 16-17, 1974. Courtesy of Tom Hernden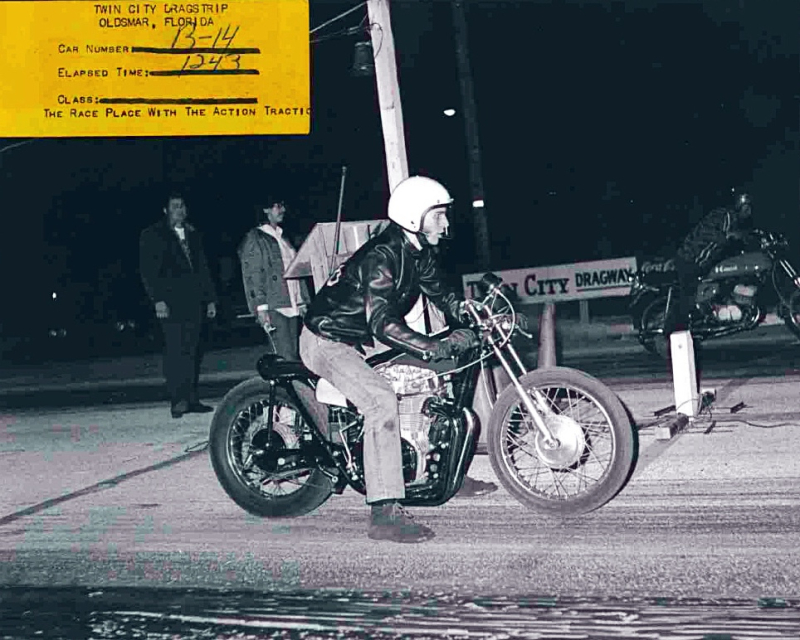 Tom Hernden on his 1966 Honda CB450, Twin City Dragway, 8x10 photo with a time slip from a run. Photograph by the track photographer, courtesy of Tom Hernden

When I was a small boy, my dad had a Harley Sportster. A man named Horace Davis ran my dad's motorcycle at Twin City Dragway in Oldsmar in the early 1960s. I remember going to the drags and watching when I was about 4 or 5 years old. I loved every minute of it. One time there was a jet car. I think it was named the "Green Monster." It scared the s___ out of me and some other kids. We hid under the stands, but it was so cool. My dad's name is John Smith, Sr. He told me that their best MPH was 119 in  the quarter mile. They also ran at Tampa Drag Strip. I wish I knew more, but my dad has passed 30 years ago.  I used to ride in his lap when he and his friends would go for a ride. He was a member of the Golden Triangle Club. We lived on Hanley and Waters Avenue in Tampa. They raced dirt bikes on my dad's land. That was also cool. if anyone knew my dad and can let me know more, please do.  My dad had a lot of trophies. When I was about 8 or 10 years old, I wanted to use my dad's tools. It took about three days, but I took his trophies all apart. That was one of the worst things I ever did. Stupid kids do things and don't realize just how bad of a thing it is. I do have a piece of one that I saved. 

John Smith, Jr.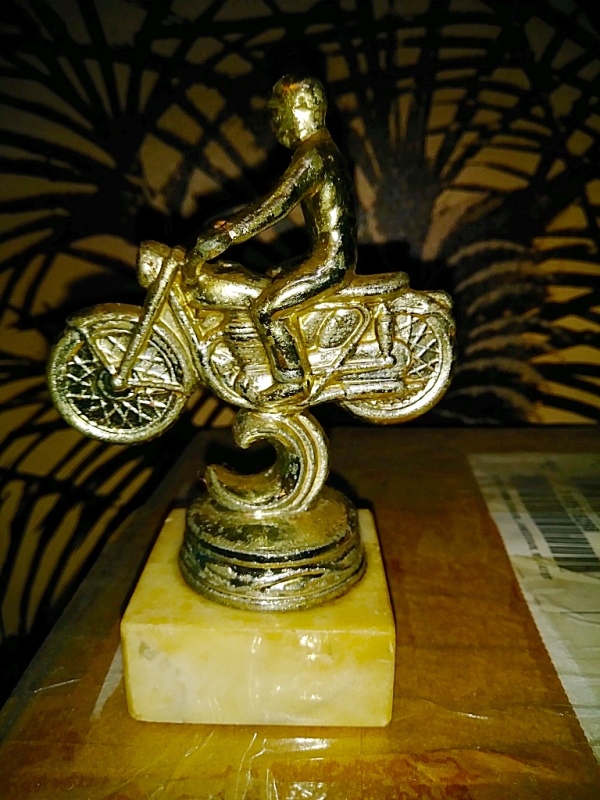 Part of what is left of the trophy won by John Smith's father at Twin City Dragway. Courtesy of John Smith
Twin City Dragway, 1974-78
After racing an A/MP Corvette at Central Florida Dragway, we began racing a D/MP Corvette at Twin City Dragway in Oldsmar, Florida, just outside of Tampa, Florida. It was known as Modified City, as the modified production class headlined all their races. We raced there from around 1974 until it closed in 1978 due to Hillsborough County's sound ordinance, which shut down Tampa Dragway a few years prior. This track began running two events, one on Friday night and another on Saturday night for about the last two years it was open. If you got winner or runner-up on Friday night, you would sit out eliminations until four cars were left and then run on a ladder. There was some cheating going on with a Corvette coming from the east coast that was running under weight and adding weight at the far end of the track when the crew would go down in their motor home to tow it back. Many racers knew it, but the owner of the track was friends with him. Tthis caused many of the racers to leave and not come back. I witnessed what I thought was going to be an all-out brawl one night after the final at the scales, when the suspect Corvette was found to be under-weight, but was still given the win. The car count went down, and the track subsequently closed. Once closed, it could not be re-opened because of the sound ordinance.

Allen Dillman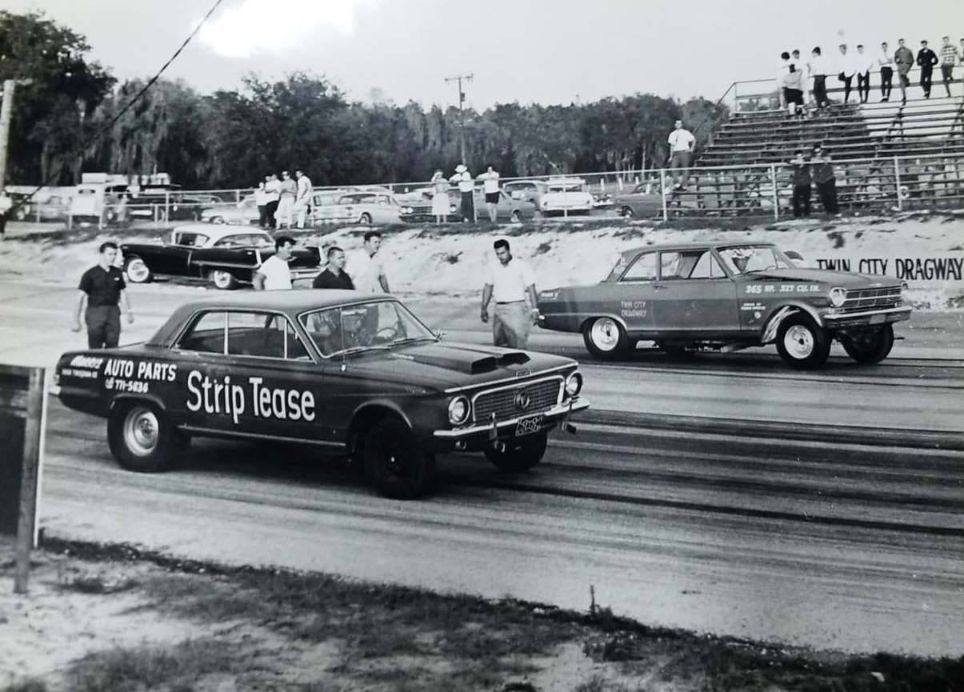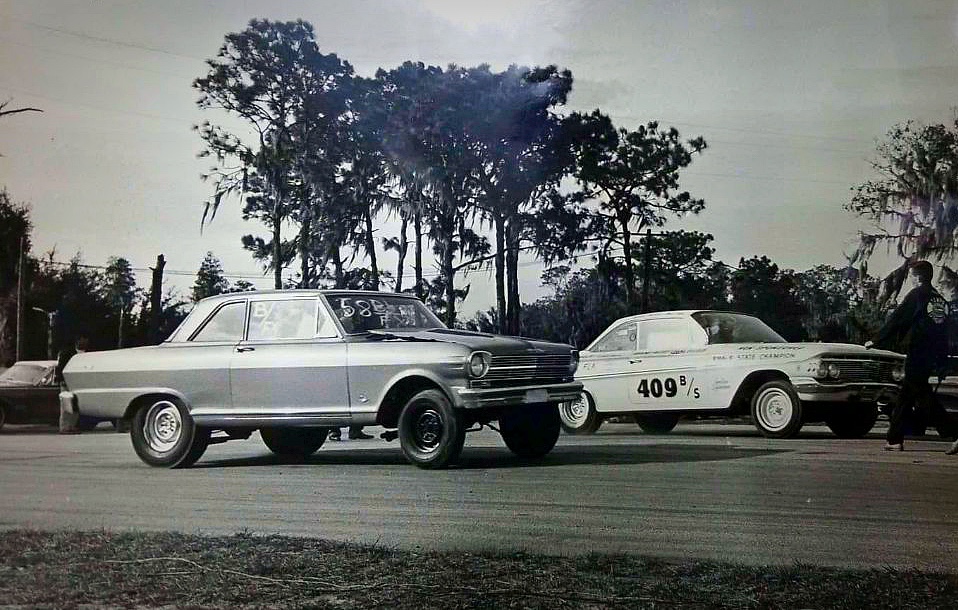 Jimmy Hutchins (near car) raced at Twin City Dragway. Courtesy of Jim Wyckoff

Orange Park
Thunderbolt Raceway,  early 1960s
I also went to Thunderbolt Raceway in Jacksonville sometimes. I remember we went there to see a match race between Ronnie Sox in his AWB 1965 Plymouth and Phil Bonner in his 1965 AWB Falcon. Ronnie tore up his transmission or something and couldn't fix it so Bonner ran some local guy and naturally it was no contest. I remember that he turned 9.50 at 140 mph. I'm now 70 years old and I never miss the Gatornationals in Gainesville. When Chrysler first came out with the 10 AWB cars in 1965 I was totally stoked. I never really got over that so a couple of years ago I bought a 1965 two-door hardtop Falcon. It was pretty rough and I have been working on it for about 2 years. I installed a 9-inch Ford and moved it forward 10.5 inches, put a straight axle in front (it was actually a dropped straight axle), a Lenco street tranny and a 520 ci Ford with Kaase Boss heads and stack injection coming through the hood. I've come a long way with it, but it's still not finished. I haven't even cranked the motor yet because I'm still working on all of the computer wiring. It ain't no sipping tea. I will probably just take it to shows if I ever get it finished. I'm sure this will be my last hurrah.
Cappy Pegram
Orlando
Orlando Speed World Dragway, 1964-65
When in the service based in Orlando about 1964-65, I raced at several Florida drag strips: Speed World (AKA Orange County Drag Strip), Spruce Creek Airport, and Sunshine. Also after the service when living in Kentucky, I raced at Thorn Hill Drag Strip, Bluegrass, Ohio Valley and Clay City. I know several of these tracks are closed, but I remember those and many others, being a racer for over 45 years in so many classes I can't name them all.
Stan Budke
Central Florida Dragway, 1964-65
I didn't race at Central Florida Dragway, but as a kid, I was at all events. One car that always stood out was the Super Cuda. I remember when Ronnie Sox got the '70 Cuda body. One thing I miss today is how the rails were push-started from the end of the track. That was great. I'd like to know if there is a photo of the old sign out on highway 50 with the two rails on it. [Editor's note: If anyone has a photo of the drag strip sign, contact DSL and we'll contact Mr. Rooney.]
James Rooney
Panama City Beach
Sunset Dragway, early 1960s
My father raced at Panama City a few times in the early 1960's. He ran a 1957 Corvette in some sort of eliminator division. The drag strip was called "SunSet Drag Strip." The track ran in an east-west orientation with the racers running west.  I was born in  October 1960.  My dad was racing then. I remember he once told me he and mom (who was pregnant with me), drove to the Panama City Beach beach one summer weekend in 1960. He was almost broke of money. He went to the drag strip and ran some sort of middle eliminator class and won the event. I believe the winnings was either $25 or $50.  He said that money made he and mom feel like they were on top of the world.  Dad told me it was hard to see the flag man or starting lights because of the glare of the sunlight in the western sky. The location was near "Laird Street' off Thomas Drive in your map section. My mom told me it was a terrible place to watch races in the summer nights, because the strip was next to a swamp and all the race track lights attracted biting insects and was annoying. I heard Art Arfon's Green Monster ran there once. The top racers would load up their cars on their car haulers and ride up and down Panama City beach with loud speakers promoting the race to all the beach goers. It was exciting. When i was young, like 5-8 years old, Dad would drive past the drag strip when we visited the beach in the summers. We would roll down the windows and drive real slow past the drag strip. The starting line and starting tower was real near Thomas Drive (like less than 75 yards). They had a fence up to control the crowd. But people would park their cars all along Thomas Drive and stand on the hoods and roofs to watch the racing action. The cars would make burn outs and launch near Thomas Drive and race toward the west off into a woody swampy area.  I read a post were Billy Jacobs owned the track and was going to move the track due to police and city ordinances. This makes sense, because Thomas Drive became clogged with onlookers and it was a danger to motorists.  Panama City was growing and the summers became full of bumper to bumper traffic.  It was special to me as a kid.  Dad also told me about the preparation he would make for a race. He drove the Corvette to the beach towing a small aluminum boat on a trailer. In the boat were his drag slicks, jack and hand tools. He would get to his motel or drag strip and unhook the boat trailer and put his slicks on, open up the headers, loosen up the generator belt, take off the air filter, adjust the timing and head to the race.
Bill Capps, III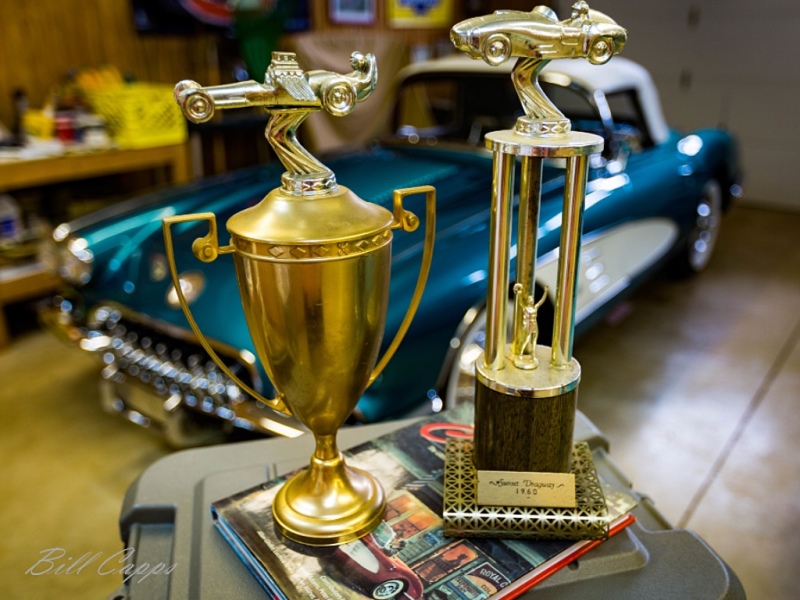 Bill Capps wrote:  "I spoke to my father and took this photo of two trophies he won at Sunset Dragway. The "cup" style trophy once had a Bakelite black plastic base, but over time it had cracked and fallen away, but the brass cup is still here. Dad said he won that cup trophy on the July 4th weekend of 1960.  The prize money was $50. The other trophy was won at Sunset at another event, but he was unable to remember the exact date. The Corvette in the background is a copy of the car he owned and raced when he was 24 years old back in 1960."
  Courtesy of Bill Capps, III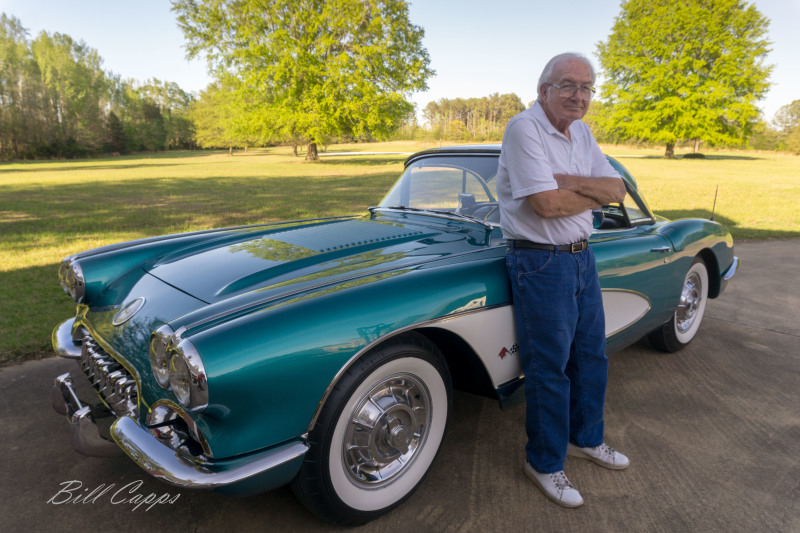 Bill Capps standing next to the 1957 Corvette that he bought several years ago to replace the original car that he had sold in 1962. This car is in the exact matching colors as his original Vette. He has his original drag slicks that he bolted on for racing in 1960 in storage. Courtesy of Bill Capps, III

A small piece of the launch pad is still there if you know where to look. My dad ran a '62 Super Stock Dodge Dart 413 Max wedge back in the day.

Cecil Grubbs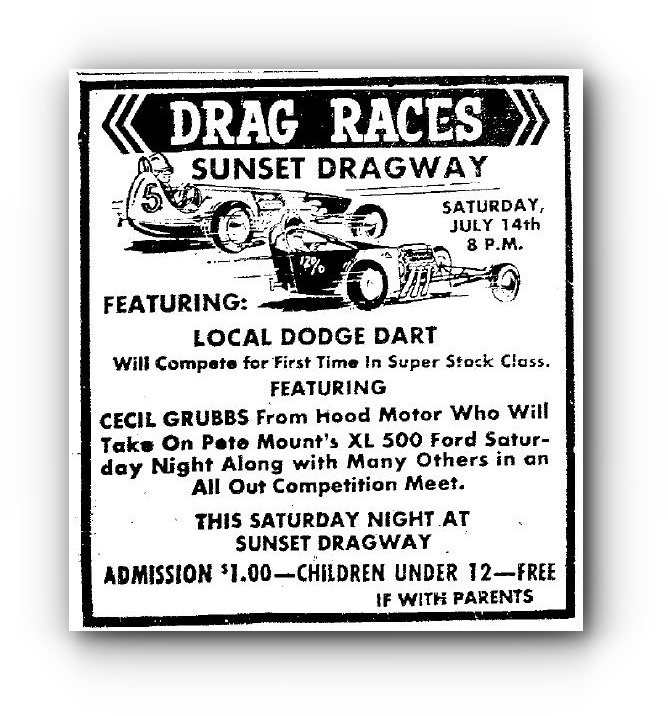 Pembroke Pines
Miami-Hollywood Speedway,  1967-69
My older brother and his friends would all follow one another from Pompano Beach to the strip In Miami/Hollywood, exit 2 off the turnpike. This is fron '67 thru '69 before bracket racing and the new staging lanes. I remember during certain parts of the year they were open on Wednesday, Friday and Saturday. The tech lines were long, but pretty fast. My brother had a '55 Chevy that ran in D/MP (no front bumper). Mr. Donahee was the local funny car favorite in his topless Corvair. There was one bad '68 or '69 SS/AA Cuda called "Hemi Inc." It ran like 10:70's easy. I remember watching the small dragsters get push-started down the track, then turned around to come back. They had some great Saturday night match races. The best was a two out of three between a Opel Cadet (big block Chevy) funny car against a Charger--Fontanani and Nanini. The Charger won. But the biggest memory was the night a funny car flipped and everyone ran down to see. My brother actually got a hunk of the engine block. Years went by after the class racing days were over before I went. Then in '75, while stationed at Homestead AFB, I ran my '70 340 Swinger. Ran a decent mid-15 on 323 gears and no mods of any kind. It was the coolest three years of my life. I couldn't wait for the weekend, knowing we were going. I-95 wasn't there yet so we took several ways there to hop on the Pike. Interestingly, the rides home were the coolest. In the car, with my brother and every known muscle car from that tear wanted to pass each other on the way out. I'm 60 now, but I'll never forget. Oh, I remember when they made the oval track and that was cool, too. The figure 8 races were the best. Then they'd have the Joey Chitwood Stunt team do tricks for the crowd, on those "Good Cooper Tires" the announcer would say.

Eldon Raison
This is a photo of Gene Cromer's 1966 Mustang funny car from his scrapbook, racing at Miami Dragway.

Frank Taylor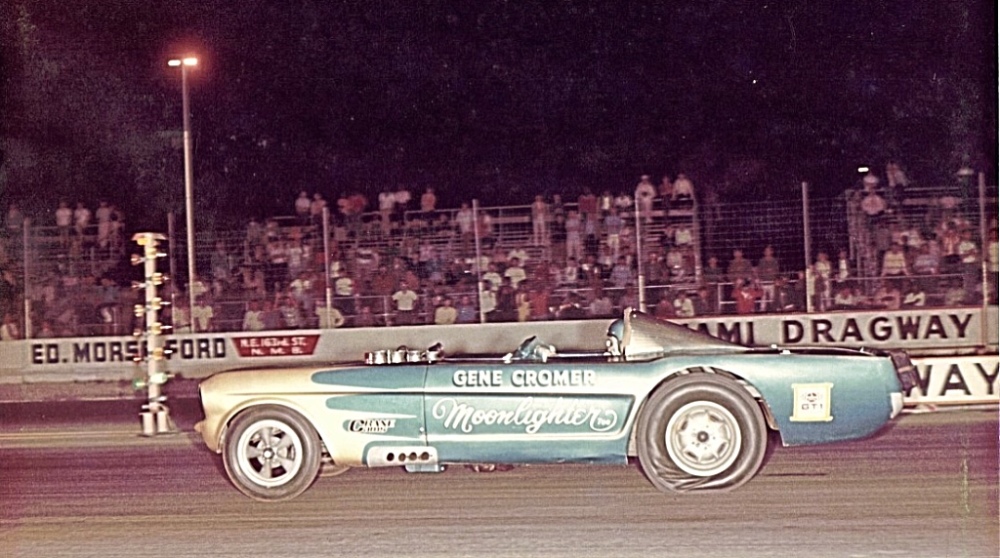 Photograph from Gene Cromer's scrapbook. Courtesy of Frank Taylor

Pensacola
Pensacola Drag Strip, 1960-61
i was in the Navy, stationed at Sherman Field, NAS Pensacola. I raced at Pensacola Drag Strip in 1960-61. We pulled up to the line and waited for the flags. This was an old auxiliary Navy field. It was crude, but always fun.
Don Ritchie
Corry Field and Pensacola Drag Strip, 1960s
My dad took me to Corry Field many times. They also held sports car racing as well. Big names raced there, e.g., Jim Hall, Roger Penske, Dan Gurney.  I went to Corry while in elementary school. I think I went a few times to Klondike Dragway around the time Corry was running. I might be mistaken. I do remember Don Nicholson's name being announced at Klondike one time. There was a speed shop in Pensacola years ago called Frank Butlers. He was a legend for that area. He is deceased, but had a son who might be alive there. Shop is no more. There was also a shop called Johnny's Tuneup. He did race car work. Bobby Likis is in Pensacola. He had some "bad" cars. Very interesting to chat with. He also set a national record in the 1970's at IHRA.  I talked to a lady years ago who was a Vannoy and told me a lot about the Klondike track. 
Art Thaxton
Pensacola Drag Strip, 1961
Vagabond Drive-in, Pensacola. That's where everybody with their cars met down there. In fact, some people from Alabama even came over to the Vagabond Drive-in that had cars. That's when we started running them. It started at the Vagabond Drive-in and anybody that had cars or were interested in cars, that's where everybody met. If you wanted to see anybody at night, everybody came by there. So you would just go park. If you wanted to see your friends, eventually they would all come by. Then we got into racing. The first place was when they were building the Interstate out there in Pensacola, the concrete Interstate. That made a pretty good place, but then the police got us pretty good for that. Then we went out actually to the Pensacola Junior College, which was at the time, in a rural area out by the Pensacola Airport. We painted a quarter of a mile off out there to run at night. The cops would bother you some, but not as much as they did when we were on the incomplete Interstate. At the Vagabond, there was a highway patrolman that I guess, just got on the force. A Corporal Cason. He was pretty tough. You couldn't outrun him. He'd wreck his police car before he'd let you get away. For some reason, he called us a bunch of Salties. I don't know where that came from. He would get you pretty regular. I left the Vagabond one night. I had a '58 Impala. That was my first car.  I put two four-barrels and a Duntov camshaft in it. It would outrun those 348's with three two-barrels because they just didn't have any RPM. The 348 engine back in those days didn't do much. It was just a truck motor with three carburetors on it. But I left the Vagabond one night. He pulled me over. He said, "Wallace, I guess you think the gravel's still rolling back there."  He'd get you, but he was pretty fair with us.  And then from there, I think it went to the Klondike Strip was built. That was actually Fred Vannoy. The Northwest Florida Timing Association, they actually leased that property from Fred Van Noy. He had two sons, Charlie and Gordon Vannoy. I don't think that strip there was ever NHRA-sanctioned with the Northwest Florida Timing Association. The two boys, when the strip closed, they built houses there. They had quite a bit of property. Charlie got into flying. He had a light plane so he actually used that for a landing strip. From there, that's when we built the rail job. The coupe [see photograph below] is a '35 Chevrolet. We put that Hemi engine in that car and set it back in the firewall and everything. My brother [Robert] took it out to the drag strip in Pensacola on a Wednesday. That was the first time he ever took it out there. He was coming back from there. I wasn't there, but my sister was there. He was coming back and couldn't stop and ran it through the fence and turned the car over and tore the car up. We came back, actually, and took the frame, the two rails out from under the Chevrolet and used that for the two rails for the dragster. There was an article in the Hot Rod magazine similar to what we were doing. Some of the ideas from the Hot Rod magazine back then, we incorporated into the dragster that we built. Let me tell you about it. The front axle was actually a '34 Ford drive shaft. The wheels were 13-inch wheels from the Crosley car. I think Sears made that car. I don't know, but anyway, so we ground the spindles down on the Crosley spindles down and welded them into the drive shaft of the '34 Ford. We were running six carburetors. When we first drove it, it's like driving a convertible, when your hair stands up on your head because of the vacuum coming across the windshield. The same thing with the six carburetors, the vacuum would actually pull the fuel out of the carburetors. We had to build a shield over the carburetors to change the wind so it would actually blow straight across the carburetors. Then we had the six carburetors on it and we ran it with a pressure tank, the fuel tank on the front. It just had pressure, like a little pump that you could add the pressure to it. It was metered from there to the carburetors. And of course, we had to have a shut-off valve inside because, if it caught on fire, you had to shut the pressure off. If not, it would just keep pumping gas and burning. Thank goodness, we never wrecked it, but if you had and you'd get knocked out, you had to pull that lever to shut the tank off so that the pressure wouldn't be pushing on the carburetors.  If you look up on top there, we actually made that fuel block. That piece of pipe that comes up and goes over and comes down again, that's actually the fuel block that the tank was hooked to, to supply the fuel. We had to drill the pipe and put fittings in there and make it to where we could hook up the fuel lines to the carburetors. Then from there, we actually ran one of the oldest Ford transmissions and rear ends. They called them a banjo rear end. The problem we had is, we didn't narrow it in on the roll cage. With the length of axle, it would actually sheer the axle keys. So then we got special hardened axle keys. And then we wound up cracking the end of the axle. So we actually narrowed that banjo rear end which changes, it gets bigger at the center and goes narrow out to the ends. We actually cut that in the back yard and narrowed that rear end and had the axles re-notched for the keys. That seemed to reduce the stress on the end of the axles. That worked out pretty well for us. But we had no rear end shield and no flywheel shield until the NHRA came into effect. The roll cage is actually a '49 Chevrolet driveshaft. That was the lightest thing and the strongest thing that we thought would work. You had to like the junkyard in order to build anything. We went to the junkyard to look for something to make our headers. I said, "I see our headers right there." My brother said, "Where?" I pointed to some old iron bedsteads. The headers were actually the iron bedsteads or the curves in them. We bought four of those and cut them out and then went home and got some flat steel and the gasket, the exhaust manifold gasket. Scribed it and cut it and welded it and made the header pipes out of that. On the dragster, we had the six carburetors. Then we ordered a magneto for it which was probably the best thing that we did because you didn't have to worry about the firing any more. It was a Vertex mag that we ordered. You'd tell them the cubic inches of our motor and how many carburetors you're running and supposedly adjusted it before they shipped it to you. That was one good thing. The carburetors were actually those Stromberg 97s. You could go to the junkyard and get all you wanted for about $5 apiece. They were the most simple carburetor, I think, that was out. We used those Stromberg 97s on the Chrysler Hemi, the engine that we took out of the old wrecked Chevy.  It took us probably close to a year to build it. Building a dragster was like this. You had to understand how things worked and then get it down to the most simplest form that works for you. That's what it was building a dragster.  This was in about 1959. My dad, he'd come out. He'd say, "Y'all boys are never going to get it running." Then we almost blew the little small house off of the foundation. Then he came out and said, "Y'all boys are going to get killed in that thing." When we were tuning it, we'd just run the water in the top of the block and let it run out the bottom. The only cooling we had as far as trying to tune it up any. Some policeman came by the house. He said that a lady a block away was working shift work at night. She thought it was an airplane. It would take off. He said we were going to have to shut it down. It was too loud. So we shut it down for a while. When we had it ready, we took it out to the Klondike strip. Before we had finished the dragster the Klondike strip had been open some, but I don't remember exactly how long. But they were just running street cars out there. Chevrolets, and Buicks, this type of thing. When we built the dragster, like running top eliminator class, the Chevrolets had radiators. Ours didn't have a cooling system. So they would try and get us into a slow-stage, trying to make the dragster run hot. So we had to have an understanding with the flagman so that once we got up there, we had to go. I think a time or two, we had to run against a motorcycle for the top eliminator out there. I don't think the Klondike track was a half a mile long. We could only run a quarter mile out there. I don't think it was a quarter of a mile shutdown. In fact at the end of it, it went downhill and curved to the left some. Your shutdown should go uphill. I guess that was something that they weren't aware of.  We would run the dragster at the strip, then take it home to see what we could change to improve it. In fact, my brother, we went home and welded the spider gears in the rear end to lock the rear end up so both wheels would turn the same. When I had it out at Klondike, I remember running someone and took off and hit some sand. It jumped kind of sideways. It's no good to correct the front end because there's no weight out there. And then the tires are turning the same, so it wants to go in the direction of the tires. And I remember looking at the people along the fence there, they were all jumping down and running because they thought I was going to come in where they were, I guess. But I somehow got it up on the track and still beat whoever I was running out there. They didn't have bleachers out there. They just sat on their cars. Somebody asked me one time, why did I buy a '58 Impala. I said, "Well, I sat on everything Chevrolet had, and this was the most comfortable." All the fenders were round. You had no sharp edges on them.  I don't think they had a timing tower. They didn't have a timing system. We didn't get timed until we raced at Eglin Air Force Base. They had a flagman. I think at the other end, it seemed like to me, they had someone on each side of the track to raise a flag to tell you which lane won. Whoever got there first, won. There was classes, but then it got down to the top eliminator, that was the two fastest cars. Whatever class was below you, the fastest car out of all of the rest of them, they ran the two fastest cars. Even if it was a motorcycle. I remember running against a motorcycle sometime. They're good right off of the line, but then just about the first hundred feet, then after that, I'd pull them pretty good. I did all the driving. When my brother wrecked the Chevy, he gave up driving. So when we built the dragster, he never really drove it. As far as safety, I wore a helmet. It was just one of those things that sits on your head. It didn't have a face shield. I guess if you landed on top of your head, it would be alright. Other than that, I don't see where it would have done much. You just got in with your old jeans on and a T-shirt. That was your suit. They didn't even care if your knees was wore out. Tennis shoes, too. It didn't make any difference.  In 1961, the drag races at Klondike were part of the Fiesta of Five Flags celebration in Pensacola. That was a big annual celebration, but that was the first time that the drag strip was a part of it. It was supported tremendously by the military. They had the bands. They would hide something and give out clues on where it was, to find it. At the time, Pensacola Beach wasn't developed. Actually, they gave away a house on Pensacola Beach as the grand prize. They would also give you a lot over there, if you would build within six months, trying to get it developed. Now, if a hurricane would come through and slammed there, they would want a fortune just for the dirt. That actually was government surplus property. That's the island of Pensacola Beach. If you buy over there, you actually have a hundred-year lease because I think it's still all owned by the federal government. But that's where the parade came in. We towed our car in the parade. About the time that we quit racing, someone brought a Chevrolet rail job. It was more of a factory-type looking car. It wasn't made in a backyard. In fact the boy that drove the car, I knew him. I don't know what his real name was, but they called him Nut Crenshaw. So I guess that must say a lot with a name like that. But up in Alabama, he did open a salvage yard up there—Crenshaw Automobile Used Parts or something. But that was the only one that I actually saw. But later on,  . . . in fact, Don Garlits ran out there one time. At the Klondike. I did not see him. I don't know how I missed that. There was a famous drive-in on Cervantes Street where people hung out. The only way to go east or west was Highway 98. The Interstate wasn't built. I remember sitting at that famous drive-in and his car just happened to come by. It was on an open trailer and it looked like he had about a '49 Cadillac pulling it. That's the only time that I have actually seen his car, when he was coming through Pensacola. One time I was out to the Skylark Drive-in in Pensacola with my '58 Impala. It was kind of close to the military base. Most of the military people hung out there. I was going around to the drive-in. I think somebody had a Corvette or something. I guess he heard it, sounds a little bit like it has some power. He said, "Crikes, fella, you want to run that thing?" I said, "No." I said, "I got one at home I'll run." He said, "Now that's the problem with people down here. Everybody's got one at home." Hell, I went and got the dragster. I went back down there. I said, "OK. I'm ready to go now." He said, "I can't run that thing." I said, "I didn't think you could." But there was an overpass right there. I said, "I'll give you a head start and let you get over the overpass." I said, "I'll jump over the top of you coming down the other side." He decided he didn't want to participate there. I thought, this one it'll run. The Vagabond Drive-in out there, there was a sign and all of the local people parked on the right-hand side of the sign. And the military parked over on the other side. For some reason, our group didn't like the military too well. I think at one time, they actually put it off limits because there was so much confusion with the military. It was very interesting. I look back and I'm glad I was part of some of that stuff. It cost a lot of money, but you've got to do something. I don't even remember what happened to the dragster when we quit running it. I'm sure somebody bought it, but I don't even remember who it was.
Wallace Josey, 
telephone interview with
Mel Bashore, July 21, 2018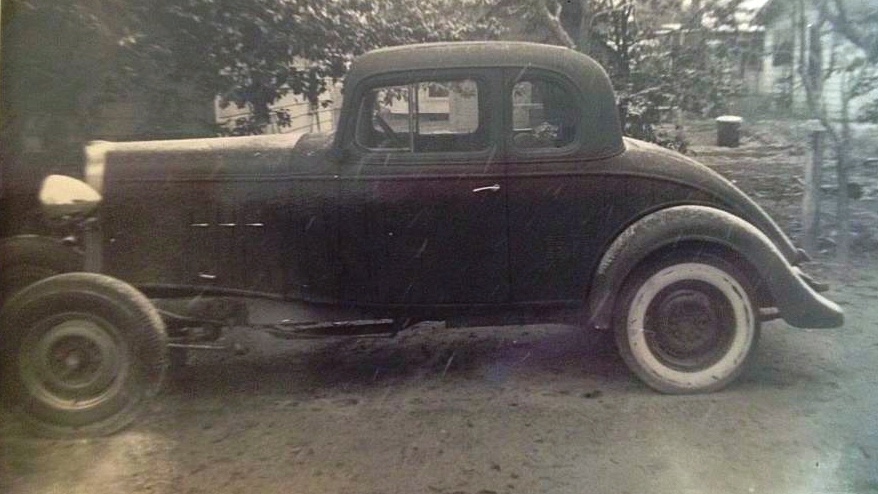 This is the 1935 Chevy that Robert and Wallace Josey hopped up with a Chrysler Hemi, but unfortunately Robert crashed the car. They used the Chevy's frame for the rails on their dragster.. Courtesy of Wallace Josey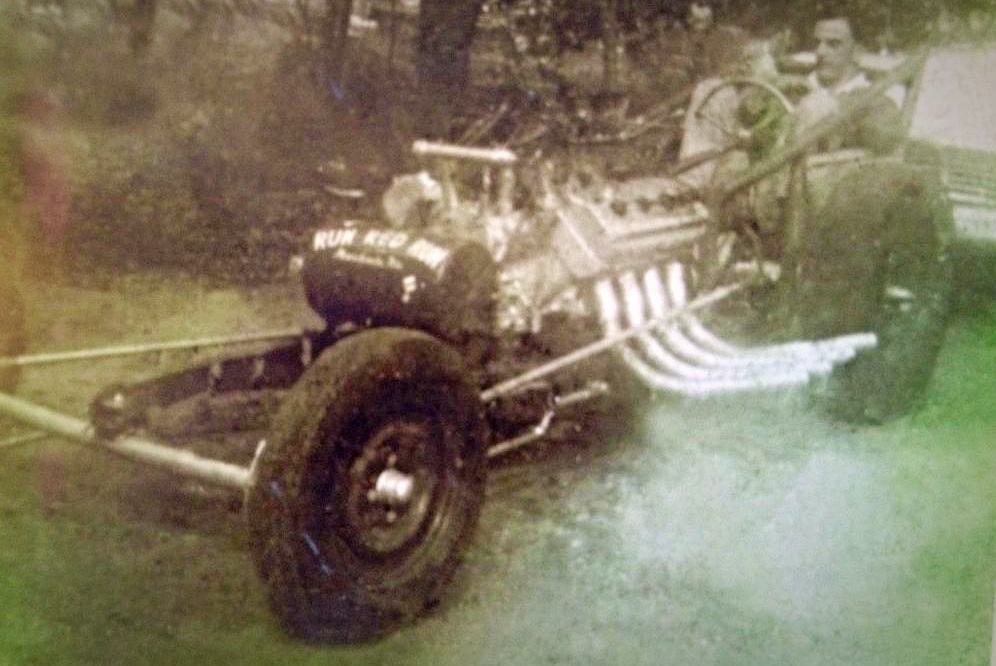 Robert Josey sits behind the wheel of he and his brother's dragster. Courtesy of Wallace Josey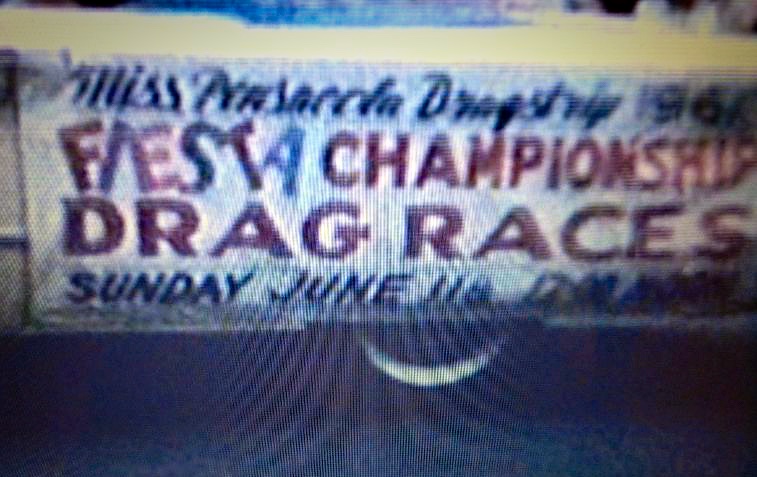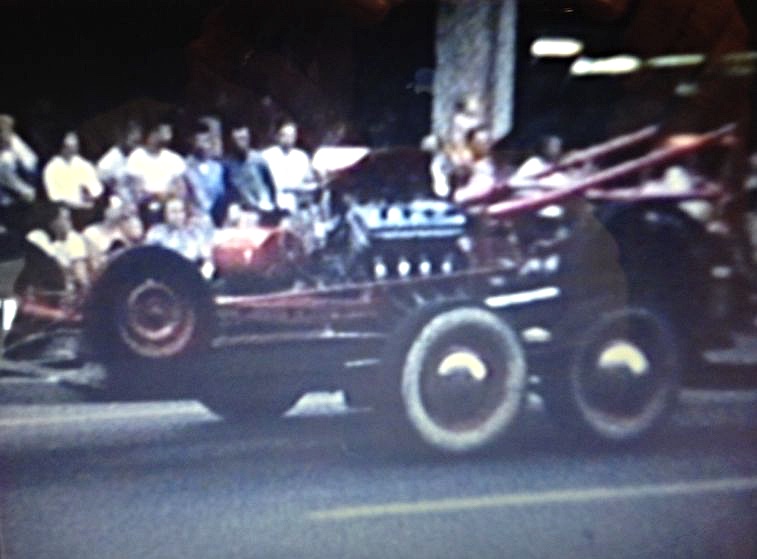 Robert and Wallace Josey trailered their dragster in the Festival of Five Flags parade in Pensacola in 1961. Courtesy of Wallace Josey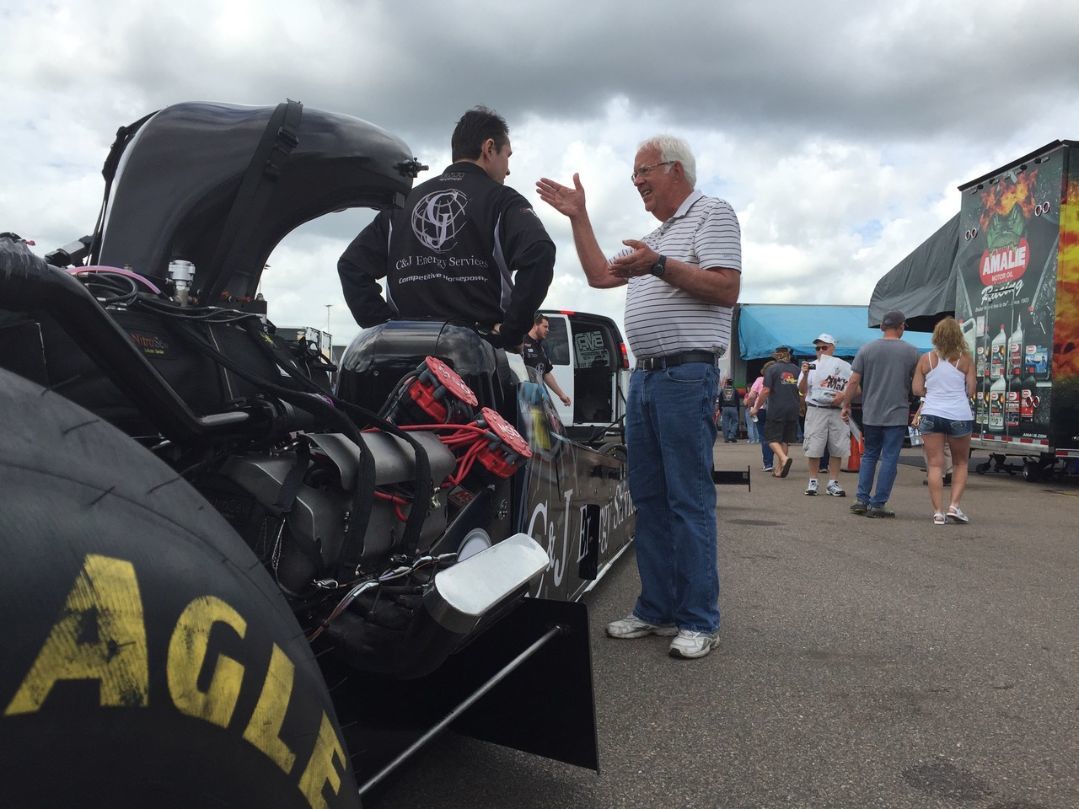 Wallace Josey telling a driver at the 2016 Gatornationals about his old rail job. Courtesy of Teddy Josey
Samsula
Spruce Creek Airport, 1960s
Florida was a major airport drag strip state due to the great many military airports built during WW-II. Great year-round weather meant almost every-day pilot and crew training. Ironically, I live at Spruce Creek Fly-In Community, a former WW-II USN airfield just southwest of Daytona. In the 60's we came up here from South Florida and raced on the main runway. It was deactivated after WW-II and in the early 70's bought by a developer, who built hangar homes, golf and tennis clubs. John Travolta lived here several years until he bought his Boeing 707. The runway was too short for him to land and stop! Others who have lived here were Mark Martin, Mike Skinner, Benny Parsons, Cincinnnati Bengals coach Sam Wyche, and Bill Lear, Jr., of Lear Aircraft. NASCAR held a couple Winter National meets here. Today we have numerous restored warbird aircraft and over 100 private airplanes of all types. Many residents are airline pilots who are based remotely at airline hubs... Dallas, LA, NYC, Chicago, Atlanta, etc.
Jim Hill
Tampa
Tampa Dragway,  late 1950s, early 1960s
My step-grandfather was Frank Herndon, Billy Herndon's uncle. He used to take me to Tampa Dragway. We got in for free and I had a great time as a kid. Billy's brother, Joey, was into racing and that's how I first got introduced to drag racing. Later on, I came to know Don and Eddie Garlits and hung out at Don's speed shop near Himes Avenue for years and learned a lot about cars. I remember Joey Herndon had a Plymouth Belvedere called the "Rebel Rouser," a  gray car wilth Hilborn injectors and a Confederate flag painted on it and a twin-engine, two Buick V8 rail [Tommy Ivo].
Frank DeWitt
Tampa Dragway, 1972-ca. 1976
Being born and raised in the Tampa area. I had the opportunity to race at the Tampa Drags and Twin City Drags in Tampa. As mater of fact, I lived on a dirt road off Highway 92 heading north off 92 at the end of Tampa Drags. On Sunday morning, when I heard the first race car with open headers fire up, that was my alarm clock to get out of bed and go racing. I ran  a 1969 RS/SS Camaro with a 331 small block with Ford top loader 4 speed, 5.13 12 bolt rear. It ram 12.90's at Tampa, which was I thought was 66 feet short, but I have since read it was more like 120 feet short. But it did run 13.07  at Twin City. I do remember that old '69 Camaro had the original window sticker in the glove box. It cost $3975.00 when it was new and came with a aluminum head 396 with a 4-speed and a fold down rear seat!  The old race track was part of the old Highway 92 road. I once couldn't stop and ran out of track, crossed Highway 579 and wound up in the Texaco gas station! Man those were the good old days!
Roy Riveiro
Tampa Dragway, early 1960s
My dad, Pat Patterson, held the Super Stock title in '60-63 in Florida with his 409 Dixie Rebel. 
Jerry Patterson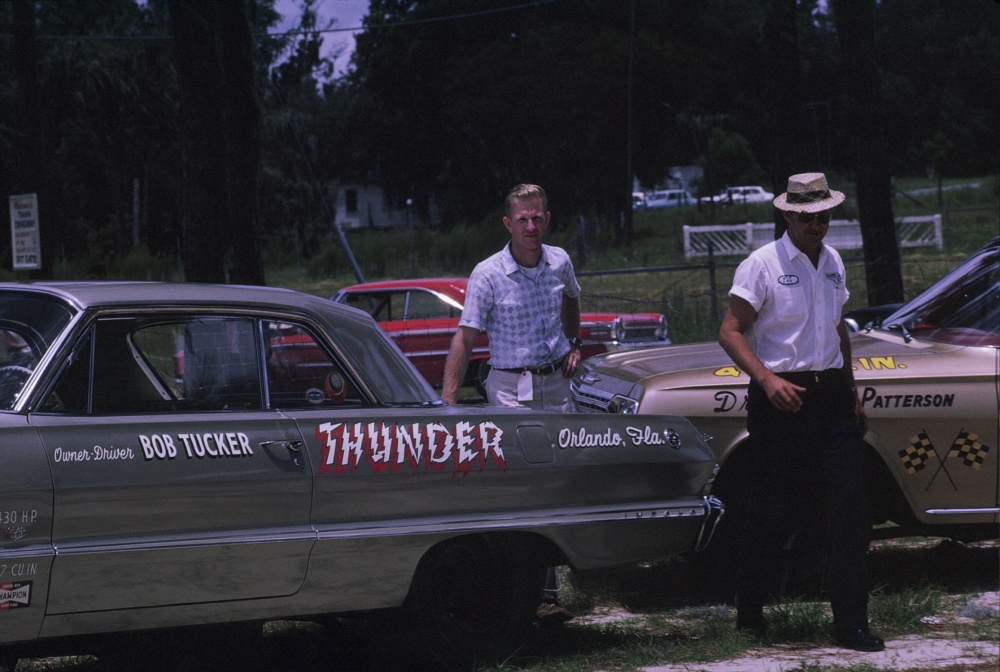 Bob Tucker and Pat Patterson (wearing hat) at Tampa Dragway. Courtesy of Jerry Patterson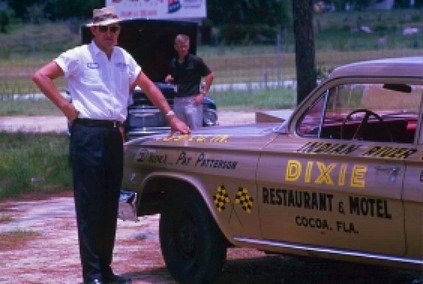 Pat Patterson at Tampa Dragway. Courtesy of Jerry Patterson
My father raced at Tampa Dragway on Sundays from around 1967 until NHRA outlawed Corvettes in stock eliminator in 1972. The track was closed in 1975 due to a sound ordinance put into law by Hillsborough County. This eventually caused Twin City Dragway in Oldsmar to be shut down also, after their lease expired. Tampa Dragway ran on Sundays, as the promoter Billy Herndon also ran Central Florida Dragway. My father's A/Stock 427 Corvette used to clean house at both tracks. I was 7 when I first went out there.  This track was actually on the south side of Interstate 4, and it ran uphill. They claimed it was flat, but you could look down the track and see from about 700 feet that it was an uphill grade. The cars ran slower ET's and slower MPH here than they did at Central Florida Dragway. After this track closed, it became a flea market for a number of years before being sold to a developer.

Allen Dillman
Tampa Dragway, early 1960s
I raced at Tampa Dragway in the early '60's before going in the service. I know that the junkyard right next door probably lost inventory every race day that it was closed. Wow! A dragstrip next to a junkyard! Paradise.

Dennis Lopez
I used to race for fun at Tampa Dragway. I
 used to live in Brandon and was very into muscle cars and went up on occasional Sundays for fun races.  
Had lots of fun. Thanks for this website. Good memories.
Brian Hiatt