Remembering . . .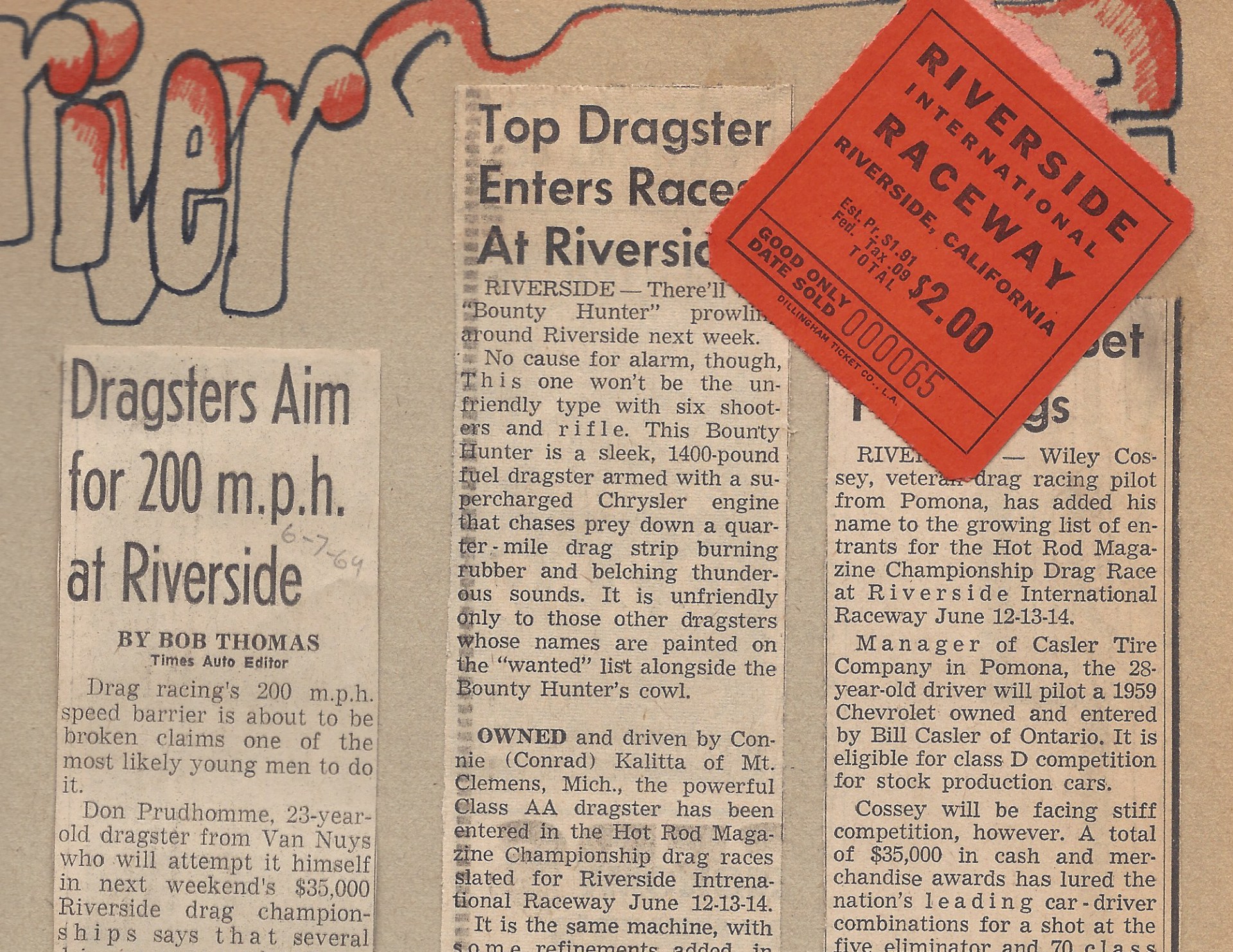 Miscellaneous newspaper clippings, entrance ticket to first Hot Rod Magazine Championship Drag Races in 1964 at Riverside Raceway. Courtesy of Mel Bashore
Bakersfield
My brother had a '29 roadster that we gutted out and installed a '48 Ford flathead on fuel. We ran that for about one year when at Bakersfield.

Larry Magdaleno
Minter Field Air Base, 1955
It was a big meet. But I did not want to tow that far, so I rode with some buddies. There was a great Top Eliminator field as the picture below shows. Now a neat thing happened on the last race for dragster class. The first car in the picture was Ernie Hashim's blown Chrysler, a heavy car, driver Bill Replogle. A 148mph car. They raced Hylton Drilling, a 130mph flathead. Now I was at the finsh line. MPH clocks are 66 feet on each side. Here comes Howard Hylton in the lead. They win by inches. Hashim roared by and broke the last light. Hylton was declared the winner at a time of 145mph!!! Later the Chrysler engine was installed in the light Hylton car and Hashim, Hylton, and Crossley won races for years after! At the same meet in 1956, the Hayward Head Hunters Emmit Cull and Ron Sterbenk had Top Time with 146mph.


Don Jensen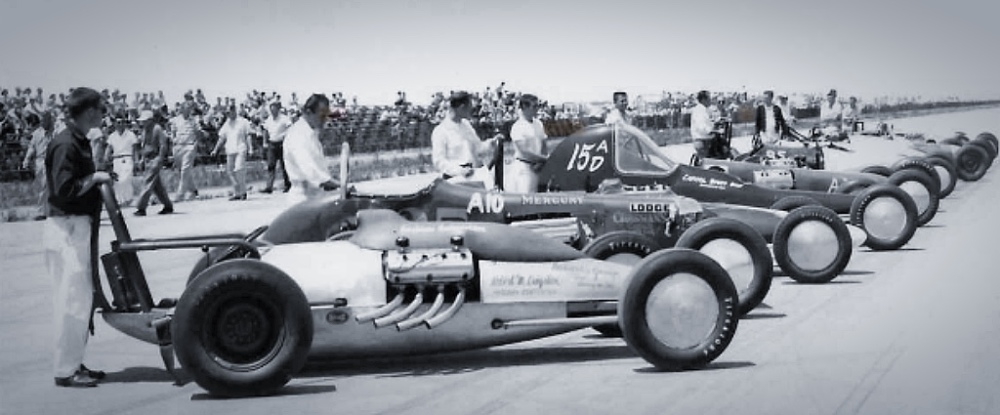 Bakersfield Smokers top fuel meet at Minter Field in 1955.  This photo shows the dragsters entered in the Top Eliminator field..The first car nearest to the camera is Ernie Hashim's blown Chrysler dragster.  Courtesy of Don Jensen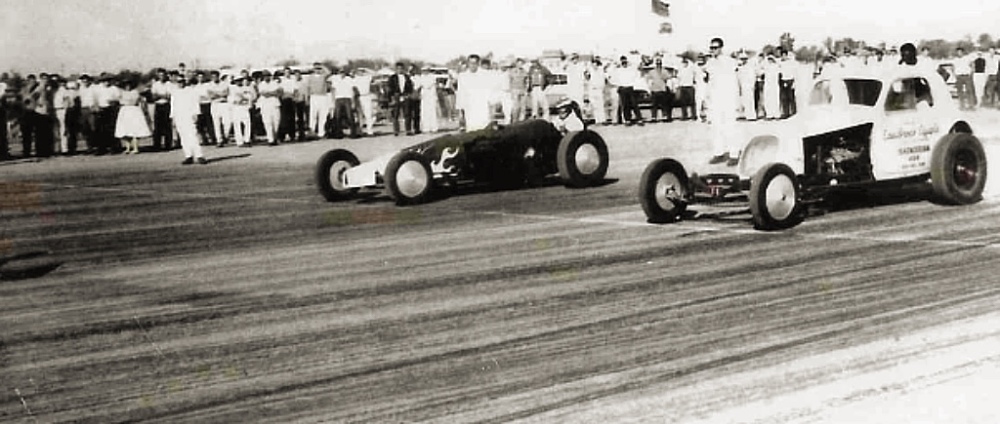 Bakersfield Smokers top fuel meet at Minter Field in 1955.  Top eliminator run (bottom photo) pitted Fritz Voight (left) against Jim "Jazzy" Nelson. Courtesy of Don Jensen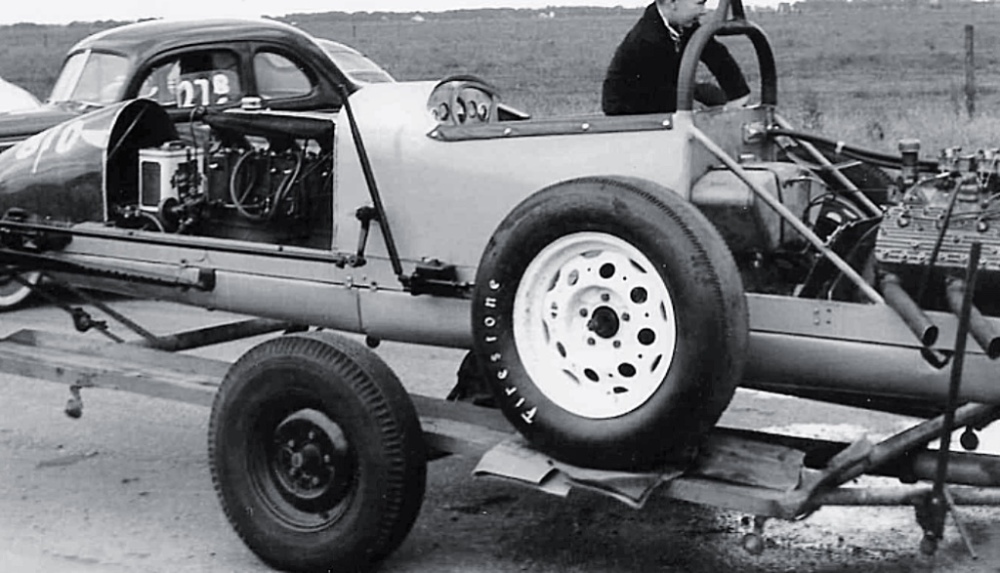 The Cull & Sterbenk twin flathead-engined dragster garnered the top time at the two-day meet at Minter Field in May 1956. Courtesy of Don Jensen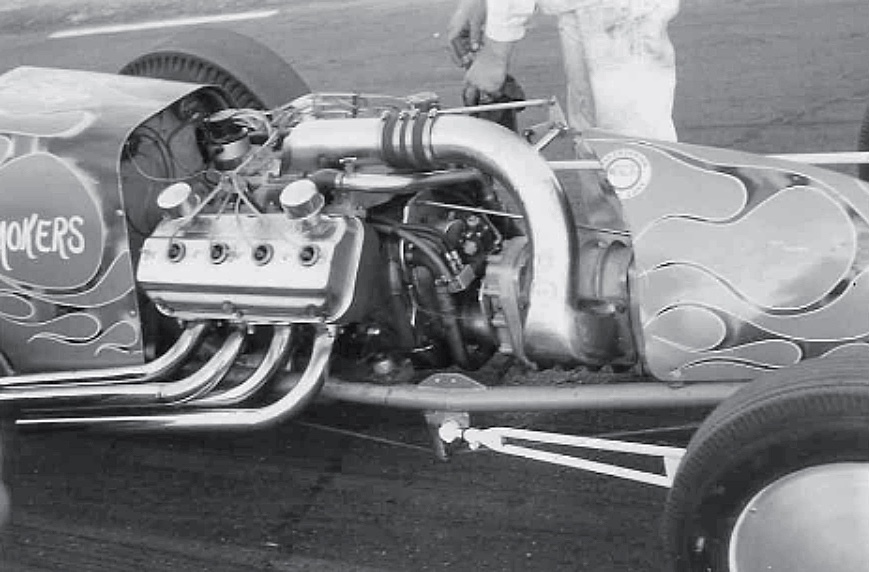 This 1959 photo taken at Bakersfield focuses on the engine with front-mounted blower of the Hashim-Hylton-Crossley dragster. Courtesy of Don Jensen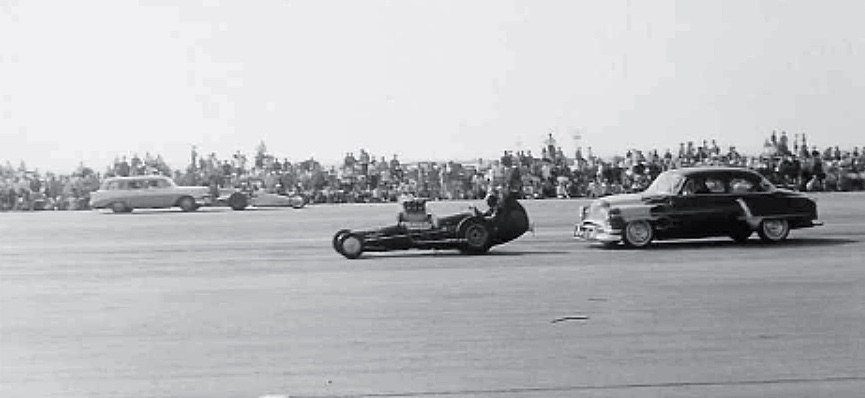 Bakersfield Drag Strip in 1959. Courtesy of Don Jensen

Al Caldwell (facing camera) at Bakersfield Drag Strip in 1959. Courtesy of Don Jensen
The second car [Speed Sport II] was still running through the '60s, but certainly wasn't competitive for Top Fuel honors by the latter half of the decade. Part of the problem we faced through the years was the fact that we won so many Top Fuel and Top Eliminator trophies with a roadster, that people forgot that we were in the A/MF roadster class running against dragsters with longer chassis and better aerodynamics. If memory serves, the only time the Speed Sport roadster ever lost an A/MF race (except for breakage) was in Bakersfield to Tony Waters, and his car was blown (against the little car). It was still the fastest modified fuel roadster.

Ted Sitterley

Speed Sport running at Bakersfield. Courtesy of Ted Sitterley
Baldwin Park
San Gabriel Valley Drag Strip [Old San Gabe], 1958
My dad, Al Morse, raced at San Gabriel Drag Strip in '58 on a motorcycle. He won his class many times.

Dave Morse
San Gabriel Valley Drag Strip [Old San Gabe], 1956
I got permission to stand on the starting line and take photos of the dragsters going off the line with my Speed Graphic 4x5 camera. I gave away over a thousand negatives of those photos, but still have nineteen left. I always thought my uncle, Charley Blake--he was an announcer in the timing tower--he was known as Dirty Charley  because he swore all the time. I was totally up to my eyeballs in photography and had access to all kinds of great cameras. I went out there [to the drag strip] three or four times with Charley and his son, Jim. My cousin, Jim, later became the manager of the Irwindale strip when it started. I went out there several times. I don't remember how many times. When I was there, I thought my uncle Charley was the manager. But he did about everything there. It's hard to tell whether he was officially a manager, but he worked mostly in the announcing booth up in the tower. But he was an uncle who I was really close to. He really helped me a lot with all kinds of stuff. I made 1200 negatives, so I was probably there a lot. I either shot with a 4x5 Speed Graphic or I had a Rolleiflex, shooting 120 film, so they were square negatives, but very high resolution. I took those nineteen shots and will send them to you. Then you will be in charge of them for the rest of your life and my life. You can give them away, or sell, or do whatever you want. Those are yours now. I'm pretty sure they were all taken in one day in 1956. All the license plates in the photos are 1956. All the old guys, they were really happening at that point. I was sixteen.

Bob Grunnet,
telephone interview with
Mel Bashore, 7/27/2019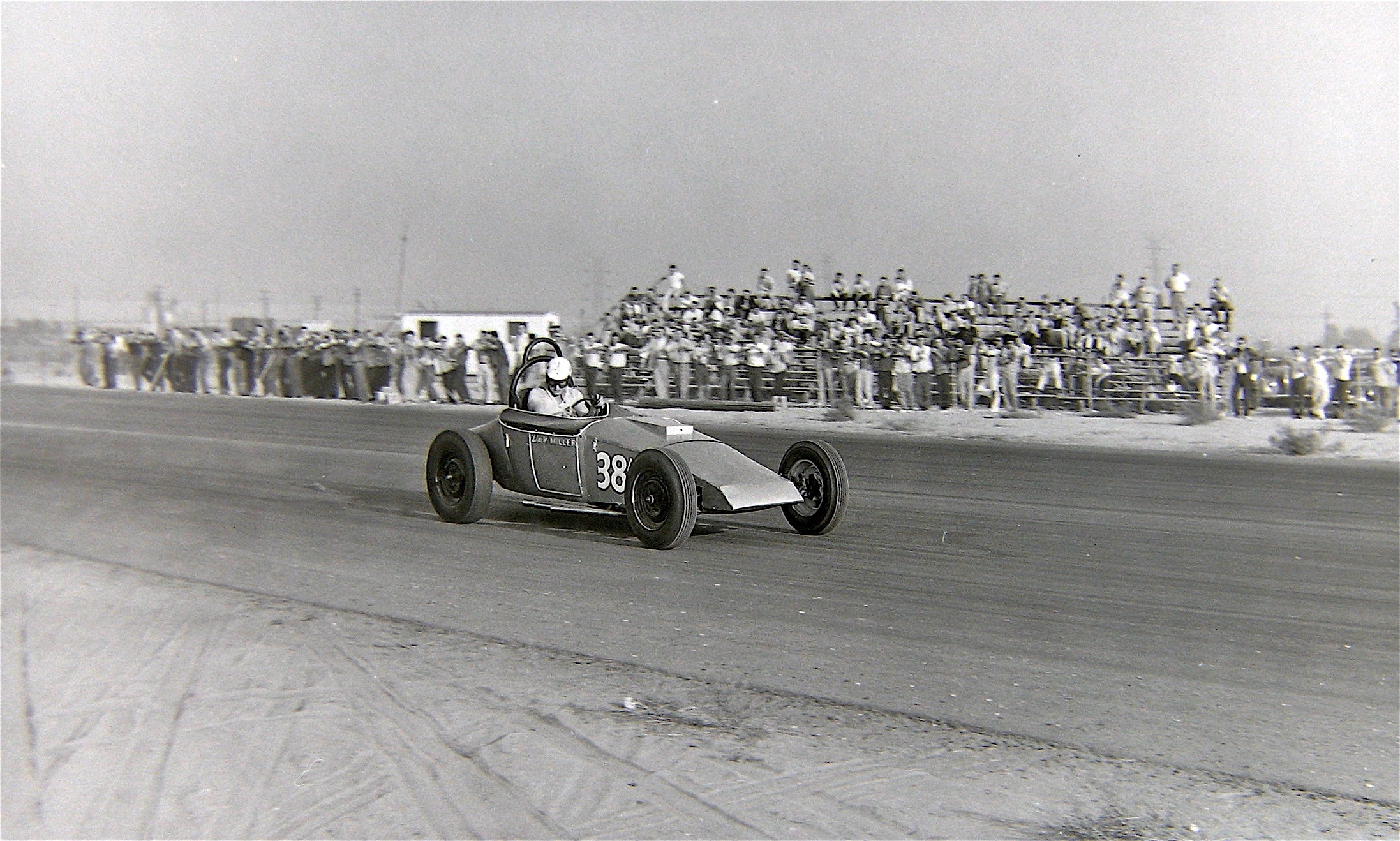 Dave Miller of San Gabriel gets underway in his Mercury-powered modified roadster at the San Gabriel Valley Drag Strip.  Bob Grunnet believes that he took all these nineteen photos on the same day at the strip. If all these photos were taken in 1956, as Grunnet believes, that was the first year that the strip was in operation. The spectators line the fence and are seated in the bleachers. Courtesy of Bob Grunnet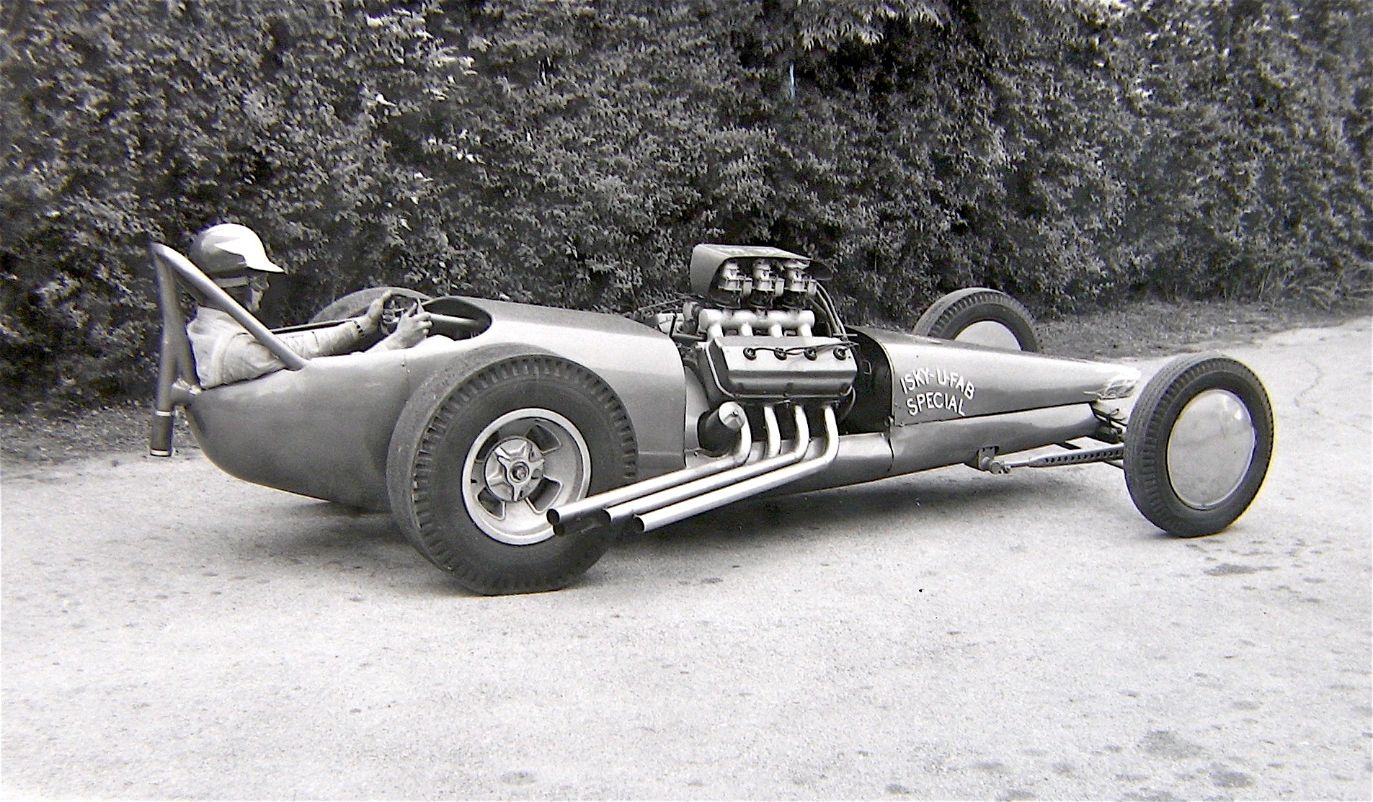 Emery Cook and Cliff Bedwell's Isky U-Fab Special was the first fuel dragster to clock over 160 mph. This was one of the most potent dragsters in the late 1950s.  Courtesy of Bob Grunnet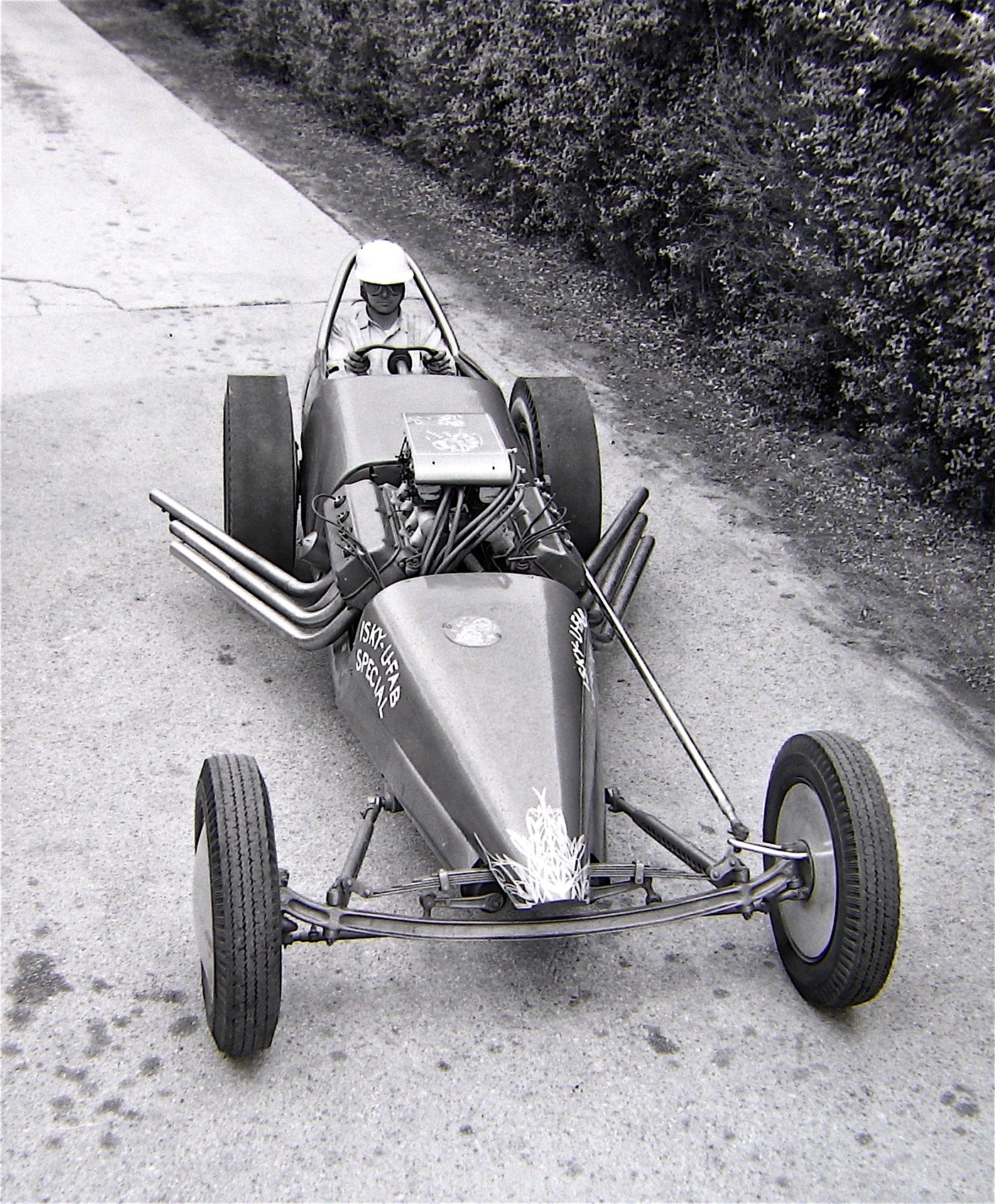 Front view of Cook & Bedwell Isky Special fuel dragster.  Courtesy of Bob Grunnet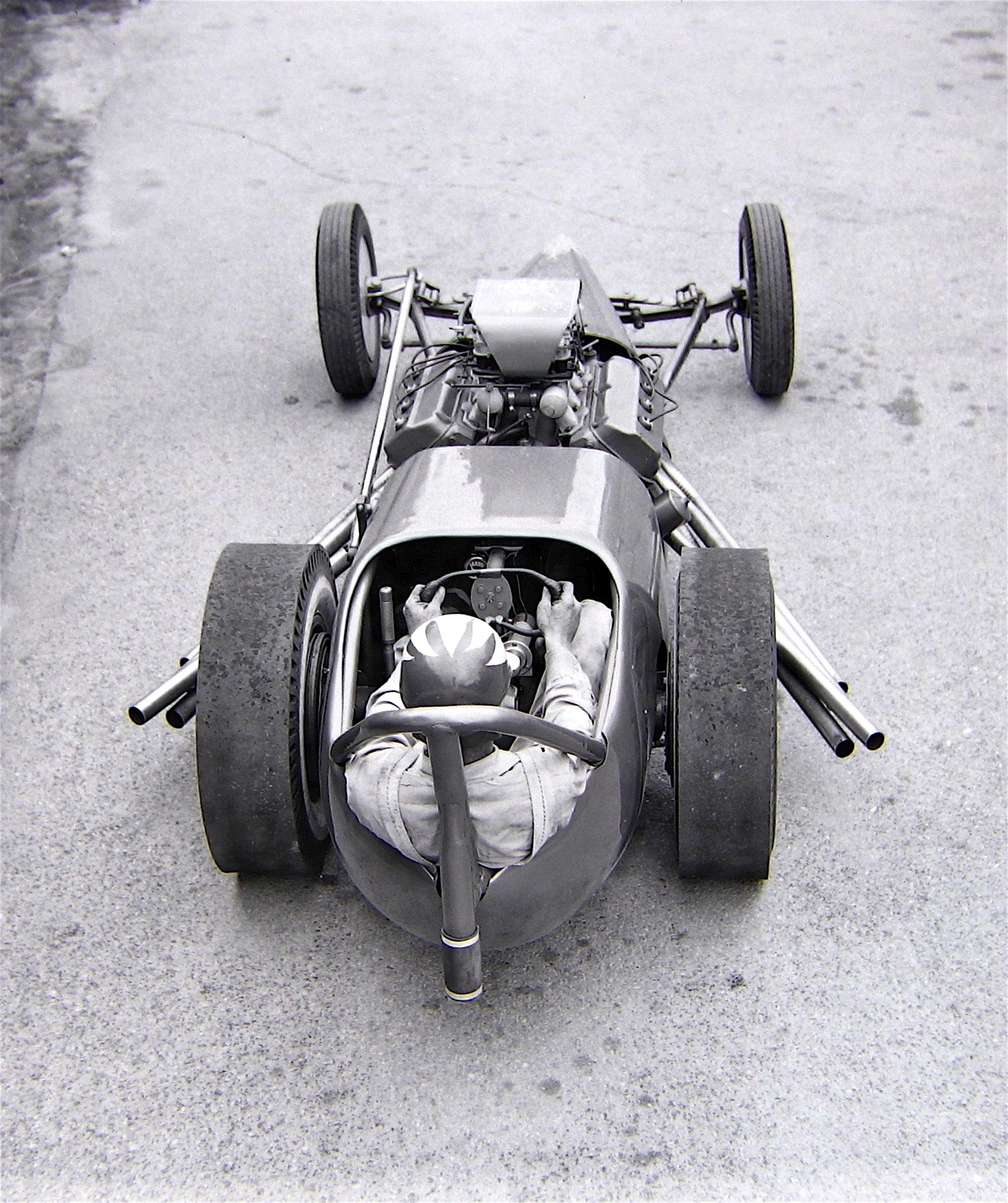 Rear view of Cook & Bedwell Isky Special fuel dragster.  Courtesy of Bob Grunnet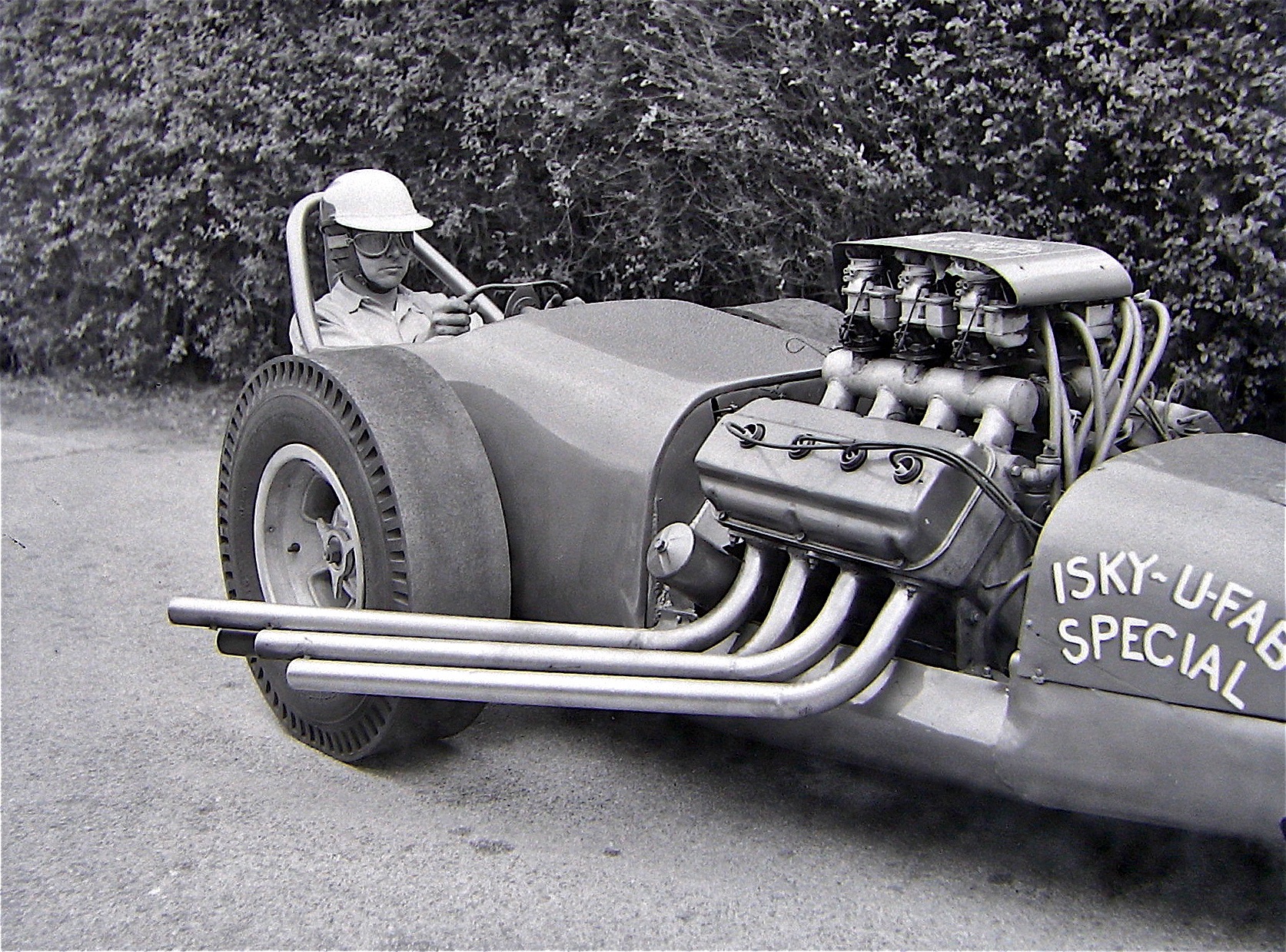 Emory Cook strikes a serious pose at the wheel of the Cook & Bedwell Isky Special fuel dragster.  Courtesy of Bob Grunnet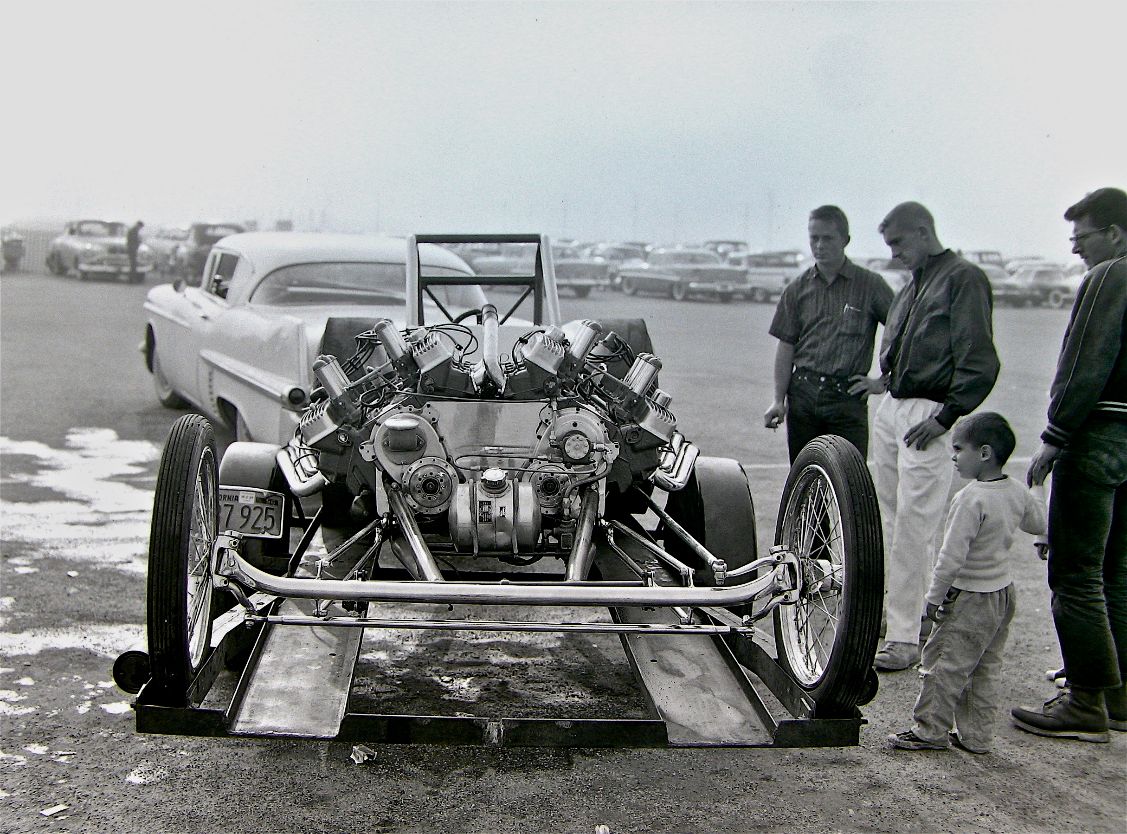 Tommy Ivo's twin-Buick-engined gas dragster was the first gas dragster to run in the 8's and to crack the 180 mph barrier.  Courtesy of Bob Grunnet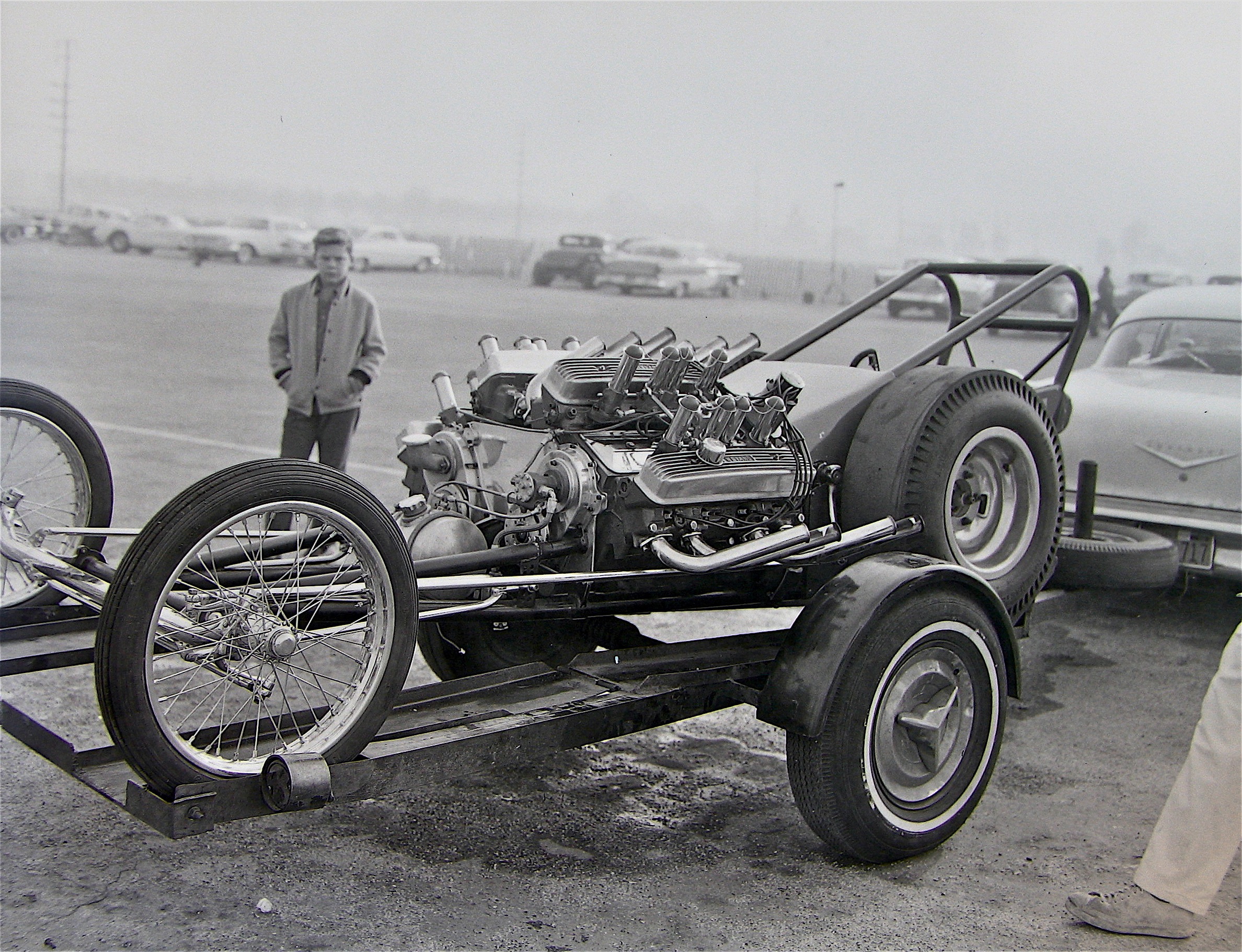 Tommy Ivo had this twin-engined Buick dragster built in Kent Fuller's shop in 1959. The car debuted at San Fernando in early December 1959.  The second outing took place on December 20, 1959. These photos were likely taken in 1960 before Ivo took the car on a nationwide tour in 1960. This is a bit of a mystery for Grunnet as he didn't recall doing any drag race photography after 1956. Courtesy of Bob Grunnet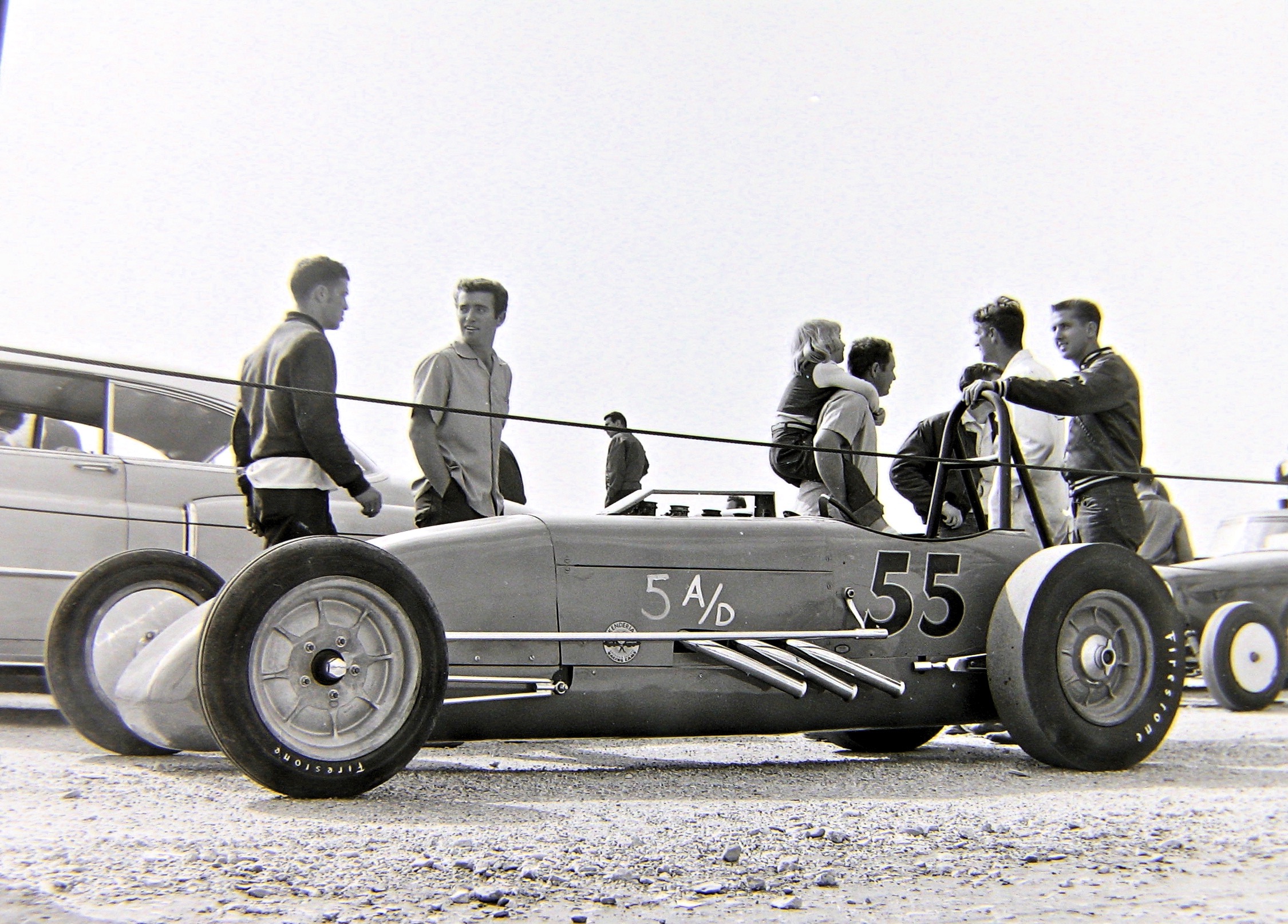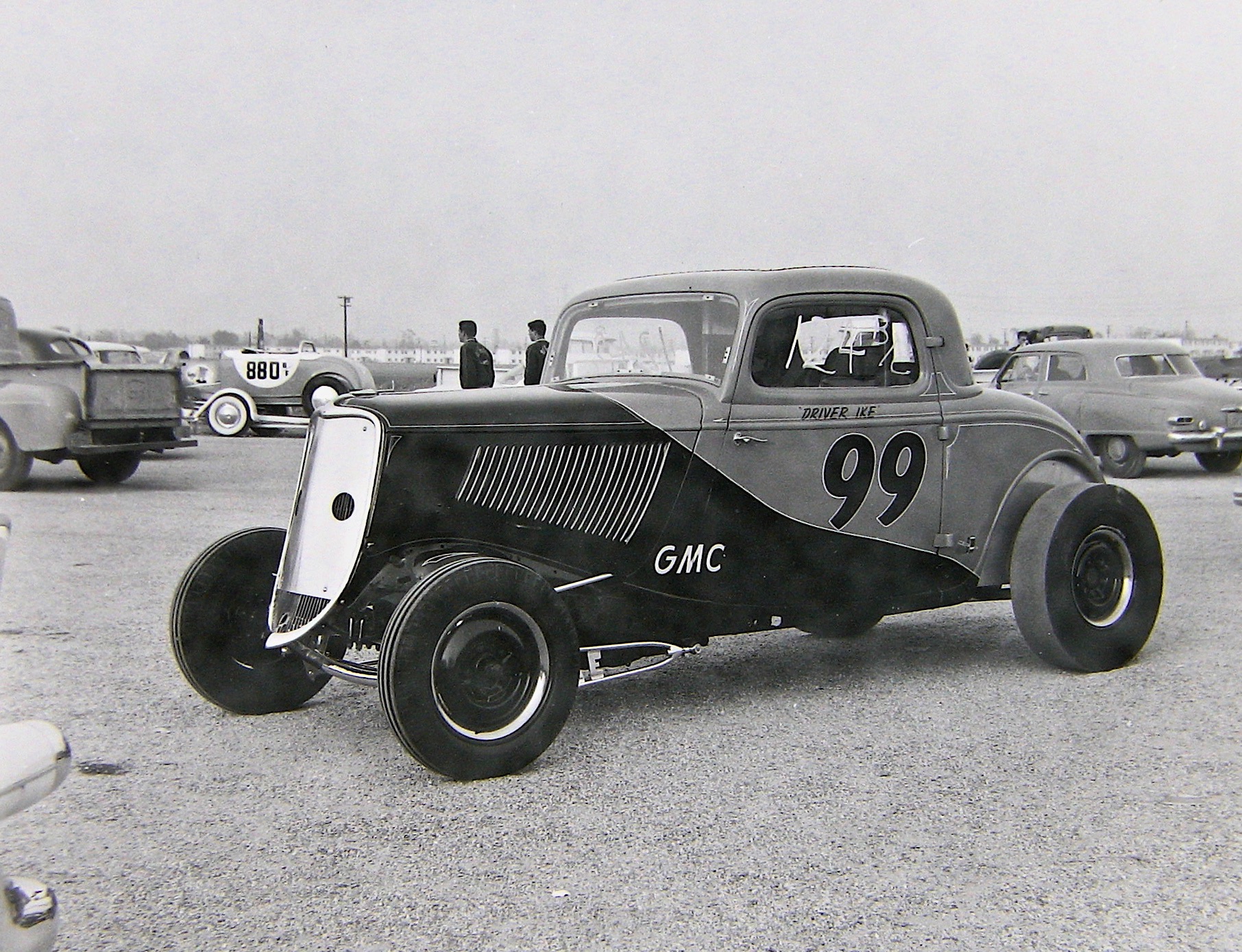 Frank "Ike" Iacano successfully competed in his B Coupe. Courtesy of Bob Grunnet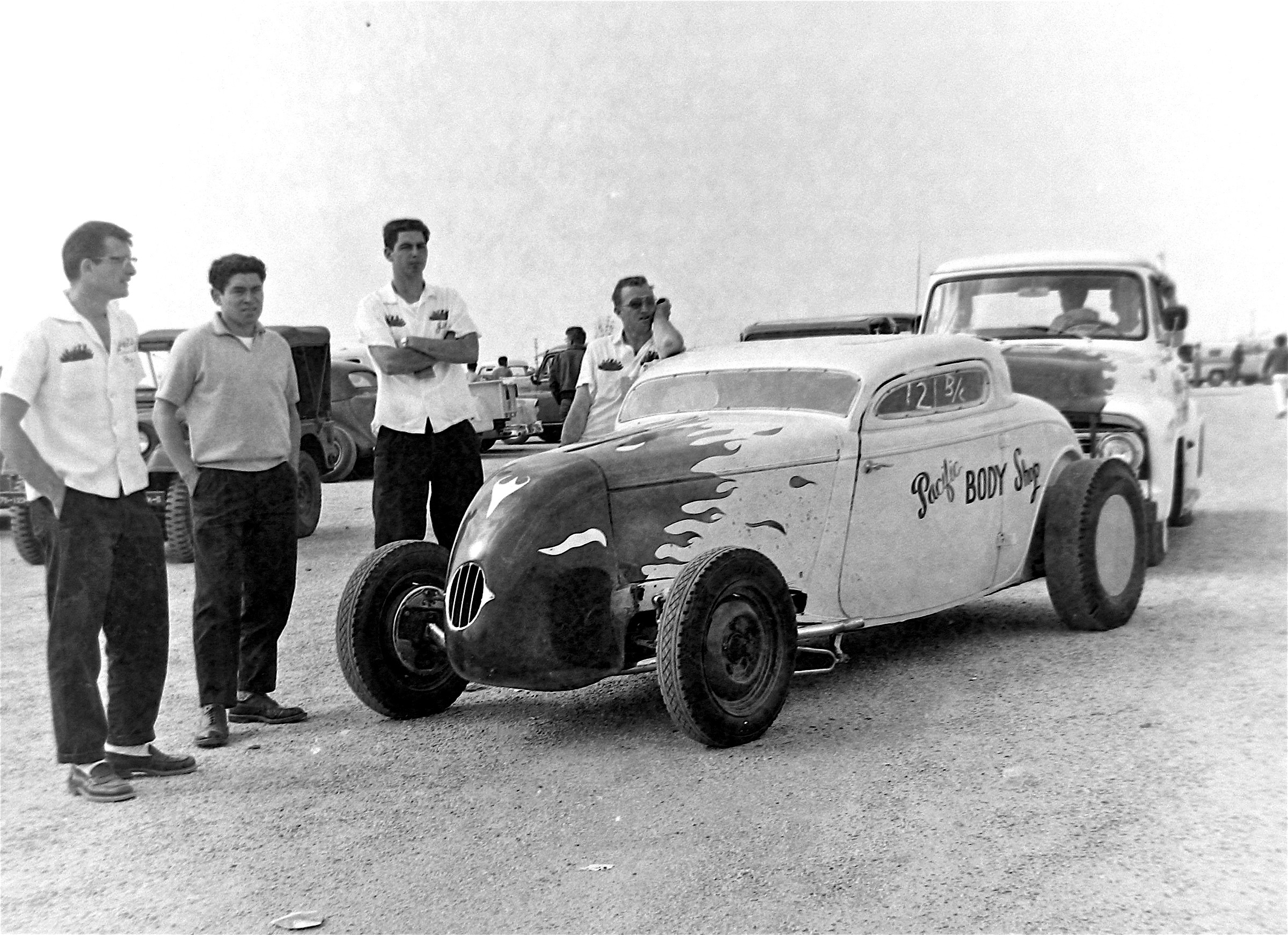 The Pacific Body Shop was a Mercury-engined B fuel coupe capable of running over 120 mph. Courtesy of Bob Grunnet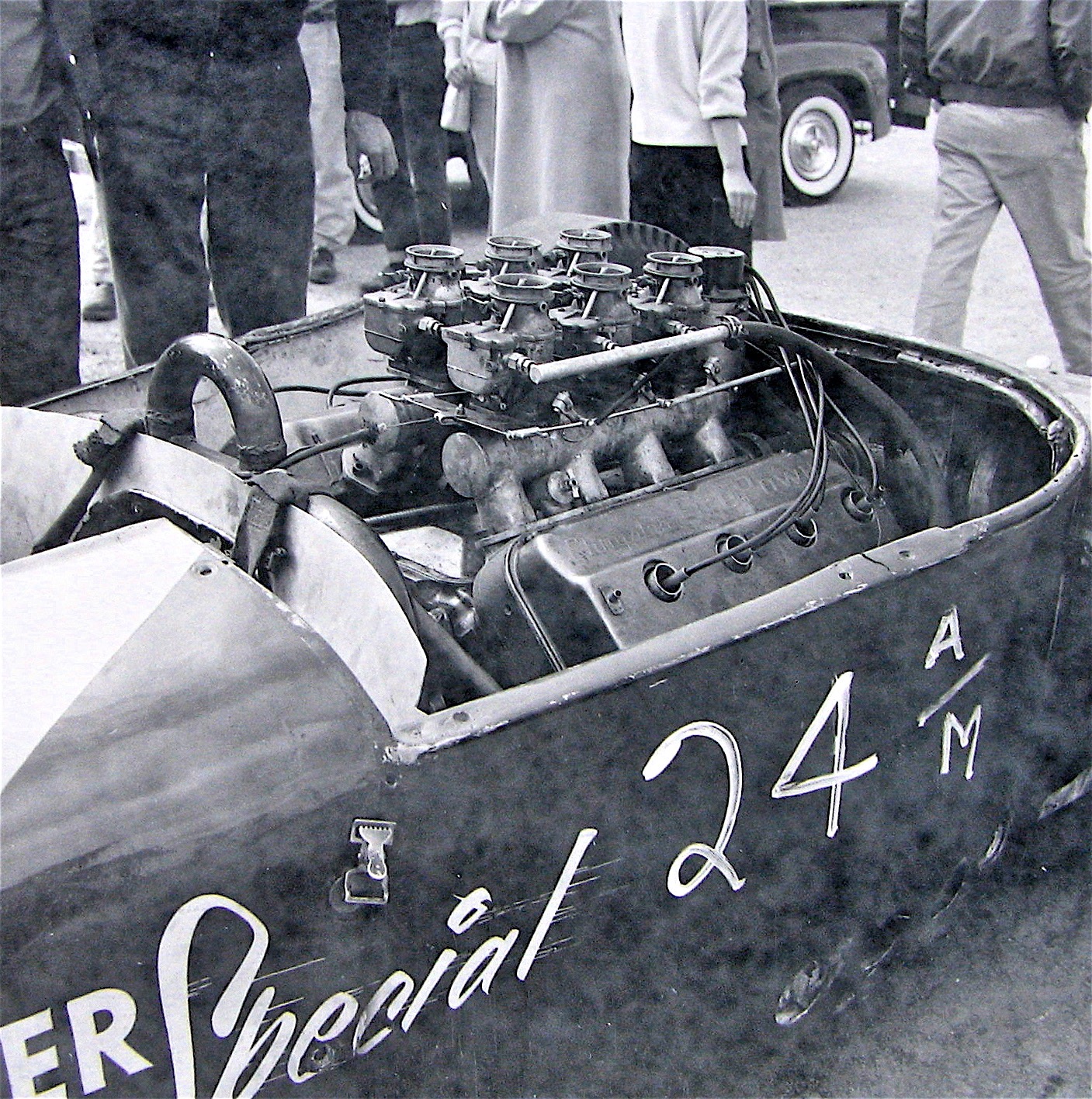 This rear-engined A/MR was powered by a Chrysler engine. Courtesy of Bob Grunnet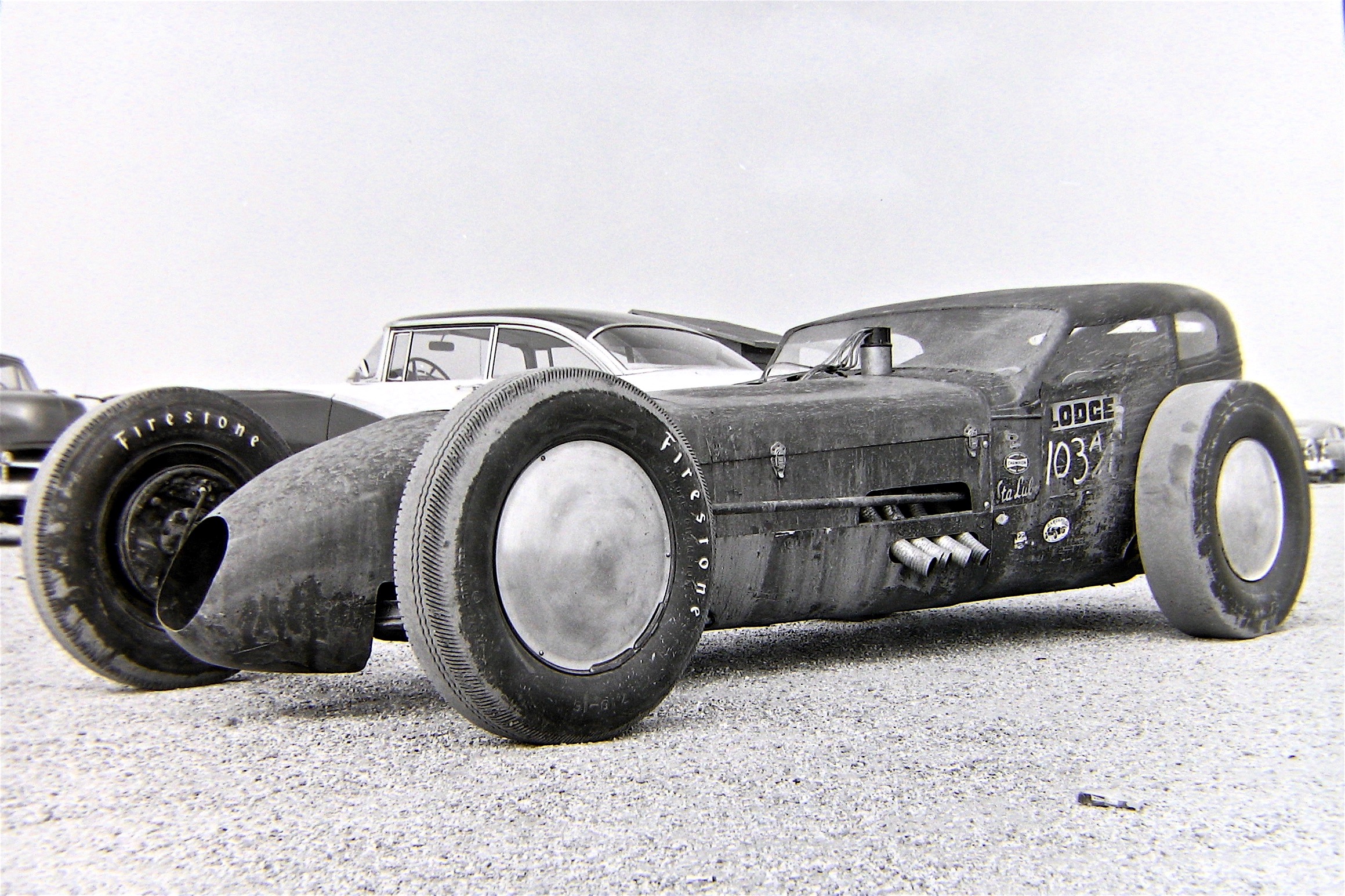 Bob Grunnet had a memory of this chopped A/A: "They would roll into the strip and if they could see that the dragsters there were something that they could beat, they'd take about a half a dozen bolts out of this thing and pull the body off and run A Dragster. Maybe it's BS, but that is what I was told. That's one of my favorite pictures because it's such a cool chop job." Courtesy of Bob Grunnet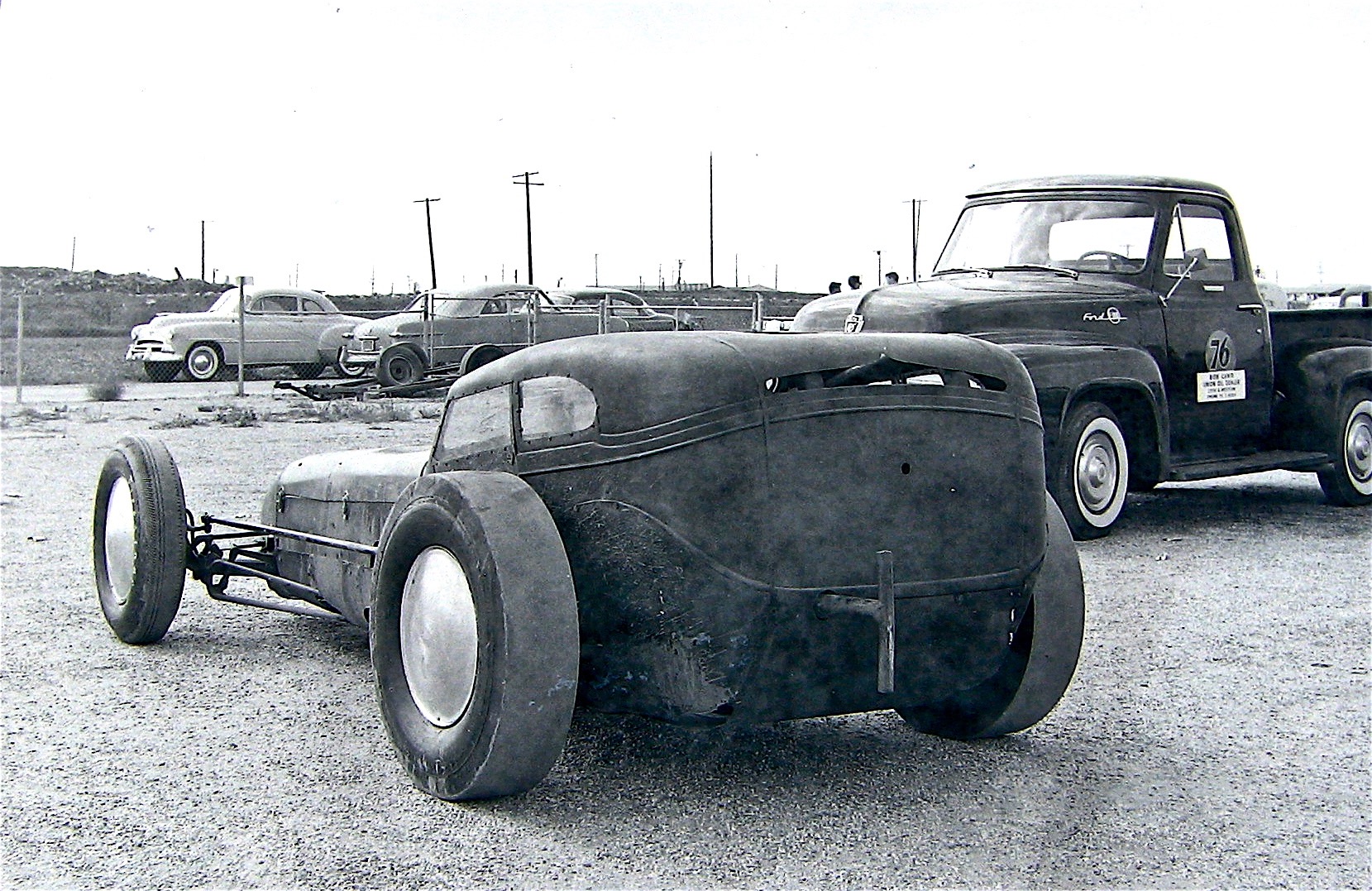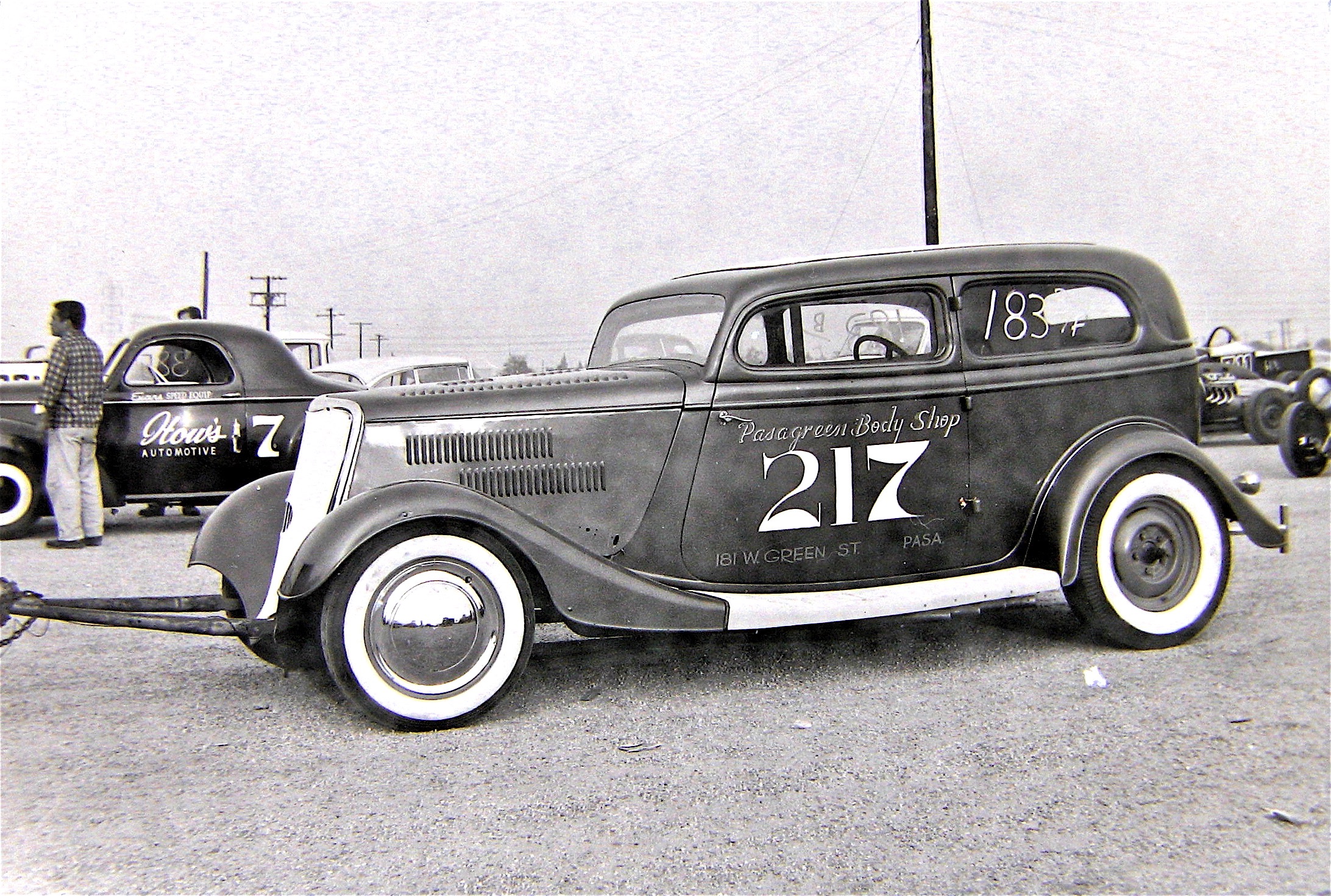 The Pasagreen Body Shop B Fuel Coupe/Sedan was powered by a Mercury engine and was capable of turning about 116 mph. Courtesy of Bob Grunnet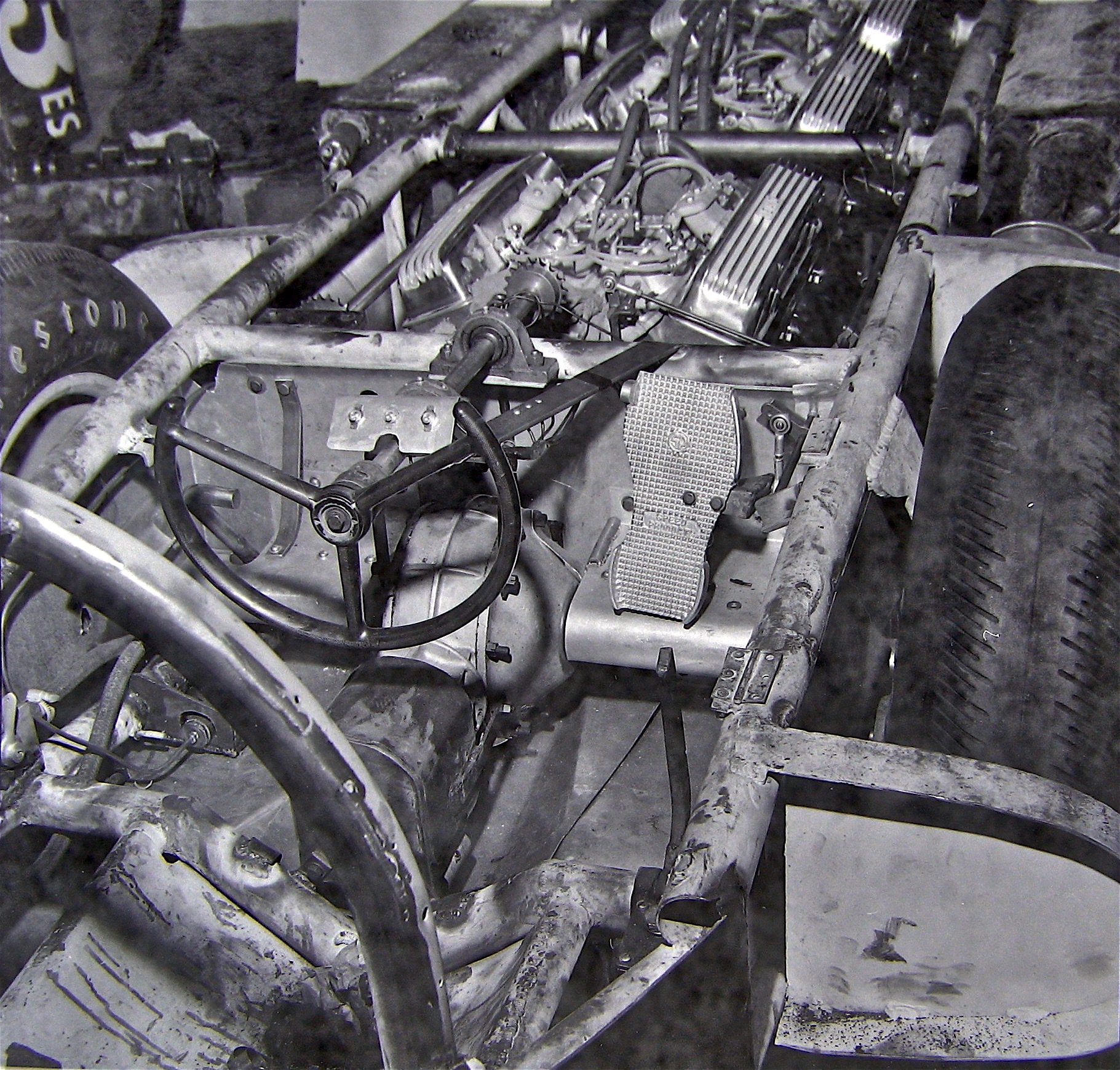 Grunnet photographed this triple-motored car designed for running on dry lakes in his uncle Charley Blake's shop. Blake lived in Arcadia, working as a plastering contractor. He also built fiberglass speedboats for water skiing in his shop. Note the huge fuel tanks to accomodate long dry lakes runs. The Firestone tires are also of the type designed for dry lakes. He couldn't recall who owned this car, but he was a well-known racer.  Jim Miller identified this car for DSL. He wrote that it was a Class E Streamliner called "Beast" built by Chet Herbert. First built in 1953, these two photos, Miller wrote, show "the Chet Herbert built 'Beast' in its '58 version. As far as I know Mel Swain did the canopy and tail-fin on this version out of aluminum. Not sure of the hood. The original body was done in George Barris' shop out of aluminum with the help of Jocko Johnson." Miller wrote that this 1958 version of the "Beast" sported three Chevrolet V8's displacing a total of 1000 cubic inches. Chet Herbert went to Bonneville in 1958 to try to beat Kenz & Leslie Wynn's Fricting-Proofing Special's record set in 1957 of 266.204 mph. The Beast ran an eye-opening 272.93 mph on its first run, but was overshadowed by the Thompson-Voigt liner that ran an amazing 286.85 mph to grab a first in class. The Thompson car went on to set a new class record of 266.866 mph and the Herbert car headed home. Courtesy of Bob Grunnet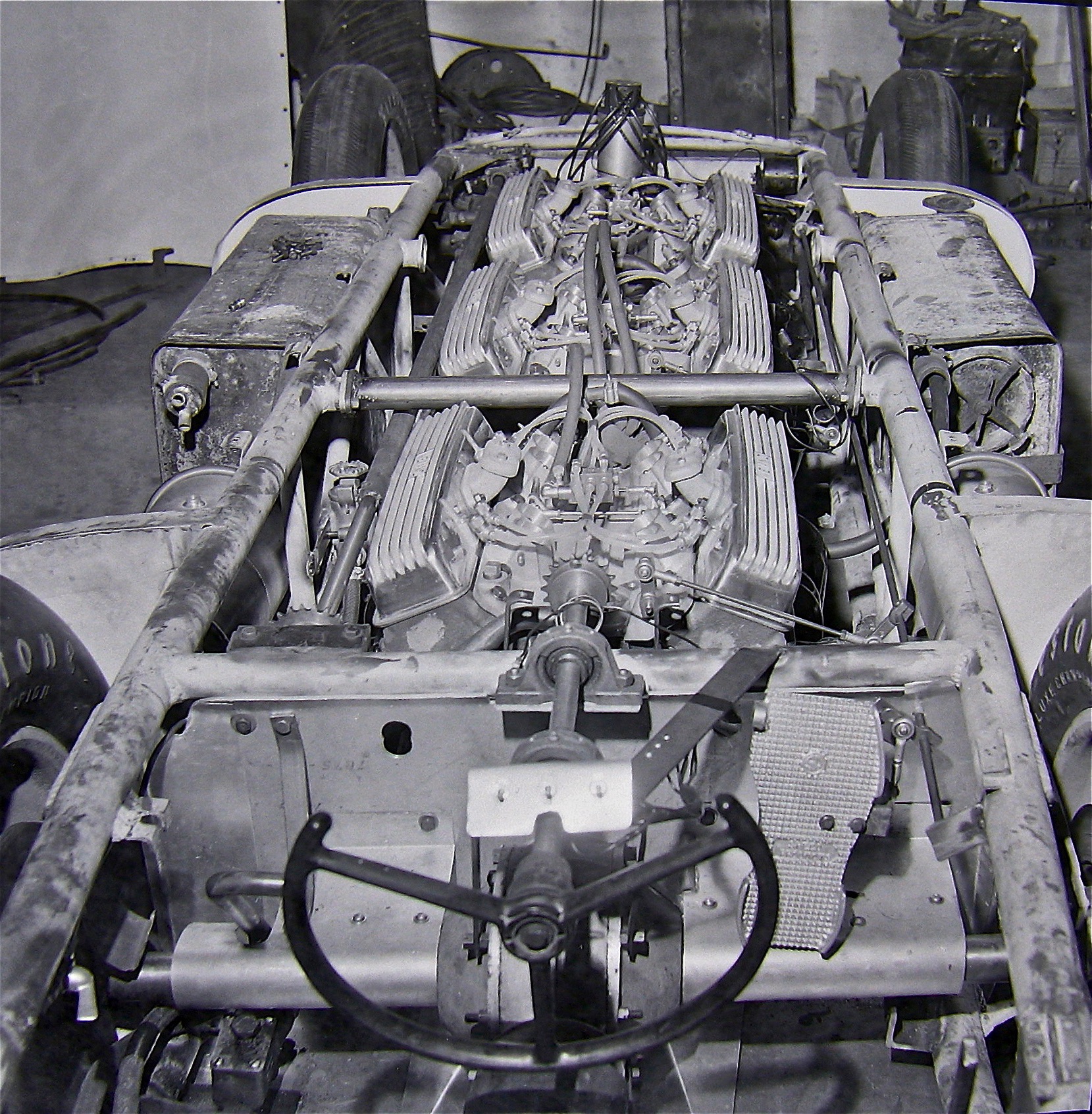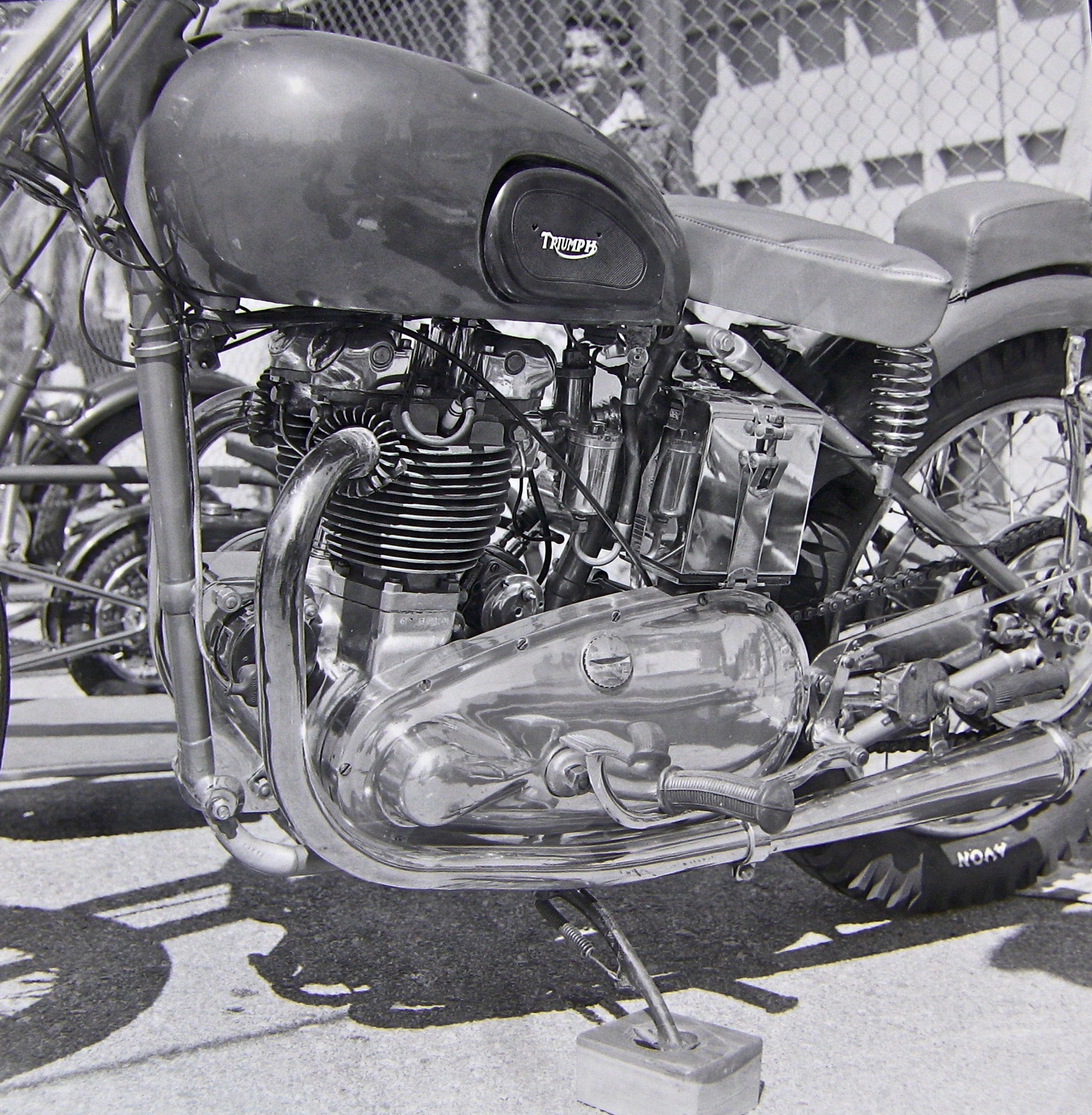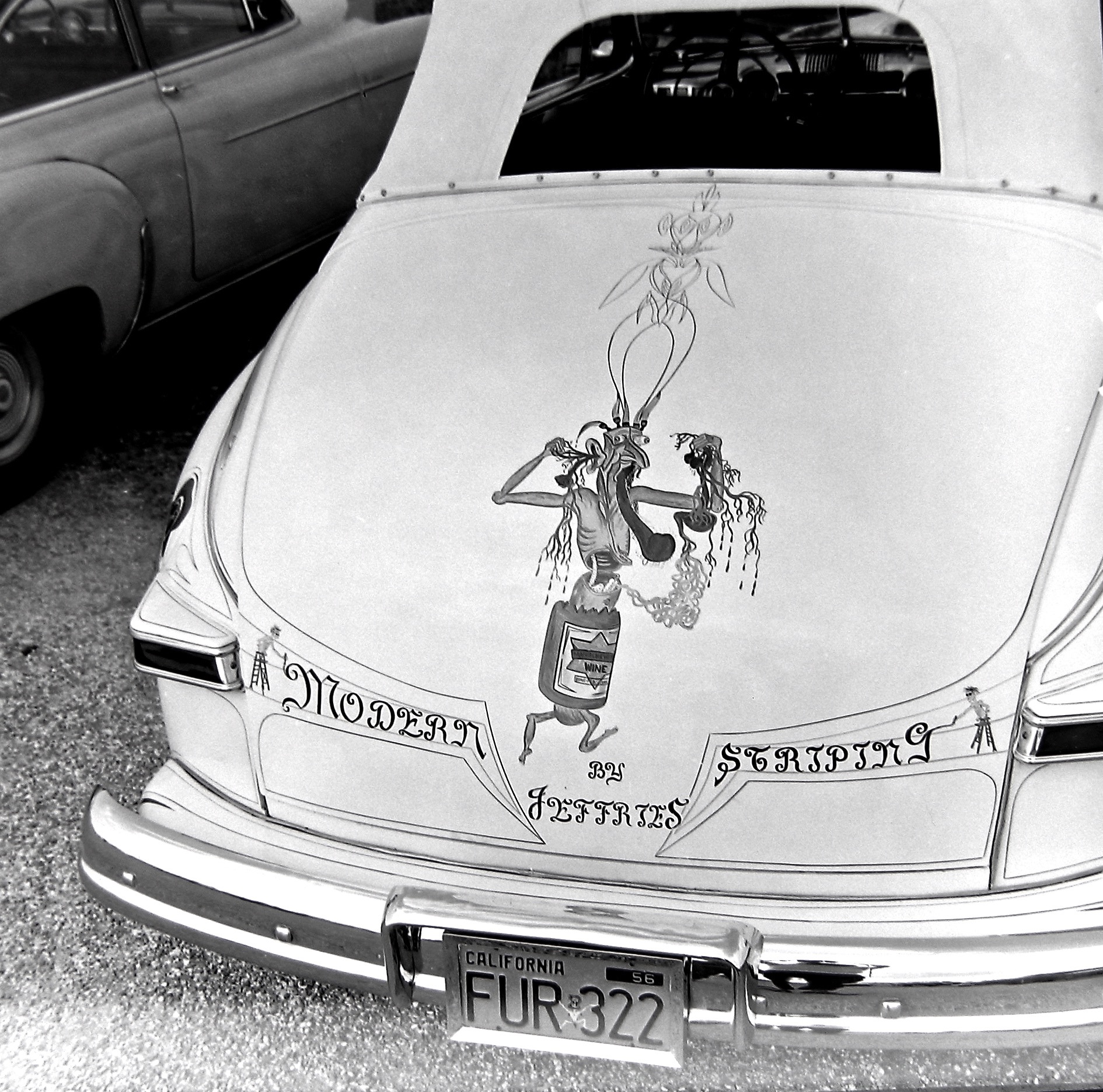 Legendary pinstriping artist Dean Jeffries was on hand with his business car. Note this early example of an emaciated caricature with flying eyeballs. Courtesy of Bob Grunnet
Ballico
I have enjoyed reading about the drag strips in California and remember racing at a whole lot of them. I still race at Sacremanto, Samoa, Sears Point (it'll always be Sears Point to me), and Redding regularly. I have been racing since 1954. I haven't missed a season. I'm 84 years old and remember a drag strip east of Turlock at Ballico, California.

Glen Terry
Lawrence Vieira raced my 1960 Ford Starliner high performance car. I was a record holder in 1960 and '61 in the New Stock class. I'm from Turlock, California. I raced there for three years. It was a great time to be alive.

Pam Vieira
Brisbane
I raced there one time. I think it was in Brisbane, just off the freeway. It was a 1/8 mile track.. Champion Raceway.

Ron Lorenz
I raced my 1969 Mustang Mach I at the Champion Speedway in Brisbane. I recall it being a Friday night for grudge racing and times. My fastest times were with my wife riding shotgun! My wife and I took delivery on our Mach 1 three days before our wedding on February 22, 1969.  We are still married and still have the car - still all original including factory paint and only 54 K on the odometer.
Jack Lewis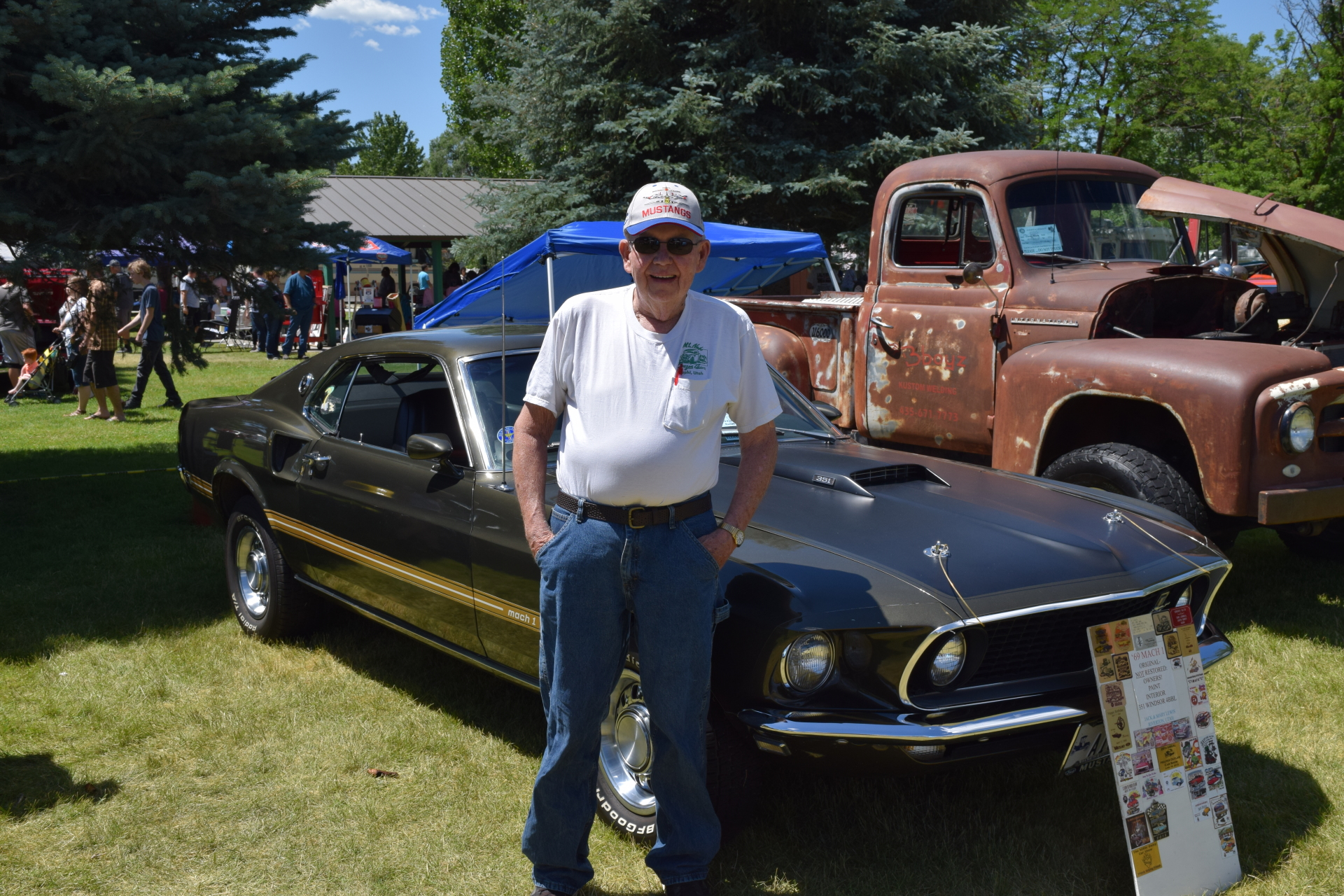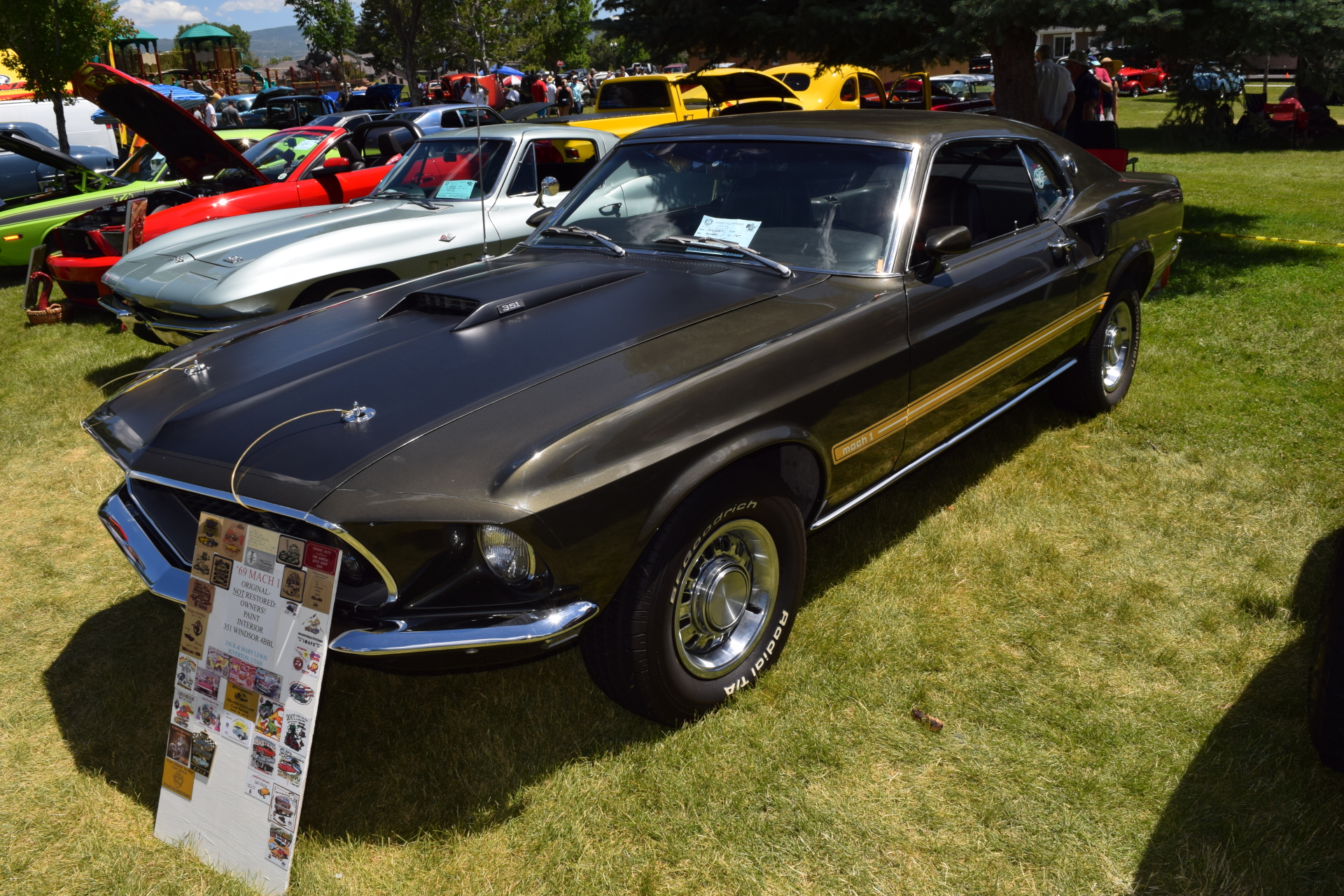 Jack Lewis with his 1969 Mack 1 at a car show in Heber City, Utah, in 2018.  Courtesy of Jack Lewis
Camarillo
Oxnard Air Force Base, 1971-72
You have written a pretty accurate account [
see
Oxnard Air Force Base entry in
Location section of this website
]  of the short-lived phenomenon that
National Dragster
called, "The Woodstock of Drag Racing."  It was actually the Ventura County Fire Department that ordered the turn-away of the premiere throngs. The Highway Patrol was having fits at the freeway exits, and there was woefully inadequate crowd control, first aid, barriers, etc.  Wildly successful, the unexpected cash flow inflated the financial egos of Ventura County Timing Association club organizers, and they saw dollar signs for future events. Greed overwhelmed common sense. When the City of Camarillo (who were granted first right of use refusal by the GAO) wanted to offset some of their infrastructure expense (police, fire, etc.) by setting up food concessions, the Ventura County Timing Association refused them. They saw the dollars in the hot dogs. In immediate retrospect, it was a pretty poor decision to lock out the landlord. The City of Camarillo could see no revenue sharing or benefit to their community, and logically gave the race organizers the boot. My brother, Nathan Duty, was the first president of the VCTA. Unable to bring order to the chaos fostered by overbearing auto parts store owners and other business whizzes, it was a very short tenure. He was not involved in the event planning at OAFB, nor any function thereafter. I did enjoy racing so close to home, rather than trek the hundreds of miles round-trip to the other SoCal tracks of the era. Lions, Irwindale, Orange County, and Carlsbad, were all well-organized, fun places to race. But there's no place like home. The seemingly endless run of concrete at OAFB was just 12 miles from my front door. During this era, Mickey Thompson and C.J. Hart were hanging on to AHRA sanctioning at Lions. My '61 Corvette competed in Super Stock Eliminator. It was the National Record Holder (set first at the AHRA World Championships in Fremont California, October 7, 1972) setting the marks for E.T. and Speed four times over a period of three years, and held until the class was retired. It was for both sanctioning bodies, the quickest legal 283-powered Super Stock (O.E. iron heads, no porting, flat tappet, factory intake manifold, etc.) running mid-11s at 120; 45 years ago. Here's a shot [see photo below) from "The Woodstock of Drag Racing," at Oxnard Air Force Base.
Rick Duty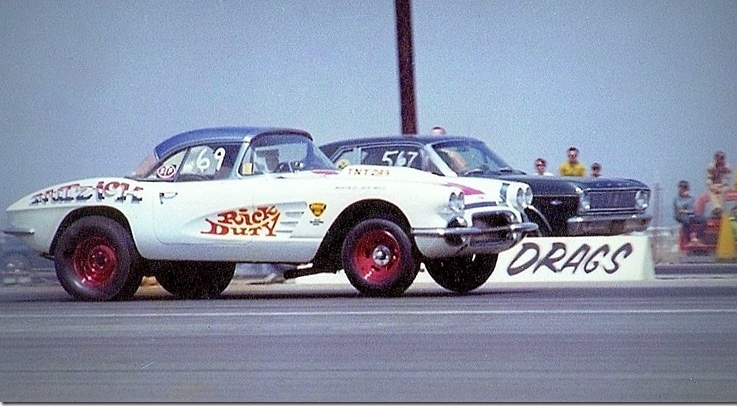 Rick Duty's '61 Corvette, Oxnard Air Force Base.  Courtesy of Rick Duty
Carlsbad
Carlsbad Raceway, circa 1964-65
My great-aunt lived in Carlsbad, a short distance from the new drag strip, when I went there. I went to a race there soon after it first opened. My memories of the race are dim, but what sticks in my mind is the setting. It was so different, with the bleachers up behind the starting line. Very dramatic. For some reason, I also remember the packed sand of the pits, so very like the packed sand pathways in my Aunt Hazel's large garden on Hemlock Avenue.
Mel Bashore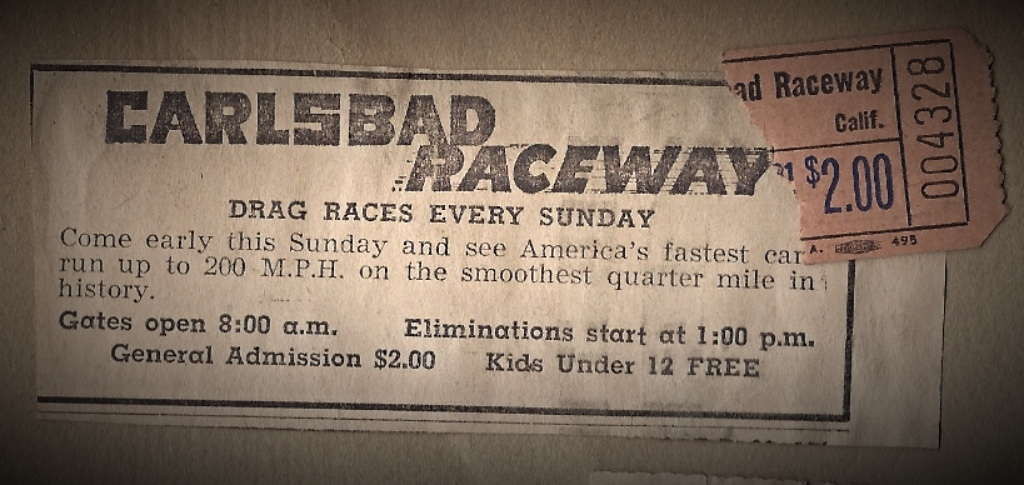 Ticket stub and newspaper advertisement, Carlsbad Raceway.  Courtesy of Mel Bashore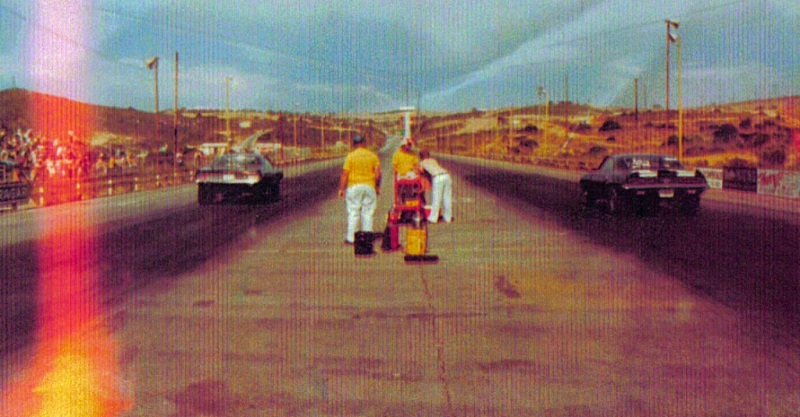 Carlsbad Raceway, June 1977, courtesy John Snapp
Colton
I attended my first drag race at Colton in 1957.  I don't ever remember it being an NHRA drag strip. It was always a fuel strip and NHRA had banned fuel. John Bradley was a consistent Top Eliminator in his fuel flathead dragster.
Lee Schelin
I crewed for Nick Van Wagner in '62, and ran my own Ardun-powered C/FD at Colton, same year. Still have the trophy. Great place. I ran my Ardun-powered C/FD in 1962, first time out for it. The late Phil Brown was my partner in the car. We ran 137 on nitro. I raced the same car there several times again, and then crewed for Paul Aicher who ran a gas Chrysler in an H & H dragster chassis. I loved the place, even though the shut-down was short and the return road badly eroded.
Dave Sorenson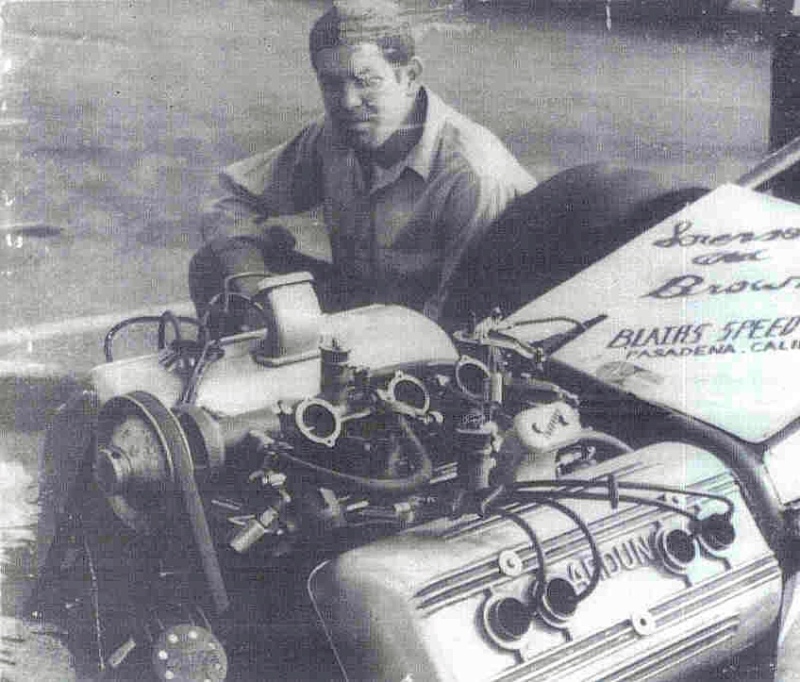 Dave Sorenson with his Ardun-powered Sorenson & Brown C/FD at Colton in 1962.  Courtesy of Dave Sorenson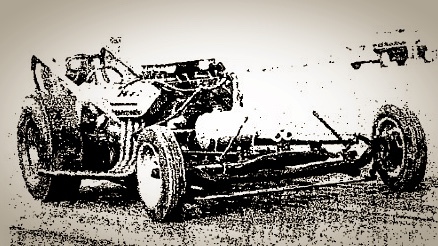 Jim Van Wagner's Blair-Isky Special Chrysler-powered B/FD in 1962 at San Gabriel.  Photo from ​​​Drag News, July 21, 1962, Jim Kelly, photographer. Courtesy of Dave Sorenson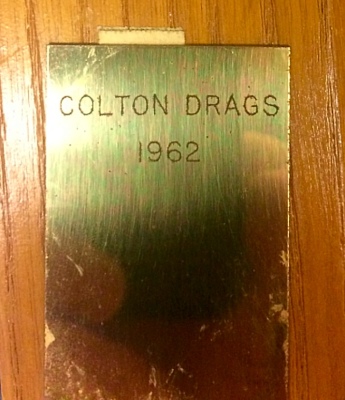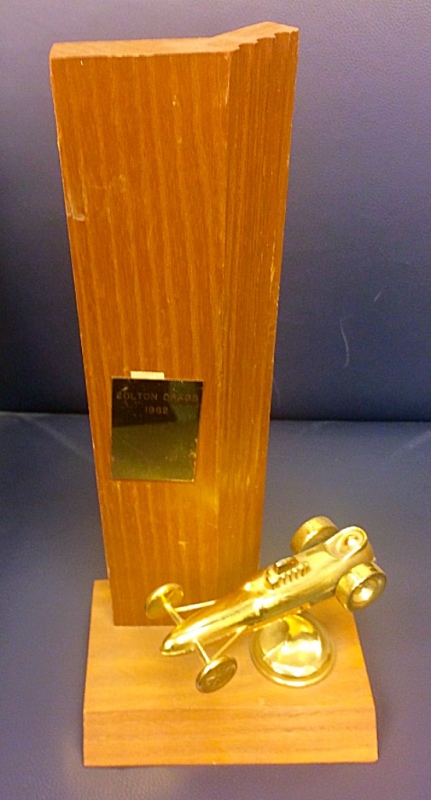 Class trophy won by Sorenson & Brown C/FD at Colton in 1962.  Courtesy of Dave Sorenson
Fontana
Fontana Drag Strip/Fontana Drag City, 1960s
When growing up, I lived about twenty miles west of Fontana. I discovered drag racing and the Fontana strip before I even had a driver's license. Several times I rode my ten-speed bike over to watch the races, never quite making it back home before dark--to the worry of my parents. It was always too hard to leave before the races were over. I always tried to get there early. I had a favorite place to stand--on the west side, right next to the starting line. When I first started going, they had a flag starter and spotters at the end who would wave a white flag to indicate which lane won. In my scrapbook of drag race memories, I have a 2-page description of the New Year's Day race that I rode my bike along Foothill Boulevard (Route 66) to Etiwanda Avenue in 1964. It's fun to read what a "drag-race crazy" teenager (me) wrote over fifty years ago. There are lots of exclamation marks and the overuse of descriptive words like "hairy," "fantastic," and "amazing." It's embarrassing to read now. Lots of passion beat in that teenage breast. For instance, read my description of the first time I saw Wild Willy Borsch in his fuel altered:  "A most amazing machine was here today representing the AA/FA class in the form of a red glass T. This fellow hooked a hydraulic moveable air foil onto his roll bar which completely overshadowed the driver compartment. It seemed to adjust to a level position at every vertical movement to right the situation of the body [whatever that means]. The huge Chrysler powerplant took this machine to the following clockings and the number 2 eliminator position: 9.23 at 176.81 on its first run; 9.49, 170.77; 10.09 ET, 168.85; 9.71 and 164.23. On his final run at dusk, his flame-throwing pipes caused my eyes to water while his first run covered me with rubber and exhaust to the hilt." And if that isn't enough, read what I wrote about the Frantic Four dragster. I went to high school with Stormin' Norman Weekly, who was in the class one year ahead of me. "Tom Ivo warmed up for his match race against the Frantic Four with a single of 8.09 at 190.66 MPH. The Weekly-Rivero-Fox-Holding number one fuel dragster in the nation had a warm-up run which was a sight to behold. I was standing just ten feet from his car when he went into one of those famed thundering, smoking wheelstands but managed to outdo himself in turning a fantastic 7.96 E.T. with a top end speed clocking of 199.10 MPH!" Enough of that. I have a couple of other memories of races there. Races at night were chilly. They used to put bon-fires in 50-gallon drums under the stands to try to keep people warm. Later they enclosed the base of the stands with sheet metal to try to keep the windy drafts at bay. At one night-time race, they held a running race to entertain the crowd. About 75 of us gathered on the finish line to run a quarter mile to the starting line. Many of the runners were in the race for laughs, with expansive beer bellies, but I was on the high school track team. There may have been a prize like a T-shirt or something. I didn't win, but came close. But the running made me sick. I went out to a dark corner of the pits and hurled my guts out. Not the best of memories.
Mel Bashore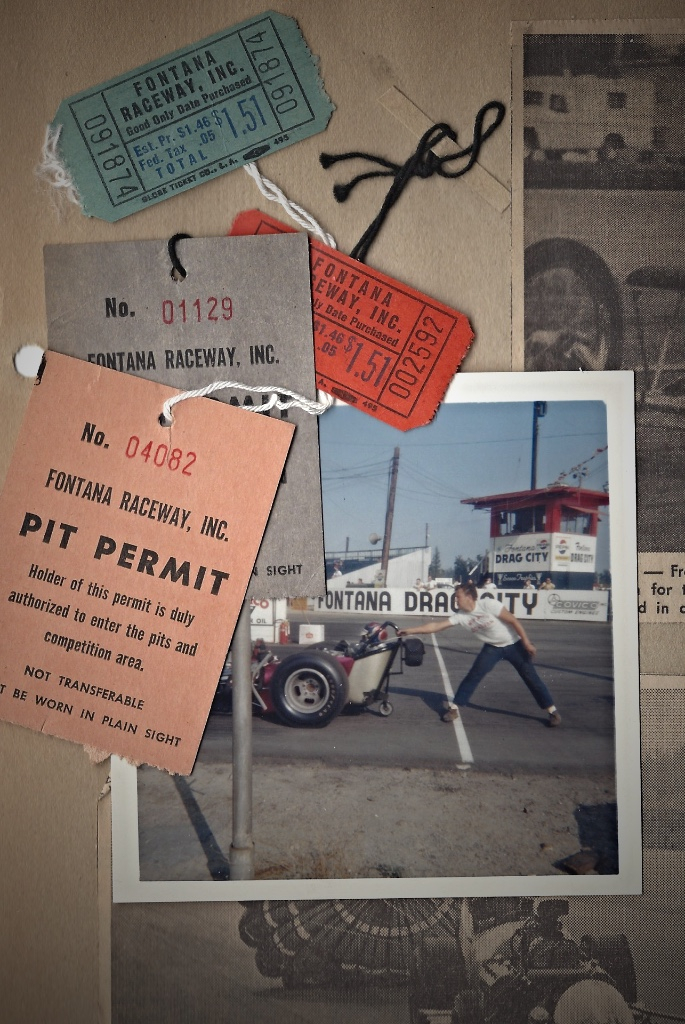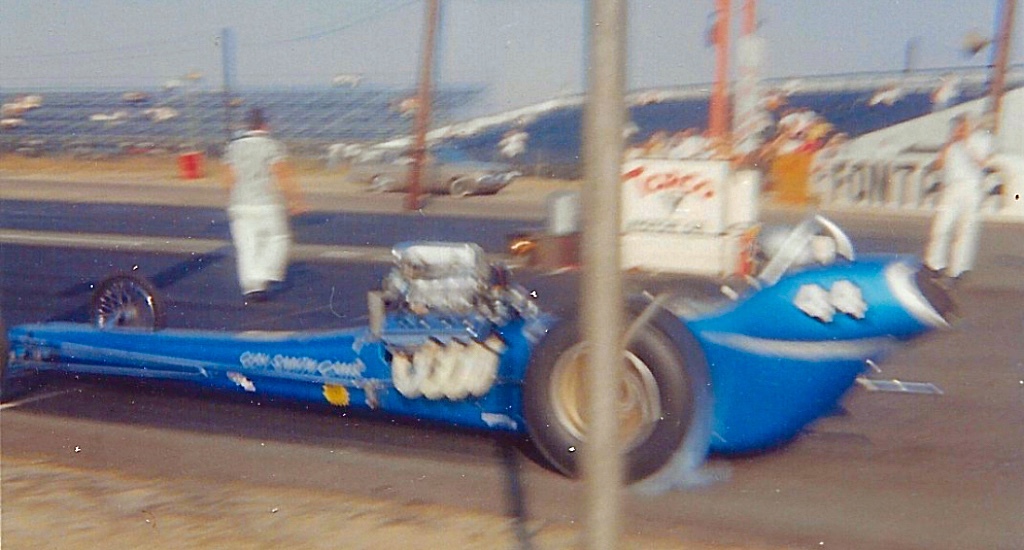 Pit passes, entry tickets, newspaper clippings, photo of Brissette-Alexander A/FD taken from my favorite starting line vantage point.  Courtesy of Mel Bashore
Mooneyham-Ferguson-Jackson-Faust "Jungle 4" AA/FD, KMEN Drag Festival, August 1965, at Fontana Drag City.  Courtesy of Mel Bashore
Fremont
Fremont Drag Strip, 1959-1960s
Fremont was put togther by Ron Laurence. Other owners were Herm Barnick (Little Bonneville] and Les Arnold. I was asked to join them and run it!! I designed the layout and surveyed it, doing a lot of the work. But my dad talked me out of the $10,000 investment for a 1/5th share. So Laurence reneged and ran it himself. Each share paid a good return and when sold twelve years later, $360,000 was realized for 1/5th share. So much for my dad's advice. At the same time, Sid Masters and Ric Richter came to me with a rusty old '41 Willys. They asked me to build them the most far-out A Gas Supercharged car ever! I did it!  I drove it at at least sixteen meets at Fremont. I always won class. It got Drag News 1320 records. Best time was a 10.90et  at 133mph on "pump gas." It was 735 horsepower. I had match races with other classes, also for Street Eliminator. Al Dal Porto's Willys modified pickup. running 129mph, was one who I raced a lot.


Don Jensen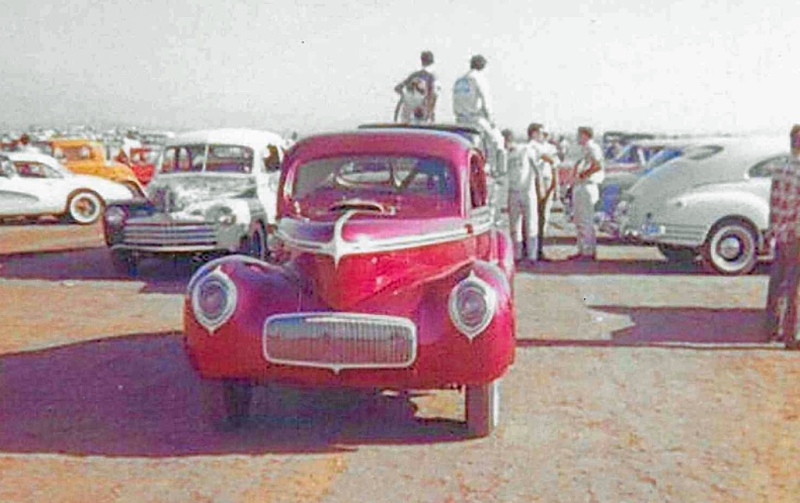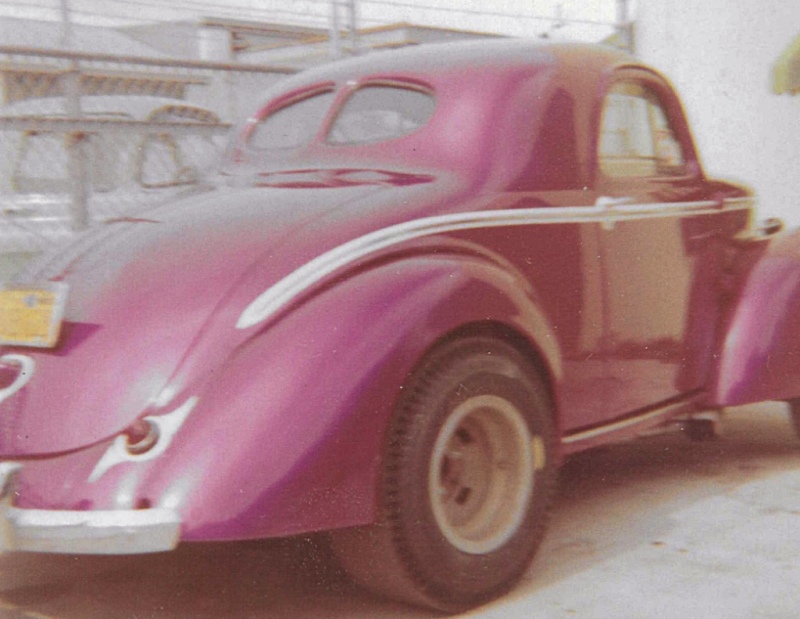 Masters & Richter A/GS 1941 Willys, built and driven by Don Jensen. Courtesy of Don Jensen

Fresno
Hammer Airfield, ca. 1952-53
I actually raced twice at Hammer Field in 1952 or 53. I was a membe of the Fresno Pandraggers. I had a '38 Chevy coupe that was basically stock except for a split manifold and was eliminated early. I remember one time when a modified Ford coupe was in line ahead of me and when he revved the engine, the modified cast-iron flywheel exploded and destroyed his legs. I was getting out of my car to help when the flagman yelled at me to stay in my car as it was not a pretty sight. I moved to Eureka in 1954 where I helped set up the Samoa drag strip that ends almost on the beach. I think Samoa started a year before Redding and both are still holding drag races.
Leon Warmuth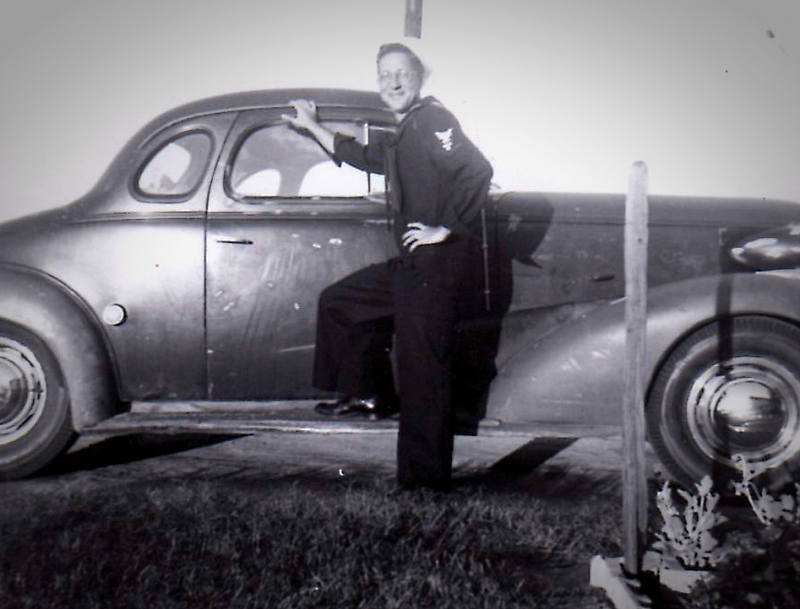 Ed Adney, a good friend of Leon's, stnads next to Leon's 1938 Chevy, with a foot on the running board. This photo was taken in Fresno on the day Leon drove his Navy buddy back to his base in San Diego. Leon had filled the hood vents on the Chevy and done some prep work towards painting the car. He sold it and moved to Eureka in 1954.  Courtesy of Leon Warmuth

Half Moon Bay
Half Moon Bay Drag Strip, 1960s
When I was 18 I was a volunteer worker at Half Moon Bay drag strip just south of San Francisco.  I usually was at the end recording and then passing out ET/speed slips as the cars came back to the pit area.  I clearly remember many of the greats - Don Garlits, the Snake, Vic Hubbard, Sammy Hall and of course Denny Milani, who died in a single run at Half Moon Bay driving the Gotelli Speed Shop car.
Tom Cargill
Half Moon Bay Drag Strip, 1958
​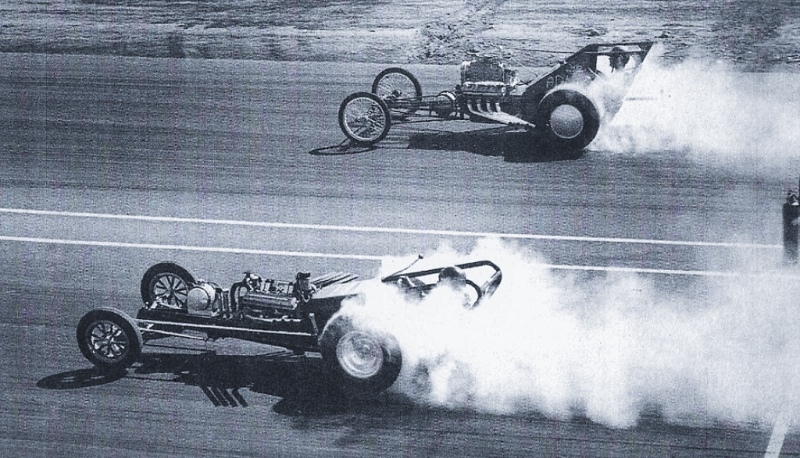 George Wulf's dragster was the first in Northern California to top 175 mph.. A member of the Hayward Head Hunters, this photo shows Wulf at Half Moon Bay in late 1958. In this race, Wulf (far car) beat Jim McClennan (near car). Courtesy of Don Jensen

Holtville
I spent many a weekend at Holtville. As a SCCA race official, I worked as the starter there for regional and national sports car races. I remember Steve McQueen racing his Porsche there and many rather bizarre events with light aircraft landing or attempting to land on the runway. Several occurred during a race that entailed cars frantically trying to avoid the planes. On several occasions during the night, aircraft would overfly the area and land, at which time those of us who had camped out, would turn on our vehicles' headlights. The resulting panic of the dope runners was a source of constant amusement.
Bill Uerkvitz
Irvine
Orange County International Raceway, circa 1966-67
During a brief visit home during my college years at Utah, I heard about a big funny car meet being held at OCIR. What drew me was the funny car called "Destroyer Jeep." That just sounded so cool. I had to see it. I drove down in my '59 VW. I was surprised how far away from the track the spectator stands on the north side were--at least that's a sliver of a memory I have of the race. There were lots of funny cars, but it is Gene Conway's Jeep that sticks in my memory.
Mel Bashore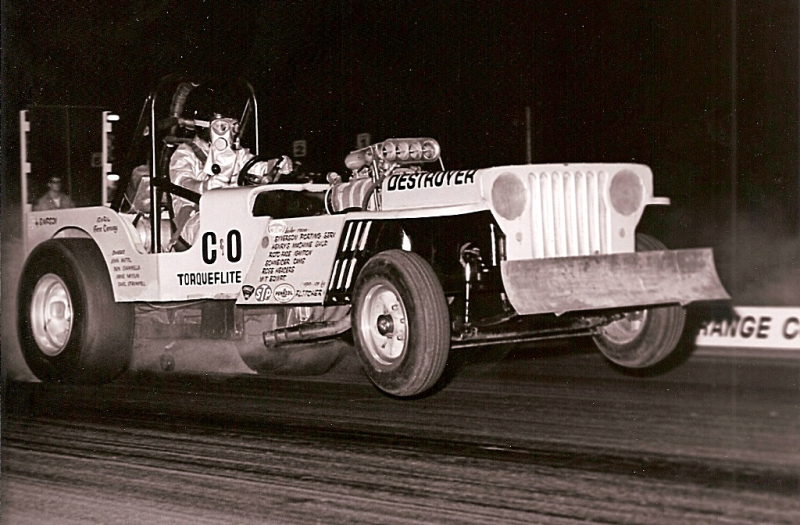 "Destroyer Jeep" funny car, OCIR. Photo from Match Race Madness, courtesy of "Old Timer"

Orange County International Raceway, 1968
I raced my Fiat Altered at Orange County Raceway.
Loren Barnes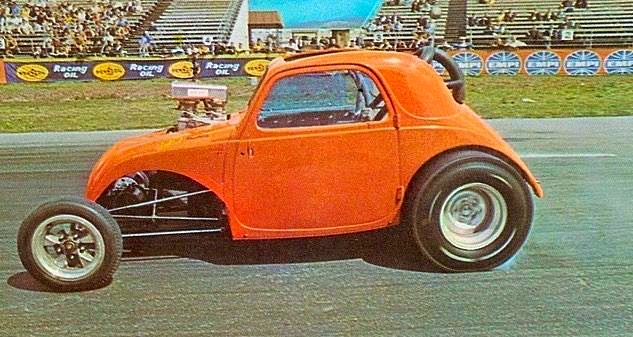 Loren Barnes in his Fiat Altered in 1968. Courtesy of Loren Barnes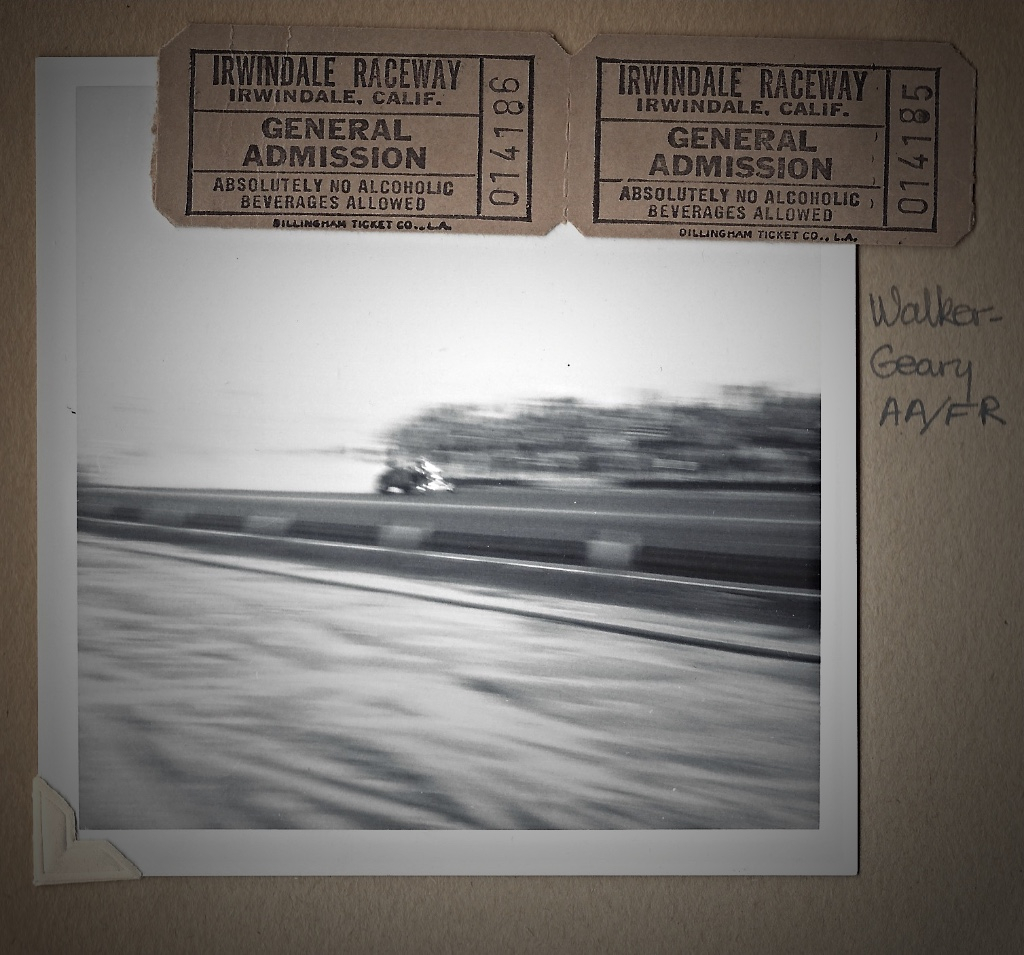 Irwindale
Irwindale Raceway, 1966 AHRA Winter Nationals
In 1966 I was going to art school in Utah. A busload of us took a  field trip to Southern California, ostensibly to see a Matisse Impressionist art exhibit in Los Angeles. I spent half a day at the museum, but then persuaded three of my fellow art students to join me for a day of drag racing at the AHRA Winternationals. That didn't endear us to our art professors, who thought we made a very poor decision. They thought our focus was misguided. I don't know. The racing seemed akin to beautiful art to me. One highlight for me was Don Nicholson's exciting first-ever maiden run in his Mercury Comet funny car. As he launched from the starting line, the orange-painted fiberglass body came unhinged from the frame and shot a hundred feet into the air. It landed on the gravel right in front of where we were sitting. on Feb. 12, 1966. That memory is more fresh than my recollections of the art exhibit.
Mel Bashore
Entrance ticket stubs and photograph of Walker-Geary AA/FR, 1966 AHRA Winternationals. Courtesy of Mel Bashore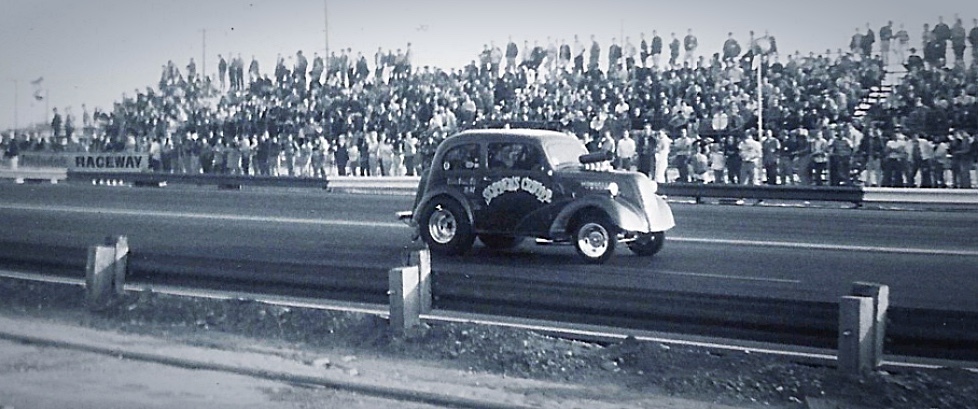 Skip Hess's A/GS Anglia "Skpper's Critter," Irwindale Raceway, December 1965. Courtesy of Mel Bashore


Don Nicholson's funny car body went airborne on its first-ever pass at Irwindale on Feb. 12, 1966, at the AHRA Winter Nationals. This was the world's first flip-top funny car. Courtesy of Mel Bashore

I raced a B/A at Irwindale, crewed for a number of cars, including the Hawkins & Webster 15oz coupe. Great place to race!  The late Don Wilson owned the B/A roadster, I was a week out of Vietnam. This was my welcome back to the world. We set B/A mark at 131 mph with a gas 364" Chrysler. We added some nitro and grenaded it. Wilson and I went on to build "Panic" AA/FA, but I got married and Gary Hazen took over my share.
Dave Sorenson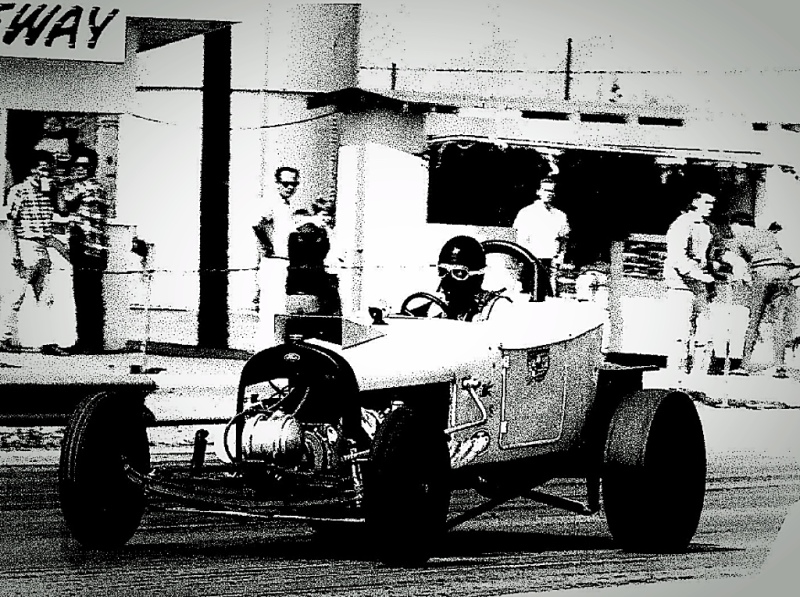 Dave Sorenson driving the Wilson & Sorenson B/A at Irwindale in 1967.  Courtesy of Dave Sorenson
Steve Gibbs managed Irwindale early, I was manager in 1972. When Lions closed, International Raceways bought the lease from Harry Snider, the founder of In-N-Out burgers. Steve Evans came over in 1973. We had the first 64 Funny Car Race.
Glenn Menard
Irwindale Raceway, 1968-69
Back in '68-'69 I used to run around with a group of street racers in Pasadena. On occasion I/we would go to Irwindale (old) and run or watch the races. I had a 1967 Chevelle SS 396 Malibu with the small 325hp engine and a Muncie 4-speed with a 12-bolt posi 4.11 rear end. I massaged the engine a little with a L-88 cam, solid lifters, NASCAR-style pushrods, and shaved the heads a bit. Never had it dyno-ed, but guess it was putting out around 500hp. A good 'ol Quadra jet carb on top dumped all the gas and worked really well in a straight line. The car wasn't really good on gas mileage around town. I used to cruise Colorado Boulevard. and was well known to the Pasadena Police Department. It usually didn't take a lot to find me as I had "Daytona" styled side pipes that had a glass pack muffler stuffed into the head end and the noise echoed all the way down the pipe and out. At stop lights I could see the stores' windows would shake. Oops! I would run at Irwindale and run mid-17's at about 110 mph. My best time was at Tommy Ivo's test track. I don't remember where that is. At his track I ran 17.02 at 114 mph. I think that I did OK for a backyard mechanic that worked for $3 an hour and had no formal training. I wish I still had that car! If you know where Tommy Ivo's test track was located, I would like to know.
Robert McBee
In the fall of 1975 I was 15 and attended my first drag race. My father and younger brother came with me. It was at Irwindale Raceway in Irwindale, California. The main show consisted of 32 funny cars. There was also a field of what I think were Super Stock cars. The stands were packed and it was hard to retain a seat while someone left to use the restroom or to buy concessions. As was the norm then, the quicker cars were saved for last, so the first category to run were the BB Funny Cars. Being new to drag racing (except for what little I had seen on TV and in pictures in magazines), I did not know that there were different types or categories of funny cars, and I thought that what I was seeing was the only type in existence. I was not disappointed. In fact, I was very impressed and was enjoying the show immensely. However, I recalled seeing pictures of funny cars with flames coming out of the headers and wondered why the cars I was watching lacked such flames. While watching the BB funny cars race I heard the announcer mention something about AA funny cars, though I still did not expect anything different to race than what I had been watching. It was not announced, at least that I heard or understood, when the first pair of AA funny cars was getting ready to start. But when they did I immediately knew that an entirely different kind of beast was in the arena. Along with the distinctive and awesome sound and smell were the previously absent header flames. As I said, I had been very impressed with the first group of funny cars to compete (the BBs), but now my excitement was at a whole new level. It was a great show, lasting from about 6 to 10 PM on a Saturday. A highlight was when Don Prudhomme in the Army funny car did a fire burnout. I later learned it was to provide a box picture for a new model of his car. In the final rounds, Dale Armstrong driving "The Alcoholic" won in BB funny car and Don Prudhomme in AA funny car. Prudhomme also set a new record low ET in the final, running a 6.05. Before the year was over, I believe funny cars were in the 5s. The only negative event I was aware of during the show was an altercation near me in the stands that arose after a particularly vocal fan repeatedly badmouthed the Chevy brand. He was a die-hard Chrysler aficionado. His comments were overheard by several men who were apparently Chevy lovers and, after some verbal exchanges, a brief fight occurred. A young woman was caught in the middle and suffered a serious injury (I think a broken leg). Almost exactly a year later, during a similar event at Irwindale Raceway (I believe there were 64 funny cars), "The Alcoholic" BB funny car was destroyed in the very first round of competition when, soon after leaving the line, it smashed into the guard rail. I am pretty sure it was not then driven by Dale Armstrong.
Guy Fowler
Lodi
Kingdon Drag Strip, 1956-57
I was only 20 years old when I built a twin-engined dragster with two Cad engines. Between being drafted, and losing 1-1/2 years, and then crashing it at Kingdon. It never came close to its best speeds. I think this was the best twin setup. It had much more traction than the [Freight] Train or Ivo. I was working on getting
the clutches to slip, building a stronger axle setup, then superchargers. I rolled it [at Kingdon] about 6 times and engines bouncing like basketballs down the strip at 140 mph, when a tire blew out. My buddy B'ho Kirkland was taking  his first ride in it, so I could see it run. He got only a chipped tooth and lots of black and blue. Still proud of the idea. 

Don Jensen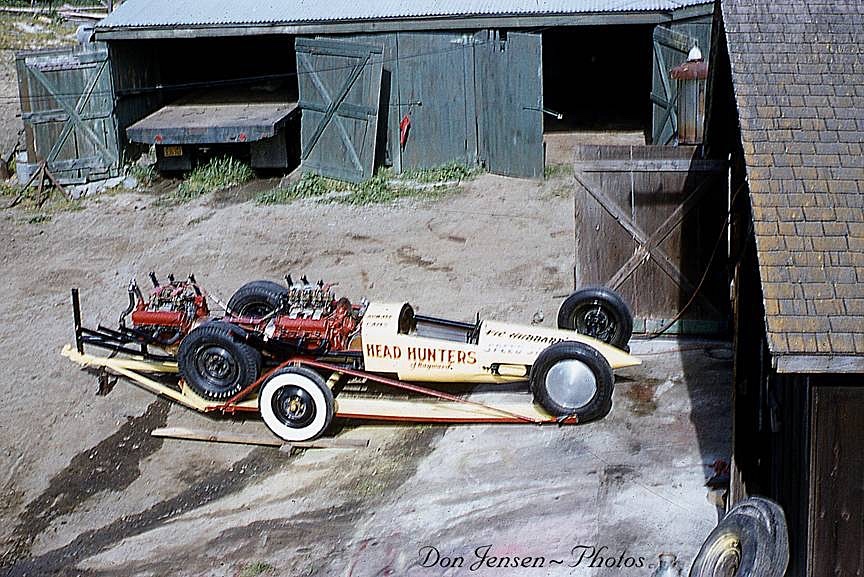 Don Jensen's twin-engined dragster. In 1956, he entered it in the Hayward Head Hunters club display at the famed Oakland Roadster Show.  Courtesy of Don Jensen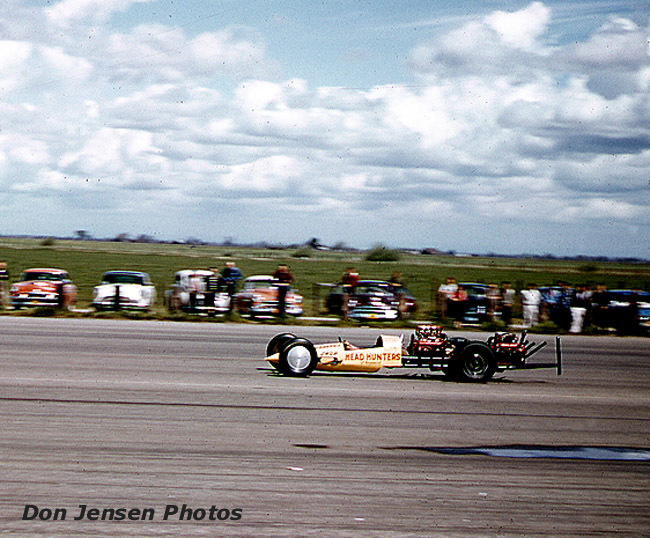 Don Jensen's twin-engined gas dragster. He ran a gas dragster record of 155 MPH at Kingdon in February 1957.  In this photo, the car appears when it was set up for Bonneville. Note the swing axles. Jensen 
 Courtesy of Don Jensen
Kingdon Drag Strip, 1950s
Don Jensen, an early California drag racer and member of the Hayward Head Hunters, wrote the following very interesting piece about the early racing years of Romeo "Dago" Palamides and his association with him. Palamides did a lot of his early racing at Kingdon.

Romeo  was a member of  Elmwood Auto Club in Oakland, California. He built, but never drove, track roadsters to run at Oakland Speedway in the late '40s and early '50s.  My pard, Lee Scott, who I interviewed in 1990, raced against them at that time, said:  "But for Jack Hagemann's car, Dago's were the nicest built and nearly unbeatable on pavement."  In about '51 he entered the US Army and had a report of AWOL and trouble, was shipped to Korea  with a tank outfit, where he told me of having dead tanks brought in, the body parts and uniforms had to be cleaned out, then he would arc weld the holes in the hulls and then they were rebuilt and saw combat again.  He returned in late '53, after the war to find roadster racing was dying.  He had a louver press and started on hot rods.  Lee Scott met him again at Vic Hubbard's. At this time they were both building dragsters.  For himself he built a beautiful belly tank that ran 208 mph at Bonneville and a "Shoe" dragster, DeSoto-powered (all show quality) [which he] ran 1954-1956.  The dragster was a little squirrely and Dick Hubbard (Hubbard Cams) quit driving it.  At the State Championship at Madera  in 1954 with Wayne Boden (who made the dies for Dago's louver press) driving, made a couple 360s in the lights (told me by Lee Scott).  Dago stuck some kid in it. He got upside down at Kingdon and even though it had little roll bar protection.  The kid was strong and as the car skidded upside down hanging tight to the steering wheel he only got 'road rash' on his back and shoulders.  Now a bit about how he lived (an important part of his story) in his mother's house on Mc Arthur Blvd. in Oakland, with a 30' x 40' shop in the back.  He had a large hole in his pocket (race car); never had two dimes to rub together. The family lived on the wife's earnings. (John Walsh remembered going to lunch. Dago had just did a louver job, so cash in hand they went into the house and made hot dogs for his little kids, then lunch for himself at a nice restaurant).  About this time, early 1956, Jim Ellison came to Dago for work with a Chrysler-powered sports car (John  Walsh thought it was an Allard). That is how they hooked up.  Jim was a principal in Harrin, Rickerd & McCone, a large machine shop company in San Francisco, He got hooked on dragsters.  From then on he supplied most of the money for Palamides Racing.  So Dago started on the Slingshot which was later shortened into the canopied car.  This car, another show car, was finished mid-1956.  It was about 115 inch W.B. of  1 ¼" tubing, first with the DeSoto then later a 331 cu. in. unblown. It ran 130 mph.  Later he used a front blown Chrysler (Jerry Light of Vic Hubbards Speed shop told me Tony Capanna (Wilcap) told him it was the first engine on his dyno to pull 1000 HP). The car's problem was a torque converter that could not be started in neutral. It would jerk, load up and hydraulic rods.  Also it was not fast off the line, although it had run near 150 mph.  (I was gone then until May 1958).  The car had been reconfigured into what you all know.  I believe this was done in late 1957. In my Red Jones' interview (1990), he had a picture early '58 of the car with 8 carbs, 396 c.i.. and direct drive, with Red driving against Art Chrisman at Riverside.  Red set the track ET record at 9.32.  Red drove it several times before Pete took over and said it ran a bit better with injectors.  At that meet the canopy latch broke off and ruined the windshield.  Dago was pissed!!  Red told him it was your bracket that broke.  Pete Ogden's driving was brilliant at full throttle wheelstand starts.  Pete told me he used the brake to limit front to about 3' high, also he sat behind rear-end so had a good view of smoke in center of slick to control it.  This started out white with red trim, I think by Tommy the Greek.  Then sometime when Pete was piloting it became silver with white strip; don't know why, maybe a nitro spill? This was the time they had run Garlits in Texas.  Remember, as good as Pete was, they were not winning regularly in No. Cal.  Pete told me they were treated like royalty, put up in a mansion for a week.  So March meet '59, back to front drive blower.  It was in this car that the famous 12-4130 conrods were made by Ellison at H, R, & M Machine Shop at the reputed cost of about $200 each.  I think Dago blew more engines than all others in No. Cal combined!  The rods were so strong that when the piston came apart, they would saw a block apart and not hurt the rod.   Dago gave me a block to use in building my last dragster.  After a couple of years he was down to 7 rods, but alloy rods were now available.  Dago never set any speed records that I know of, running in 150s to low 160s.  George Wulf had No. Cal. record at Kingdon, 175mph, Chrysler, top blower with a chassis I had built.  I believe Donn Blount, a good buddy, was the last driver after Pete opened his own shop.  At this point I will move into wheels '56, Dago's idea. '57 first ones made; '58 several cars using them.  I think the rear was made first, later the spokes.  I do not know the date, but sometime at the end of '58, very hush, hush.  Ellison, who was very smart, had put many tens of thousand into Palamides Racing and could see the increasing potential of American Racing Equipment that Dago would not be able to exploit!  I believe Ellison dictated the terms. Dago got ownership of all cars and engines and lots of equipment plus a small cash-out, about $20,000 for American Racing.  Ellison was done with Palamides Racing for good.  In mid-1959 I bought a set with the big 16" rears to use with hubs I had cast with Halibrand knock-offs. Ellison put steel inserts in for the knock-offs, No charge. I don't know the story of the raffle, but those "deals" were not uncommon then!  Later in early '60s Dago bought Jack Friedlands dragster.  He removed the converter and narrowed the rear end, mounting it solid to the frame.  He built a Chrysler with two Roots blowers just to keep his hand in during the jet car era.  I have no idea how it ran, nor anything about his jets. The last Palamides story I heard in the '70s was that he had put a very large deposit on a new home in Fremont, the contractor went broke! No house, no money. What goes around comes around!   Romeo was not always well liked, but he was not afraid to try anything and do it beautifully, if not always right.  I for one admired his drive and workmanship.  He was one of a kind, an amazing character!  R.I.P. "Dago."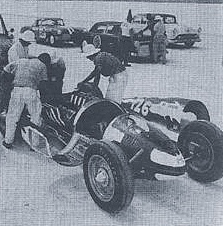 Romeo Palamides' D Lakester that ran 208 MPH at Bonneville in circa 1954. Courtesy of Don Jensen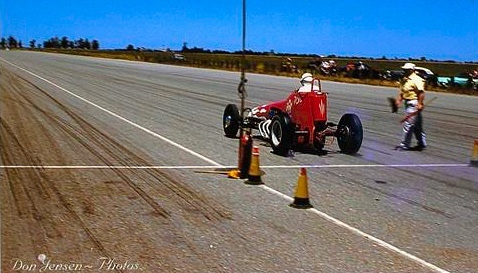 The Desoto-powered "shoe" dragster that Palamides campaigned from 1954-56.  Note the buffed tires.. Courtesy of Don Jensen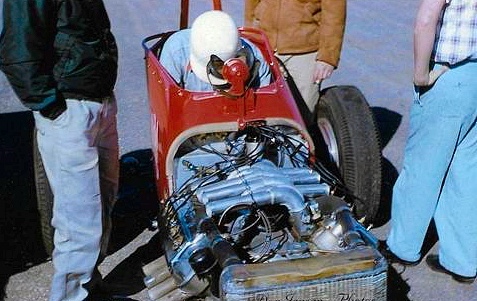 Another view of Palamides' Desoto-powered "shoe" dragster, his first dragster.  Courtesy of Don Jensen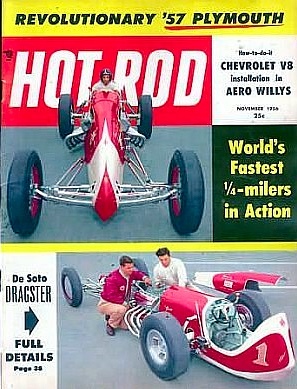 Palamides' second dragster, a slingshot with a' Desoto motor, was finished in mid-1956. It graced the cover of the November 1956 issue of ​Hot Rod.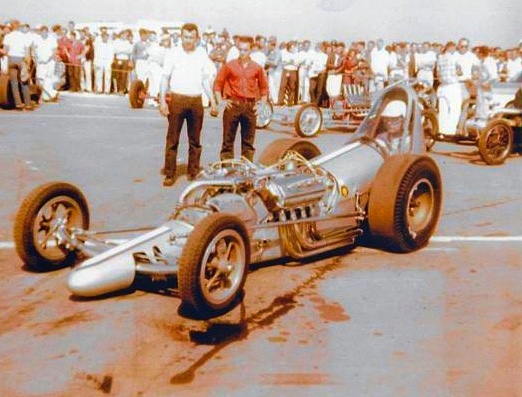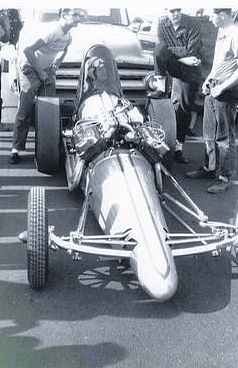 Palamides' campaigned his third dragster from about 1957-60. Pete Ogden is the driver in the colored photo above. Courtesy of Don Jensen
The first paint job on Palamides''third dragster was white with red trim (below). Courtesy of Don Jensen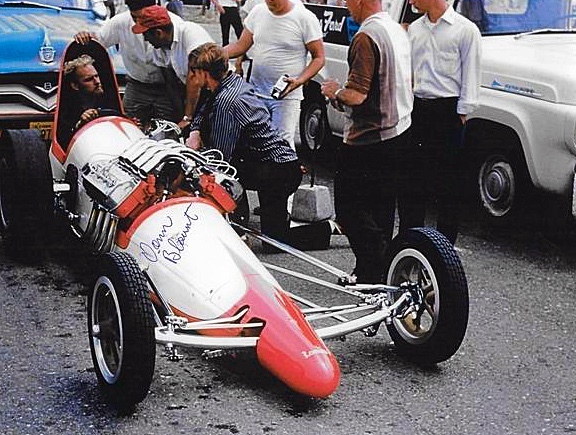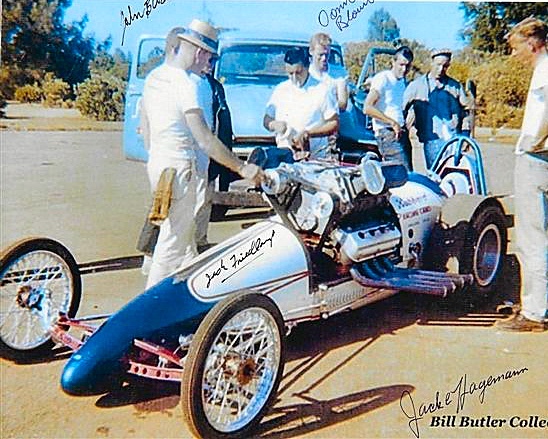 Palamides bought Jack Friedlands' dragster in the early '60s and did numerous modifications including this two-blower setup on the Chrysler powerplant. This was his fourth dragster, seen here at Redding Drag Strip in about 1961. Bill Butler collection, courtesy of Don Jensen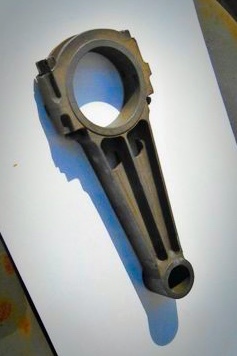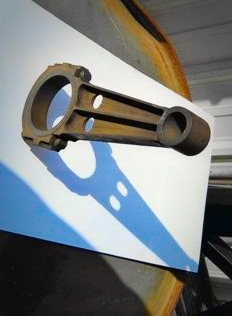 One of the incredibly strong 4130 connecting rods made by Jim Ellison that Palimedes used in his third dragster. Courtesy of Don Jensen
Kingdon Drag Strip, 1950s
Don Jensen joined the Hayward Head Hunters in 1954, later becoming its president. The members of the Head Hunters regularly racerd at Kingtdon. There were some well-known drag racers who were members of the Head Hunters including Gas Ronda, Red Case, Hank Vincent, and Al Hubbard. Jensen wrote the following history of the Head Hunters. a club that spanned the years 1949-60.

The Hayward Head Hunters (HHH) were started about 1949 by a group of kids that wanted to drag-race.  In 1950 they met with C.H.P. officer Ezra Earhard to try to arrange to use the Hayward airport for drags. That didn't work out.  Tracy started races in the summer of 1950 with Kingdon (Lodi) opening in May 1951.  The club joined Valley Timing Association, which ran Kingdon for Bob Cress.  That started the golden age of drag racing in Northern California.  By 1954, with Kingdon running 20 or so meets per year, plus some VTA-only 4/10ths-mile record days, the HHH started to dominate the 10 or so clubs in VTA, the reason being you had to run fast to be asked to join!  Members were given a club trophy when breaking 105 mph and 125 mph at the drags.  I joined HHH in the fall of 1954, and by mid-1955, HHH held at least half of the records at Kingdon, including at least 3 members breaking each other's top speed records: Red Jones, John Jipson, and Al Hubbard.
The active members before 1954:
George Santos
1950 – '34 Coupe flathead (FH) – 90 mph
1953 – A Hot Roadster FH– 115 mph
1955 – '32 Coupe FH – 101mph record.
1956 - '32 coupe Chevy - 109.75 record.
1958 - C Dragster Chevy 9.29et-161.87mph  record  
1960 - B Dragster Chevy. Bln.175mph record.
Danny Lucero
50/54- '32 roadster FH 110+
Drove many dragsters; hard to beat!
Jim Darcy
54/56 32 coupe altered FH- 105+
Red Case
Model A coupe FH
Went to L.A. driving dragsters
Red died of pneumonia a few days following a serious crash at Vaca Valley in 1959 driving Clark Cagle's dragster.
George Cramphorn
Roadster
Irving Orth
Ronny Sterbenk
1954/58 -  Rear engine '34 coupe - 126.81 record 1956
Lee Shears
1951- B roadster- 100.56
Sal Riele
1951- B roadster- 100.56
1956- '32 Street roadster
Joe Feliepe
1956 – '32 coupe GMC 6 C gas
1957 - '32 coupe Chevy  B gas- 13.12et 109mph record
1959 -  Model A Altered Chevy
Tiny Guzumas
1953- '39 coupe FH - 95mph street record
Arthur (Red) Jones
1949 – '36 coupe fuel FH, 90+mph
1952- dragster FH- 125mph record
Ran belly tank
Built 1st slingshot dragster 1953
Built twin Chrysler streamliner 1955
Drove many dragsters until 1959
John Jipson
1955 dragster – 135.80mph record
Club meetings were a wonderful mix of comradery and LOUD arguments, usually led by Ronny Sterbenk on whether the club color was chrome yellow or golden rod yellow and whether Iskenderian, Potvin, or Howard ground the best cams and who would beat who next race. In the fall of 1955 after winning VTA's top club trophy 3 years running, and more members joining all the time, we voted to do a club display in the world famous Oakland Roadster Show! Now several of us had had cars in the show before, but not a club effort.  It really was a great common goal, with all members working on each other's car, depending on our individual talents; painting, sheet metal, welding or loaning parts.  We held a week-end scrap drive, raising hundreds of dollars towards the cost. In February 1956 we had 16 cars entered in the show from four (4) dragsters to a custom 1941 Ford chopped convertible with Olds power.  I doubt any club ever had that many cars in a 1950 era show!  We had a sign claiming to be "The Top Drag Club" and that spring we were challenged by the "Pacers" of San Francisco and Seaside, a great group of racers!  We paired off at Kingdon. When we did not have a car to match a Pacer car, the HHH would put up the next lower.  Example: our B Comp Coupe against a Pacer A Comp Coupe.  It was great fun. I think we never lost one match race out of about a dozen!!  1956 was our best year.  The Byrne Brothers set the track record until the Hensley-Cook roadster and Ernie Hashim pushed it over 150 mph.  But HHH still held at least half of the track records.  We were fielding 15 to 20 cars at most meets and was VTA top points club again by two to one. 1957 was another good year, except   I got drafted.  I ran a gas dragster record of 155 mph in February 1957, but was gone till mid-1958.  George Wulf had gotten the track record back at 175 mph for the HHH in a chassis I built.  The club again had VTA trophy. In 1959 HHH was strong, but interest in VTA waned because of Fremont opening much closer.  Our club members raced just as much, but interclub competition faded out and by the end of 1960 the club disbanded. We all remained friends with many going on to further honors: Gas Ronda in funny cars, George Wulf with Gary Ormsby in top fuel, Al Hubbard and the Forsburg Bros. in top fuel; George Santos in top alky dragster; Doug King and the Walsh Brothers setting many Bonneville records and joining the 200 mph club!  Nostalgia dragsters were built and ran by Ron Sterbenk, Marty Byrne, Doug King and George Wulf.   
Marty Byrne
1956- dragster FH- 136.86mph record
Don Jensen
1951-'40 coupe, 66mph
1952-'40 coupe, D Gas, 82mph
1954/55-'40 coupe, Cad, B Gas,13.02, 99mph record
1956/57-Gas dragster,  2 Cads,10.03, 155mph record
1959-'41 Willys, Olds Blown, A Gas Supercharged, 10.90, 133mph record
1965-drag bike, gas, 250cc Yamaha,11.90, 119mph record
Ron Sterbenk
1954/58-'34 competition rear-engine coupe FH, 126.81mph record
Bob Raymond
1954/58-Austin competition coupe, B Comp. 118mph record, A Comp. 128,12mph record
Gaspar (Gas) Ronda
1954/57-Buick Century. Owned stock class in Calif.ornia, hundreds of trophies & records
1956- Buick D Gas, 93.85 record
John (Ron) Francis
1951 Model A roadster FH
'40 coupe
Charlie Booth
1955-'32 coupe Dodge Ram C Altered record
1956-Crosley Dodge Ram C Comp Coupe record
1956- dragster Dodge Ram
Bob Rosen
1955-'41 convertible Olds
1956-'32 coupe
Dave Jawad
1954- '40 coupe FH, B-gas, 95mph
Henry (Hank) Vincent
1949/60-Built more hot rods than anyone, about 15 or so (including Top Banana fuel dragster)
1956- Model A Coupe FH, A altered, 108.48mph
1956-dragster FH, 130+
1958 - dragster Chevy.  C Fuel, 9.29, 161.87mph record
1959 – B Fuel, 175mph record
1960 – Hank was killed at Fremont Drag Strip in a 170mph crash in his B/FD 
Emmit Cull
1952-belly tank Wayne Chevy. 6
1956- dragster, 2 FH- 145.87 mph record
1959/60-dragster, 2 Chevys. 170mph
George Wulf
1956- '32 coupe, Cad, A Altered, 115mph record
1956 dragster, Cad., 140s
1958- dragster,  Chrysler Blown, 175mph record
Al Hubbard
1952-'32coupe FH, 90s
1953-dragster FH, 125mph
1955- dragster FH, 138mph
1958- dragster Chevy, 160s
1960 - dragster Chevy, 170s
Don Block
1954-'32 roadster FH-105.66mph record
Brian Bernou
1956-'32 roadster Chrysler 106.04mph
1957- rear engine roadster
1958-Model A panel truck, B Fuel, 116mph record
Doug King
1955- dragster FH
Paul Leuschner
1955-'27 Model T roadster, A Roadster, 117.70mph
Tony Vincent
1955-'39 2 door, D gas, 85mph+
Jerry Sechler
1955-'36 coupe, FH, C Gas, 90mph
Donn Blount
1955- '39 coupe Olds. C Gas, 90mph+
1956-'32 roadster Olds, 120s record
John Walsh
1956-'32 roadster Olds, 129+ record
Tom Walsh
1959 - dragster Chrysler
Jack Friedland
1957-dragster Chrysler, 150s
Ralph Pilolli
1956-'29 Model A roadster
Dick Bonvacino
1955- '29 Model A roadster, FH, 120mph
B'ho Kirkland
1955- '32 Sedan FH, B Fuel, 108.27mph record
1956- A roadster, 120mph
Lowell Nelson
1955-'34 comp coupe, FH, 110mph+
1958-rear-engine roadster
John Middleton
1961- C Hot Roadster, 10.29, 143.54mph record
Jerry Fosberg &  Denny Fosberg
1958- '29 Model A roadster Olds
1960- Fiat roadster, Olds
Tom Odgers
1958- Comp. coupe, Olds
Bill Stanton
Lloyd (Larry) Anderson
Bob Goodman
Fuel coupe
Bob Laughlin
Bob Lasterie
1956 – '39 coupe Chevy,. C Gas, 94.85mph
Jerry Light (Honorary)
Owner of Vic Hubbards Speed Shop
submitted to Drag Strip List, 3/19/2017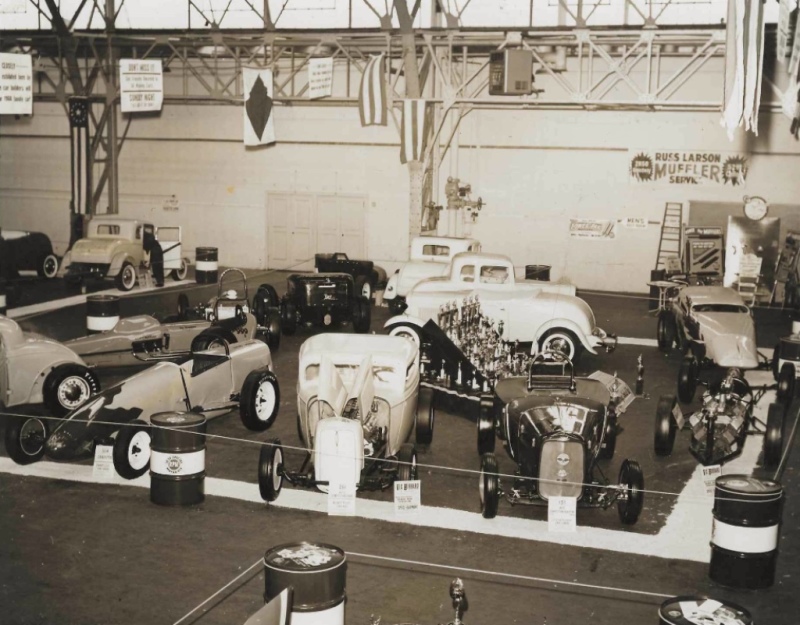 This photo shows some of the sixteen cars entered by the Hayward Head Hunters in their club display at the 1956 Oakland Roadster Show. Courtesy of Don Jensen
At the first race held at Kingdon on Memorial Day in 1951, the top time was 116mph by a '27  T roadster, owner Al Dal Porto and driver Ray Righetti. At the next race, Ralph Linde ran 120mph in a '27 T roadster.  That day I turned 67mph in a stock '40 Ford. I went home and pulled the motor. I moved up to 82mph in D Gas. In October 1952, Red Jones set a record  of 125mph.



​Don Jensen
Kingdon Drag Strip, 1950s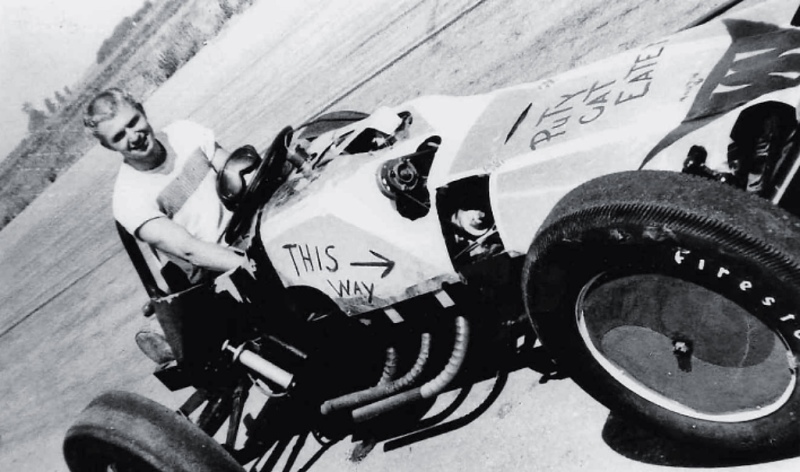 John Jibson's flathead dragster in 1955 at Kingdon. Courtesy of Don Jensen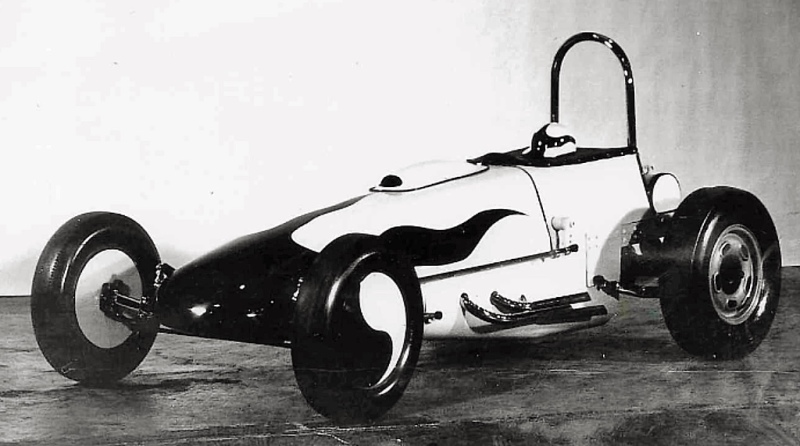 John Jibson's flathead dragster, a Kingdon record holder in 1956 Courtesy of Don Jensen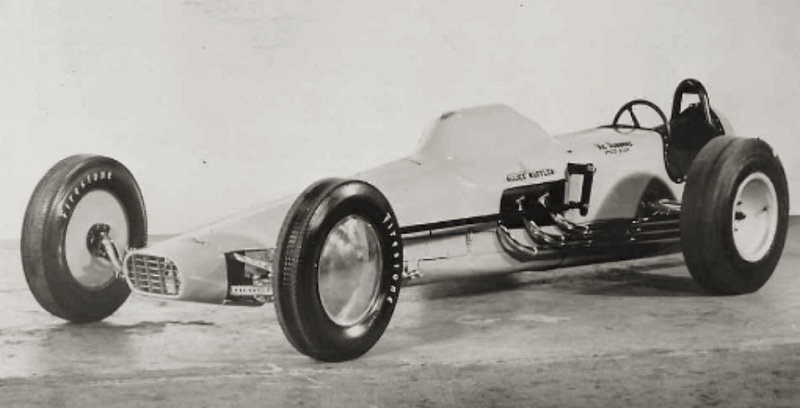 Marty Byrne's flathead-powered dragster set a Kingdon record in 1955 with a 137 mph run. Courtesy of Don Jensen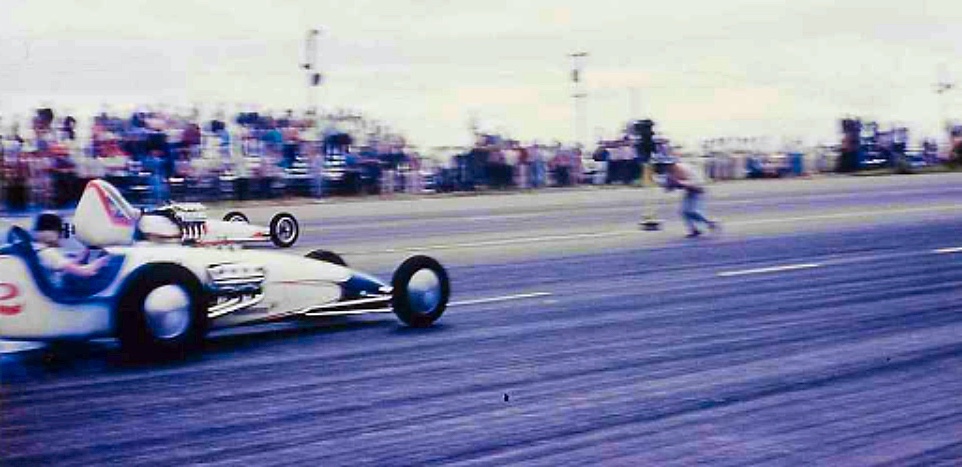 Romeo Palamides (far) racing against Jack Friedland (near) in 1956 at Kingdon Drag Strip. Courtesy of Don Jensen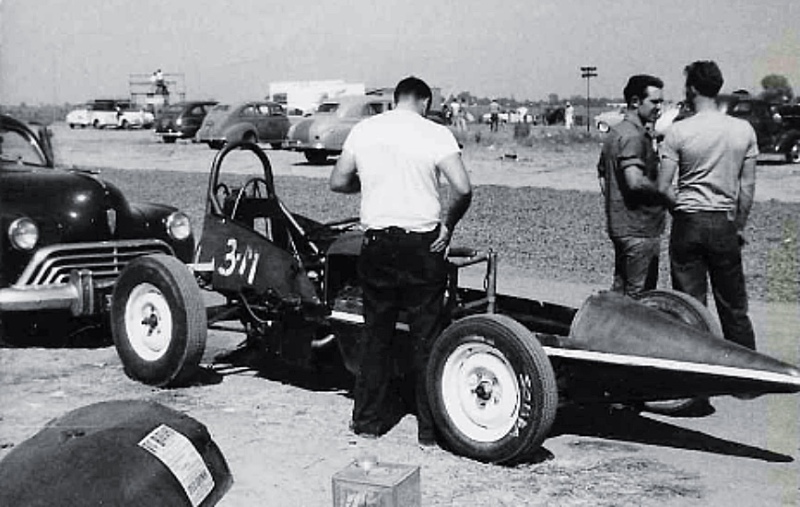 Al Hubbard's dragster at Kingdon in 1954. Take note of the strip of peach pits drying on the ground behind the men.. Courtesy of Don Jensen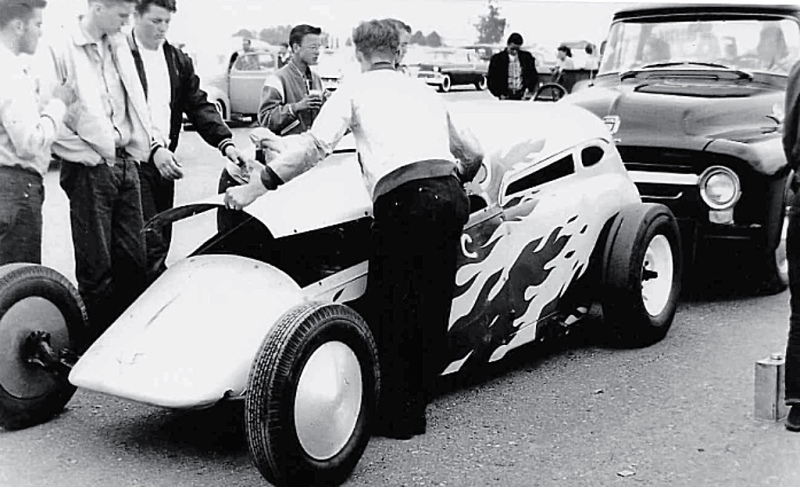 Hayward Head Hunter members Charlie Booth and Bob Rosen set a record at Kingdon in 1954 in this C Altered. Courtesy of Don Jensen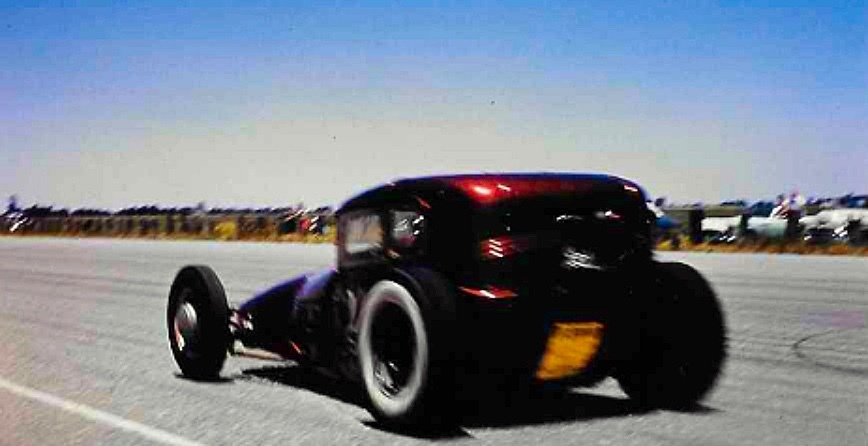 Bob Raymond set several records at Kingdon in competition coupe classes with his candy red Austin. Courtesy of Don Jensen
Kingdon Drag Strip, 1951-71
Don Jensen wrote, "Bob Cress may have been the nicest strip operator ever. I interviewed him in March 1990. He was 70 years old, but was in the mid-stages of Parkinson's Disease. With his wife's help, I spent almost five hours with them. Following are highlights of my interview with him."

In 1950, he and Ezra Earhart (California Highway Patrol), Dick Jones, Bill Schaefer, and Billy Highfield (a local promoter), went to Santa Ana to learn. Kingdon, at Lodi, ran the Memorial weekend in 1951, and almost every two weeks thereafter, through 1971. Bob said, "There was a first attempt at forming a national group more than a year before NHRA. I don't have the date." A meeting was called at Bakersfield by Ezra Earhart, and Chuck Browning, both of the California Highway Patrol. Attending that meeting was the Northern California Timing Association, Cal-Neva, Valley Timing Associaiton,  and SCTA was represented by Wally Parks, and others. It was called the American Hot Rod Association. Tiny Snell was hired to be the secretary. That was a most important job because he had an airplane. Bob thought that Lou Baney was the first president. Wally Parks gradually took over and it became NHRA. The first paid runs at Kingdon were in 1953 or 1954. Hut Watkins and Kenny Lowen came up running a Hot Roadster. Bob gave them 5 bucks for dinner. They thought it was the greatest thing. It was their first paid professional race. That same year, Don Montgomery got $5 tow money for his Buick-powered Nash and a donated motel room. Later in 1955, the Top Eliminator got a $25 bond. Then in 1959, Garlits got $1,500 to make a contracted number of runs. Bob had books on Bakersfield that he loaned to Jon Lundberg of Lundberg, Inc. in Chicago, who wrote a story on it.


Notes compiled by ​Don Jensen
of 1990 interview with Bob Cress
In April 2017, the Hayward Head Hunters held their tenth reunion in California. Don Jensen said that about twenty of the old Head Hunters attended the first reunion and only about eight old members were expected to attend the tenth reunion.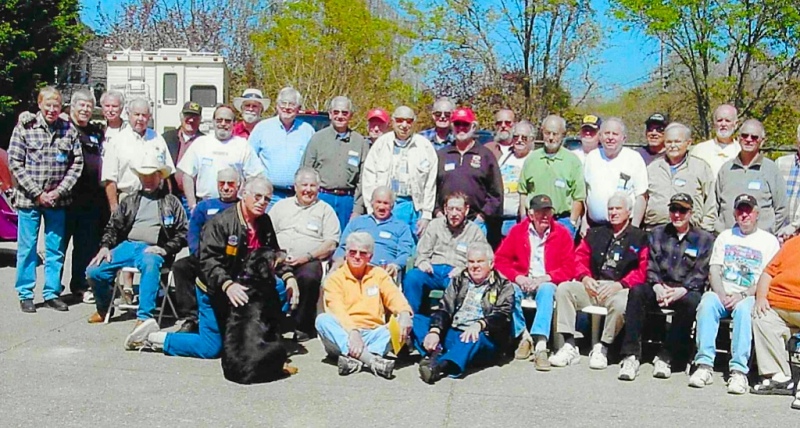 This photo shows attendees at the second or third reunion, which had about fifteen old Head Hunters in attendance. The others included fellow racing friends. Don Jensen is on back row, far right in yellow shirt. Jack Hagemann is seated wearing a bright red jacket. Courtesy of Don Jensen
Long Beach
Lions Drag Strip, circa 1967
I only went to Lions once, on a date with the girl (Karen) who I would marry. I have just a few memories from that race. One was the entrance road. Maybe I'm misremembering, but it seemed like we entered on the north side of the race track on a graveled dirt road. We parked in a dirt parking area, then walked to buy our entrance tickets at a little booth by the spectator entrance. Somehow my first view of the race track didn't meet up with the image that I had built in my mind of this place where so many great drag racers had raced. It all looked so industrial--instead of magical, I guess. What drew me to take the long drive into Long Beach was a chance to see a jet dragster race--a first for me. One of the "Untouchable" jet dragsters built by Romeo Palamides made a few exhibition runs.
Mel Bashore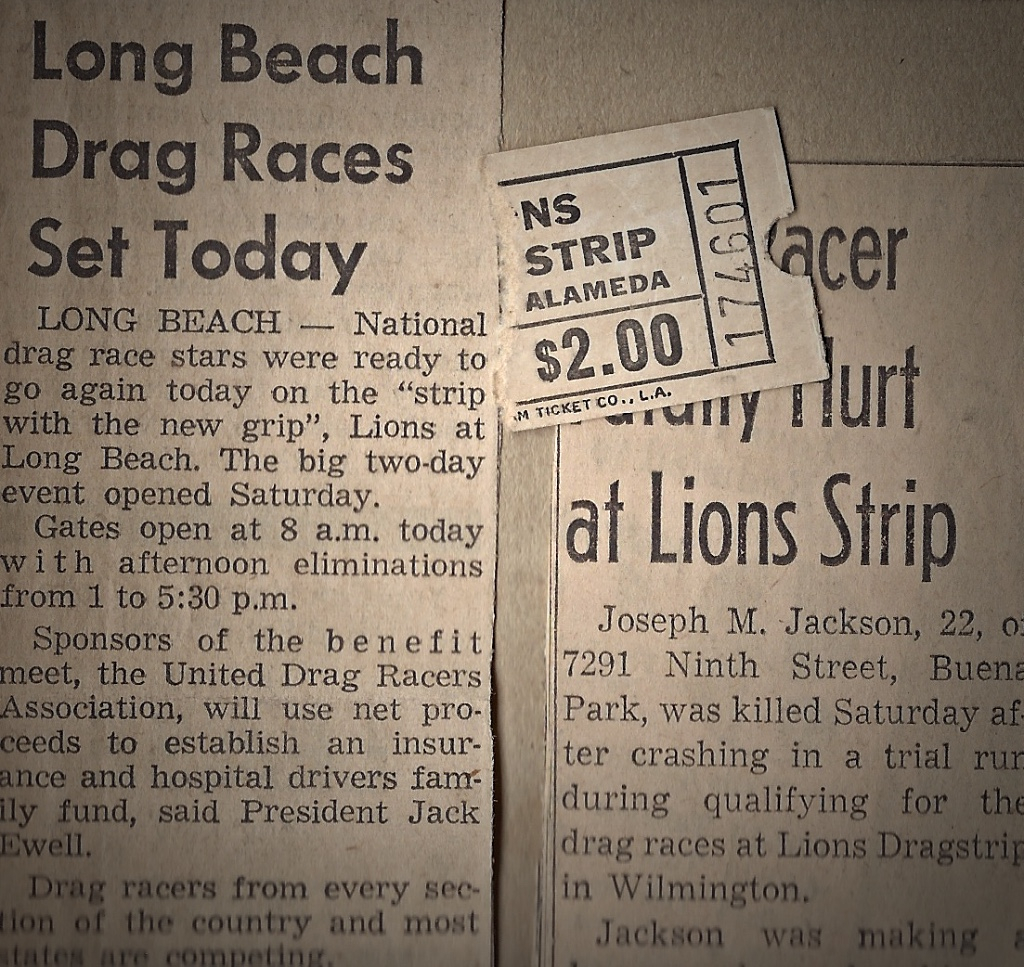 Entrance ticket stub and miscellaneous newspaper clippings about Lions Drag Strip. Courtesy of Mel Bashore
The May 5, 1956 race at Lions drag strip was the last race my father ever competed in. The interesting thing is that my father's motorcycle was a 1943 Harley-Davidson Knucklehead motor with a 1930 VL frame with Triumph forks. I guess who ever write the newspaper clip only noticed the forks, therefore the mistake.
Guy Krant,

son of Lloyd Krant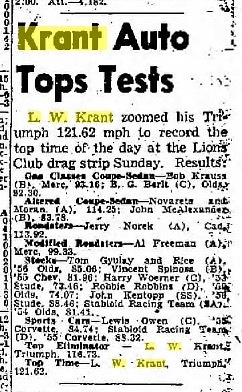 Long Beach Press-Telegram, May 14, 1956. Courtesy of Mel Bashore
Lions Drag Strip, 1955-56, 1966
Their first race was the week after the NHRA Great Bend championship. I drove from Great Bend to Long Beach. I ran B Gas in my Cad-engined '40 Ford. Again 99mph. There were more cars than they could handle. It took hours to make a run. In summer 1956, at their first 2-day championship, about eight Hayward Head Hunter cars went down. All thr big names were there. We came home with several trophies. In the summer of 1966, I had been running a 250cc [15 cu. in.] drag bike. It was a popular class because of 250cc road racing. Bob Braverman, a Cycle Magazine editor, called us to come to match race LA'.s 3 fastest!  We ran each one and beat them handily. Next I ran for Middle Eliminator, beating a 130mph, 375 cubic inch Corvette and a 126mph, 100 cubic inch Harley!!
Our time 11.90 et, 118mph. Only 15 cubic inch world record. 



​Don Jensen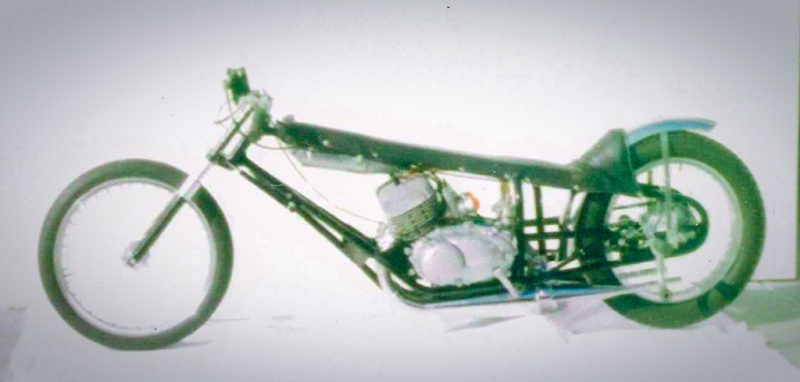 Don Jensen's 250cc drag bike that he raced in 1966. It had an aluminum frame and weighed 160 pounds. Courtesy of Don Jensen
Lions Drag Strip, 1970-72
I worked at Lions from 1970-closing for Steve Evans in the maintenance department. I helped Don Prudhomme, Gene Snow, Keith Black, Don Garlits and comedian Dick Smothers, carrying water and dumping oil. I have lots of interesting and funny stories regarding the strip and management. I was 17 at the time. I really liked Steve. He was a great guy!!  We went out there on bikes as kids. I think it was Monty asked us if we wanted to work there. We started out picking up trash underneath the bleachers after the races. It was kind of fun. I don't know Monty's last name, but he was the assistant strip manager. He was a character, too. It looked like he was from back east. He had one eye. He kind of looked like Dean Martin with one eye. We met Steve a few days afterwards. He was always a nice guy. He always said hi whenever he saw you. He had a lot of hair when I knew him. He had his hair really st;yled nice back then, which was probably '70 or '71. I was there, I don't know if it was his wife or his girlfriend, maybe it was his wife, when she said she was leaving for one of the Rolling Stones' guys. He threw her the keys. He said, "Just leave my clothes." That's all he wanted. I have so many stories of me and my friends working there. Working under the bleachers was pretty cool. You had these 55-gallon drums that you would sit on sideways. You just pushed the trash into the drums. But you'd find money. You'd always find change. You'd find bills, watches. It was always a treasure hunt. I think when I started working there, there was a lady and her husband and her baby at the first set of bleachers to the right. I think it happened like three months before I got there. There was a crash at the end of the quarter mile. I guess everybody stood up and I guess the back of her leg hit the baby's carrier and the baby and the baby carrier tipped over and killed the baby. I was there when Don Garlits was racing against the Mongoose. I didn't think it was during the race, but maybe it was during the race, when the front end just went up and hit back down onto the ground and split the thing in half. I was there for that. I was there when they filmed "Adam 12," the TV series, an episode there. It was a whole day of that. You'd see people that you'd see on TV a lot in these old jaloppies and stuff. I guess the only ones who made a lot of money were the stars. Everybody else just had regular cars. Dick Clark was there the whole day. I didn't recognize him until I saw him on TV. He was short and he was actually older looking back then. He was real short. I didn't recognize him. I was thinking he had to be taller. In "American Bandstand," I guess he was standing up on something. He was a very short guy. Kent McCord. He had just bought a brand new Corvette, an automatic. He let us sit in there and let us check it out. I forget what the other guy's name was [Martin Milner]. That guy was also on "Route 66." I think he died recently. I was sitting in his chair. He told one of the people to get that damn kid out of that chair. They had those star's chairs, those foldable ones. They had a really good lunch. That was some nice food. But you really couldn't tell what the story line was because they'd do different parts at different times. Each little thing would last, maybe five-ten minutes. The set up would take hours. The actual acting only took a few minutes. They started early. They started like about 5:30 or 6 in the morning and they go until the sun goes down. During the day they used these really big, really hot halogen lamps. One little secret that nobody hardly anybody knew about except the few who actually worked there, was they used to have these little sheds that they used for something. But under one of them is where they had the safe. But the safe, nobody knew it, but if you took the safe and tipped it over, it had a hollow bottom. So anybody could have gone in there and tipped it over. They would leave the money in there until Monday morning. They had the races on the weekends. So the money was all in the safe. If you were able to break in, it was just a padlock. It was just a wooden shed. It looked like an outhouse. It was like one of those shed where you bought the tickets, but it was pretty close to the Christmas tree. I guess they had close to a quarter million after one race one time.  Anybody could have had that money for free. Just tip over the safe. There was a guy that we worked with. He was our boss. He was about 19, but he looked like an older guy. He looked like a guy in his late 30s with a big pot belly, scraggly hair. His name was Jack Prouse. I guess Monty would front him money and him and Jack would go out to bars at night. Jack was a real good pool player. Monty would front him the money and go out and play pool. So Jack would make some money off of that. Jack had an old beat-up Chevrolet, a pick-up truck. There was an old yellow pick-up truck out there, too. It was like a 1953 pick-up truck. I think we painted it yellow. Every day, he'd have a new story. His story's were always so funny. Just the way the guy looked, he looked like he slept out in the woods. He lived with his parents. We were shocked when we found out he was only 19. One time one of the Lion's Club directors, the board of directors, I guess they would meet every month. One time one of the guys drove his personal car up to the end of the quarter mile and got stuck in the sand. It was an older guy in a suit. He walked all the way back to the tower. Jack was leaning up against his truck. He said, "Jack, would you go down there and bring my car back." Jack just looked at him and said, "What do I look like? A pick-up truck?" They were re-doing the strip in '71 or '72. What they called re-doing it. They made a big to-do about it, but actually all it was, they brought a street sweeper. I would toss out detergent and water and just run that street sweeper in big circles again and again and again. There was probably at least an inch of rubber right there at the Christmas tree, just from the cars burning out. They used to use that burn-out fluids for taking pictures for posters. They had this big flame coming out the back of the tires. It was pretty awesome. They filmed other movies there, too. They always had models down there doing different things.  The track had been there since the early '50s.  You had so many broken parts on each side of the track, you could probably put ten cars together. Nobody ever picked up the parts, blown heads and every kind of part you could imagine was on each side of the quarter mile. After hours, after my job was done, they're there during the week, testing out their cars, making adjustments. You'd have guys like Don Prudhomme, Don Garlits, Gene Snow, even Dick Smothers. He had a car that I think he rented. I don't think he owned it. It was called "The Joker." Whenever he got pissed off or dropped a tool, he'd cuss out his brother, Tom. It was like he was talking to that car and calling it Tom. What they would have us do, they would have us bring over 5-gallon cans of water over to them. Or take 5-gallon cans of oil and dump them in the big 55-gallon cans that we had. He'd pay like 20 bucks an hour for that, which was a lot of money for a kid back in 1971. We'd get paid by the racer on top of what we made working for the track. It was always so loud working there, too. Always so much noise. I was there for the Winter Nationals one time. I still have a couple brand-new tickets from the Winter Nationals, which, I think, was in '71, maybe '72. They had special tickets. I still got a couple of those. Brand new tickets that I kept because I didn't need the tickets to get in. I think it was Tuesdays and Wednesdays, they had grudge racing. Then Friday they had something, then Saturday and Sunday. I distinctly remember Steve up there in the tower, "This Saturday night, twenty top fuelers. Be there." That was so cool to hear his voice. He had a great voice. It was almost like a two-toned voice. It's hard to explain. Even when he saw you, he said, "How ya' doin' Al?" He had that voice when he was just talking to you normally.  I think AMC bought him a brand new car. They gave Monty a pick-up truck. Steve would have me drive his car to get it washed and gassed up. Most of the time, I wasn't there at the race. Most of the work that I did was after the races. Picking up the garbage after the races, dumping oil, and all the trash that was in the pit areas. Cleaning bathrooms. We replaced pieces of railing. Shirley Muldowney hit the railing one time, right in front of the bleachers, on the left. We had to change out about three pieces of that railing. Monty and Steve got into some type of disagreement.  We saw Monty just drive off and never came back again. Steve hired some old, retired Army guy. This guy had brought his son. The son was probably a few years older than we were. Things changed a lot.  The old man was really old and really slow. He tried to make his son one of the supervisors, but he was just so stupid. One time we were up in the tower having lunch. The kid looked down the quarter mile. He said, "There's a bunch of water down there that we got to get cleaned up." The dad looked out there. All it was was a mirage. The quarter mile at the end, it kind of looked like it's water.  I tried to tell him it ain't water, but he had me go all the way down there for nothing. I remember a couple of times being at the end of the quarter mile trying to fix the lights. All of a sudden there'd be a car taking off. When you're at the end of the quarter mile and you see a dragster coming your way, they're not going perfectly straight. They're kind of zig-zagging. I was scared to death. They'd just go zoom. Don Prudhomme would talk about the air. He liked the air from the ocean coming up. He said it helped the numbers on the cars. We'd have Keith Black out there with his engines. In '72 they opened up a motocross. It had to be the very first BMX motocross in California. They had me run it on Saturdays. Every Saturday, there was an accident of some kind. I seen some weird cars. I remember we saw this one car that ran on baking soda. The guy says that he had sold the patent to Ford. He said, all they're going to do is wrap it up and put it in a safe. They don't want to hear about any car running on baking soda. We used to have lunch up in the tower, which was just basically a regular office.  One time me and one of the guys, we were at where they had the Lions sign on Wardlow Street--the little area was called Domniguez. I think we had to dig up the sign or something. To replace the sign.  We were digging these holes. The boss's butt-hole son was out there to supervise, not doing a lick of work. He went back to the tower to get something. It was kind of cool that day. I told my buddy, I had my jacket and we had work gloves on. I said, "Hey, Carl, when what's his name comes back, I'm going to take my hand and pull it up in my sleeve. And I'm just going to hold my glove by the end of it, so it looks like my hand is still in the glove." I said, "I'm going to put a dollar bill down there. When he comes by, I want you to take that shovel and make like you're going to grab that dollar bill with the shovel. But my hand's going to be there and you're going to like, cut my hand off." We had just come from lunch so we had a bunch of catsup things in our pockets. The kid came up and it worked just great. I put my hand down there, but it was just an empty glove. Carl took the shovel and it looked like he cut off my hand. Blood was just flowing everywhere. We told the kid, "Get your dad! Get your dad!"  So he hauled ass to get his dad. When him and his dad came back, we're just shoveling like we were supposed to, just digging that hole. He said, "What happened?" "Well nothing happened. We've just been working out here." The son said, "Well, Pop, it looked like his hand got cut off." I said, "No. We're just digging. Just digging a hole"  We had an old bitty street sweeper to clean up the track, right there by the pit area. They're real slow. They're one of those three-wheel ones. I had to drive it up to a dumpster to unload it. I didn't put the brake on fast enough. Even though it was going slow, I didn't put the brake on fast enough. It went through one fence. It went through another fence.  It hit the back of the bleachers. It really tore that thing up. We had these silent alarms. There were a lot of gates and fences there. One day I forgot to turn off the alarm when I was dumping some cans of trash. I was over by the dumpster. I see like four cop cars hauling ass down there. On Saturdays they would have cop cars there because they would train cops on how to pull over suspects  That's what I thought is was, some more training cops. They pulled up to me. They all had their guns out. They told me to drop the can. It was a 55-gallon can. So I just let it drop. They had handcuffs on me. They threw me over the front of one of the cars. They started going through my car. My dad used to collect these old beer cans. There was all kinds of beer cans at Lions, so I flattened all the beer cans and put them in the car. I didn't want the cops to know that I had beer cans, because I didn't want them to say, "Oh, you've been drinking beer." All I did was asking them if they had a warrant. That's all I had to say. And all four of them started clobbering me, kicking me, and beating me with sticks.  I couldn't say they were prejudiced because there was a black cop, a Japanese cop, a Mexican cop, and a white cop. And thank God, Steve opened up the door just then and started yelling at them, "Hey, that's my guy down there." They told us that somebody had hit the silent alarm. I never ralized what happened.  Those cops were beating the s__t out of me. Then there was a racer. I don't know what his name was, but he stuttered really, really bad. He came by on a Monday because I guess they had a big race on a Saturday or Sunday. He had lost a rear end. He was driving up and down looking for it. He asked me if I'd seen a rear end anywhere. I said, "No." So he kpt on looking. When he was ready to leave, he drove up to me as I was dumping a can. "G-g-g-g, see you later." He wanted to say good-bye to me, but he couldn't get that "Good" out, so he said, "See you later."  There were so many car parts out there. I worked there until they closed the track. That last day, people were stealing everything. They were stealing telephones, any kind of signage, posters, whatever. They were stealing everything. I didn't know why they were doing it, but I guess they were doing it for souvenirs. People were taking all kinds of crap. I was also there one night when this lawyer was walking across the bridge. You'd walk up one side of this bridge if you wanted to get to the other side of the strip. He walked up and as he was walking towards the office, this truck was speeding down the side of the quarter-mile to pick up a car that just did its run. Well, the top of the truck hit the staircase and killed that guy. The guy was a lawyer. That was a big lawsuit, too. The most that I ever found in cash, was that I found three twenty dollar bills one time along the fence. We only got paid $1.25 an hour. I started about 4 o'clock and worked until about 8 or 9. I know it was dark on the way home. Occasionally we had to come on a Saturday. Sometimes I stayed there for the grudge racing. I remember they charged a dollar or two if you wanted a pit pass. Everybody was always asking for a pit pass. They were just yellow stickers, said Lions Drag Strip. If I'd have known that place was going to be famous, I'd have picked up all kinds of crap. They shut it down because people were moving closer and closer. It was their fault for moving close to the drag strip. But they started complaining and I guess the city shut them down. So many famous racers. The Hawaiian, Don Garlits, The Snake. Don Prudhomme was young when I knew him. Probably in his twenties or early thirties. We were working around all those guys. You'd be waking right beside Keith Black, him and his people working on an engine. All the guys that were famous for making manifolds and what have you. They were all there testing their equipment. From time to time, you had different celebrities out there. It was an interesting place to work as a kid. The work wasn't very tough. Picking up trash. That was fun. The hardest work was probably replacing those railings--or cleaing out the girls' restroom. . . . All through the week you'd have these oil trucks coming by. Pennzoil, Quaker State. Just every oil company that you could imagine. They're all dropping off cases of oil for the strip. They give them away to the racers. There'd be between thirty to fifty cases of oil. So, if they dropped fifty cases, I would sign a form for forty cases and keep the ten cases. Then I'd give the form to Monty. Monty would sign it for thirty cases and he would pass the form over to Steve. And Steve would mark it down for twenty cases. We were lucky if we actually had five or ten cases to actually give out to the racers at race time. My garage at that time was just like a warehouse of oil. I needed it, too, because I had a stupid-ass car. The oil pan was leaking one time so I tried to tighten it up and I busted one of the bolts. Being as I was a dumb kid, I didn't know that you could have someone get that broken bolt out of there and replace it with a new bolt. I thought the car was done with. I probably used a quart of oil a day, but I was always stocked with oil. I had a very cool job. It wasn't hard at all. It was kind of fun.
Al Knecht,
telephone conversation with
Mel Bashore, August 24, 2018
Madera
Record holder Clarence Hager drove his 1957 Corvette (it was blue or white) at Madera. It caught on fire. Did anyone see it? [If anyone saw this fire, contact  DSL and we will put you in touch with Ray]
Ray DeCesare
Newhall
My father won the second aniversary drag race at Saugus. The newspaper clip read "Krant set New Time at Saugus." "In the Second Aniversary meet at Saugus last Sunday L.W. Krant set the fastest time ever recorded at the strip." At the bottom of the list it shows Open- L. W. Krant . . . . . . . 129.33. I have the clock trophy and wrtten by hand under the base of the trophy it says June 29, 129.33. One of my father's more treasured trophies was sponsored by Duncan Homes with a car on the top. My father drag raced a bored-out Harley. The large trophy for its time was for top qualifier and my father's motorcyle was very quick, but did not always set top MPH. He won and the trophy has a date of July 5, 1954.
Guy Krant,

son of Lloyd Krant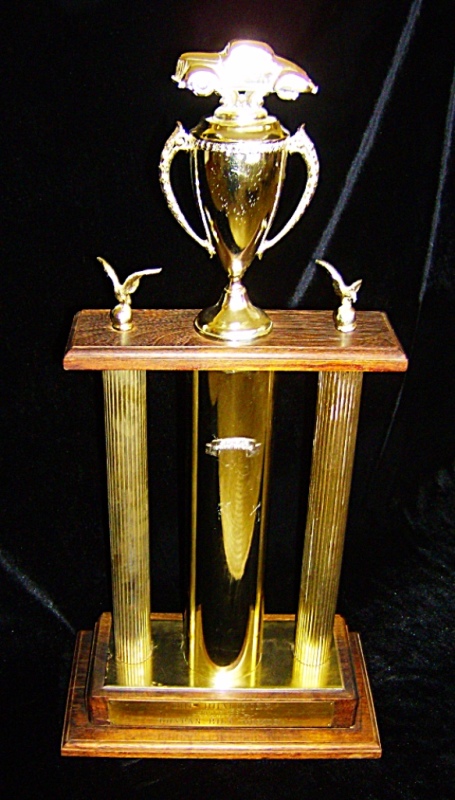 Top qualifier trophy sponsored by Duncan Homes, won on July 5, 1954, by Lloyd Krant, Saugus. Courtesy of Guy Krant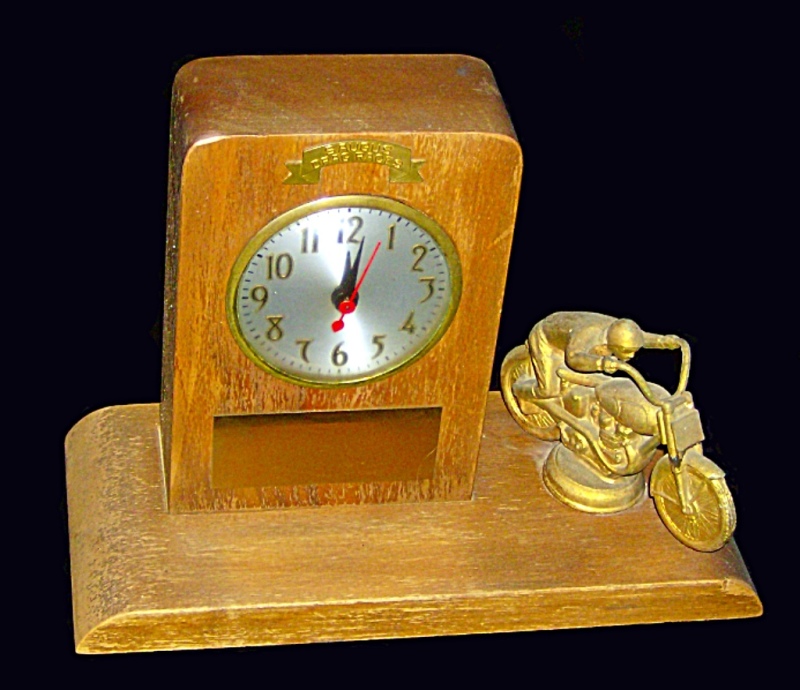 Trophy awarded to Lloyd Krant, Saugus, June 29, 1952, for setting strip record. Courtesy of Guy Krant
Ontario
Ontario Motor Speedway, 1973
When Garlits came out with the rear engine car, we were pretty well obsolete overnight.  We had Don Long build us a car. That's the car we got in the 5 Second Club with [Iron Horse with Dan Richins driving].  We were number 7. At the time, we went a 5.93, maybe somebody else, maybe Moody or somebody had gone maybe a little faster. Most of they guys got in there with 5.99s, 5.98s. We went 5.93 and thought we were OK. The same day we got in, John Stewart in the Keeling & Clayton car. He was just a kid then, about eighteen. He got in the same day we did. I think we had the number three engine from Donovan. Donovan really liked us. Dan Richin's dad was Donovan's age. He'd go to races with us. Then Dan worked for the railroad. Donovan had been an engineer up in Alaska on trains. Because we had a car called the "Iron Horse," he knew we didn't have any money. He kind of took us under his belt. I think we got number three. I think Donovan-Creitz had the first Donovan engine. John Wiebe, I think, got the second. I think we got block number three. And, hell, I think we run that thing for about four years until we hurt it once bad. Even then, I think somebody bought it. Then we went with Donovan heads, too, instead of the old Chrysler heads. By then, Donovan made his own heads.  At the first Supernationals, that's the first time anybody ever heard of the "Iron Horse."  I think we ran Tony Nancy on the first run. We were really running good, then we hurt our engine. Larry Aiello was there with the "Want Bird."  So we put his engine in. It wouldn't get out of its own way when we put his engine in, with the same tune-up. His parts were different. I think Jerry Glenn beat us in the semis. We went quite aways in that first Supernationals. 
Rex Pearmain, telephone interview
with Mel Bashore, August 14, 2017
Pomona
I began going to the drag races at Pomona in about 1960. I was fourteen. We lived in Claremont, about seven miles northeast of the L. A. County Fairgrounds. It was torture to hear the blip-blips of the fuelers as their sounds reverberated up to our house. When it got to be too much, I begged my parents to let me ride my ten-speed bike down to the drag strip. I did a lot of begging--and a lot of pedaling. I generally got there in time to see the eliminations. I stood, along with about fifty other guys, outside the fence on the north side of the strip. There were railroad tracks there that gave you a good view of the starting line, the flag starter, and race track. The railroad tracks were about thirty feet north of the fence. The chan-link fence was covered with canvas so you couldn't see the dragster push-down lane, which was just on the other side of that fence. But you could hear the push trucks coming toward you real good as they fired up the dragsters. They generally caught fire right in front of us. Talk about exciting! There was a police officer there to make sure we didn't get any closer to the fence than those railroad tracks. Sometimes when the officer was busy keeping order, someone would dash up to the fence to try to peek through tiny gaps in the canvas. My friend, Chas Holt, and I, rode our bikes down to see the first Winternationals in February 1961. Being cheap, we snuck into the race by speeding across the massive parking lot on the far south end. I went to the first four Winternationals events. In fact, in 1964, I ditched school to go to the Friday opening day of the Winternationals. I was supposed to go into L.A. that day with a few other high school kids who were receiving art awards, but I ditched that, too. My mother never forgave me for that. I also got a lecture in the principal's office for that little escapade. But the pull of drag racing was just too strong for me. I clipped every article about drag racing that was printed in our newspaper and put them in a scrapbook. I kept notes about some of the races, drafting my own articles. For instance, I wrote a page about a regular, ordinary race held on July 21, 1963. "The usual number of National Record holders in this area in attendance included Tom Sturm, Jack Clifford in his L/S '54 Hudson from Los Alamitos, and Willy Cossey from Baldwin Park, along with such well-known stockers as Gas Ronda, Performance Associates, and Bill's Service Chevy from Manhattan Beach." There were a couple of new cars, making their first runs. Horsepower Engineering debuted a new A/FD. Airline Auto Sales from Pomona had a new D/FD. Gary Cagle had a new lengthened yellow D/FR. But the one that I gushed over most was the new Stellings & Hampshire AA/FD. I was amazed to hear over the P.A. system that Jeep Hampshire had recently upped the Pomona track record to 7.60 seconds. That was .15 seconds faster than the "incredible" 7.75 that I saw Tommy Ivo run at Pomona a month earlier. I also wrote that, at that race, I learned that they were going to fence in that area on the railroad tracks to keep us freeloaders from watching the races for free. They did. We had to move further north to watch from a liquor store parking lot, but it just wasn't the same as the favored railroad tracks location. My regular bike treks to watch the Pomona Drags were a big part of my teenage life.
Mel Bashore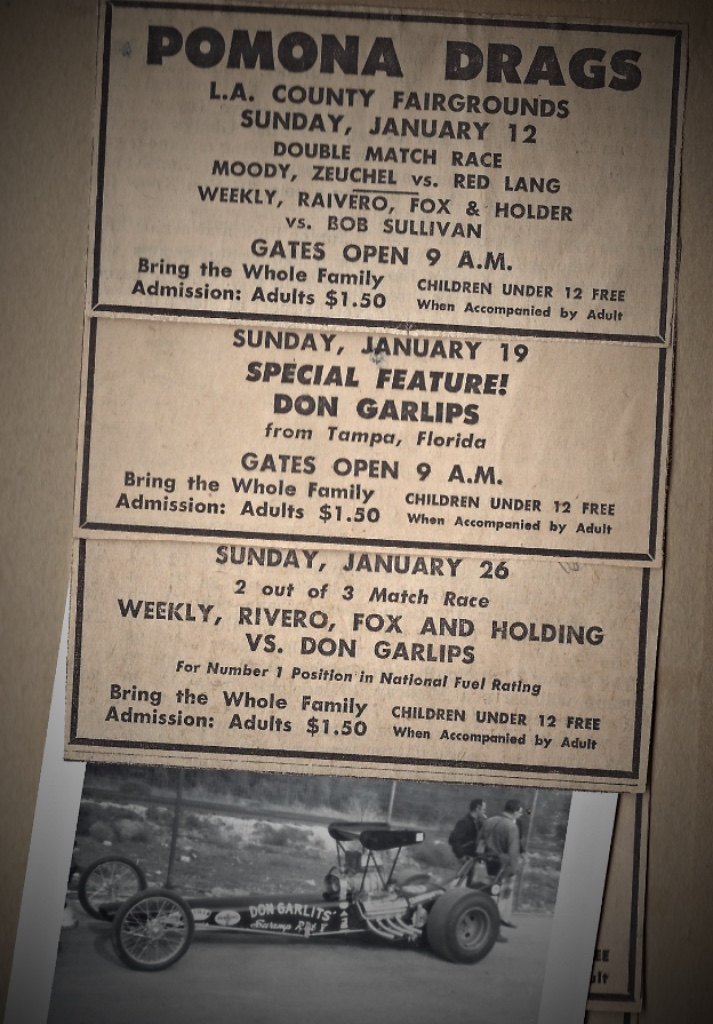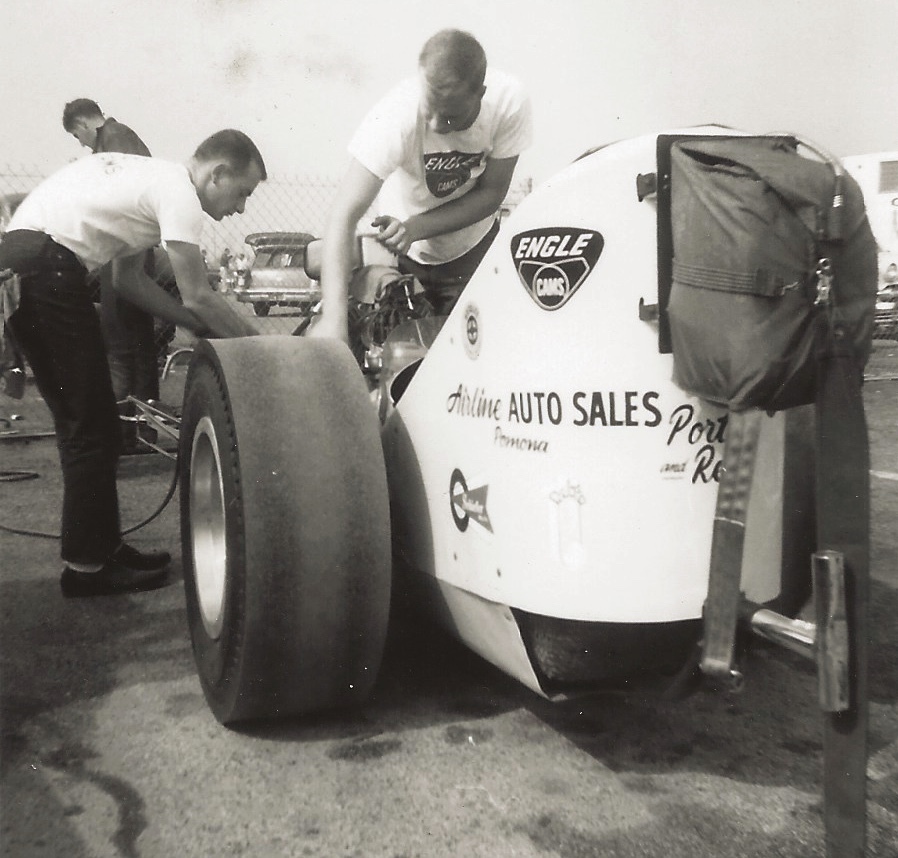 Porter & Ries A/FD, from Pomona, at 1963 NHRA Winternationals. Courtesy of Mel Bashore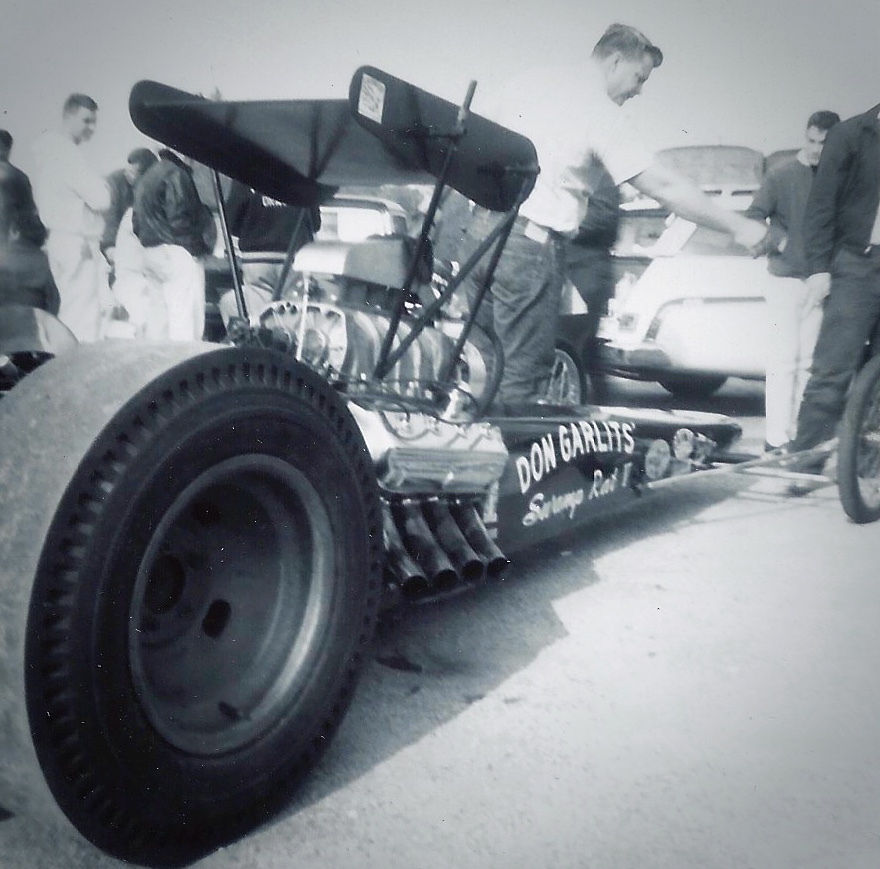 Newspaper ads from ​Pomona Progress Bulletin and photo of Don Garlits' "Swamp Rat V" at 1963 Winternationals. The ads repeatedly misspelled Garlits's last name. Courtesy of Mel Bashore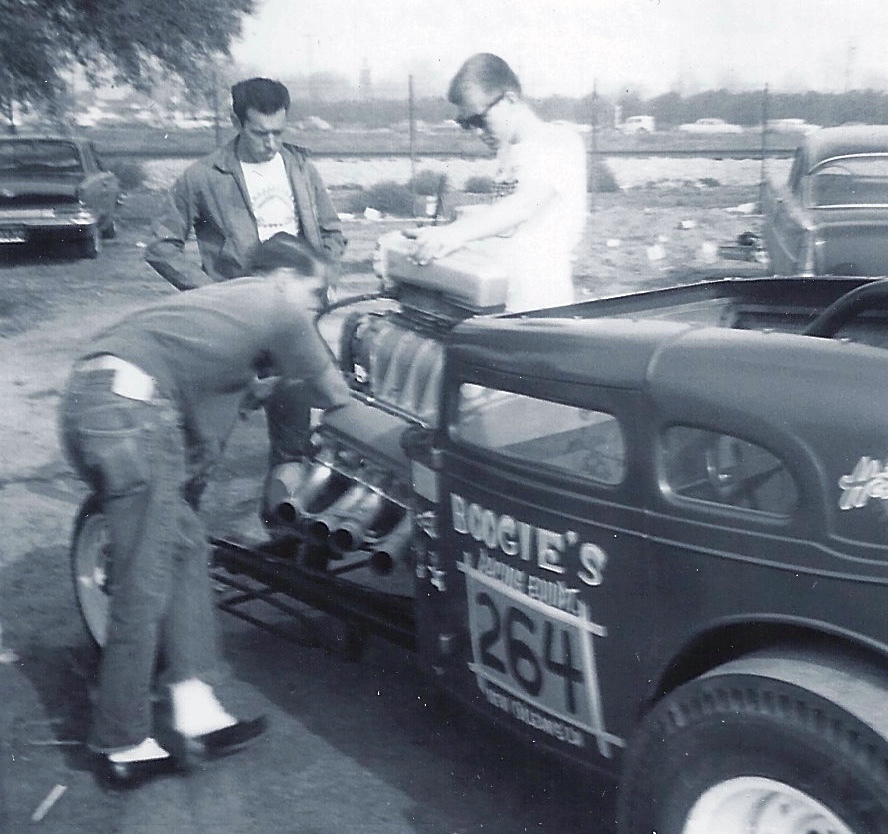 Charles "Boogie" Scott (in front of car), Gary Lee (leaning on motor), and Richard Thompson (from Santa Ana, in white shirt), at 1963 NHRA Winternationals. Courtesy of Mel Bashore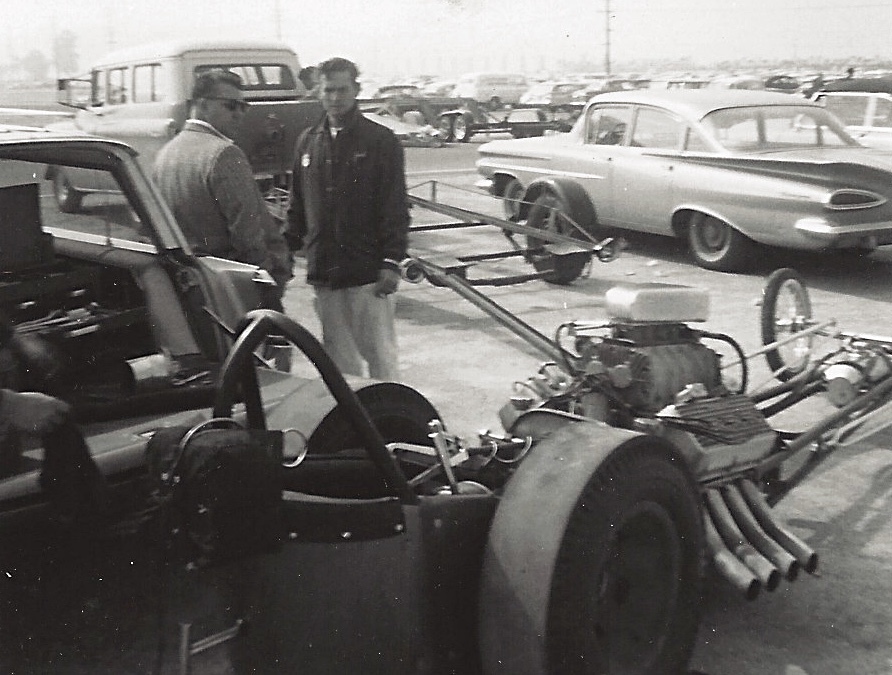 Jack Chrisman (in dark jacket), with his Mickey Thompson Enterprises dragster, at 1963 NHRA Winternationals. Courtesy of Mel Bashore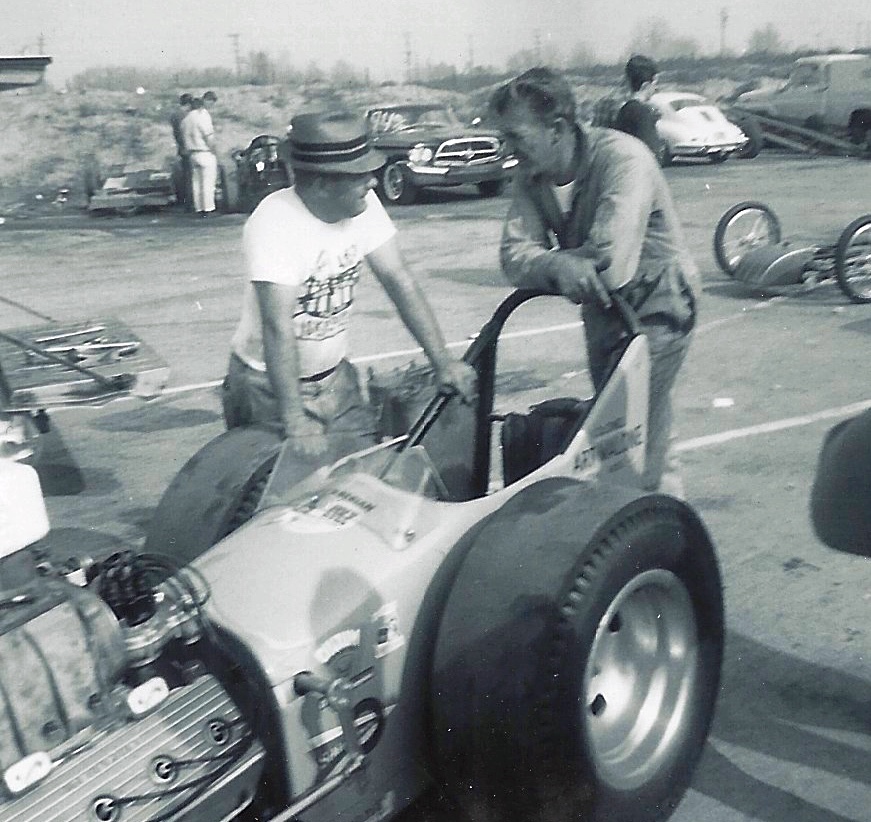 Art Malone (right), at 1963 NHRA Winternationals. Courtesy of Mel Bashore
This trophy is from the first NHRA/AMA event held April 12, 1953 at Pomona Drag Strip. My father won the AMA event and challenged the NHRA champion, the Bean Bandits, and barely beat them. So he was the unofficial Top Eliminator of the whole event.
Guy Krant,

son of Lloyd Krant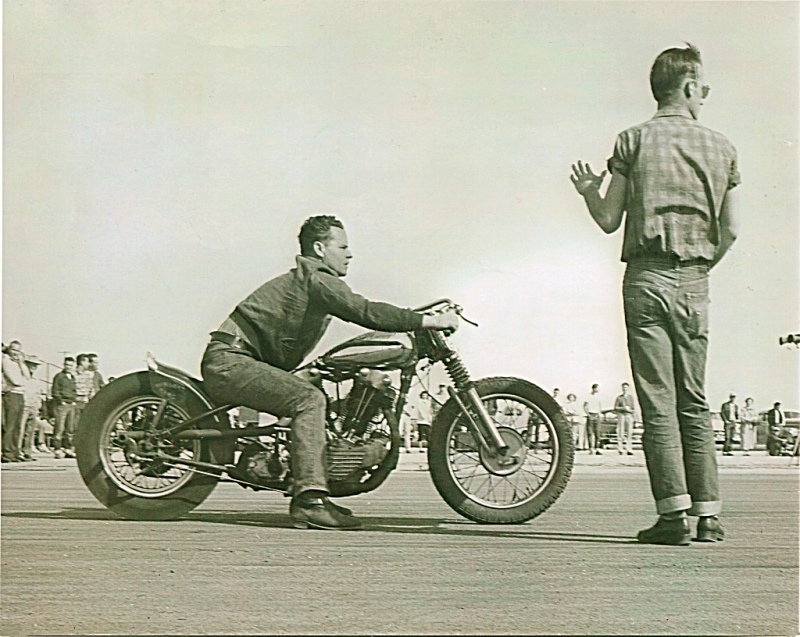 Lloyd Krant, staging at Pomona Drag Strip during qualifying, April 12, 1953. Courtesy of Guy Krant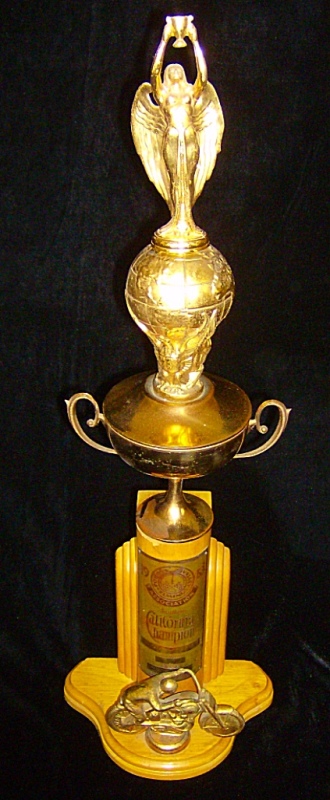 Pomona Drag Strip, 1952, 1955
My first time at Pomona was in November 1952, but only to watch. On the Fourth of July, 1955, there was a 3-day race. It was the biggest drag race ever held to that time. Hundreds of cars. About nine Hayward Head Hunter's cars went to it, headed by Al Hubbard. He partnered with Lee Scott's dragster. On Saturday at Pomona they ran 132mph. Mickey Thompson ran just at 140mph, but blew up all three days!!  On Sunday, we went to Santa Ana. We did that because on Saturday and Sunday at Pomona, it was single runs. Somehow we found out Santa Ana ran on Sunday, so most., but not all of us went there, then back to Pomona on Monday. On Monday, Lee ran a 10.40 et, 136mph. Calvin Rice, who had not lost in six months, turned 10.17et,  138mph. At Lee's request, due to the long drive home, the first race of the day was against Rice. They were the two fastest cars there! Lee led most of the way. Rice said he thought he lost, but he won in the lights. Head Hunters went home with several trophies. I lost the last round in B Gas at 99mph to Chuck McCandle's 101mph! Maybe the most memorable meet ever!


​Don Jensen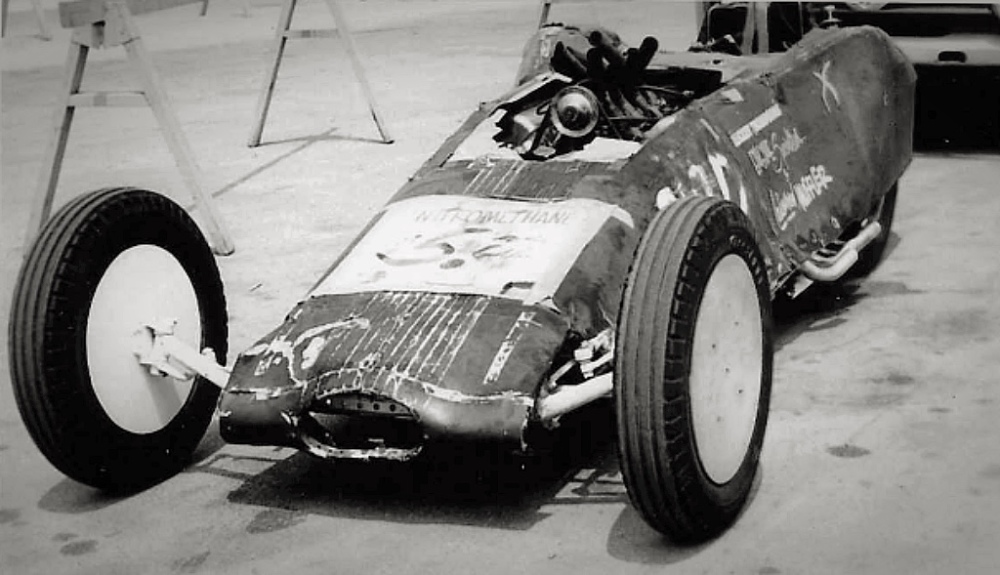 Mickey Thompson set the top speed at Pomona on July 4, 1955. Look close at this one-of-a-kind race car body. Regarding it, Don Jensen said, "And yes, that body is cardboard and tape!!" Courtesy of Don Jensen
Ramona
Ramona Drag Strip, 1963-64
As a kid I raced at Ramona Drag Strip near San Diego, California, in my Mom's '56 Chevy 6 cylinder powerglide. As I recall ET was over 20 seconds at just over 70 mph.  A sad memory from the same location is the February 23, 1964, death of John Wenderski who crashed his "Black Beauty" Top Fuel machine and died.  I recall being horrified seeing the "Black Beauty" crash. Until that time it had all been fun. I was only 17 at the time myself and that was my closest encounter with death to that point.  I have continued to race and follow drag racing much of my life and have attended many national events, but that death is the only one I've been on hand to witness.
Jim Garren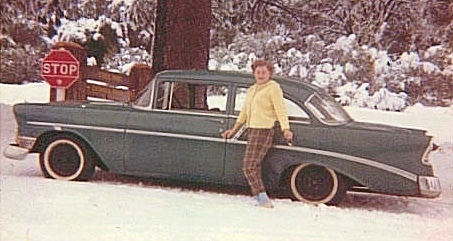 This is the 1956 Chevy 210, the car that Jim Garren borrowed from his mother to race at Ramona in about 1963. Courtesy of Jim Garren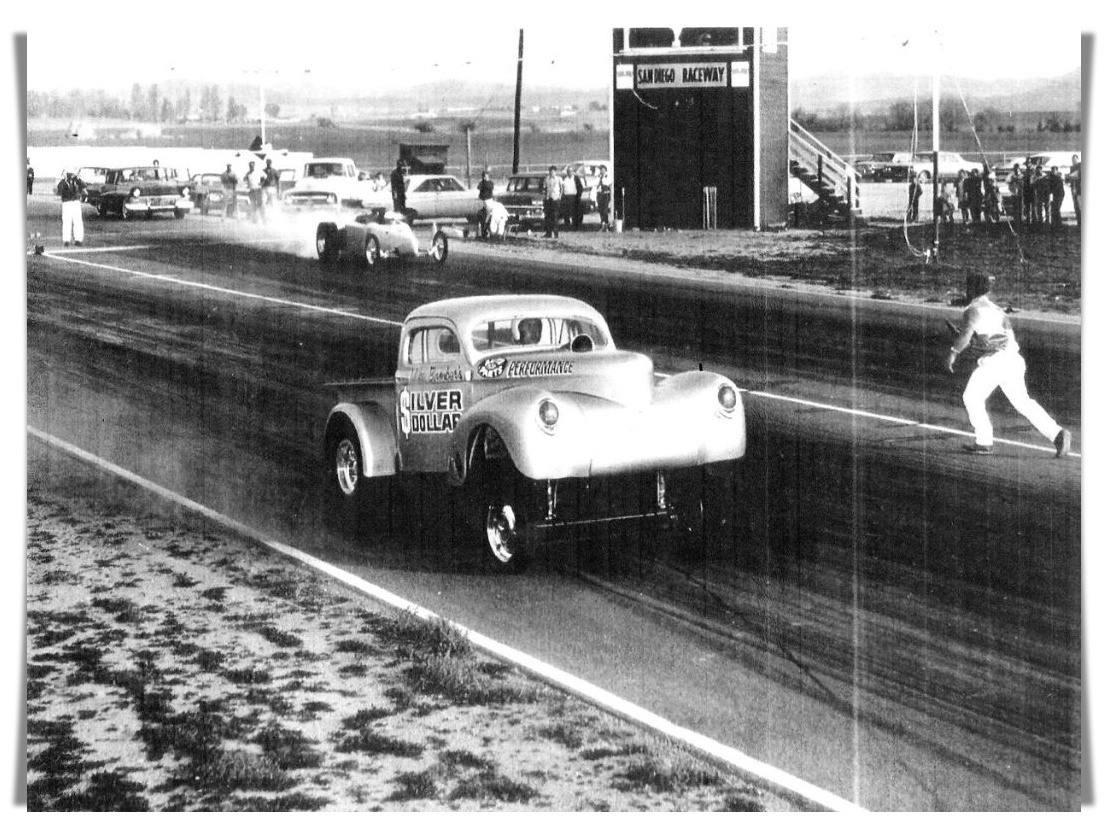 Speed Sport roadster at San Diego Raceway. Courtesy of Ted Sitterley
Redding
According to NHRA, northern California's Redding Dragstrip and Samoa Dragstrip both became NHRA member tracks in 1953. Redding is about 6 months older than Samoa. The Shasta Roadsters car club that started the Redding Dragstrip said they had some unsanctioned racing starting as early as 1951. Thank you for this great work of yours.
Bill Wood
Track Manager
Redding Dragstrip
Riverside
Riverside Raceway, 1964 Hot Rod Magazine Championships
My brother and I drove to Riverside in our 1950 Ford coupe. This was my first time at Riverside. I tucked him into the trunk to cut our entry fee in half. He was embarassed to get out of it in the parking lot. Before the race began, I wanted to drive on a part of the road course for fun. We drove the high-centered coupe on the chicane, feeling like it might tip over on the high-banking course. We wandered through the pit area, seeing Miss Universe and Miss Hurst Shifter, Linda Vaughn. That sticks in my memory for some reason. We spent much of the day down at the end of the track. You had a good view of the cars as they came under the bridge and the whine of the blowers sounded great from there. They made a sweeping turn off the track to the left, with their chutes billowing behind them. Some racers let us help them gather their chutes. Mostly I just stood around and galked. We took a lot of pictures. Later in the day, we went back to see Craig Breedlove make a run in his streamlined dragster. There were a lot of delays in him making his run. His runs turned out to be a big disappointment as he didn't achieve what he was hoping to run. I seem to recall its speed being in only the mid-180s, but his car sure looked fast.
Mel Bashore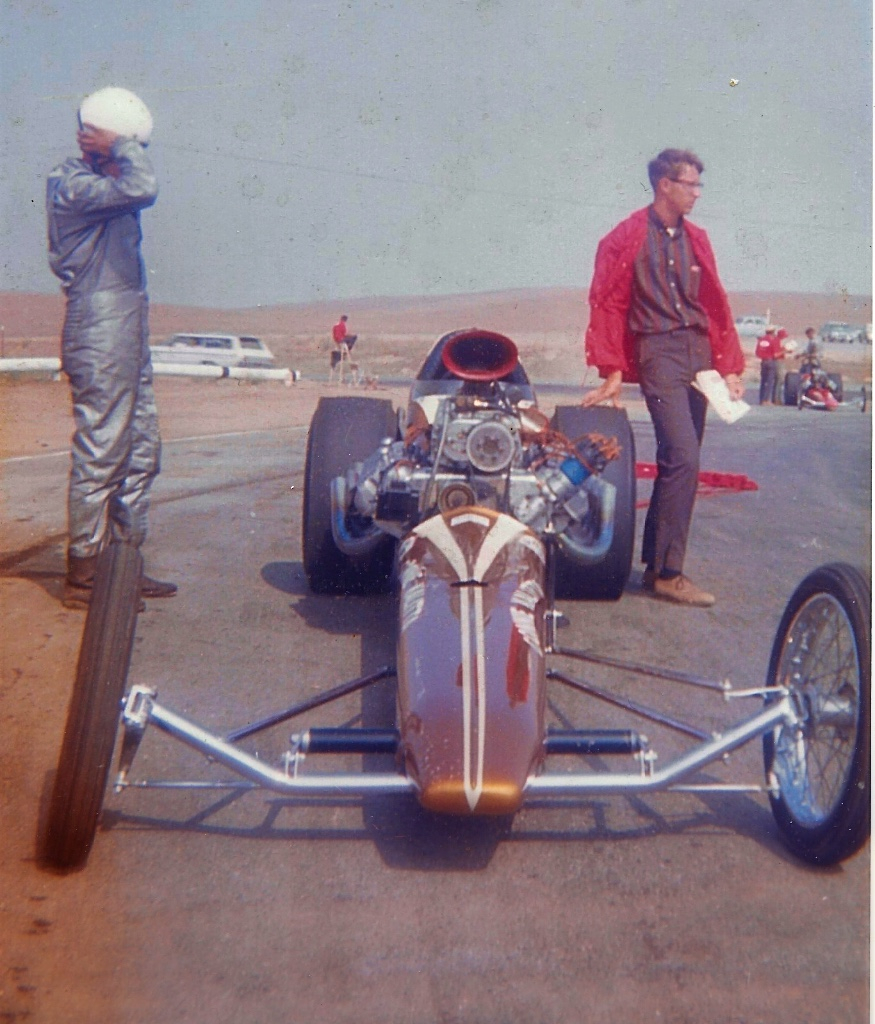 Mel Bashore, at end of Riverside Raceway shutdown area, with Connie Kalitta's "Bounty Hunter" AA/FD following a time trial run, at 1964 Hot Rod Magazine Championship Drag Races. Courtesy of Mel Bashore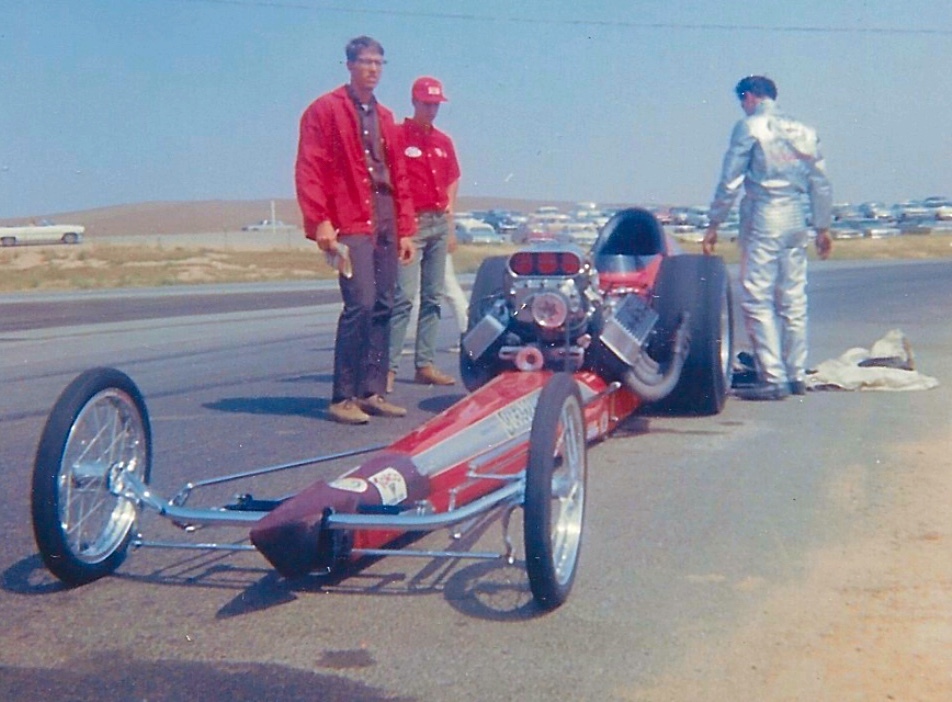 Denny Milani, driver of Ted Gotelli Special AA/FD, after a run of 7.75 at 204.54 mph, at 1964 Hot Rod Magazine Championship Drag Races. Courtesy of Mel Bashore (at left)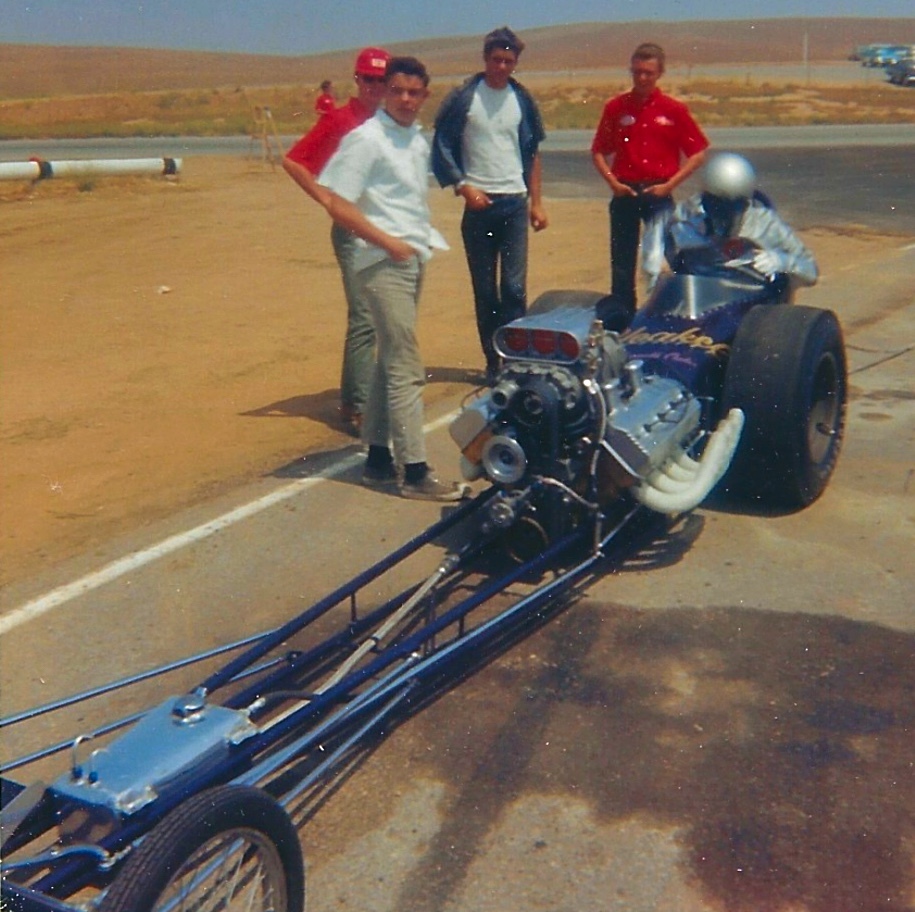 Tom McEwen, in the Yeakel Plymouth Special AA/FD, after clocking a world record run of 7.52 at 211.7652 mph, at 1964 Hot Rod Magazine Championship Drag Races. Courtesy of Mel Bashore
Jerry Andrews, at end of a run, in which he was disqualified for crossing the center line, at 1964 Hot Rod Magazine Championship Drag Races. Craig Bashore (in dark shirt). Courtesy of Mel Bashore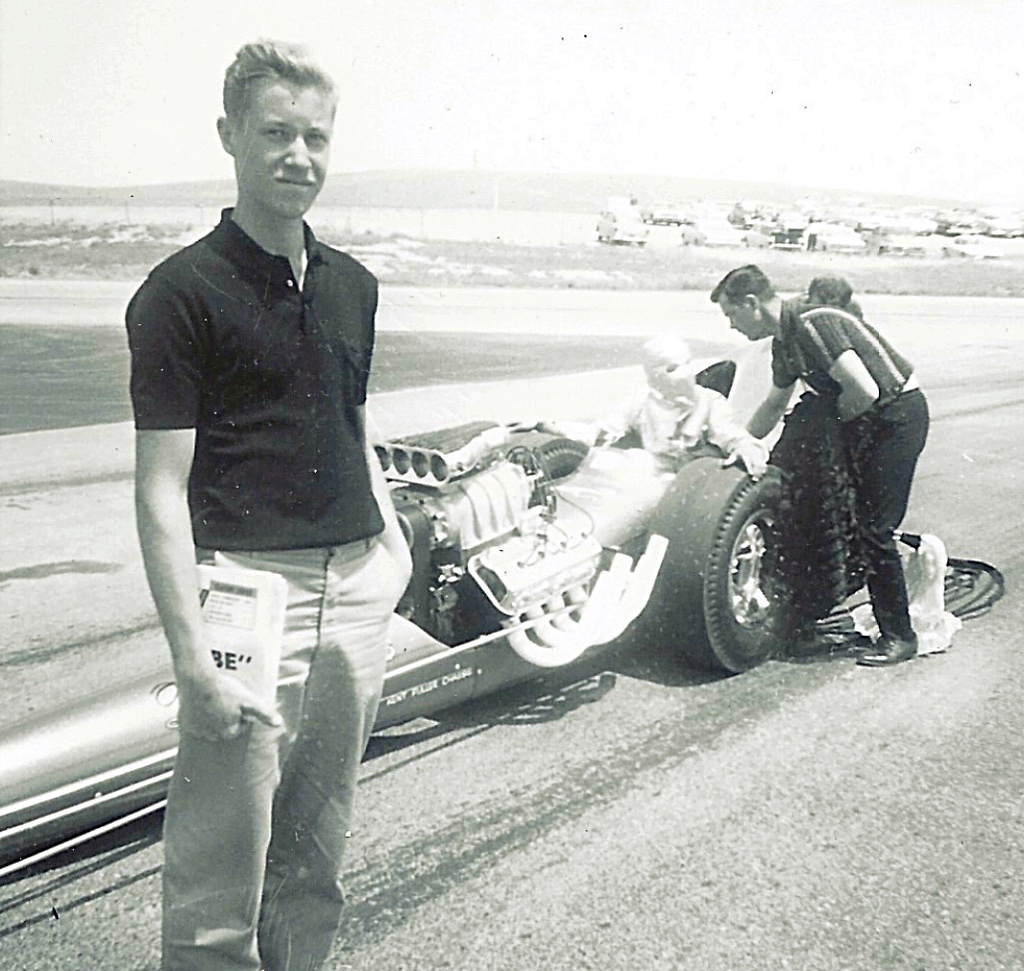 Dyer-Van Luven AA/FD, following a 7.85 et and 200.88 mph run, at 1964 Hot Rod Magazine Championship Drag Races. Craig Bashore (in dark shirt). Courtesy of Mel Bashore
Helen Sachs & Sons X/FX 1964 Mercury Comet, driven by Jack Chrisman (sitting in driver's seat), at 1964 Hot Rod Magazine Championship Drag Races. It was the world's first blown & injected nitro funny car. Courtesy of Mel Bashore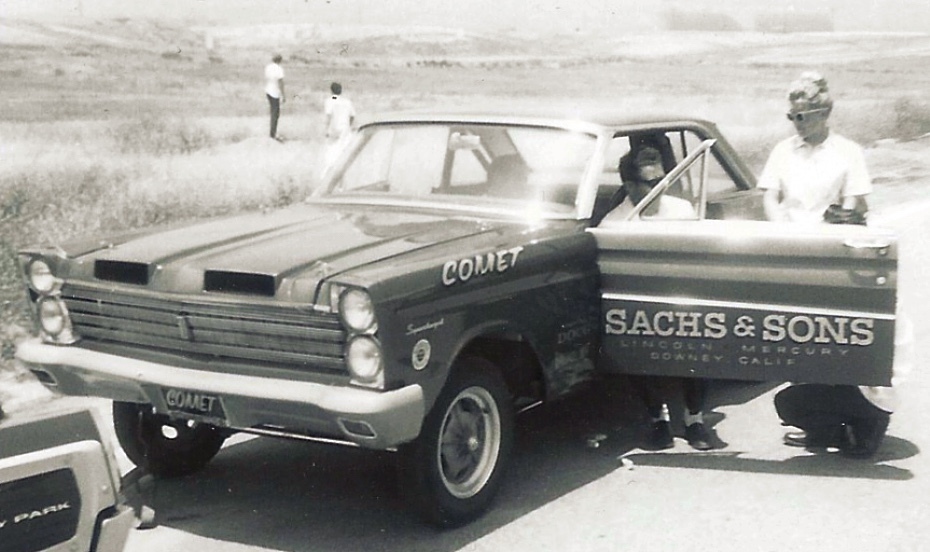 Riverside Raceway, ca. 1963=64
I don't remember the year, probably late '63 or early '64. But the only time I raced at Riverside, it was a 1/2 mile track, not the 1/4 mile. I didn't think I was ever going to get to the end.

Ron Lorenz
Sacramento
I only raced there one time, in 1984, I think. It was quite a weekend. I was running my black funny car in BB/FC.  It was a 16-car show. I missed getting in, but was number seventeen. One car could not make the first round so I got in on the break rule. Then in round one, I red lighted aginst Ricky Ruiz. He did not see my red light and crossed the center line trying to catch me. In round two, I had Brett Chrow who exploded his motor on the burnout. In the last round I was aginst Mike Andretti, not the Indy car driver, but a relative. I pulled one hell of a hole shot for the win. After the first round, the crew chief for Tom Mongoose came over and helped me with tuning. After that I was running faster than I ever had  for the round.  He put a much bigger fuel pump on my car. It was a blast to drive. It was the biggest race I ever won, beating the big boys. I'd love to know if anyone has photos of that race.

Glenn Pearmain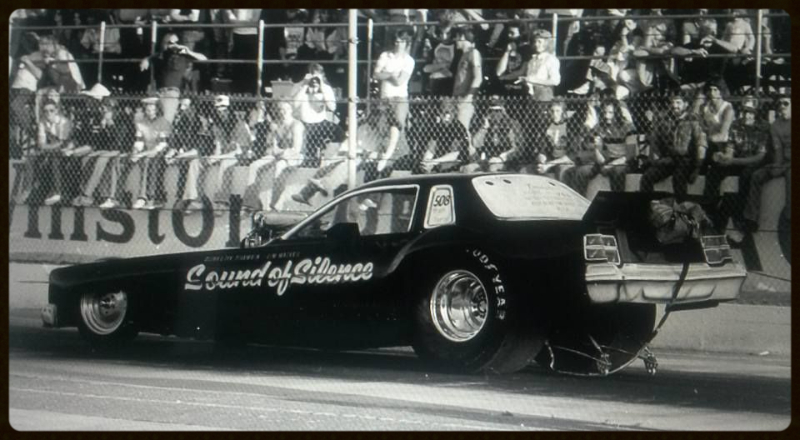 Glenn's BB/FC that he raced at Sacramento. Photo taken of it at Bonneville Raceway in Salt Lake City. Courtesy of Glenn Pearmain
Salinas
Salinas Municipal Airport, 1949
I ran a '36 Ford Phaeton, chopped and channeled, hot flathead. Because of that, I had to run Super Modified. No chance. At the first race, there was a big turnout. Lots of stockers and street racers. I don't think they had clocks!  Just four classes: Early and Late Stock, Modified, and Super Modified.

Arthur "Red" Jones,

interviewed by Don Jensen, June 1990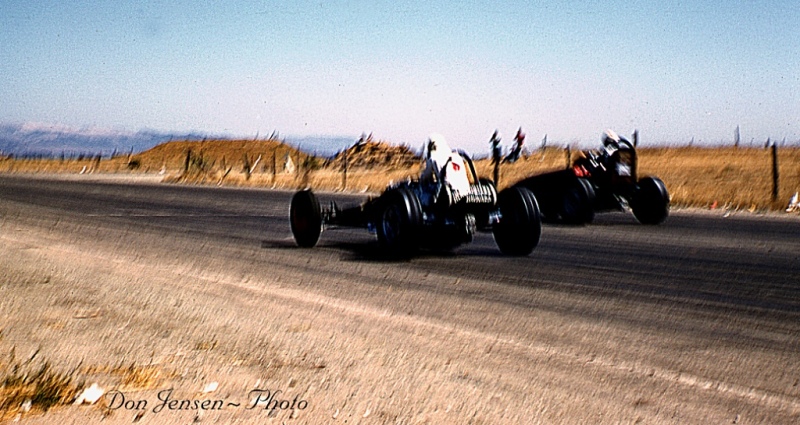 John Jipson (n near dragster), a Hayward Head Hunter, racing at Salinas in 1955. Courtesy of Don Jensen
San Carlos
San Carlos Raceway (Tidelands Circuit), 1953
At San Carlos Raceway, it was 1/5th mile. Now if you did not stop, a channel with 3 feet of water awaits you! Hayward Head Hunters George Santos and Danny Lucero were running a Hot Roadster over 100 mph in the fifth mile. They blow a clutch and bellhousing, cut the brake lines, car and         
Danny went for a swim!!  I won D Gas at 70 mph.


​Don Jensen
San Diego
Paradise Mesa Drag Strip, 1953
My father won the second NHRA event there at Paradise Mesa, on July 17, 1953. NHRA and the AMA sponsored their second event there. My father again won for the motorcycles and again challenged the winners of the hot rods which was Dode Martin and beat him. Hot Rod magazine this time gave my father credit for top eliminator in their magazine.
Guy Krant,

son of Lloyd Krant

Top Eliminator trophy won by Lloyd Krant at Paradise Mesa on July 17, 1953. Courtesy of Guy Krant
Paradise Mesa Drag Strip, 1950s
​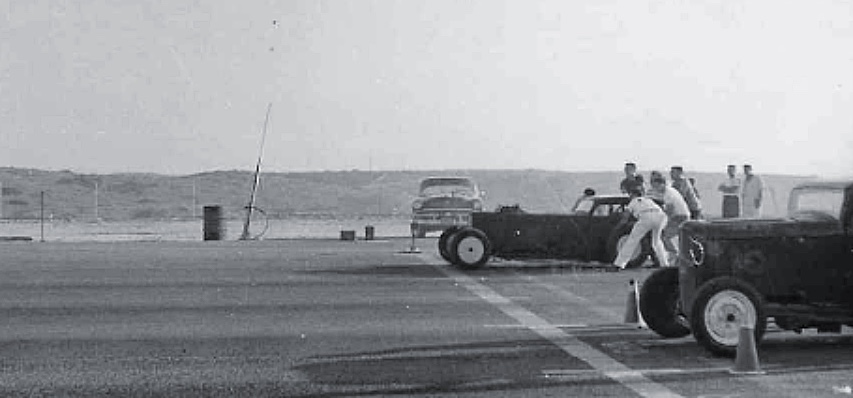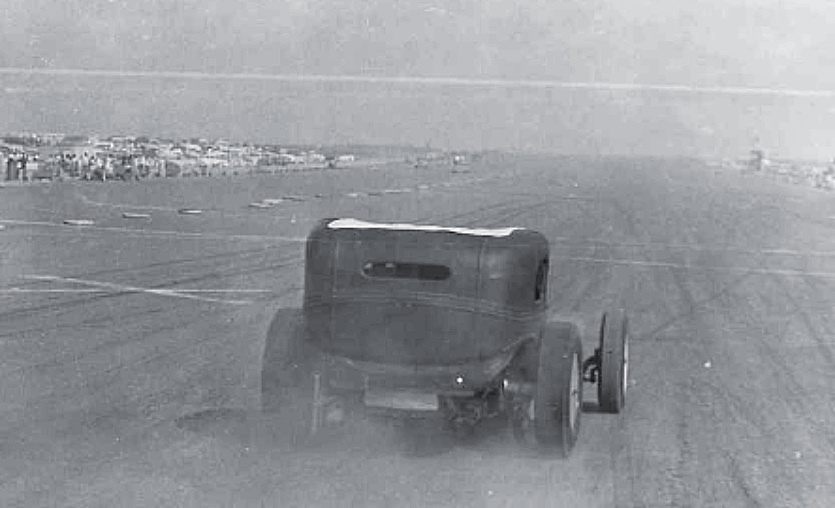 I remember the Paradise drag strip well. On the odd weekend, my father would take my mother and I up to the airfield in our '41 Caddy. He'd let me wheel the monster around the runway while sitting on his lap. One Sunday we went up for another "lesson" and encountered a fatal drag racing accident. A '36 Ford coupe went off against a Harley motorcycle and at about the half-way mark, the bike drifted into the side of the Ford. The rider lost control and his left leg was caught by the right rear bumper of the Ford. The impact threw him back over the rear wheel of the machine and his head hit the asphalt. The bike and car locked together and by the time the Ford stopped the poor guy was dead. The images of his remains have stuck with me for the last 66 years and are too gory to recount here. One of the contributing reasons for the strip's closing was the Bean Bandits' revolutionary "rail" dragster over-powered the track's available runoff area. It suffered a braking problem and shot off the end of the strip through a barbed wire fence and on to Paradise Valley Road, striking a car. Congratulations on producing such a great site!
Bill Uerkvitz
Though I was not at Hourglass Field for the drags, I was at the infamous El Cajon Boulevard riots. However I was not there as a participant. I was on my way in my '54 Austin Healy to a local coffee house, the "Upper Cellar" and luckily, I was able to pull into a friend's sports car dealership (he sold Lotus race cars) and stayed there until I could make my way out of the riot. A close friend at the time was a municipal court judge and a drag racer, and hot rodder. He helped promote the establishment of a new racing facility. We had offices in the same building and I'd park my Healey next to his "bitchin" '36 Ford coupe that was his daily driver.
Bill Uerkvitz
San Jose
Little Bonneville Drag Strip, 1955
Little Bonneville was built and run by Herm Barnick. It was a fun place, but it had a short shutoff, so no fuel cars liked it. It had a banked turn at the end. It was not good for more than 20mph. In 1955, I won about seven straight in B Gas at Little Bonneville.  Gene La Blanc had the record at 134mph. Dave Holder tried to top it with an Ardun dragster. He ended up literally covered with cow manure, after going through the fence into a dairy's yard!!! 

Don Jensen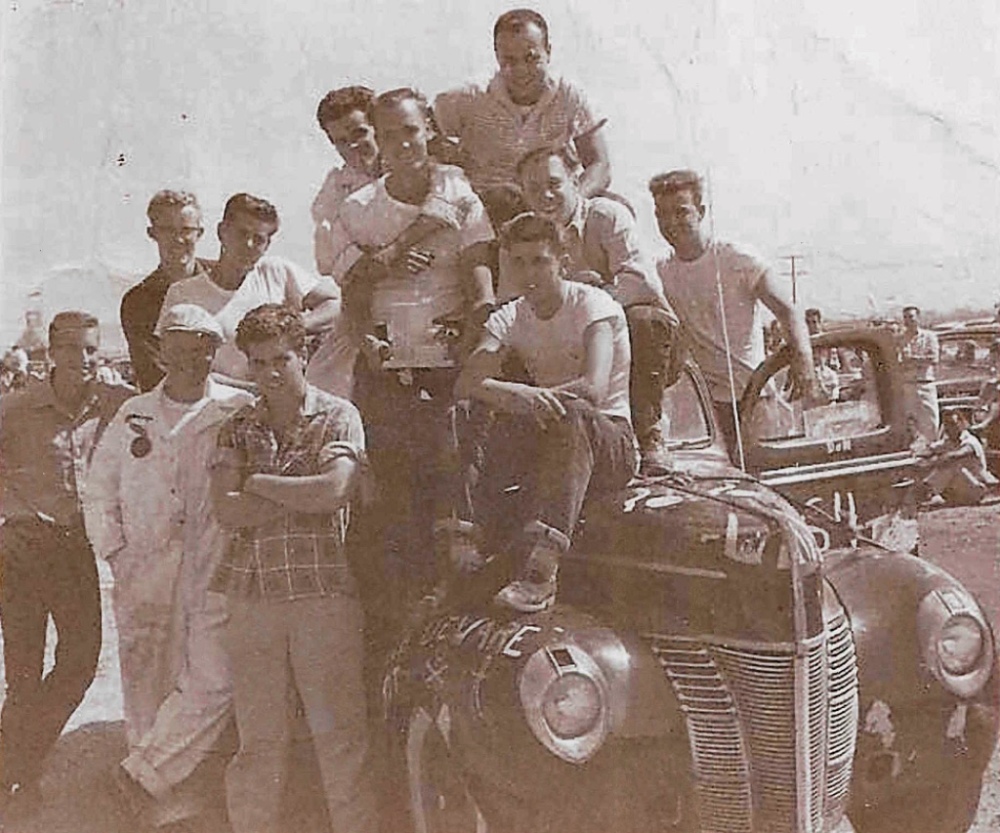 Don Jensen wrote: "Me and all my buddies at Little Bonneville after winning!" They are sitting on Jensen's 1940 Ford B/G coupe. Jensen wrote, "I paid $75 for it so no problem with the herd [sitting] on it." Courtesy of Don Jensen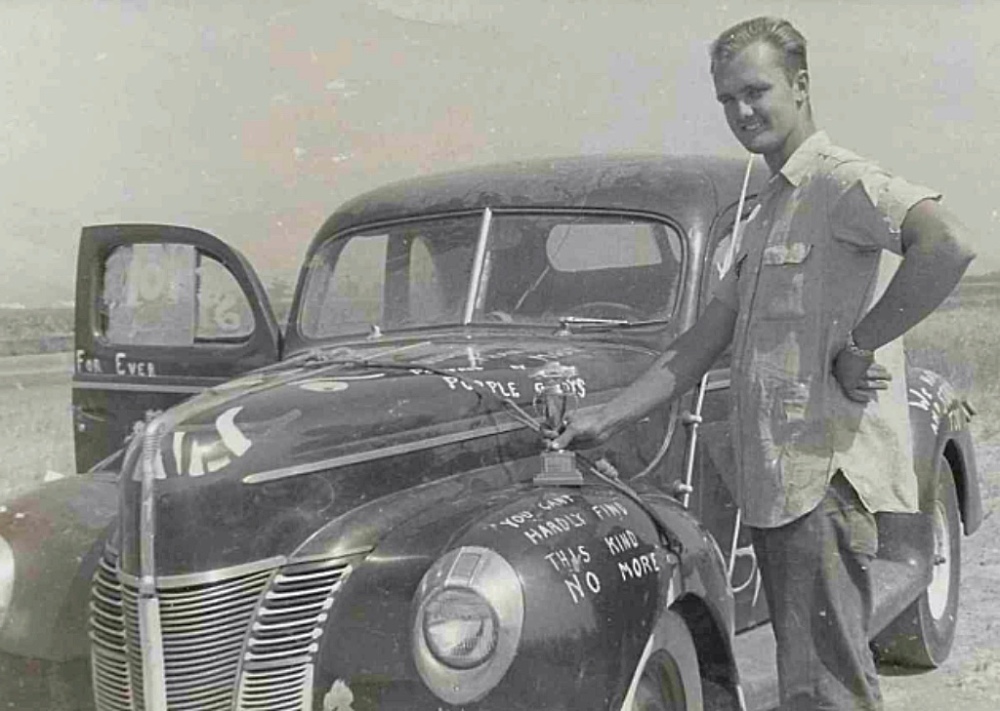 Don Jensen holding a trophy he won in B/G with his 1940 Ford B/G coupe.at Little Bonneville Drag Strip. Courtesy of Don Jensen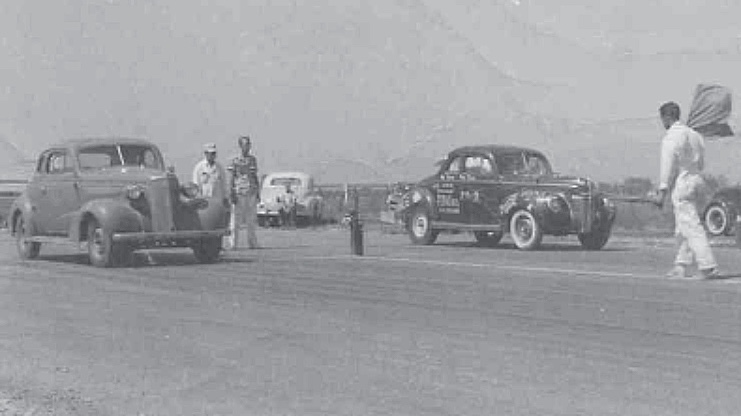 Don Jensen racing his 1940 Ford B/G coupe.at Little Bonneville Drag Strip in 1955. Courtesy of Don Jensen

Don Jensen's 1940 Ford B/G coupe, at Little Bonneville in 1955, with the new paint job prior to going to the NHRA Nationals at Graat Bend. Courtesy of Don Jensen
San Leandro
Oakland Stadium Speedway, 1952
I put the hot motor in a gutted '38 coupe and started running alcohol. Ran Lodi, but Oakland was
nearer. We won three weeks in a row! There was a real hot dog running at Oakland and my guys said, "Let's blow the doors off this guy."  And we did!!  I ran around the high bank. I thought you had to turn the wheel to the left as you came off the banking. Wrong!  I almost went into the infield!


Arthur "Red" Jones,

member of Hayward Head Hunters,
interviewed by Don Jensen, June 1990

Oakland Stadium Speedway, 1952
My father was Emmett Cull. He built dragsters and was mentioned in Hot Rod Magazine. My dad ran around with Ronnie Sterbenk. They loved their cars. [Editor's note: Emmett Cull first began winning drag races in 1952 at Oakland Stadium Speedway. In 1954, he was a member of the Oakland Clutch Busters car club. He raced his fuel-injected Chevy-powered dragster to speeds upwards of 140 MPH at the Winters strip. In 1956, he raced a twin-engined dragster, becoming the first racer to top 140 MPH at Kingdon. Diane also said that her father raced at the "Reno flats." Don Jensen also said that Cull raced at Bakersfield's Minter Field and at Lodi. Cull's friend, Ron Sterbenk of San Leandro, had a rear-engined modified coupe that he raced successfully at Kingdon in 1956.]

Diane Cull Tyson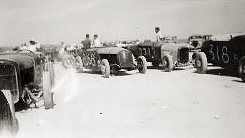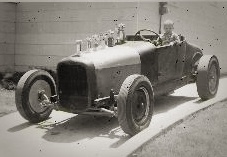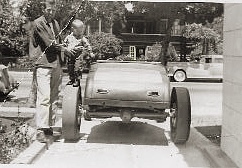 These photos date from circa 1952, when Cull was winning races at Oakland Speedway. Courtesy of Diane Tyson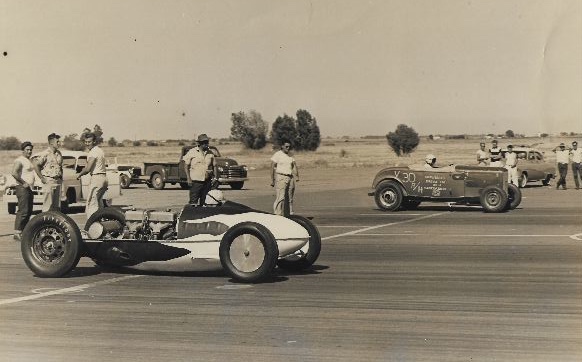 Don Jensen listed Cull as runnng a 6-cylinder Chevy powered belly tank car in 1952. Could this be it? Courtesy of Diane Tyson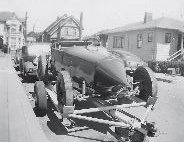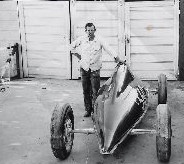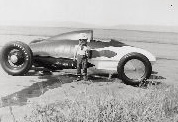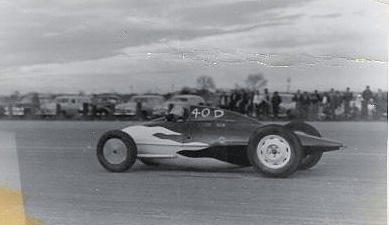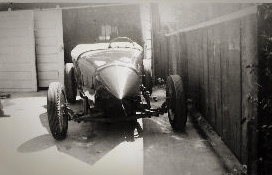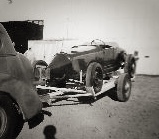 All photos courtesy of Diane Tyson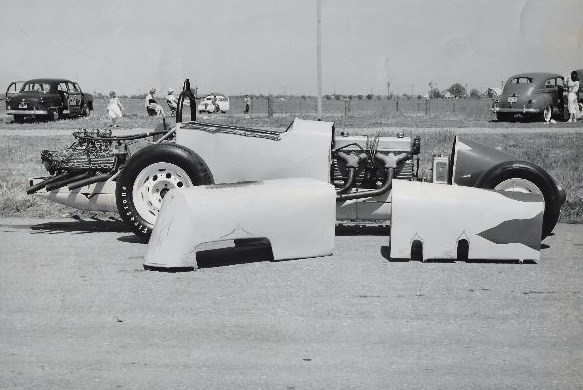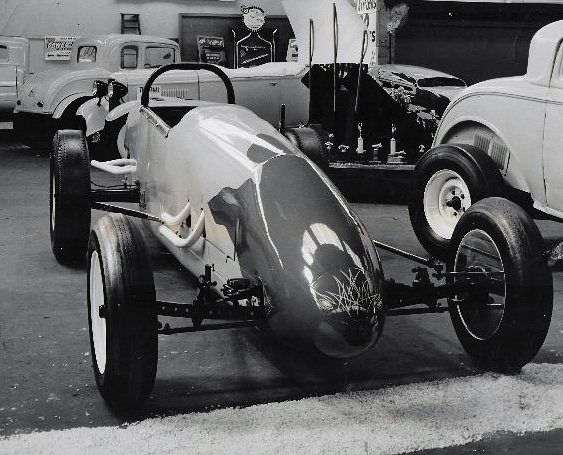 This is the dual-engined dragster that Cull raced to track records at Kingdon in 1956. The bottom photo shows the car in the Hayward Head Hunters club display at the February 1956 Oakland Roadster Show. Don Jensen wrote that the front motor was a Wayne Chevy and the rear engine was a flathead, running on fuel. This car was among the first ten twin-engined dragsters ever built. Courtesy of Diane Tyson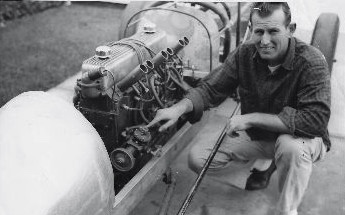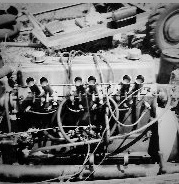 This is a good photo of Emmitt Cull and a close-up (right) of the engine in the above photo. Courtesy of Diane Tyson
Santa Ana
Santa Ana Drag Strip, 1953
My father won Top Eliminator of the Third Aniversary Race at Santa Ana on June 28th, 1953. He beat out [Art] Chrisman with a run of 127.80.
Guy Krant,

son of Lloyd Krant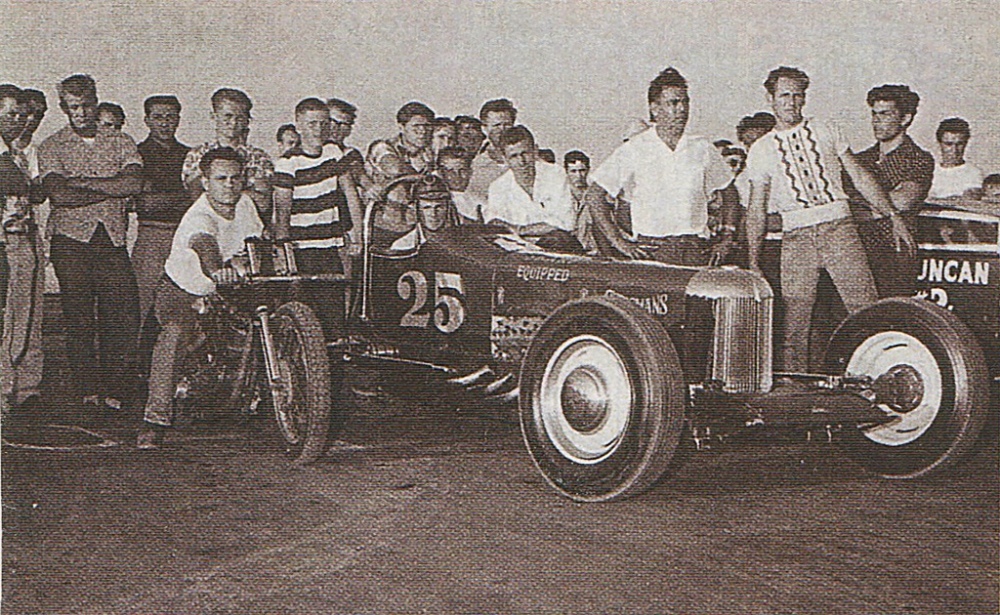 Hot Rod Magazine photo of Lloyd Krant and Art Chrisman at June 28, 1953 race at Santa Ana. Courtesy of Guy Krant
Santa Ana Drag Strip, 1955
On July 4th, 1955, the Hayward Head Hunters, Al Hubbard and Lee Scott turned 138mph, and got Top Eliminator. The "Bustle Bomb" got Top Time at 148mph. I won Heavy Gas  in my Cad-engined  '40 Ford. My final run was against Peggy Hart in her Cad-engined '55 T Bird. She was the strip owner's wife and the only girl I ever raced. Hayward Head Hunters won 5 trophies.

Don Jensen
Santa Ana Drag Strip, 1951
I got into the racing bug right after the war. They started the midgets running at Soldier Field. I used to go down there every night in 1946. I bought a Whizzer and mounted it on the bicycle. Then I got into motorcycles. I built my first hot rod in 1947. A buddy of mine, Gordie Potter, had moved with his parents from Park Ridge, Illinois, out to Hawthorne, California near L. A. My friend, John Stone, and I drove out to California from Illinois in 1951 on a two-week vacation and visited him. I had my '41 Cadillac at the time. An engine that I had built up in there was the flathead Caddy. Originally it was 346 cubic inches. It was bored an eighth over. It was like 373 cubic inch with Reo truck pistons in there and Model A wrist pins and a bunch of stuff. An Edmunds manifold with a pair of 97s. So we drove out there and one day, we went over to visit Gordie. He said, "Have you been to the drag strip?" I said, "No. I don't know anything about it." So he said, "Well, you've got to go." We picked him up on a Sunday to go over to Santa Ana. When we got close to the place, he said, "I'm not paying to get in there." My buddy said, "What do you mean?" He said, "Stop the car." So I pulled over to the side. Gordie said, "Open the trunk." I opened the trunk and Gordie crawled in the trunk. He didn't pay to get in. He was a pretty sharp guy, but a crazy guy. He was running a '32 Ford roadster, a regular hi boy, with a Chrysler Hemi in it. This is 1951. August of '51. So we went out there. I ran the Caddy there. I got several pictures, at least a half a dozen, maybe more in my scrapbook of me at the starting line with a '34 Ford and a '46 Ford and a '46 Chevy. I got pictures of a guy in a belly tanker that had a Ford flathead with a couple of 5-gallon Blitz cans for coolant, one on each side. I just ran the one time out there. I think I finished second in class. I don't remember. While I was out there, I visited Harmon-Collins. I used to use their cams. I left my distributor there for their ignition expert there, Bud Curtin, I didn't even know they were into the stuff at the time. It was an old Delco-Remy, what I called a two-phase. . . . It fired off of two coils with increased saturation time on the ignition and you had a real hot spark. The cam was well worn. He ran it up on his test rig while I was there. Luckily I had the stock distributor. I put it in and left that there. They reground it and shipped it back to me when I got back to Illinois. 

Jim Verden,
telepone interview with
Mel Bashore, August 11, 2017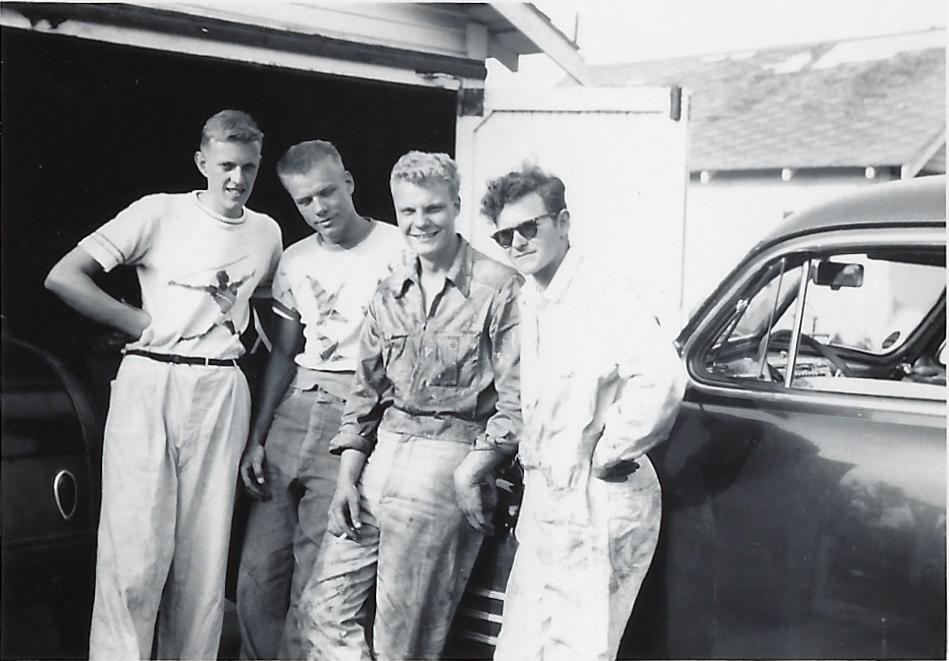 Jim Verden and his buddies from Illinois in California on their trip in 1951. Right to left: Jim Verden (wearing dark glasses), Gordon Potter, John Stone, unidentified friend of Gordie Potter. Courtesy of Jim Verden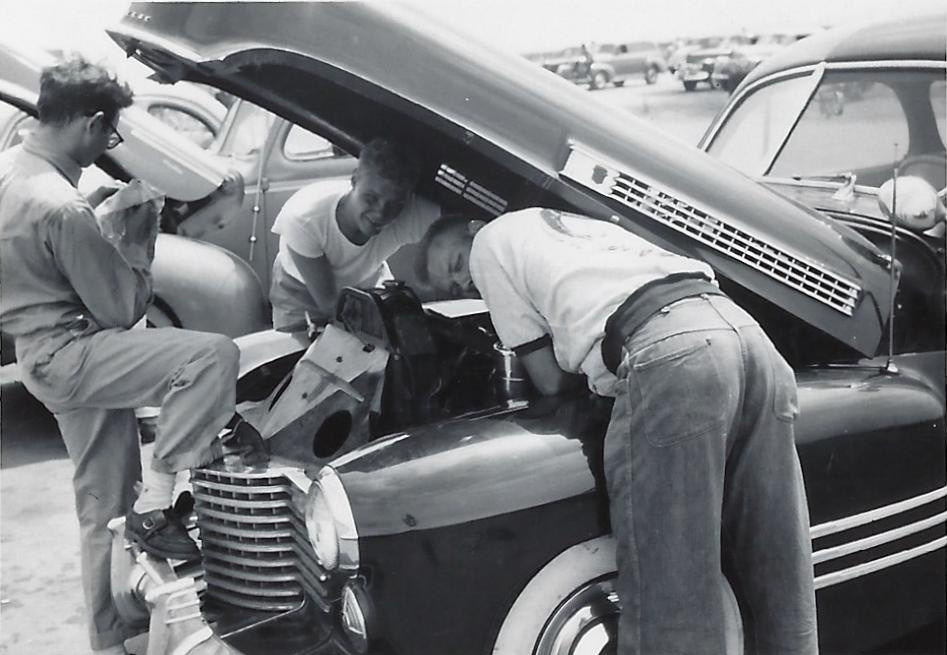 Jim Verden and his buddies under the hood of Jim's 1941 Cadillac at the Santa Ana Drag Strip in 1951. Jim has his foot on the bumper, gapping a spark plug. John Stone (rear to camera) and Gordie Potter (facing camera). Courtesy of Jim Verden

Jim Verden on the starting line in his 1941 Cadillac, racing against a 1946 Ford at the Santa Ana Drag Strip in 1951. Courtesy of Jim Verden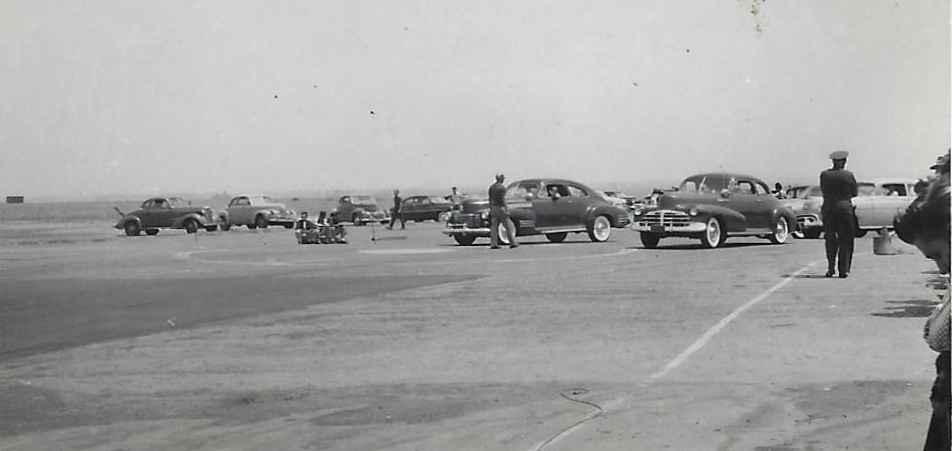 Jim Verden on the starting line in his 1941 Cadillac, racing against a 1946 Chevy at the Santa Ana Drag Strip in 1951. Courtesy of Jim Verden

Jim Verden on the starting line in his 1941 Cadillac, racing against a 1934 Ford at the Santa Ana Drag Strip in 1951. Courtesy of Jim Verden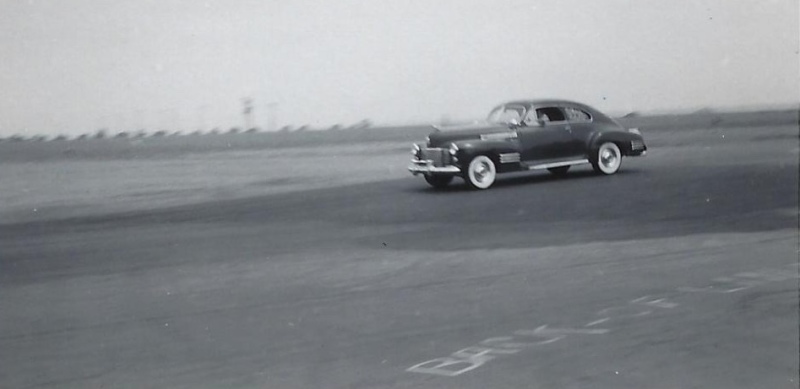 Jim's Cadillac, running classy-looking Vogue white wall tires, making a run at the Santa Ana Drag Strip in 1951. Courtesy of Jim Verden

Santa Ana Drag Strip, 1951. The chopped coupe #666 (sporting the "mark of the beast" number from Revelation 13:18) set the top speed of the day with a run of 127 MPH. Courtesy of Jim Verden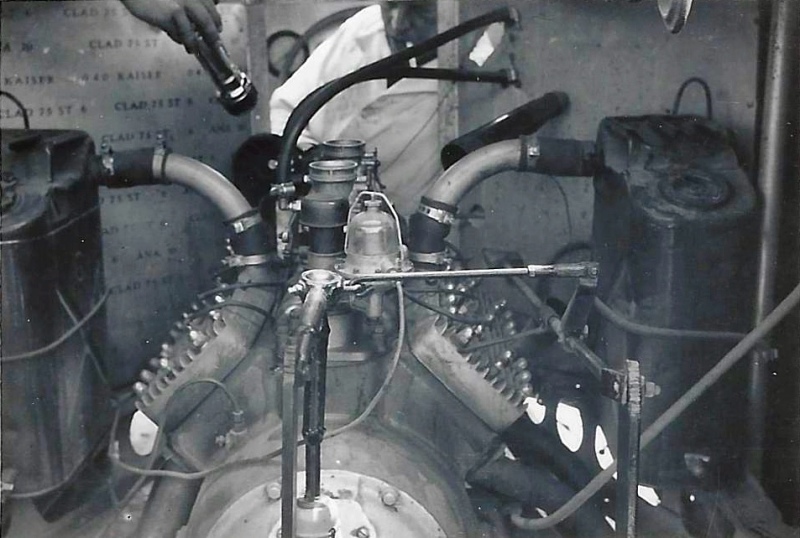 Ford flathead engine flanked by two 5-gallon Blitz cans in a belly tanker at Santa Ana Drag Strip in 1951. Courtesy of Jim Verden
Santa Ana Drag Strip, 1955

 I took my '50 Ford that had a '55 Cad engine down to Southern California. While I was down there, I raced it at Santa Ana. I drove down there in this car. I drove it every day. I took first place and got a trophy.  I have a picture of the starting line. There was four cars in a row, taking off at the same time, going down the drag strip. They wanted to tear me down because they thought I was illegal. I said, "For a trophy, I'm not going to tear my engine down. I'm on vacation. And if you want, you can keep the damn trophy." But they gave it to me anyhow. They were kind of pissed off because my car ran so good. It was in 1955 that I drove my car down to Southern California.  It was at the track that the Bean Bandits ran at all the time. 


Jim Beardslee,
telephone interview  with 
Mel Bashore, September 27, 2017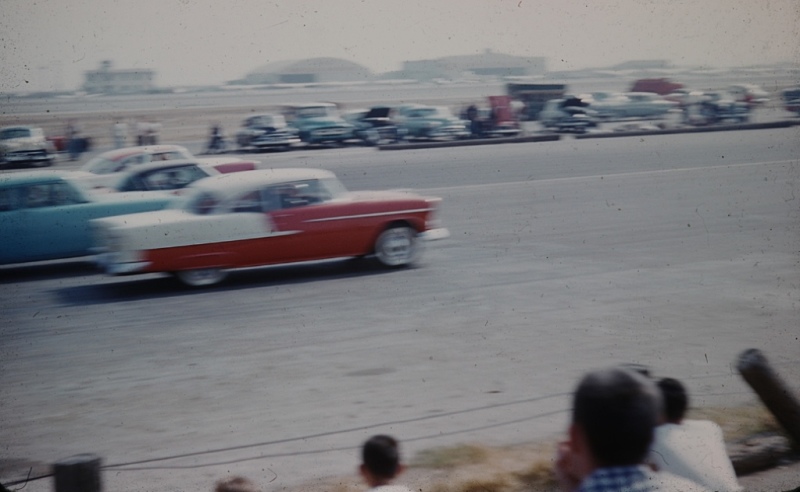 Four cars race off the line at Santa Ana in 1955. Courtesy of Jim Beardslee
Santa Ana Drag Strip, 1958

I did not race here, but in early 1958 I was in the meager pit crew for Denny Weinberg and his "Coast Grain Special," a Chrysler-powered Kurtis 500. Denny was a bit of a show-off and had flown his new Beechcraft Twin Bonanza from Fullerton to Orange County, while a couple of us lackeys schlepped the Kurtis down from Norwalk. The Kurtis consistently turned 11 second times. A mouthy owner of a new Corvette challenged Denny to a race. Denny accepted and even offered to spot the Corvette 100 yards. The officials complied (I doubt any track would do this today) and the Corvette was spotted and given his own starter. The Kurtis won rather handily.


Jack Barnhart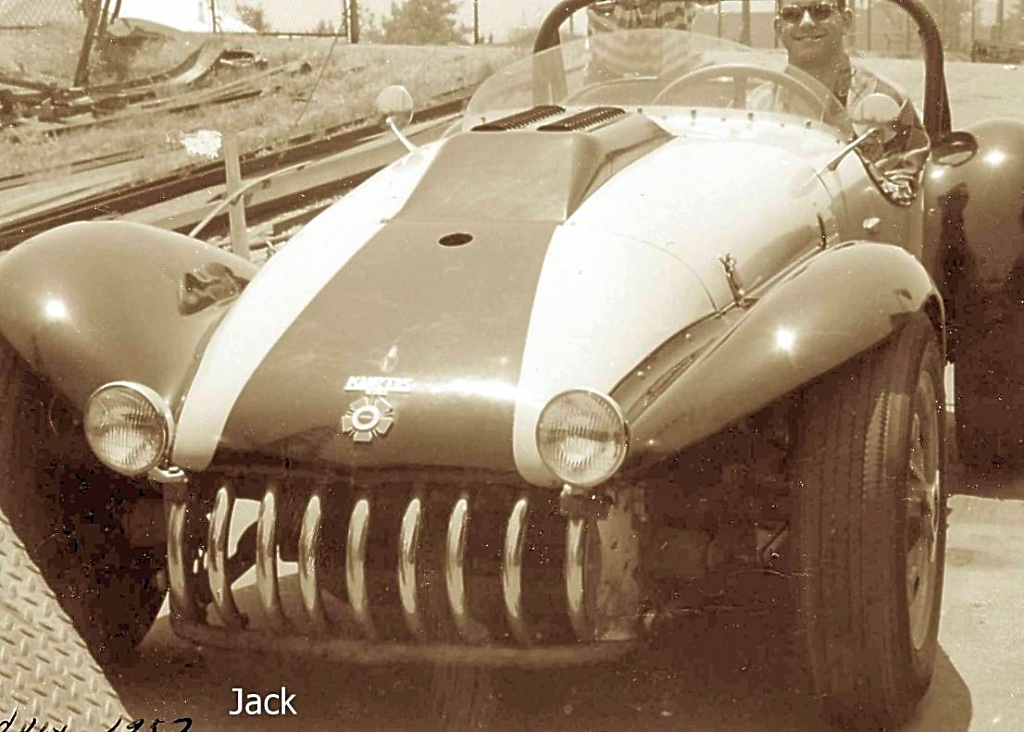 Jack Barnhart at the wheel of Denny Weinberg's Kurtis 500. Courtesy of Jack Barnhart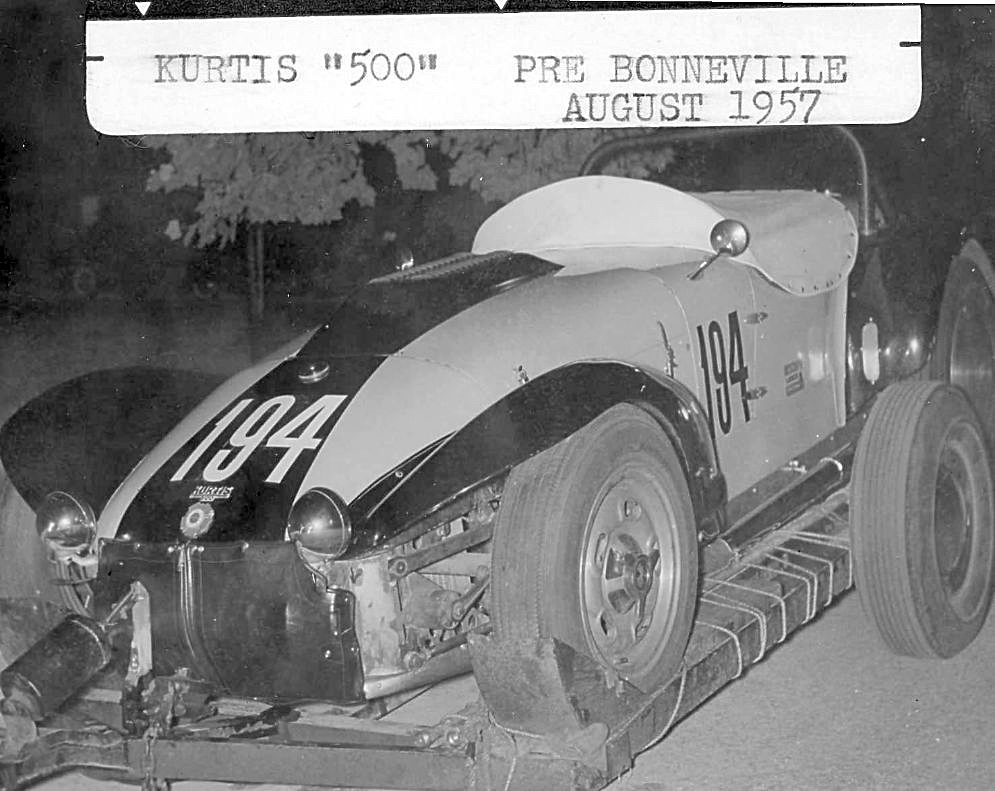 Denny Weinberg's Kurtis 500. Courtesy of Jack Barnhart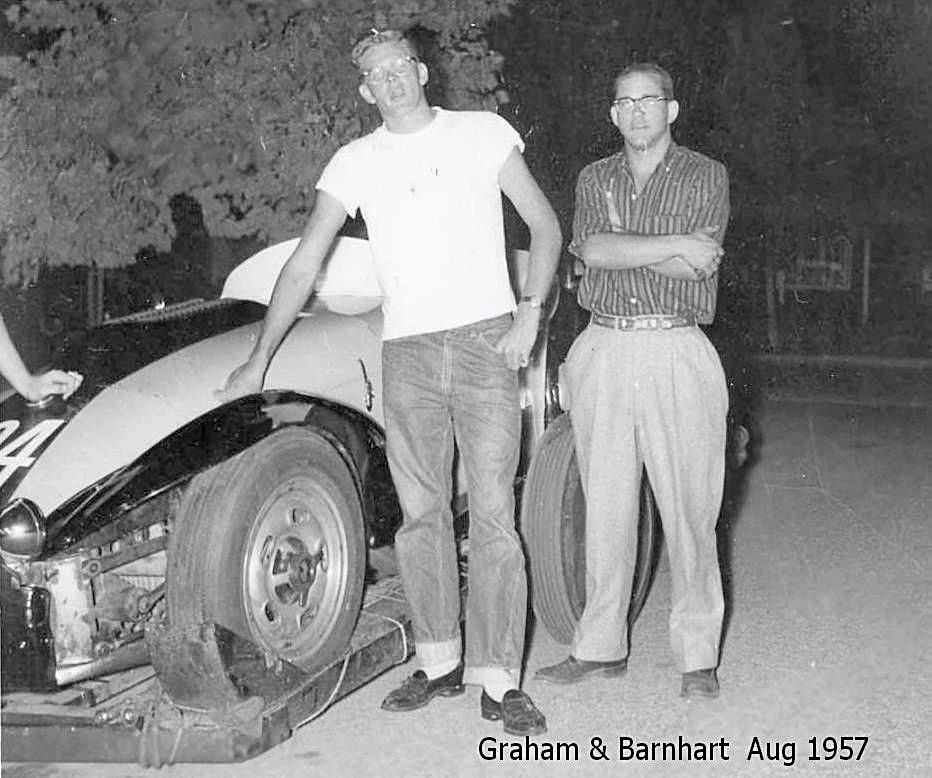 Dick Graham and Jack Barnhart standing next to Denny Weinberg's Kurtis 500. Courtesy of Jack Barnhart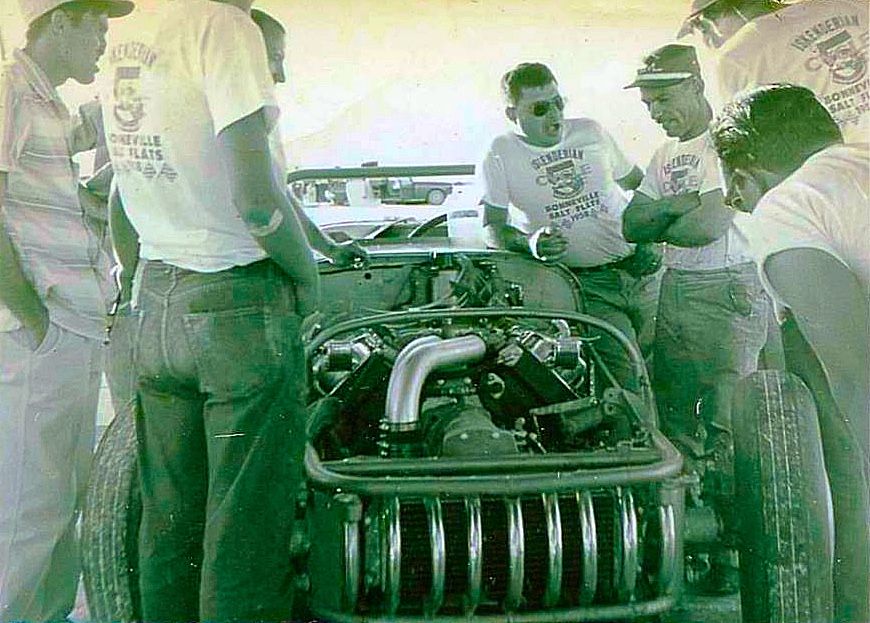 "Boo" (third from left), Ed Iskenderian (dark glasses), and Tony Sampo (chief mechanic) by Denny Weinberg's Kurtis 500 at Bonneville in 1958. Courtesy of Jack Barnhart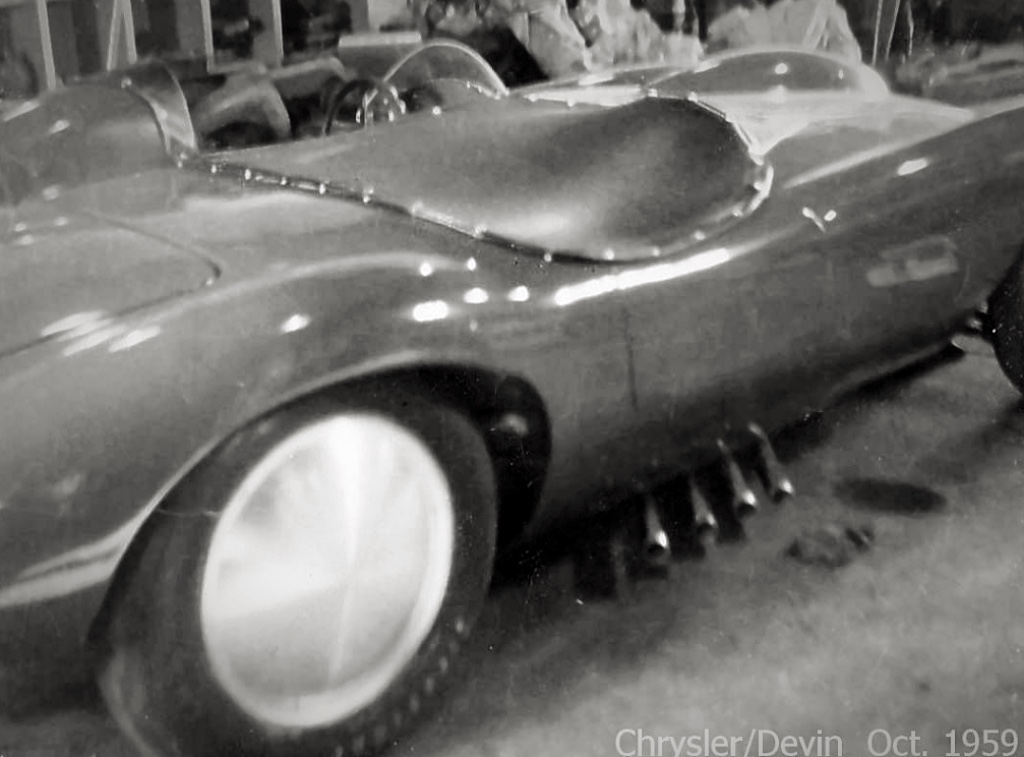 Denny Weinberg's Chrysler-Devin in 1959. Jack Barnhart is looking for any film or photos that Dean Moon might have taken of Denny's Devin at El Mirage prior to August 1960. Jack wrote: "I watched as Dean took home movies of Denny's Devin, which replaced the Kurtis.  His trip through the mile trap was something to behold." Courtesy of Jack Barnhart
Santa Maria
Santa Maria Dragway, 1953
I was there at the start. Santa Maria opened in 1953. I, along with the Cal Poly Roadster Club, dug the postholes down the strip sides, spring 1953.
Don Jensen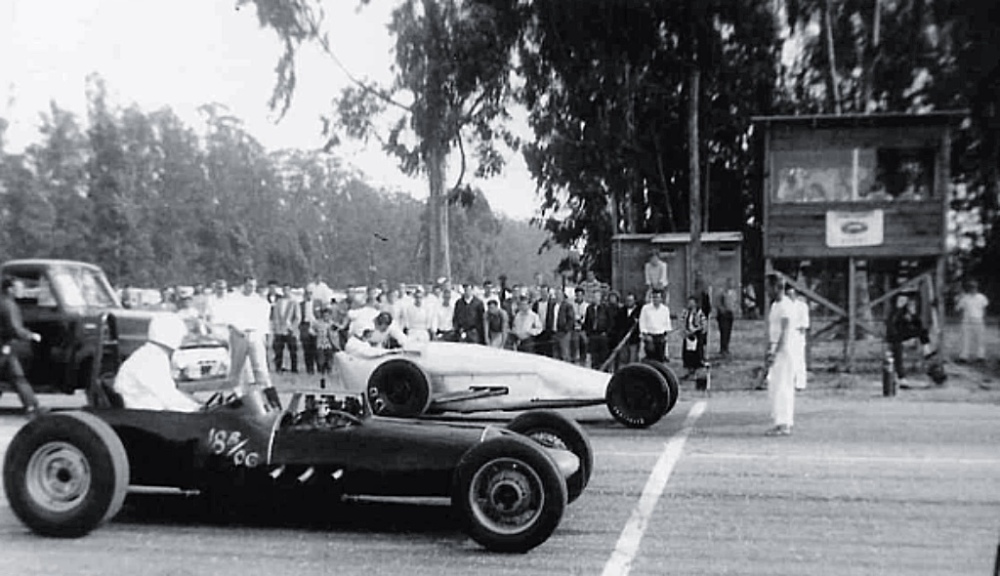 Doug King (far lane), a member of the Hayward Head Hunters, in his flathead dragster at Santa Maria drag race meet in 1956. Courtesy of Don Jensen
Santa Rosa
Cotati in 1956 was a rough WWII airstrip. I only went once. I had just installed an Olds motor in Hayward Head Hunter buddy Donn Blount's '39 Ford coupe. Donn later was a top fuel driver. We won C Gas that day!  But I saw one of the most exotic dragsters ever! The Mohoney Brothers. As close as I can describe, it was a circle track midget, lengthened 10 or 12 inches with a full-sized flathead. Its weight was just over 600 pounds. Ran high 120s. When the day was over, their short-bed pickup had two 2x12s sticking out the back. Four people picked the dragster up and set it in back of the truck!!

Don Jensen
I began going to Cotati Dragstrip in the late '50s as a spectator and began actually running my car in time trials or grudge races at the Half Moon Bay strip south of here. In July 1961, a bunch of us from our Daly City, California, neighborhood decided we would run at Cotati. The day before the Sunday races, I had my '56 Plymouth dyno-tuned by Andy Brisio at the Champion Speed Shop in South San Francisco. He said my car impressed him with the dyno readings and he said I should enter the class eliminator races. I took his advice and they entered me in C Stock Automatic or C/SA. They still had a flagman starter and my friend coached me on how to stand on the brake and push the throttle to set up the launch. I could not believe it. I survived eliminations, tied in the championship run, and came back to win the rerun for a trophy. When I got home and my Dad saw the trophy he grounded me for a week!

Jack Lewis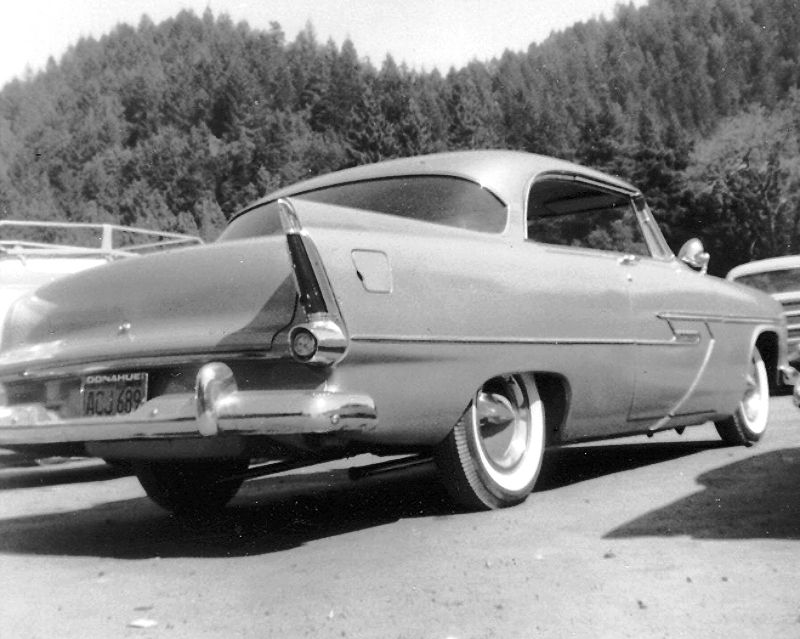 Jack Lewis's 1956 Plymouth Belvedere that he raced at Cotati in 1961. Courtesy of Jack Lewis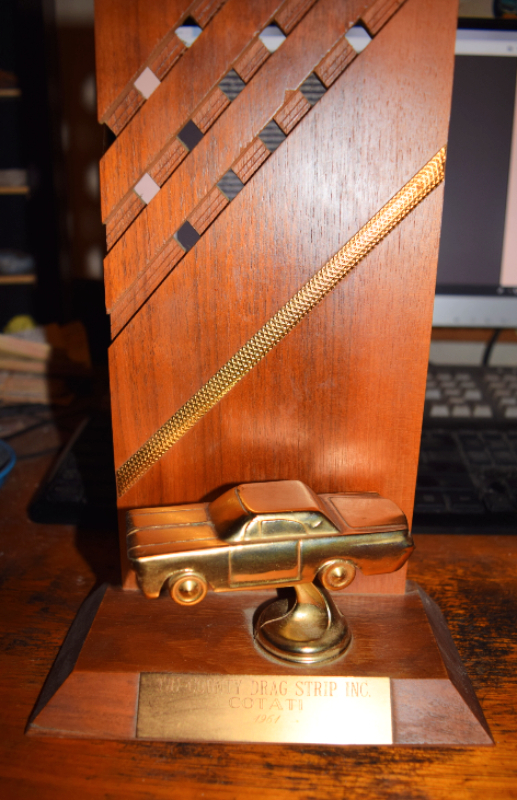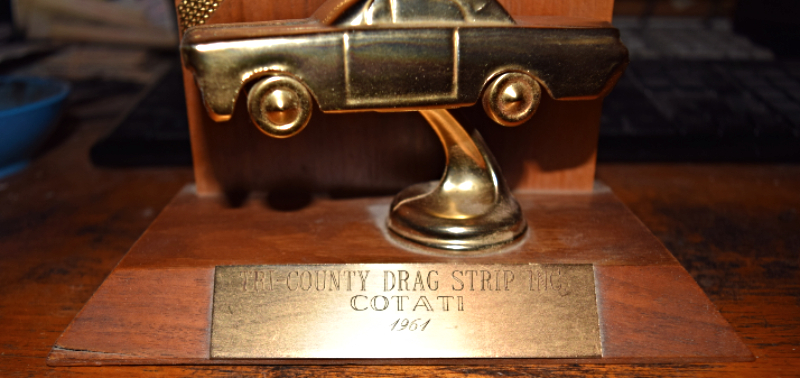 This is the trophy that Jack Lewis won in 1961--and that got him grounded at home for a week. The plaque reads Tri-County Drag Strip, Inc., Cotati, 1961. Courtesy of Jack Lewis
Scott's Valley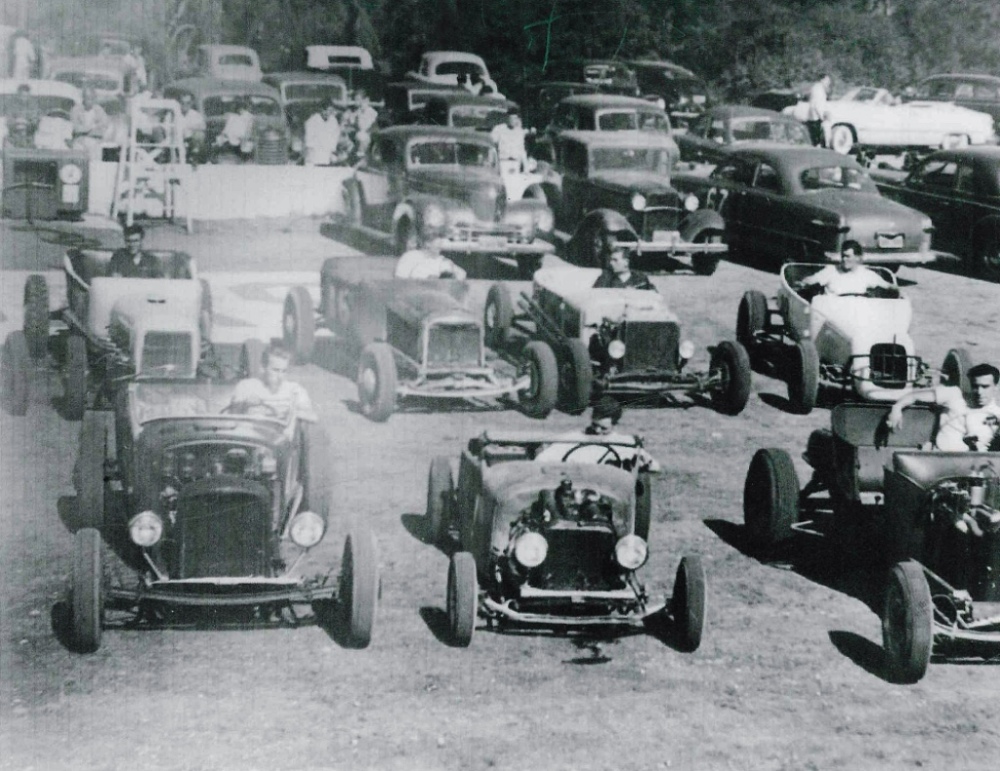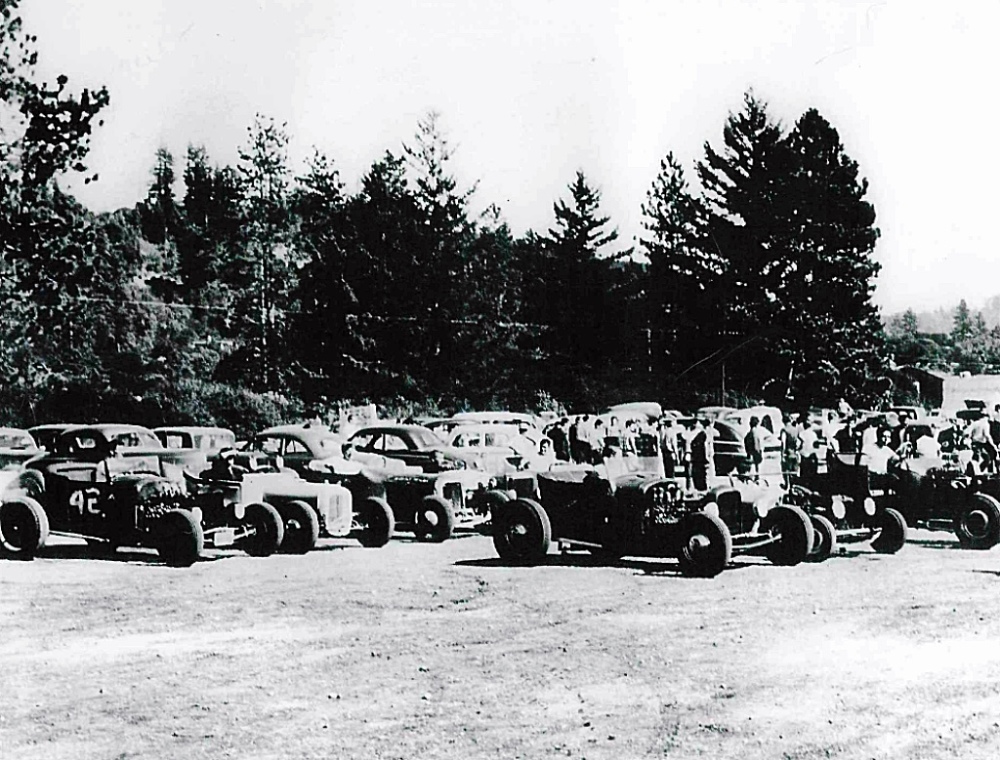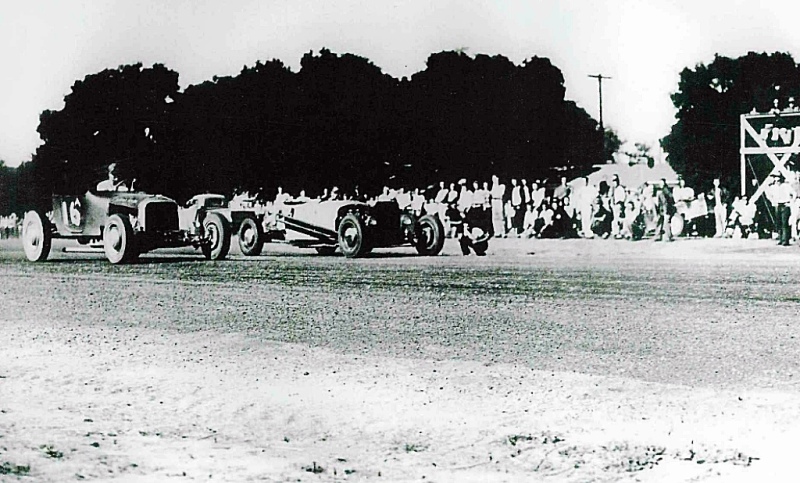 Drag race meet held at Sky Park Airport in Scott's Valley in 1949. Courtesy of Don Jensen
Tracy
New Jerusalem Air Field, 1950
I ran my first race at Tracy in September 1950. [From a March 1990 interview with Bob Cress, Jensen continued]:  [The airfield was in the] middle of the Tomatos! Top time Woody Lee, Oakland, 115 mph, a track roadster. Stock class '50 Caddy with stickshift. Timing was by two rubber hoses run by Sam Crooks, a turntable with a paper disk. First hose started a needle, second hose stopped it. Compare marks to a chart to get time. Actually worked well.

Don Jensen
Vacaville
Vaca Valley Raceway, 1958-59
Vaca Valley in 1958 had new pavement, but sometimes there was lots of wind! It ran north to south. The shutoff was in a 20-foot cut. Windy?  Just run the other way. They did not even move the clocks. I only brought my twin-engined dragster once because the wind was so bad, They called it off. Later that year, I went to watch. A friend from high school and former Hayward Head Hunter, Eugene "Red" Case, was driving Clark Cagle's slingshot. He did not shut off! He hit a hay rake. Red was not killed,
but passed a week later from pneumonia. In the summer of 1959, I ran the M&R Willys A Gas Supercharged coupe at 129mph. There were no dragsters, so I made Top Eliminator. On the first run, I beat a 150mph Hot Roadster. Next I faced a 120mph competition coupe. But my engine did not run under 3000 rpm. I was ahead halfway when my engine quit! It was our only chance to win Top Eliminator with a street coupe. I let out the clutch on  the return road. No fuel pressure! Sid Masters, who loved to tinker, fessed up. He changed the pressure adjuster on the Hilborn pump, something Hilborn says NEVER touch!!!! 


Don Jensen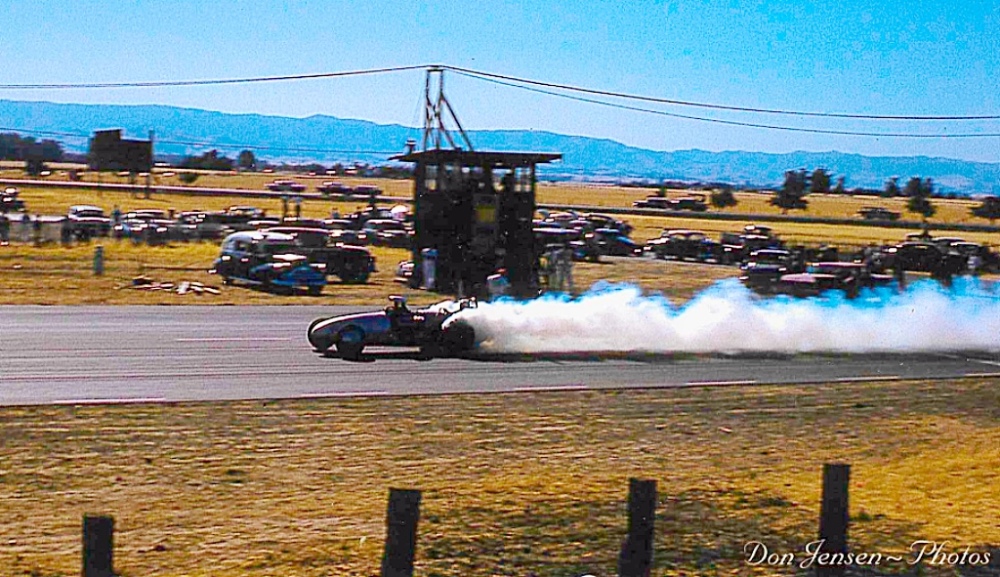 Art Chrisman smokes the tires at Vaca Valley Raceway in 1958. Courtesy of Don Jensen
Vaca Valley Raceway, 1957
My mom raced a 350 class motorcycle in '57 at Vacaville. I have a paper saying "Joan Caswell, Class Record Holder 73.50 MPH, Vaca Valley Dragway, 1957."

Fred Jones
Winters
I went to the 1/2-mile drags at Winters in July 1954. It was a big deal, a big turnout. The top time and top eliminator went to Scotty's Ardun Ford belly tank from San Bernadino, California. Most of the other dragsters ran out of gear at 135-140mph. No quick-changes!! On my 20th birthday, it was the first time out with my new Cad-engined '40 Ford. I turned 116mph. At that time and place, there were no motels. Most of us slept on the ground!!!


Don Jensen