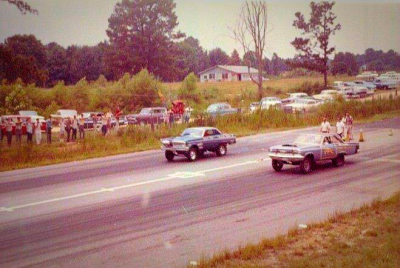 Gary Dyer driving Mr. Norm's 1965 Dodge Coronet S/FX-1 (near lane), Phenix City Dragway. Photographer unknown
The pavement is about where the starting line was. It is now a driveway to a home.

Ken Blalock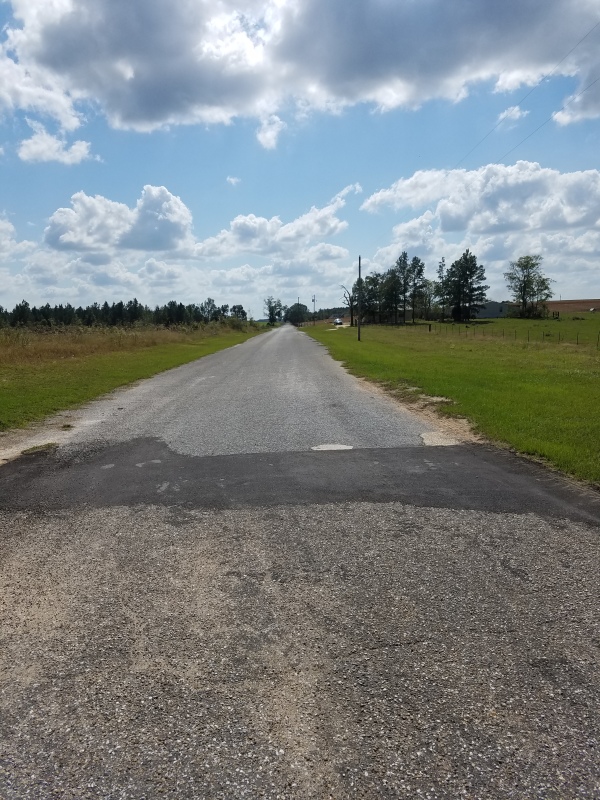 I raced at Big A dragway in the '70's. It's been a long time, but they had no timing equipment at that time. I remember Ellis Milner was there with his Vega. They had floodlights with a toggle switch to start the races. The shutdown area was sand and you had to turn around and drive back down the track to get to the pits if I remember it correctly.

Billy Wiggins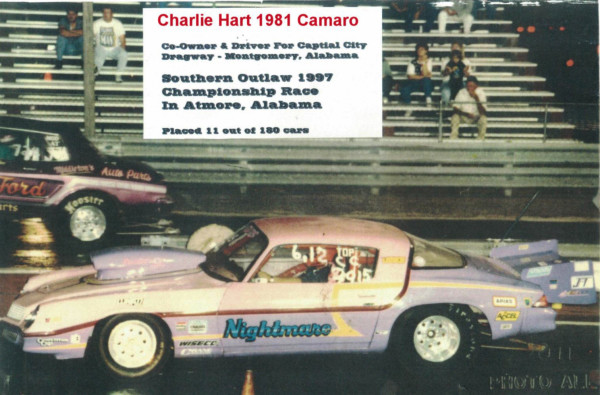 Thank you for preserving grassroots drag racing. Your site is an amazing collection. My spouse, Gary Moore, passed away in January 2017 and your site inspires me to keep on with his mission at Atmore Dragway.

Dona Moore
Miller's Ferry Drag Strip,  1966
My dad raced in our family car--a 1964 yellow Mercury Comet Caliente. Then a  Comet GT (red). As a 12-year-old girl, I beat his time and they let me run at Miller's Ferry near Camden, Alabama. This was in 1966. Needless to say, I was the talk of the strip.  Some guys left when I beat them, but most were nice--bringing me water, etc (in the Southern heat). Wayne Jones was a friend of my dad's. Some people would remember him, too. I'm from Mississippi near Meridian.

Ann Culpepper Barnett
Bama Dragway opened in 1991. I raced a motorcycle in 1993. It hosted big end of season races with up to 125 cars in the early 1990's. It is closed now in 2017.

Phillip Reed
in 1959 I won the NHRA Southern Regional at Napier Field in the Semi-Modified class, which was a catch-all for anything with an engine swap-modified engine. I ran a 1954 Ford 2-door post body with a 1957 Ford Y-block engine, 3 two's, full cam, etc. In '58-'59, I also won the same class at Odena, Tuskegee, Coalburg, Mtg and Helena, Alabama. I still have the trophies.

Norman Browning
Glencoe
Green Valley Drag Strip,  1974-75
I raced at Green Valley in 1974 and 1975. I ran a 1968 Mercury Cougar with a small block engine. I ran E/MP and G/Gasser classes. I quit racing there when the strip went from NHRA rules and sanctioning.

Jimmy Thomason
Although I am a native Floridian, I have lived in Alabama for 25 years. I race a drag Buick GS at a local track. There is a local old timer, Horace Johnson, who has raced here. He raced at Glencoe at the Green Valley Drag Strip for years in his '67 Fairlane 427. He now owns a factory '67 427 race car that was shipped to Jim Van Cleve Ford in '67. He is a local legend.


Jim Wyckoff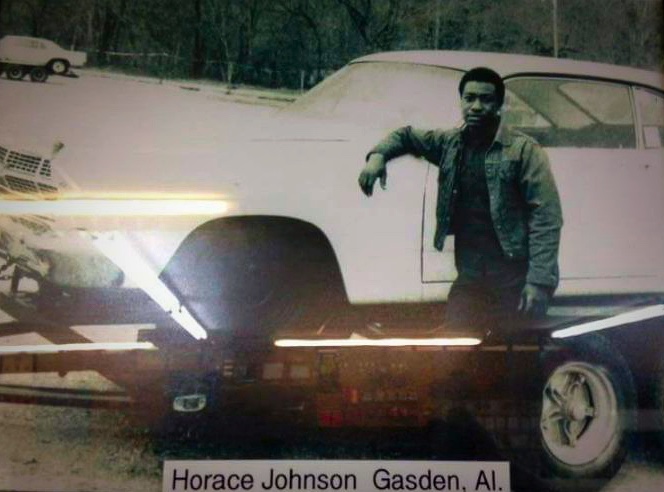 Horace Johnson with his 1967 Ford Fairlane at Green Valley Drag Strip. Courtesy of Jim Wyckoff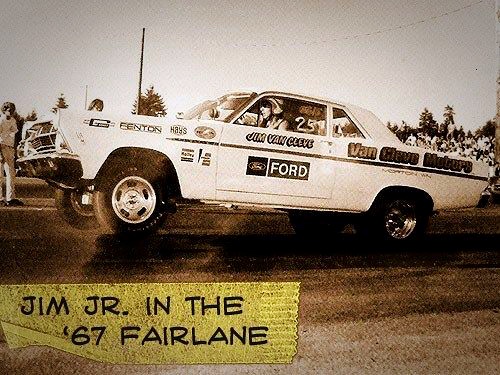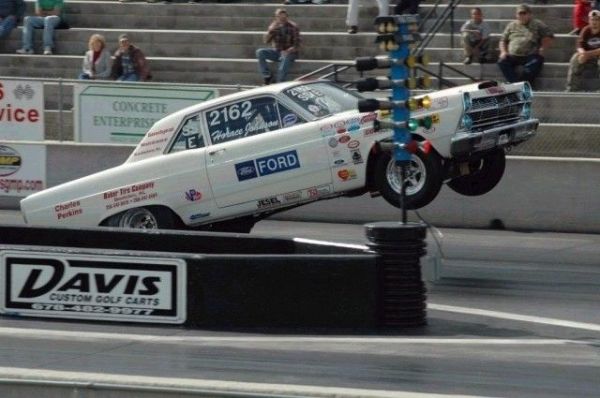 Horace Johnson's son, Stephen, now races the '67 Ford Fairlane in the Super Stock class and won the Nationals a few years back. He raced at Glencoe, Alabama's Green Valley Drag Strip.
. Courtesy of Jim Wyckoff

Harvest
Satellite Dragway,  1971-72
Thought you might be interested in this as it has your dad [Jimmy Sharp] on it. This is in 1971 when I and my partner Larry Berry was calling it Satellite. We changed the name to Madison County Dragway in 1972. As you will notice the flyer lists John Amacher with the Willys. He ran the Willys in 1971 and early 1972 before building the Vega in mid 1972.

Clay Jacks, written to David Sharp,

who forwarded it to Mel Bashore, 6/30/17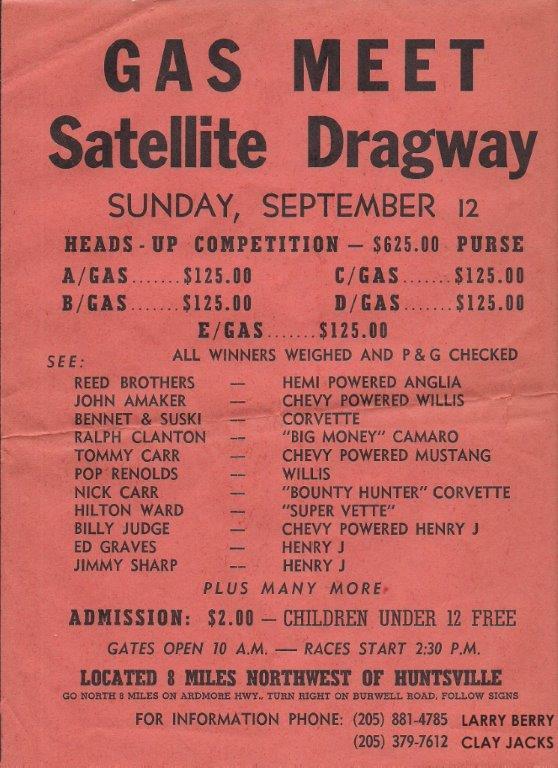 September 12, 1971 gasser meet flyer. Courtesy of Clay Jacks

Manassas Drag Strip, 1962
This Manassas trophy was dropped off at the shop and given to me due to the locals knowing I collect that type of stuff. It was in an estate yard sale.

J. David Sharp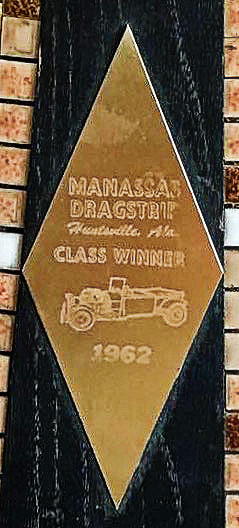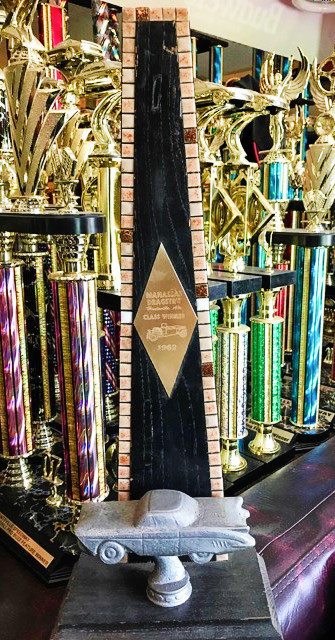 1962 Manassas  Drag Strip trophy and  close-up of plaque. Courtesy of J. David Sharp

Montgomery
Capital City Dragway, 1990s
I know who could tell you most anything you would want to know about this track during it's '90's operations. My father, John B. Hart, was the one who operated and ran the track in partnership with Jim Haynes. Haynes was too ch____n s__t to put his name on it for fear of hurting his elevator business. The track more or less closed as a result of issues with the land owner Jack Daniels, who we leased the property from. [He was] always trying to renegotiate the lease and/or undercut the lease agreement and everyone kind of just got sick of it. There was also a lack of racer support at the time because of a slow economy in the area at the time. Before we purchased the drag strip, the track was called Montgomery International Drag Strip or Dragway. I forget which.

Charlie Hart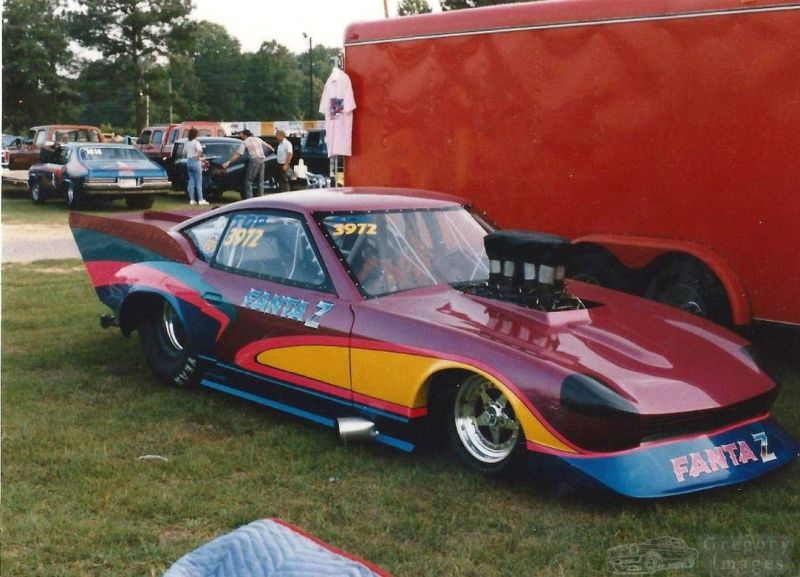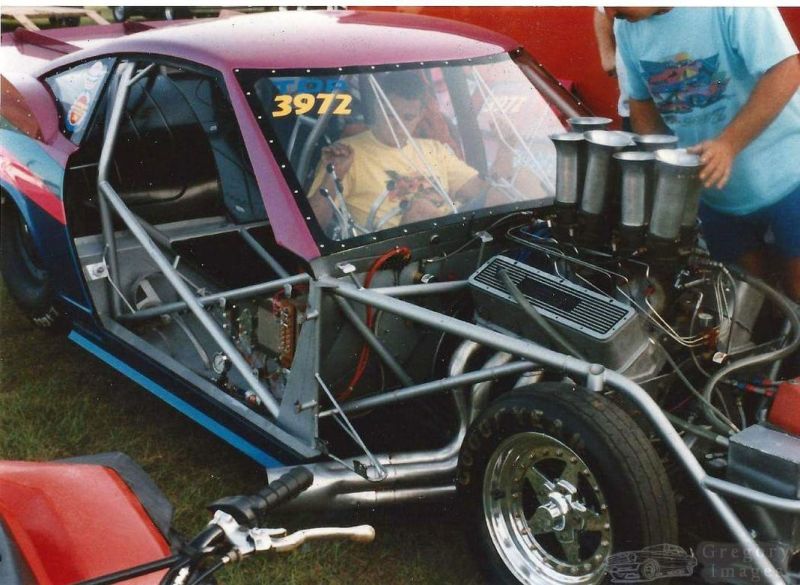 Mike Neil's "Fanta-Z" at Capital City Dragway. The Harts later bought this car when Neil built a new car.  Courtesy of Charlie Hart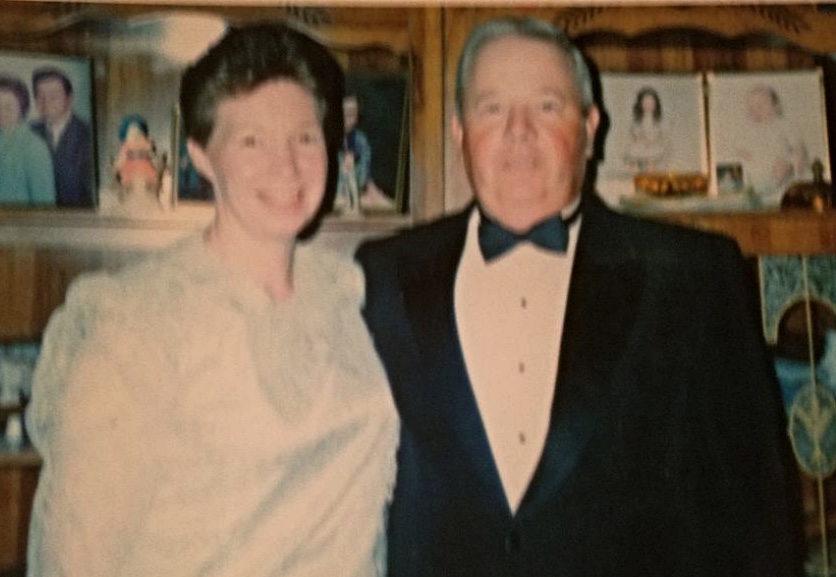 Tina C. and John B Hart, on the night of John's induction into the Motorsports Hall of Fame in Mobile, Alabama.  Courtesy of Charlie Hart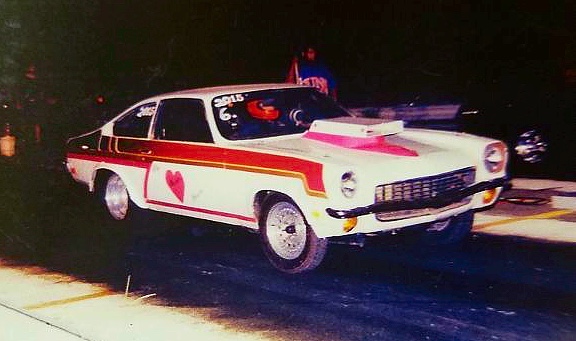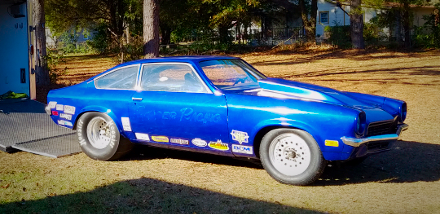 Tina Hart raced this 1972 Vega GT at drag strips in Alabama. The top photo shows Tina driving at Capital City Dragway at a regular Saturday night points race. She won three points championships in the Super Pro class at Capital City Dragway with this Vega.  Courtesy of Charlie Hart

Capital City Dragway, 1970s
This photo shows John B. Hart driving his '53 Corvette, sponsored by his speed shop that was on Chandler Street in Montgomery. In this photo, he was racing at the Gunter Annex Track. I believe it was called Gunter Air Field Dragway.  [Editor's note: Interestingly, the drag strip that was across from Gunter Air Force Base was also called Capital City Dragway. That was the same name that John B. Hart called the drag strip that he operated in the 1990s that was located just north of the Montgomery Speedway.]

Charlie Hart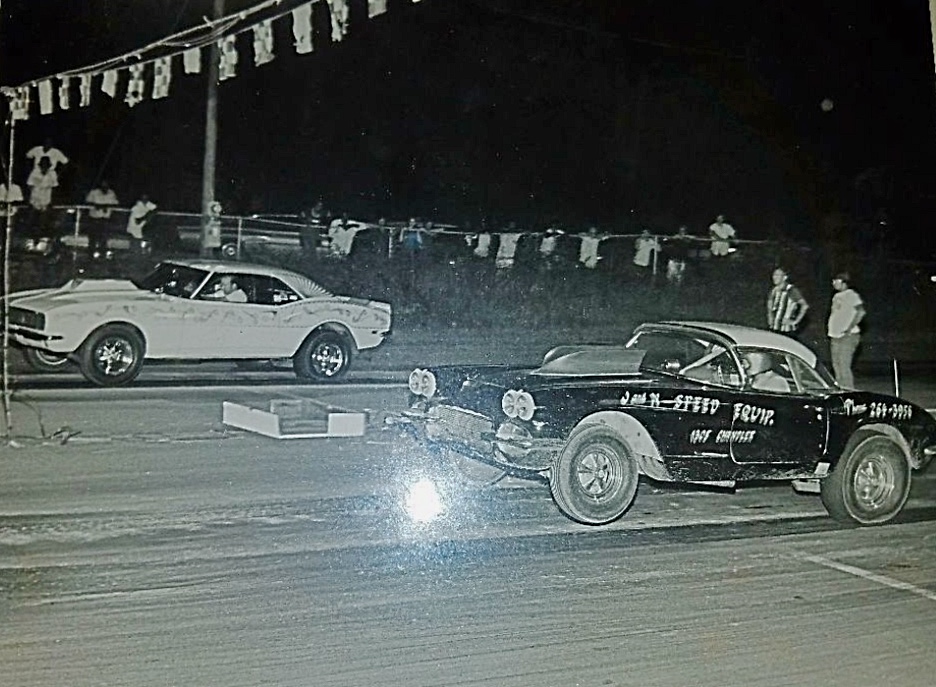 John B. Hart leaves the line at Montgomery's first Capital City Dragway in his '53 Corvette. The engine in this Vette was built by Elliot Sadler of Bessemer.  Courtesy of Charlie Hart

New Hope
New Hope Drag Strip, 1966
I went over to my dad's (Jimmy Sharp) and in the shop found this trophy on the shelf from New Hope Alabama Drag Strip. He was a class winner with his 1955 Chevy in 1966.

David Sharp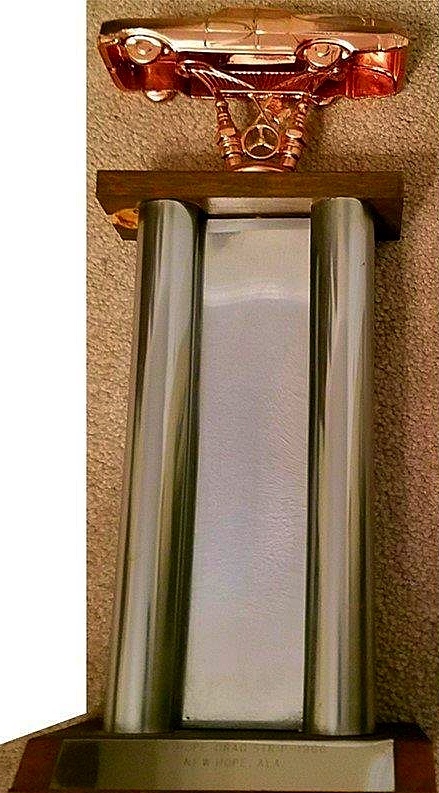 Jimmy Sharp's class winner trophy from New Hope Drag Strip in 1966, including close-up of base plaque. Courtesy of J. David Sharp

Newton
At the time that we wre running this '72 Vega GT around the state, it  was black with a stack injection 406 in it. My aunt, Nancy Garmin, later bought it and drove it until her health wouldn't allow it anymore,. She ran it at Dade County Dragway and other tracks in Alabama. The car was called "Baby" at one time. I bought it after my aunt couldn't drive it anymore.
Charlie Hart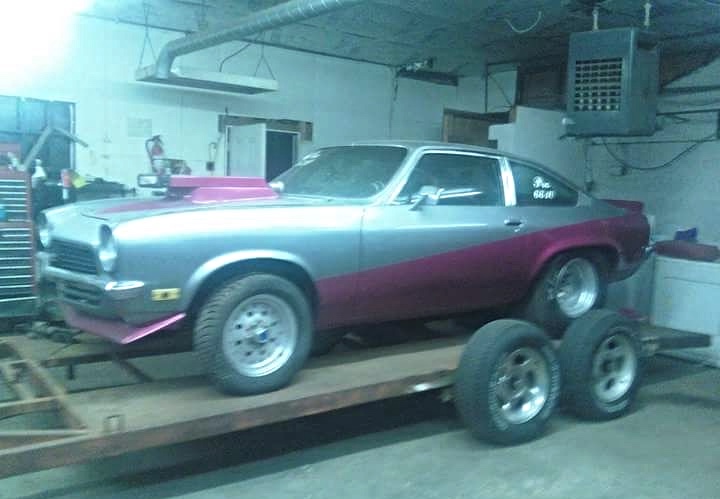 Phenix City
Phenix City Dragway,  early 1960s
The only thing I remember about the Phenix City strip was trying to find it. I drove to Columbus, Georgia, and stopped and asked for directions, and the man told me to go down the road and drive across the bridge and I'd be in Phenix City.  I did, then I stopped and asked how to get to the track and the man told me to drive down to the bridge and go across to Phoenix City.  So I did. Then I asked for directions and that man told me the same thing. I was listening to the radio and they were advertising that night's races, and each time they announced that Drag Strip News would be there that night. [He was bringing Drag Strip News to sell at the race.]  I kept hoping they were right.  Somehow I finally got into Phenix City and found the strip. I didn't have any more problems after that, just a normal night. But the only thing I recall was trying to get there. I don't think I'd been drinking. I didn't like to drink before going to the races. Maybe that was the problem. I was too sober to follow directions.

Ed Bernd, Jr.
Phenix City Drag Strip,  1972
Mike Moore and I raced our AMX SS/C at Phenix City in 1972.
Les Kinney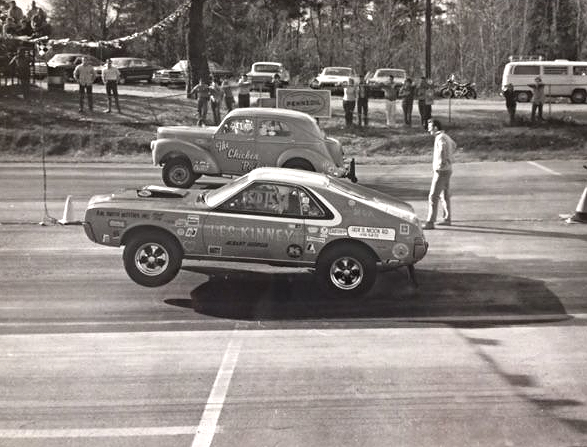 Les Kinney going against Bill Madden's NHRA record-holding D/A "Chicken Pickers" '40 Willys at Phenix City. Courtesy of Les Kinney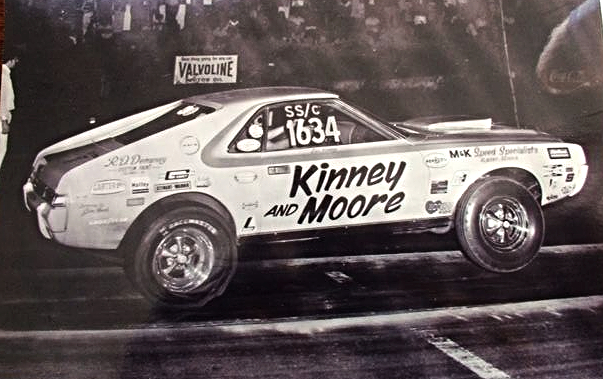 Les Kinney is seen here racing at the 10th annual NHRA Alabama-Georgia-Florida State Championship race at Phenix Dragway. Courtesy of Les Kinney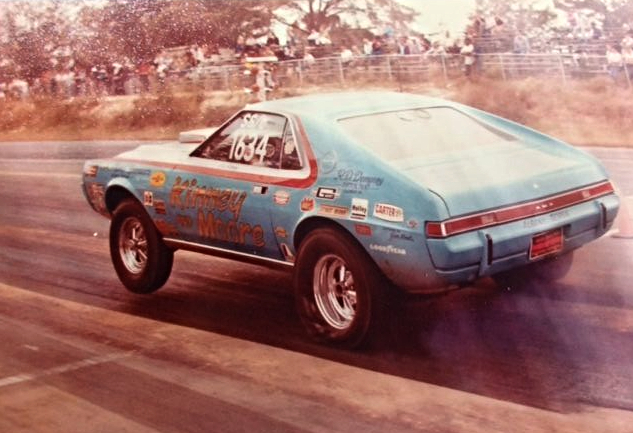 Les Kinney is lifting the front end again at Phenix Dragway in 1972. Courtesy of Les Kinney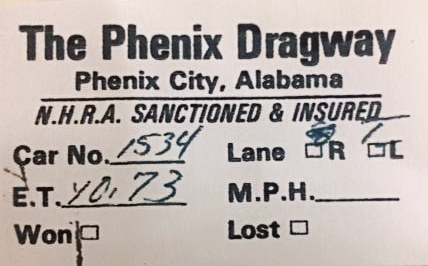 Les Kinney at Phenix Dragway in 1971, with an accompanying old time slip from that time period. Courtesy of Les Kinney

Shawmut
My father is almost 82 now. There were not many dragsters in the southeast back in those days, says my dad. My dad used to race in Valley, Alabama, at a drag strip called Shawmut drag strip. He witnessed a dragster from Birmingham, Alabama, fail to shut down and over run the strip and flip upside down in the  Chattahoochee River. The driver was pinned inside upside down. Dad told me everyone rushed to his rescue, and jumped into the shallow river and physically lifted the dragster up to save the driver, but they all arrived minutes too late. Dad was friends with a local east Alabama drag racer, J. C. Sizemore, with the "Golden Rod" gasser. J. C. was a bit older than my dad and was a bit of a mentor to many of the younger drag racers in the east Alabama area. J. C. continued to modify his '55 Chevy to a more radical appearance.  He was a regular competitor at almost all the Alabama, Georgia, and northwest Florida drag strips. Dad was building a '55 Chevy C/G gasser, but his racing plans came to a halt when I was born. Dad said in his best young days, he could race Friday nights at Montgomery Drag Strip, then either Valley [Shawmut] or Tuskegee on Saturday afternoons and finally Phenix City Drag Strip on Sundays. 

Bill Capps, III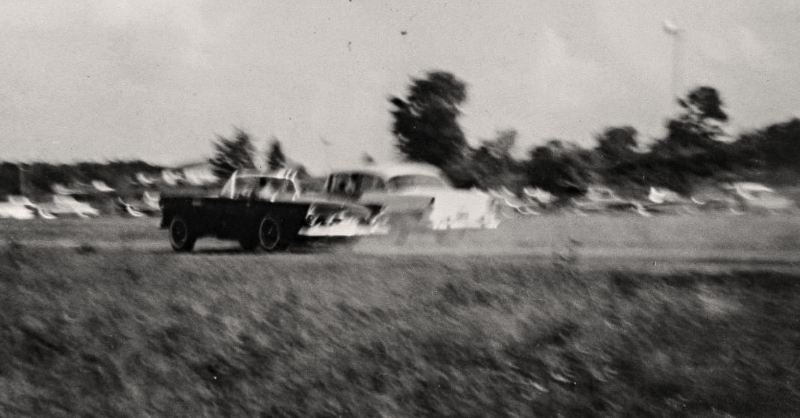 This photo shows the top eliminator race at Valley Drag Strip in Shawmut in May 1962. Steve Honnell in his '55 T-Bird was racing Bill Capps's '55 Chevy.  Capps got a trophy and $15 for taking the win. Capps and Honnell were friends during the 1960s and 1970s.  Courtesy of Bill Capps, III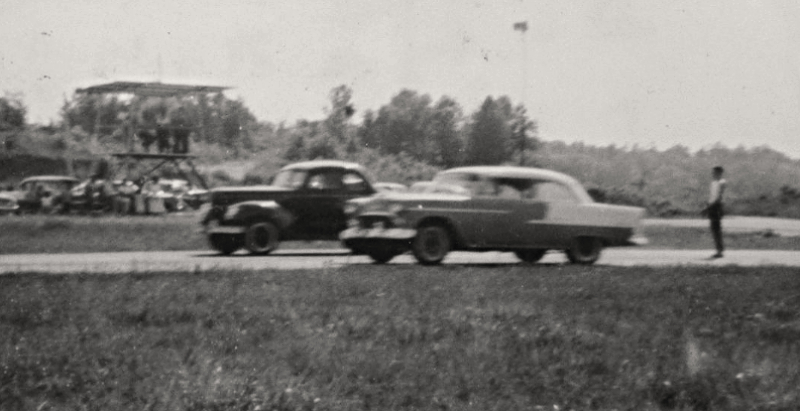 Bill Capps, driving his '55 Chevy, took the trophy in this D/G elimination race at Valley Drag Strip in Shawmut in May 1962.   Courtesy of Bill Capps, III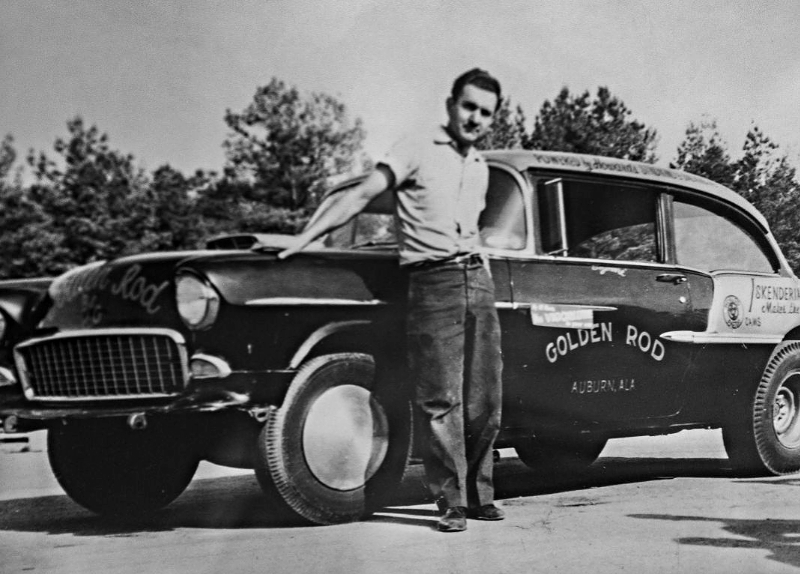 J. C. Sizemore and his '55 Chevy "Golden Rod" gasser.  Courtesy of Bill Capps, III